Dieser Artikel ist auch verfügbar auf: Deutsch
The countries of Southeast Asia have countless beaches to offer and many of them are just gorgeous. Some are well-frequented and attract many tourists, while others are still totally abandoned and untouched.
We as true beach fans are always looking for a paradise with turquoise sea and white sand. In recent years, we have seen many picture-perfect beaches in Southeast Asia, but also many disappointments.
Wanderlust guaranteed: 12 of the most beautiful beaches in Southeast Asia
Do you have some itchy feet or are you still looking for a destination for your winter holidays? Here we have put together 12 beaches in Asia that are definitely worth a visit.
---
1. Nacpan Beach (El Nido, Philippines)
The island of Palawan is one of the most beautiful in the Philippines and now El Nido is becoming an increasingly popular destination among backpackers going on island tours. But also, more and more package tourists are now attracted to the small town in the north of Palawan.
Unsurprisingly, as El Nido and its Bacuit archipelago have countless dream beaches to offer, where you can not get enough of the paradise views. One of these beaches is Nacpan Beach. Right next to it you will find the Calitang Beach, which is why the beaches are often called "Twin Beaches". From the viewpoint you have a fantastic view of the great bay of Nacpan.
An absolute must-visit in El Nido! Find out more about El Nido and Palawan in our blog category.
Our hotel tip for El Nido: Suites by Eco Hotel El Nido
2. Maya Bay (Koh Phi Phi, Thailand)
The Maya Bay is probably one of the most famous bays in whole Asia. Because of the movie "The Beach" it got such a huge hype that unfortunately too many tourists want to visit the beach today.
Even though it is often overcrowded, it is still one of the most beautiful beaches in Thailand. If you want to visit Maya Beach, make sure to do so in the early morning. For example, by chartering your own longtail boat. Then you can really enjoy the beach and the magnificent view. As in our photo.
Our hotel tip for Koh Phi Phi: ChaoKoh Koh Phi Phi Hotel & Resort
3. Gili Meno (Lombok, Indonesia)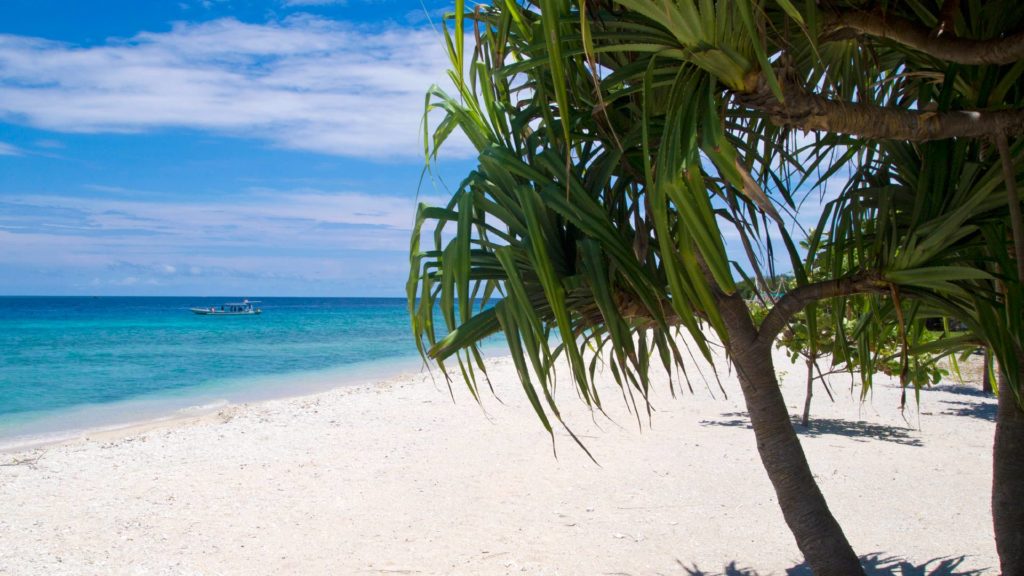 The Gili Islands in Indonesia are one of the most popular backpacker travel destinations in Southeast Asia. Especially the main island Gili Trawangan is a big party stronghold.
But quiet is also possible over there and especially Gili Meno is more frequented by couples or package holidays. In my opinion it is also the most beautiful of the 3 Gilis. You will find countless fantastic beach sections, which are hardly visited in the low season. You can also go snorkeling right from the beach.
Our hotel tip for Gili Meno: Gili Meno Getaway
4. Teluk Dalam Besar (Redang Island, Malaysia)
The island of Redang we visited only a few weeks ago for the first time. The beaches have knocked our socks off and are certainly among the most beautiful in Malaysia.
The island is so quiet in the off-season that you can even have some of these paradise beaches alone for yourself. Such as the big Teluk Dalam bay in the north of the island, which you can see in this photo.
Our hotel tip for Redang: The Taaras Beach & Spa Resort
5. Than Sadet Beach (Koh Phangan, Thailand)
The popular party island Koh Phangan has a lot of beaches to offer. Many of these are rarely crowded and there are even some secluded beaches where you can find just a few other people. Some of these beaches can only be reached via a jungle path.
Whether on the north, south, east or west coast: On Koh Phangan you will definitely find your dream beach. In our photo we show you the Than Sadet Beach on the east coast of the island. If you want to spend some quiet days on Koh Phangan, this beach is a good place for that. You will find there for example a few bungalows on a hill right on the beach.
By the way, you can find more about Koh Phangan's beaches in our Koh Phangan beach guide.
Our hotel tip for Koh Phangan: Sea Love Bungalows
6. Saracen Bay (Koh Rong Samloem, Cambodia)
Cambodia also has some dream beaches to offer. Especially the island Koh Rong is a popular destination for beach vacationers.
But did you know that things can even be much calmer? The neighboring island of Koh Rong, which is called Koh Rong Samloem, is still a small insider tip. Especially the Saracen Bay, the idyllic main beach of the island, is a real paradise.
Our hotel tip for Koh Rong Samloem: Sara Resort
7. Setangi Beach (Lombok, Indonesia)
The Indonesian island of Lombok is becoming more and more popular, which is no surprise: apart from massive volcanoes, countless waterfalls and an impressive culture, Bali's neighboring island also has many dream beaches to offer. Whether on Lombok itself, or on its surrounding small Gili Islands.
A special highlight on Lombok is the western coastal road that leads north from the tourist resort of Senggigi. You should explore this road on your own and get spectacular views along the way. In our photo you can see for example the often deserted Setangi Beach.
Our hotel tip for Lombok: Qunci Villas
8. White Beach (Boracay, Philippines)
Boracay and its White Beach are often ranked among the most beautiful beaches in the world. The kilometer-long beach with its powder-white fine sand and the turquoise sea attracts both luxury tourists and backpackers and is probably one of the most visited beaches in the Philippines.
Mass tourism or not. The beach has impressed us from the first second and we would visit it again at any time. The clear water and the white sand are just too beautiful!
By the way, Boracay has a few other beaches that are just as worth seeing. In our Boracay beach guide you can check out more amazing beaches.
Our hotel tip for Boracay: Boracay Haven Suites
9. Fingernail Island (Phu Quoc, Vietnam)
The island of Phu Quoc is Vietnam's most popular holiday destination and has many beautiful and quiet beaches to offer.
But by far the most beautiful beach in the area can be found on a small island south of Phu Quoc: Fingernail Island or also called in Vietnamese Hon Mong Tay. So if you're on Phu Quoc, do not miss out on a trip to Fingernail Island!
You can either go there on your own with a local fisherman who you find in the port of An Thoi or just visit the island with an organized tour.
Our hotel tip for Phu Quoc: La Mer Resort
10. Koh Poda (Krabi, Thailand)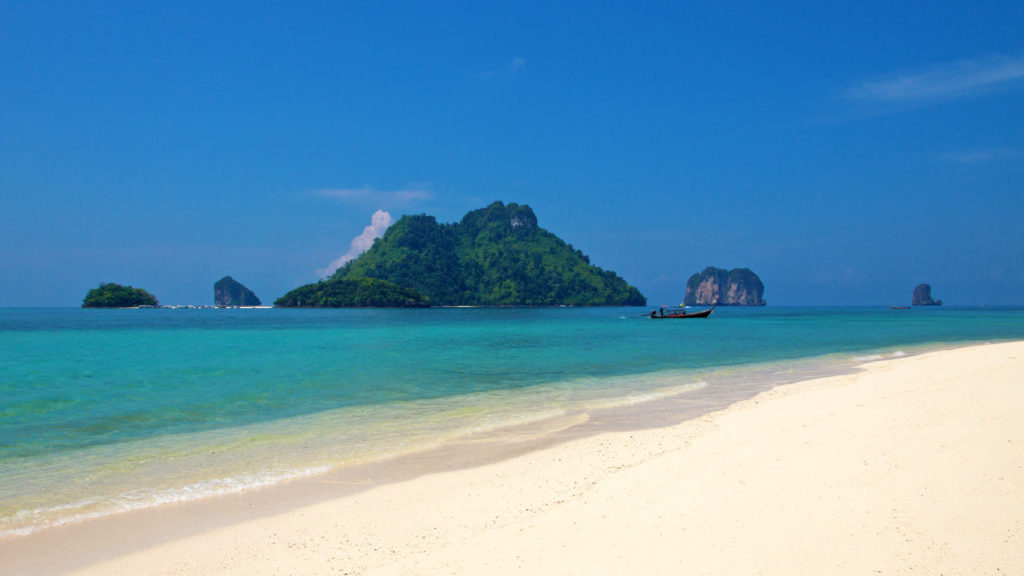 Krabi province is one of the most popular holiday destinations in Thailand and we believe it is a must-visit. From the seaside village of Ao Nang you can visit many picturesque islands off the coast.
One of them is Koh Poda, often called Poda Island. Although the island can be very busy in the main season, it does not make it any less beautiful. Koh Poda offers a fantastic backdrop of white sand, turquoise sea and views of its famous offshore cliff. On the other side of the island you have another dream beach overlooking Chicken Island and Tub Island – as seen in our photo.
Find out more about the islands off Ao Nang in our Krabi category. You can visit them with one of the longtail boats from the beach in Ao Nang or with one of the popular Krabi Islands tours.
Our hotel tip for Ao Nang: Deevana Krabi Resort
11. Turtle Beach (Perhentian Islands, Malaysia)
Turtle Beach is one of the most beautiful beaches of the Perhentian Islands on the east coast of Malaysia. For me, it was even one of the most beautiful ones in Southeast Asia. The water was so clear and turquoise and the white sand was so fine that it is hard to find something like this anywhere else in this area.
The Turtle Beach can only be reached by taxi boat and many visitors are not really on site. You can also snorkel directly from the beach. Find out more about the beach and the islands in our blog article about the Perhentian Islands (coming soon in English).
Our hotel tip for the Perhentian Islands: Perhentian Island Resort
12. Sivalai Beach (Koh Mook, Thailand)
Finally, we have a currently very little-visited destination in Thailand: Koh Mook. The island belongs to the islands of the province Trang in the south of Thailand. There are a number of other paradise islands, too.
Koh Mook is still very quiet and mass tourism is not really present here. There are no cars on Koh Mook and many resorts, bars and restaurants are still very basic. Also, most are especially cheap. With the exception of the slightly higher class Sivalai Beach Resort, which is probably the most beautiful beach on the island. Even though Sivalai Beach is part of the resort, you can visit it and swim there.
Our hotel tip for Koh Mook: Sivalai Beach Resort
Which is your favorite beach in Southeast Asia? Let us know in the comments! And if you liked the article, share it with your friends.