Dieser Artikel ist auch verfügbar auf: Deutsch
Boracay Island is one of the most popular tourist destinations of the Philippines. It's well-known for its gorgeous White Beach, which is on top of almost every list of the most beautiful beaches in the world.
All beaches on Boracay – our beach guide
But did you know that the island has many other beaches to offer and that you can even have some of them only for yourself? We'll show you 11 beaches in Boracay in this article – insider tips included!
---
How to get to Boracay
Accommodation in Boracay – our hotel tip
Boracay: Tours and tickets
---
1. White Beach
The approximately 4 kilometers long White Beach with its many hotels and resorts lives up to its name: white fine sand and crystal clear turquoise water that outclasses many other beaches in Southeast Asia. The White Beach immediately impressed us on our first visit. Even in bad weather, where it still looked just great!
Admittedly, White Beach is extremely touristy and the beach promenade is often crowded with people and beach vendors – especially during high season. But honestly: fuck it! The beach is just too damn beautiful that it would really bother me (as it would do anywhere else). It's probably one of those places you have to love or hate.
The White Beach is divided into 3 areas: Station 1, 2 and 3. The most beautiful beach area is probably the Station 1. At the same time it is also the most expensive beach section. Here are many expensive restaurants, luxury hotels and resorts. In the late evening Station 1 turns into a nightlife paradise.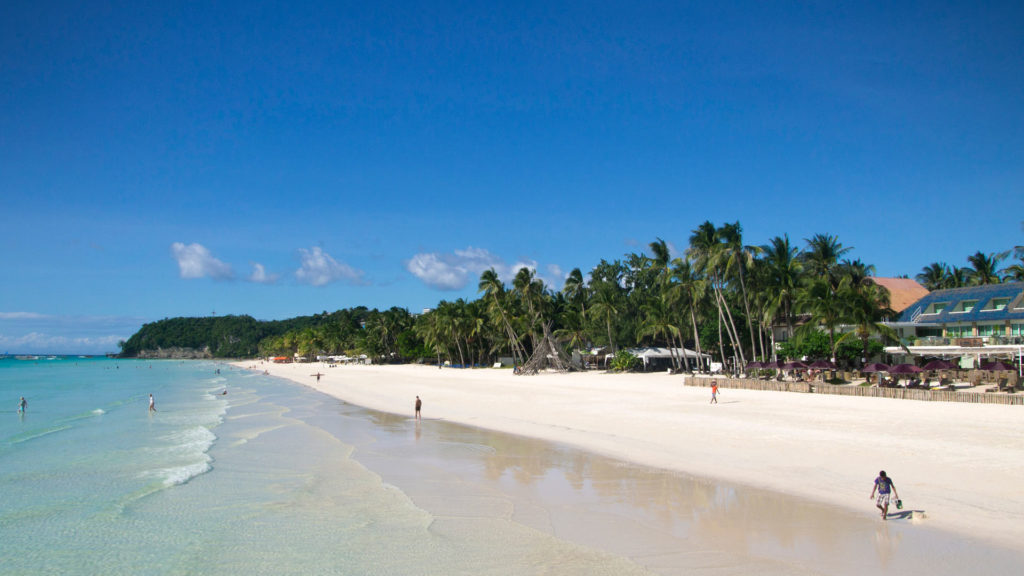 At Station 1 you will also find one of the most popular photo opportunities of White Beach, the Willy's Rock – a walk-on-able rock with a statue of the Virgin Mary on it and views of White Beach.
A few meters further away from Willy's Rock, there are the best fruit shakes on the island at Jonah's – definitely try it!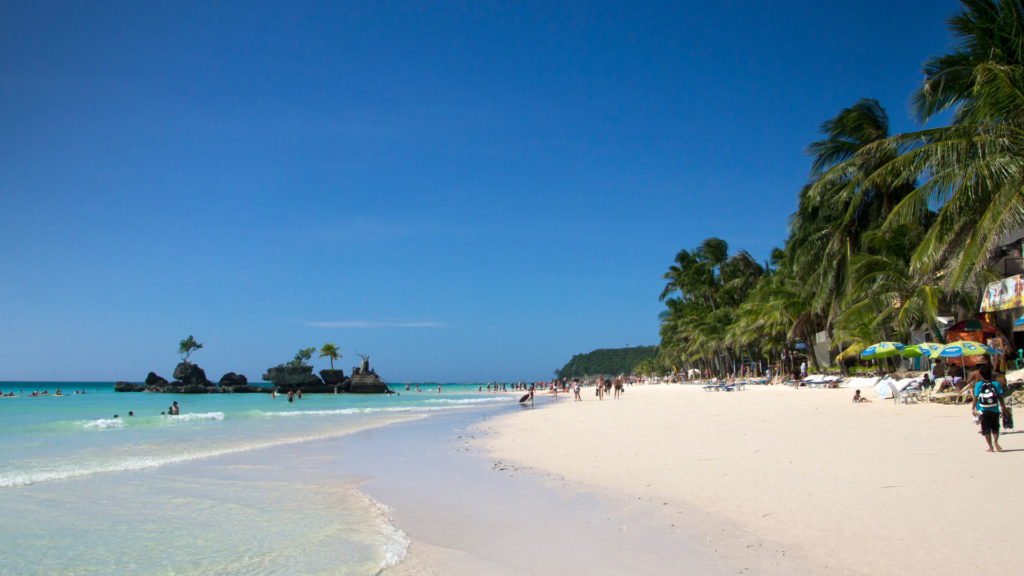 Not much less beautiful is the beach area at Station 2. At the end of Station 1 and near Station 2 is the D'Mall, the open-air shopping area of Boracay. In the D'Mall you can buy all sorts of souvenirs and also find several restaurants, a market with fresh goods, ATMs, supermarkets and fast food shops.
Continue to Station 3, which is considered the cheapest stretch of beach on White Beach. The sand gets a bit darker and coarser here, which does not really make the beach much worse.
Station 3 has a very cool atmosphere and shows that a Boracay trip does not necessarily have to be connected only to expensive restaurants, hotels and resorts, but is also possible on a smaller budget. So there's something for backpackers, too.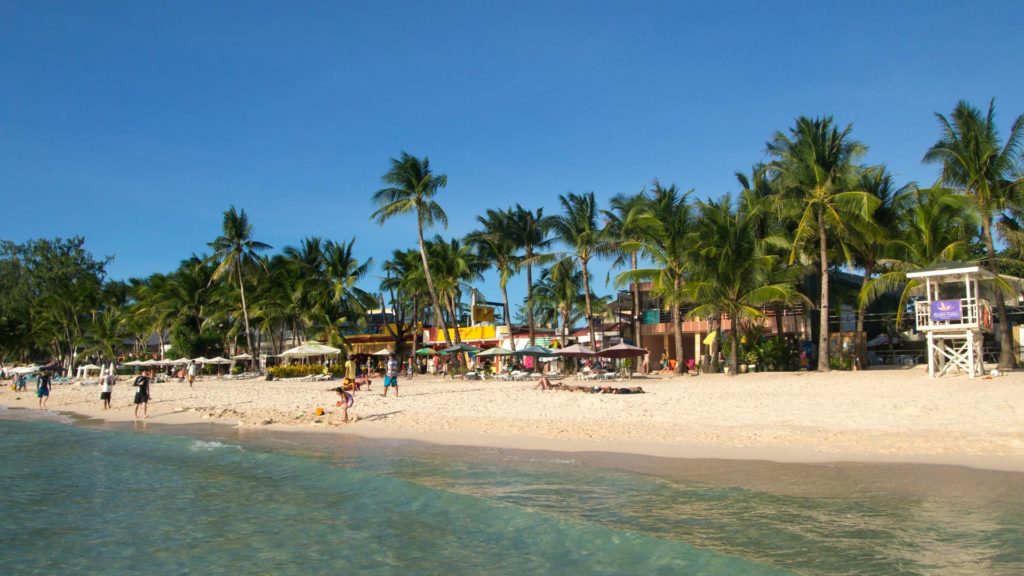 Water sports such as parasailing or jet skiing are also offered here if you like to do something on the beach and don't just want to lie in the sun or swim.
How do I get to White Beach?
For the White Beach you really don't have to search long on Boracay. It is THE tourist center of the island and most of the accommodations are located on this beach. However, if you have your accommodation elsewhere on Boracay and you would like to go to White Beach by tricycle, the easiest thing to do is to name the D'Mall. Keep in mind that there is a lot of traffic between station 1 and 3 and the journey there may take a little longer. If necessary, just get out earlier and walk the rest.
2. Diniwid Beach
The Diniwid Beach is the quiet neighbor of the White Beach, only much smaller and more secluded. A really beautiful beach where you can find one or the other lonely and shady place between the rocks. Also very popular with locals.
Again, there are a few beach resorts and restaurants, such as the luxurious Nami Resort on the top of the hill where you can have a magnificent view of the bay.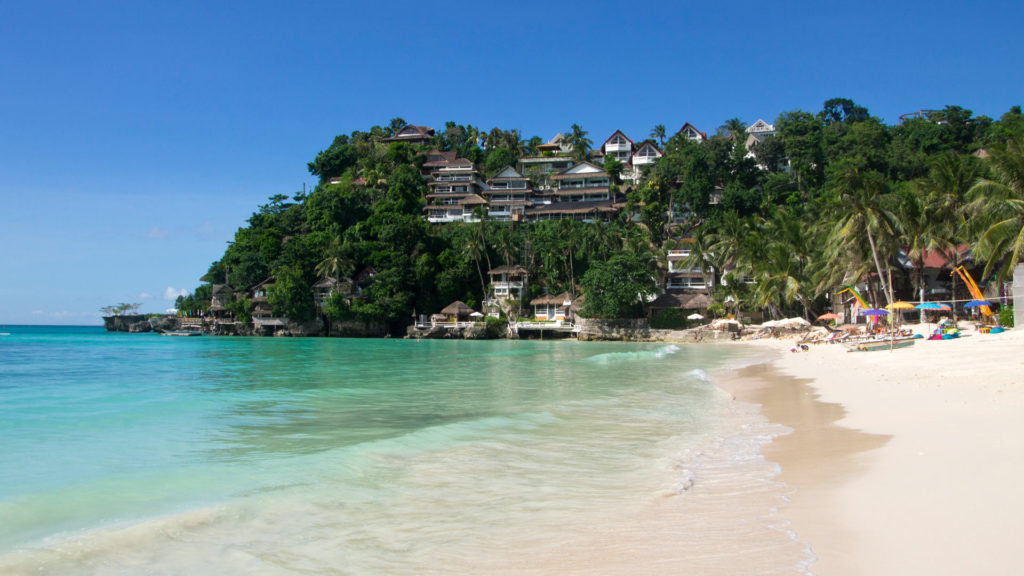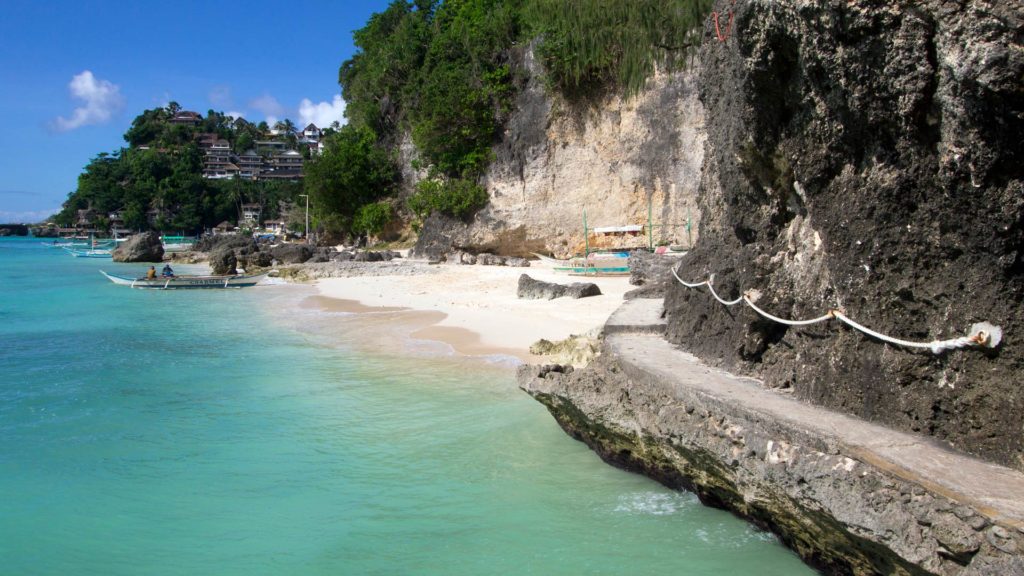 How do I get to Diniwid Beach?
There are 2 ways to Diniwid Beach: One is a bit adventurous and only for pedestrians. When you walk down White Beach from Station 1 to the end of the beach, you will see a rock on the left that goes around the corner. Follow this path either on the outside of the rocks (watch out for the surge) or go through the small hole. A few meters further you are already on Diniwid Beach.
Option 2, if you go by motorbike. If you are coming from White Beach/D'Mall, shortly after when the main road backs off the beach and into the interior of the island, you can turn left (opposite the road that leads to Mount Luho). Just follow this road. Of course, also a tricycle driver can take you there.
3. Balinghai Beach
Also the Balinghai Beach is a very small beach – even quite tiny. It's a private beach and surrounded by rocks, so you can only reach it via the Balinghai Beach Resort. If you're not a hotel guest, you will have to pay 500 pesos for admission, but you can eat, drink and use the sun beds right on the beach.
If it's worth your money, you can have a nice and relaxing stay here. Balinghai Bay is a small gem and offers gorgeous turquoise waters. Attention: at high tide the beach is almost completely over-flushed. So pay attention to the time of day if you plan a visit.
How do I get to Balinghai Beach?
If you're taking a tricycle, just let it bring you to the Grand Vista hotel. From there, however, you still have to walk a bit: before the main road heads north behind the Grand Vista Hotel, a small path turns left. Just follow this little street straight on all the time. Passing small houses, shops and a chapel, Balinghai Beach Resort is right at the end of the street.
4. Punta Bunga Beach
This is also a private beach and the entrance fee is 500 pesos, too. The Punta Bunga Beach belongs namely to the Sol Marina Resort. But we skipped the visit and left out this beach.
How do I get to Punta Bunga Beach?
It's almost directly next to Balinghai Beach, but – coming from the main road – is accessible via the next street to the left (instead of Balinghai Beach, see also point 3). Just follow this very road, then go straight to the resort.
5. Puka Beach (Yapak Beach)
Puka Beach is Boracay's second best known and third longest beach. It's also known for the many Puka shells lying around here – that is why it's often called Puka Shell Beach. Virtually all the shell jewelry sold on Boracay has its shells from here.
Compared to White Beach, it's usually not much going on here, on the beach you will also find a few small beach bars. Here, as a guest, you can have a lounger just a few meters from the sea and enjoy the view of the water or the sunset with a San Miguel or a fresh coconut.
Some beach sections are really amazing. You can take a bath and swim well, but in many places it gets really deep.
Puka Beach is one of Boracay's beaches that you should definitely not miss!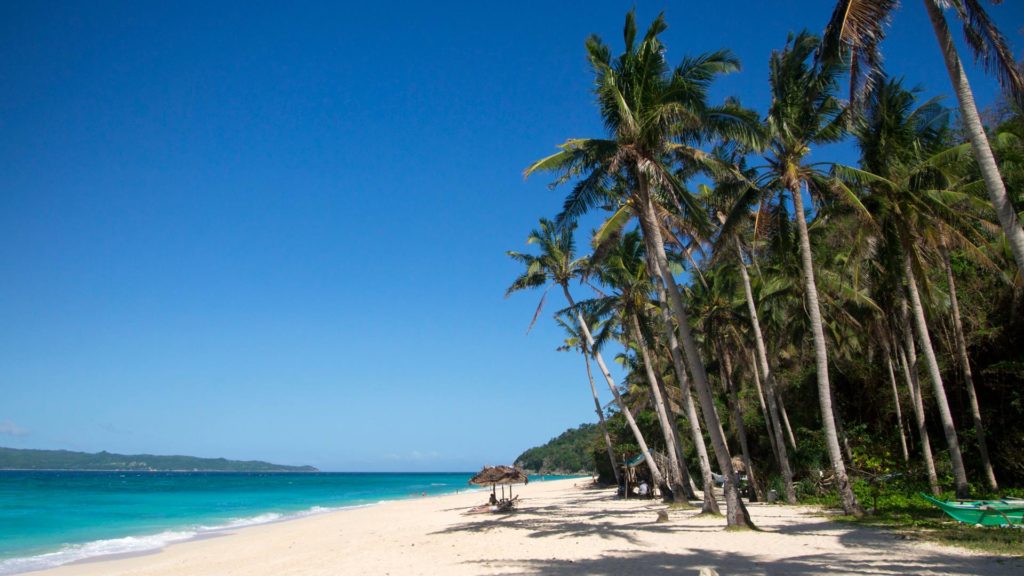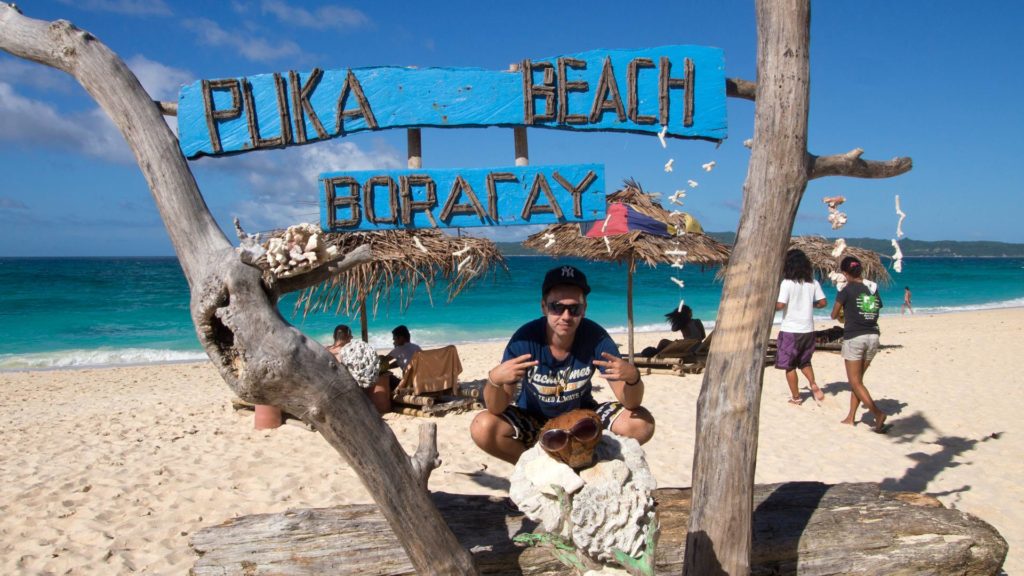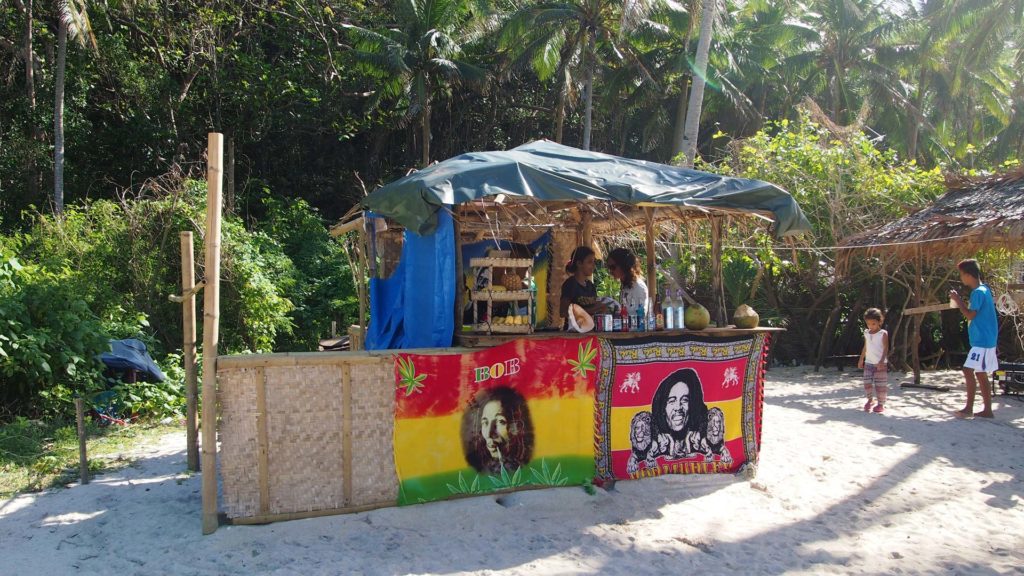 Info: If you want to do a day trip on Boracay, then Puka Beach is visited in combination with Crystal Cove Island, Crocodile Island and more.
How do I get to Puka Beach?
Puka Shell Beach is the northernmost beach in Boracay. It is fairly easy to reach by simply driving the island's north leading main road to the end.
If you would like to take a tricycle, the regular price is 25 pesos per person (shared tricycle/regular price). Of course you can also charter a tricycle. Then the price is usually a matter of negotiation, but it will be around 100-150 pesos.
If you want to go back, there are enough tricycles waiting for customers. Either you can charter again, or you can wait at the station until there are enough other people with you and pay only the regular price.
6. Ilig-Iligan Beach
Here comes a little secret tip! This beach still does not have many visitors and is a real gem.
The fact that not so many tourists come to Ilig-Iligan beach is also because that there are hardly any hotels and restaurants. You will also rarely see beach vendors and most likely you will get a abandoned beach section just for you alone.
During the north-east monsoon (Amihan, or also called "Windy Season") it is quite windy on this beach and the waves are sometimes a bit stronger. But if the water and wind are calmer, you can perfectly snorkel here.
The sand is fine and the water is shining in a beautiful turquoise. You also have a nice view of some offshore rocks. The Ilig-Iligan is one of my favorite beaches on Boracay and you should definitely visit it – it's worth it!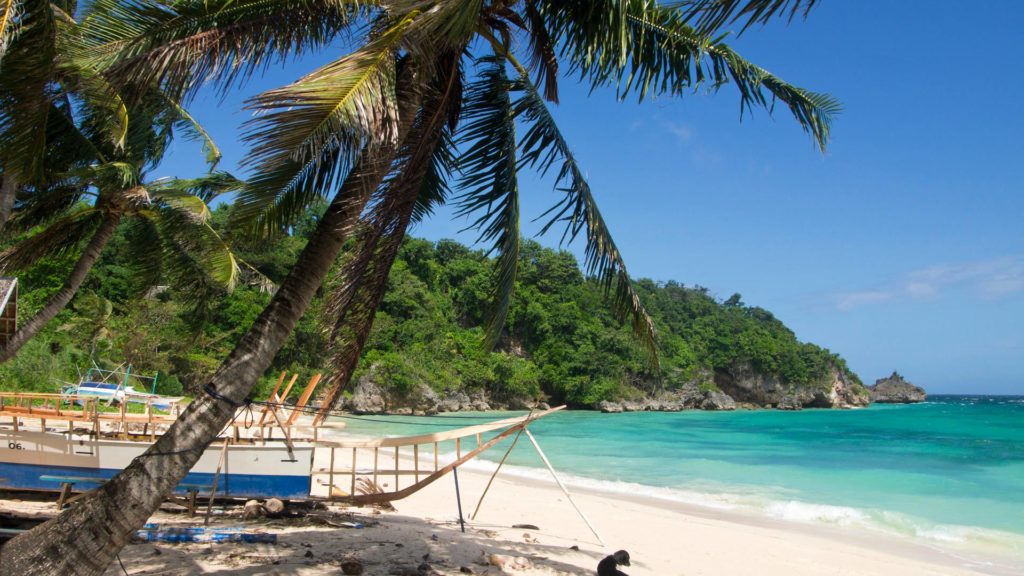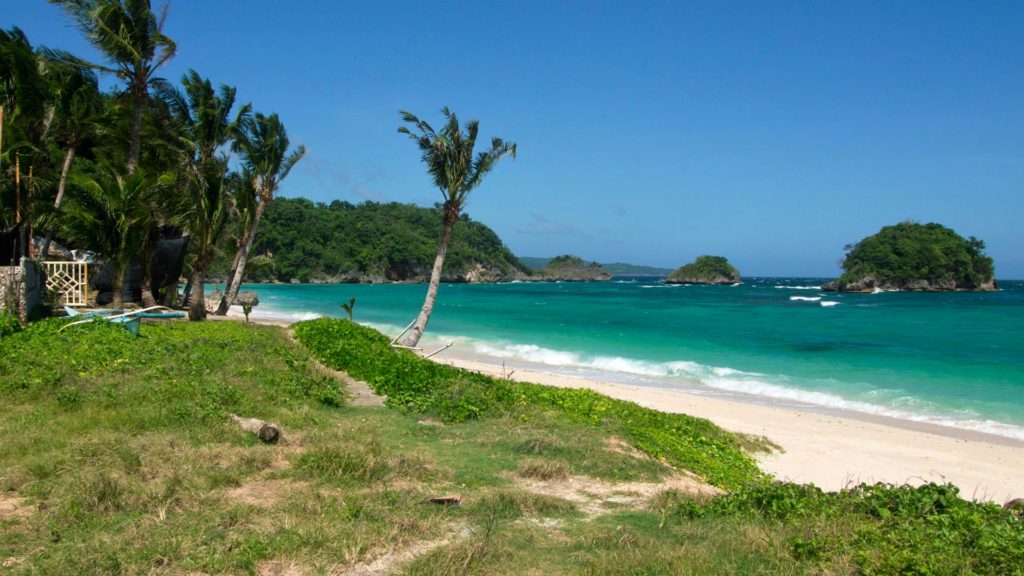 By the way, you can also take a short walk from here to the Bat Caves, a cave where you can watch bats and snakes. However, you shouldn't do this tour on your own – just ask a local on the beach, you should find a guide quickly.
How do I get to Ilig-Iligan Beach?
Ilig-Iligan is located in the northeast of Boracay – not far from Puka Beach and a visit can even be combined with it. The way there first also leads north via the main road towards Puka Beach . About 600 meters before Puka Beach, there is a fork that leads to it if you go left. Instead, just turn right and follow this road, ending up at Ilig-Iligan Beach.
You can go with tricycle (only special fare/charter, as it is off the standard route), but you should know that it will be a little bit harder to get back. As I said before, on the beach there's hardly anything going on and there are almost no tricycles waiting for guests. So you'd have to walk all the way to the main street.
Hence, it is best to reach this beach on your own by motorbike or bicycle.
7. Lapuz Lapuz Beach
Lapuz Lapuz Beach is the neighboring beach of Ilig-Iligan Beach – the beach and the water are quite similar. The only difference is that the Lapuz Lapuz is again a private beach. It is part of Fairways & Bluewater Newcoast Resort, a huge hotel complex with a golf course and it's reserved for guests only, unless you pay a fee again.
How do I get to Lapuz Lapuz Beach?
To get there, just name the resort as your destination when you go by taxi. The entrance to the resort is located directly at the main road and is also easily recognizable by the sign.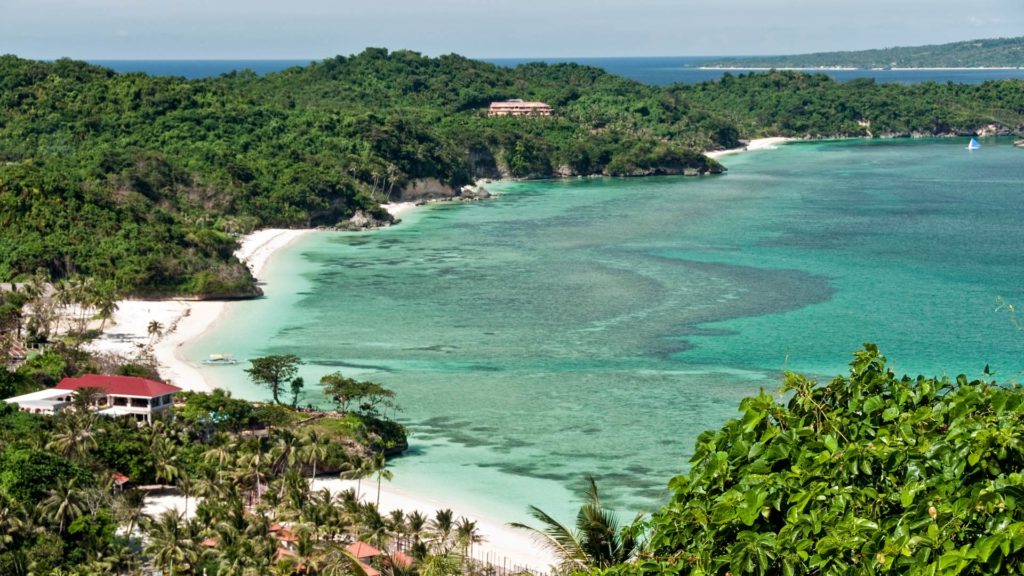 8. Bulabog Beach
Opposite of White Beach is Boracay's second longest beach, which is well-known and popular as a kitesurfing spot. During the "Windy Season" (north-east monsoon) from November to April, many kite surfers come here and the numerous adjacent kite schools and resorts are in full swing with a lot of courses on offer.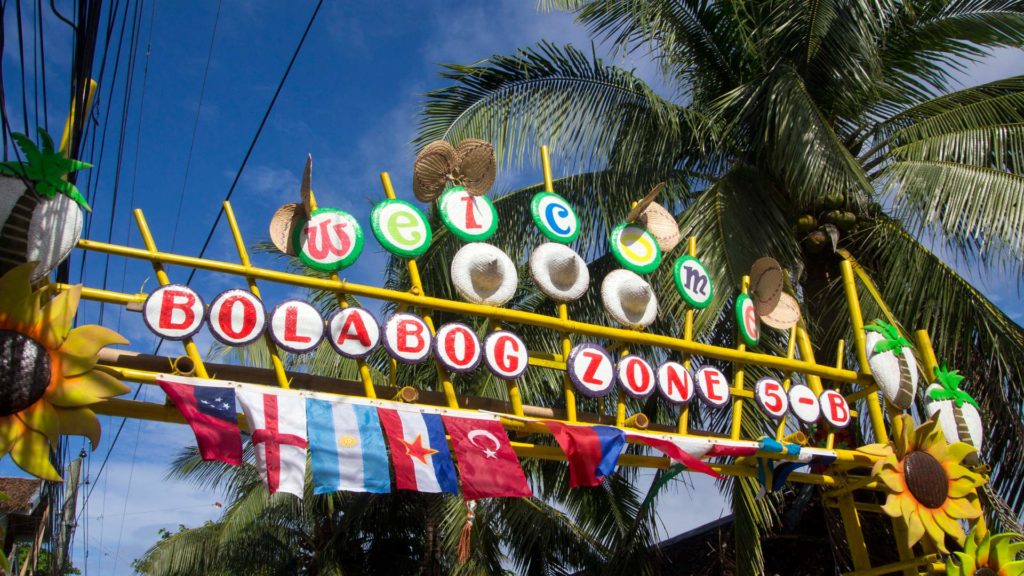 A great destination for water sports fans. Personally, I did not like the beach as it was just too windy and secondly, there were kite surfers around every corner. You will also be constantly approached by kite instructors. You can not have a quiet and relaxing beach day here, at least not during the windy season. During the south-west monsoon, it is certainly much more quiet and more pleasant here.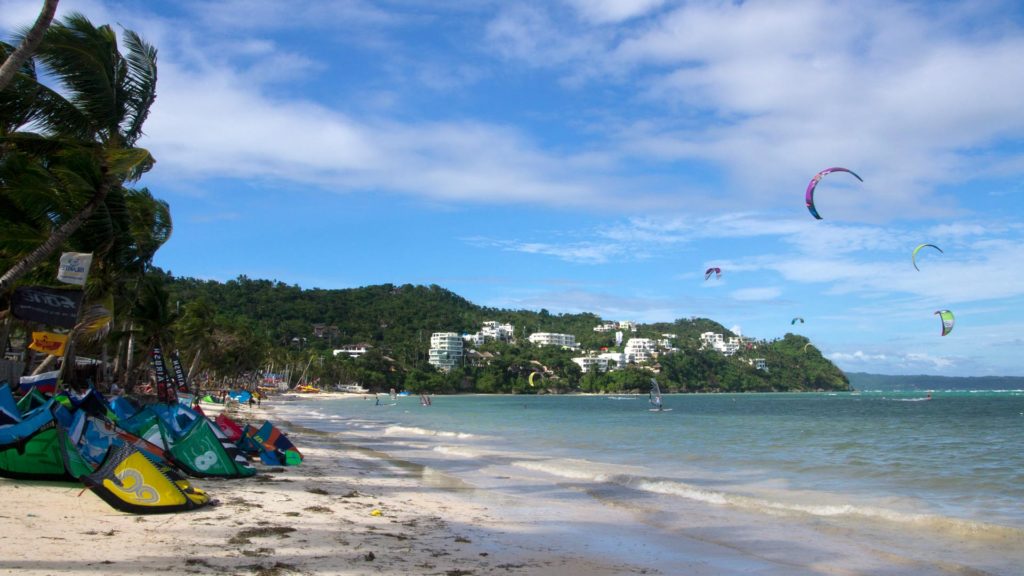 9. Cagban Beach
Cagban Beach is the beach you'll see when you come with the Panay Ferry, the big neighboring island (which also has both Caticlan and Kalibo airports). From Cagban Beach you also have a view of Panay and some small offshore islands.
I think the beach at the pier is nothing special and pretty crowded with boats. Sometimes even with huge tankers bringing goods to the island! In my opinion it's rather not worth a visit. Further west, there is a second beach section, which is much quieter and more pleasant.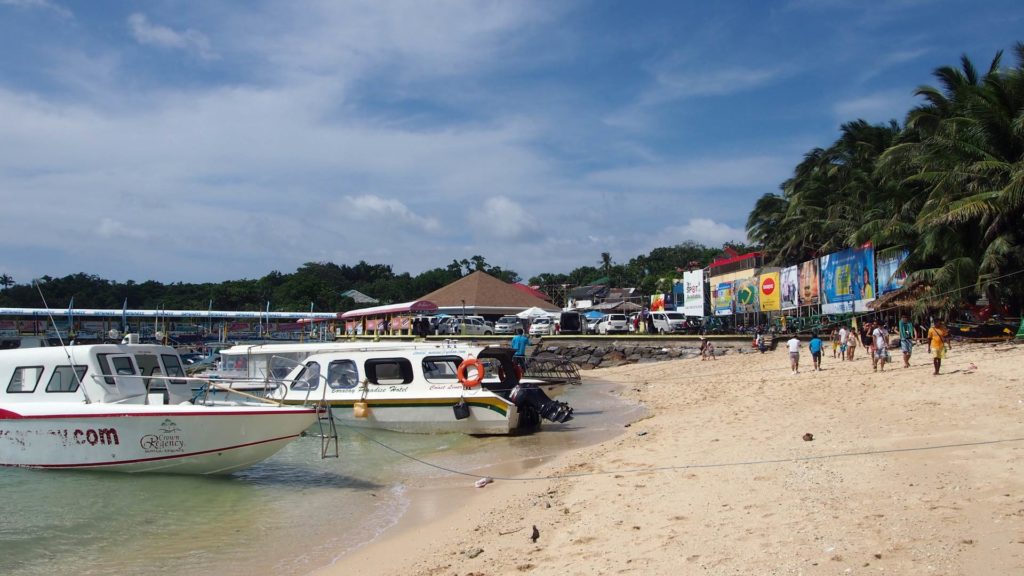 How do I get to Cagban Beach?
Cagban Beach is just off the jetty port of Boracay, which is located at the southern end of the island. Accordingly, the beach is very easy to find.
10. Manoc Manoc Beach
Located just next door is the Manoc Manoc Beach – a slightly better stretch of beach to the right of Cagban Beach, where there are hardly any people – at most a few locals. The beach here is really small and isolated, but unfortunately it offers no shady places. The water is ok, but I don't find it really inviting when a few hundred meters away there are huge tankers.
Also, this beach is in my opinion absolutely no must-see. You will not miss anything if you leave it out.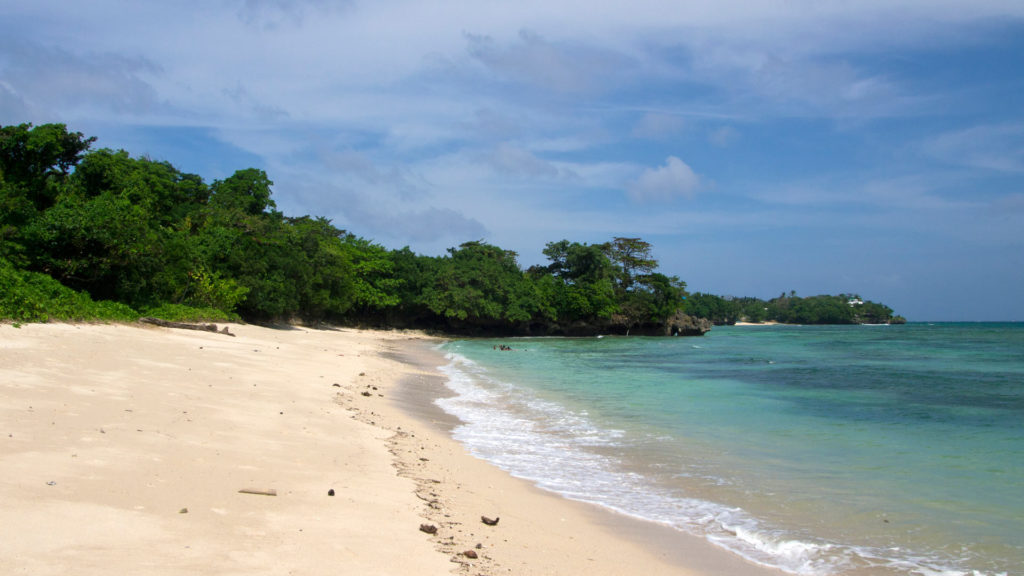 11. Tambisaan Beach
Finally, the Tambisaan Beach, which is really nice and I liked it a lot. The beach consists of 2 sections and is separated in between by a walkable rock. From there you have a nice view of the beautiful turquoise waters, the fine sand and also on Crocodile Island, a tiny offshore island.
The Tambisaan Beach is also a destination of organized tours, so it can happen that by boat or bus a slightly larger crowd is brought. But don't worry, the beach is not overcrowded at all and you will still find a place for yourself. It's not necessarily an insider's tip, but it is definitely worth a visit.
Again, during the "windy season" from November to April, it can become quite windy and stronger waves and currents can occur, which makes bathing not so pleasant. The beach is also popular with snorkelers, at least when the sea is quiet.
Note that during the Habagat monsoon, this beach will be converted to Boracay's Jetty Port in bad weather, which means that all boats arrive here instead of Cagban.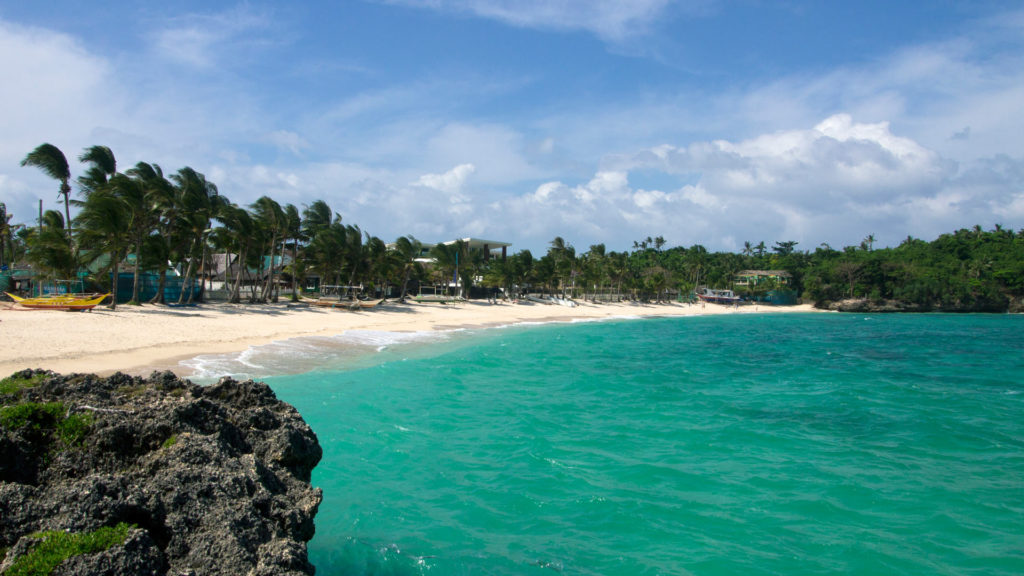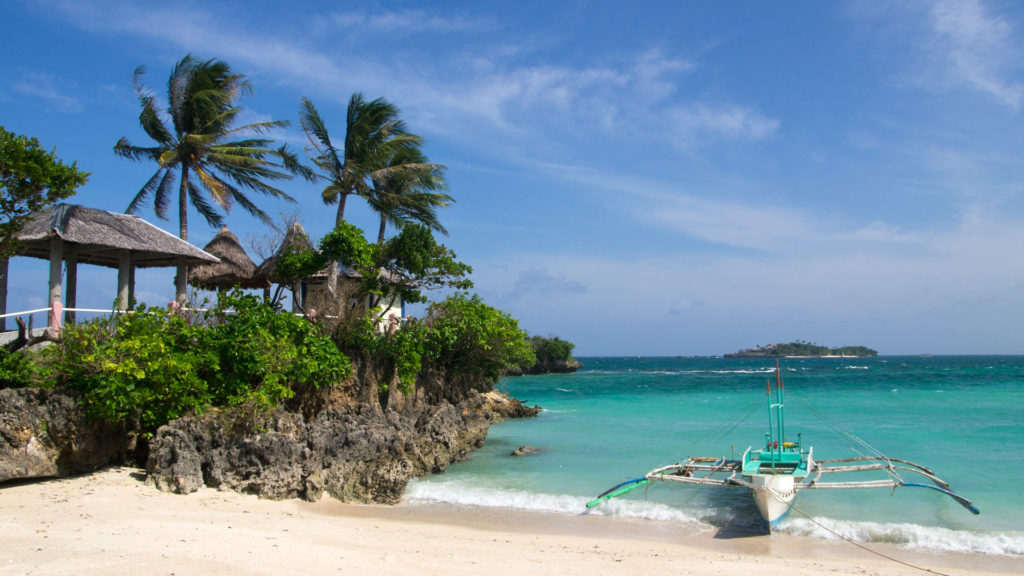 Right next to the beach is a small village where very friendly locals live. There you will also find a few small shops and restaurants.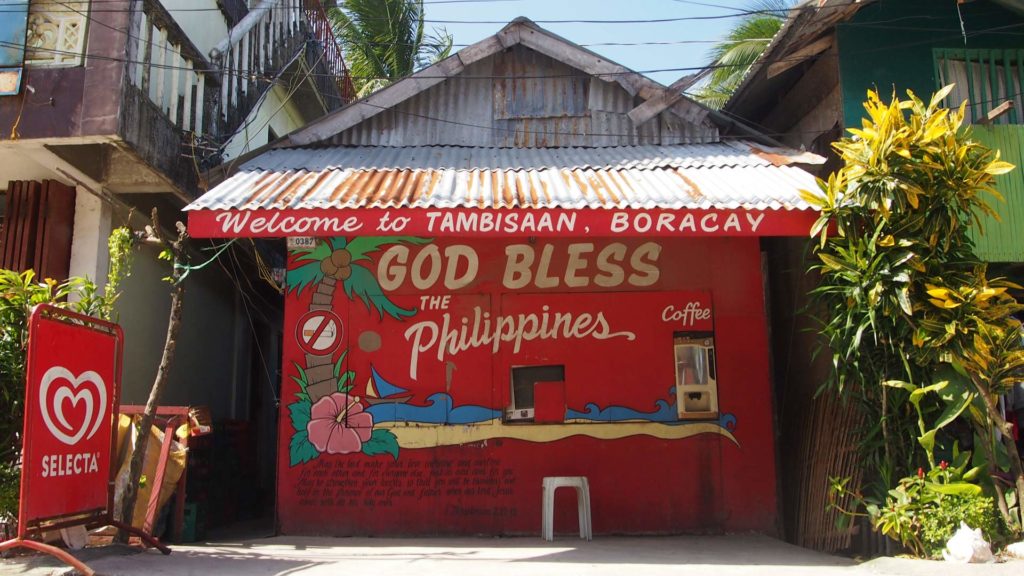 How do I get to Tambisaan Beach?
Tambisaan Beach can be reached in several ways: either by boat from Station 3 or with motorbike/tricycle via the main road to the south (Boracay Jetty Port Road). Shortly before the Jetty Port, a road leads to the left, which you just have to follow.
A tricycle there should normally not cost more than 50 pesos per person. Note that maybe Tambisaan Beach itself does not have so many tricycles that you can take back. So expect a little wait until a tricycle comes back to the beach. During the time the beach is being used as a jetty port, there could be a lot more tricycles here.
---
Conclusion
Boracay has many beautiful beaches to offer, but there are also some that you can easily skip. But the ones you should see are really beautiful beaches and some of them are for me even the most beautiful ones that I have seen so far in Southeast Asia.
Here is a short version with a list of the beaches that I think you definitely should visit:
White Beach (ALL stations!)
Diniwid Beach
Puka Beach
Ilig-Iligan Beach
Tambisaan Beach
Balinghai Beach (if the entrance fee does not bother you)
Plan your trip to Boracay now
More hotel recommendations for Boracay:
Popular routes to Boracay:
---
Have you ever been to Boracay? How did you like it and which beach can't be missed in your opinion?
Foto 11 (Lapuz Lapuz): travelmag.com/flickr (CC BY 2.0)