Dieser Artikel ist auch verfügbar auf: Deutsch
Visiting Paris and living in Paris are two completely different things. I can say that with certainty about my home of choice for 10 years. When I finally found a routine in Paris, I didn't have to go to the Eiffel Tower or one of the world-renowned museums on a daily basis and looked for Paris insider tips instead. I much rather tried to avoid the touristic areas and well-known sights to find small, hidden treasures.
Paris insider tips from experts: Our favourite secret spots in Paris
Today I have loads of favourite spots and Paris insider tips, which I'd like to share with you. The longer you live in the city of love, the more facets of the city get revealed to you. That's why, even after 10 years, I can still discover something new about my city!
---
How to get to Paris
The fastest option to get to Paris is the plane. From places all over the world you can find direct connections to the french capital. Cheap flights can be had for less than a 100 €. Schedules, prices and tickets can be found on Skyscanner.
Info: There are many options to get to the center from the airport. If you're travelling with people a private driver or a shared ride in a minivan are your best options. A train ride can be quite expensive.
Apart from taking a plane, you have many train and bus options from neighboring countries. Travel times are a lot longer though, and prices can vary widely. More information, as well as tickets and prices, can be found on Omio.
Accommodation in Paris – our hotel tip
To discover Montmartre and the rest of Paris, the neighbourhood is a perfect starting point. Even though Paris is expensive, Montmartre still got a couple of good and affordable Hotels in the downtown. We chose the ibis Hotel Paris Montmartre for our stay and can only recommend it. The rooms aren't that big, but they accomodate all you need: a comfy bed, air conditioning, a TV and a bathroom.
Tip: Make sure to book a room facing the graveyard (just note it as an extra request on the booking page). You will have a great view of Montmartre.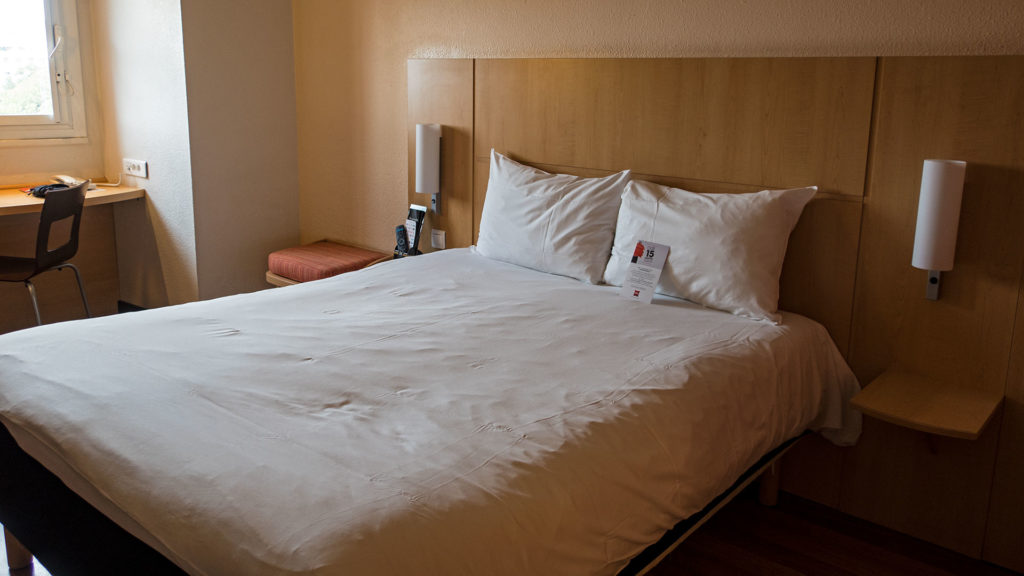 You can explore the artists' quarter by foot and there are metro and bus stations to get to the rest of Paris. Other hotels in Montmartre or elsewhere in town can be found here.
Paris insider tips: Tours and tickets
Tip: If you get the Paris City Pass, you can visit many museums and landmarks for free or at a discount. Metro and bus tickets are also included in the price, so you can move around town freely.
---
1. Port de l'Arsenal
I've always been amazed by how diverse the city of Paris is. While you can feel the energy of a metropolis on the big boulevards, the first spot I share with you feels more like it's in a quiet port town.
The Port de l'Arsenal is a small dock at the Place de la Bastille. The docks are lined on both sides with piers, a green space with trees, a playground, a small rose garden and the restaurant "Le Grand Bleu".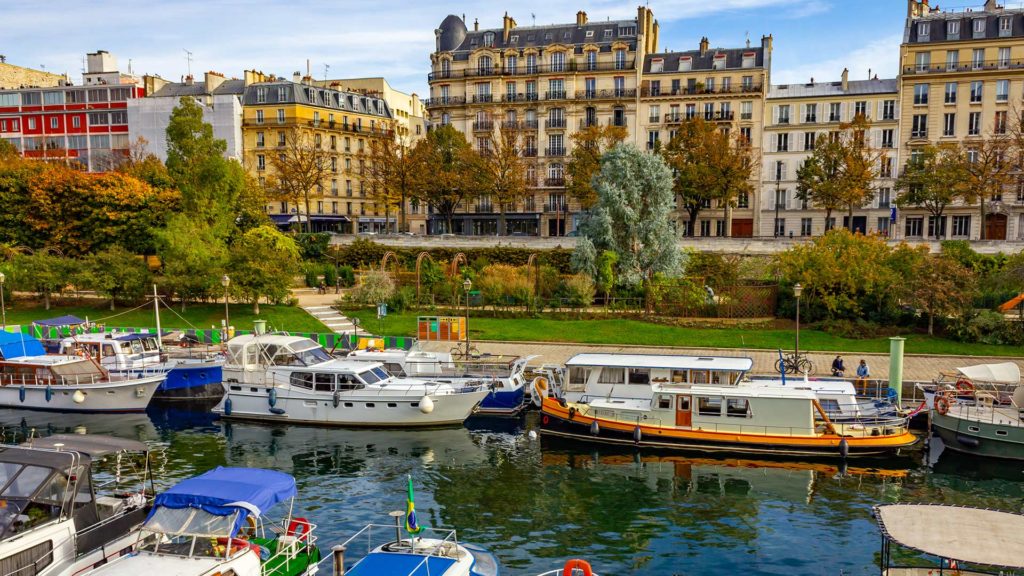 Especially in summer, it's a great place to find yourself a shady spot under the trees and enjoy a picnic with friends and a view of the port. You can watch the Parisians on deck of their boats playing cards and drinking wine. Others are walking their dogs, reading a book in the sun or drink an Apéro, before going on with their evening in the bustling Bastille neighbourhood.
You can get to the Port de l'Arsenal (Boulevard Bourdon – Boulevard de la Bastille, 75004-75012 Paris) via the metro station Bastille (Lines 1,5,8). The metro exits surround the July Column. The most convenient exits are exit 3 (Opéra Bastille) or 4 (Rue de Lyon – Port de l'Arsenal). The bus lines 20, 29, 65, 69, 76, 86, 87 and 91 also stop close to the Place de la Bastille.
2. Paris insider tips: 13. Arrondissement
Paris consists of 20 Arrondissements altogether, arranged in a kind of snail shell formation. The 1. Arrondissement is in the center of town and the point of destination for most of the tourists. It's gorgeous, no question! But I doubt you heard much of the 13. Arrondissement, right? It's in the southern part of town and rather on the edge of town. But it got an really interesting history! For a long time the "Thirteenth" hasn't been considered part of town and was one of the poorest areas in Paris' vicinity.
Even though you won't find an Eiffel Tower, not even a famous church, over there, it's still an interesting part of town in many regards. I want to especially recommend the Butte aux Cailles to you. It's a small hill close to the metro station Place d'Italie (Lines 5,6,7). Residential district and nightlife mend into one over here. During the day Parisians will hang their bed sheets out of the window to dry and shop on the local market. At night you will meet them at the many bars and restaurants on the sidewalks.
A small, special tip: Street Art fans shouldn't miss the Butte aux Cailles! The walls are covered in loads of colorful murals.
3. Péniche Marcounet
Did you ever go on a boat ride on the Seine? If so you might have passed one of my Paris insider tips, the Péniche Marcounet, already. Péniche is the name for houseboats in Paris. Normally people are living on those, but some prominent ones are open to the public and serve as event venues.
Just next to Pont Marie at the Hôtel de Ville is the Péniche Marcounet. On board, but also at the shore in front of the boat, there's Jazz-evenings, concerts and so much more for all those, who are curious. The main space can even be rented for private events. Sounds like a great place for your next Birthday, doesn't it?
4. Stairs in front of Sacré Coeur, Montmartre
Sacré Coeur, a secret spot? Even as a "Parisian by choice" I still enjoy myself the view from the stairs of Sacré Coeur and am therefore happy to share this place with the many visitors. The artists' quarter Montmartre, home of the white Basilica, is full of great photo motives, tiny adorable cafés, restaurants and shops.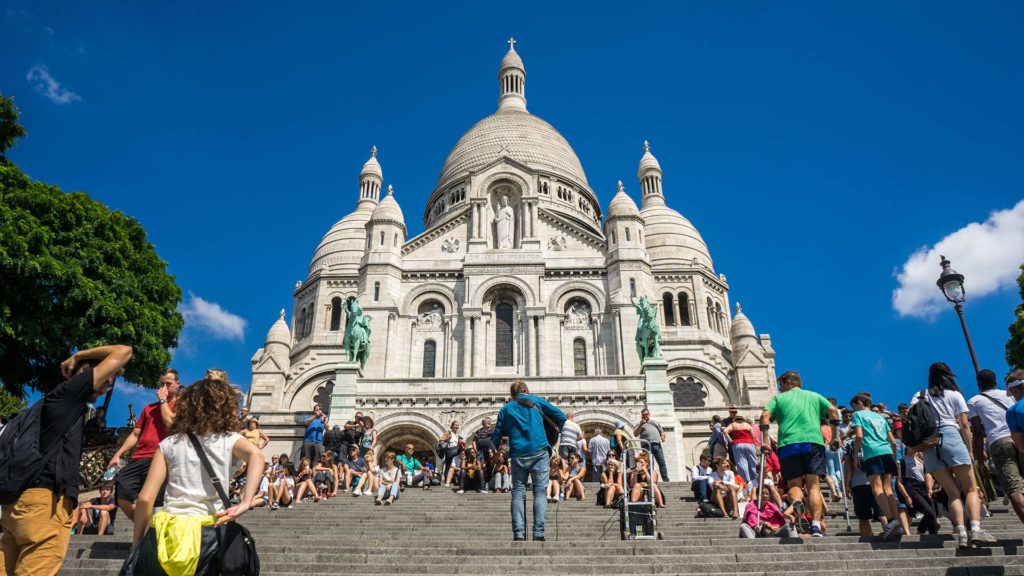 You'll know what I mean with photo motives, when I introduce you to the restaurant "L'Eté en pente douce" (8 Rue Paul Albert, 75018 Paris). The terrace of the restaurant consists of many colorful chairs and tables in the center of the square. In the evenings fairy lights in the trees enchant the place and ensure a great atmosphere.
5. Paris insider tips: The small Parisian vineyard
A vineyard in Paris? That's right! It's not for nothing, that there is an annual winefest in Montmartre. The Vineyard in Montmartre is in the Rue des Saules and is a small oasis of peace in the big city. It's also home of the "Vin de Montmartre", a light Rosé.
I love to go for a walk over here, to immerse myself in the scenery and give free rein to my thoughts. If you want to discover Montmartre and its history and the story of the vineyard, you can find guided tours of Montmartre.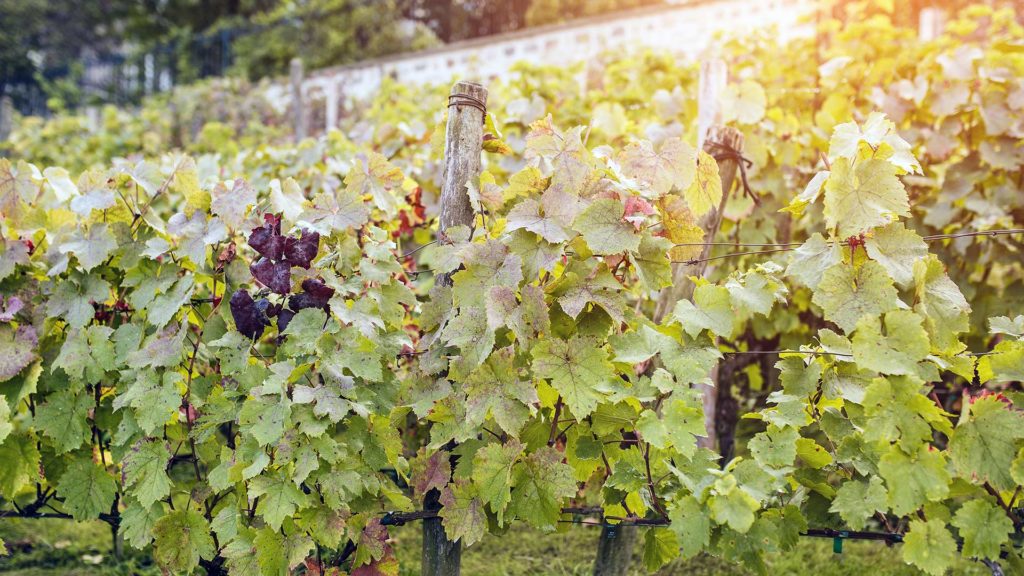 6. Colonnes de Buren and Jardin du Palais Royal
You might have already seen the Colonnes de Buren on Instagram a couple of times. They are a popular photo motive. The white and black striped columns of varying sizes are hidden in the courtyard of the Palais Royal close to the Louvre Museums.
After you got yourself the perfect picture, you can stroll through the small but lovely Park, the Jardin du Palais Royal. Enclosed by a former palace, decorated with benches and fountains, it really looks royal and invites one to enjoy a small break.
The courtyard of the Palais Royal is a little bit hidden in the 2, Rue de Montpensier in the 1. Arrondissement.The metro station Palais Royal Musée du Louvre (Lines 1 and 7) are located just a few walking minutes from the famous columns.
7. Terrace of the Palais de Tokyo
With my next Paris insider tip we get to the 16. Arrondissement, not to far from the Eiffel Tower. But even in this highly touristic area you can still find hidden gems. The Palais de Tokyo is home to the museum of modern arts and stands out thanks to it exceptional architecture.
Besides visiting one of the art exhibitions you should not miss the chance to treat yourself to a snack in the inhouse restaurant "Monsieur Bleu". From the restaurants terrace you have a stunning view of the Eiffel Tower! The restaurant is open every day and a great place to brunch in the weekends.
The Palais Tokyo is located in the 13, Avenue du Président Wilson and is closest to the metro stations Iéna and Alma Marceau (Line 9). Additionally the buses 32, 42, 63, 72, 80, 82 and 92 stop close by.
8. Pont de Bir-Hakeim
What's your favorite bridge in Paris? That's a tough one. My answer has to do with me living in this city for a long time and having to take metro 6 to university. The Line number 6 crosses the Seine, just next to the Eiffel Tower, on the 237 meter long Pont de Bir-Hakeim. This bridge is gorgeous and beneath the metro line is a second level for pedestrians and cars.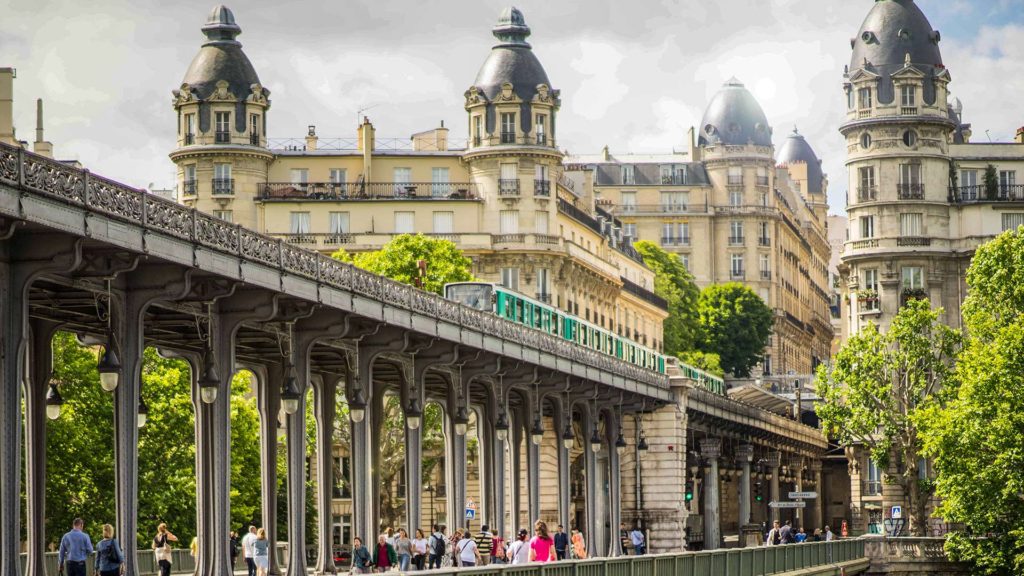 In regular intervals there are big lights hanging from the ceiling, making for an amazing scenery with the Eiffel Tower, the green metro passing by and the Seine in the background. I`m not the only one to grow fond of this sight. It's such an impressive backdrop, that some scenes of the movie "Inception" were shot here. To me it's a very romantic place, connected to Paris' most famous landmark and therefore a must for this list of Paris insider tips!
9. Paris insider tips: Jardin du Musée Rodin
You've probably already been to one of Paris' museums. The Louvre and the Musée d'Orsay are the most famous ones and definitely worth a visit. If you're into sculpturing you should check out the Musée Rodin. The gorgeous museum building is almost exclusively exhibiting works of the french master sculptor Auguste Rodin. Even if you're not that much into sculptures you should pay the Rodin Museum a visit.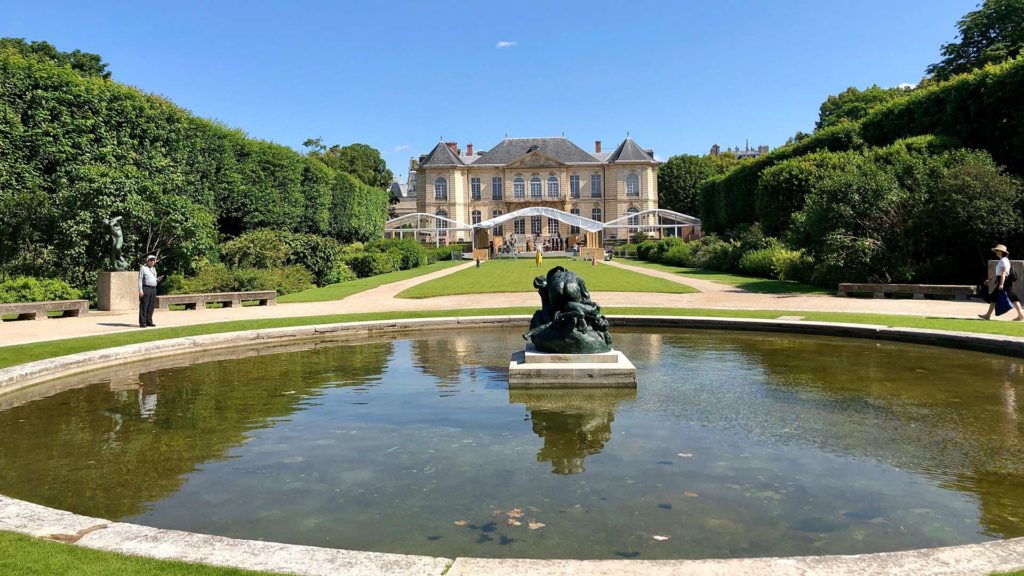 The garden with its water pools, plant arches and statues is just stunning. You can't imagine how quiet it is in there. Even though you're in the middle of Paris. You can even see the golden dome of the Invalidendoms from the garden. Magical! If you want to stay after a small stroll, you can visit the small Café of the museum.
10. BHV Marais – typical Parisian fashion, terrace with view & café (towards Seine, Pantheon, town hall)
The BHV Marais along with the Galeries Lafayette and the Printemps belongs to the "Grands Magasins", the biggest, most prestigious stores of Paris, but is a bit less well-known than its competitors. You should be on high alert when hearing the word Marais though. The trendy neighbourhood is a place you don't want to miss in our Paris insider tips!
In the BHV Marais you'll find typical parisian fashion. Even if you don't have the necessary change to buy something, you should still come around for some window shopping. You'll be definitely able to get yourself a coffee or a cocktail on the rooftop terrace though. The view is terrific: The Seine beneath you, you can see the Pantheon and the Parisian town hall Hôtel de Ville among others. It's a perfect spot to recall a day of sightseeing. Maybe you'll be able to spot one of your favorite places of Paris from here.
---
About the author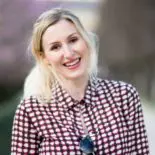 My name is Denise Urbach and I live in Paris for over 10 years now. Even after such a long time, Paris is still my absolutely favorite city. That's why I enjoy sharing our favorite spots with you!
Our website HelpTourists: www.help-tourists-in-paris.com
Facebook HelpTourists: www.facebook.com/helptourists
Pinterest HelpTourists: www.pinterest.de/helptourists
How did you like our Paris insider tips? Have you already visited one of these hidden gems? Maybe you even have more recommendations for Paris you want to share with our readers?
Photos: photo 1 (Port de l'Arsenal): Lisandro Luis Trarbach/Shutterstock.com – photo 4 (vineyard): VanoVasaio/Shutterstock.com
Gast
Dies ist ein Gastartikel. Falls du Fragen oder Anregungen zum Thema hast, schreibe sie einfach in die Kommentare oder kontaktiere den Gastautor direkt auf seinem Blog.