Dieser Artikel ist auch verfügbar auf: Deutsch
Amsterdam is one of the most popular destinations in Europe for a city trip. The capital of the Netherlands is not only known for its sights, but of course also for its coffee shops worldwide. A city trip to Amsterdam can be quite varied, as there are countless sights to discover.
18 tips for the perfect Amsterdam city break
After about 7 years, I visited Amsterdam again and spent a few days exploring the city. I went to see well-known places but also tried out a few insider tips from Amsterdam. Find out what to experience on an Amsterdam city break here in our tips and things to do in Amsterdam.
---
How to get to Amsterdam
From Europe there are several ways to get to Amsterdam. While your own car is a popular variant, long-distance buses (e.g. Flixbus) or the train often go to Amsterdam at low cost. The most expensive alternative is usually the airplane, but here, too, KLM often offers bargain prices, which you can find best at Skyscanner. The website of Omio also offers a good overview and a great booking system for traveling to Amsterdam by public transport.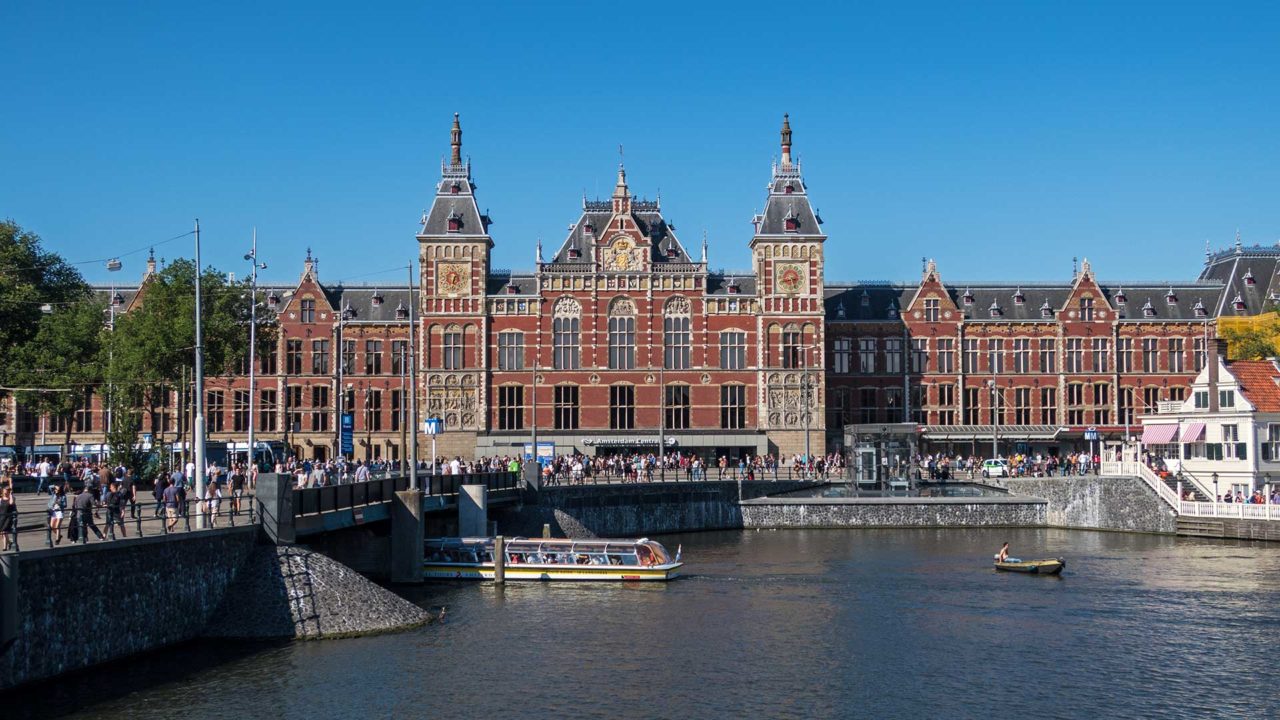 If you are arriving by car, parking is still a problem in Amsterdam and it can be very expensive. The Park + Ride parking spaces can help, but there are a few things to consider in order to be able to use the cheap rates. You can find some help here.
From the airport, train station or even the station Sloterdijk for long-distance coaches, you can get anywhere by train, which is the number one transport possibility in Amsterdam besides the bicycle. You can also buy tickets for public transport online before your trip and start driving straight away without having to go through the ticket machines.
Accommodation in Amsterdam – our hotel tip
There are numerous hostels or hotels in Amsterdam that you can choose for your city trip. The choice, of course, depends on your budget. If you have more money at your disposal, a hotel near the center is worth it, as you can walk to almost all of Amsterdam's sights.
You can get a cheaper hotel in Amsterdam just a little bit outside of the center. Since the train connection to the Amsterdam Centraal is very good, a hotel close to a train station is always a good choice. I chose the easyHotel Zaandam. Only 2 minutes from the train station and within 15 minutes you are in the city center. A room with a view, air conditioning and a great starting point. Really recommendable and not too expensive.
Amsterdam: Tours and tickets
Tip: Many sights in Amsterdam cost admission and often quite a lot. With the I amsterdam City Card for 1, 2, 3 or 4 days you get access to many museums, sights and a free canal cruise. Further discounts on admission prices and the use of public transport are also included.
---
1. Royal Palace
The Royal Palace of Amsterdam Paleis op de Dam is located on Dam Square. It was originally built as a town hall between 1648 and 1665 and later used as the Royal Palace from 1808.
The Royal Palace is considered the most important building of the Golden Age in the Netherlands. Today the palace is no longer the residence of the royal family, but is used for official events and state receptions.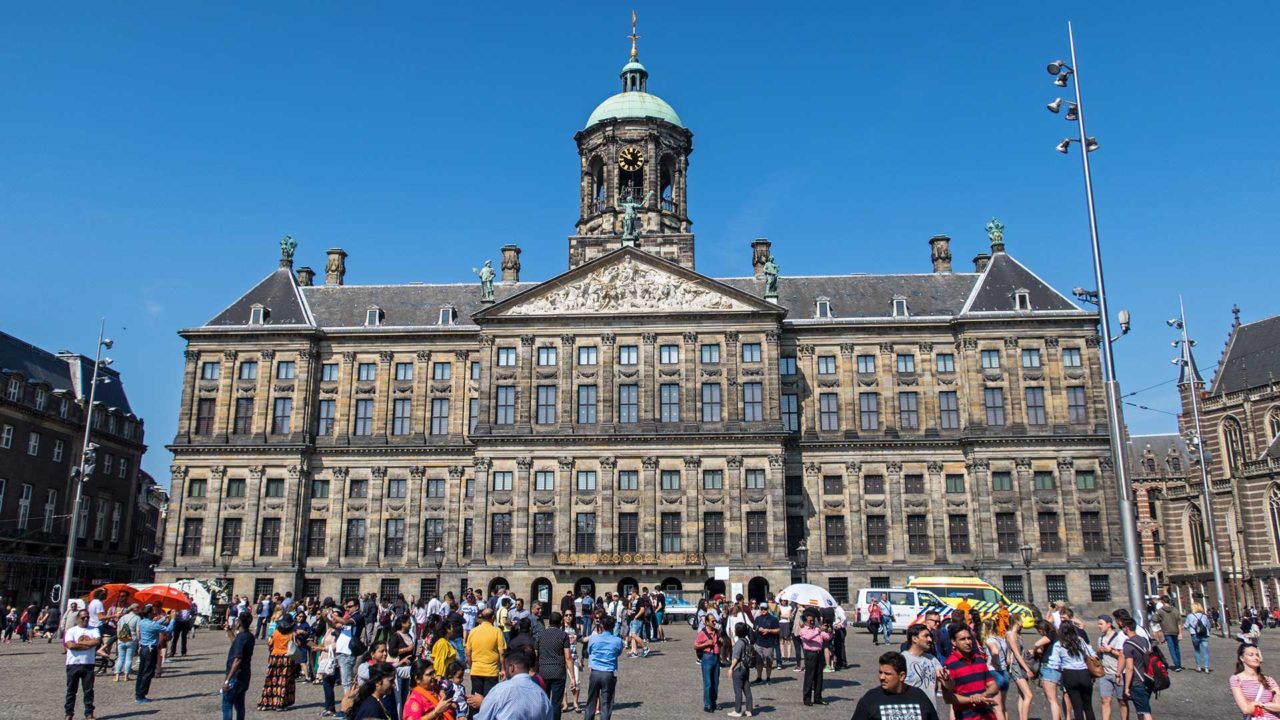 On the square in front of the Koninklijk Paleis there are still a few showmen and snack stands that cater to the masses of tourists. Because there is a lot going on here every day.
Since 2009 you can explore the Paleis op de Dam again as a visitor. It is open daily from 11.00 A.M. to 5.00 P.M. in summer and otherwise from 12.30 P.M. to 5.00 P.M. The entrance fee is € 7.50. However, the palace is sometimes closed and if you really want to see it, you should inform yourself online beforehand.
2. Madame Tussaud
Opposite the square in front of the Royal Palace you will find Madame Tussaud, one of the most famous wax figure cabinets in the world. Here you can get close to your favorite stars like Johnny Depp, George Clooney, Robbie Williams and many more. Unfortunately, only the true-to-original wax figures.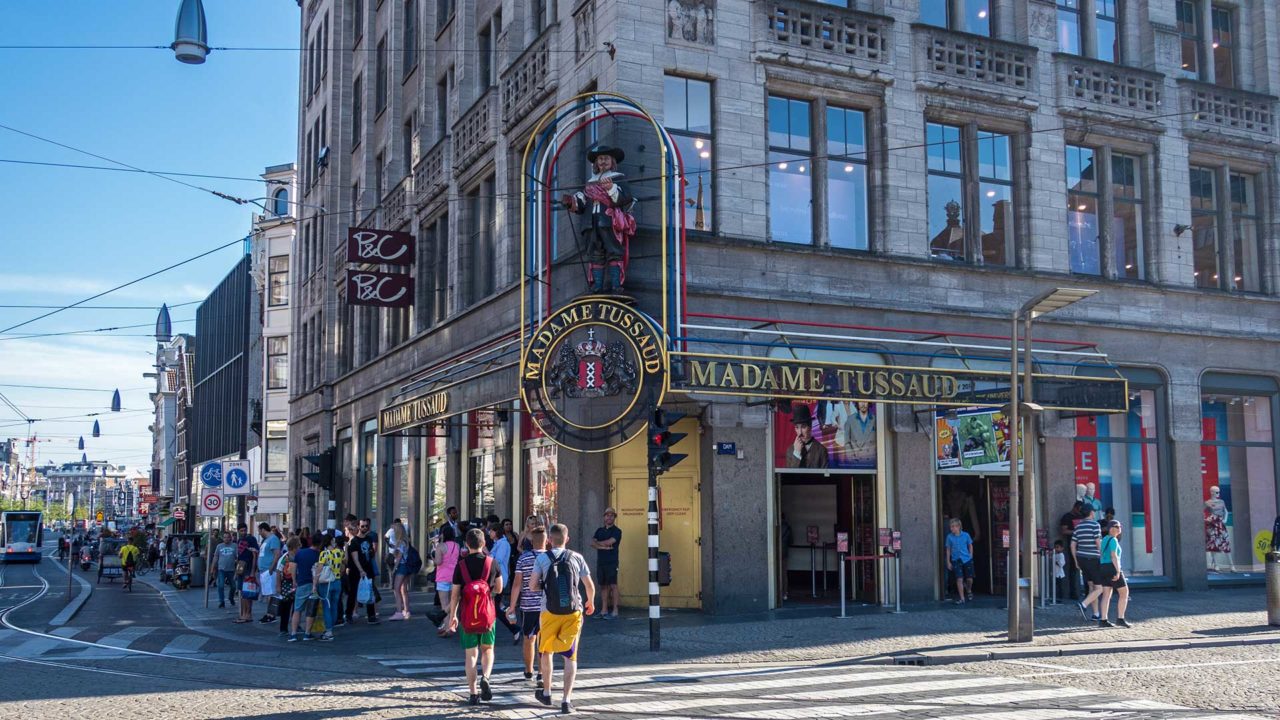 To get in touch with the stars or to take various photos, you need a ticket for Madame Tussaud. It is worth buying a ticket online beforehand, otherwise you may have to expect long queues. By the way, with the I amsterdam City Card you will get a 25% discount on the entry of € 20. Open daily from 9.30 A.M. to 8.00 P.M.
3. De Oude Kerk
De Oude Kerk means "the old church" and it is the oldest building in Amsterdam from the 13th century. It is still active, but not only worship services take place inside. Sometimes concerts or exhibitions are held there.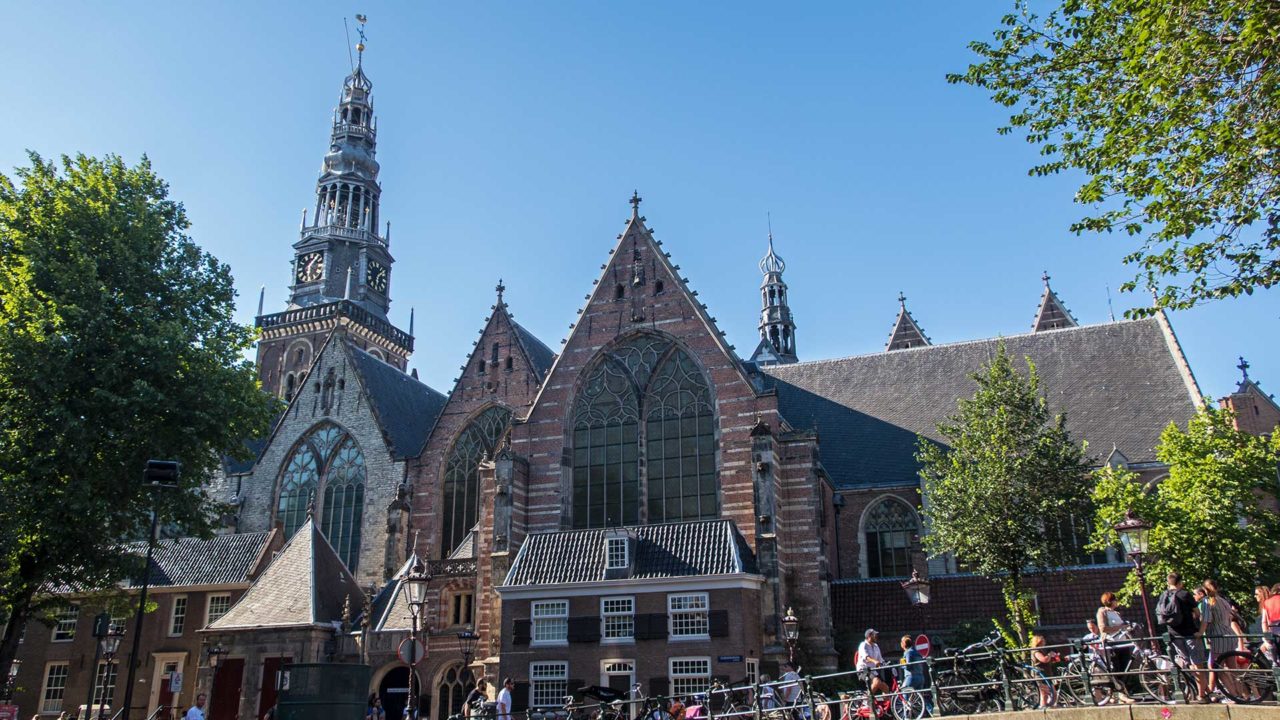 The church is located in the red light district De Wallen, next to a canal, and connects to a few residential buildings. Open daily from 10.00 A.M. to 6.00 P.M., but on Sundays only from 1.00 P.M. to 5.30 P.M.
Admission to the Oude Kerk is very high at € 10, but you can also climb the tower on a guided tour. By the way, with the I amsterdam City Card you get free entry to the Oude Kerk.
4. Red light district De Wallen
Amsterdam's red light district is well-known and offers many facets around the Oude Kerk. Nightlife is raging here, even if many visitors only come to look around. By the way, you should refrain from taking pictures of the prostitutes, because this is not welcome.
If you would like to know what is going on in the red light district of Amsterdam, what crazy shows there are and want to take a look behind the scenes, we can recommend an Amsterdam red light district tour with a city guide.
5. I amsterdam/Rijksmuseum
The I amsterdam sign is not necessarily a huge highlight or an interesting sight, but it is still a tourist magnet. It's always full there, which is why you don't get a really nice photo of it. The Amsterdam welcome sign is located right between the Rijksmuseum and Museumplein.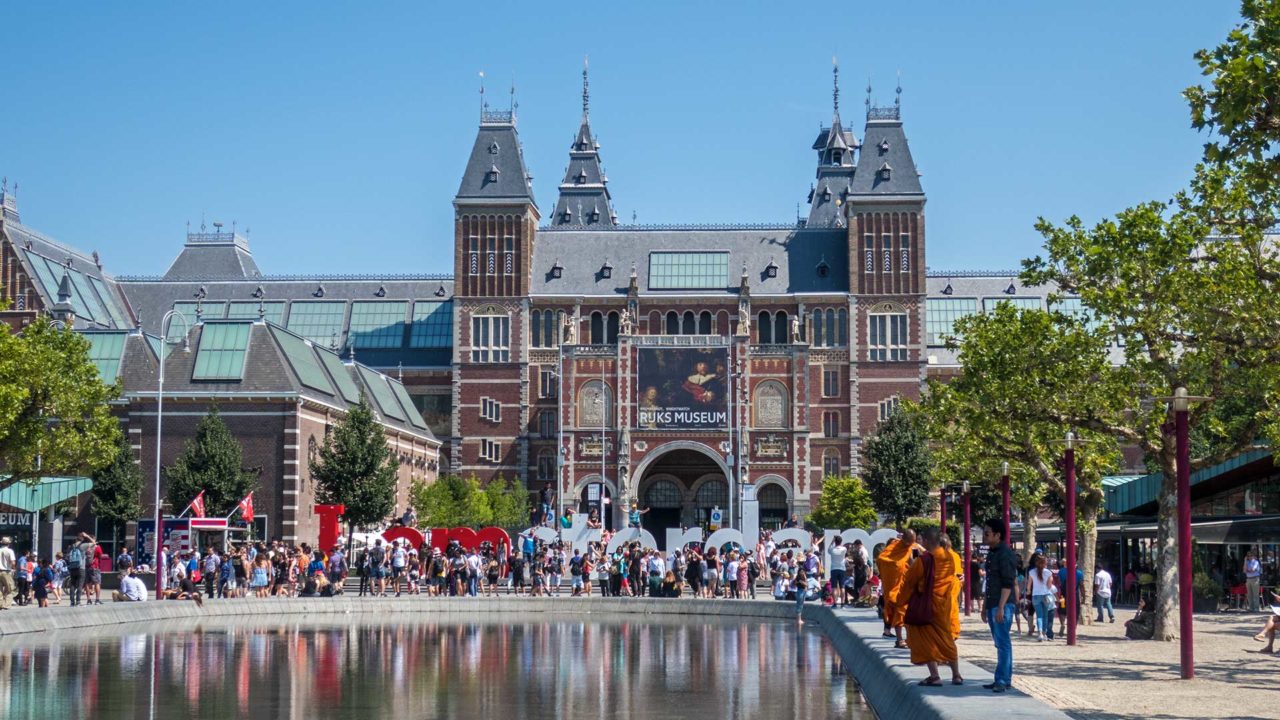 If you want to visit museums, the Rijksmuseum may be just the thing for you. The museum revolves around the history of Amsterdam and the associated handicrafts. You will also find many art objects and paintings from the Netherlands inside. It is open daily from 9.00 A.M. to 5.00 P.M. and admission costs € 17.50. It is best to buy tickets online beforehand due to the high demand.
6. Museumplein
The Museumplein is located directly opposite the Rijksmuseum and I amsterdam sign. While some tourists and Amsterdamers like to relax in the shade of the trees there, you can explore many of Amsterdam's museums here.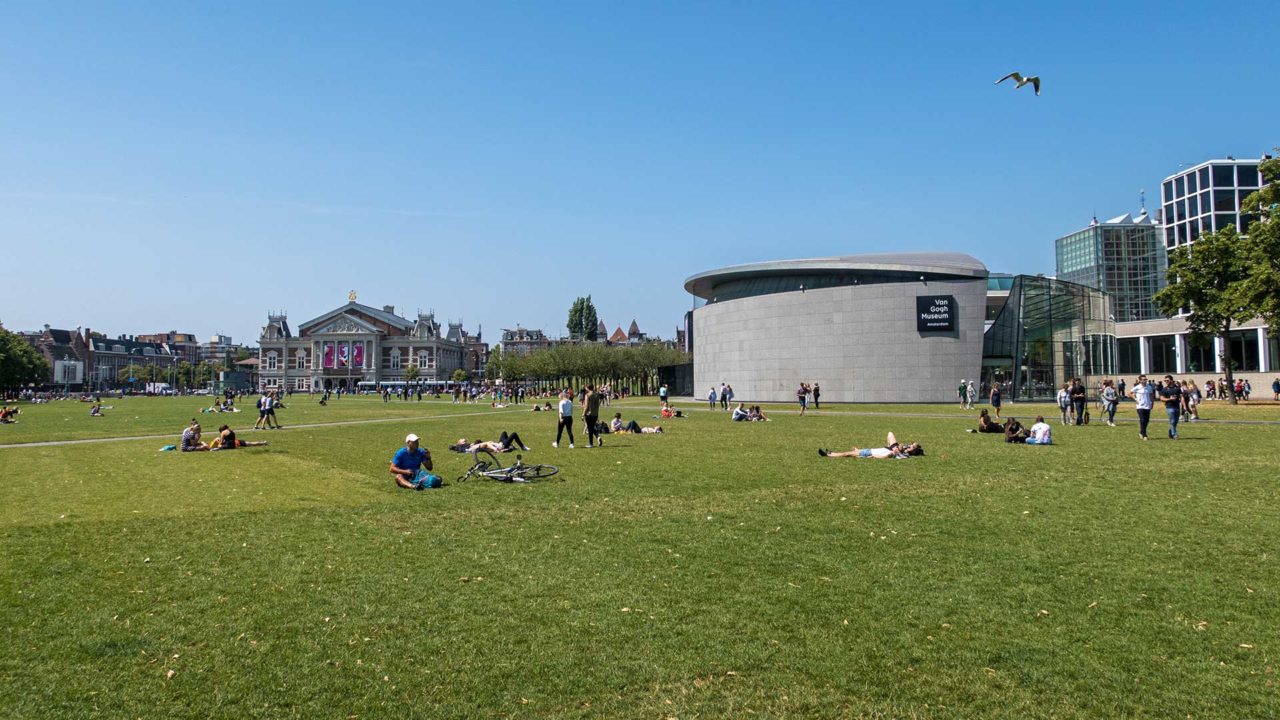 These include e.g. the Van Gogh Museum, the Diamond Museum or the Stedelijk Museum. But even if you don't want to visit any of the museums, the Museumplein is perfect for relaxing. Just when you walk through the city, you can take a break in the shade of the trees.
7. Vondelpark
The Vondelpark is the most famous park in Amsterdam and also the second largest. It attracts countless visitors every year who relax in the park or visit the cafes. Some watch one or another concert that is held on the open air stage.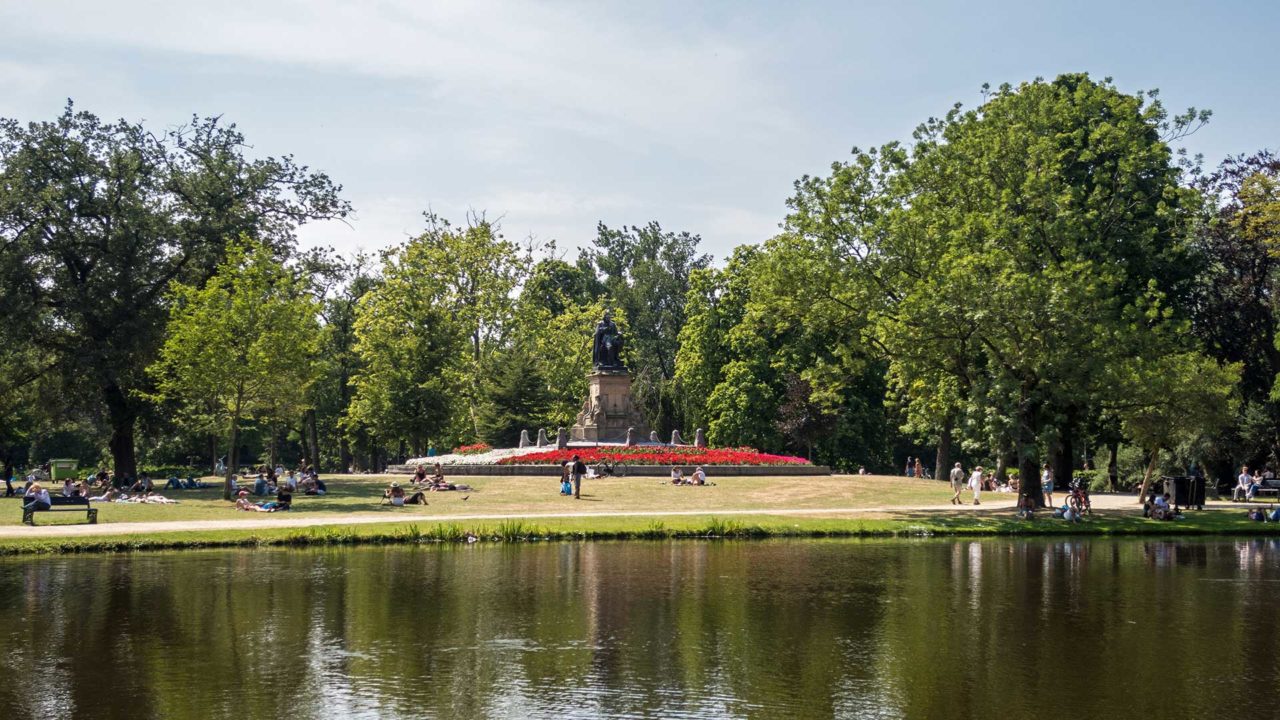 The Vondelpark was opened in 1865 and since 1996 it has even been under monumental protection. Until 1953, however, the Vondelpark was privately owned and only then passed into the possession of Amsterdam. A visit to the park is highly recommended.
8. Canal cruise
A cruise through the canals of Amsterdam is absolutely part of a city trip! The boat trips are offered in many places in the city. There are many options near the Anne Frank House or a few minutes from Amsterdam Centraal.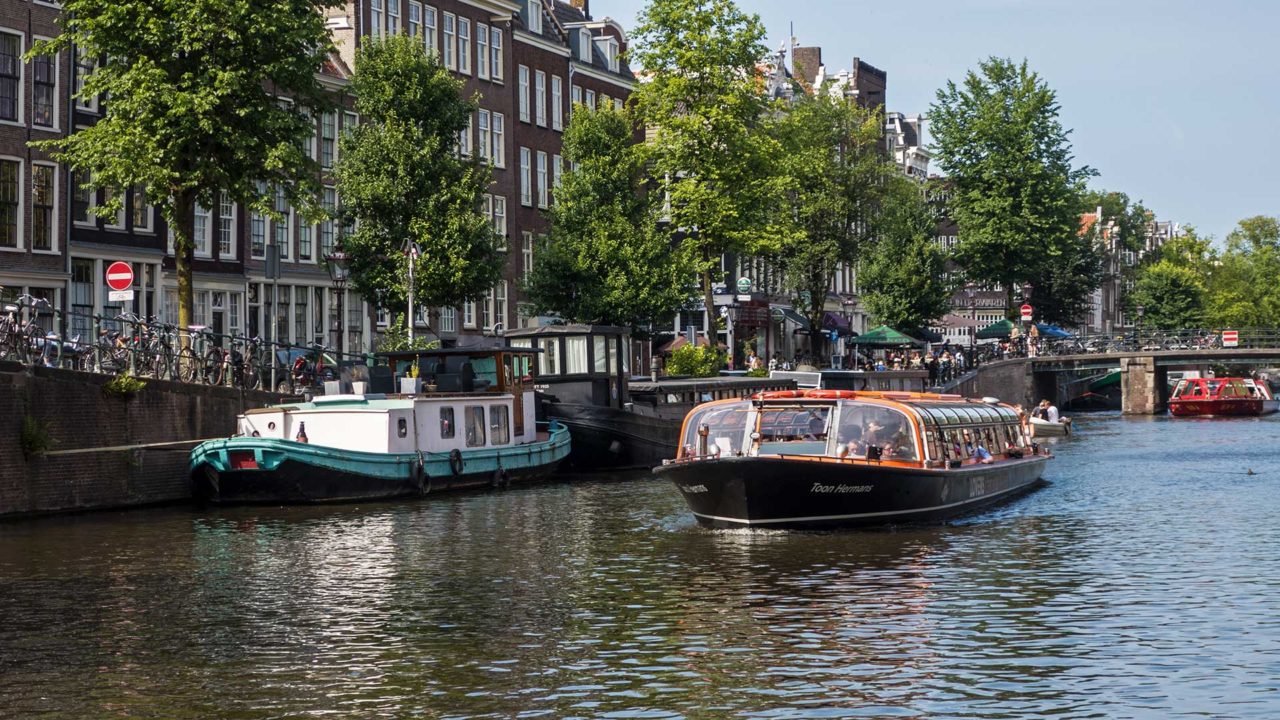 There is an hourly ride from € 13 per person. There are also nice trips with drinks etc. included, which are a bit more expensive. A canal cruise in Amsterdam is always worthwhile and recommended.
Tip: With the I amsterdam City Card you can even do a free canal cruise. If you're thinking about buying the card, that's an added bonus.
9. Anne Frank Huis
The Anne Frank House, one of the most popular museums in Amsterdam, is dedicated to the history of Anne Frank, which fell victim to the Jewish Holocaust. The Anne Frank House is located directly on the Prinsengracht and due to the large number of tourists taking pictures there, you can't really miss it.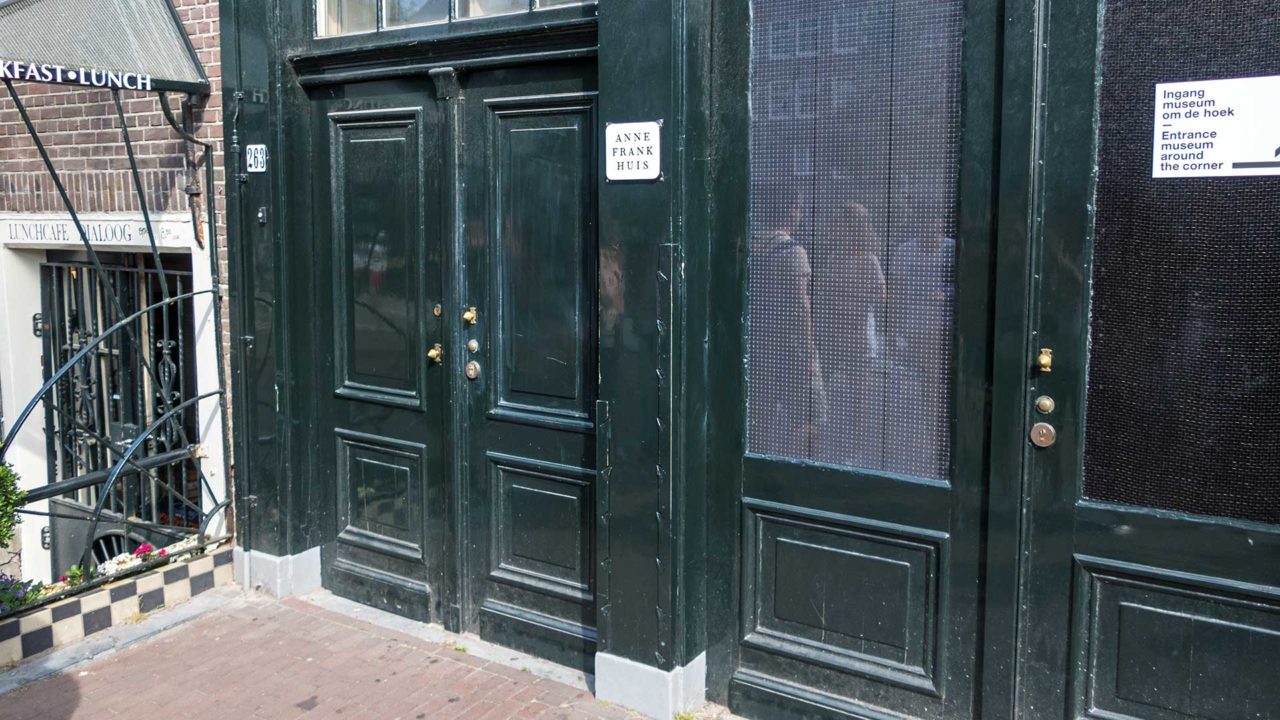 You can find out more about Anne Frank in the museum next door. There you can even see the original diaries or her bedroom. But be careful, if you want to visit the Anne Frank Museum, you should buy tickets in advance. There are often long queues in front of the museum and you can expect hours of waiting.
Tickets can be found online on the Anne Frank House website, which are valid for a specific time frame, price € 10 per person. It is best to reserve 2 months in advance. Open daily from 9.00 A.M. to 10.00 P.M. in summer, and in winter only until 7.00 P.M. The exception is Saturday in the winter months, when it is open until 9.00 P.M.
10. Amsterdam Cheese Museum
The small Amsterdam Cheese Museum is located diagonally opposite on the other side of the canal, just a few minutes from the Anne Frank House. Open every day from 10.00 A.M. to 6.00 P.M., it invites everyone interested in Dutch cheese.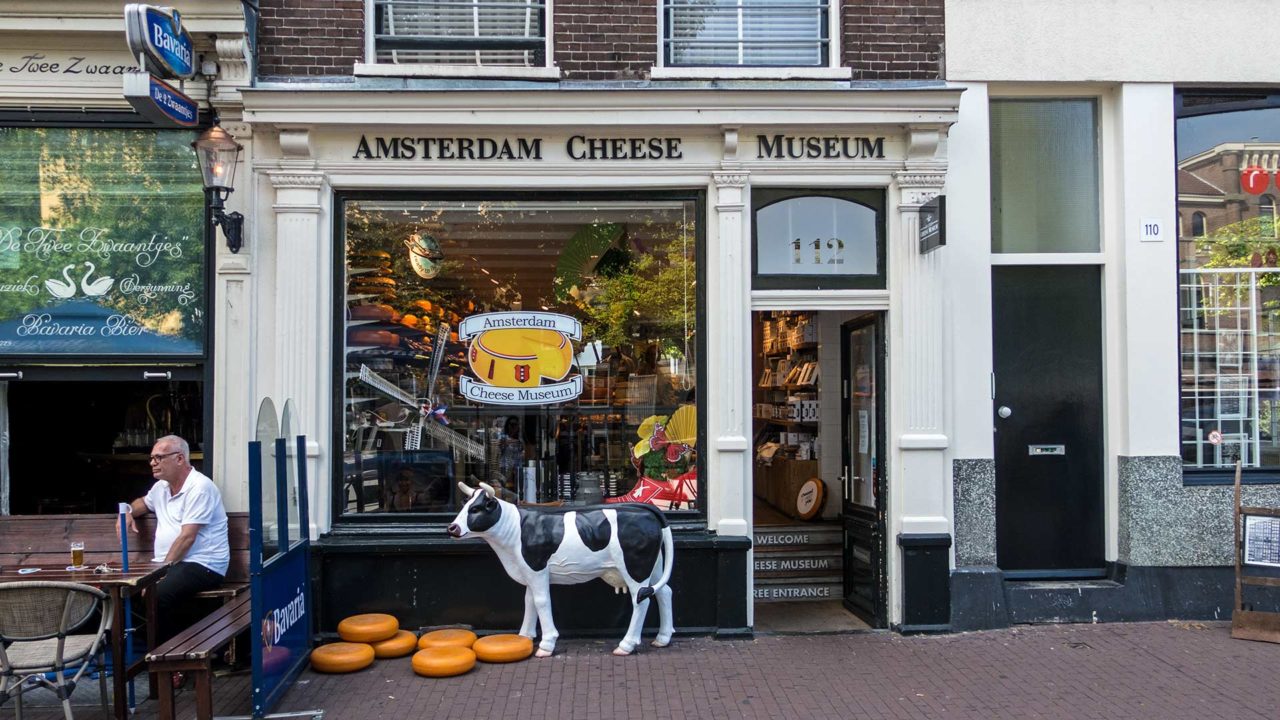 Inside you can try countless types of cheese and of course you can also buy them in the cheese museum and then take them home. A nice souvenir from Amsterdam. The whole visit is free, by the way, so it's worth a look.
11. Nine Straatjes
The Nine Straatjes are nine small streets between the Keizersgracht and the Herengracht. They are perfect for a short walk between cozy bars, small boutiques and second-hand shops.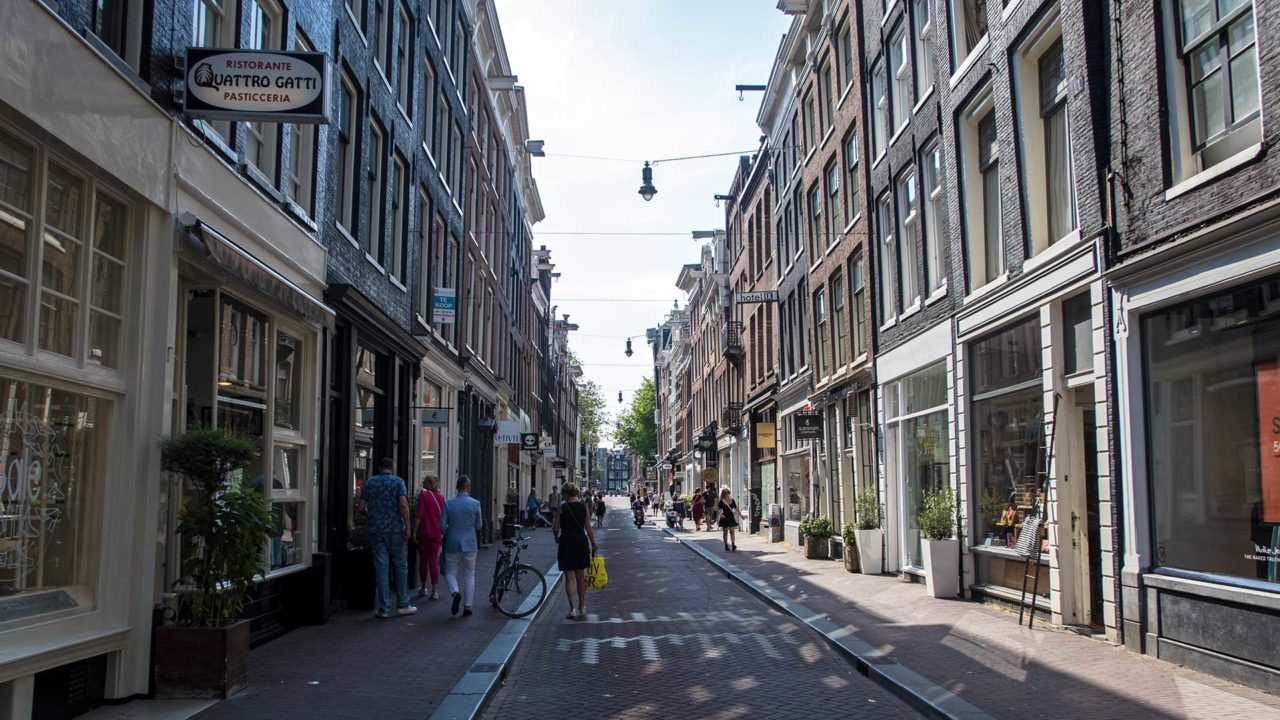 If you want to buy something nice in Amsterdam away from the big department stores and fashion chains, then you should stop by the Nine Straatjes. Even if you don't buy anything, the neighborhood is very nice to look at or suitable for a short break while sightseeing in Amsterdam.
12. Albert Cuyp Market
The Albert Cuyp Market is the largest open-air market in Holland. The market in Amsterdam has existed since 1905 and extends to over 250 stalls selling almost everything from textiles to various Dutch dishes.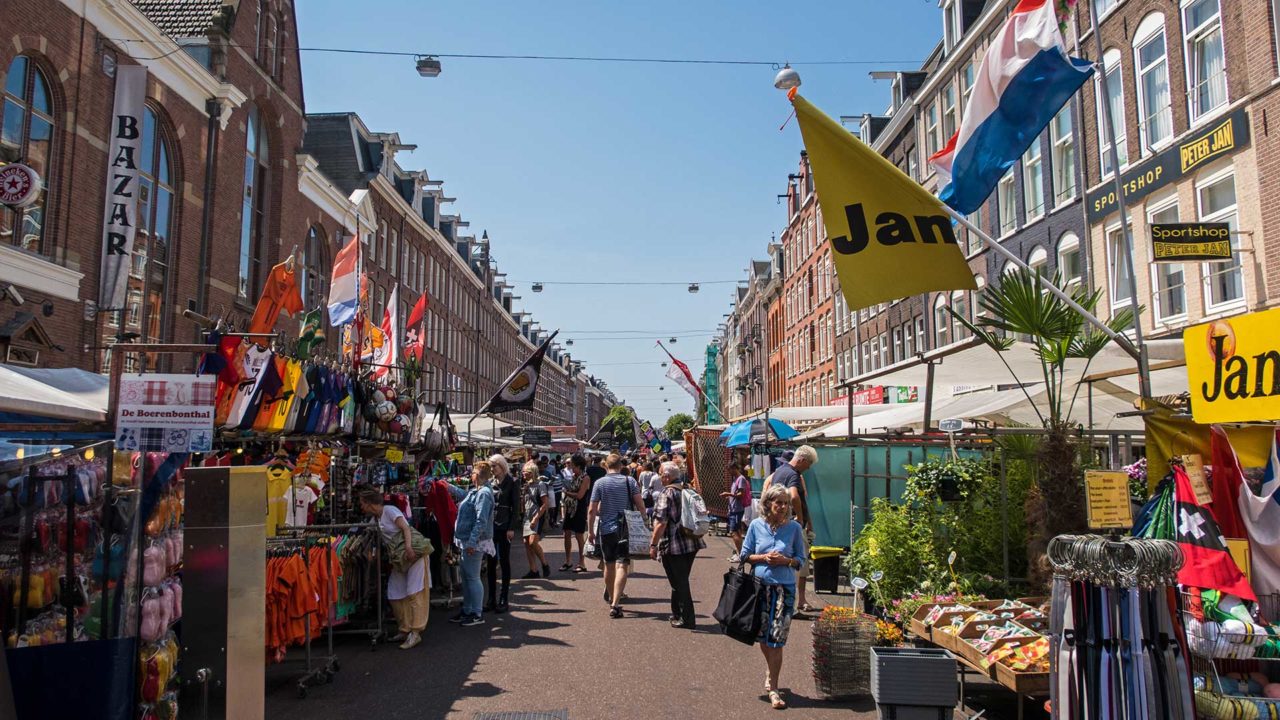 Open every day from 9.00 A.M. to 6.00 P.M., the Albert Cuyp Market is closed only on Sundays. The alleys next door are also lined with small cafes and restaurants, so you can spend a few hours in the area. Stroll through the market, try Dutch delicacies on the stands or watch the goings-on from the cafes and restaurants.
13. A walk through Jordaan
Jordaan is often described as the most beautiful district in Amsterdam. The best way to explore the authentic district between canals, small boutiques and cafes is on a walk. Once the working class district of Amsterdam, Jordaan has become a very hip area.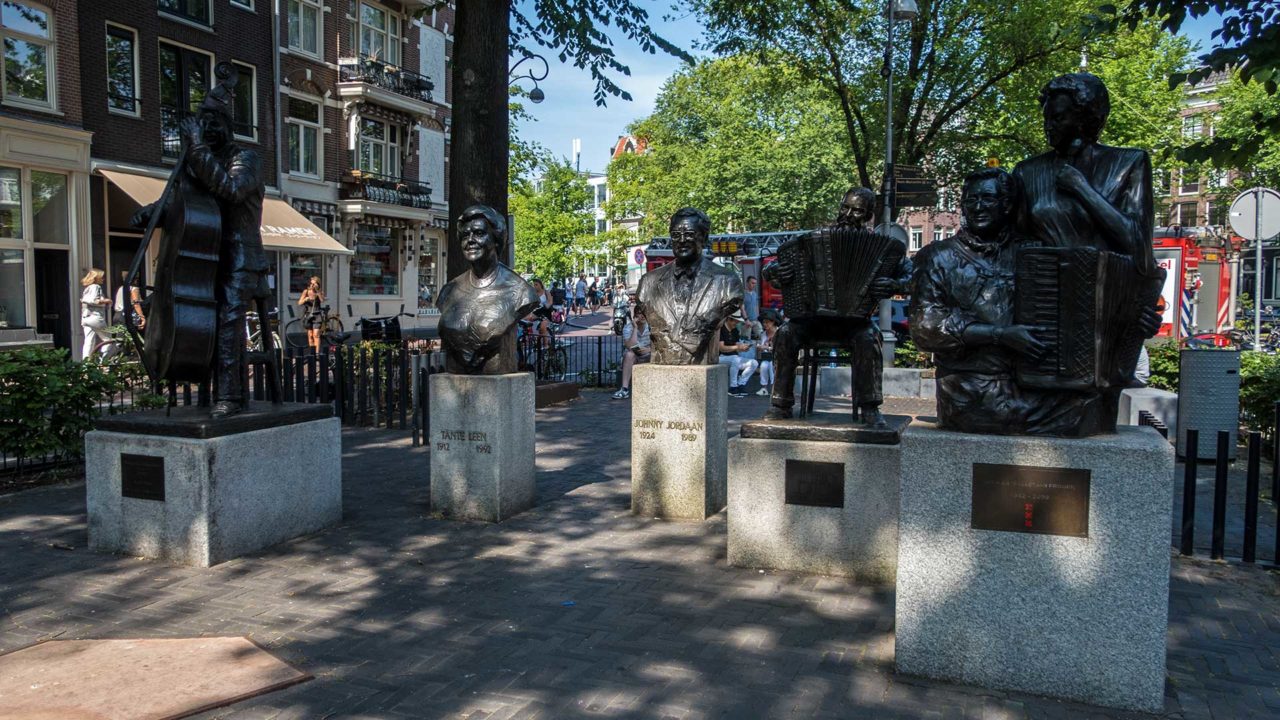 If you hang around in Jordaan, you will notice that everything is a little quieter here and the hustle and bustle of a big city is not really noticeable. Although there is a lot going on here, the atmosphere is very much different.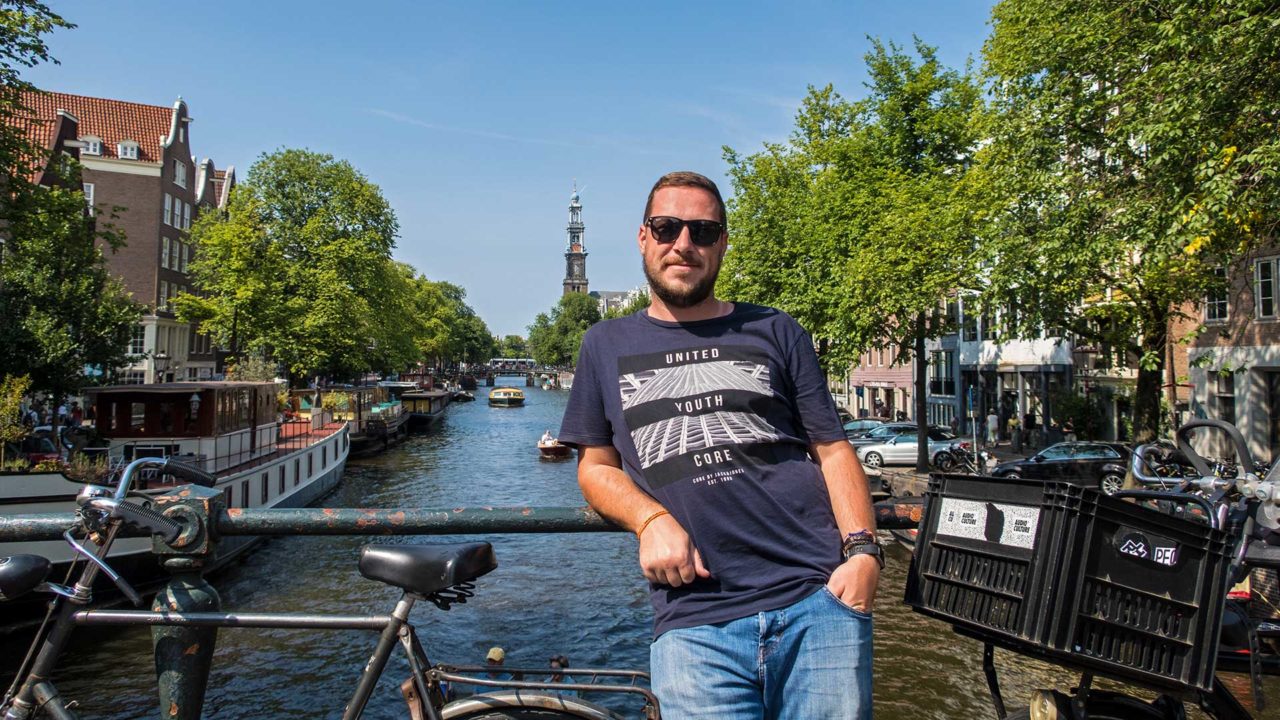 Stroll along the many canals, sit in the cozy cafes or marvel at the houseboats and gabled houses. Jordaan is really beautiful and rightly called one of the most beautiful neighborhoods in Amsterdam.
14. Bloemenmarkt
You can visit the flower market in Amsterdam every day from 9.00 A.M. to 5.00 P.M. Except on Sundays, most shops don't open until 11.00 A.M. The "floating" Bloemenmarkt has existed since 1862 and is one of the most famous markets in Amsterdam.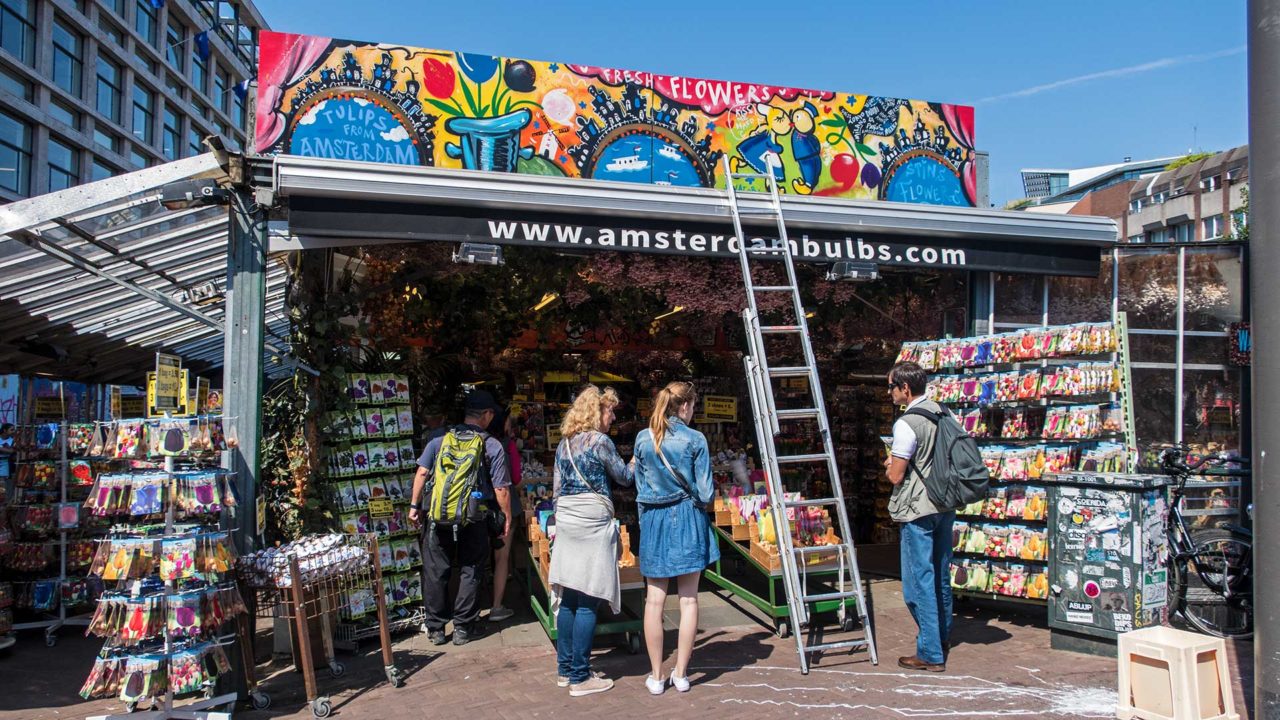 The name floating flower market comes from the fact that flowers used to be sold on boats. Today, however, the shops are built on fixed boats.
On the market you can buy numerous flowers, plants or seeds to plant yourself at home. But even for a walk it is very nice. There are also many cafes around the Bloemenmarkt that invite you to linger.
15. Coffee shops
For many people, Amsterdam and coffee shops simply belong together. Since the consumption and sale of cannabis in the Netherlands is at least tolerated, Amsterdam has become a paradise for stoners. Many tourists try at least something in the coffee shop here, although the quantities for tourists are limited.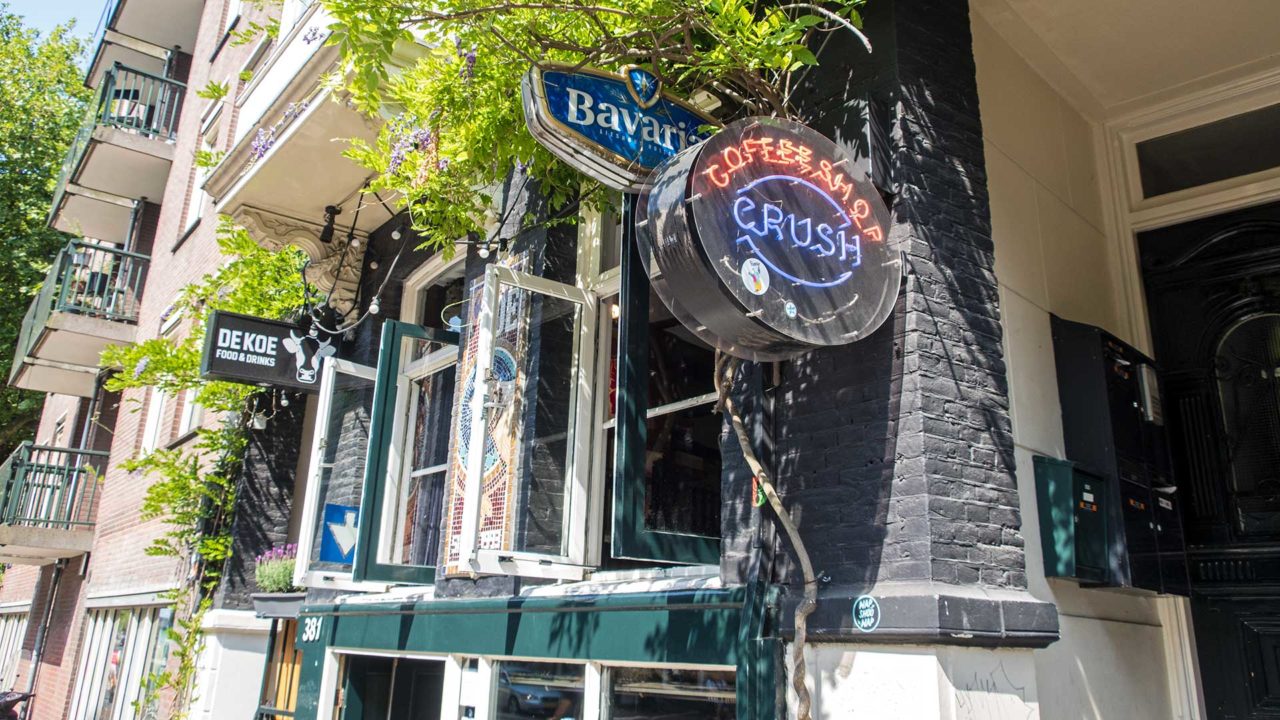 You can also get advice in a coffee shop on-site if you are not familiar with the different types of cannabis. But be careful, the weed in Amsterdam can be very strong if you are not used to it!
You don't need to look far for coffee shops in Amsterdam because they are very common in the city. If cannabis isn't your thing, you can safely ignore them.
16. NDSM shipyard
The NDSM shipyard was the largest shipyard in Europe in the 80s and has now developed into a great place for bars and the artist scene of Amsterdam. The nice thing is that behind the Amsterdam Centraal you can take a boat to the NDSM shipyard and that even for free.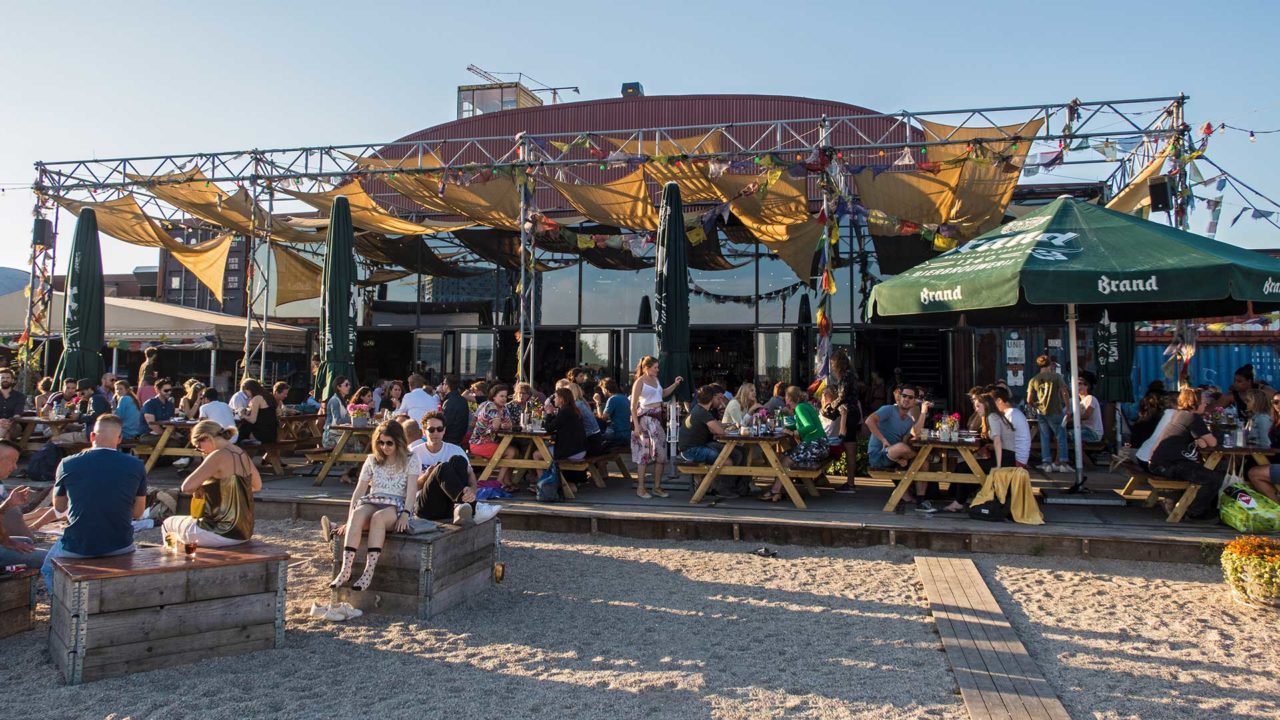 You can have a look around on site or relax in one of the beach bars such as the Pllek. Sometimes movies are even shown on a big screen. But otherwise, the atmosphere is very relaxed.
A great trip away from the mass tourism destinations of Amsterdam, where you usually only meet locals and tourists are still a minority. Explore the area, settle down in a beach bar and visit one of Amsterdam's largest flea markets, which takes place once a month at the former NDSM shipyard.
17. NEMO Science Museum
In the port of Amsterdam, not far from the Amsterdam Centraal train station, you will find the NEMO Science Museum. Here you will be taken into the world of physics, chemistry and technology. Interesting for the whole family. Entry costs € 16.50 per person, but with the I amsterdam City Card you can visit the museum for free.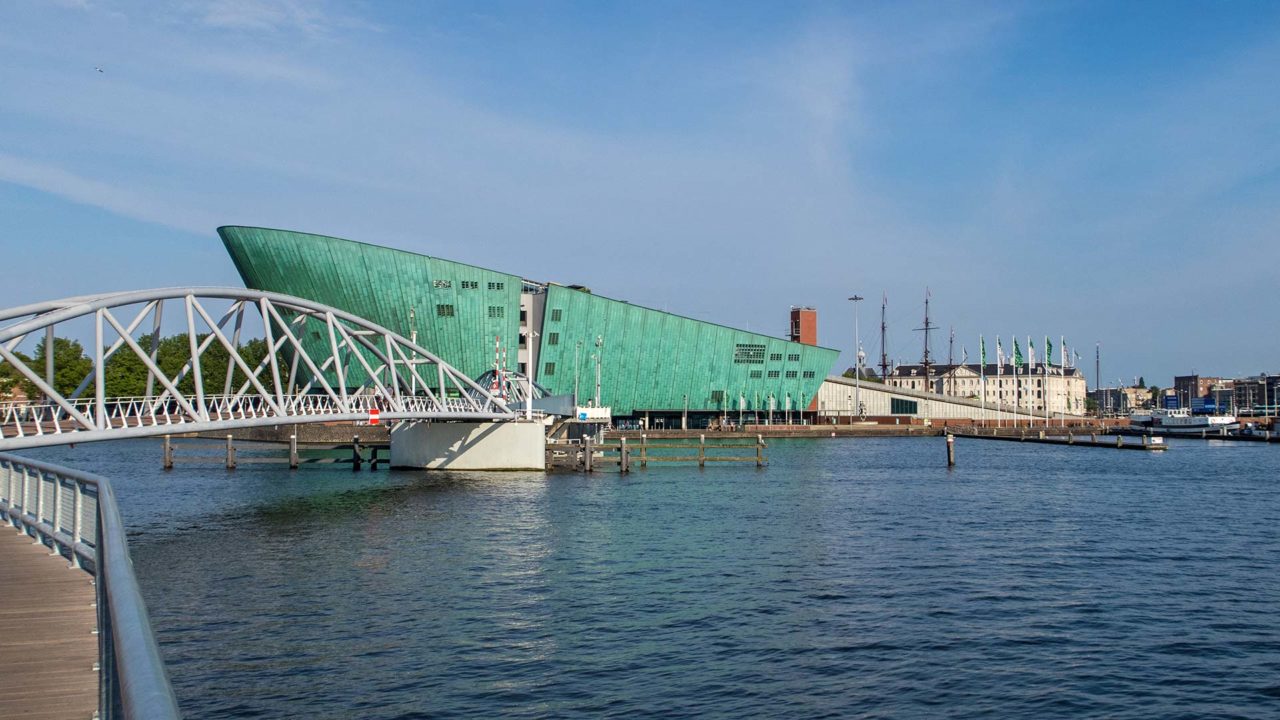 A highlight of the NEMO Science Museum, which makes it a real insider tip in Amsterdam, is the roof of the unique building. You can go on top for free and enjoy the view over Amsterdam.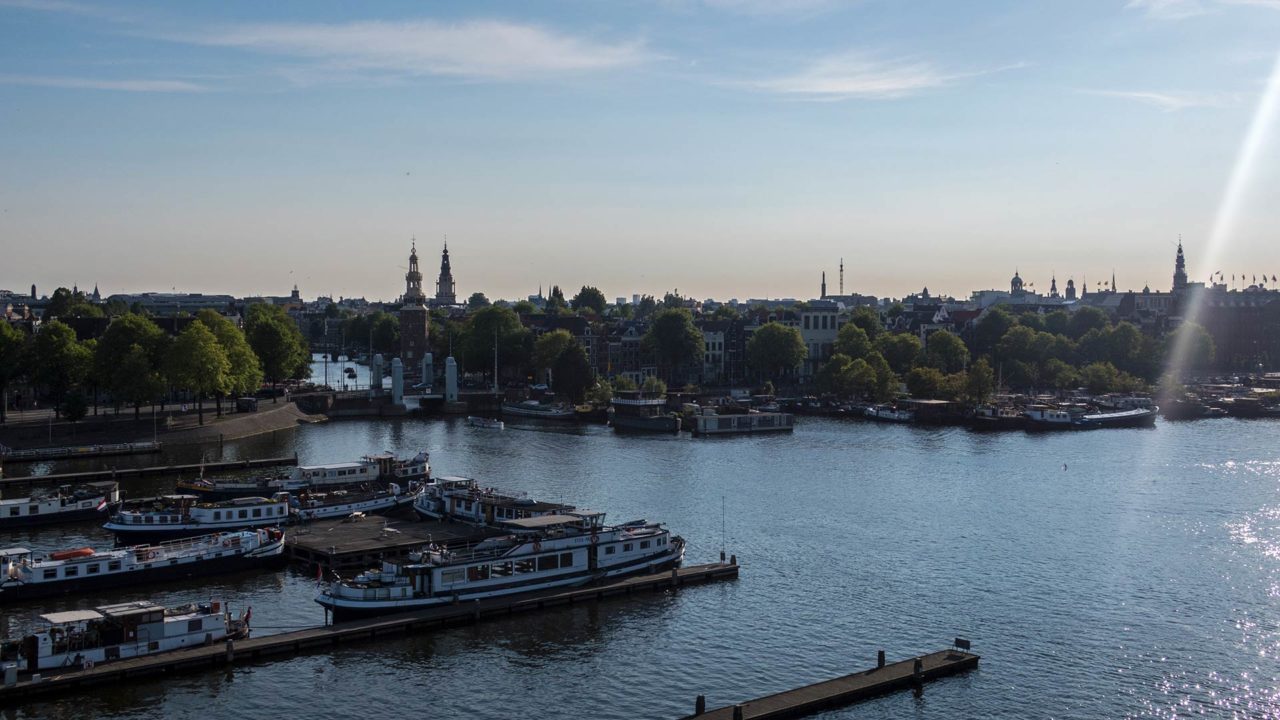 Apart from a few tourists and a few residents of Amsterdam, which use the stairs to the roof for their sports, the visitors were very little. Also recommended at sunset with a view over Amsterdam.
18. Dutch food
The Netherlands offers many specialties when it comes to food. If you like to try new things, then you've come to the right place. This includes not only cheese, but a whole amount of other dishes such as the thick Dutch fries, Kibbeling – fried fish, mostly cod, Snert – a delicious pea soup or Stamppot, a traditional potato and vegetable stew.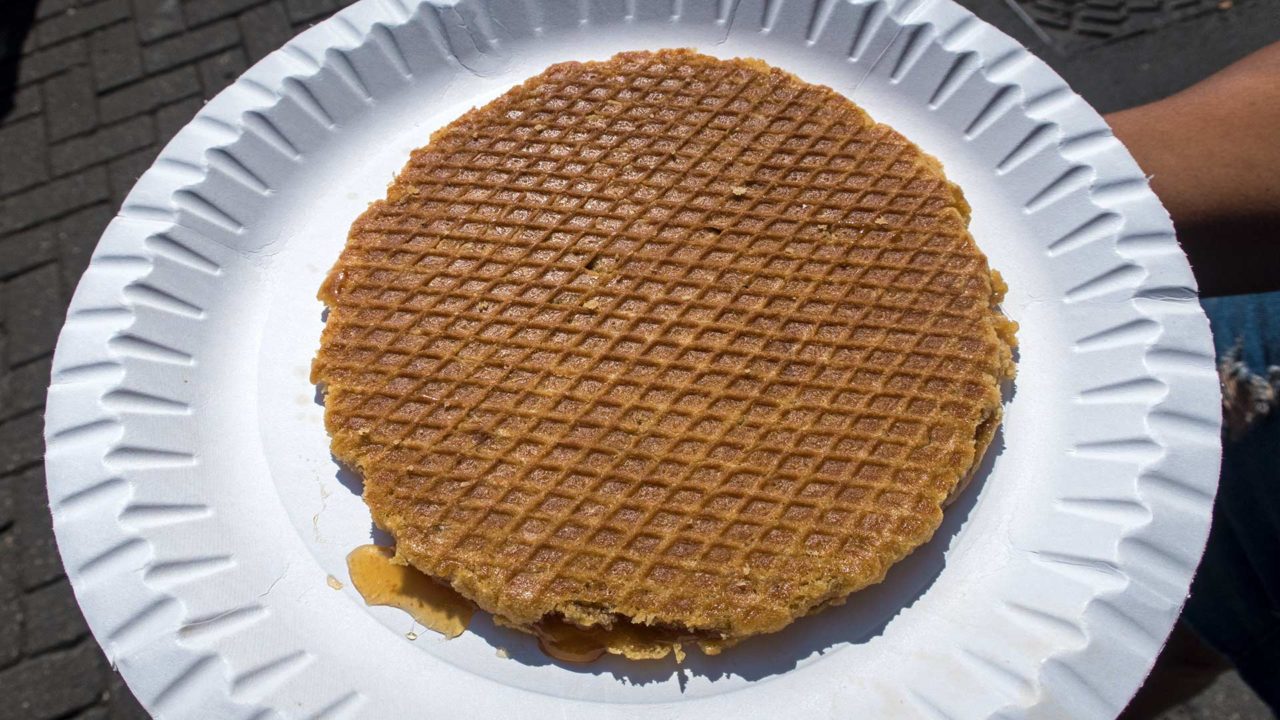 But there are also many sweet dishes in the Dutch cuisine. The Stroopwafel, which are mostly filled with caramel in the middle, or Poffertjes, small mini-pancakes that can be bought at many street stalls, are very popular.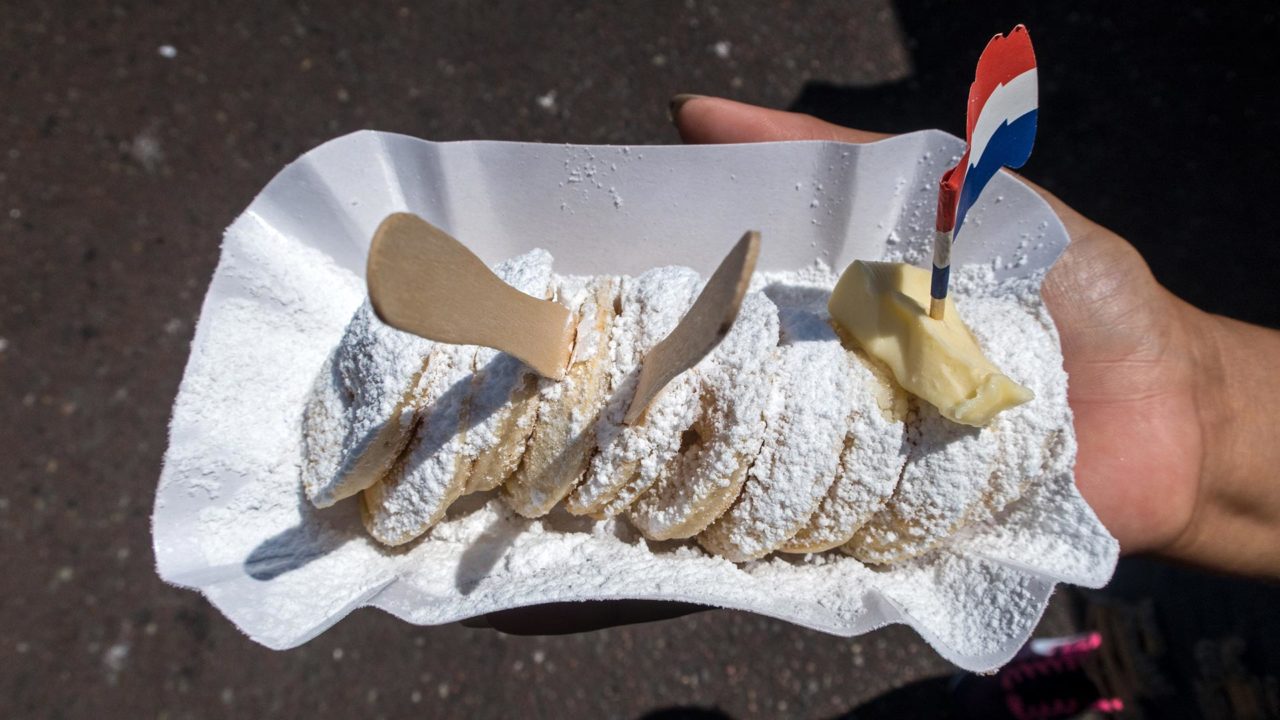 If you like fish, try the popular raw herring with onions and pickled cucumbers. Or something unusual, at least when buying. Febo is a chain that offers food such as burgers etc. in vending machines. For the little hunger in between you can try this. You should definitely not go hungry in Amsterdam.
Plan your trip to Amsterdam now
More hotel recommendations for Amsterdam:
Popular routes to Amsterdam:
---
Do you have any more tips for Amsterdam? How do you like the city? We look forward to your feedback in the comments.