Dieser Artikel ist auch verfügbar auf: Deutsch
The Gili Islands are primarily known for 3 things: party, diving and snorkeling. But there are much more things you can do here and probably many visitors don't even know about them. Hence, in this article we put together 25 activities for the Gili Islands.
Gili Islands: 25 activities and must-dos
---
How to get to the Gili Islands
The Gili Islands are part of Bali's neighboring island Lombok and can be reached easily from there. But if you arrive from Bali, then the speedboat is recommended. You can book this online and it takes you to the Gili Islands in about 2 hours.
To get to Lombok, there are two possibilities. First, the speed boat or the ferry from Bali, Sumbawa etc. or the airplane. You can fly regularly to Lombok from many destinations in Indonesia as well as directly from Kuala Lumpur. Find more about connections, times and prices at Skyscanner.
From Bangsal Pier on Lombok you can then take the local boats to the Gili Islands. But chartering a private boat can be a good alternative for a larger group. There are also boat connections from Bali via the Nusa Islands to Gili Gede and finally Gili Trawangan. More information about boats and times is available at 12go.asia.
Accommodation on the Gili Islands – our hotel tip
Although the 3 Gilis are very small islands, the choice of accommodation is quite large. Especially on Gili Trawangan you will find plenty of accommodations for all budgets along the beaches as well as in the middle of the island in the Sasak village.
A very special resort on Gili Trawangan is Le Pirate. It's located on the rather quiet side of the island overlooking the picturesque sunsets. The complex offers a swimming pool and lovingly designed small wooden bungalows that you will love. Absolutely recommended!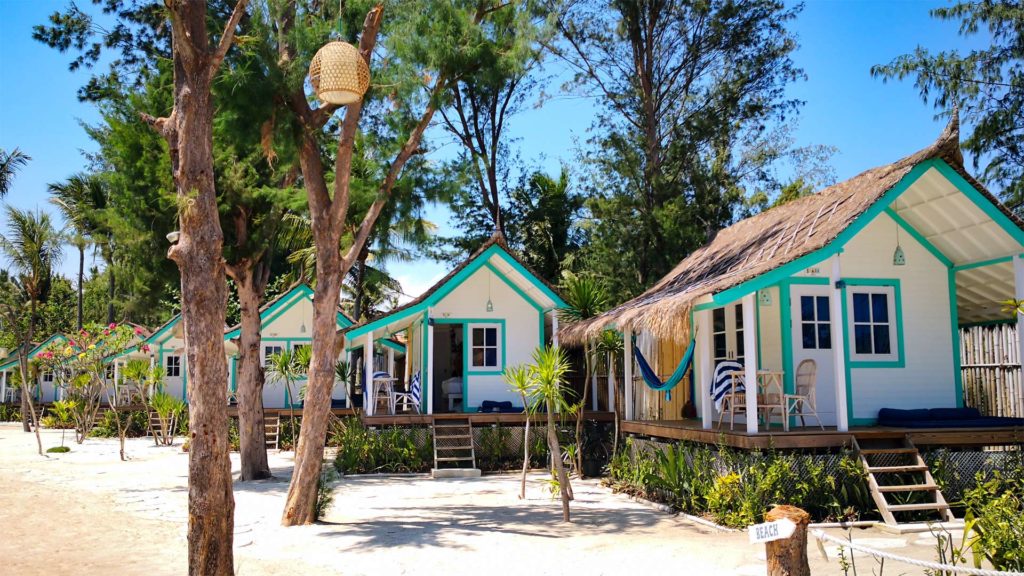 Gili Islands: Tours and tickets
---
1. Diving and snorkeling (learning)
It's probably the classic at the Gilis. No wonder, because the islands have a very interesting underwater world. There are diving schools on each of the 3 islands, although most of them are on Gili Trawangan. Also dives for beginners are offered and you can borrow snorkel equipment almost on every corner.
2. Circumnavigate the islands
You can walk around the Gilis in about 1-2 hours. On Gili Trawangan you should rent a bike, which you can get almost anywhere (prices are negotiable). Often, however, the accommodations have their private bike rental.
Be sure to bring a lock and use it when you want to stop somewhere! If no lock exists, never leave your bike unobserved. Gili Meno you can perfectly circumnavigate on foot, because the majority of the paths run along some lonely dream beaches.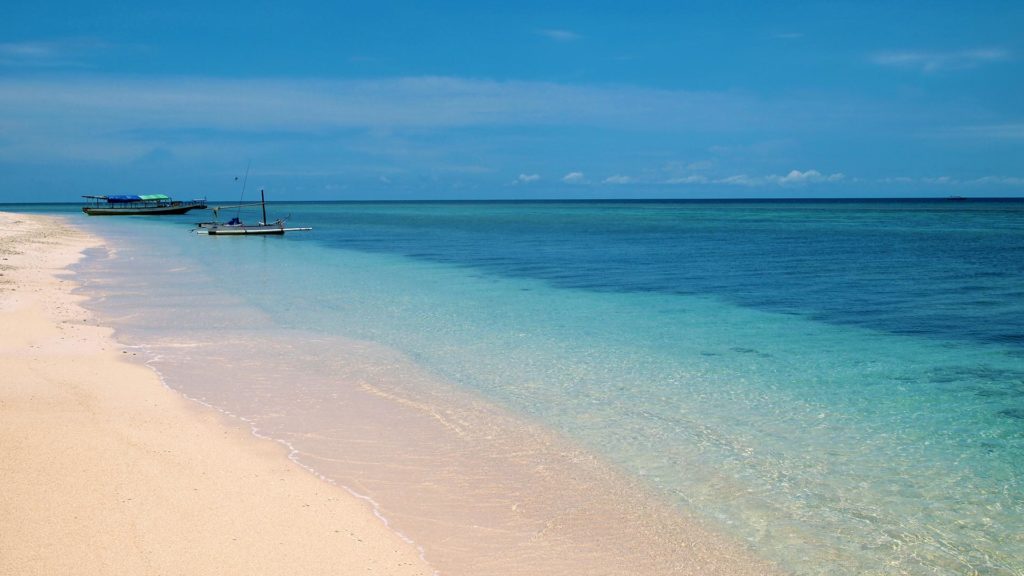 3. Island hopping
2 times each day the public boats leave to the other two islands. Around 9:30 a.m. the boat leaves Gili Trawangan to the other islands. Later in the afternoon it will return from Gili Air over Gili Meno back to Trawangan. Depending on where it goes, the prices range from 20,000 – 23,000 rupiah (one way). You can buy the tickets directly at the harbor (where the boats leave), otherwise in any travel agency and ticket booth on the islands (but probably you will pay more because of the commission).
Alternatively, you can also charter a boat, which will cost about 190,000 (one way) or 350,000 rupiah (return). This may be worthwhile if you're traveling with a group of about 10 people or more. Then you definitely travel more effective and convenient than with the public boats.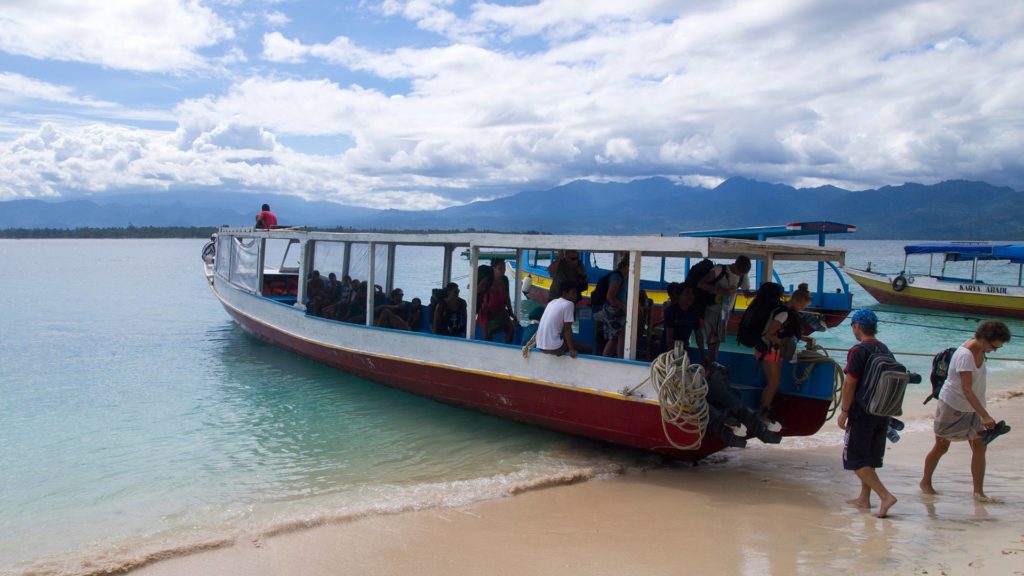 4. Water sports
Very popular is the standing paddling, also known as "Stand Up Paddling" (SUP), which lets you comfortably paddle along the island. Or you can rent a canoe/kayak for one or two people. Karma Kayak for example, offers a day trip to the islands (including food and guide) for around € 20. Also kite surfing or wakeboarding is offered on the Gilis. During all activities in the water it is very important to never underestimate the sometimes very strong currents.
5. Surfing
There are a few surf spots on the Gilis, mainly in the southeast of Gili Trawangan, but also on Gili Meno and Gili Air. Nevertheless, the better and more popular ones can be found on Lombok.
6. Fishing and BBQ
Often fishing tours are offered, where you will be driven out by boat and can catch the fish yourself and then grill it. It doesn't get any fresher and tastier! Even spear fishing is possible.
7. On tour with the Glass Bottom Boat
Another way to explore the underwater world. It's usually offered together with island hopping, snorkeling or diving.
8. Going out and party
Gili Trawangan is clearly most suitable and best known for partying! Mondays (Blue Marlin), Wednesdays (Tir Na Nog or simply known as the Irish Pub) and Fridays (Rudy's) are always having the big parties. You cannot overlook or miss it, simply follow the crowd. Or you can go to my favorite bar, the Sama-Sama, where every now and then well-known Indonesian bands like Steven & Coconut Treez perform with brilliant live Reggae music.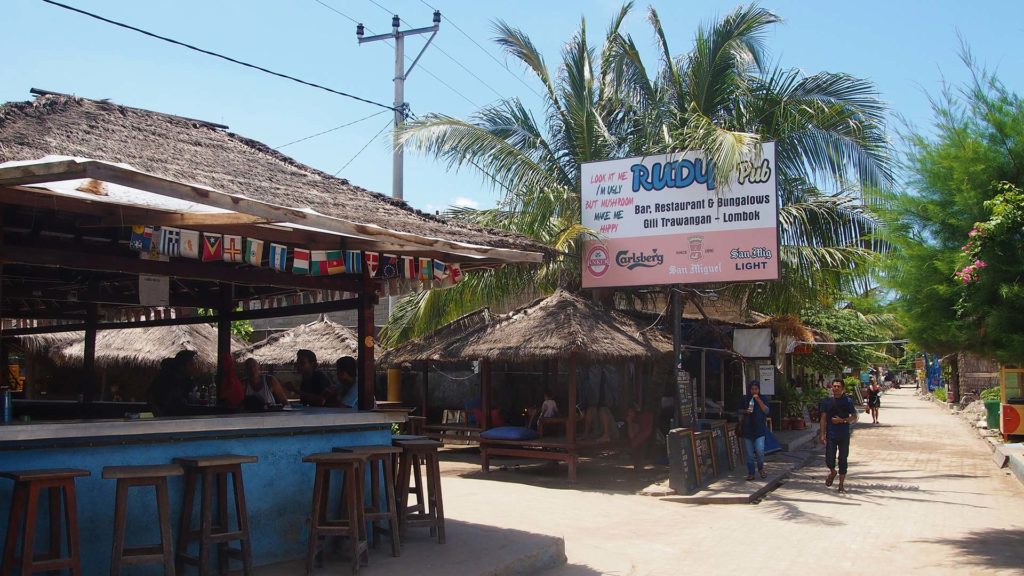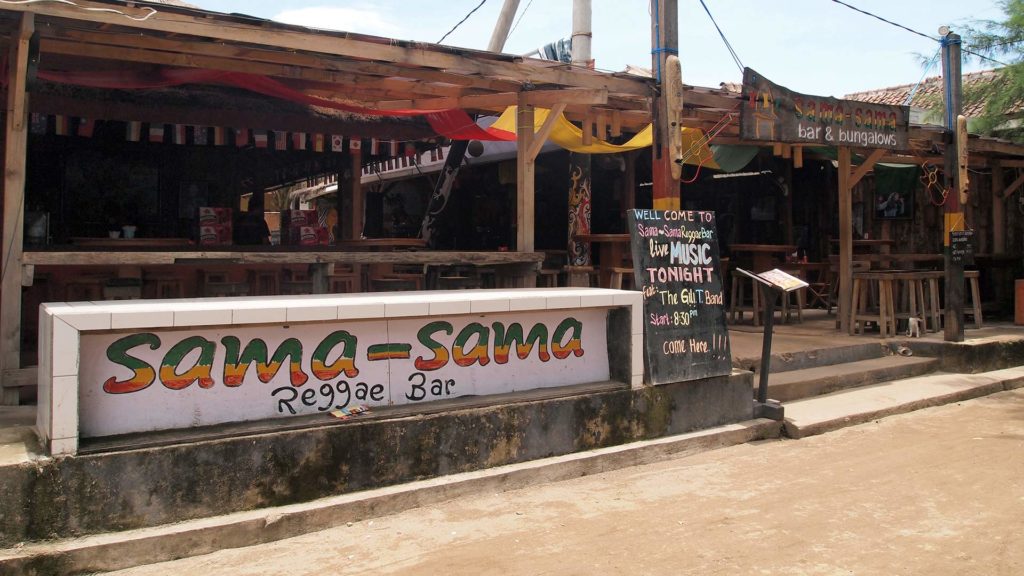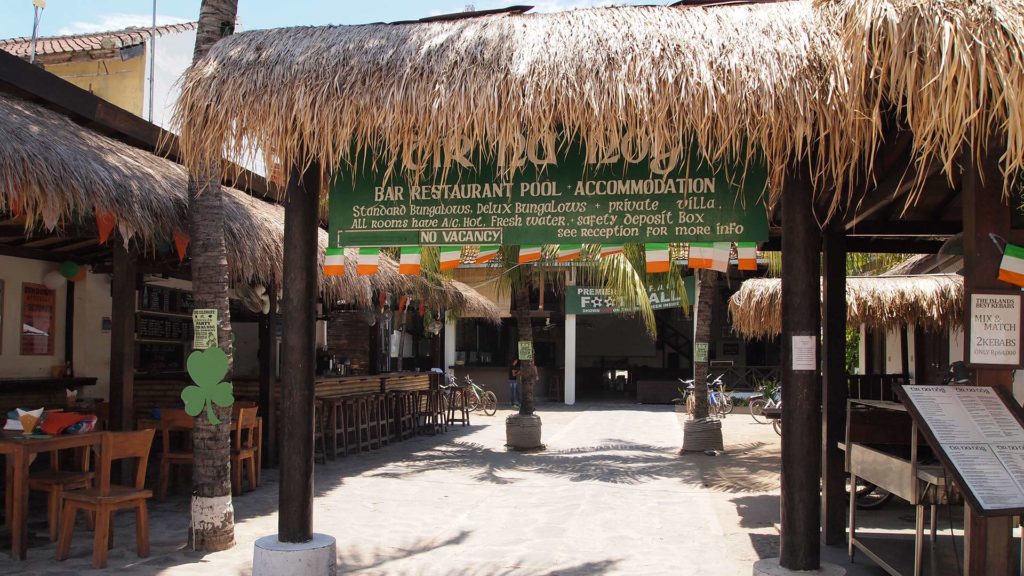 South Sea Nomads also got a party boat and offers for $ 25 a trip from noon/afternoon to sunset around the Gili islands, snorkeling equipment and food included.
You will even find a Full Moon Party celebration on Gili Trawangan. Of course with its size it doesn't come close to the infamous Full Moon Party on Koh Phangan/Thailand (so many people probably don't even fit on Trawangan), but its still worth a visit.
On Gili Air people are celebrating as well, for example in the Legend Bar (Reggae, House, etc.). Who is into psychedelic stuff may party like an alien in the Space Bar.
9. Jamming and live music
Good live music is played every evening at Sama-Sama, but also during daytime from time to time jam sessions take place and everyone can participate. In addition, you can for example jam in the Sasak Island Cafe on Gili Meno while having a cold Bintang every night with the boys. Usually – how could it be otherwise? – Reggae classics are played. Fun guaranteed! The beach bar is located in the west of the island and can also be seen from Gili Trawangan.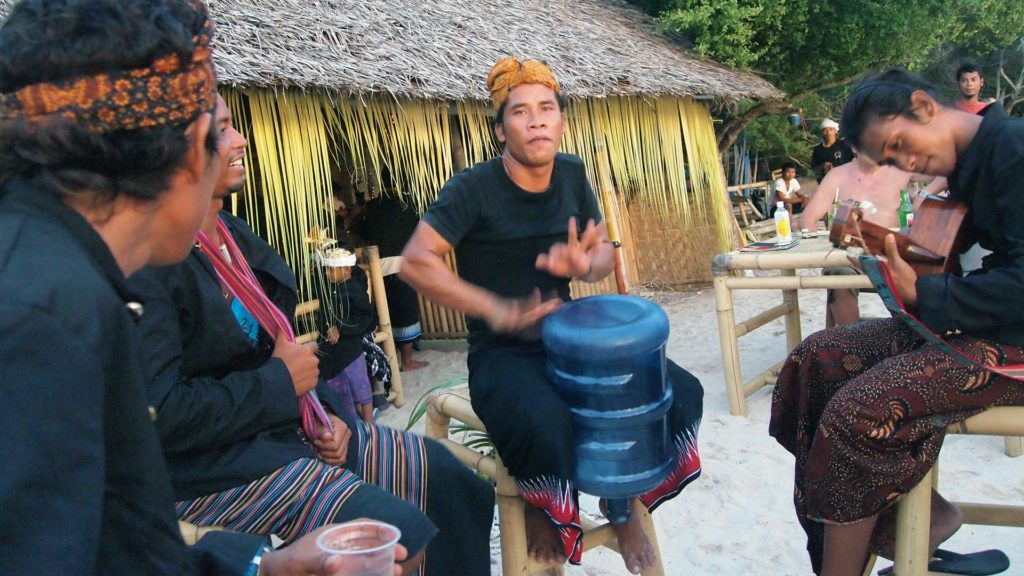 10. Gili Trawangan view point
The highest point of the island where you can have a superb view on the other Gili Islands, Lombok with the Mount Rinjani and Bali with the Mount Agung. The view point is located at the southern part of the island and is also very suitable for watching the sunset.
11. Horseback ride along the beach
Maybe not the most classic activity for us guys, but suitable for families or couples. It is a nice break to ride along the beach at sunset and partly in the water. Available at Stud Horse Riding Adventures or Sunset Stables.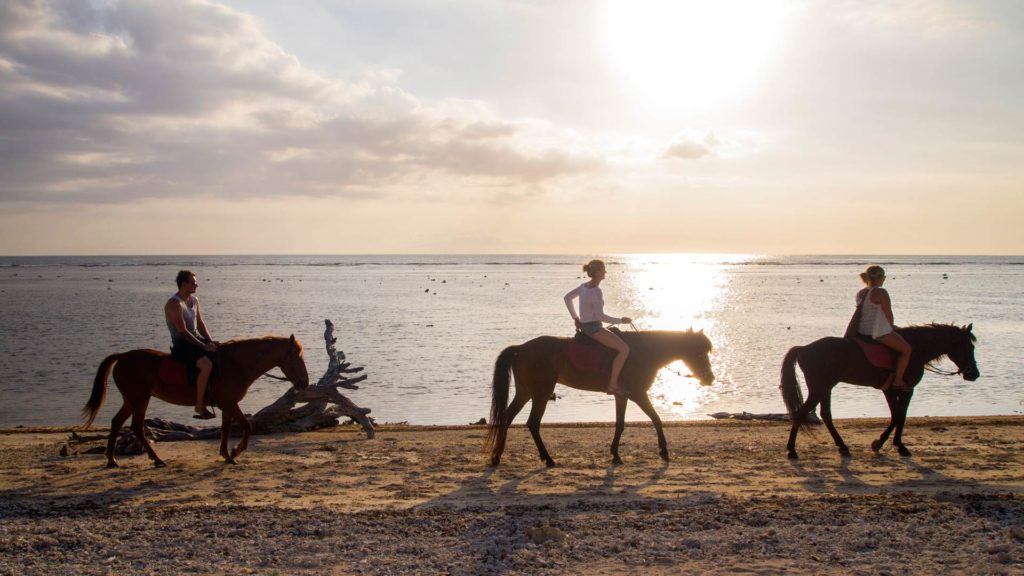 12. Visit the night market
About 6 p.m. daily at the market square in front of the boat pier on Gili Trawangan the night market takes place where you can eat well and cheaply. It's impossible to overlook or miss it!
A wide range of various specialties is offered such as fresh fish, seafood, Sate of all kinds, different rice and noodle dishes, vegetables, grilled corn on the cob and much more. Highly recommended is the Nasi Campur stand near the entrance which is closest to the pier. Nasi Campur is a typical Indonesian rice dish with vegetables, eggs, some meat, tofu, peanuts and fried noodles. At this booth they offer the Nasi Campur in the form of a buffet where you can choose what you would like to have. At other booths you should definitely try a grilled Red Snapper, which costs about 100,000 rupiah (about € 8), including rice, vegetables and tofu for 2 people.
Treat yourself for dessert with a grilled, spiced with chili sauce (Sambal) corn on the cob for only around € 1.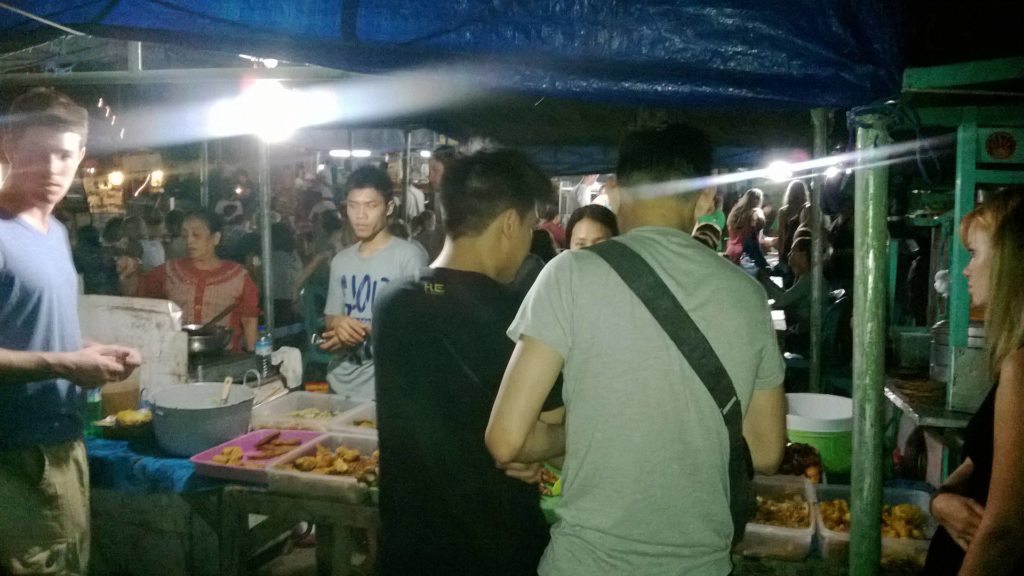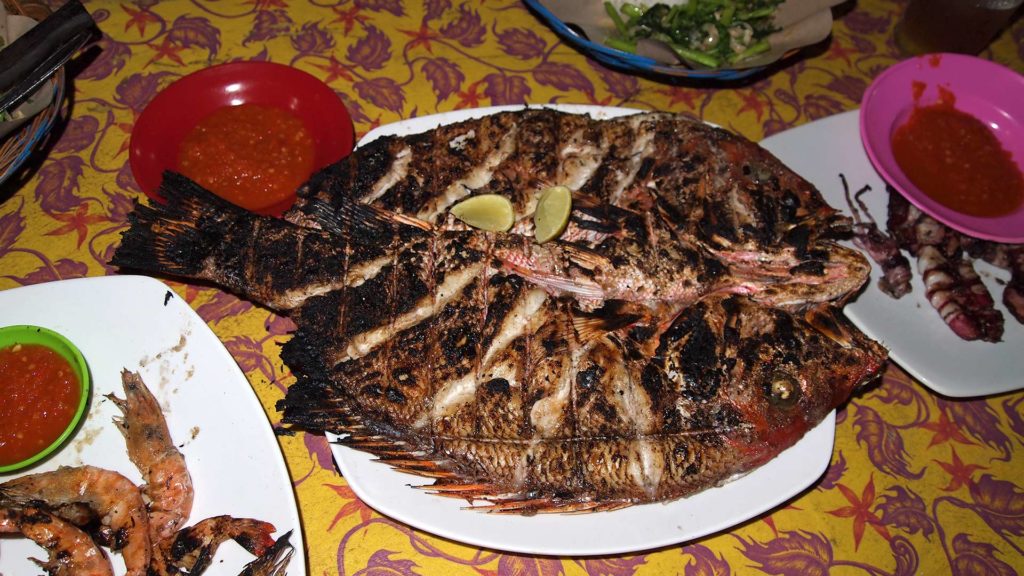 13. Watch a "Stick Fight" tournament
A "Presean", as it is called in the language of the Sasak, is a traditional combat between two randomly selected fighters with stick and shield. It is musically accompanied of so-called "Beleganjur" players. Even if it seems sometimes a bit brutal (flowing blood is not excluded), it is just a popular traditional sport and the fighters have always have a good relationship with each other. In between there is dancing and laughing sometimes.
Tourists can join but should not be surprised if they get a few neat hits. The tournament always takes place Sunday afternoon at the marketplace. Here's a little video on YouTube to get an idea.
14. Going to the movies
At the main beach of Gili Trawangan in the evening there is the possibility to watch movies at a kind of mini open-air cinema. A good alternative to the party life, especially if you are hungover and want to do something quiet.
15. Relaxing or eating at the beach
Most bars and restaurants offer sun protected loungers or giant cushions on the beach where you can simply enjoy a delicious, cool Bintang or a fresh fruit juice and of course eat something while marveling at the wonderful view. Prices for Western Food start mostly at 40,000 rupiah while local food such as Nasi Goreng is slightly cheaper.
Or for less than one Euro you can buy fresh fruits, grilled Satay skewers or Tempeh/Bakwan (fried vegetables, highly recommended!) as a snack at the small Warungs (stalls). Get it wrapped up and off to the beach!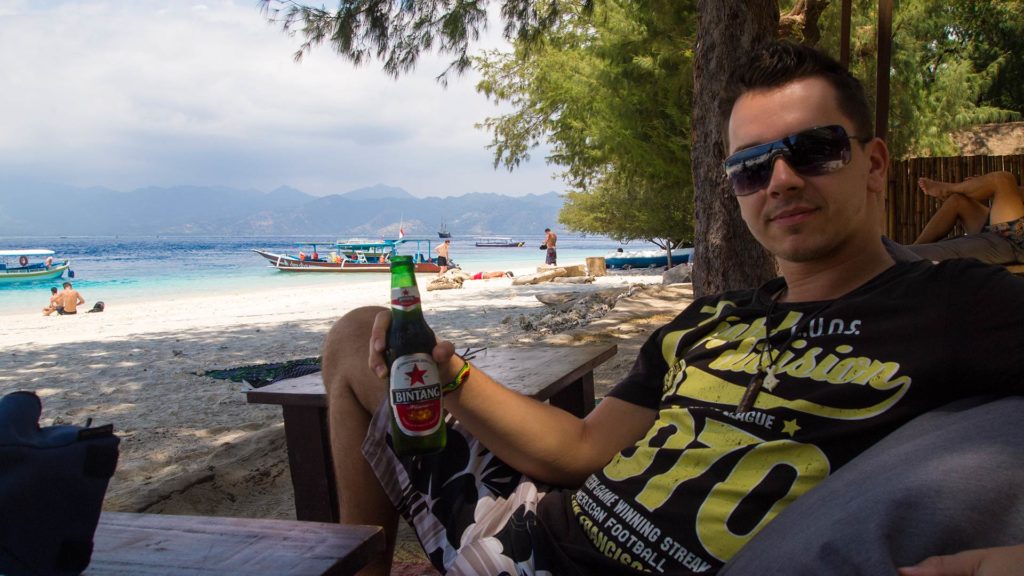 16. Sunset watching
Watching the sunset in one of the beach bars with chill out music and a Bintang is certainly a must on the Gilis. This is, for example, wonderful in the Sunset Bar in the southwest of Gili Trawangan. It is best to go a little earlier, as you can imagine the bar is packed around sunset. If you like it more quiet and lonely, you just need to drive or walk along the beach a little further and you surely you will find one or another deserted stretch of beach.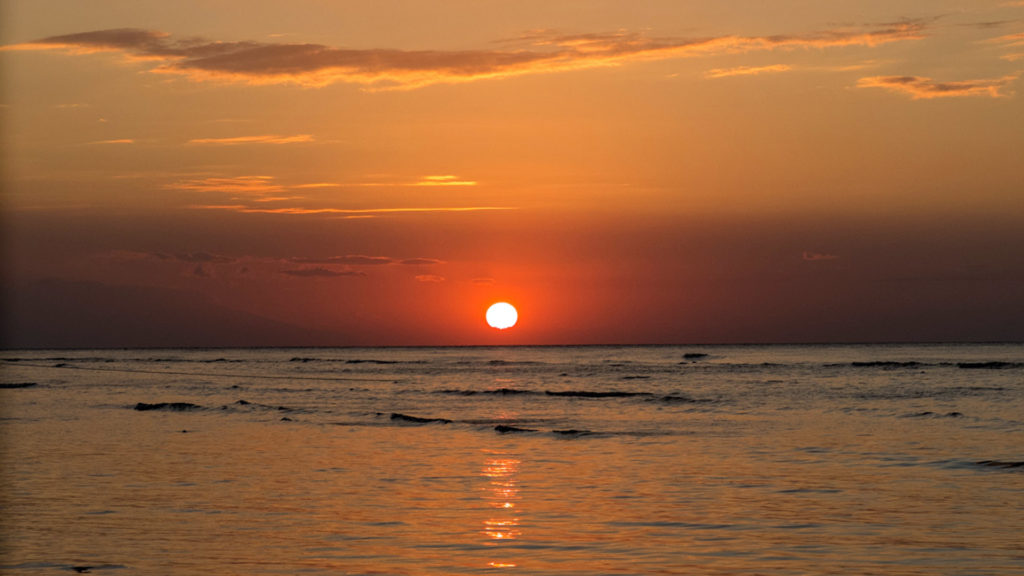 17. Yoga
There are also some Yoga courses offered on the islands, either once as a trial or for more days and weeks. Whole retreats are offered, too.
18. Get a Tattoo
You can do that here as well. On Gili Trawangan for example, there is a tiny little tattoo parlor on the way from the marketplace to the village. Or from Noa, who does it traditionally with bamboo.
19. Taking Mushrooms
They are offered almost everywhere, even in some restaurants and bars (also applies to Ganja). Order at Rudy's a normal Mushroom pizza and I'm 99% sure you'll be asked: "Magic?". Well known are also the Mushroom cocktails. According to statements by some locals, Mushrooms are even legal on the Gilis because they simply grow wild. How does it feel? Well, I have no idea, I've never tried it – seriously.
20. Participating in beach clean-ups
Beach clean-ups are regularly held on all 3 Gili Islands. You can do your part in a sociable round to help the islands become cleaner. Honestly, the Gilis are in dire need of that.
Trash Hero, for example, organizes clean-ups on Gili Meno. More information can be found on the official Facebook page.
21. Massages and fish pedicures
If you like to have a traditional massage for a change, there are ample opportunities here in one of the massage parlors and spas. Or how about a fish pedicure, where hundreds of small fish nibble on your feet?
22. Turtle sanctuary on Gili Meno
In order to protect them from other wild animals, the turtle eggs are collected and incubated at Bolong's Turtle Sanctuary. The baby turtles are then raised in the small pool and after about 8 months released into the wild on the beach. For a donation of 100,000 rupiah you can even choose a turtle and then release it yourself on the beach. A good thing that should be supported so that the turtles do not become extinct in the waters of the Gilis!
23. Bird park
The Gili Meno Bird Park hosts, among others, parrots, peacocks, pheasants, pelicans and small eagles. Well, it's certainly no highlight but maybe a nice activity for a change.
24. Traditional dances
Sometimes traditional Sasak dances (= "Joget") of Lombok are brought to the Gilis. In this case, one or more women are dancing in a traditional outfit to live music and there is a small fee to dance with them – a kind of dance prostitution. The bills are initially waved around quite provocative in front of the girls until they finally get the "reward". To get an idea how it looks like, check it out on YouTube.
For example, the Sasak Island Cafe on Gili Meno organizes every now and then big celebrations where you can watch the whole thing and join as well. But also on the other islands from time to time such dances will be seen for sure. Simply look for "traditional dance".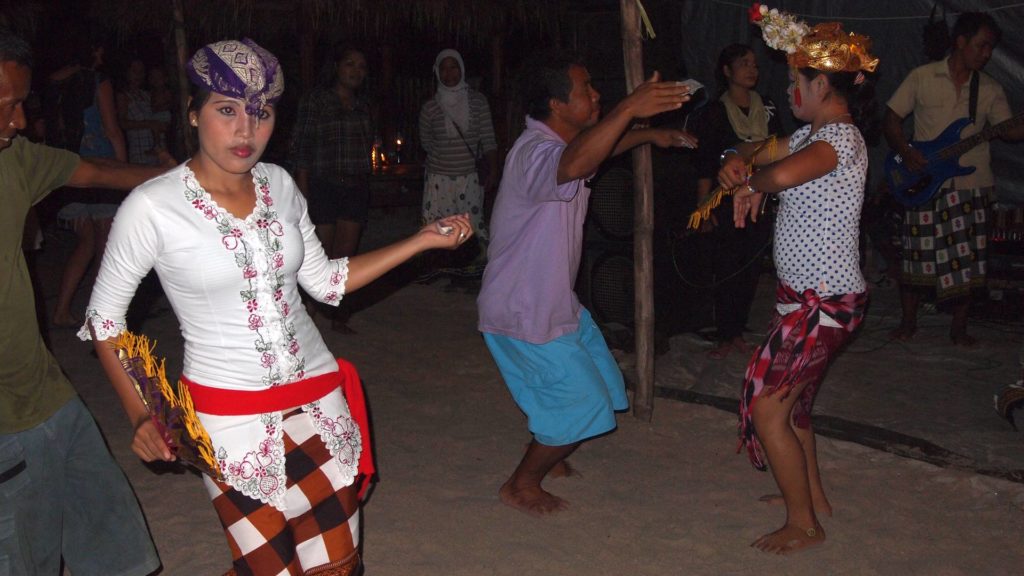 25. Trip to Lombok
In terms of nature and culture, Lombok has to offer everything. It doesn't matter whether dream beaches, a volcano, waterfalls, rice fields, mosques or Balinese temples. It is definitely worthwhile to stay there for a couple of days, regardless of whether you go around the island on your own or with an organized tour.
See also: 15 things you should see on Lombok
Plan your trip to the Gilis now
More hotel recommendations for the Gilis:
Popular routes to the Gilis:
---
Have you been to the Gili Islands? What did you experience or what did you enjoy most?
Photo 11 (Sunset): Anna & Michal/Flickr (CC BY 2.0)