Dieser Artikel ist auch verfügbar auf: Deutsch
Thailand's islands are very popular with tourists either on package or individual trips. The country offers a lot of beautiful islands in the Gulf of Thailand on the east coast or in the Andaman Sea on the west coast. The selection is huge and you have the agony of choice.
From dreamlike beaches with crystal clear and turquoise water, fantastic snorkeling spots, frequently visited holiday destinations to quite lonely and relaxed islands. You can almost find everything in Thailand.
10 interesting and beautiful islands of Thailand
To make the choice a bit easier, we put together 10 islands of Thailand in this article which are absolutely worth a visit.
We have listed a good compilation between popular and less visited islands. Some inspiration for your next trip to Thailand. Of course these are by no means all Thai islands which are worth a visit, there are plenty more.
---
How to get to the islands of Thailand
The most famous and popular islands such as Phuket and Koh Samui can be easily reached by plane, as both have an airport. To Koh Samui flies almost exclusively Bangkok Airways, but to Phuket the selection is already larger. You can get a good overview on Skyscanner.
Many other islands, such as Koh Phangan, Koh Mook, Koh Lipe or Koh Tao can only be reached by boat. There are many options in combination with the boat – the bus, the train or the airplane. The choice is huge. For tickets, prices, times and the various possibilities, you can search with our partner 12go.asia.
---
1. Koh Mook
Let's start with the dreamlike island of Koh Mook. It is located in the Andaman Sea on the west coast of Thailand in the region of Trang. Koh Mook and the surrounding islands such as Koh Ngai or Koh Kradan are true paradises and still not that much visited.
Even during our stay in the main season there weren't too many visitors on the island. Although Koh Mook doesn't have any nightlife or parties to speak of, it offers you peace, remoteness and wonderful dreamlike beaches.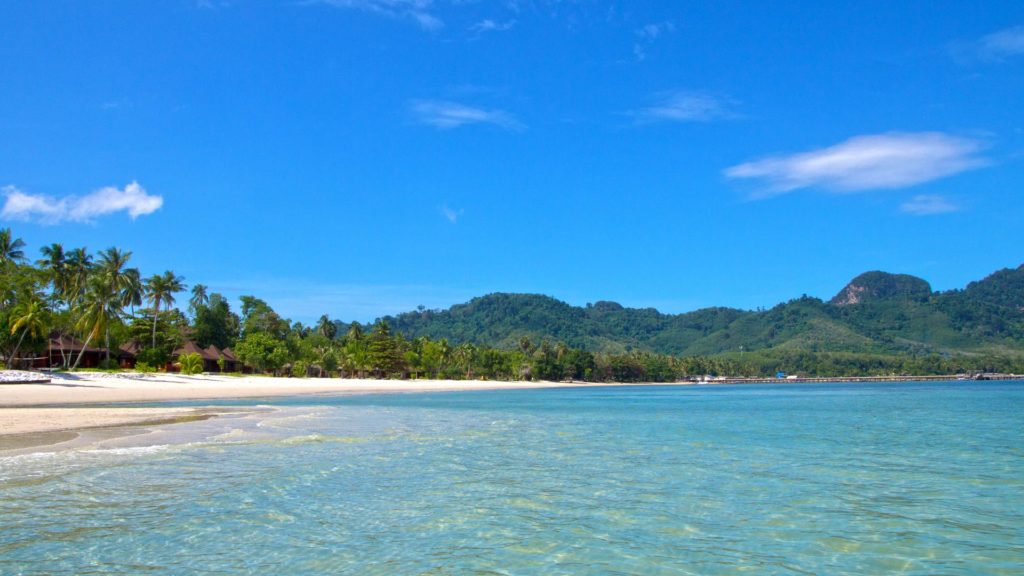 You can find a few small shops to buy some snacks, drinks or toiletries as well as a couple of restaurants in the small village of Koh Mook. Otherwise you can spend your days at the beaches or go on a trip to the famous Emerald Cave.
Two beaches that you can not miss are the Sivalai Beach and the Haad Farang. You can find more information about the island and its beaches in our article Koh Mook – a dream island in Southern Thailand.
Our hotel tip for Koh Mook: Sivalai Beach Resort
2. Chicken Island (Koh Gai)
Chicken Island or Koh Gai, as it is called in Thai, is located off the coast of Ao Nang in Krabi. There are no accommodations on the island, but you can visit Chicken Island on a nice day trip from Ao Nang.
You can reach the island either by one of the island hopping tours or go there on your own with one of the longtail boats at the beach of Ao Nang. It's totally worth a visit.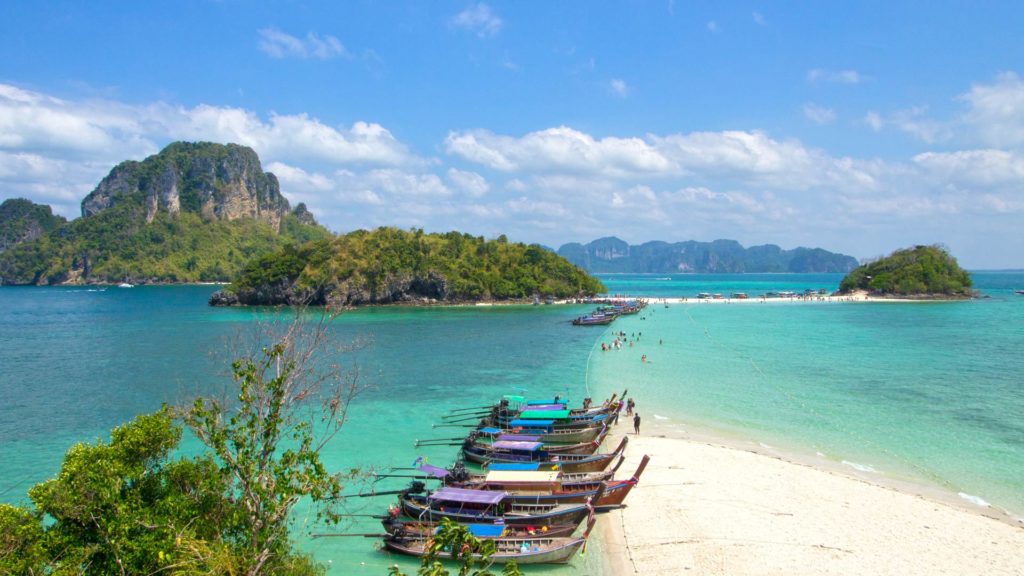 At low tide you can walk over a sandbank to the neighboring island Koh Tub. That means you can visit two islands at once. On Chicken Island there is a small shop where you can buy a drink or snack and there is also a small viewpoint with a terrific view (see photo).
Apart from that, there isn't much to do on Chicken Island. You can relax in the shade of the trees, go for a swim or walk over to Koh Tub or the viewpoint like I mentioned before.
You can find more information about the island in our Chicken Island article.
Our hotel tip for Ao Nang: Deevana Krabi Resort
3. Koh Phayam
Koh Phayam is located in the Andaman Sea on Thailand's west coast near the town of Ranong. The island is becoming more and more popular, however at the moment there is still very little tourism.
Despite the fact that the island is pretty quiet, you can still do a lot during your stay. You can visit the pier temple, the beautiful and secluded beaches, go with a kayak through the mangroves or do an island hopping tour to the surrounding islands.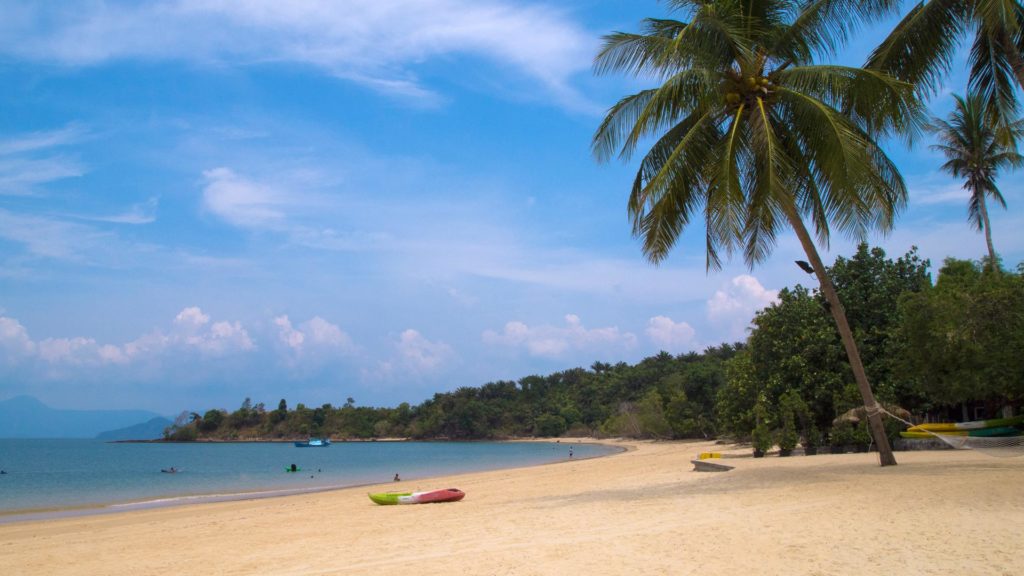 If you are looking for party, Koh Phayam is definitely the wrong island. However, if you want to have some peace and enjoy the hippie flair of the island, don't miss Koh Phayam.
Our hotel tip for Koh Phayam: JJ Beach Resort
4. Koh Samui
Koh Samui is the third largest island of Thailand and next to Phuket the most popular amongst tourists. It attracts many vacationers every year and has quite a lot to offer.
On the "Coconut Island" (that's how Samui is sometimes called) you can find many beautiful beaches, impressive temples, large shopping malls, night markets and a diverse range of restaurants, bars and clubs.
On Koh Samui there is always something going on, but there are still some quiet places if you are more into that.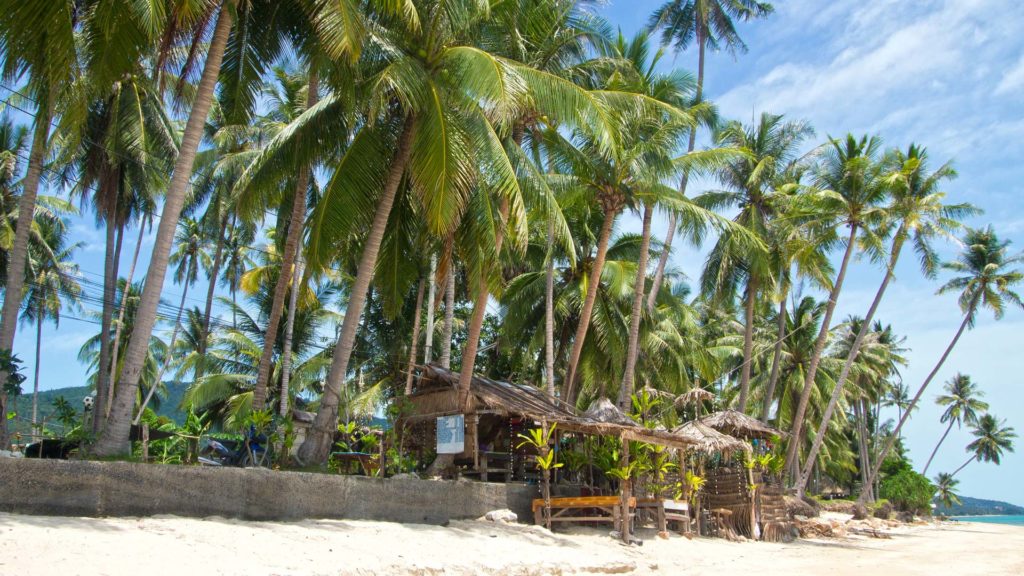 Furthermore, Koh Samui is a great starting point to explore the stunning surrounding islands in the Gulf of Thailand. The Ang Thong National Marine Park, Koh Madsum, Koh Phangan and Koh Tao are all close by and you can reach each one of them pretty easily from Samui.
If you would like to know more about Koh Samui, check out our article about Koh Samui's sightseeing tips.
Our hotel tip for Koh Samui: Amari Koh Samui
5. Koh Phangan
Koh Phangan is especially famous for its monthly Full Moon Party and located only 30 minutes by boat from Koh Samui. Many visitors just come to the island for this very event. But Koh Phangan has actually quite a lot more to offer!
Three weeks a month, when the Full Moon Party isn't happening, Koh Phangan is a relaxed and quiet island. There is a lot to discover so you won't be bored for sure. The sights range from temples and waterfalls to hiking the Khao Ra, which is the highest mountain of the island.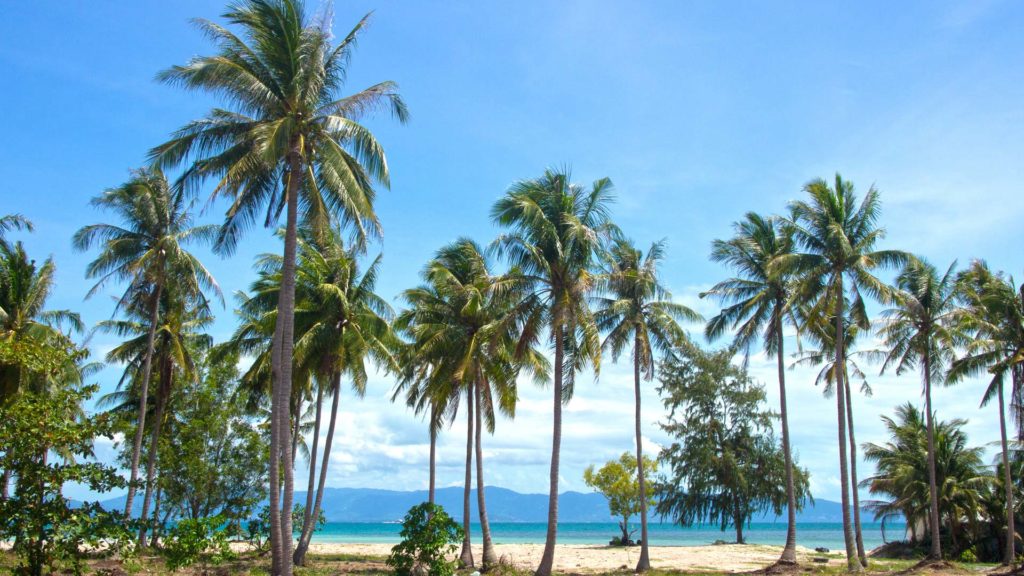 There are also countless beautiful beaches around Koh Phangan where you can spend a couple of nice days? How about a nice sun downer in one of the amazing sunset bars. Koh Phangan is really diverse and a visit absolutely recommended.
Are you into yoga, meditation, vegan food and more? All that you can find around the village of Srithanu at the west coast of the island. There is actually quite a community for things like that.
As you can see, the small island has everything it takes to make it one of the most beautiful islands of Thailand. That's the reason we are living here most time of the year.
By the way, you can also make beautiful tours from here to Ang Thong National Park or to Koh Tao and Koh Nang Yuan.
Our hotel tip for Koh Phangan: Sea Love Bungalows
6. Koh Tao
Koh Tao is the third island in the south of the Gulf of Thailand and very popular with travelers. You most probably have already heard about the island if you are interested in diving and snorkeling since Koh Tao is known for its amazing underwater world.
The island attracts many backpackers who also like to party at the famous Sairee Beach. But Koh Tao offers much more than snorkeling, diving and party. There are absolutely paradise-like beaches and fantastic viewpoints like the John Suwan Viewpoint.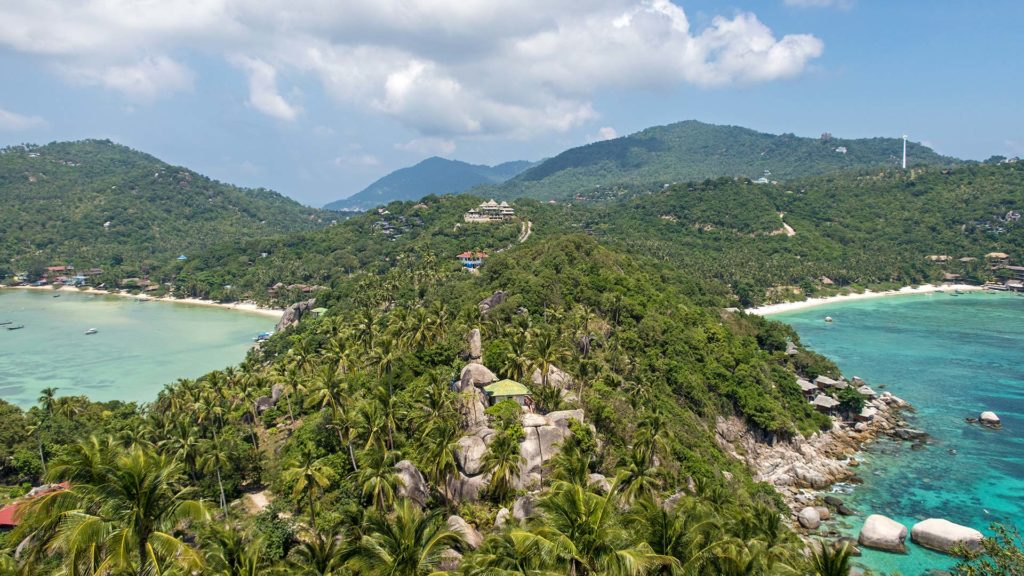 Which beaches are not to miss and what else you can do during your stay on the island, you can find in this Koh Tao Guide.
Our hotel tip for Koh Tao: Palm Leaf Resort
7. Koh Chang
The island Koh Chang is located in the eastern part of the Gulf of Thailand near the Cambodian border, also called "Elephant Island". Despite its size (it is the second largest island of the country), the island has still been spared from mass tourism.
On Koh Chang you can explore many secluded beaches. It's best to do that on a scooter trip on your own. In addition, you can explore mangroves, temples, viewpoints or waterfalls. You surely won't get bored on the island.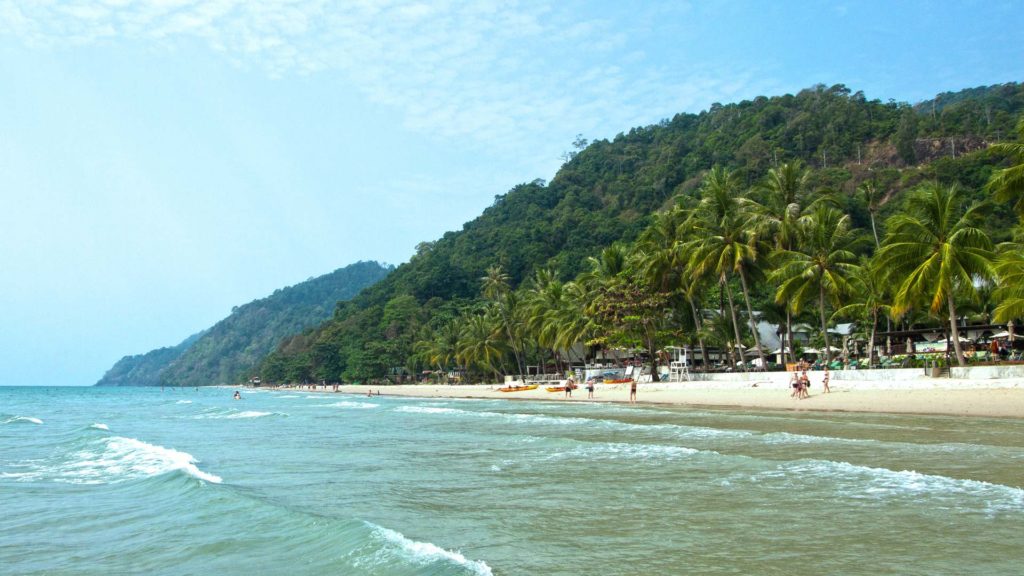 Furthermore, you can do some island hopping tours to the surrounding islands like Koh Rang, Koh Wai etc. Those tours offer you a great experience under water, beautiful beaches and much more. Absolutely recommended.
Our hotel tip for Koh Chang: 15 Palms Beach Resort
8. Koh Phi Phi
Koh Phi Phi consists of two islands. Koh Phi Phi Don, the main island with all the accommodations and restaurants and Koh Phi Phi Leh, the small neighboring island, which has become very famous because of the movie The Beach.
You can visit the smaller island with a day trip, because it has a lot more offer than the popular Maya Bay. We can also recommend you a visit at the Viking Cave or the Lo Sama Bay. Not so crowded, but not less interesting or beautiful.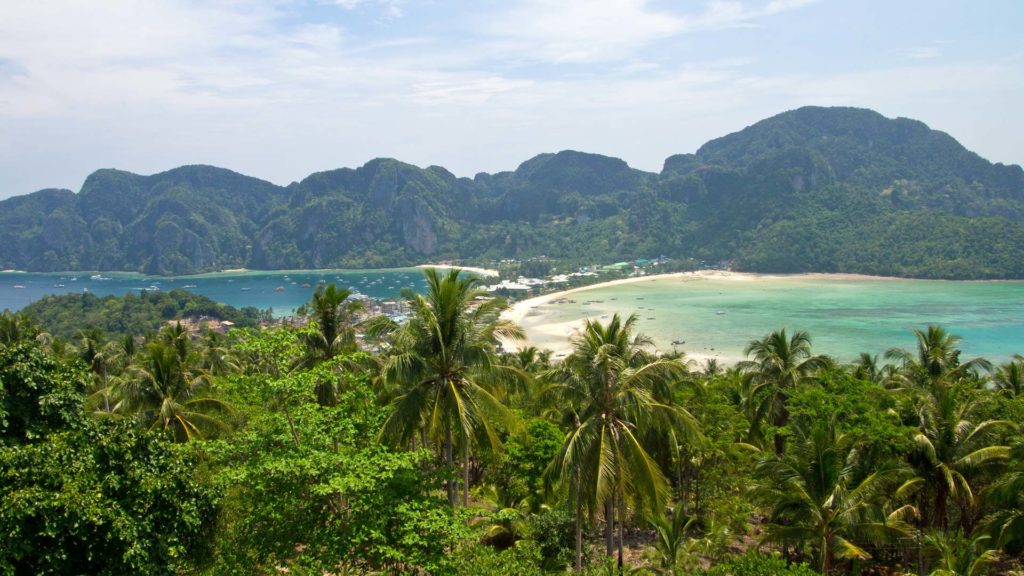 On Koh Phi Phi Don there are also quite a lot of beautiful beaches like the Long Beach and terrific viewpoints, as well as plenty accommodations, restaurants, bars and a vivid nightlife.
The island is mostly visited by backpackers and if you like to party and meet some new fellow travelers, then Koh Phi Phi is perfect for you. But there are also some quiet spots that lie off the Tonsai Village, the main town of the island. There, life is a little bit more relaxed.
Our hotel tip for Koh Phi Phi: ChaoKoh Koh Phi Phi Hotel & Resort
9. Koh Lipe
Koh Lipe is located in the south west of Thailand. It is a small island inside the Tarutao National Park. Also, the island is just a half-hour boat ride away from the Malaysian island Langkawi.
The island is often referred to as the Maldives of Thailand. However, because of that it has attracted lots of visitors. Almost too much, at least during the high season.
Although Koh Lipe attracts lots of travelers, it still offers amazing white beaches, turquoise and crystal clear water as well as a colorful underwater world to dive or snorkel.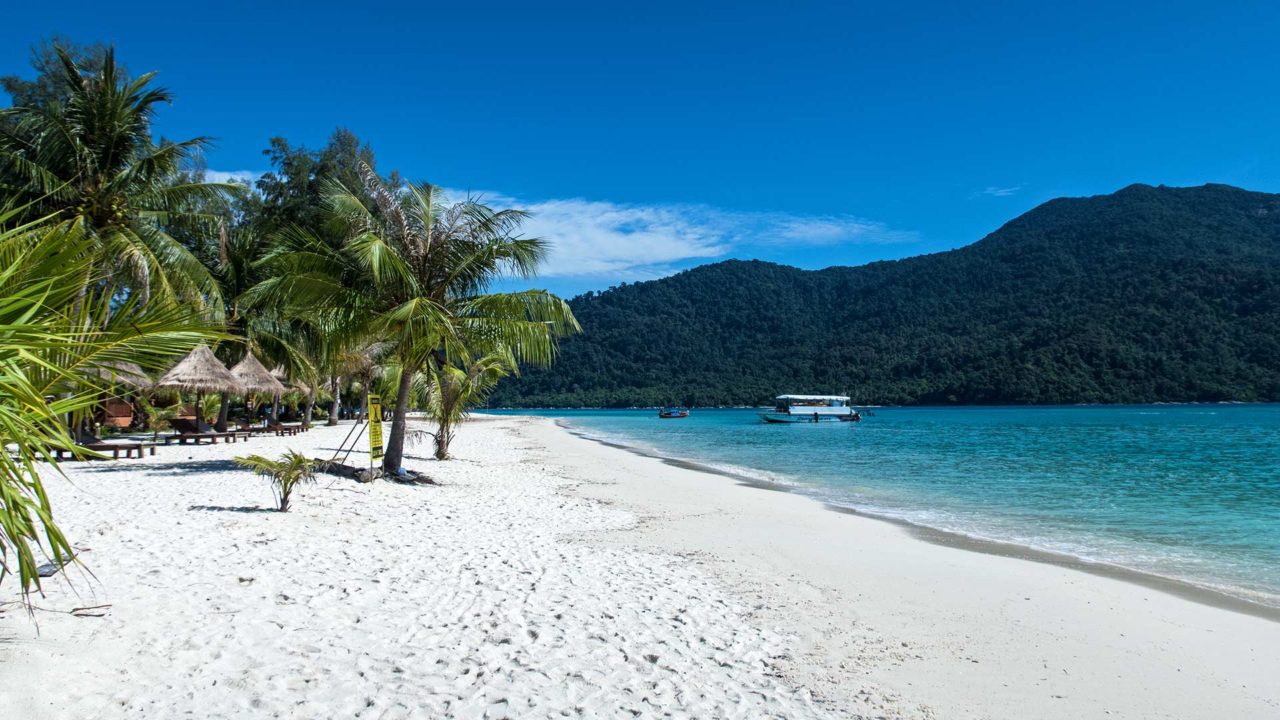 There are also about 50 islands nearby, which are quite popular and, except for Koh Lipe and two other islands, uninhabited. You can do some boat trips from Koh Lipe to lonely and secluded beaches, which will give you a paradise-like feeling.
If you want to know more about the island, then check out this detailed guide from Getting Stamped.
Our hotel tip for Koh Lipe: Cabana Lipe Beach Resort
10. Phuket
Phuket is the largest island of Thailand and the number one holiday destination in the Land of Smiles. Many visitors end up in Patong, the most touristic town of the island, and don't see any of the beauty of the island. But it has much more to offer than just Patong!
If you are looking for a great nightlife, then Patong is the place to be. On the other hand, if you like to explore the island off the beaten track, then there are much better places on Phuket.
A stay on Phuket offers you a variety of exciting activities, fantastic viewpoints, beautiful beaches, fascinating markets and impressive temples. The island is really diverse and just waits to be explored by you. Also tours on Phuket and the surrounding area are popular and show you beautiful places of the island.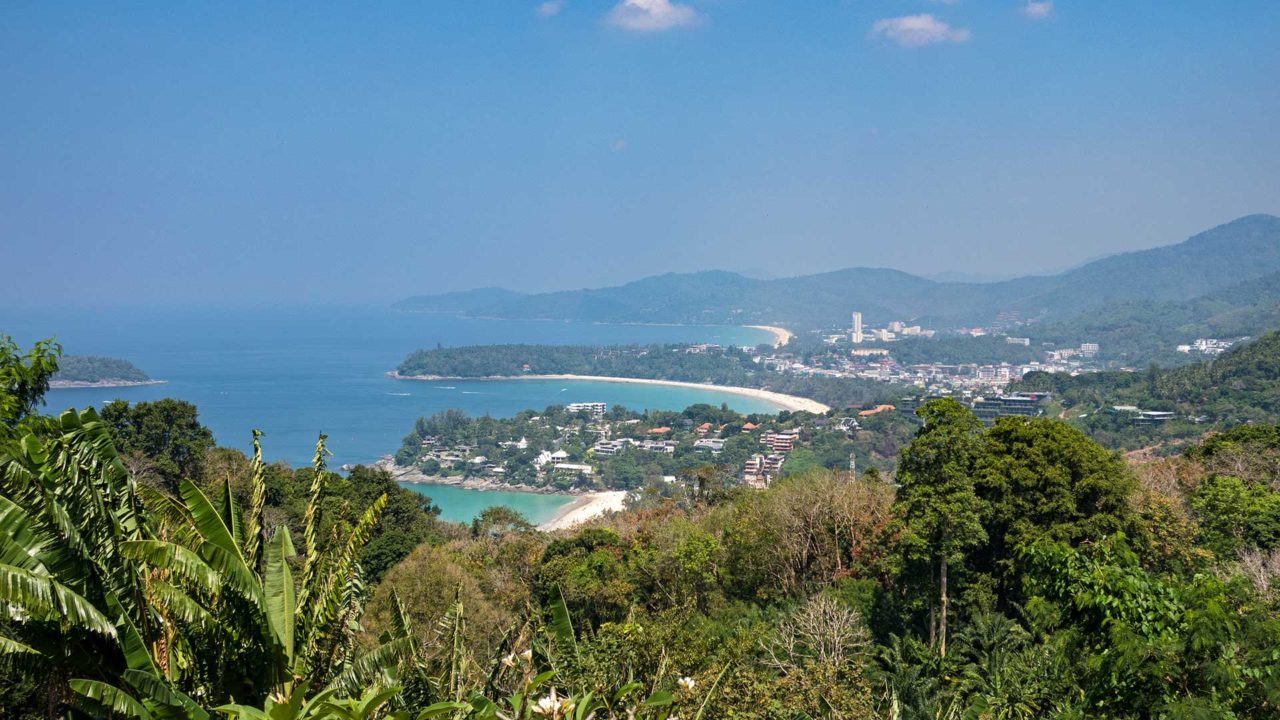 The Promthep Cape, the most southern tip of the island, and the main town Phuket Town with the partly colorful houses and a great night market on Sunday, are also worth a visit.
For what you can do in Phuket and which places you should visit, check out our article about tips for Phuket.
Our hotel tip for Phuket: Lemonade Phuket
Have you ever been to one of those islands? Which one is your favorite island in Thailand? Leave us some feedback below.