Dieser Artikel ist auch verfügbar auf: Deutsch
Chicken Island and Tub Island, also known as "Koh Gai/Koh Kai" or "Koh Tub" in Thai, are two islands off the coast of Ao Nang. After our last trip to Koh Poda it was time to discover some more of Krabi's islands.
As I already described in the Koh Poda article, you can easily get some tickets for the longtail boats. Near the Ao Nang beach you will find a ticket booth at each end of the road. There you can buy a ticket to your desired island or beach nearby.
Chicken Island and Tub Island – Krabi's beautiful islands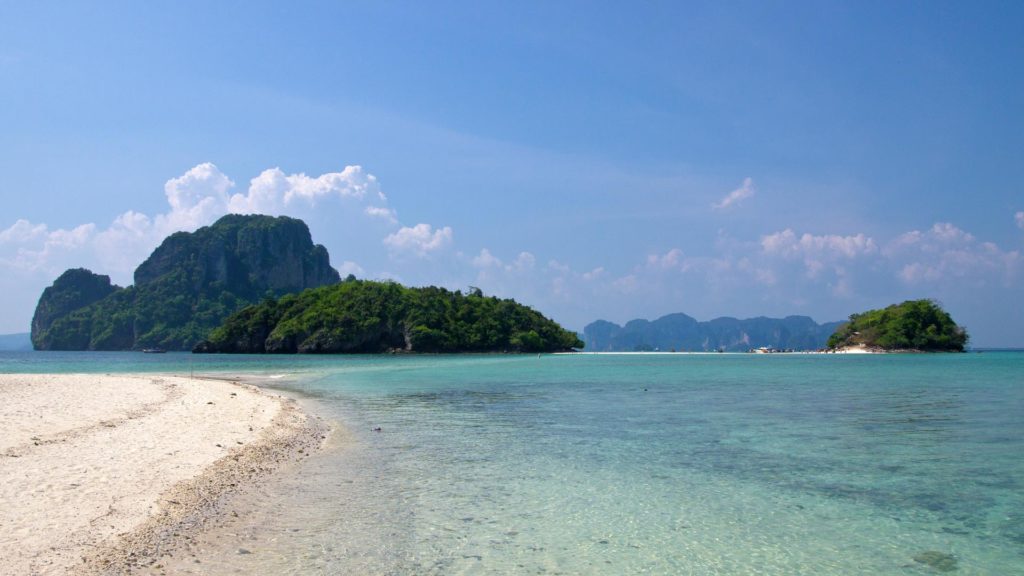 ---
How to get to Ao Nang
Accommodation in Ao Nang – our hotel tip
Ao Nang: Tours and tickets
---
From Ao Nang to Chicken Island (Koh Gai)
Chicken Island and Tub Island are connected with a sand bank and I can recommend you to buy a ticket to Chicken Island. On Tub Island you won't find many shady spots and during low tide you can just walk from one island to the other.
The price of a ticket to Chicken Island is about 300 baht per person and you can buy them at a ticket booth near the Ao Nang beach like I said before. In addition you will have to pay an entrance fee to the national park.
I've been to Ao Nang a several times until now. During high season and as well in the low season. The national park fee varies according to the current season. During high season you will have to pay 200 baht per person for the national park. If you are visiting Ao Nang during the low season it will only cost you 50 to 100 baht, depending on the time of your visit.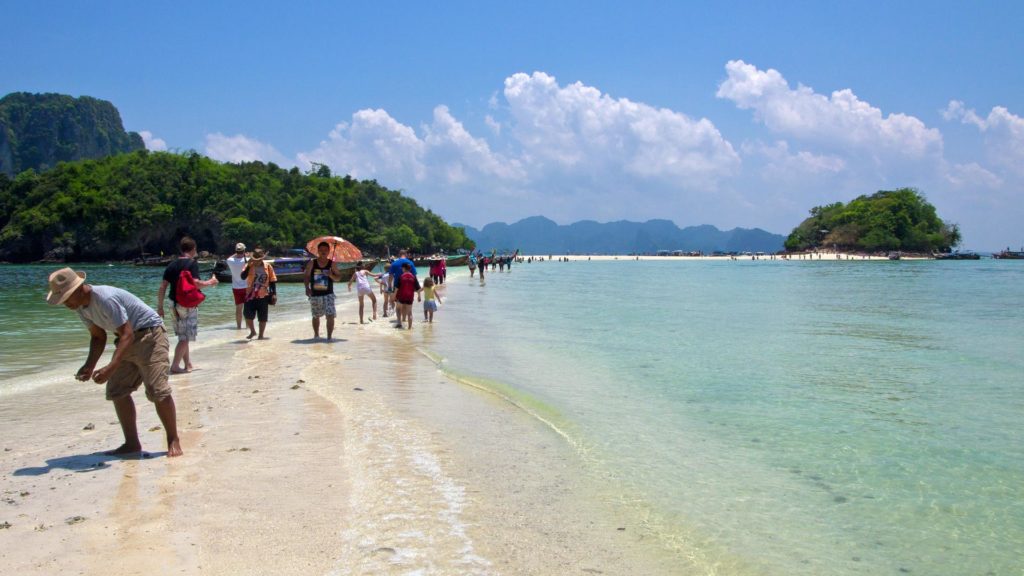 The longtail boats at the Ao Nang beach will wait for passengers until they are filled up with at least 6 people. Most of the time it won't take too long and after 10 or 15 minutes you will be on the way to paradise. Alternatively you can book one of the popular day trips to 4 islands.
Arrival on Chicken Island
Chicken Island is – like Koh Poda – a part of the Had Noppharatthara – Mu Koh Phi Phi National Park. Therefore you have to pay a national park fee when you purchase the tickets.
If you get somehow differently to the island, there is of course someone to collect that fee. You will find a sign at the beach which indicates a fee of 400 baht. Honestly, I never met someone who paid this high fee.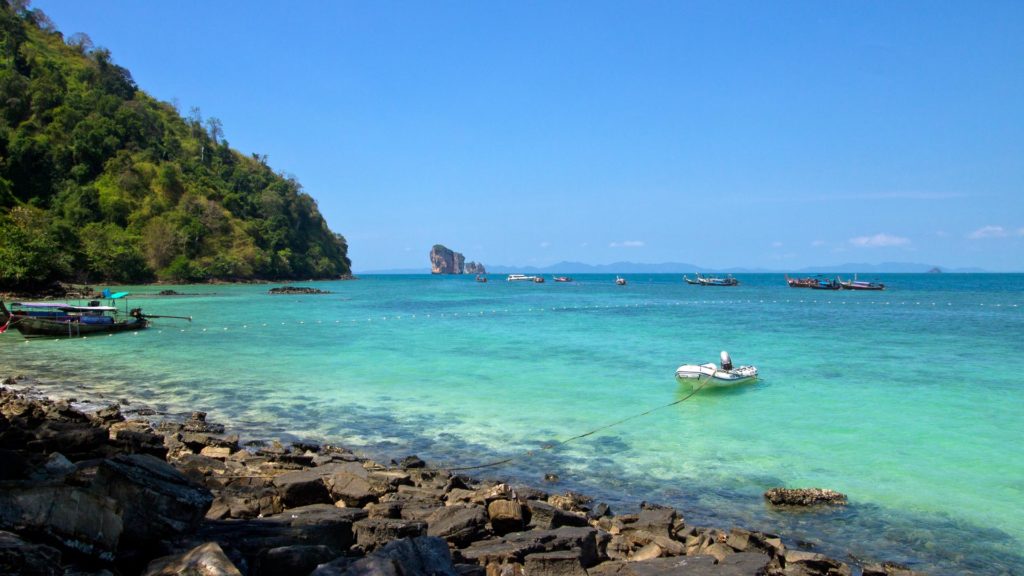 After the arrival you can relax a bit on Chicken Island or take a swim in the beautiful clear and turquoise ocean. If you take a walk down the beach you will find some shady spots so that you don't have to lie in the strong sun.
There is a small restaurant on Chicken Island as well, where you can buy some snacks or a fresh drink and some cold beer of course.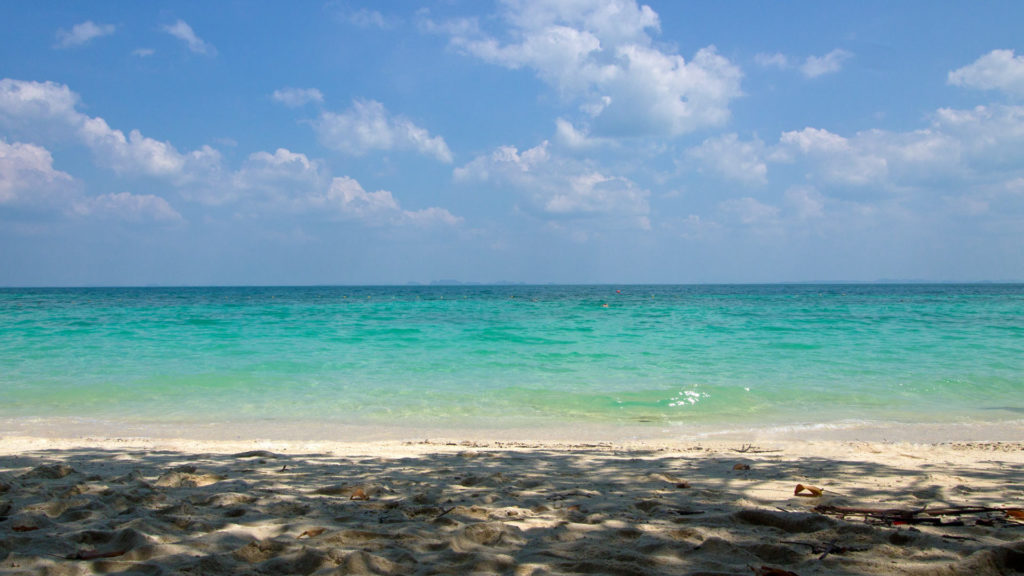 Unfortunately, you can't walk around the whole island since there will be only water and rocks at some point. The rock that looks like a chicken head (the reason why the island is called Chicken Island) is not possible to be seen from the island itself.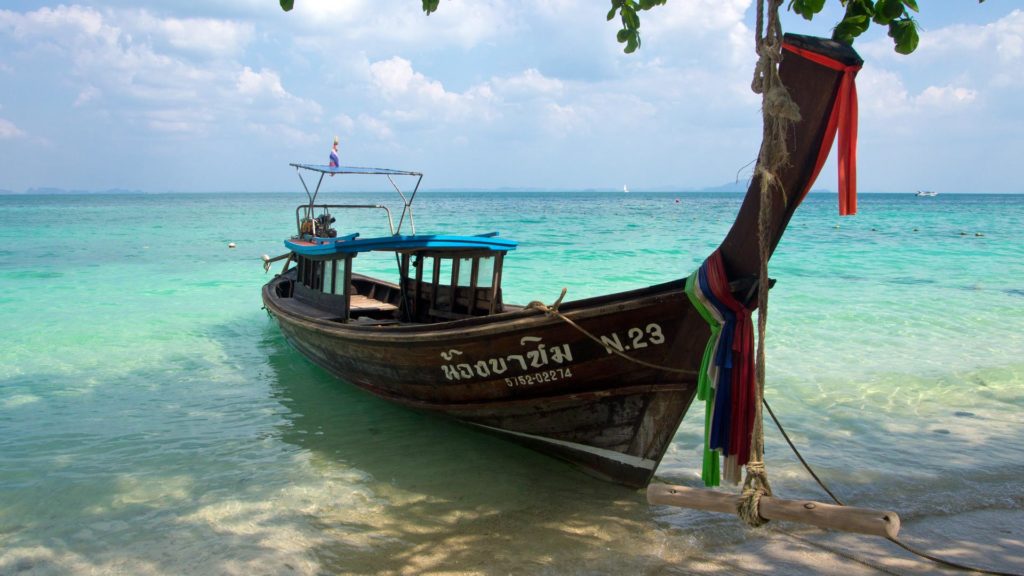 Chicken Island view point
During my first visit on Chicken Island in Krabi there wasn't a view point at all. Now at my second visit in 2016 there was a fantastic small view point. You definitely shouldn't miss that one.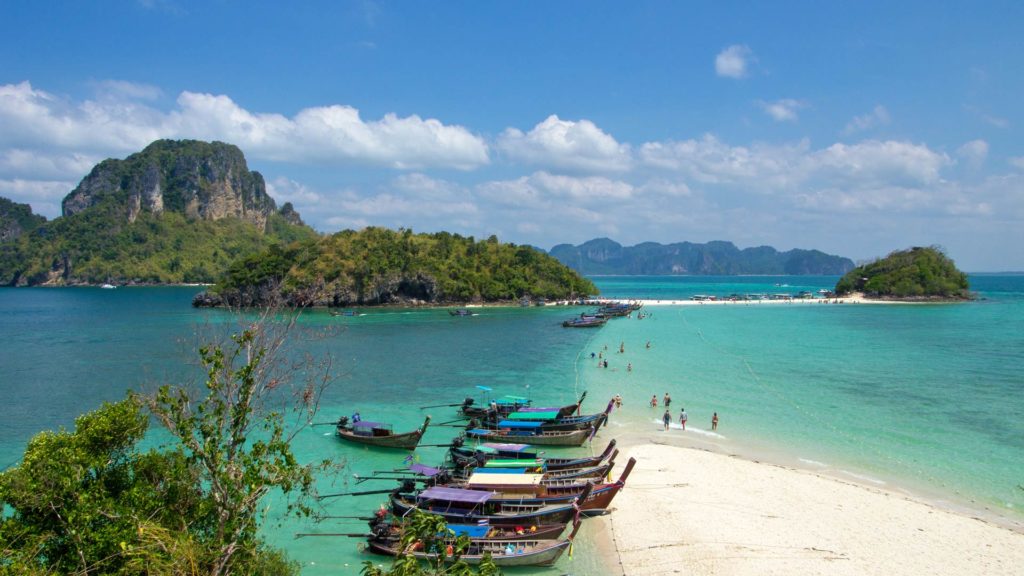 Just opposite the sand bank on Chicken Island you will see a small shack. Next to the shack there is a sign which leads you to the view point. It's not really high and the way up won't take you too long. The "stairs" are not really properly built. You should be careful and hold the ropes just in case you will slip.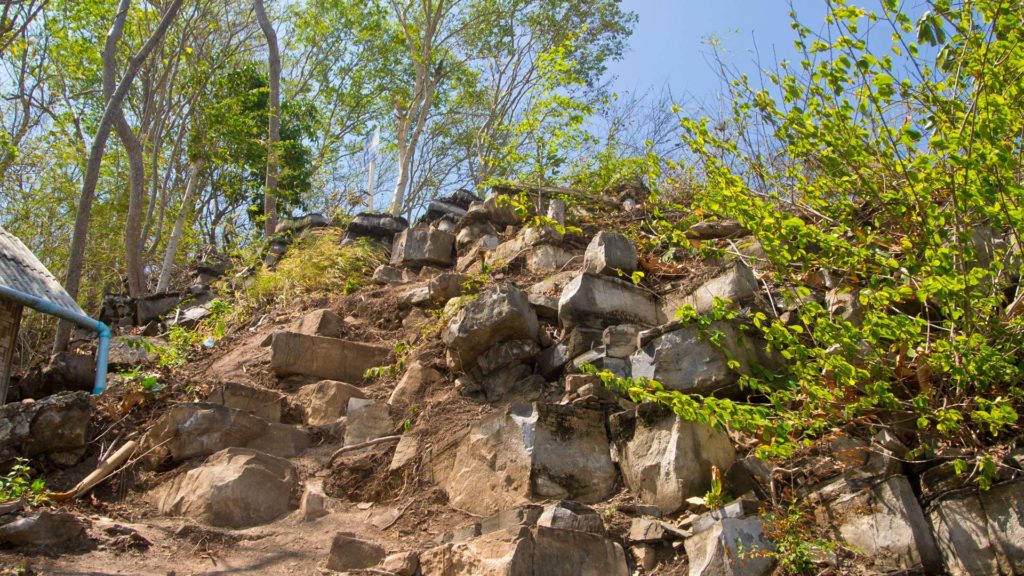 Once you are on the top you will have a fantastic view at Tub Island and the sand bank between those islands. Besides that, you will see Koh Poda and the mainland of Krabi in the background. Krabi's limestone cliffs and rocks just impress me again and again.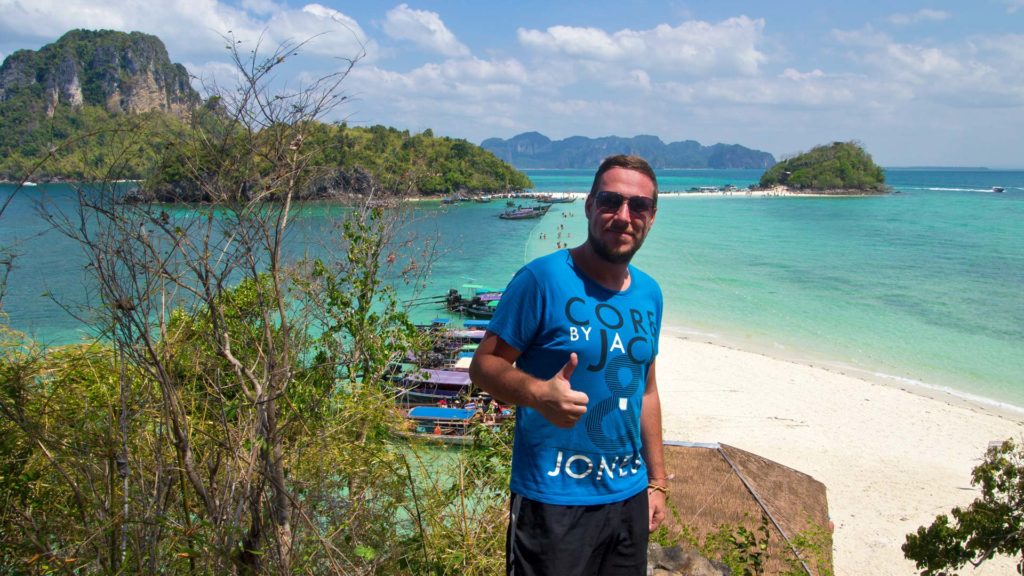 Chicken Island – Tub Island sand bank
Like I said before, Chicken Island and Tub Island are connected with a sand bank. During my second visit to the island the high tide was coming at noon. You could only walk between those islands in the morning. If you like to walk over from one island to another, I recommend you to do that at the beginning of your stay.
At high tide or a higher water level the current is also slightly stronger and it will be impossible to walk across the sand bank if you aren't 2 meters tall. Furthermore, the national park employees will take care that nobody tries to get to the other side at high tide.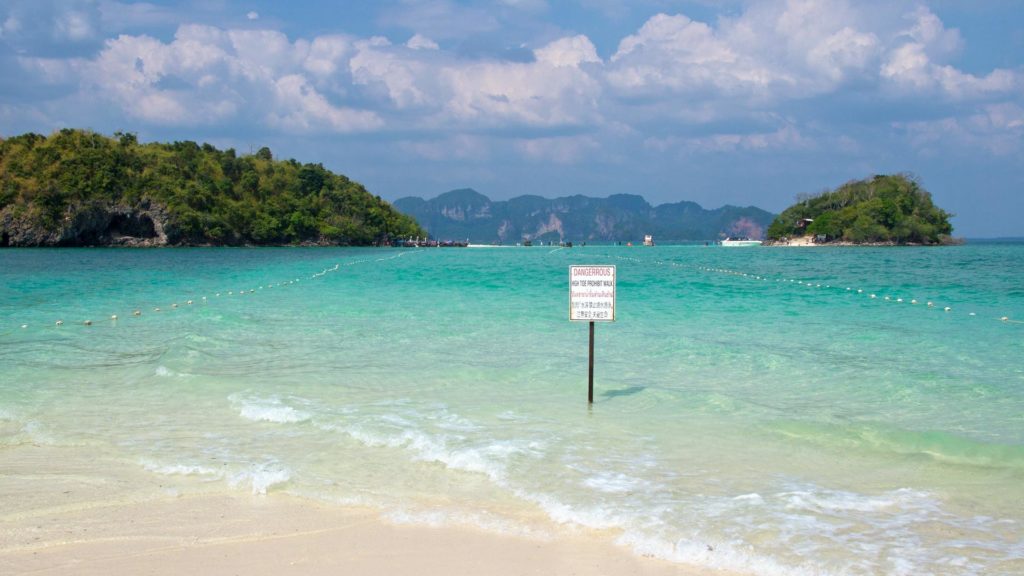 At my first visit there was low tide and I walked across the sand bank from Chicken Island to Tub Island without any problems. The sand bank didn't have too many rocks and it was pleasant. In addition, the water was really clear and very beautiful.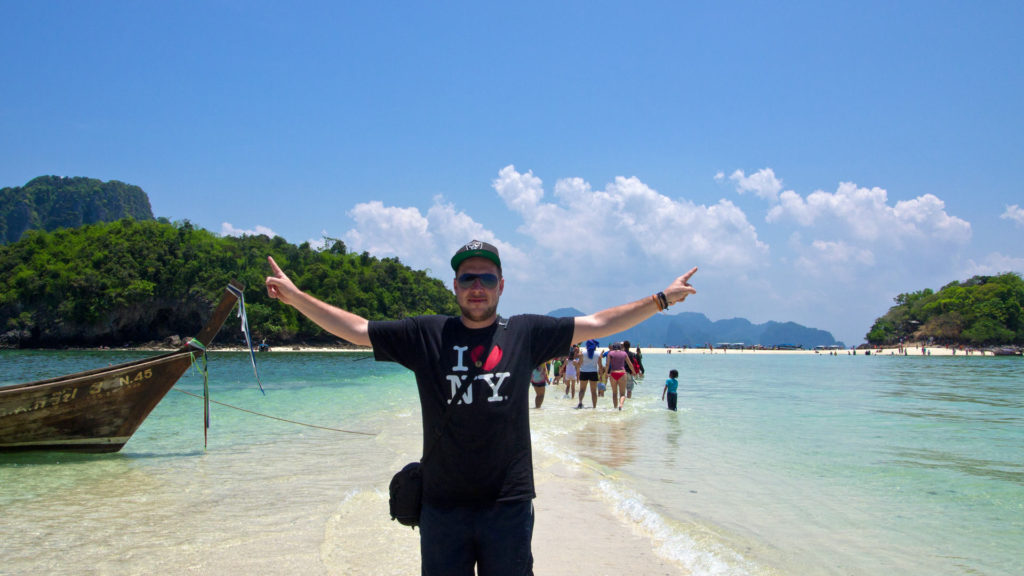 Tub Island itself consists of 2 small islands with a stretch of sand between them. At high tide the beach is partly flooded, too. Besides that, Tub Island doesn't have too many shady spots which is why I think it's only worth a short visit. The Thai sun can be very strong and lead to unpleasant sunburns.
However, in front of the island you can find many colorful fish in the water and you will have a great view at Koh Poda and in the other direction at Chicken Island. I just took a couple of pictures and walked back through the water in order to find a shady spot on Chicken Island.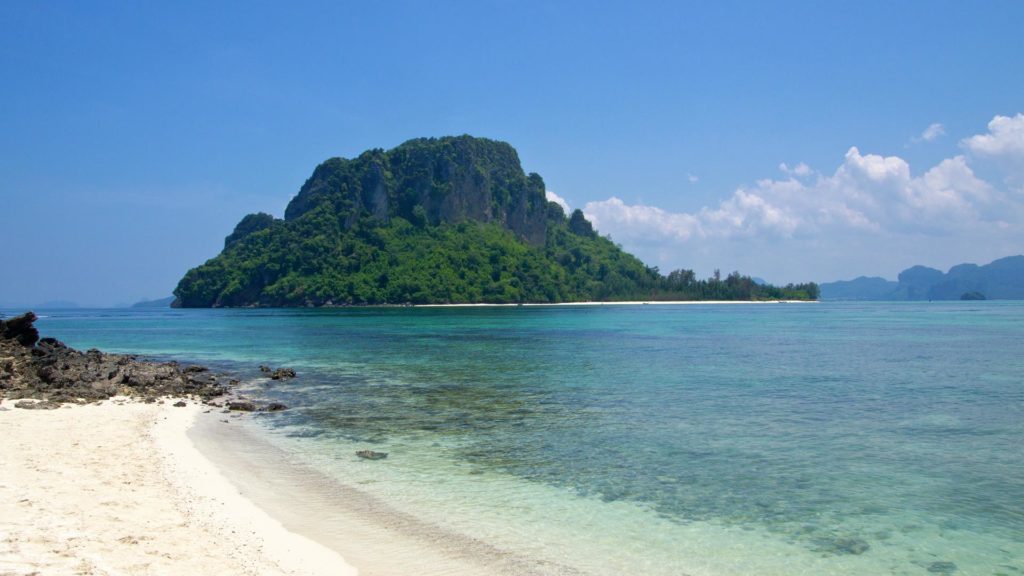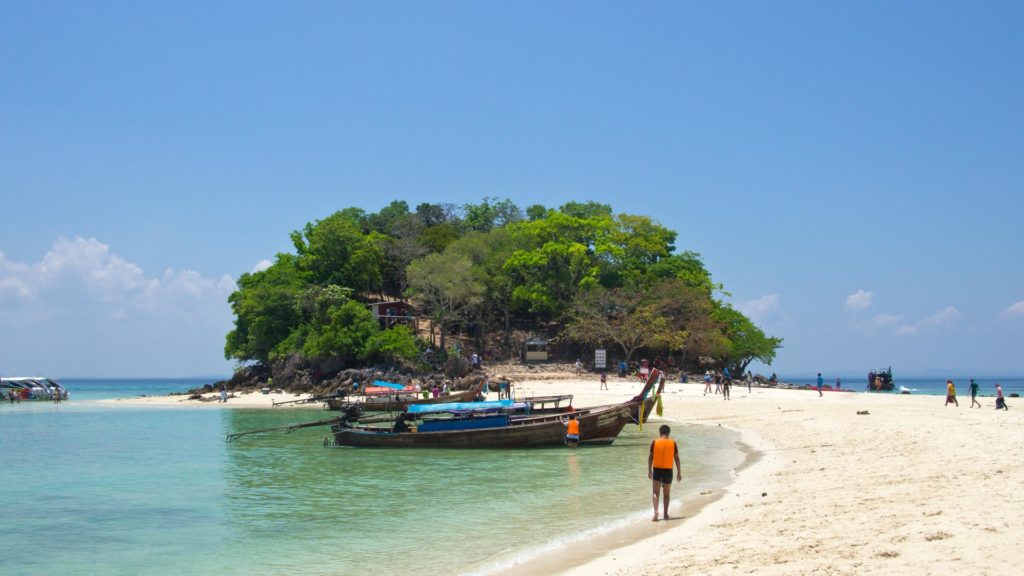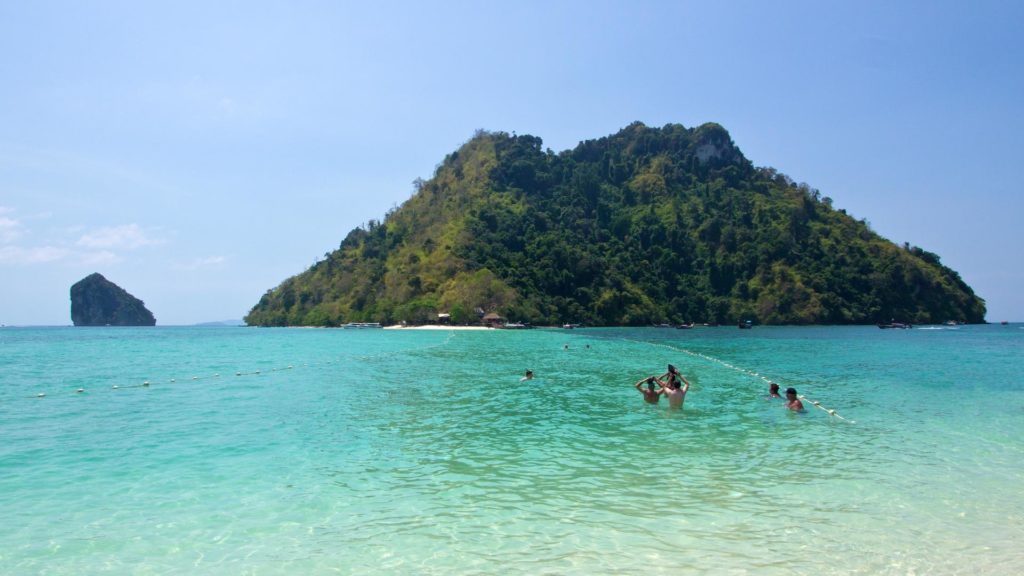 Back on Chicken Island, you can relax a little bit after the climb up to the view point and the walk across the sand bank to Tub Island. Or you swim a bit further off the coast and do some snorkeling. Here you can find some beautiful fish in the water, too.
The longtail boats usually leave about 3.30 – 4.00 p.m. from Chicken Island to Ao Nang since there is no longtail boat service after 4.00 p.m. Otherwise they only drive to the beaches of the mainland.
If you head out in the early morning you will have about 4 or 5 hours on the island without any hectic and stress. Also you can arrange a different pick up time, if you like to leave the island earlier.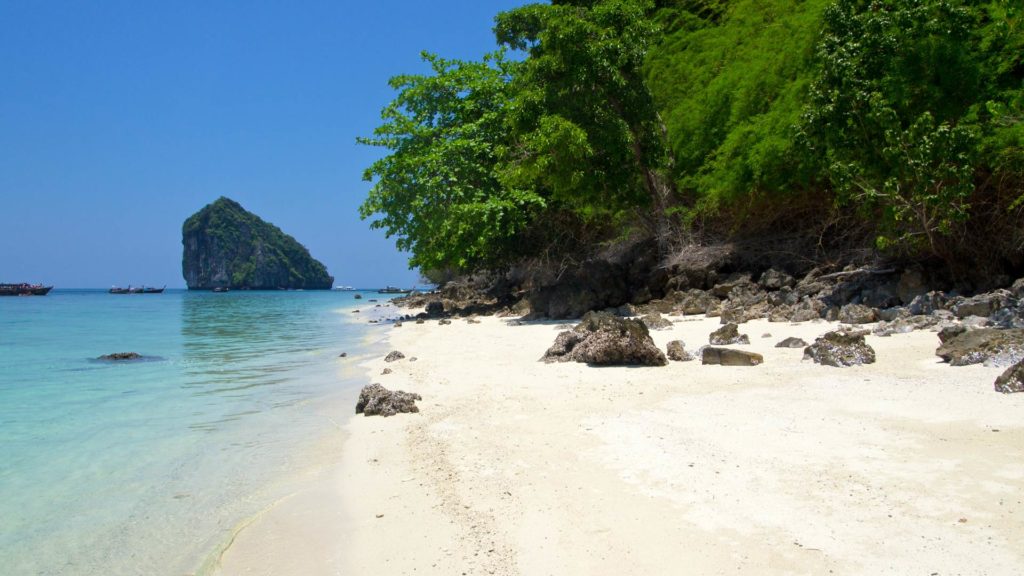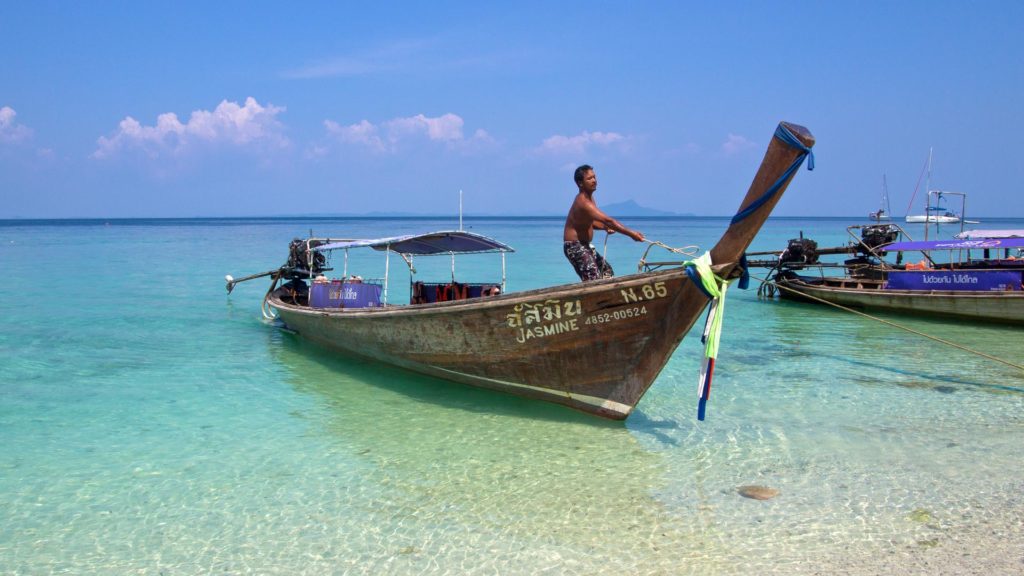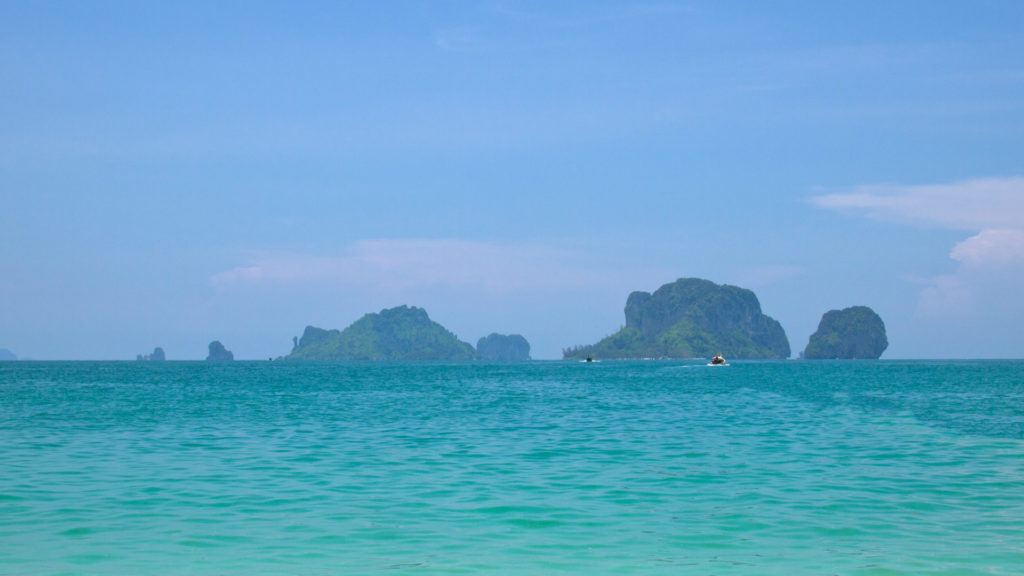 Chicken Island résumé
After my first visit I liked Koh Poda a little bit more than Chicken Island. But, after my second visit, I have to say that I don't have a specific favorite anymore since they are all amazing islands. Especially the new small view point on Chicken Island was really amazing. I can absolutely recommend a day trip to Chicken Island!
Plan your trip to Krabi now
More hotel recommendations for Krabi:
---
Have you ever been to Chicken Island or Tub Island? Did you like it? Do you have some additional tips? Leave us a comment below!