Dieser Artikel ist auch verfügbar auf: Deutsch
Koh Madsum, also spelled Koh Matsum, is a small island in the Samui Archipelago. Koh Madsum and the larger neighboring island Koh Taen are located just a few-minutes boat ride from the south coast of Koh Samui.
Koh Madsum and Koh Taen belong like Koh Phangan or Koh Tao to the Samui Archipelago (Mu Koh Samui), which consists of about 69 islands. On the contrary to the Ang Thong National Marine Park, which is almost advertised everywhere, there are not many visitors on Koh Madsum.
Koh Madsum – secret island off the coast of Koh Samui's south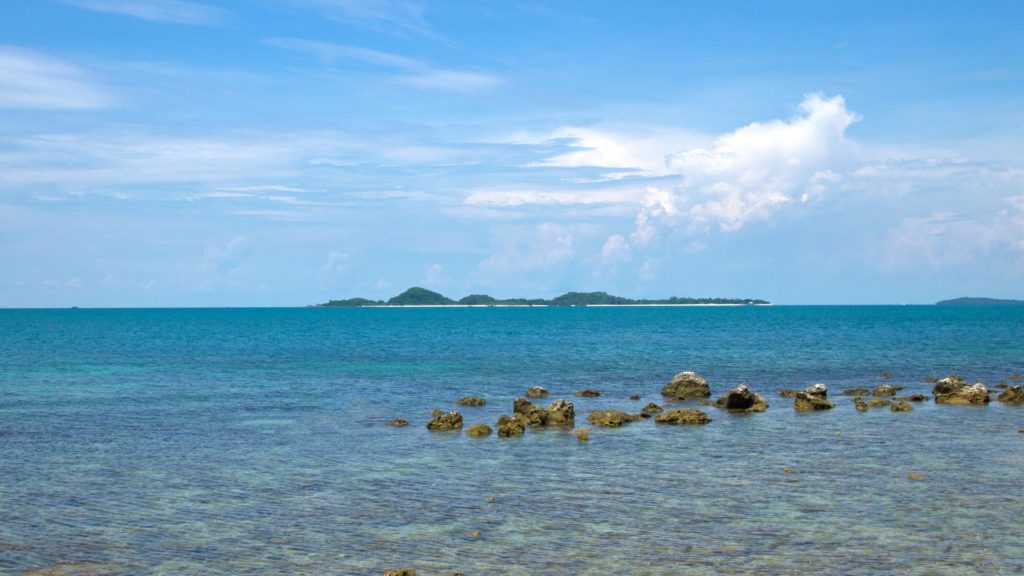 During our last stay on Koh Samui we decided to go to the south of the island and do a trip to Koh Madsum, including a snorkeling stop off the coast of Koh Taen. In this article we will tell you why you should visit Koh Madsum, what the island is like and how you can get there.
---
How to get to Koh Samui
Accommodation on Koh Madsum – our hotel tip
If you want to experience Koh Madsum really lonely, you can stay overnight on the island. So you can visit the beautiful beaches outside the peak hours of day trips and incidentally live in a really great villa. The Treasure Koh Madsum is currently the only accommodation on the island and offers you a pinch of luxury if you need some rest from the hustle and bustle of Koh Samui.
---
How to get from Koh Samui to Koh Madsum
It's not so easy to book a tour to Koh Madsum with one of the travel agencies on Koh Samui. Most of them don't offer a trip to the island, so it's best to organize it by yourself or book a tour online. You can simply find a boat driver in Thong Krut, like we did. You can even bargain the price a little bit and the trip won't be too expensive this way.
Thong Krut is a small fishermen's village in the south of Koh Samui with a few restaurants at the south coast. Off the coast there are some small islands like Koh Madsum and Koh Taen, which we wanted to visit on our trip.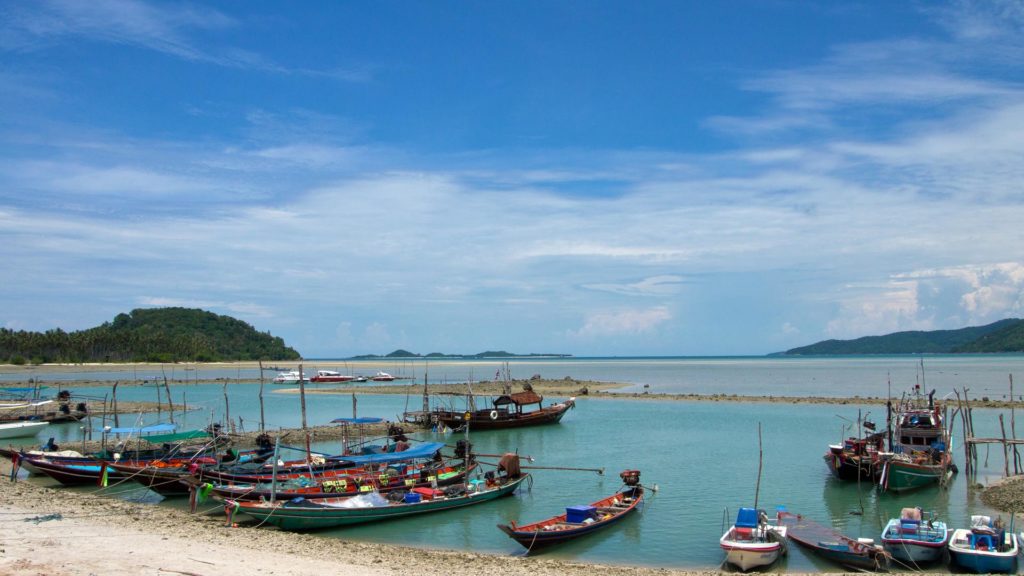 The best way to go to Thong Krut is by renting a scooter on Koh Samui. I haven't seen too many shared taxis nearby, but you can probably rent a private one – which will turn out a little bit more expensive.
On arrival in the fishermen's village you will see lots of signs near the water, which offer trips with a longtail boat to Koh Madsum or Koh Taen. The price for a boat will be around 1200-1400 baht.
Now you can choose a friendly driver and start your boat trip instantly, however we booked our trip to Koh Taen and Koh Madsum one day ahead. From here it's only a 15 minutes boat ride to the first stop off the coast of Koh Taen.
Snorkeling at Koh Taen
The island of Koh Taen itself hasn't much to offer. The beaches are very rocky and the huts on the island are fallen into ruins, because most of the residents moved to Koh Samui for the tourism. The island isn't worth a visit at all.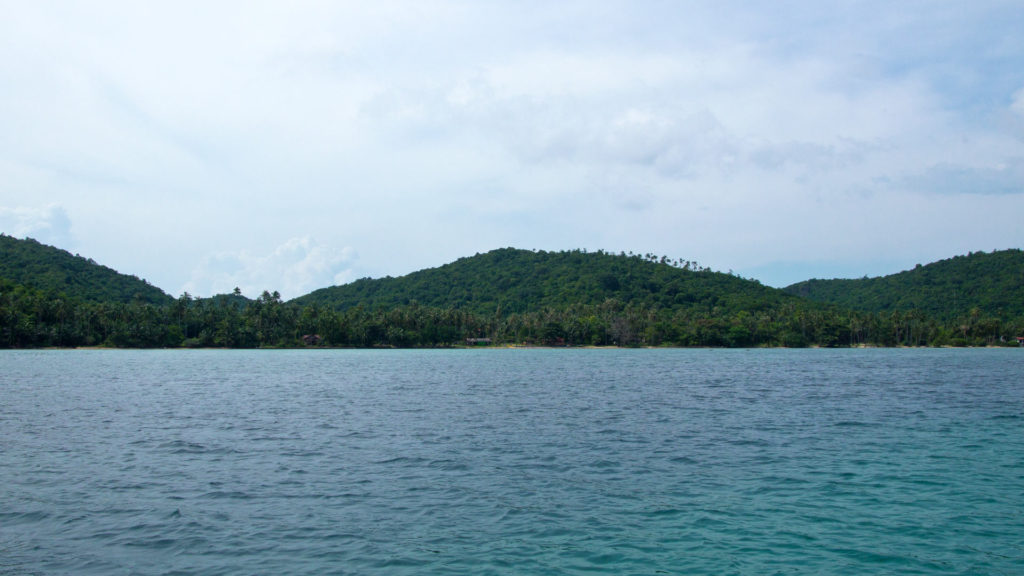 Our boat stopped off the coast of Koh Taen and we just jumped into the beautiful water. There is a rich underwater world with many fish and corals in front of Koh Taen.
In addition to the many small fish, you can see some small stingrays and a few barracudas, if you are lucky.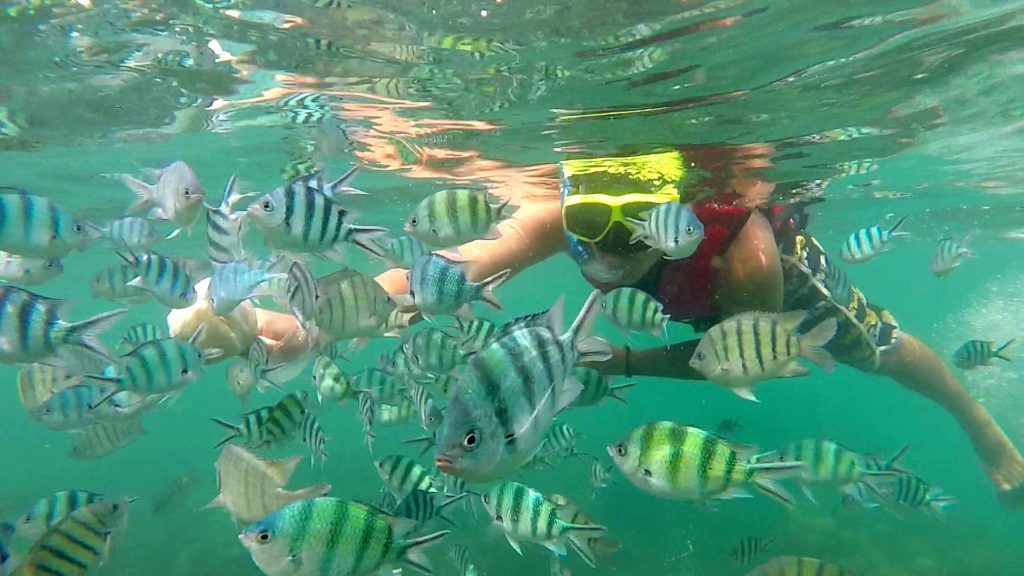 We stayed about an hour in the water snorkeling and exploring the underwater world, but unfortunately we didn't see any barracudas.
Just a few small stingrays which have been hiding quickly beneath some rocks and corals, so I didn't get a chance to capture a picture of them with my GoPro.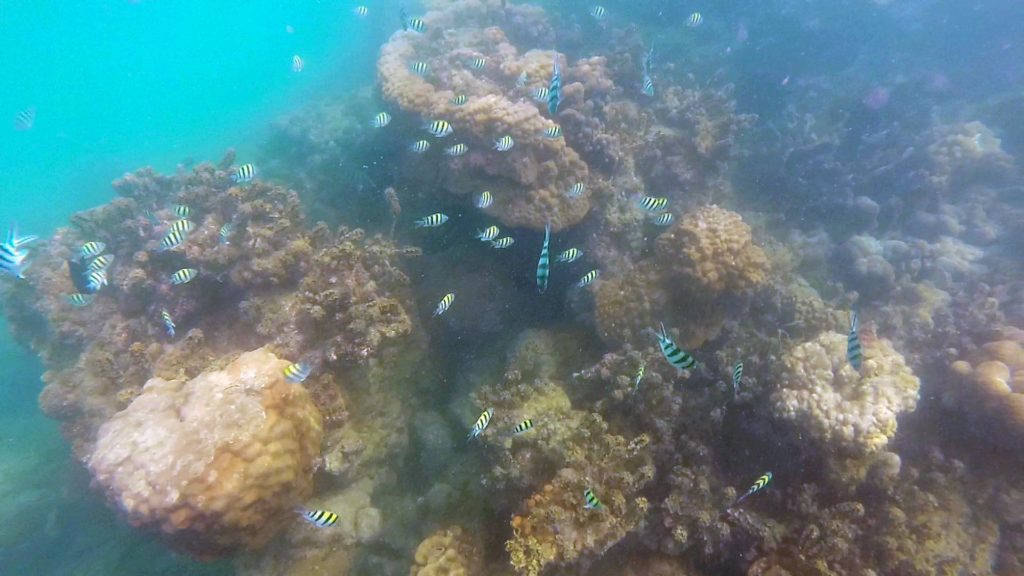 Besides us, there were only two other boats on site. Hence we could snorkel calmly in front of Koh Taen and weren't disturbed too much by other visitors.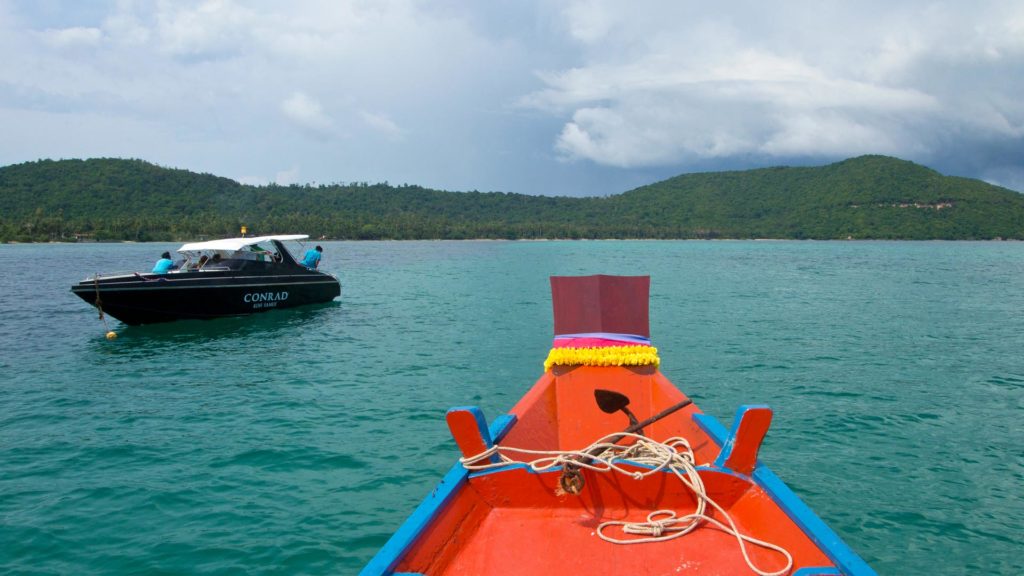 After that it was about time for the beach. We went back to the longtail boat and drove off to Koh Madsum. A really short ride, since the islands are only separated by a few kilometers.
Koh Madsum
At the arrival on Koh Madsum there is a fine stretch of sand and fantastic clear water. Since Koh Taen didn't have some beautiful beaches, we were counting on Koh Madsum – it definitely wasn't a disappointment!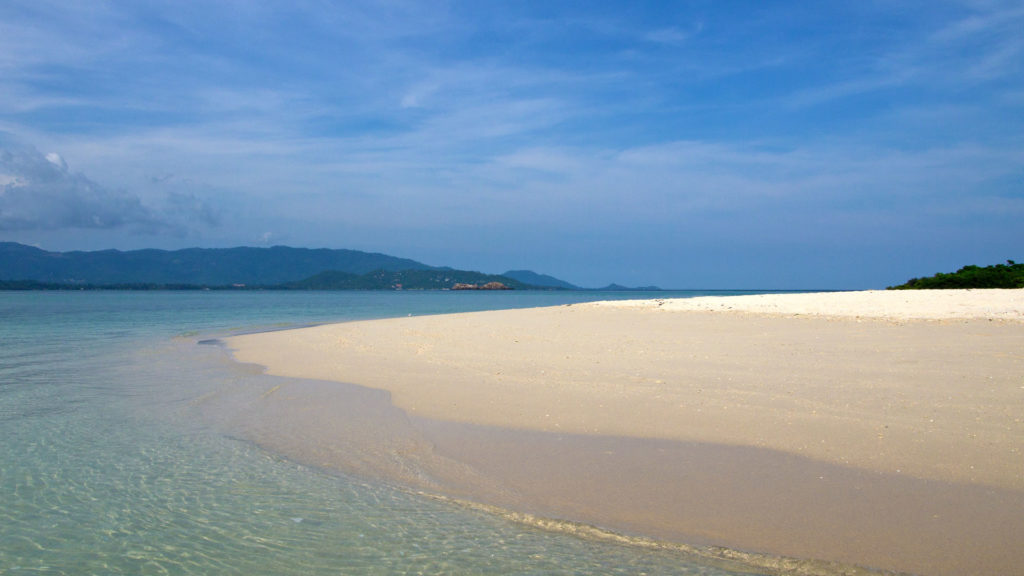 There is a small restaurant and a kayak rental on the beach. Besides that, there is only heavenly peace. We made some pictures, went for a swim and the rest of the time we just relaxed and unwound a bit.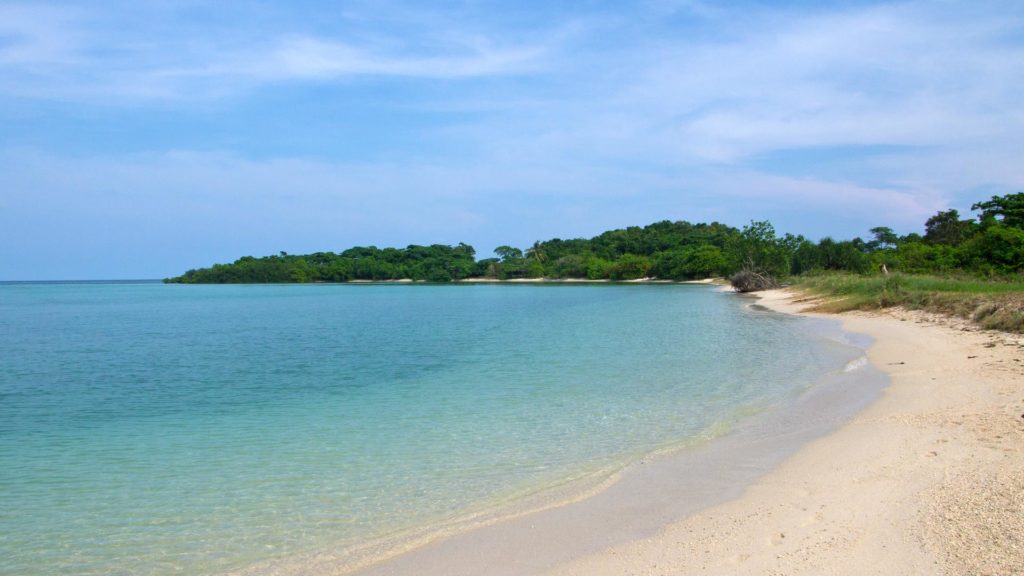 Besides our boat, there were just a few others. But the visitors were very limited and it wasn't crowded at all. Everyone could find a nice lonely and shady spot.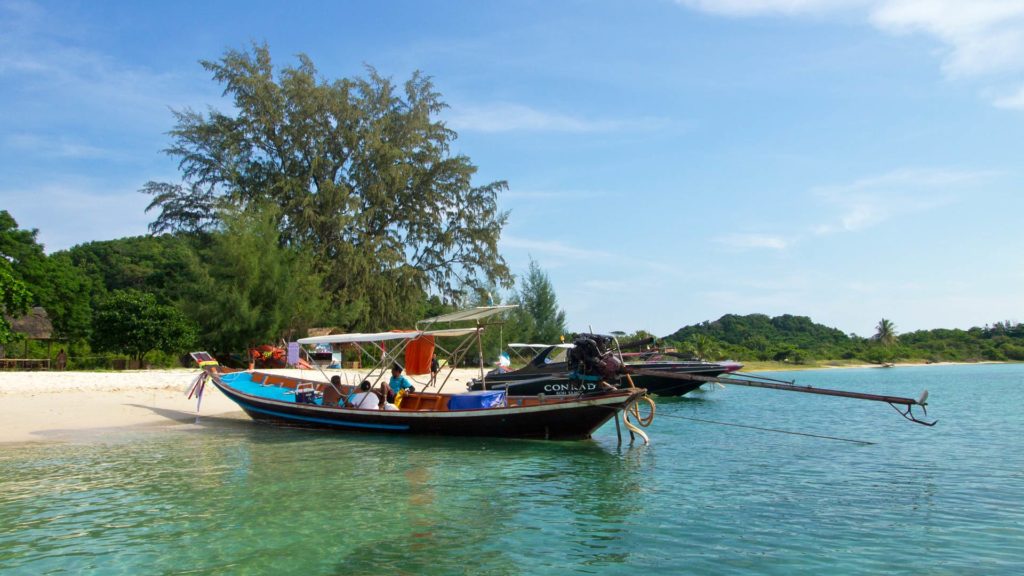 But not only the beach and the water are really nice. In my opinion the view at the large neighboring island of Koh Samui is also great.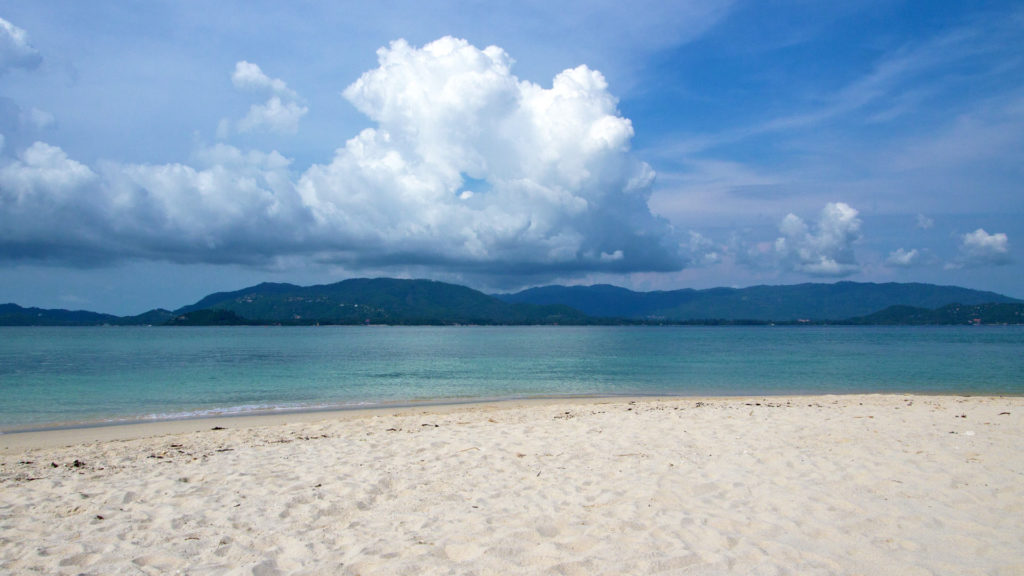 We stayed on Koh Samui, but it is also possible to spend some quiet days without any action on Koh Madsum.
There is a higher quality resort with lots of villas, a swimming pool and absolute tranquility on Koh Madsum. The Treasure Koh Madsum is located in the middle of the island and is the only resort on Koh Madsum.
Returning to Koh Samui
After a couple of relaxing hours on Koh Madsum we slowly started our way back home to Koh Samui. A last glimpse at the beautiful island before it slowly disappeared into the noise of our longtail boat's engine.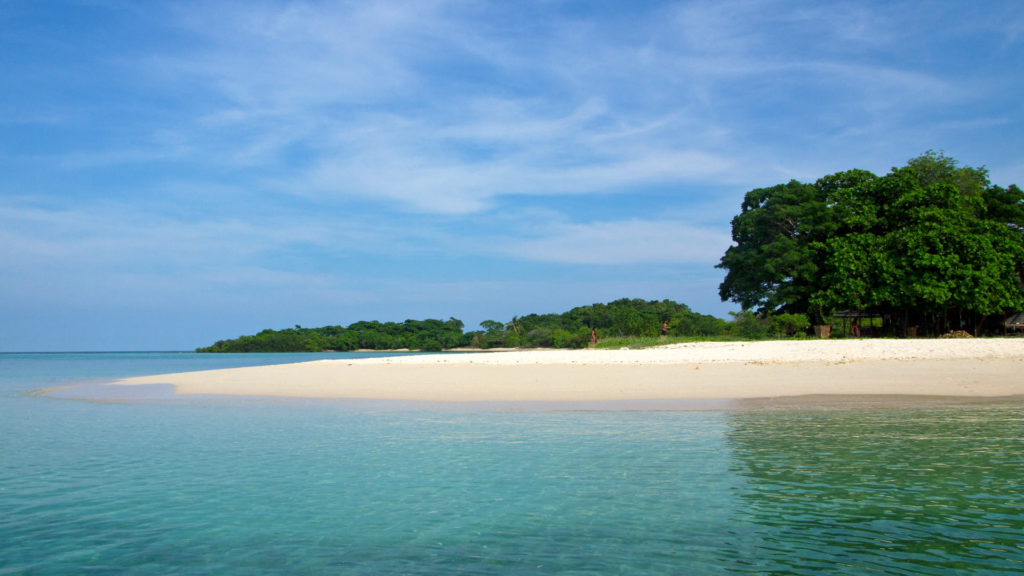 The cloudy sky was finally clear again and we had a terrific view at the palm-rich coastline of Koh Samui. About 15 to 20 minutes later we arrived at the beach of Thong Krut and made our way back to the hotel with our scooters.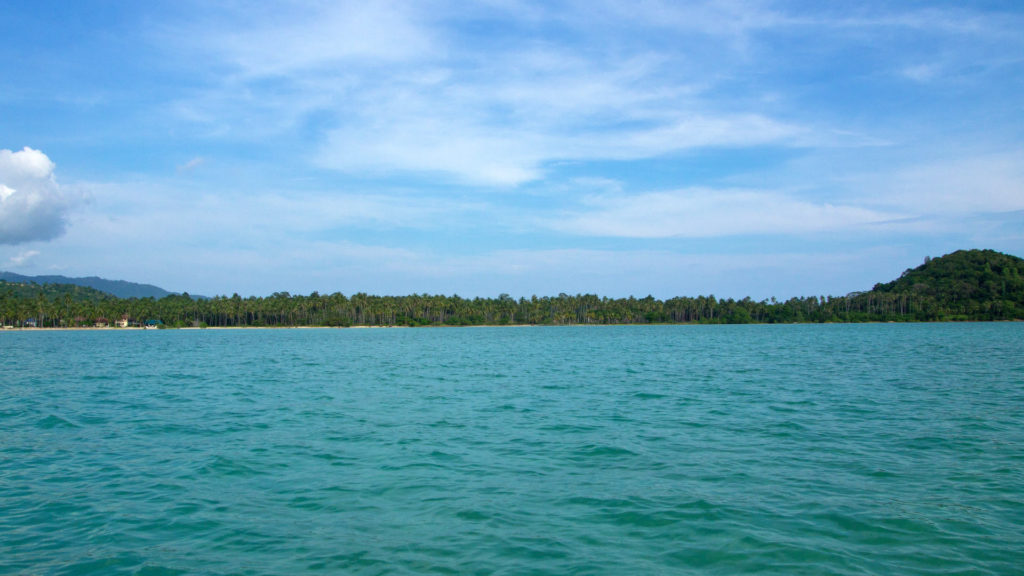 Conclusion for Koh Madsum
If you are staying on Koh Samui and looking for a day trip which is off the beaten path and not well visited, then Koh Madsum should be perfect for you! The snorkeling off the coast of Koh Taen was also amazing and we could see many fish. The beach on Koh Madsum and the partially crystal clear water was fantastic. Definitely a recommended trip!
Have you ever been to Koh Madsum? How did you like the small island? Leave us some feedback in the comments!