Dieser Artikel ist auch verfügbar auf: Deutsch
Krabi Island Hopping is one of the most popular things to do amongst travelers in Southern Thailand. The region of Krabi offers countless islands, which are great for island hopping.
From big islands where you can stay overnight and spend some time like Koh Lanta or Koh Phi Phi, to small islands for a great Krabi island hopping day trip.
The 9 most beautiful and popular islands off the coast of Krabi
To get a good overview of the most popular islands, we will introduce you to 9 islands of the Krabi region in our Krabi island hopping guide. You can reach all the islands with a ferry from Krabi town or with a longtail or speedboat from Ao Nang.
---
How to get to Krabi
Krabi island hopping: Tours and tickets
---
1. Koh Poda
Koh Poda is located off the coast of Ao Nang and is mostly visited by day trips. You can either do a big tour with a speedboat and lots of other people or just buy a ticket for a longtail boat at the Ao Nang Beach.
Currently a ticket for the longtail boat is about 300 baht and the ride will take 15 to 20 minutes. Koh Poda itself is a small island with crystal clear water and a white sand beach. You can also see a few colorful fish while snorkeling in front of Koh Poda. A gorgeous island for a day trip from Ao Nang.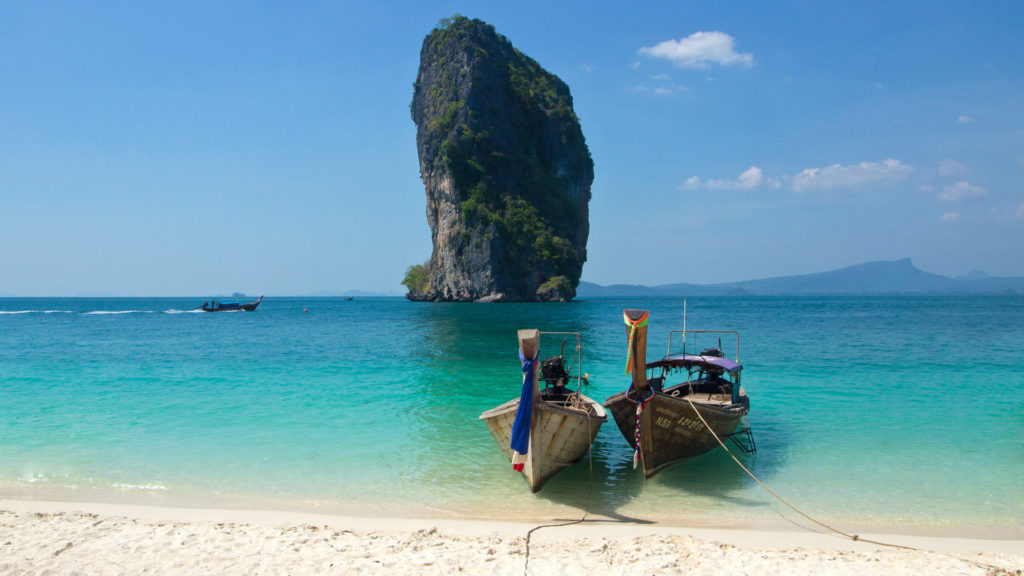 You can find further information about the trip to Koh Poda and the national park fee in our article Koh Poda – a paradise in Krabi.
Our hotel tip for Ao Nang: Deevana Krabi Resort
2. Chicken Island & Tub Island
Chicken Island and Tub Island are also located off the coast of Ao Nang. They are just a little bit further than Koh Poda and you can reach them on the same way with a longtail boat. The two islands are connected with a sandbank, which you can cross during low tide.
We can absolutely recommend a day trip to Chicken Island. You can have an amazing view at those islands from the Chicken Island viewpoint, swim in the crystal clear water or walk along the sandbank to Tub Island.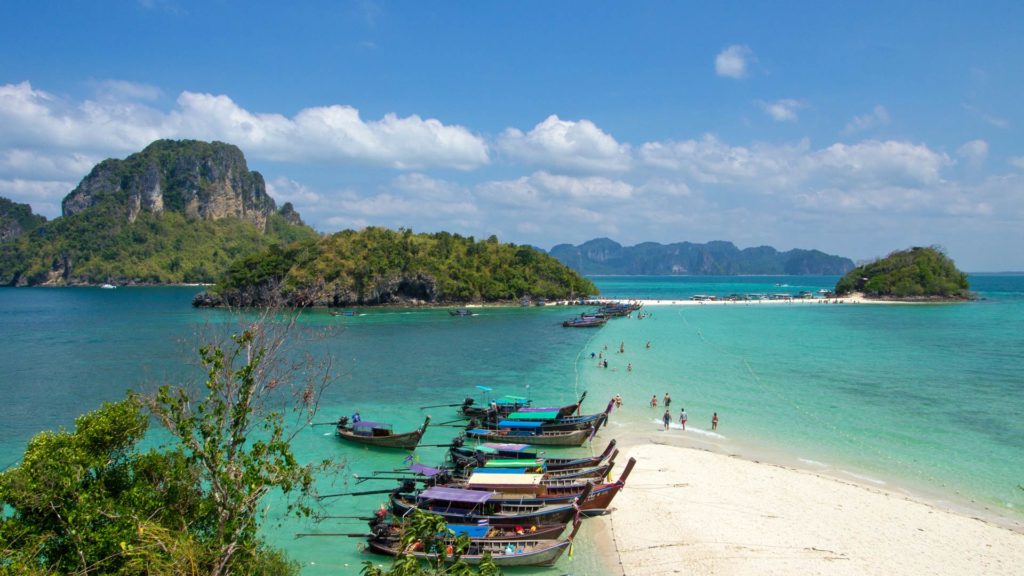 Info: You can visit Koh Poda, Chicken Island and Tub Island in combination on a day trip from Ao Nang.
3. Hong Island
Hong Island is the next paradise-like island that is also located in the Krabi region. You can either rent a longtail boat for 2500 baht (up to 6 people) or do an organized tour.
There is for example the 5 Islands Tour, which goes to Hong Island including the Hong Island Lagoon and the islands of Koh Pak Bia, Koh Lao Lading and Daeng Island. The price for a tour like this is about 800 to 2000 baht per person, depending whether you take the tour with a speed or longtail boat.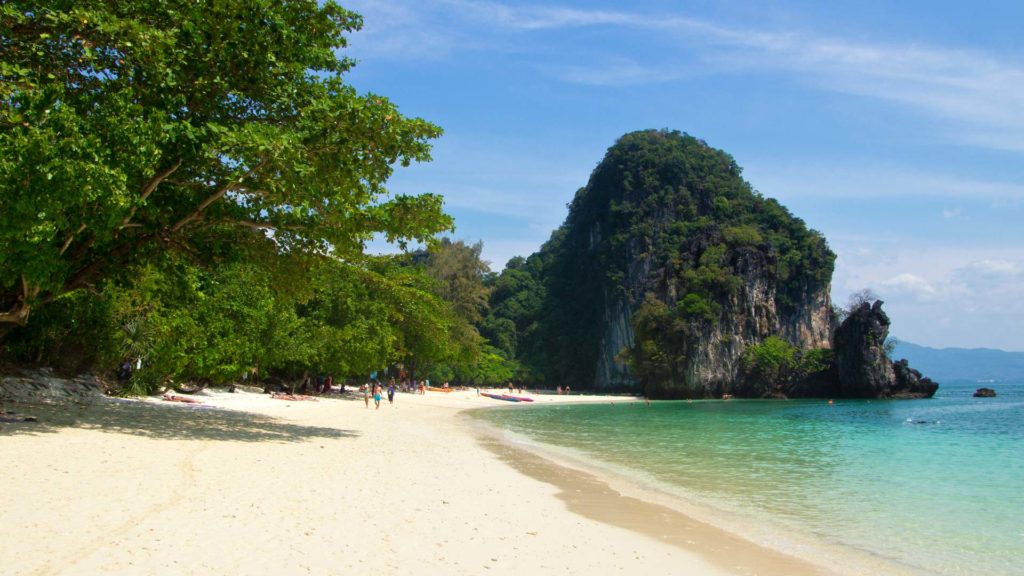 The amazing beach of Hong Island is separated by a huge rock into two parts. During the high season it can get very crowded on the island, which means you should start your trip in the early morning to have the paradise almost for yourself.
The water is very clear and you can see plenty of colorful fish while snorkeling. You can find out what a trip to this island looks like in our Hong Island article.
4. Koh Phi Phi Don
Koh Phi Phi consists of two islands. On the main island Koh Phi Phi Don you can find lots of accommodations, restaurants, bars, beaches and viewpoints. However, the actually really beautiful island is overrun by tourists and backpackers.
If you want to visit the island anyway, then you can take a ferry from Krabi Town, Ao Nang or Phuket to Koh Phi Phi. The trip takes about 1 hour and 30 minutes and costs 400 baht per person. You can book this trip with any travel agency in one of the mentioned places.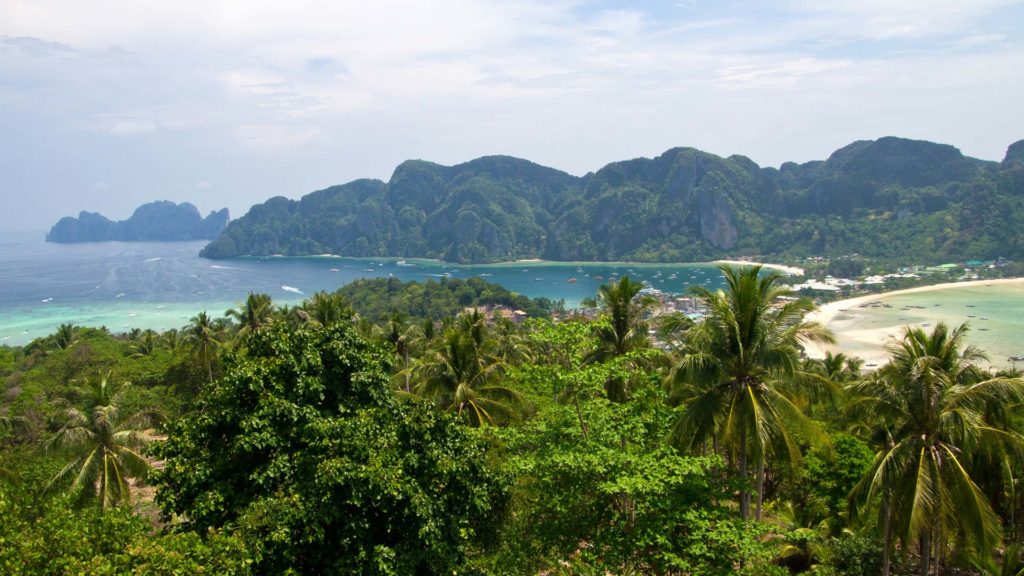 Take a look at our video from the last three-night stay on Koh Phi Phi.
Our hotel tip for Koh Phi Phi: ChaoKoh Koh Phi Phi Hotel & Resort
5. Koh Phi Phi Leh
Koh Phi Phi Leh is the smaller one of the Koh Phi Phi islands. You won't find any accommodations on the island because all the visitors are coming with day trips only. Especially popular is the Maya Bay, where the movie The Beach was filmed. Unfortunately, the beach is therefore extremely overrun by tourists and despite the beautiful scenery not a paradise anymore.
But in addition to the Maya Bay, Koh Phi Phi Leh has to offer other beautiful parts. I personally prefer the Lo Sama Bay. There are also some longtail boats but there aren't too many visitors and you can still enjoy your little piece of paradise.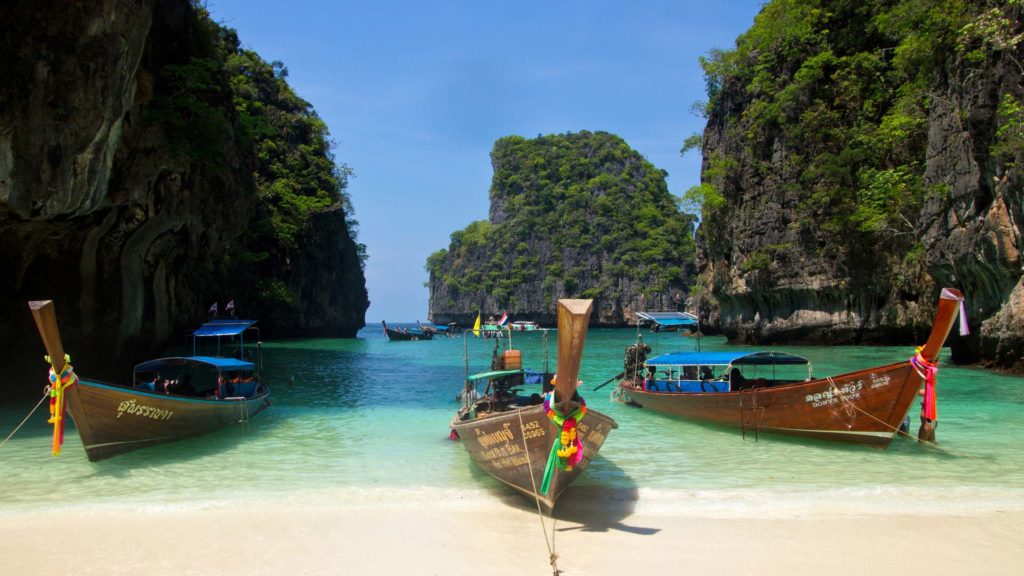 The trips to Maya bay are offered everywhere on Koh Phi Phi and even in Phuket or Krabi. If you really like to see the bay, we recommend you to rent your own longtail boat on Koh Phi Phi Don and go there in the very early morning. Then there will be at least a chance that the beach isn't too crowded.
6. Bamboo Island
Bamboo Island is located just north of Koh Phi Phi. It's very popular with visitors coming for a day trip. You can also do a trip from e.g. Ao Nang by speedboat. Many visitors come to do some snorkeling, relaxing on the beautiful white sand beach or to go swimming.
The neighboring island Koh Jung (also known as Mosquito Island) is also visited by those day trips very often. Usually it's only a short stop before heading on to the famous Maya Bay.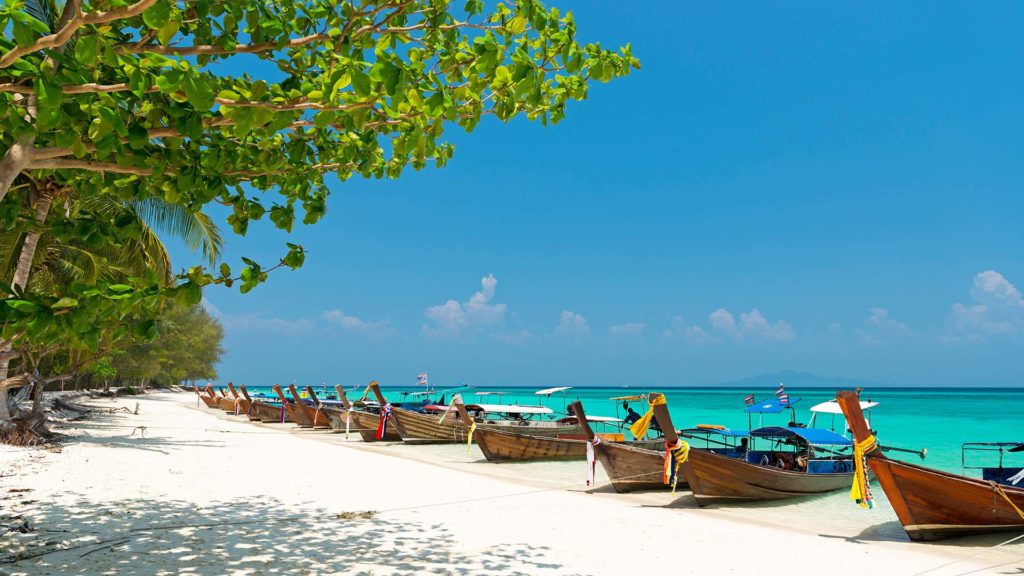 Info: There are day trips offered from Koh Phi Phi Don to Monkey Beach, Koh Phi Phi Leh and Bamboo Island, including snorkeling.
7. Koh Lanta
Koh Lanta is a really quiet and calm island in Krabi. Although the island is a little bit bigger, it has been spared from the mass tourism until now.
It's best to get to Koh Lanta from Krabi Town. You can take either the direct ferry to the island or take a minivan along the mainland and continue with a shorter ferry ride to Koh Lanta.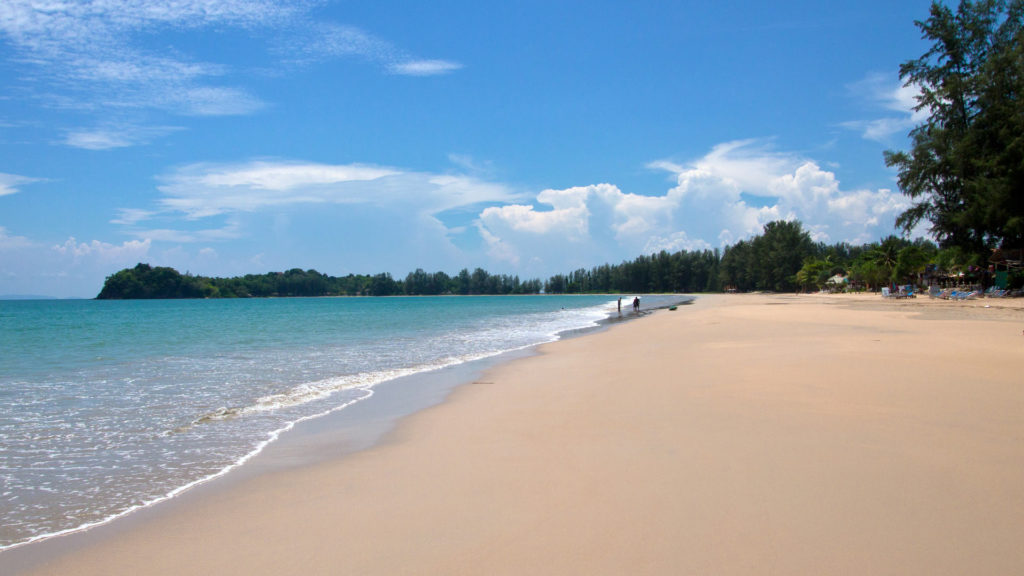 The island can be perfectly explored with a scooter. You can take as much time as you want for everything, discover Koh Lanta's beaches, the National Park in the south, Koh Lanta Old Town and so much more. There is not too much traffic on the island so you can enjoy the tranquility of Koh Lanta and enjoy the beautiful nature the island has to offer.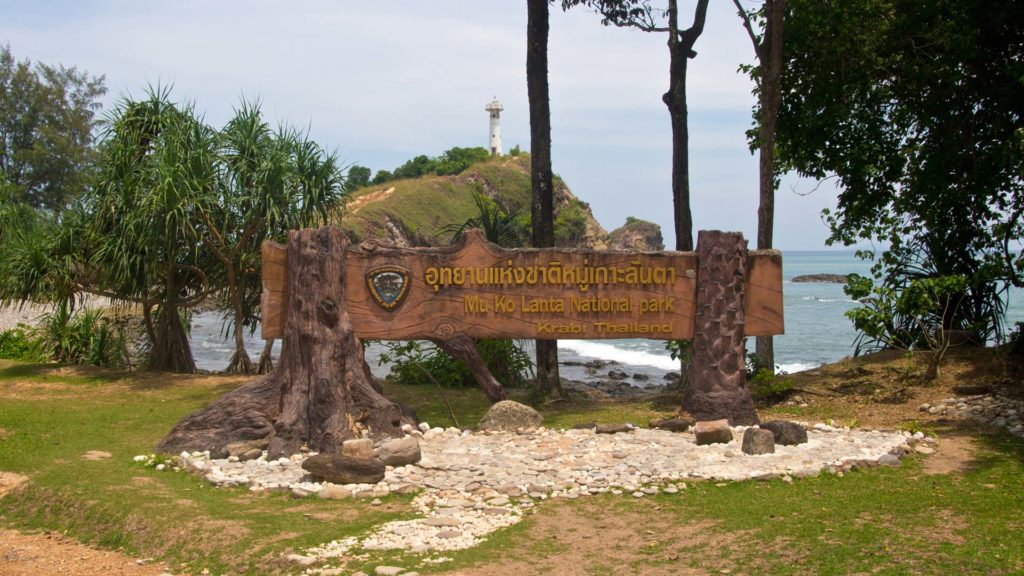 Our hotel tip for Koh Lanta: Golden Bay Cottage
8. Koh Jum
Koh Jum, also known under the name Koh Pu, is located a little bit north of Koh Lanta. There are only a few hotels and resorts on the very natural island and this is why it's becoming more popular only very slowly. It's also very popular with snorkeling visitors. There are a lot of corals off the coast and many fish in the sea.
The island is very undeveloped with tourists and has kept its charm over the years. Here you can relax, snorkel, swim and watch fantastic sunsets with a view at Koh Phi Phi. Koh Jum is perfect to unwind a bit.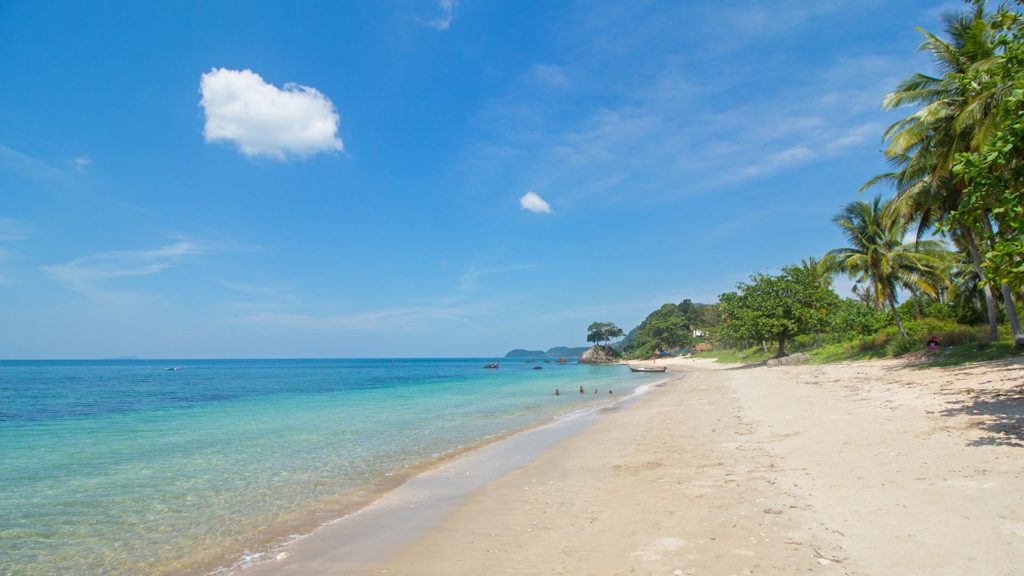 During the high season there are some ferries operating from Koh Lanta to Koh Jum. Otherwise you can reach the island best from Krabi Town. There is a bus going to the Laem Kruat Pier (about 100 baht) and from there you have to take a boat for about 70 baht to Koh Jum.
Our hotel tip for Koh Jum: Koh Jum Lodge
9. Koh Ngai
Koh Ngai is indeed mostly approached from Trang, but there is also a connection from Koh Lanta. Also, Koh Ngai administratively belongs to the region of Krabi.
The island is also known as Koh Hai, located near Koh Mook and often visited by day trips. Additionally, there are also a few hotels on Koh Ngai where you can stay overnight.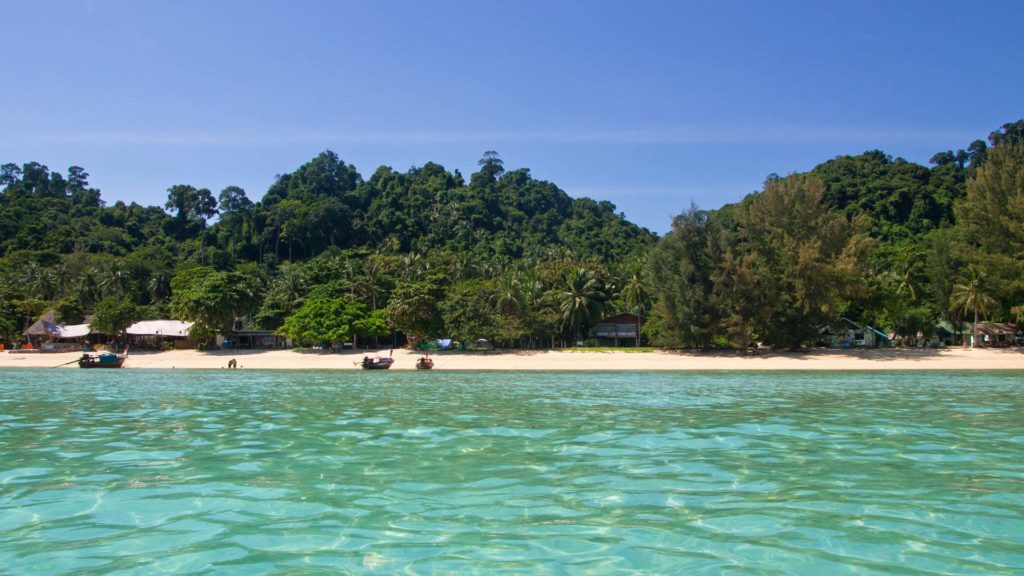 The island itself is a beautiful paradise. Perfectly clear water, a white sand beach, a stunning scenery with all those islands in the ocean and the mainland in the distance. Some amazing postcard pictures.
How to get to that dreamlike island, you can learn in our Koh Ngai article.
Our hotel tip for Koh Ngai: Thanya Beach Resort
Have you ever done island hopping in Krabi? Which is your favorite island in Krabi? Leave us some feedback in the comments below!
Photos: Photo 7 (Bamboo Island) – Maxim Tupikov/shutterstock.com, Photo 11 (Koh Jum) – bang tongkeawsawat/shutterstock.com