Dieser Artikel ist auch verfügbar auf: Deutsch
Koh Hong, or better known as Hong Island, is an island off the coast of Krabi. Hong Island is part of the Than Bok Khorani national park and you can do one of the offered tours from Phuket, Phang Nga or Ao Nang to visit this gorgeous island.
Hong Island – a day trip from Ao Nang
During our last stay in Ao Nang in January 2015 we wanted to discover something new. This time our choice was Hong Island and so we took a tour to this beautiful island. Dreamlike water, a white sand beach and breathtaking islands on the way made this trip absolutely recommendable.
---
How to get to Ao Nang
Accommodation in Ao Nang – our hotel tip
Koh Hong: Tours and tickets
---
The way to Hong Island
Getting from Ao Nang to Koh Hong is similar to the last trips to Koh Poda, Koh Gai and Koh Tub. The starting point is Ao Nang beach as well, where you can buy tickets at the small ticket booths near the beach. I described how to buy the tickets in the previous articles like Koh Poda. At those booths you can buy the tickets to your desired destination.
The difference to Koh Poda is that there isn't a regular service and you have to rent the whole longtail boat for up to 6 persons. This service is offered from 8.00 A.M. to 4.00 P.M. on a daily basis and the boat trip will cost you 2500 Baht – all together. Another option would be booking a day trip to Hong Island.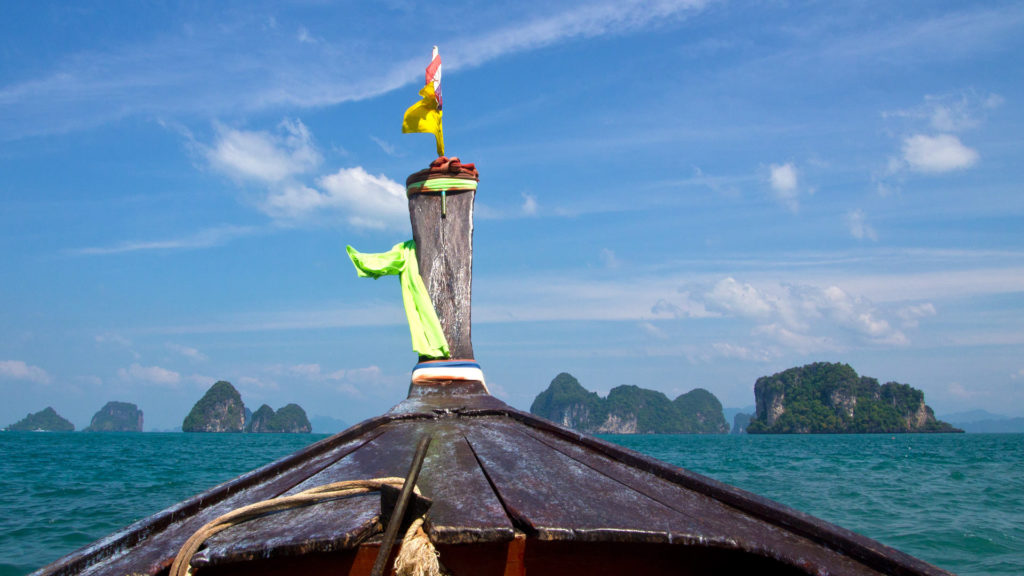 The advantage of a trip like this is that you don't have to wait for more people to fill the rented longtail boat. You can just start your trip right away – your private Krabi island hopping. Past the Nopparattara beach and Klong Muang beach you are driving to the open sea. It's about an hour from Ao Nang to Hong Island by boat. Lean back and enjoy the ride and view for a while.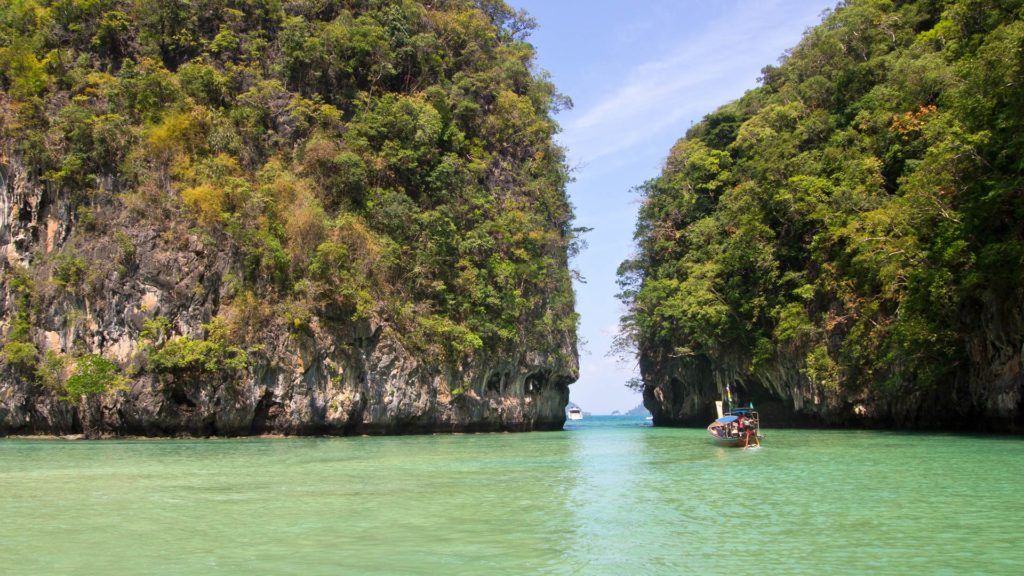 Before we were going to the beach our driver made another stop at the back of Hong Island, where you can discover a beautiful blue lagoon.
The small entrance is a bit hidden and remembers me of the arrival at the Maya bay on Koh Phi Phi Leh. However there is no white sand beach, but rather a clear blue lagoon, which is also perfect for a swim.
Arrival on Hong Island
At the arrival on Koh Hong you will be required to pay an additional fee for the national park. This fee is 200 Baht per person. Eventually after that you can straight head to the beach.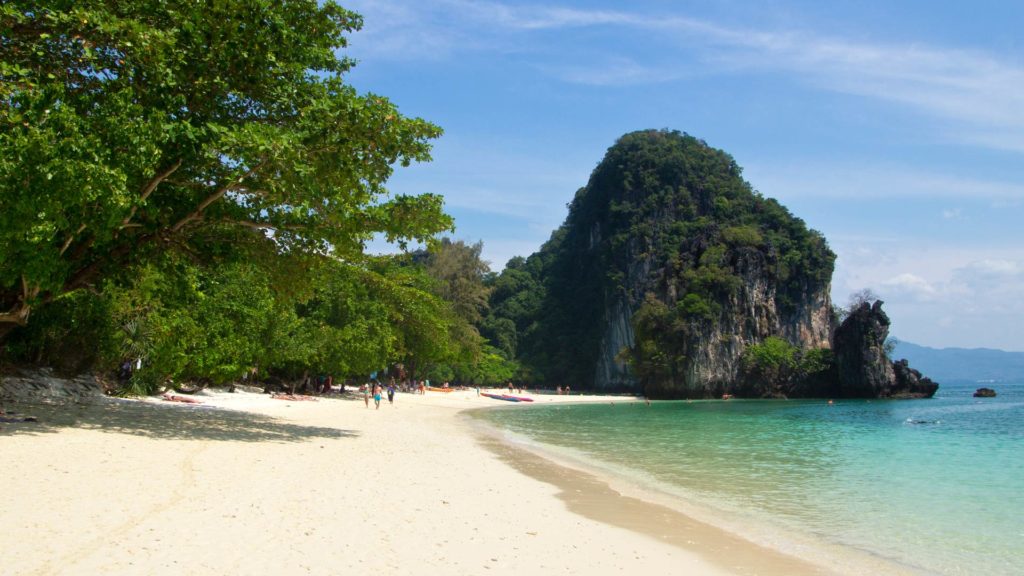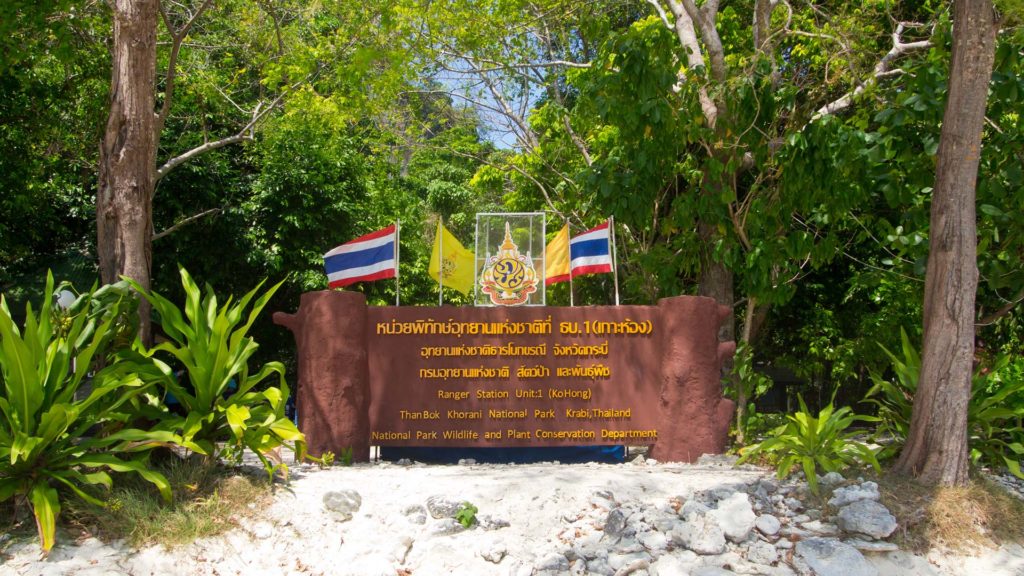 The beach is seperated into two parts by a hugh rock. The more beautiful part of it is located between that rock and the big limestone cliffs. Here you can find a small bay where you can have a great swim and some snorkeling. The water is pretty clear and the sand wonderfully white. Does it get any better?
We had some sticky rice with us to attract the fish in the water. They are not so afraid of people and you can take a nice picture or two with them. For example with an awesome GoPro, like we did.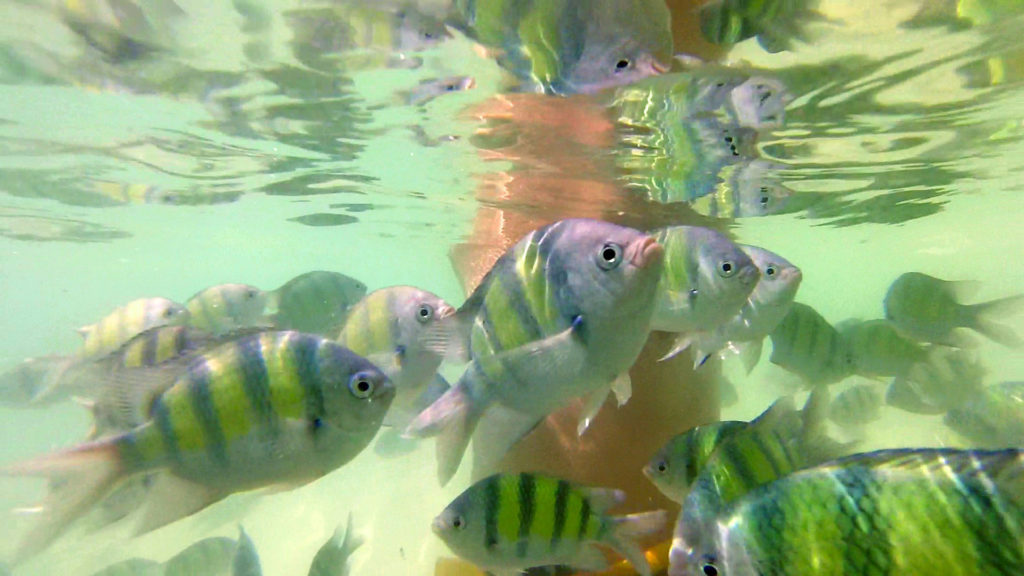 About opposite of the huge rock, which seperates both beaches, there are 2 small shops where you can buy some water, beer or other drinks. Obviously the prices are much higher than on the mainland. If you want to save some money then bring along some drinks and food with you when you start the trip.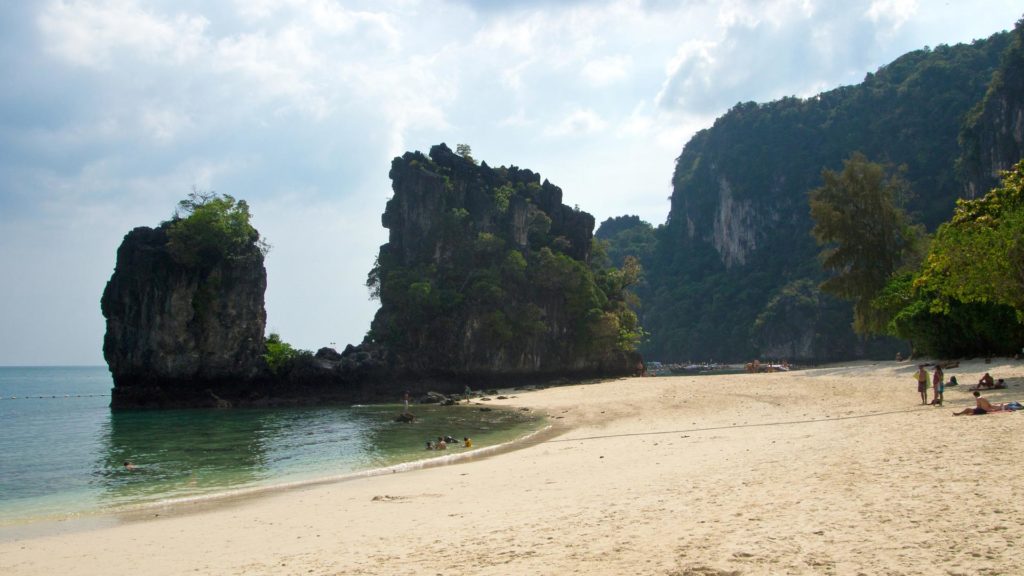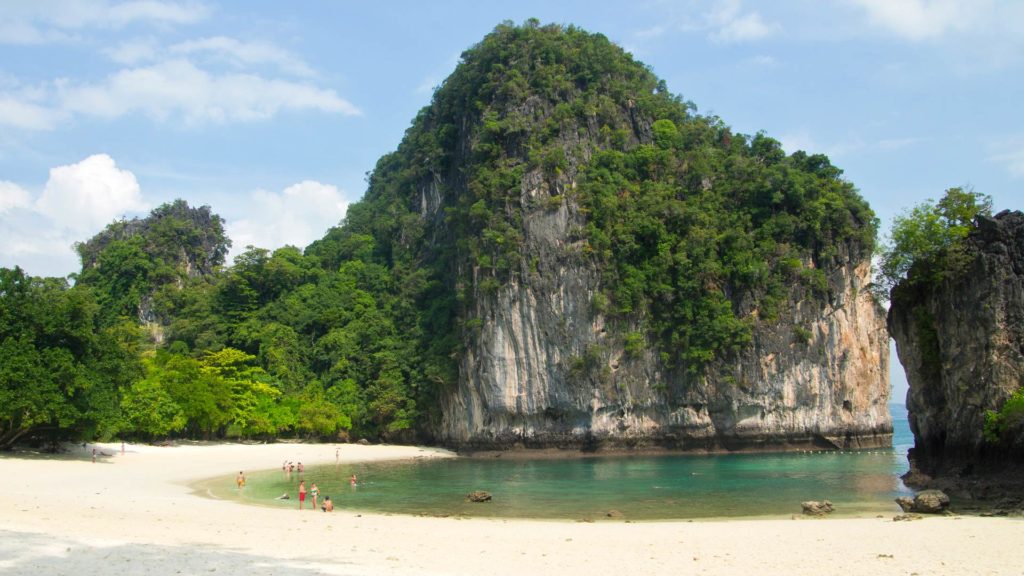 Unfortunately there will most probably be low tide at the afternoon. Make sure you start your trip to Hong Island in the early morning. Because now the rocks, which are actually in the deeper water, will come to light. The swimming isn't so enjoyable anymore and it looks way more beautiful at high tide in the morning. Especially for some nice pictures.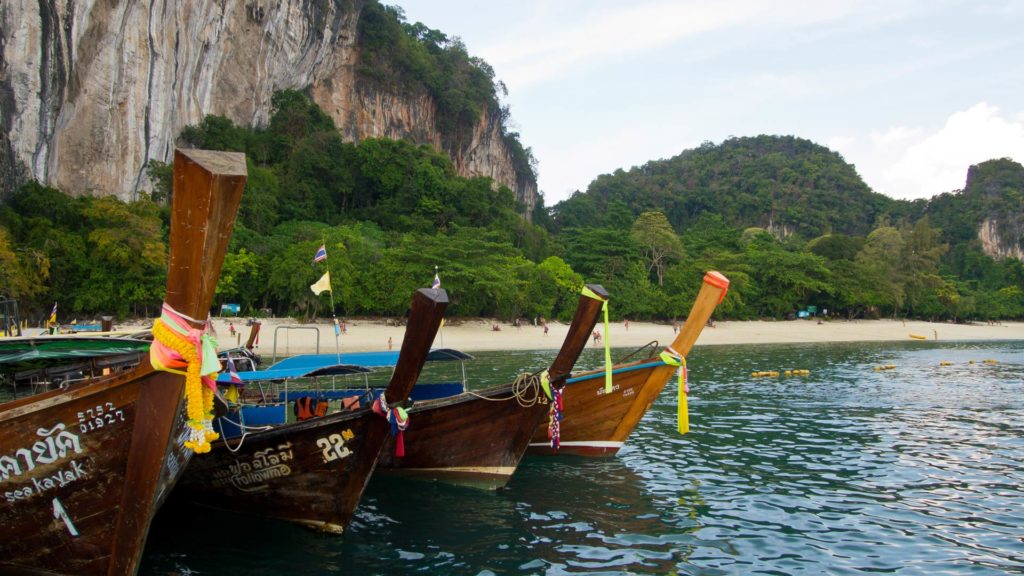 After a couple of hours swimming and relaxing at the beach it was time to return to Ao Nang. I can really recommend a trip to Hong Island, because it's one of the most beautiful islands off the coast of Krabi.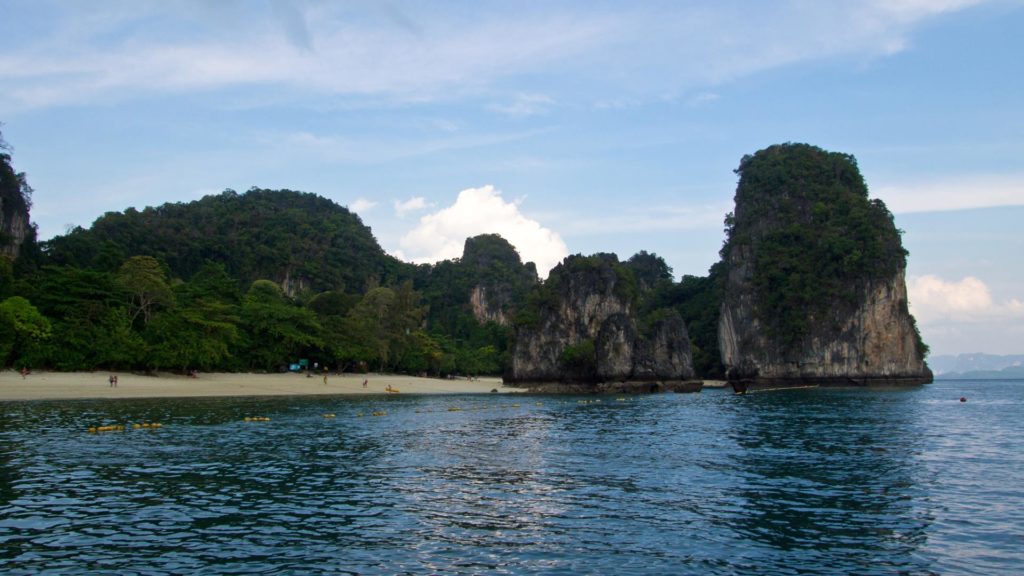 Plan your trip to Krabi now
More hotel recommendations for Krabi:
---
Have you ever been to Hong Island? Did you like it? Are there any nearby islands we should definitely visit? Leave us a comment below!