Dieser Artikel ist auch verfügbar auf: Deutsch
There are many reasons to travel to Thailand. It's a famous destination for backpacking beginners but also for holiday packages. Almost everyone knows someone who has been to Thailand already and I bet you have someone as well in your circle of friends.
I was in Thailand for the first time in 2012 for holidays. Then, during my six-month travels in 2013 again and now every year for several months. There is no other country that fascinates me like Thailand and therefore I'll give you 10 reasons why I love Thailand and you likely will do the same after a trip to Thailand!
Let this article inspire you, pack your bag and fly!
---
1. The countless temples
Thailand has thousands of Buddhist temples spread all over the country. You don't have to be religious to visit those. They just have something magical! The atmosphere in a temple is really calm and relaxed.
Furthermore, you will find lots of impressive Buddha statues and with gold leaf decorated Chedis. Sometimes they are just some ruins reminding you of a bygone era. They will capture your imagination. Many of the temples do have something really special.
2. The friendly and helpful Thais
The Thais are basically very welcoming and helpful. They always have a smile on their face and know how to behave, since they are taught this from childhood. There is no screaming in public and they do have a lot of respect for the elder. Well, only the language barrier could be sometimes a problem. 😉
Just lately I was in Chiang Mai on the way to the San Kamphaeng Hot Springs and out of nowhere my back wheel exploded. Straight away, three motorbikes stopped and offered me help. An older gentleman showed me the way to the next body shop where my wheel was changed.
Many of those things can happen while you stay in Thailand and that's why I love the Thais! You can have really amazing experiences with the locals.
3. The delicious and spicy food
The Thai cuisine is known across the world and we also have lots of Thai restaurants in the western part of the world. But it's mostly not so spicy as it is in Thailand and for many foreigners the food won't be too spicy.
Meanwhile, I'm used to the spiciness and eat the food like the Thais do, which comes as a surprise and excitement for the chefs at the same time. I like to order "pet pet" (really spicy). Or you can eat together with some Thais, then you will get your dish originally Thai style.
Moreover, I'm a big fan of the Isan cuisine which is a little bit different from the Thai one – and mostly it's even spicier.
Here are my 5 favorite dishes that I can recommend to everybody. At least to try:
Som Tam (Papaya Salad), mostly with sticky rice that you eat with your hand
Pad Kra Pao Seafood (Seafood, usually shrimps and squid in a sauce with spicy basil)
Panang Curry Gai (spicy Curry with chicken in a coconut sauce)
Pad Prik Gaeng Moo Grop (red curry with crispy pork, long beans and rice)
Fresh fish (not really a dish, but a grilled fish from one of the cookshops is extremely delicious and a MUST-try)
I would even list a number six with Khao Soi, a delicious "curry soup" which is famous in the north of the country. In the rest of Thailand this dish is really rare.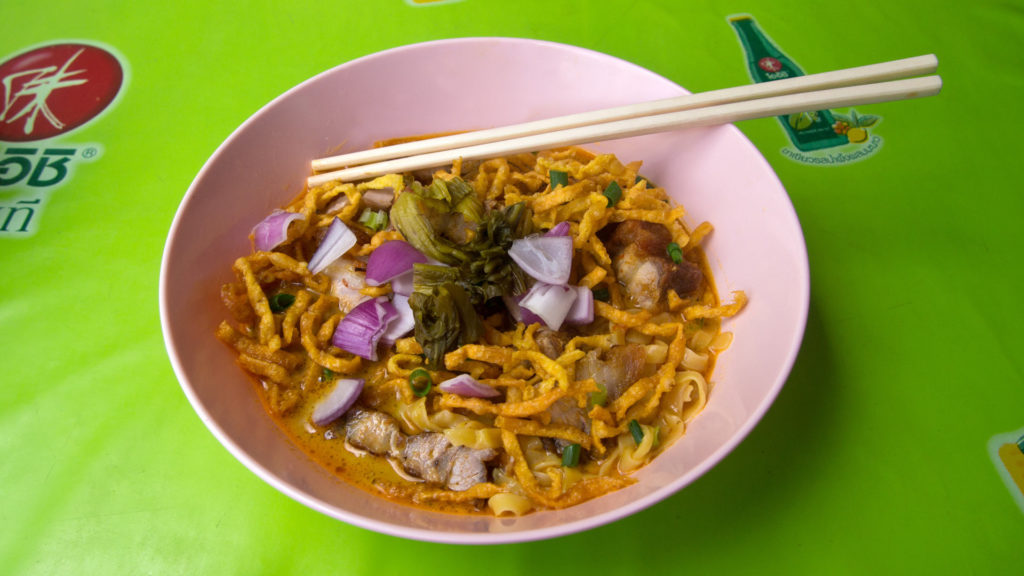 4. The beautiful beaches
Thailand has to offer many places with wonderful beaches. Many of the visitors are coming because of those paradise-like beaches that you see everywhere. Turquoise-colored water, white sand beaches and coconut trees.
It doesn't matter whether you go to the west coast to Krabi with its dreamlike offshore islands Koh Poda or Koh Hong, Phuket, Koh Phi Phi, Koh Lanta or Koh Lipe. You can discover a small, not overcrowded paradise almost everywhere.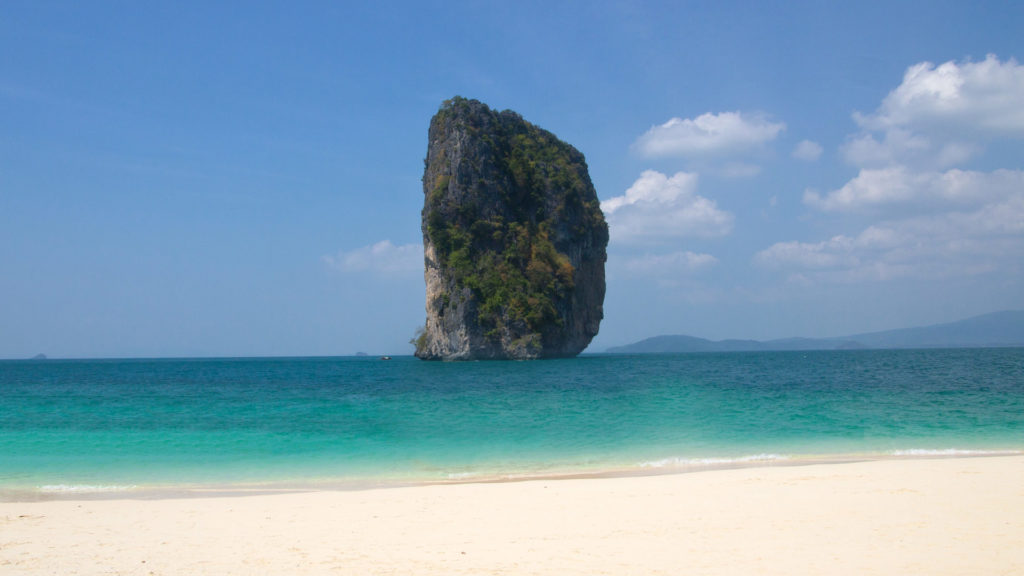 Or you choose the east coast with Koh Samui, Koh Phangan, Koh Tao or the east of Thailand with Koh Samet, Koh Chang, Koh Kood, Koh Mak. For beach lovers Thailand is a perfect destination.
5. The reasonable prices
The prices in Thailand are unbeatable! For us travelers almost everything is cheap, at least when we compare it to the prices in Europe. Whether it's a dish in a cookshop for 1-2 €, a long taxi ride for 5 €, a six-hour bus ride for 12 €, a night at a hostel for 5-10 € or a new t-shirt for 3-4 €.
If you start bargaining a little, except for the food (!), then you can spend much time on a low budget in Thailand.
You can find a few tips for haggling in our tips for bargaining in Asia guide.
6. The tropical weather
I'm not a big fan of the winter. Snow is looking nice, but as soon as it gets a little bit colder outside, I yearn after sun, beaches and the ocean.
It's obviously always warm in Thailand. Even during the rainy or cold season and you won't have a problem to go out with t-shirt, pants and flip-flops. I've never seen it cold over here.
During the dry season it's getting pretty hot and the temperature can reach up to 40 degrees Celsius or more. But when you spend a couple of days there, then you will get used to it quickly and 40 degrees in Thailand are more pleasant than 40 degrees in Germany, at least for me. Thailand's humidity is a lot higher than in Europe on the other hand.
7. The chaotic capital Bangkok
Bangkok is awesome! You might be a bit overwhelmed by the noise and chaos, if it's your first time in the Thai capital. But after a few days you will get used to it. For many people Bangkok is the entry point to the Southeast Asian world and leaves a lasting impression.
There is so much to discover like the skyscrapers and sky bars, the countless temples, the backpacker area around the Khao San Road or a boat tour on the Chao Phraya River. With its diverse offer of food Bangkok presents you many restaurants and cookshops.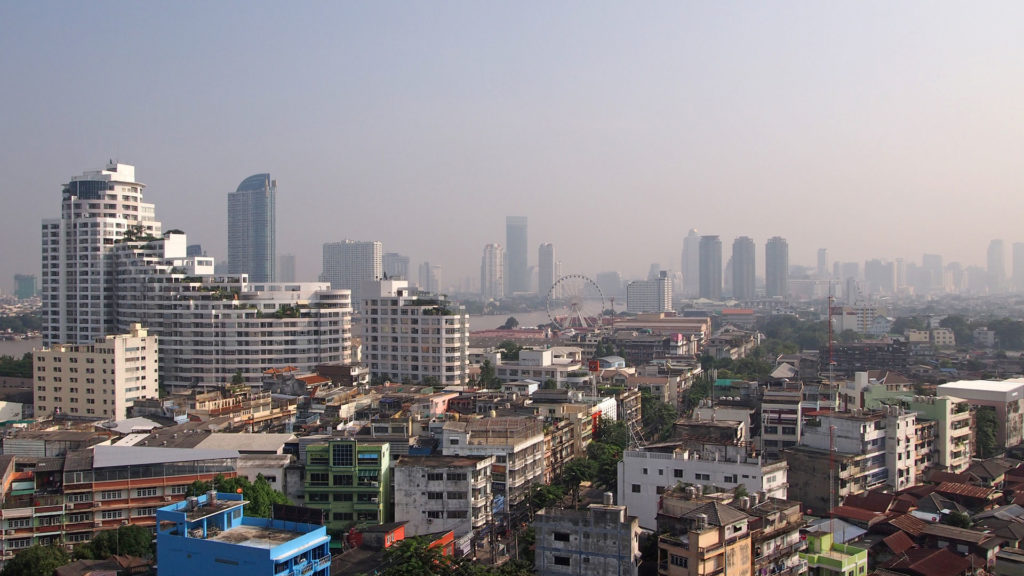 Take a look at our 20 things you should do in Bangkok guide, if you want to know what you can do in the city and check out our transportation guide to know how to get around.
See the city for yourself and let it convince you. Bangkok – you either love it or hate it. If you ask me, I choose the first one.
8. The damn delicious beer
Men and beer isn't news at all. I love Thai beer and you should definitely try the 3 big brands Chang, Singha and Leo.
My favorite is Chang, but that's a matter of taste. If you can't wait until your next Thailand trip, you can buy most of the beer brands in some Asia shops in Europe and the Chang even sometimes in a German "Lidl" store.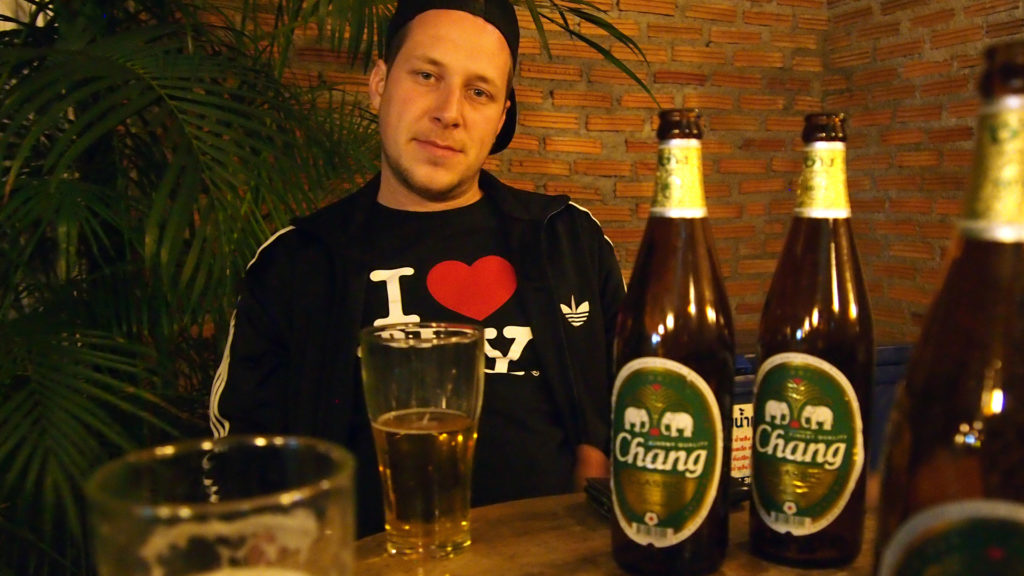 9. The easy transportation
It's really easy to move in Thailand from one place to another, hence it's a famous country for backpacking beginners. At many places you even have the choice between airplane, train and bus and can choose the most reasonable price.
Besides the normal tour bus, there is, among others a VIP bus that is comfortable, has leg space, snacks and sometimes even a little display like in airplanes. For a six-hour bus ride you will have to pay about 500 baht (about 12 €).
There are 3 major bus terminals in Bangkok, where the buses start to all directions in Thailand. Mo Chit to go to the north, Ekkamai to the east and Sai Tai Mai to the south.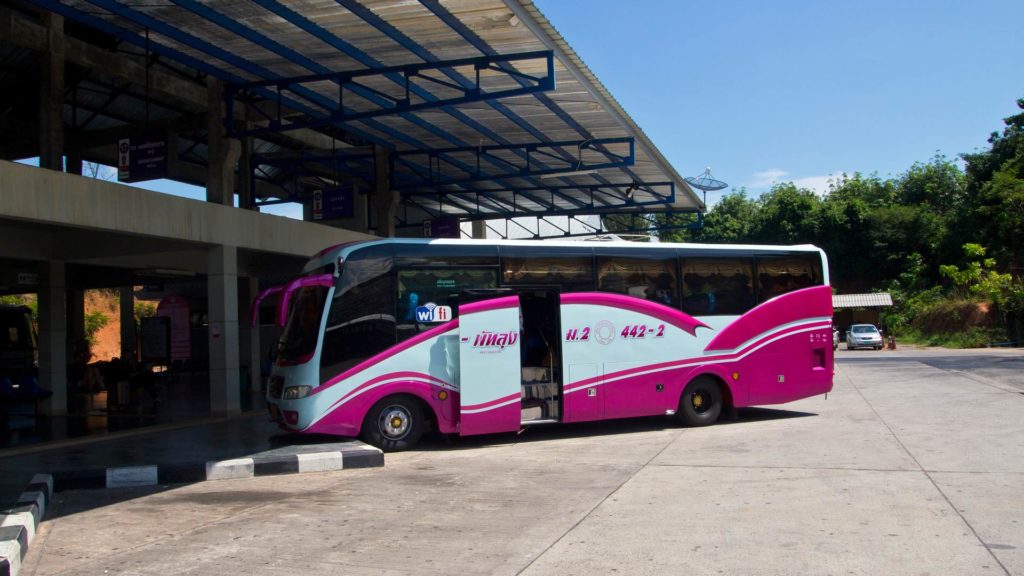 You can also take the train from the Hua Lampong main train station in Bangkok in order to get to the north or south. Tickets for bus and train are available at the bus terminal or train station.
Don't feel like bus or train? Then you can book one of the reasonably priced domestic flights in Thailand. In some cases you can fly as low as 5 to 10 €.
10. Driving a scooter
I love driving a scooter. You can feel the wind while driving and it gives you a sense of freedom. Thailand is best discovered by scooter. You can discover some secluded areas and beaches. You just stop wherever you want to and do your sightseeing trip on your own since you're not depending on anyone.
You can rent a scooter almost everywhere in Thailand and it will cost you about 150 to 250 baht per day. The gasoline is also really cheap. When you go to a gas station, your scooter will be filled up for about 50 baht or you can buy a bottle of gasoline for 40 baht. Mostly that's enough for the whole day.
I would recommend everyone to go on a trip with a scooter. A really amazing experience!
Have you been to Thailand already or even a couple of times? Why do you want to visit Thailand or why you want to return to the country? Leave us your comment right away!