Dieser Artikel ist auch verfügbar auf: Deutsch
Ang Thong National Park is a popular destination for a day trip from Koh Samui or Koh Phangan. The archipelago of 42 islands in the Gulf of Thailand stretches from the mainland along Koh Samui to the heights of Koh Phangan and has plenty of highlights to offer. Snorkeling, kayaking, viewpoints, the impressive lagoon, or beautiful beaches – there's much to do and discover.
Day Trip from Koh Phangan to Ang Thong National Park
Depending on which island you start from, the tour will of course look a bit different. In 2012, we visited Ang Thong National Park for the first time from Koh Samui. In our travel report, you can read about our experiences from the first trip. In this article, we'll tell you which places we visited the second time when we went from Koh Phangan.
---
How to get to Ang Thong National Park
If you've booked a tour to Ang Thong National Park, this usually includes a pickup and return transfer to your hotel. The tours start around 9:00 am, which means that you are picked up between 8:00 and 8:30 am at your accommodation. By the way, we did the tour with Orion Boat Trips. However, there are a number of other companies and some of them also operate speedboats.
Once on the boat, fruits and cookies along with coffee or other drinks will be served to enjoy a light breakfast. Once everyone has arrived, the trip to Ang Thong National Park will start.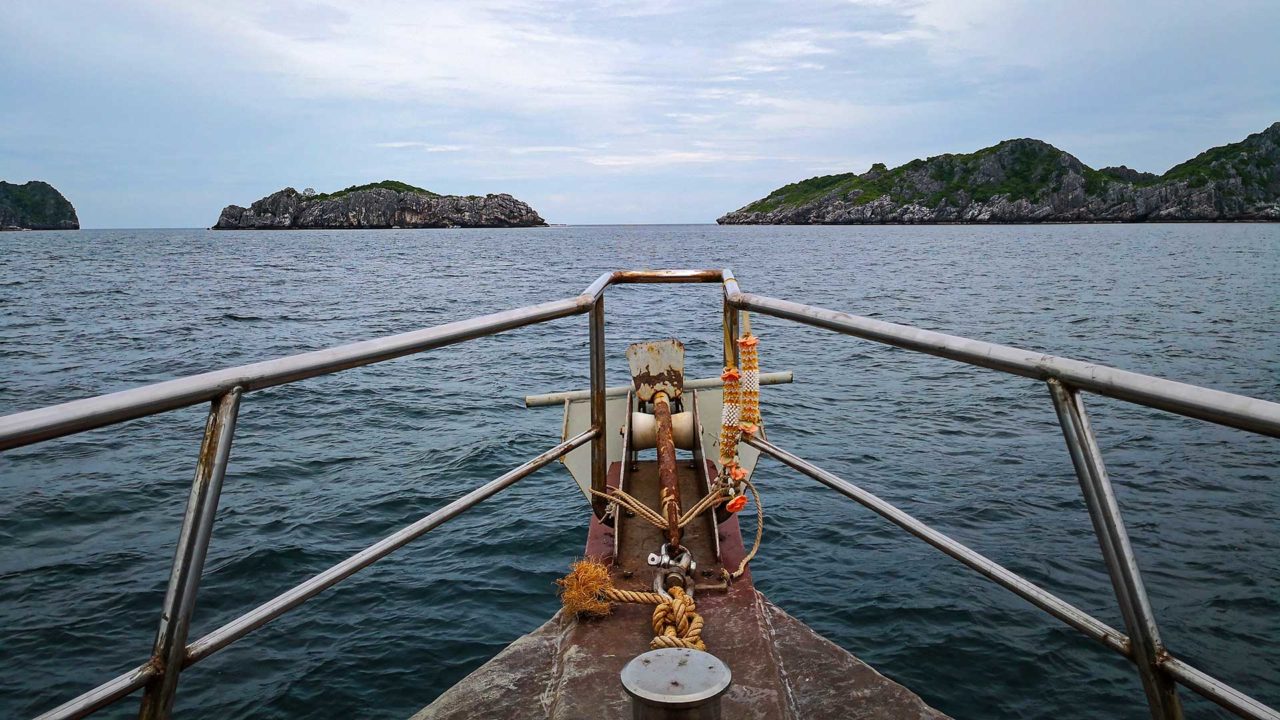 It takes quite a while to reach the first stop. For about one and a half hour, you can enjoy the view or simply relax for a while. We experienced some bad weather at the start and even some drizzle in the morning. But if you have a look at the pictures below, you'll see how fast the weather can change.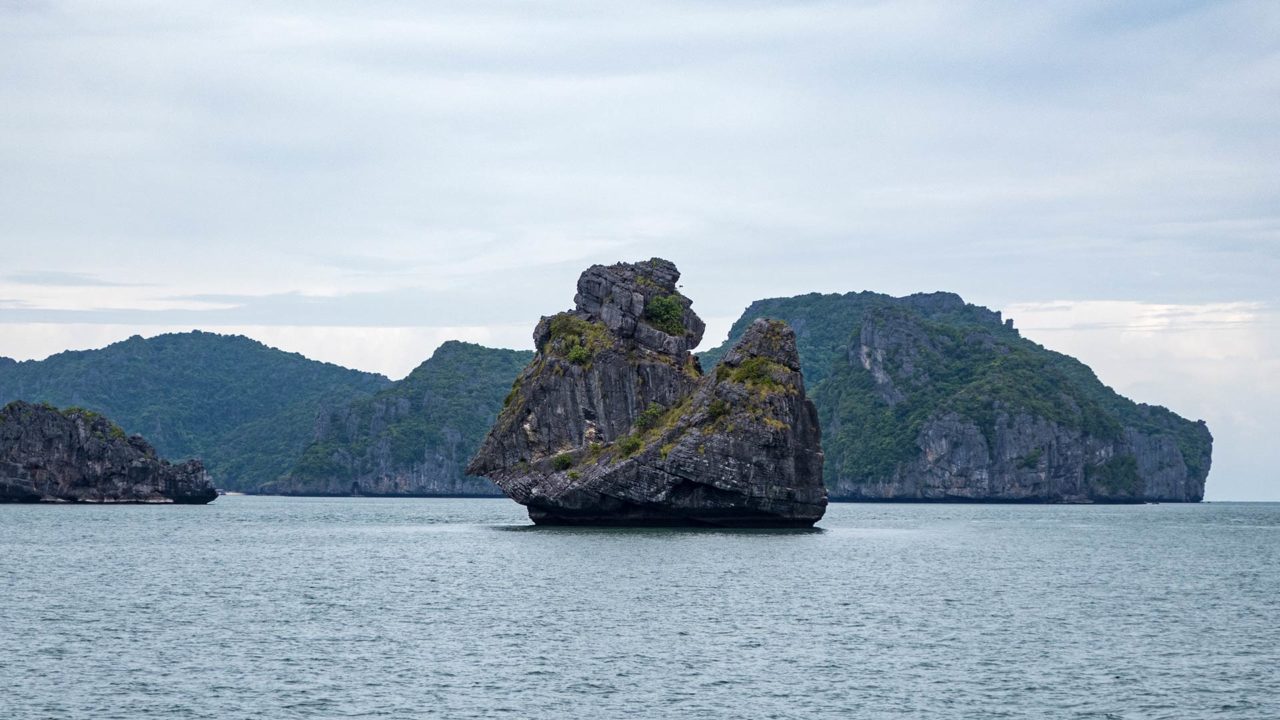 Info: To do the trip to Ang Thong National Park, you have to get to Koh Samui or Koh Phangan first. The fastest way to get there is by flying directly to Koh Samui or to the mainland to Surat Thani. More info on flights and prices can be found at Skyscanner. The crossing to Koh Phangan for example, needs to be done by boat or ferry. We recommend 12go.asia for an overview of possible connections.
Ang Thong National Park: Tours and tickets
---
1. Snorkeling at Ang Thong National Park
The first stop, no matter from which of the islands you drive into Ang Thong National Park, is always a snorkeling stop. The spot is located in the northern area of the Marine Park and is the most distant destination of the trip.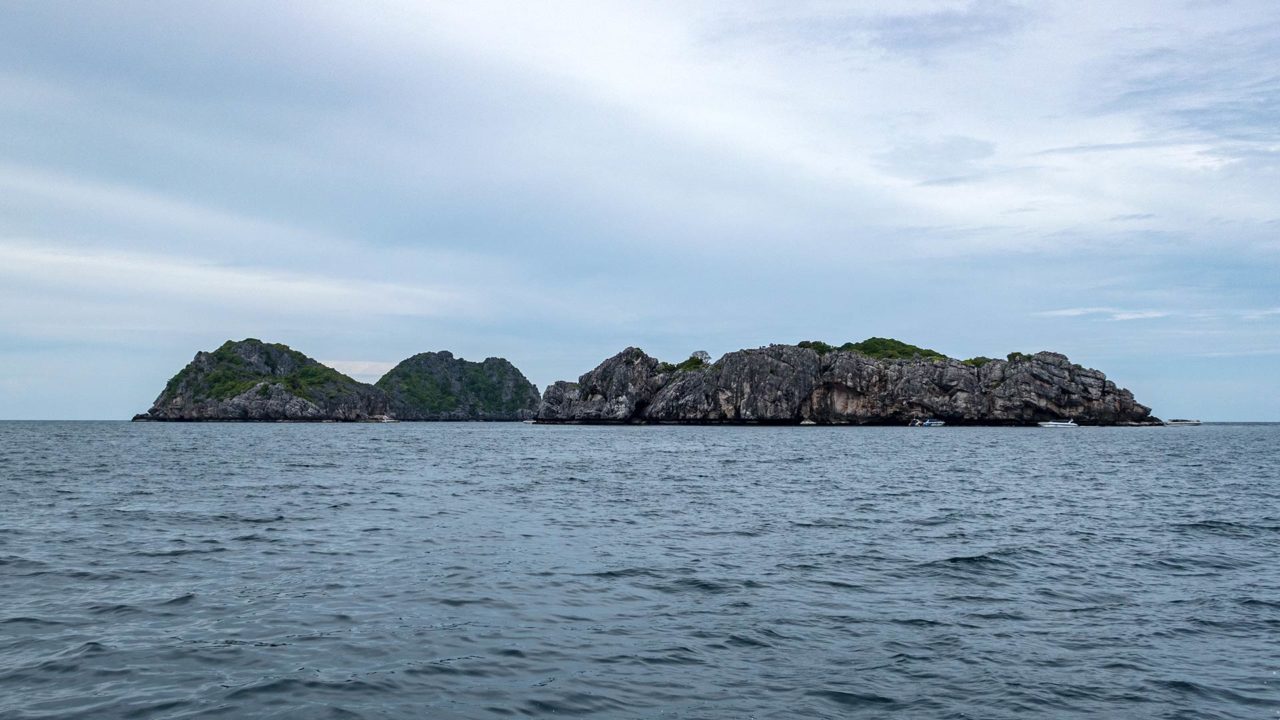 On site there are some colorful fish to see near the rock and most of the time even just by the boat. However, the stop does not last too long, so after about 30 minutes, we head south again, to what we think are the interesting destinations of Ang Thong National Park.
2. Koh Mae Ko
Koh Mae Ko was the first island stop on our tour and also our second visit to the island, as it was part of the tour we did from Koh Samui in 2012, as well. The island has changed a little over the years because (unfortunately) now there is a little shop on the beach that sells drinks and souvenirs. Apart from that, everything looks just as beautiful as before.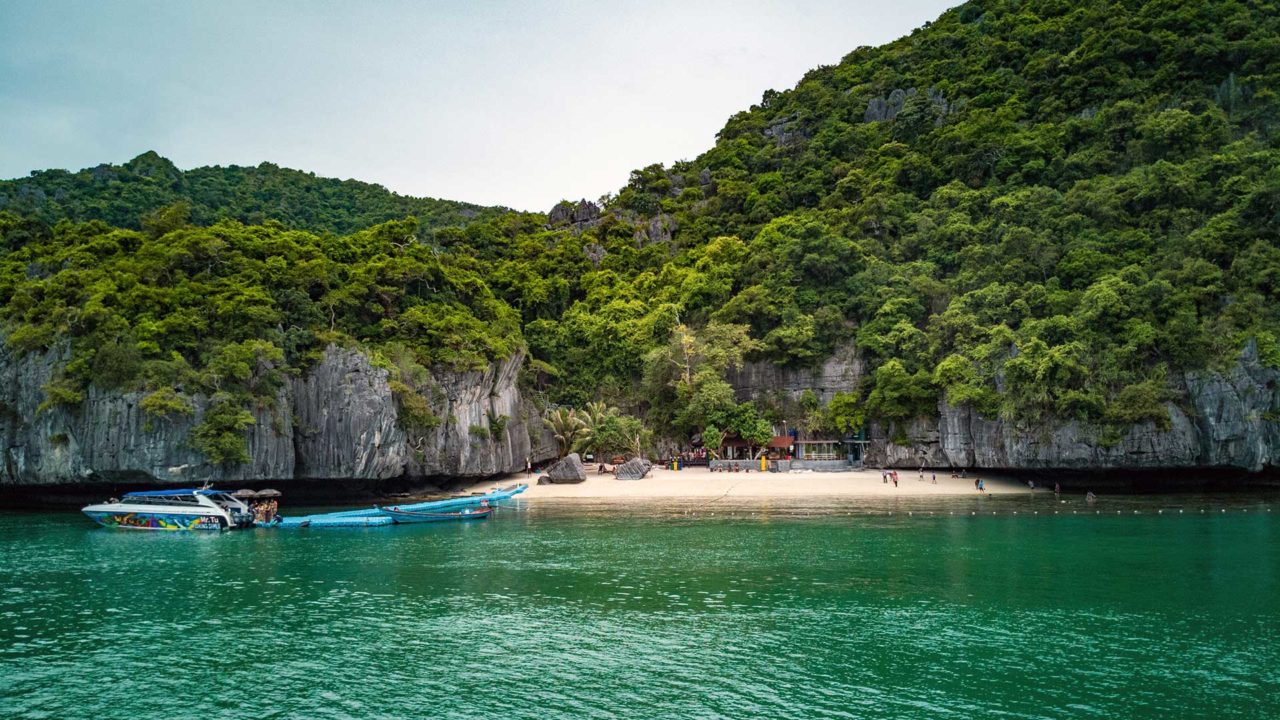 The highlight of Koh Mae Ko, which translates roughly as "Mother Island", is of course the Emerald Lagoon. Sometimes it's also called blue or green lagoon. By the way, in Thai it's called Talay Nai. The lagoon is connected to the sea via a tunnel system, so it contains salt water. It's very impressive and was supposedly the original inspiration for the hidden lagoon in the movie The Beach.
To enjoy the view of the lagoon, you have to climb some stairs until you get to the viewing platform on Koh Mae Ko. But don't worry, it's not far and after 5 to 10 minutes you should reach the top. Besides an amazing view of the Emerald Lagoon, you can also admire the view of Ang Thong National Park.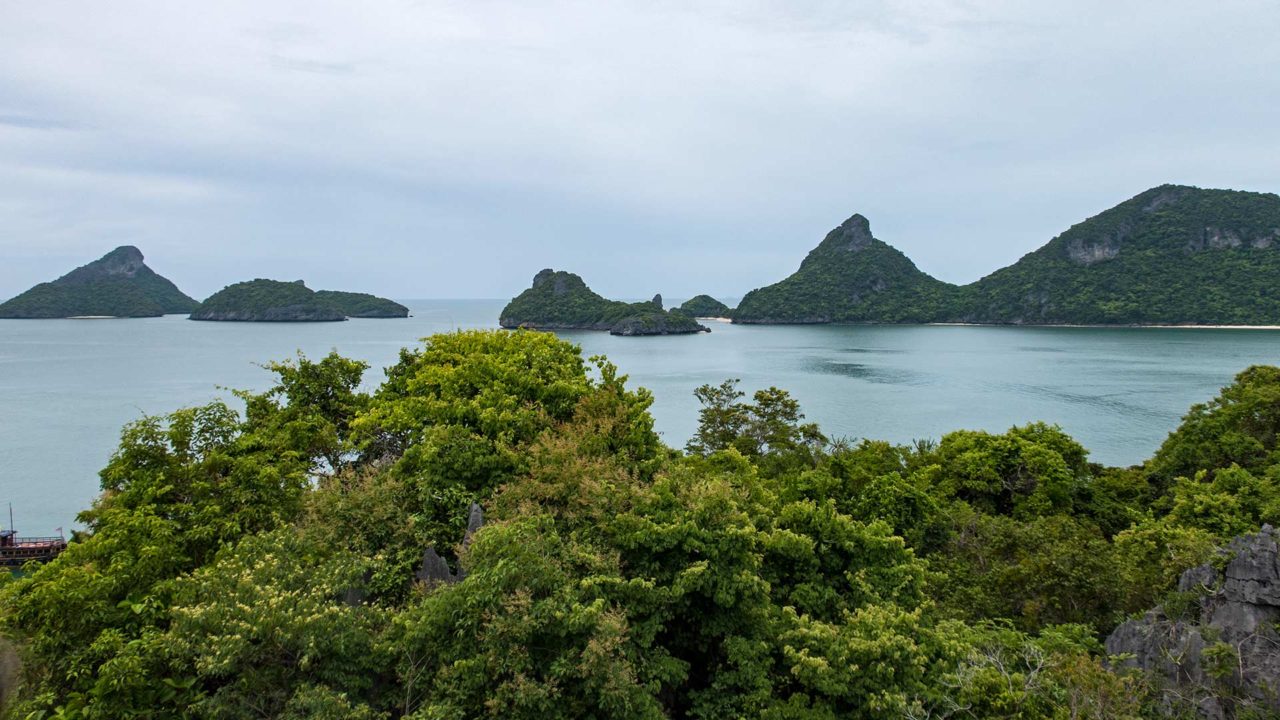 If there's still some time left at the end of your tour, you can relax on the beach, which is kept very clean. If there's no low tide, the sea is also ideal for a little cool down after the climb to the viewpoint.
3. Kayaking in Ang Thong National Park
For most of the day trips to Ang Thong National Park, you can also book some kayaking. If you want to do this, it usually takes place in front of the beach of Koh Mae Ko. Here, you can explore the national park from the water, kayak along the rock formations, and get picked up again at the next beach.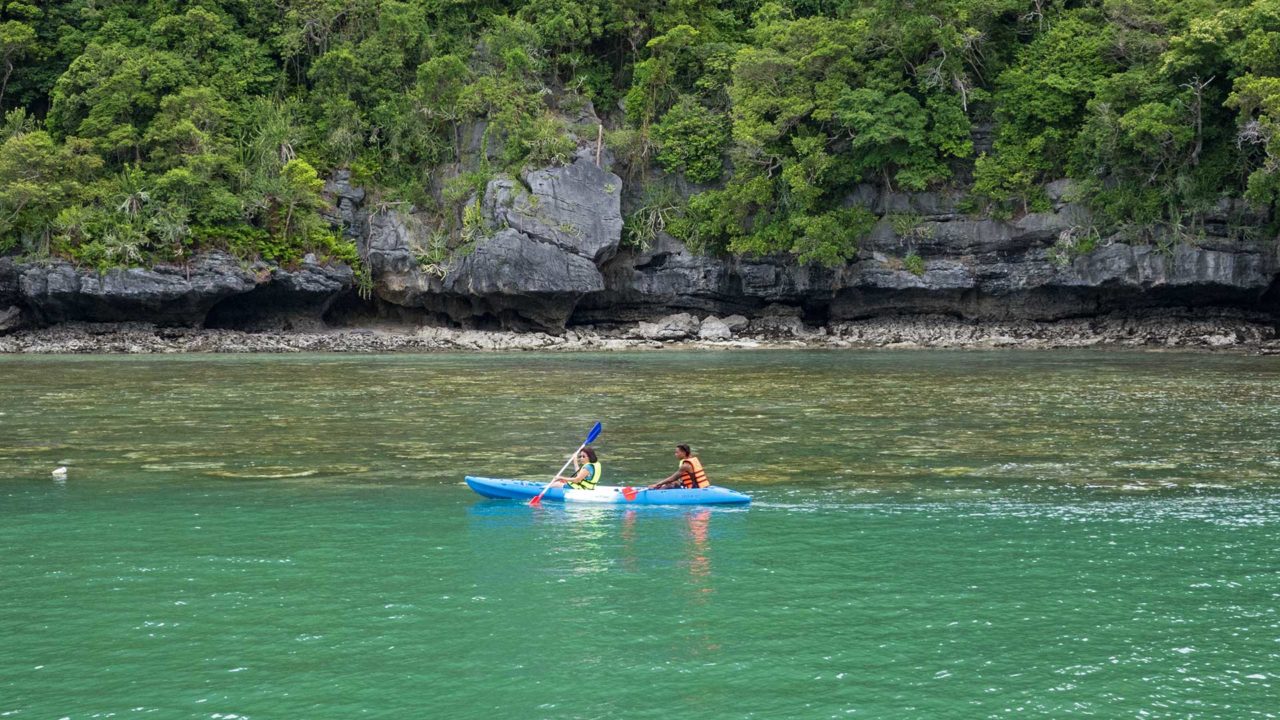 Then we had lunch on the way to the next island, which included a small selection of Thai dishes as well as rice, fruits and drinks on the boat.
4. Koh Wua Ta Lap
The next and last stop of this trip was the island of Koh Wua Ta Lap – the main island of Ang Thong National Park. That's also where the administration is located. It was a new place for us since we had visited Koh Phaluai on our first Ang Thong trip instead.
On the island, there are now three things you can do. Either relax on the beach, visit the Bua Bok cave and admire stalagmites and stalactites or walk to the viewpoint. Actually, there are several viewpoints, which can be reached by stairs. From the highest one, you have a great view over Ang Thong National Park, but it's quite a challenging climb that takes about 20-30 minutes. Be sure to bring enough drinking water!
If you are a fast walker or just go to the second platform, you'll still have some time to enjoy the beautiful beach or go for a swim. Otherwise, it might be a bit tight in terms of time, as the stop doesn't take too long.
With a little luck, you can also spot some monkeys living in the treetops at Koh Wua Ta Lap. There's also a bar on the beach, a restaurant, and toilets.
By the way, there are also five bungalows on Koh Wua Ta Lap, where you can stay overnight. You can arrange this in advance with the Ang Thong Park Administration, if you're interested. Camping is also offered on the island.
The entire trip costs 1700 baht per person including lunch, a light breakfast, and snorkeling equipment. For kayaking, there is an extra charge of 200 baht. In addition, you will have to pay 300 baht national park fee for adults and 150 baht for children.
Our Conclusion about a Trip to Ang Thong National Park
So far we've done two trips to Ang Thong National Park and have thus seen both sides. One day trip from Koh Samui and one from Koh Phangan. Some of the trips' destinations are a bit different, which is why both trips are absolutely worth it.
Ang Thong Marine National Park is definitely one of the highlights in the Gulf of Thailand! Viewpoints, beaches, underwater worlds, a lagoon – there's plenty to discover here. We'll definitely come back and maybe even stay overnight in Ang Thong National Park next time. We'll certainly get a completely different insight by doing so. A trip to Ang Thong National Park is, however, an absolute recommendation.
Have you been to Ang Thong National Park before? Did you go there from Koh Samui or Koh Phangan and how did you like it? Leave us some feedback in the comments.