Dieser Artikel ist auch verfügbar auf: Deutsch
An early morning in Thailand. The evening before we booked a trip to the Ang Thong National Marine Park which is located in the Gulf of Thailand between Koh Samui and the mainland. 42 islands with an area of 102 km², most of them are even uninhabited. The trip (lunch included) costs 2000 Baht, which is about 50 Euros. Quite expensive for Thailand, but whatever, we wanted to see as much as possible when we were there.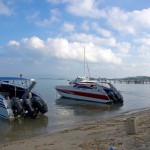 At about 9 a.m. we were picked up by a minibus at our hotel in Chaweng Beach. 20 minutes later we arrived at the northern coast of Samui, in Bo Phut. There we had to pay 200 Baht as an entrance fee to the national park. While waiting for the boat we could eat a small breakfast, drink a coffee/tea or just enjoy the view from the beach.
After a short while we finally entered the speedboats. A drive of approximately one hour was ahead of us. Luckily the water was very quite this morning so there were no big waves. Who knows, otherwise it could end up really bad for some. 60 minutes later we stopped in the north of the national park for snorkeling. I've never tried that before so I was really curious. Actually there were not too many fish this day but it was good anyway.
Then we moved on across the national park and passed by "Monkey Island" – a huge rock with the shape of a monkey – until we arrived at Koh Mae Koh (meaning "mother island" by the way). On this island there is a "blue" lagoon, which is called "Talay Nai" by the Thai people. The view from the beach was already amazing but to see the lagoon you must use the stairs to get to the 240 m high view point. It will make you really sweat but everybody does that to enjoy the wonderful view on the lagoon and all the surrounding islands in the national park. Awesome!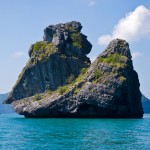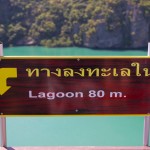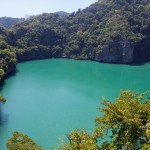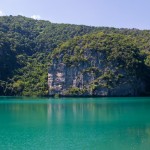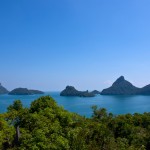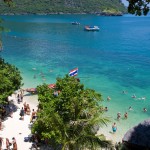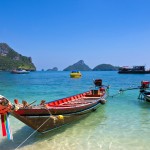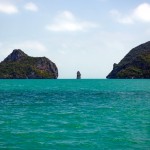 After a stay of one hour we went to Koh Phaluai where we had lunch in a small fishermen's village. They offered a nice buffet with rice, chicken, melons and much more. Well, the Thai cuisine is just unbelievably good! After lunch we had the opportunity to take a walk through the village, which is located among the beautiful countryside. It was not really much going on here. Back at the starting point we found a little baby monkey that was really cute and confiding. If I could I'd take him home immediately and Marcel apparently as well!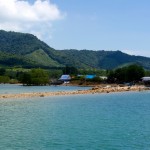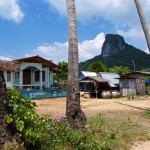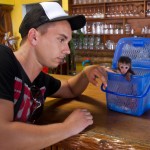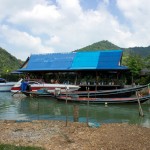 Then the boat brought us to a quiet beach where we could stay for about one hour to go swimming or just to relax. In front of us there was the ocean and some other islands and behind us only the jungle – unbelievable! I felt like I was on a lonely island, almost like in "Lost" or "The Beach" (which by the way was filmed in Thailand, but in a different place, the Maya Bay on Koh Phi Phi to be more exact). So we took many pictures, relaxed at the beach and were just enjoying it.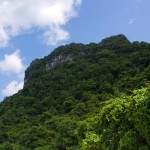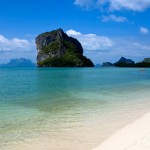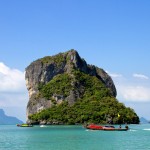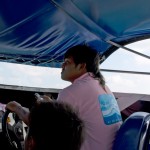 Well, even such a beautiful day must come to an end and so eventually we drove back to Koh Samui for like 1 ½ hours. The waves made the passengers on the boat so tired that almost everybody felt asleep – including the captain (with the coolest mullet of Thailand!!!). Seems like all Thai boatmen drop off sometimes because we also noticed that on a boat in Bangkok before. Anyway, we arrived on Samui safely and were brought back to our hotel afterwards. Amazing trip, which I would recommend to everybody who is on Koh Samui!
---
Ang Thong National Park: Tours and tickets