Dieser Artikel ist auch verfügbar auf: Deutsch
Luang Prabang has a lot of sights and is considered as the most beautiful city in Southeast Asia amongst many travelers.
The town has its own charm and is partly located on a peninsula between the rivers Mekong and Nam Khan with mountains surrounding it as far as you can see. Luang Prabang is definitely a highlight in Laos, especially when it comes to cities.
Luang Prabang – tips for the most beautiful city in Southeast Asia
The town is very quiet and has a serene atmosphere. There is no hectic at all. That's a part of what makes Luang Prabang so amazing.
In this very article you can find out if it's really the most beautiful town in Southeast Asia and what you can see and do during a stay in Luang Prabang.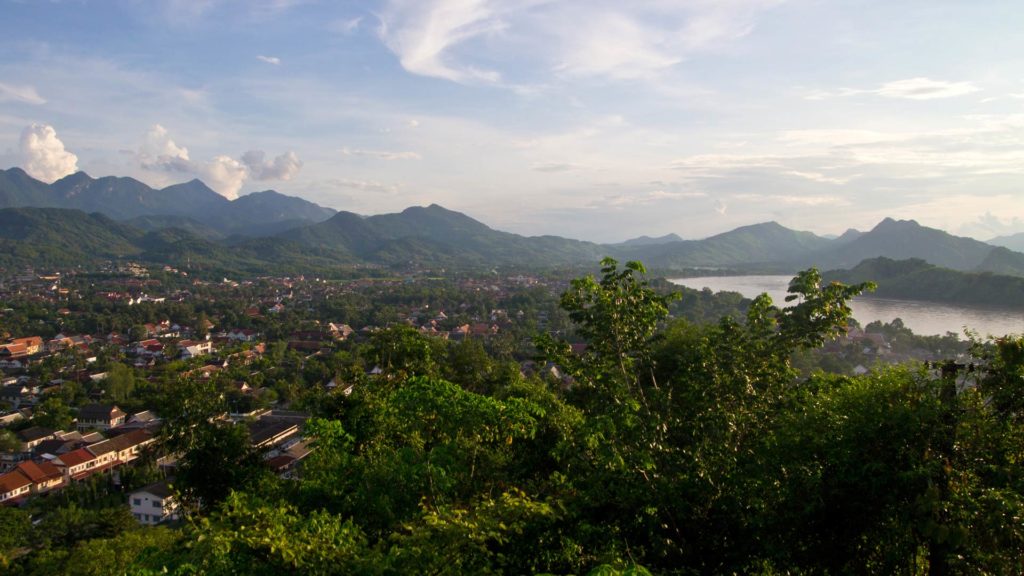 ---
How to get to Luang Prabang
Luang Prabang is located in the north of Laos and you can reach the town with its international airport fastest by airplane from Bangkok, Hanoi, Siem Reap, Vientiane, etc. You can either fly with Bangkok Airways or Lao Airlines. Tickets, times and prices can be found at Skyscanner.
Taking a boat over the Mekong is also popular. This is possible from Chiang Khong in Thailand or Huay Xai on the Laotian side of the border. There are speedboats racing over the Mekong or slow boats, which take about two days to Luang Prabang.
The third option would be the bus or minivan from places within Laos like Vientiane or Vang Vieng. Depending on the distance, the bus ride takes 6 to 12 hours. Further information and prices can be found at our partner 12go.asia.
Accommodation in Luang Prabang – our hotel tip
In our opinion, the best place to stay is directly in the historic old town – ideally right on the Mekong. One of these hotels is the Sala Prabang Hotel, which offers various villas with old-style rooms. One of the highlights here is the breakfast view on the Mekong. Other Luang Prabang hotels can be found here.
Luang Prabang: Tours and tickets
---
1. A walk through the old town
The listed old town of Luang Prabang is part of the UNESCO World Heritage Site and definitely one of the highlights of the city. The many well-preserved old French colonial buildings play a part in contributing to the World Heritage Site.
You can take a walk through the city, sit down at one of the beautiful coffee shops and discover the old town of Luang Prabang. A great way to explore Luang Prabang is also a morning scooter tour with a guide. That way you will learn much more about the history of the city.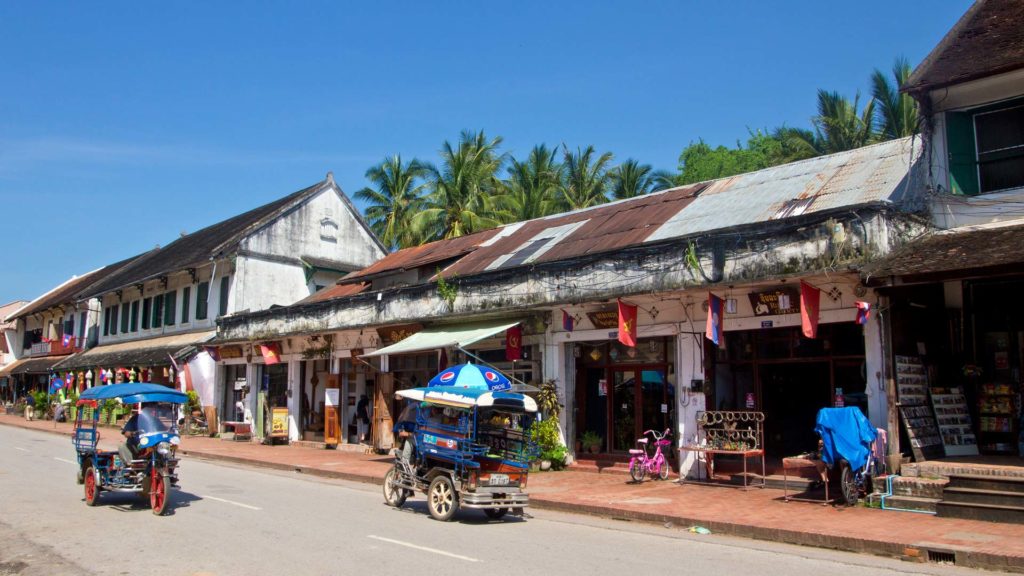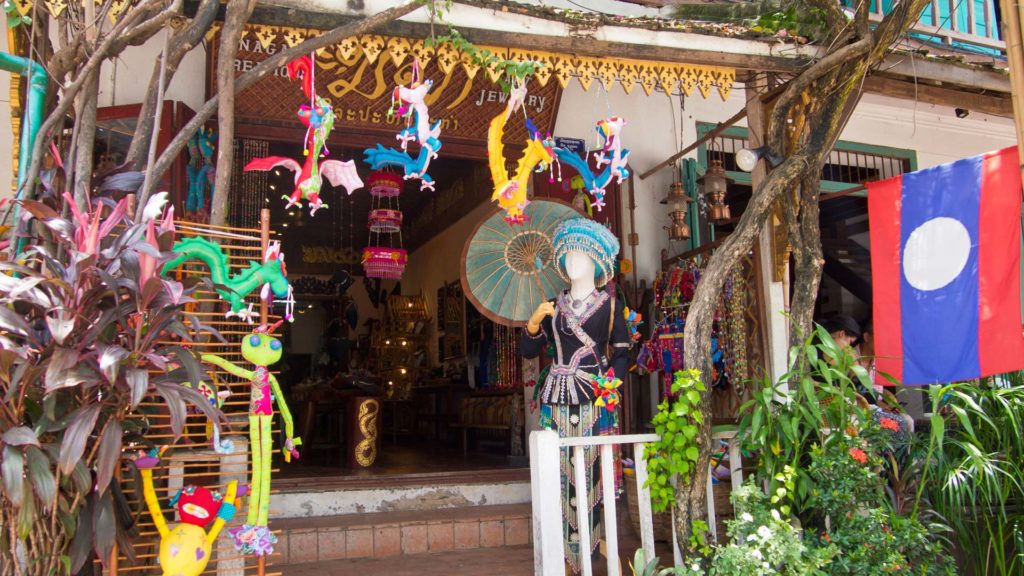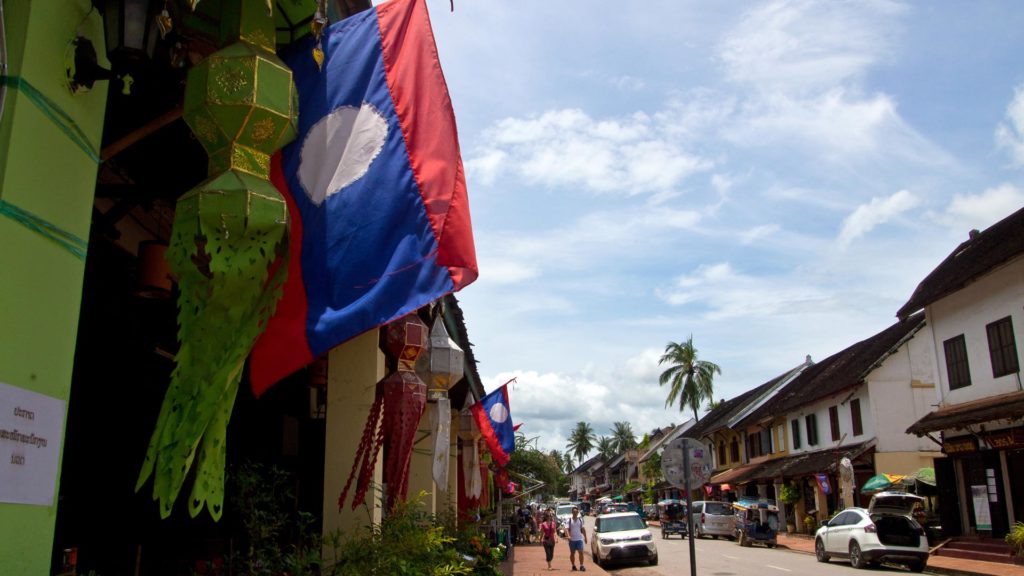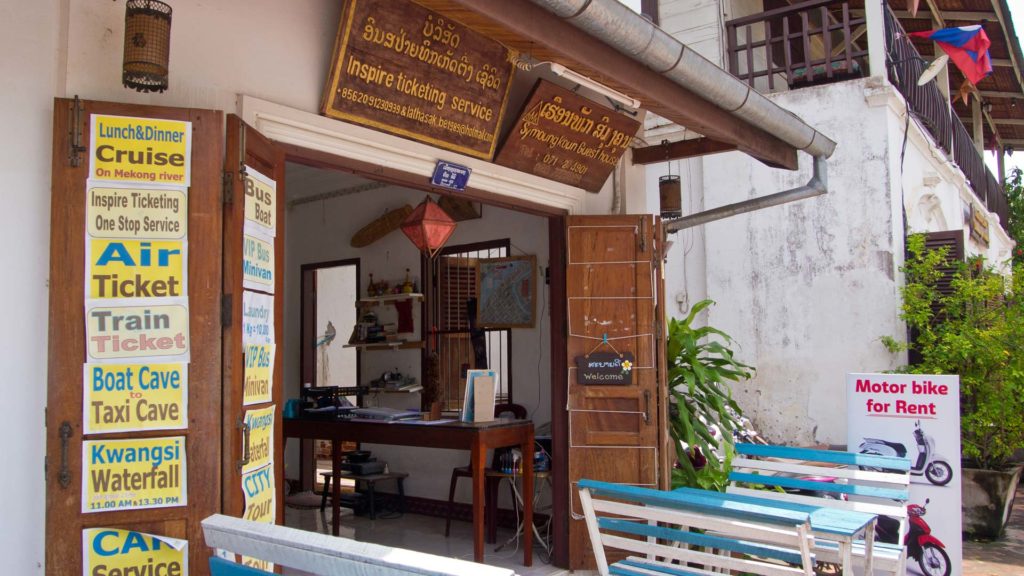 2. Beer Lao at the riverside of the Mekong
After a walk around the old town I can recommend you one of the restaurants at the riverside of the Mekong. There you can relax with an ice cold beer and a stunning view over the river. Furthermore, you can find some shady spots over there – most probably you had enough sun while walking around.
Of course you can also enjoy the riverside with a coffee, fruit shake or any other soft drink. It will be just as beautiful.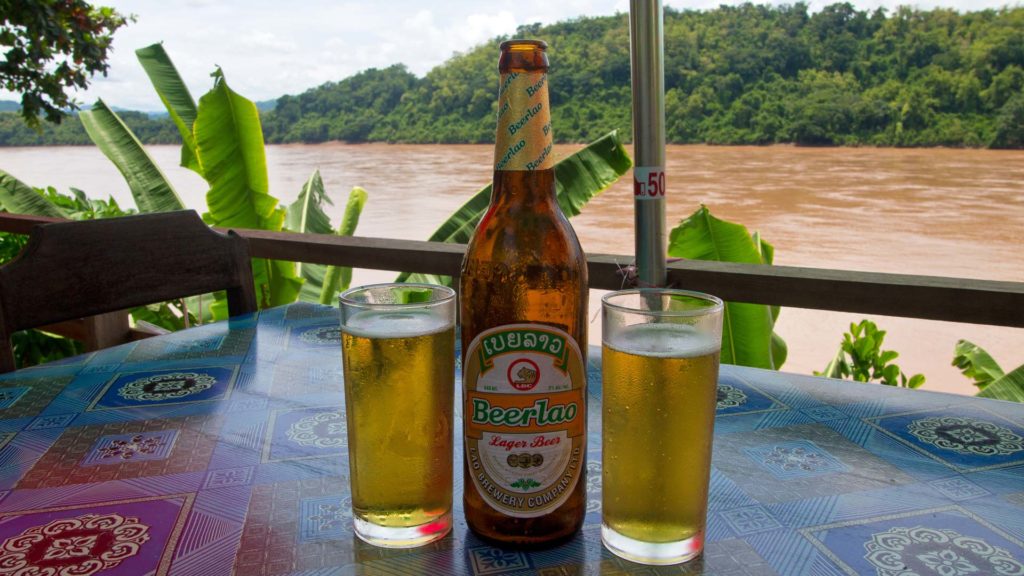 The Mekong doesn't only offer a stop when walking through Luang Prabang, but also it's a great spot for a sunset cruise. For an hour you can cruise across the water and enjoy the views.
3. Wat Xieng Thong – the oldest temple
The Wat Xieng Thong is located on the peninsula of Luang Prabang and is the oldest temple of the city. It is also one of the most important temples of the Laotian history and the most visited temple in Luang Prabang. Furthermore, it's a great example of the Laotian architecture of Buddhist temples.
In 1560 built as a royal temple and spared from the looting and devastation in 1878, it is nowadays a famous tourist attraction. The main building is decorated with glass mosaic tiles on the back, which were attached to it on the occasion of the 2500th anniversary of Buddha's death.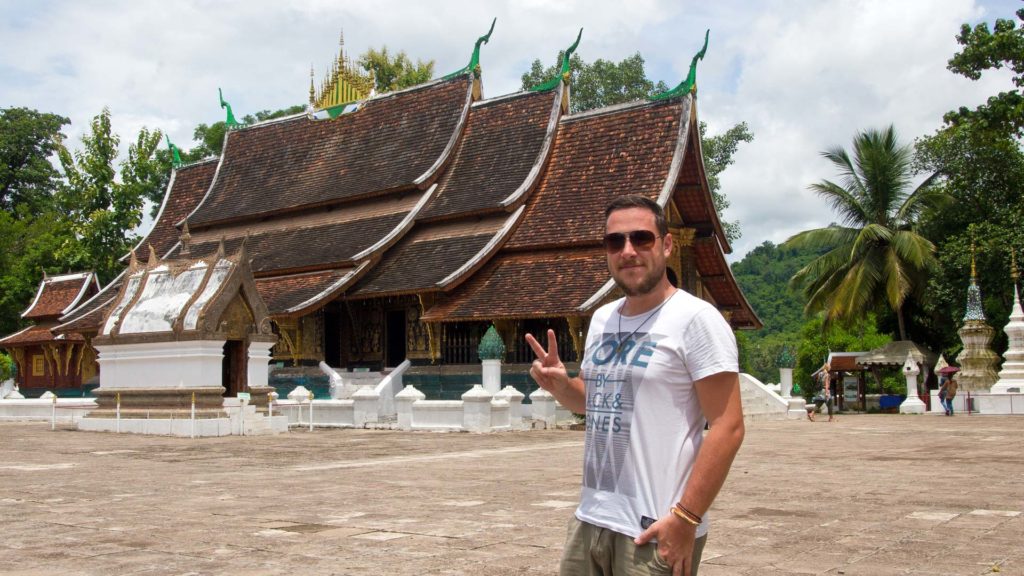 There are also many more statues and buildings situated on the grounds of the temple. It is open for visitors in the daytime and the admission is 20,000 kip per person.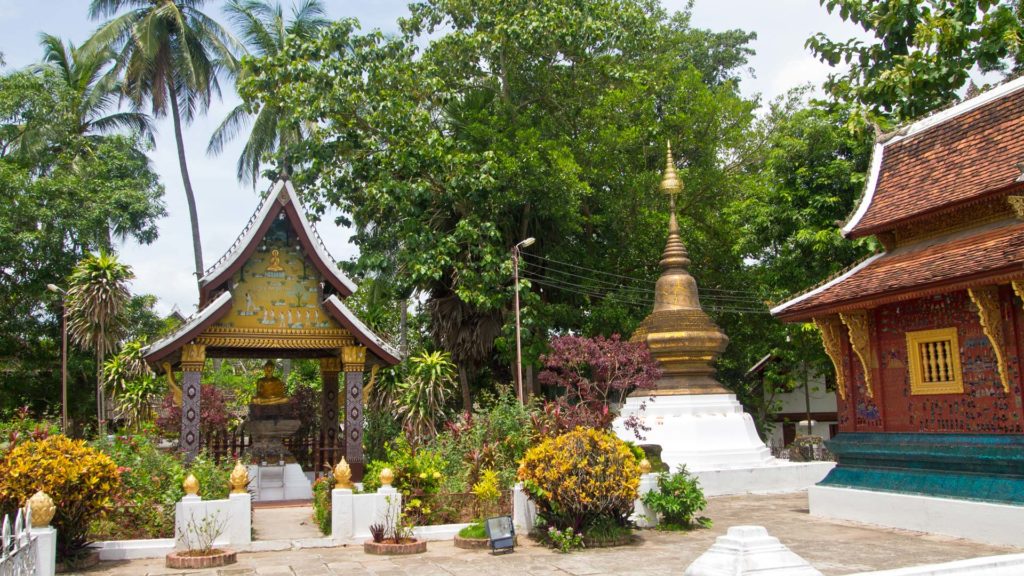 4. Luang Prabang night market
Situated daily in Luang Prabang's old town along the Royal Palace (Ho Kham), which is a museum nowadays, you can visit the large night market. There you can find hundreds of stalls with souvenirs and handmade goods from Laos.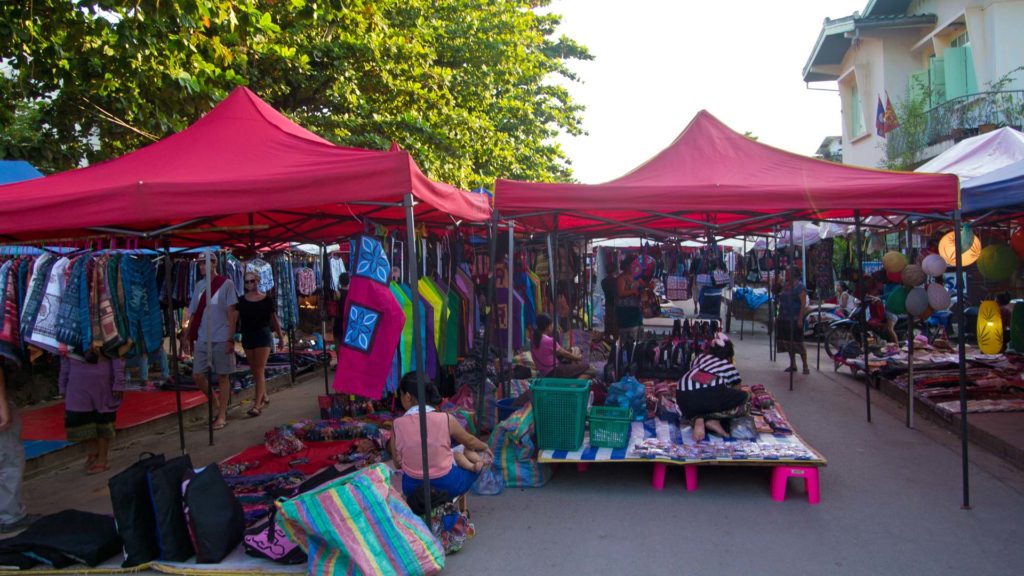 There are also many stalls selling T-shirts or other clothes. But you can't find any electronic goods, DVDs, fake brand clothes like at most of the markets in Southeast Asia.
During the night market the main street of the old town is closed to traffic and you can calmly stroll around the small alleys between the stalls. The night market opens daily from 5.00 to 10.00 P.M.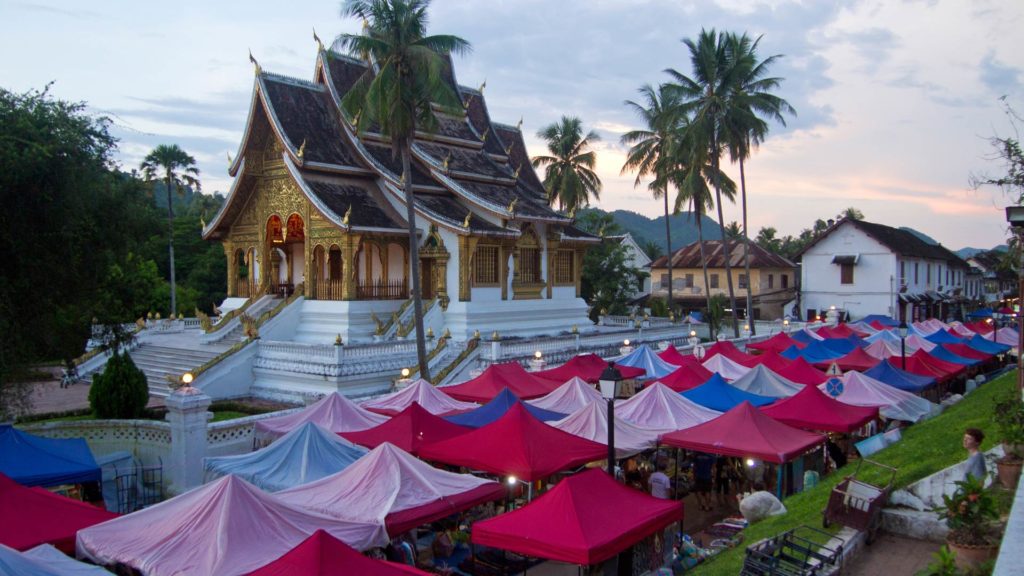 5. A trip to the Tat Kuang Si
Just outside of Luang Prabang is a popular spot for day trips. The Tat Kuang Si Waterfall is located about 30 kilometers out of the city. I can absolutely recommend you to go there. It's best to visit the waterfall in the early morning, when there aren't too many visitors.
Refreshing natural pools and lots of waterfall cascades with magnificent water. It is probably the most beautiful waterfall I've seen during my travels in Southeast Asia until now.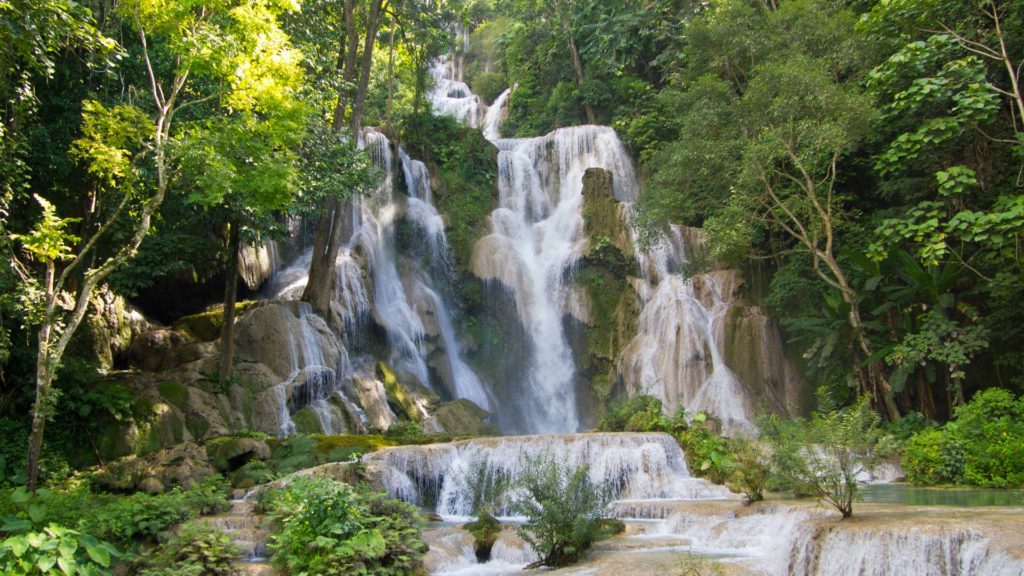 6. Climb up Mount Phou Si
A very popular attraction, especially during sunrise and sunset, is the Mount Phou Si. You will find a temple with a golden Chedi at its peak, that you can also see from many places inside the town.
During the walk up the hill you can see some interesting Buddha statues or just enjoy the view at Luang Prabang.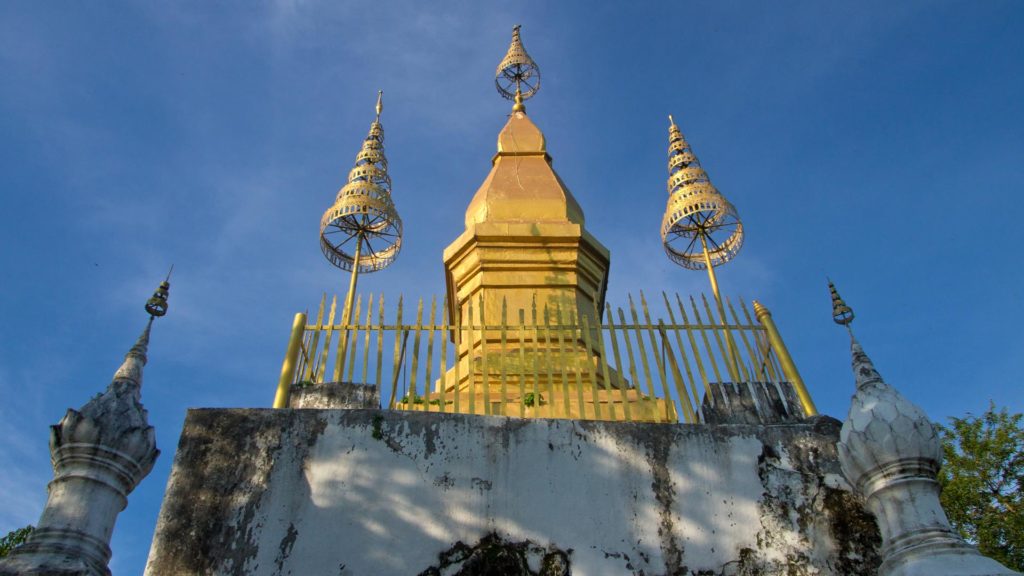 Especially during sunset it's getting very crowded on top of the hill. A visit to the Mount Phou Si, the local mountain, is a must in Luang Prabang and absolutely stunning! Don't miss this highlight.
7. Try the Lao cuisine
The cuisine of Laos and Thailand is very different, but the Isan and Laos cuisine are very similar. You should definitely try the famous Larb Moo! However, there are a lot of dishes to try and also many French-inspired like Khao Jee – fresh baguette with different fillings of sausage, cheese etc.
Near the night market of Luang Prabang is a small alley where you can find a selection of vegetarian buffets. It's very cheap with a big plate at a prize of 15,000 kip, approximately € 1.50.
Or you can find some nice street stalls with grilled skewers. Also very delicious. I recommend you to try lots of the various dishes since even though Laos isn't too famous for that, it has a lot to offer on food.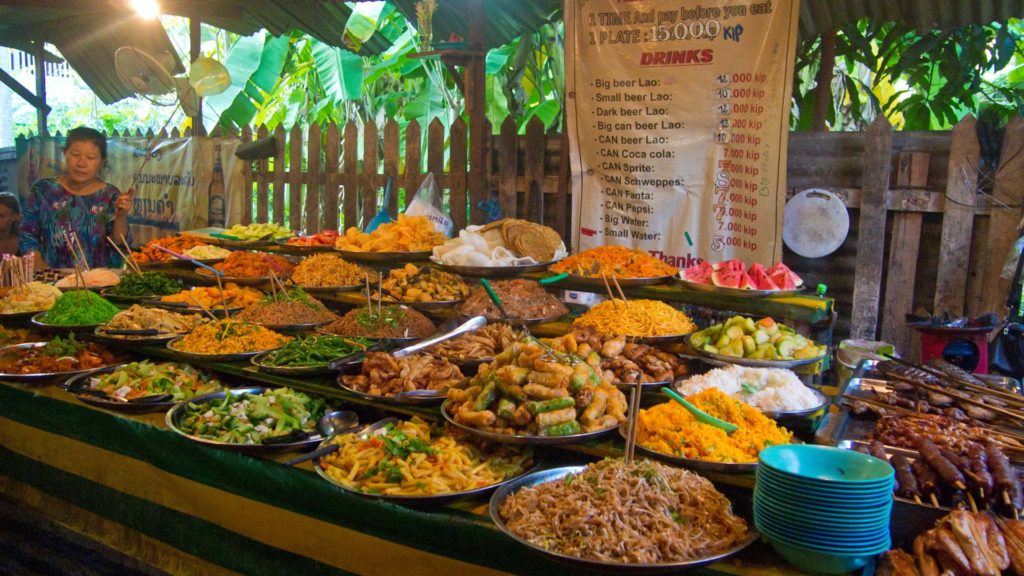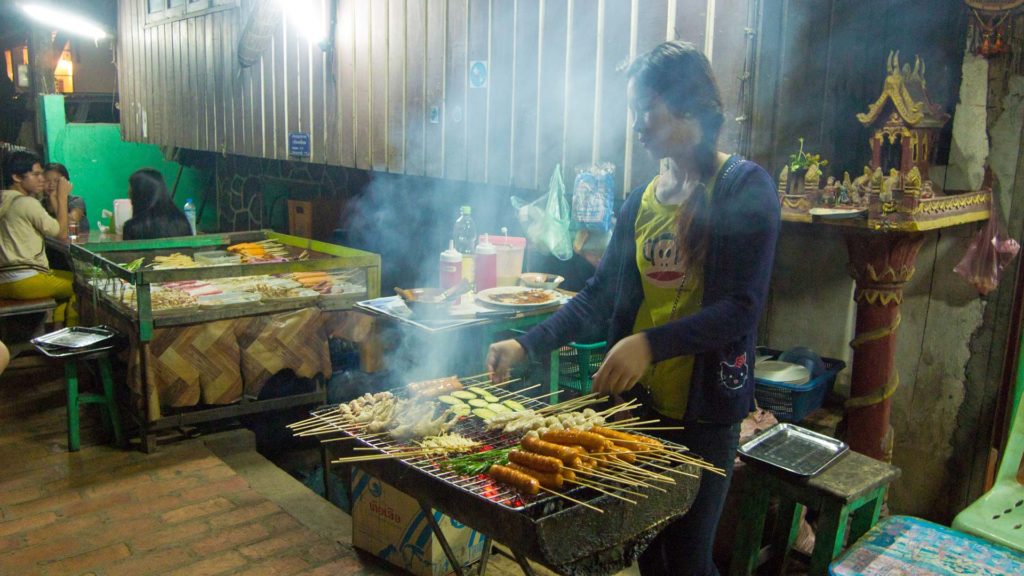 8. More sights to explore around Luang Prabang
Earlier I mentioned the Royal Palace (Ho Kham) at the night market. Nowadays it is the national museum and you should pay it a visit. The admission is 30,000 kip per person and it is open daily from 8.00 to 11.30 A.M. and 1.30 to 4.00 P.M.
That Makmo, because of its shape also known as watermelon stupa, is located on the grounds of the Wat Visounarath. A slightly different stupa and absolutely interesting and worth a visit in case you are interested in Buddhist temples.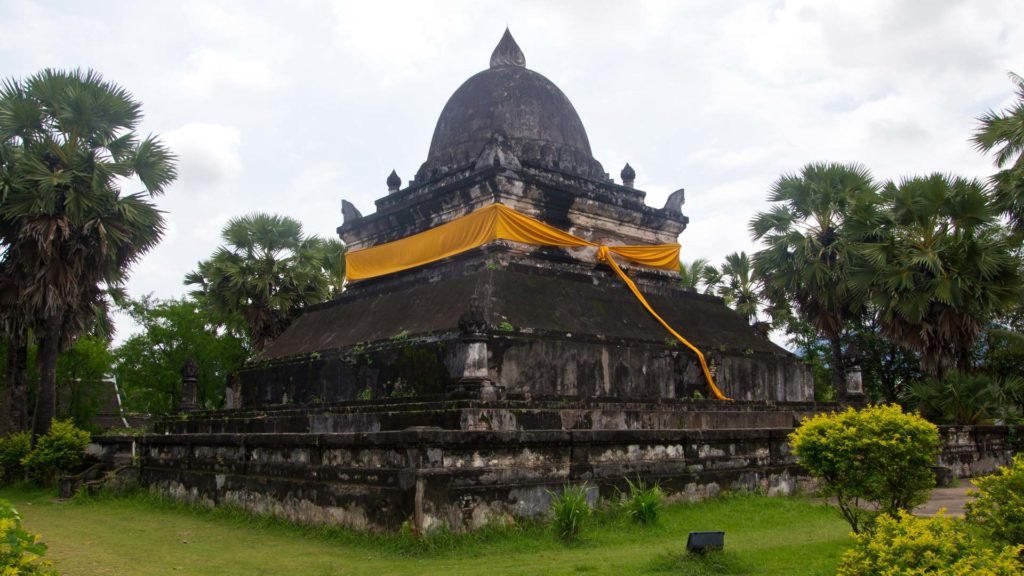 Of course you can discover a few more temples while taking a walk around Luang Prabang. Most of them are probably not listed as some sights, but they are still nice to visit.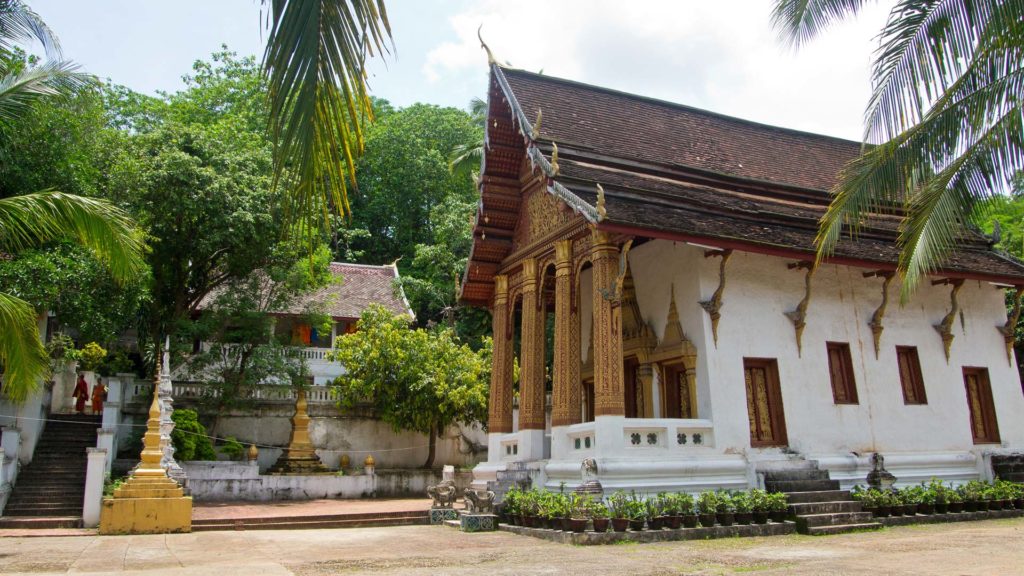 Note: If you are interested in craftsmanship from Luang Prabang, away from the sights, there are also many courses you can join. There are e.g. wine making, embroidery lessons, drawing courses, crafting and much more. Here you can find all activities related to Luang Prabang.
9. A ride with an electric car
At the very last I want to recommend a mean of transportation that I loved in Luang Prabang. It's an electric car or a kind of Tuk Tuk. If you're tired after walking around, you can easily take a ride home with those electric cars for about 3000 kip. Cheap and eco-friendly – a great job!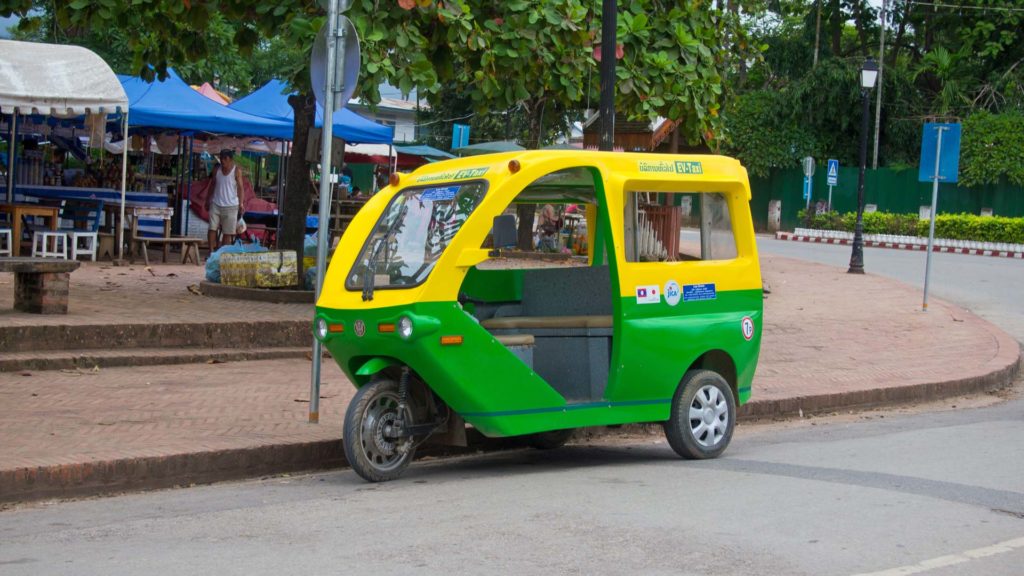 Conclusion
Luang Prabang is definitely worth a visit! The old town is a perfect place to walk around and enjoy the beautiful city. I really can't say if it's the most beautiful city in Southeast Asia. It is unquestionably a beautiful town, but I doubt that there is "THE most beautiful".
Everyone has a different taste and I really can't commit to a most beautiful city so far. There is still a lot to discover. Nevertheless, you should absolutely visit Luang Prabang and I can only recommend it!
Plan your trip to Luang Prabang now
More hotel recommendations for Luang Prabang:
Popular routes to Luang Prabang:
---
Have you ever been to Luang Prabang? Did you like the city and what did you like the most? Leave us a comment below!