Dieser Artikel ist auch verfügbar auf: Deutsch
The Kuang Si Waterfall, also known as Tat Kuang Si or Tat Kuang Xi, is a famous waterfall located about 30 kilometers from Luang Prabang. It is very popular for day trips and half-day trips with locals and tourists. Especially on weekends and holidays it can get really crowded there.
A day trip to the gorgeous Tat Kuang Si Waterfall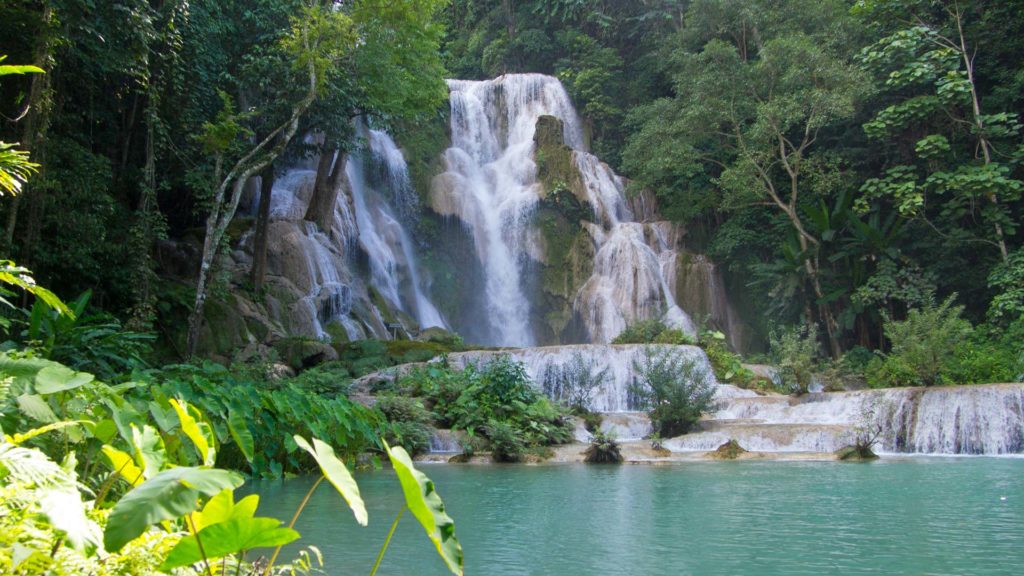 ---
How to get to Luang Prabang
Luang Prabang is located in the north of Laos and you can reach the town with its international airport fastest by airplane from Bangkok, Hanoi, Siem Reap, Vientiane, etc. You can either fly with Bangkok Airways or Lao Airlines. Tickets, times and prices can be found at Skyscanner.
Taking a boat over the Mekong is also popular. This is possible from Chiang Khong in Thailand or Huay Xai on the Laotian side of the border. There are speedboats racing over the Mekong or slow boats, which take about two days to Luang Prabang.
The third option would be the bus or minivan from places within Laos like Vientiane or Vang Vieng. Depending on the distance, the bus ride takes 6 to 12 hours. Further information and prices can be found at our partner 12go.asia.
Accommodation in Luang Prabang – our hotel tip
In our opinion, the best place to stay is directly in the historic old town – ideally right on the Mekong. One of these hotels is the Sala Prabang Hotel, which offers various villas with old-style rooms. One of the highlights here is the breakfast view on the Mekong. Other Luang Prabang hotels can be found here.
Luang Prabang: Tours and tickets
---
From Luang Prabang to the Tat Kuang Si
There are several ways to get from Luang Prabang to the Tat Kuang Si. In this paragraph I want to introduce you to the 3 most popular options:
1. Tuk Tuk – if you are walking around Luang Prabang you will often be approached by Tuk Tuk drivers with the words "waterfall tour". The drivers will take you to the waterfall, wait on site and take you back to Luang Prabang. It's a 30 to 45 minutes ride and the price depends on your negotiation skills. Most of the times it will be around 100,000 Kip per person (almost € 10). With some good bargaining you will maybe get a price like 80,000 or even 60,000 per person. If you are traveling with some people together you can get a nice private tour to the waterfall.
2. Minivan tour – you can also find a lot of travel agencies in Luang Prabang where you can buy some bus tickets or book a tour. Mostly the trips to the Tat Kuang Si will start in the morning and also in the afternoon. Actually the price is about the same everywhere and will cost you around 50,000 Kip per person. You will be picked up at your hotel and brought back afterwards. A tour to the waterfall takes about 4 to 5 hours.
3. Rent a scooter – in fact I would always prefer this option, however the prices for a scooter are really high in Luang Prabang. At least the prices I was told were in my opinion – compared to Thailand or Indonesia – extremely high. In some cases they even wanted to have 120,000 Kip (almost € 12) for a scooter per day. In general, it was really expensive to rent a scooter in Laos. With some good bargaining skills you might get a scooter for 100,000 Kip. Additionally, you will have to spend some money on gasoline and therefore it's the most expensive option.
Arrival at the Kuang Si Waterfall Park
When you arrive at the Kuang Si Waterfall Park, you will find a lot of restaurants and shops with souvenirs there. In case you forgot to bring some water or snacks along, you will have the opportunity to buy something before heading to the waterfall.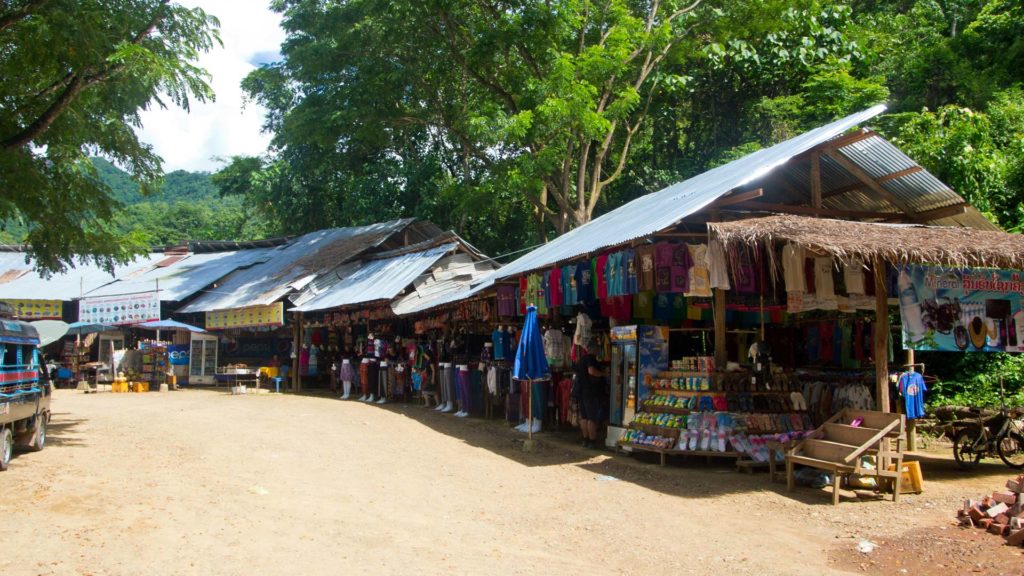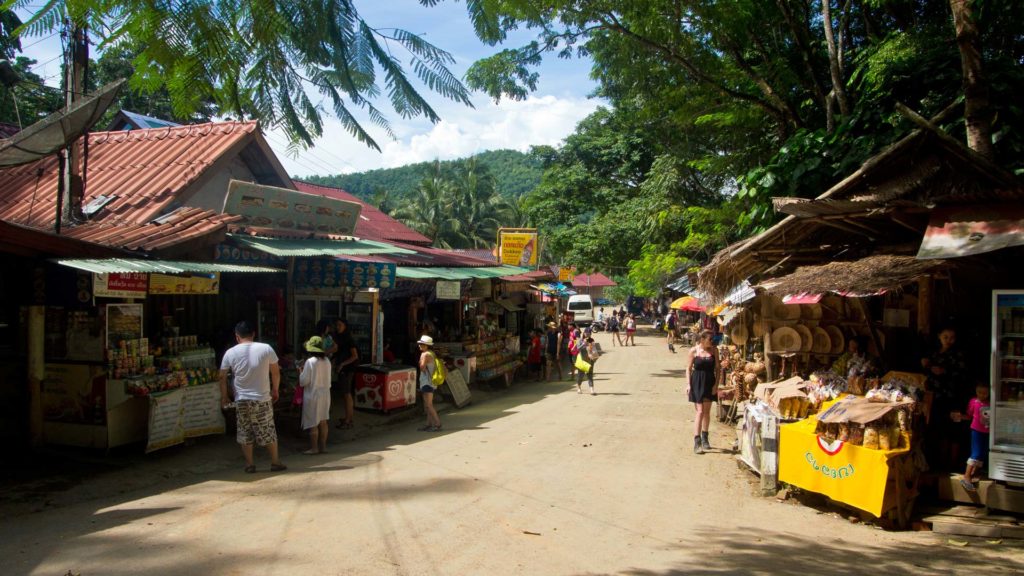 At the entrance of the park you will have to buy a ticket to visit it. In August 2015 the price was 20,000 Kip per person. Under 8 years admission is free. The Kuang Si Waterfall Park is opened daily from 8.00 a.m. to 5.30 p.m..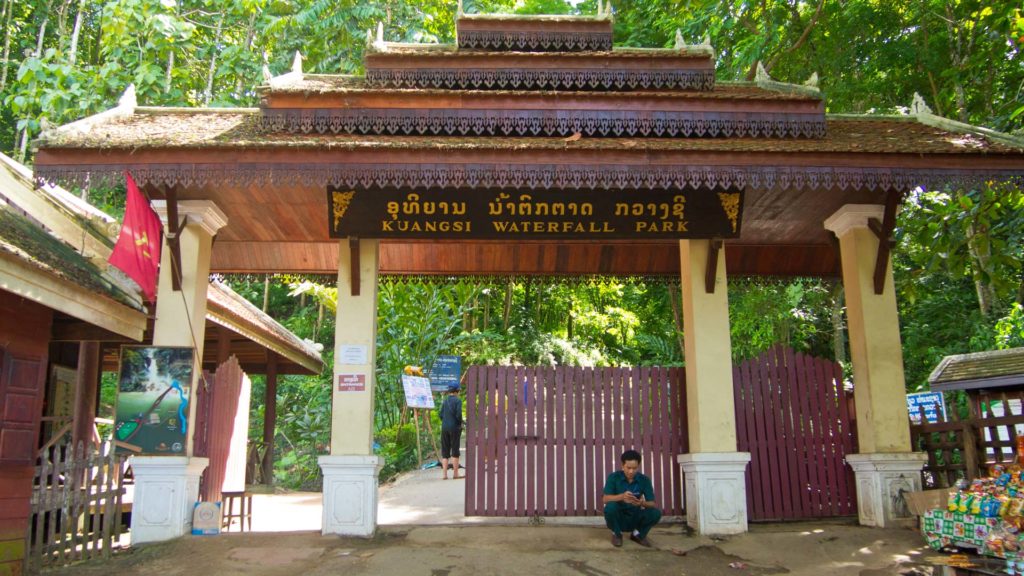 The Tat Kuang Si Falls
Now you can either walk up the hill and and get to the 60 meters high waterfall first, or you can turn right into the "jungle" and walk past the Rescue Center of the bears. They are fostering freed bears from captivity and you can watch them. Unfortunately, they were all hiding during my visit and I couldn't see any of the bears.
If you have some spare money you can donate something for the bears or buy a t-shirt and support the center with that.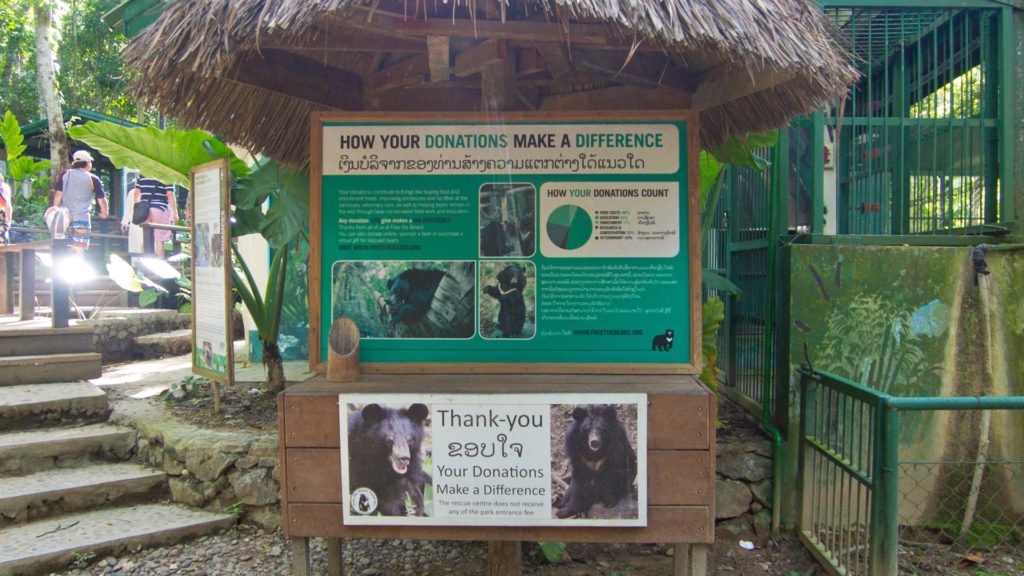 This is it! You have only a few meters left to the first fresh natural pool of the Kuang Si Waterfall. But take care if you want to go for a swim, the water is cold as ice. 😉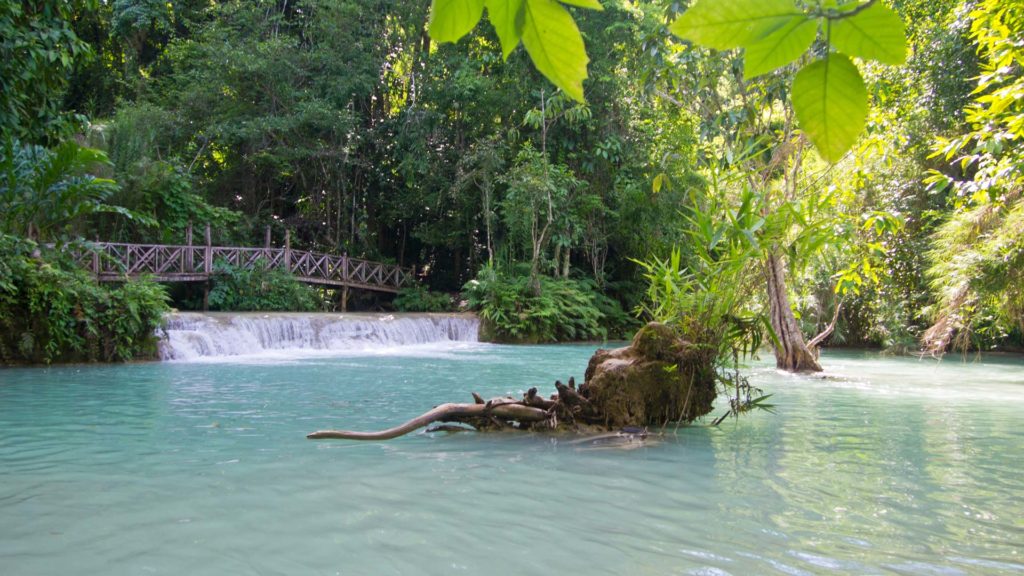 Afterwards you can walk a little bit further up the hill, where you will walk past several cascades of the waterfall. Perfect to take some beautiful pictures. The largest natural pool is usually busy and many people swim or picnic around the pool. You can also find some changing rooms and toilets over there.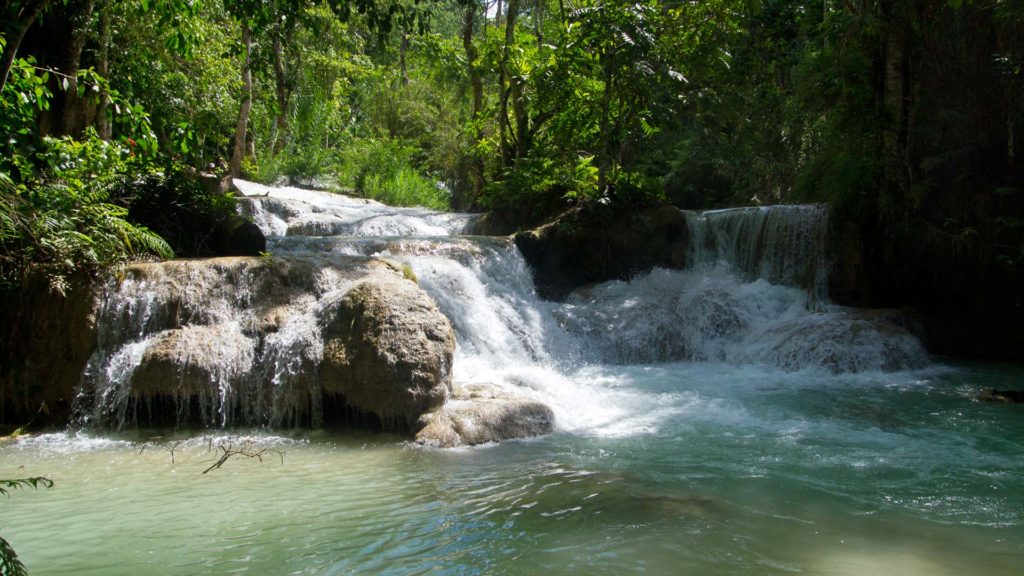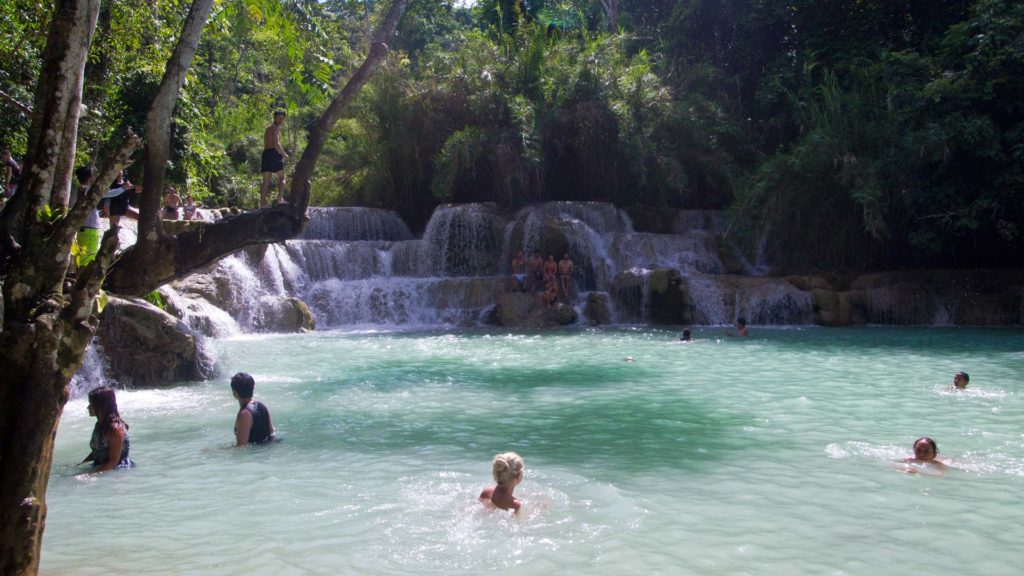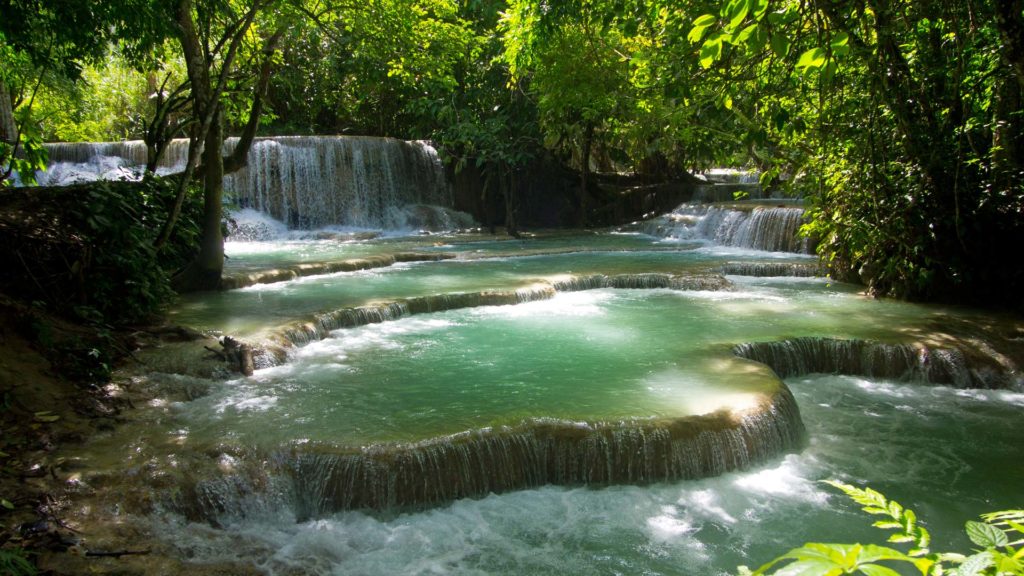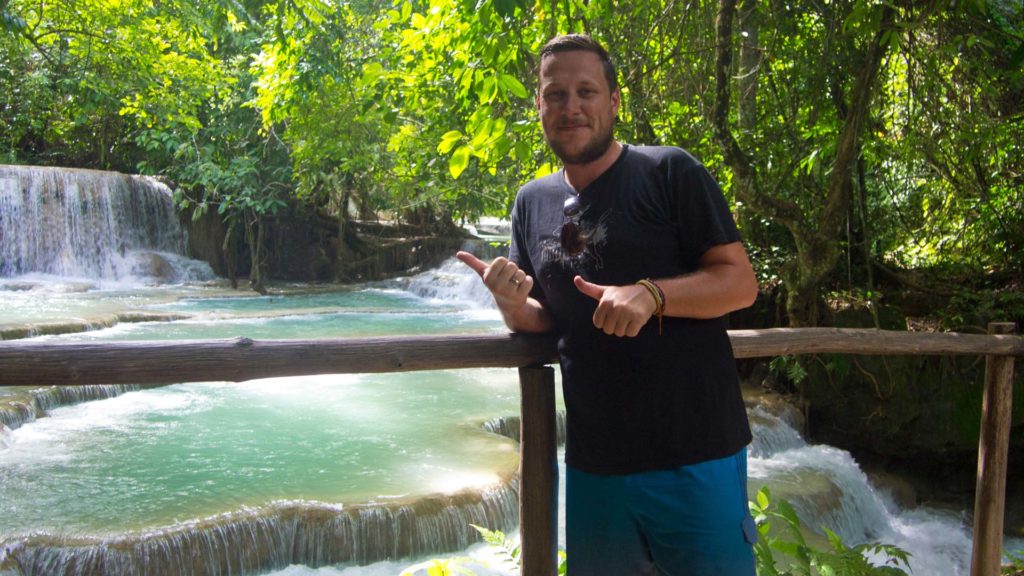 If you are following the path up and feel a little bit hungry, there is also a restaurant in the woods where you can take a break. Since I haven't eaten there I can't tell you if the food is good.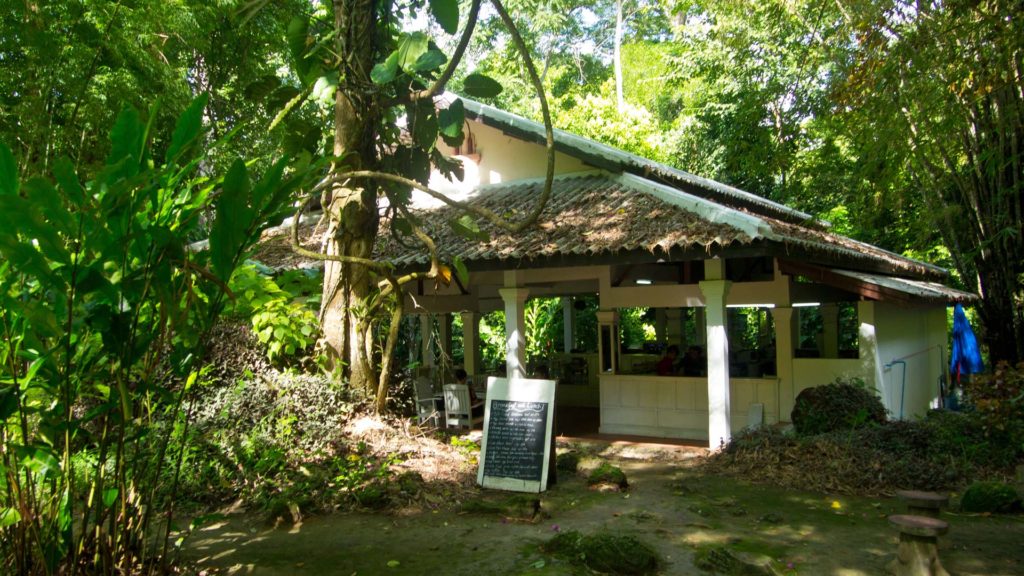 From the restaurant it's not too far anymore to the impressive 60 meters high waterfall of the Kuang Si Park. Past some beautiful photo opportunities and another natural pool you will finally reach the waterfall.
The Tat Kuang Si is indeed along with the Erawan Waterfall in Thailand the most beautiful waterfall I've seen on my travels.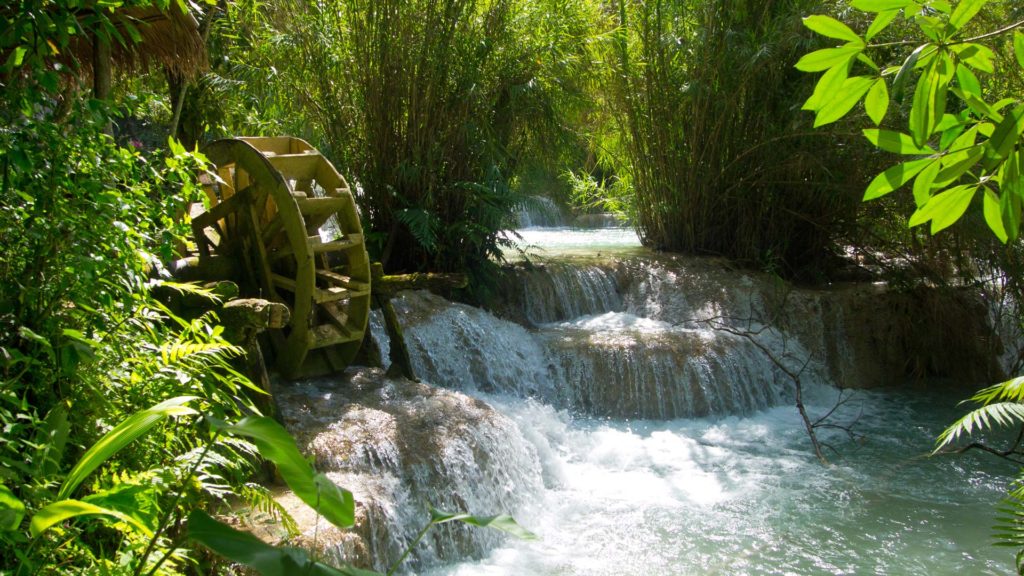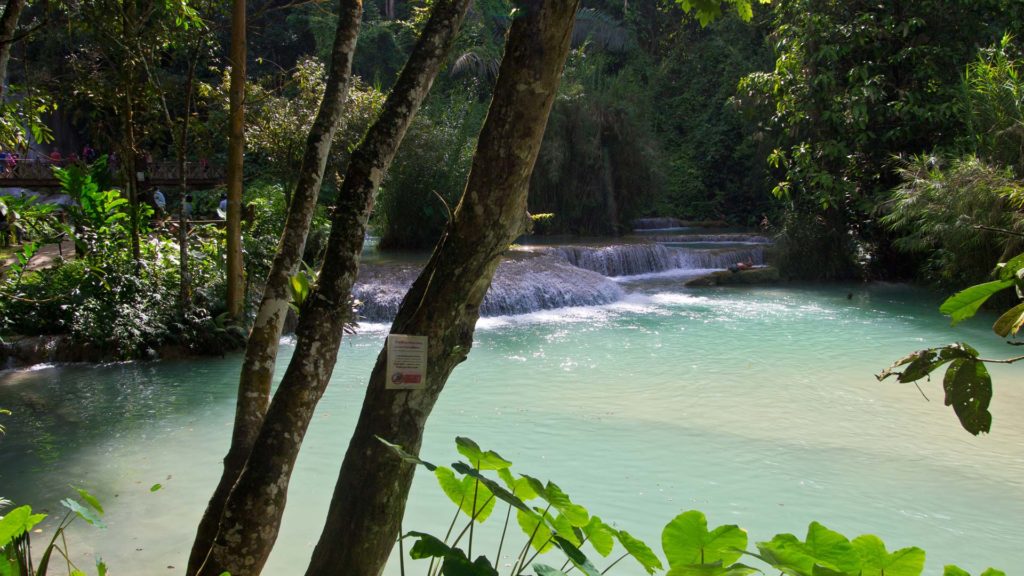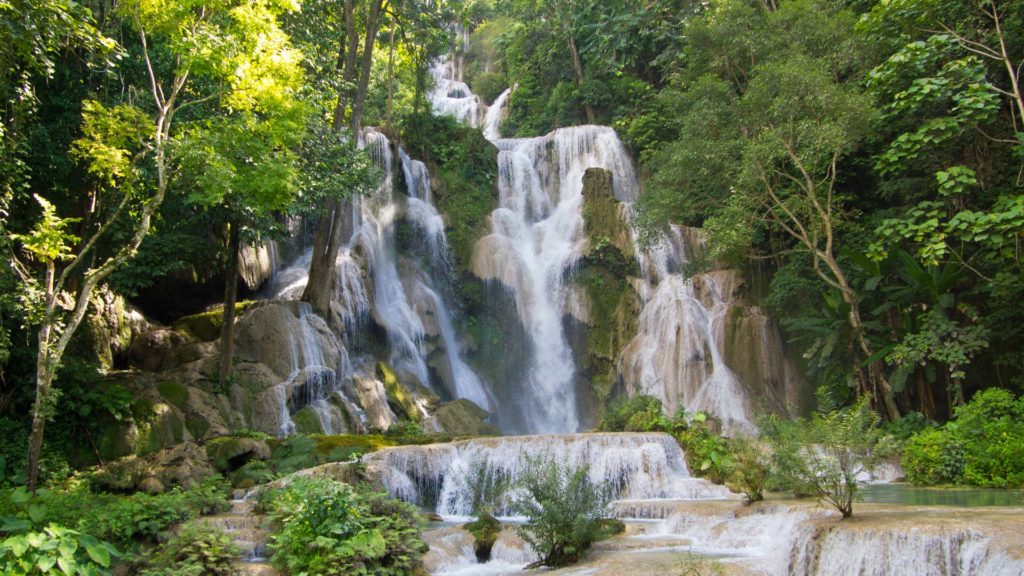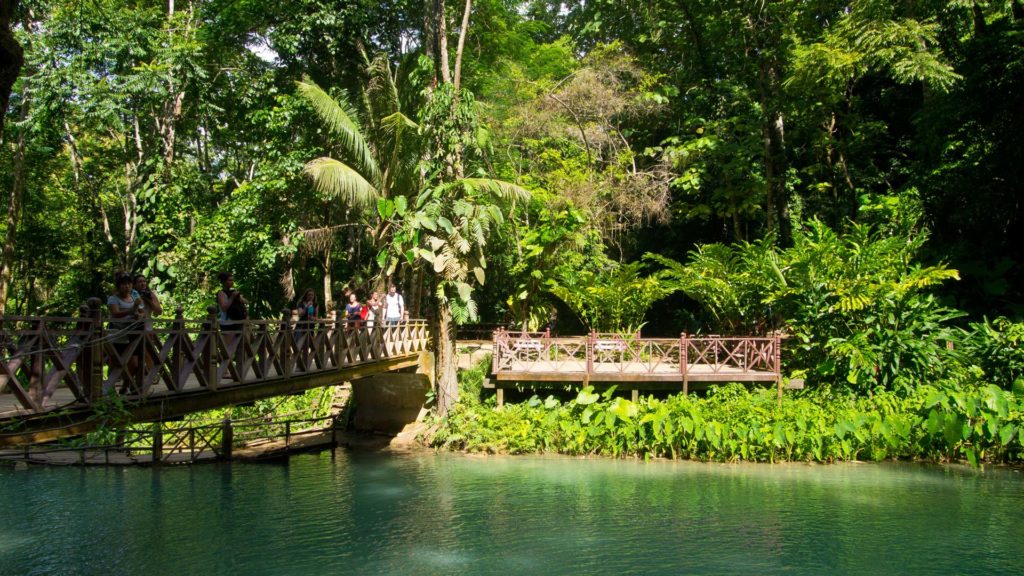 If you still feel like walking you can climb up to the top of the large waterfall. It would probably be better to wear sturdy footwear instead of flip-flops.
Conclusion
It's a really nice half-day trip when you spend a few days in Luang Prabang. The waterfall is truly huge and it's impressive how much water is floating down. I can only recommend this trip and would repeat it again at any time.
Additionally, I have one last tip for you. If want to visit the waterfall without having too many visitors on site, then you should go there in the early morning. Like I said above, the park opens at 8.00 a.m. If you can manage to get to the waterfall around that time you will probably have it for yourself.
Plan your trip to Luang Prabang now
More hotel recommendations for Luang Prabang:
Popular routes to Luang Prabang:
---
Have you ever been to the Tat Kuang Si? Did the waterfall also impress you? We are excited to read about your experience in the comments below!