Dieser Artikel ist auch verfügbar auf: Deutsch
Vietnam is different. That would be the first statement which I think is appropriate for Vietnam after staying a few days in the country. Much different than other large countries in Southeast Asia such as Thailand or Malaysia, but the country still has a very special charm.
Arrival and first impressions from Ho Chi Minh City
In our travel report you can find out in detail how our arrival and our first impressions in Vietnam, especially in Ho Chi Minh City, were.
---
How to get to Ho Chi Minh City
Accommodation in Ho Chi Minh City – our hotel tip
Ho Chi Minh City: Tours and tickets
---
The flight from Bangkok to Ho Chi Minh City, which is still often called Saigon by the Vietnamese, was only lasting an hour and a couple of minutes.
The immigration went without any problems and with our German passports we simply got a stamp for a 15-days free of charge stay. The airport was very organized and relatively empty, which I didn't expect. After the first withdrawal at the ATM, which made us millionaires – at least in Vietnamese Dong – we went to one of the many taxi stands.
The offered trips to District 1, where our hotel was located, were offered with a price of 220.000 VDN – quite expensive. But we didn't feel like searching for a cheaper one and so we just took those private taxis instead of waiting outside for a metered public taxi.
Fortunately, we could also buy a SIM card at these taxi stands. The price for a SIM card was 290.000 VDN (a little bit more than 10 Euro) with a data volume of 1.5 GB, which I think is totally ok for two weeks.
The taxi ride to the hotel
According to Google Maps, our hotel was located only 7 kilometers south of the Ho Chi Minh City airport. We thought this was going to be a short ride. Nobody knew how wrong we could be.
It took us over an hour to get past those 7 kilometers, because the traffic in Ho Chi Minh City is just so chaotic. Maybe this word is a little bit too innocuous for that and at first glance it even looked like there are no traffic rules at all.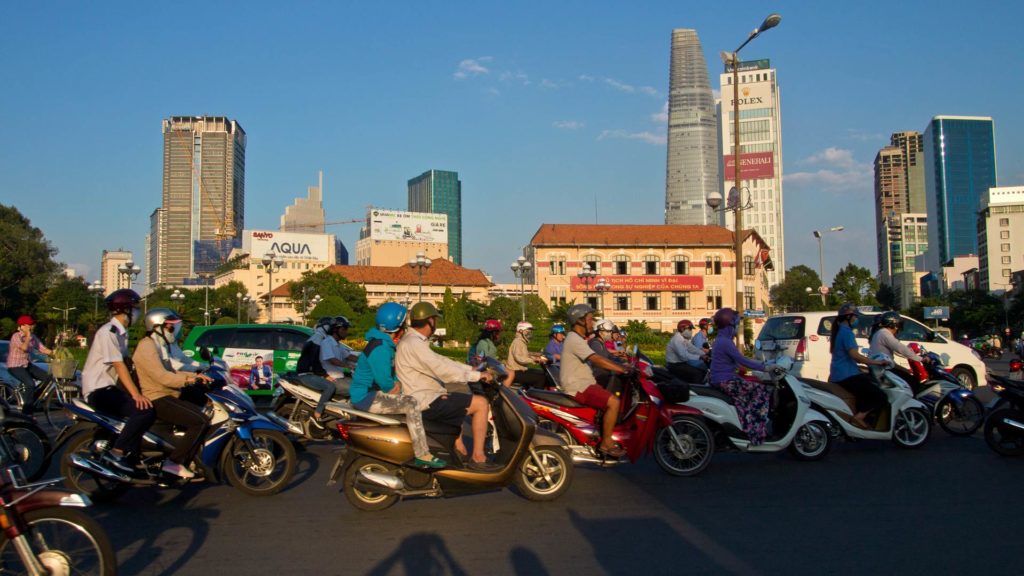 The traffic is definitely the most extreme I've ever seen in Southeast Asia! Actually, I've never seen so many scooters anywhere before! Even the parking spaces are partly so overcrowded that there is a huge queue with people who are waiting for some parking space. And it's not uncommon to park in the second or third row. It's a mystery to me how they will get out there with their parked scooters…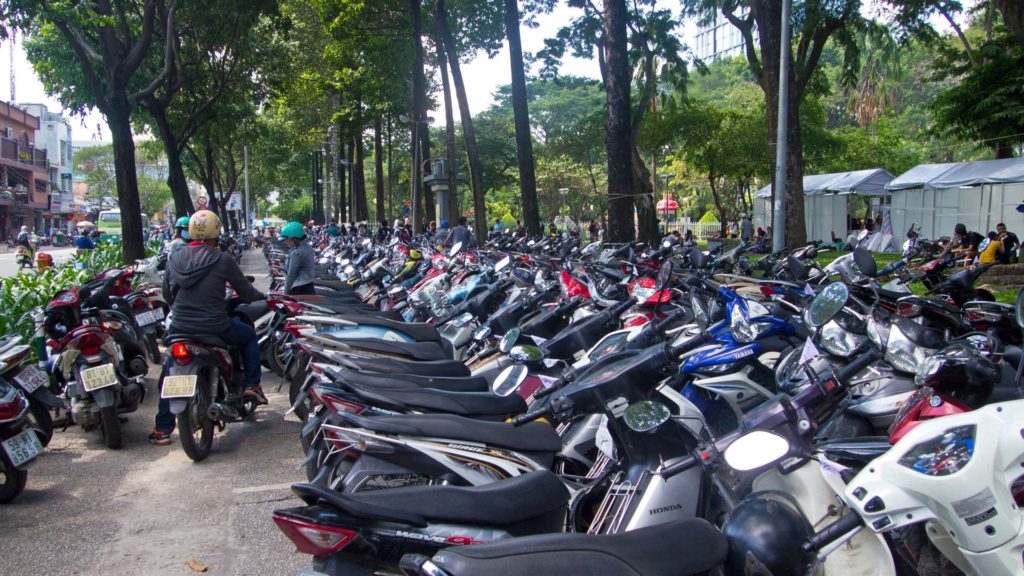 Ho Chi Minh City
Besides that, Ho Chi Minh City is a lively, vibrant, noisy, hot and chaotic city that knows to convince with its charm. You can also find a lot of markets in the city like the Benh Thanh Market or Binh Tay Market, which are absolutely worth a visit.
We spent 3 days to discover Saigon's sights, mostly by walking, trying various Vietnamese dishes and communicating partially with hands and feet.
To our surprise, most Vietnamese people don't speak English that well, at least outside of the tourist areas. Even in Saigon. But it also works that way.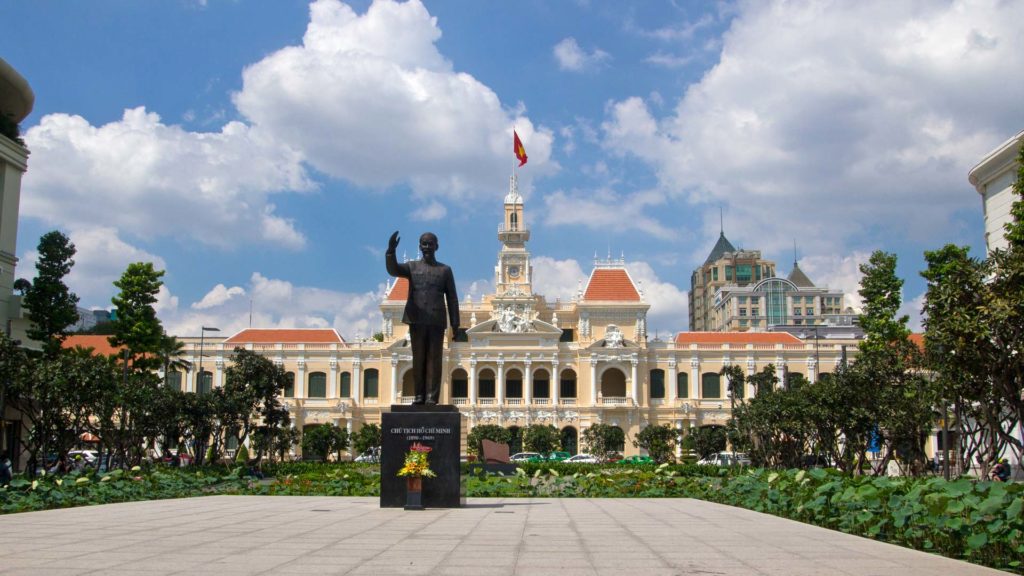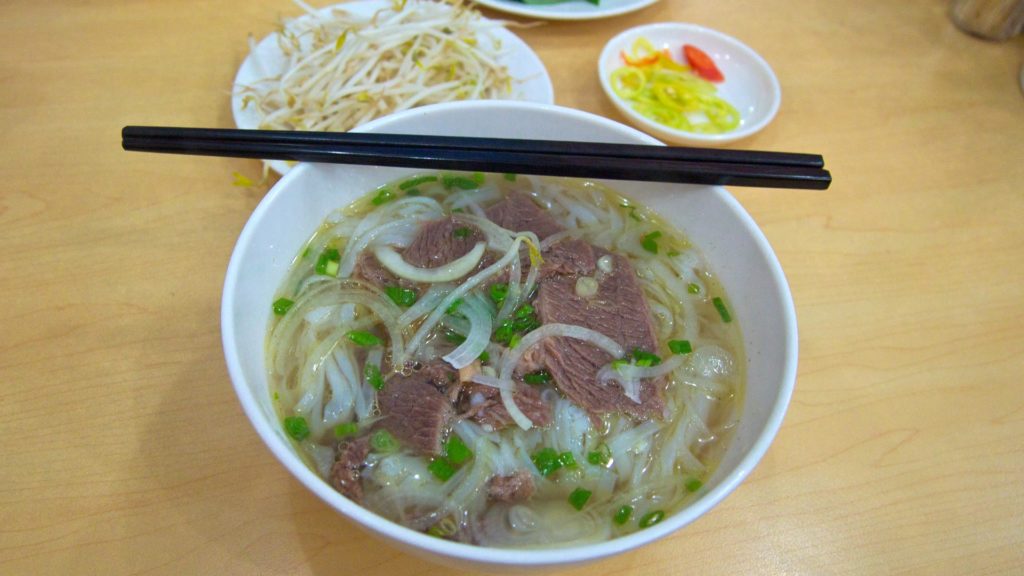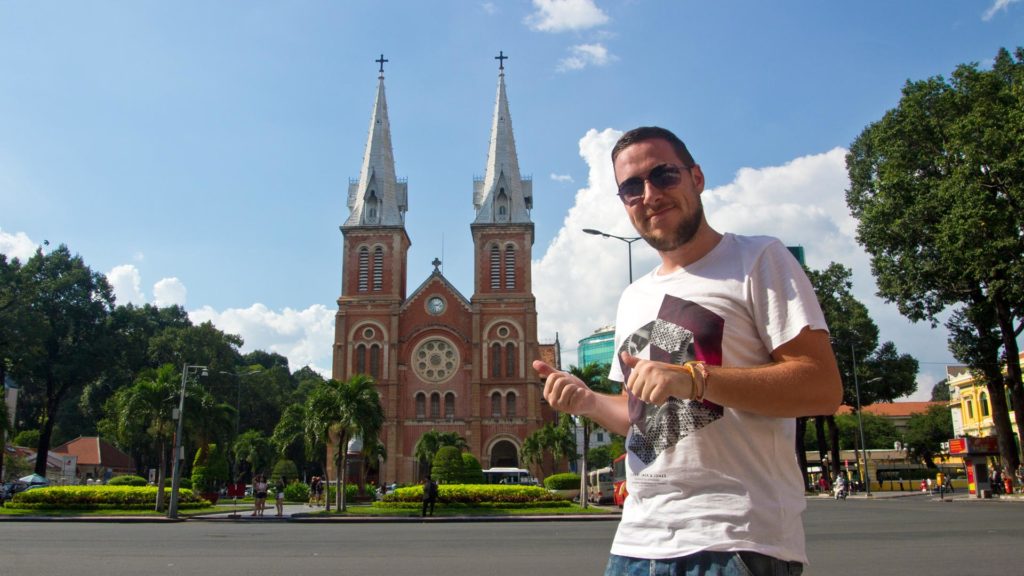 Saigon Skydeck at the Bitexco Financial Tower
Since we both love skylines, we had to visit the Saigon Skydeck at the Bitexco Financial Tower. The entrance fee is 200.000 VDN and there is no open skydeck, but it's still worth it. It was one of our highlights in Ho Chi Minh City!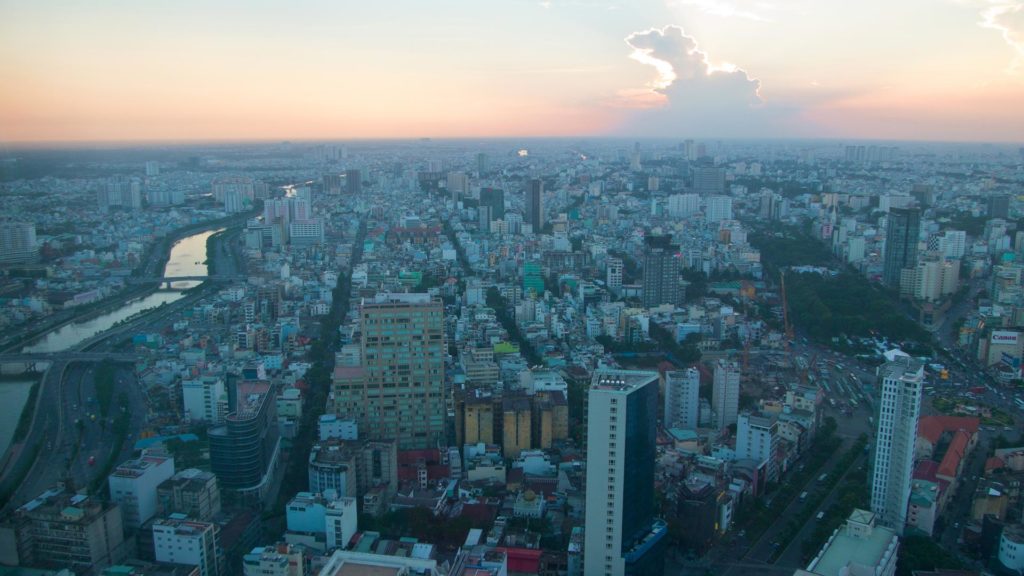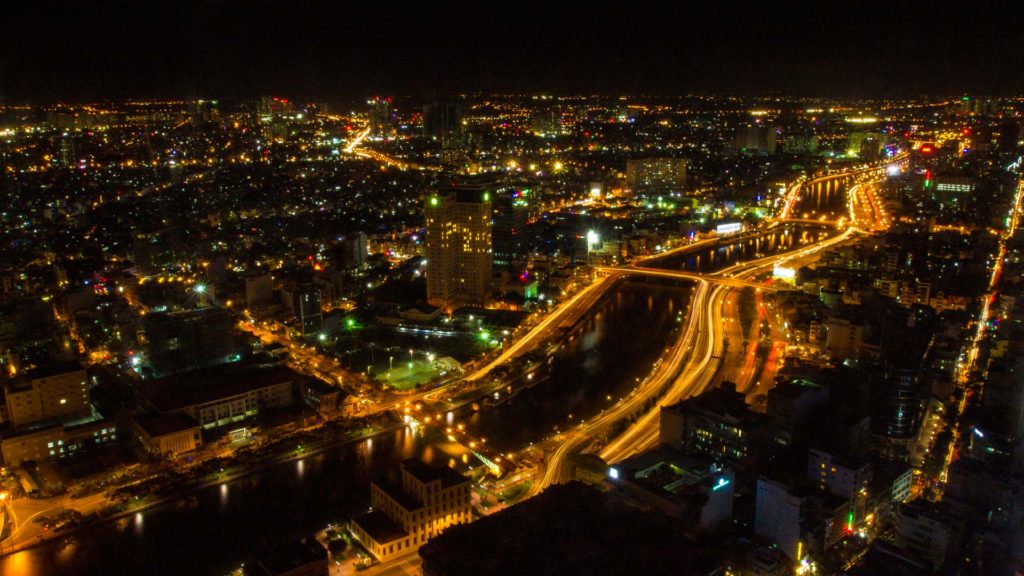 First conclusion
Despite the chaos in Ho Chi Minh City and the incredible heat while exploring the city, we had a great start in Vietnam. It is definitely different than Thailand, Indonesia or the Philippines.
A new country, a new culture and a new island is waiting to be discovered and we are really looking forward to that!
Plan your trip to Ho Chi Minh City now
More hotel recommendations for Ho Chi Minh City:
Popular routes to Ho Chi Minh City:
---
What was your impression when you visited Vietnam for the first time? Can you relate to our opinion? Give us feedback in the comments.