Dieser Artikel ist auch verfügbar auf: Deutsch
Ho Chi Minh City, also known as Saigon, is the largest city in Vietnam before the capital Hanoi. Unsurprisingly, Ho Chi Minh City offers many sights and excursions for visitors. One of the must-sees is the view from the Bitexco Financial Tower with the Saigon Skydeck.
Ho Chi Minh City: The Skydeck on the Saigon Bitexco Financial Tower
What you need to keep in mind when visiting the Saigon Skydeck, how to get tickets and what to expect on site, we have summarized for you in this very article.
---
How to get to Ho Chi Minh City
Accommodation in Ho Chi Minh City – our hotel tip
Ho Chi Minh City: Tours and tickets
---
The Financial Tower with the Saigon Skydeck is surely one of the countless highlights of Ho Chi Minh City. You can already see it from many different spots in the city.
As fans of skyscrapers and breathtaking views from above, this visit was just obligatory for us. Slightly 265 meters above Saigon – we just couldn't miss that.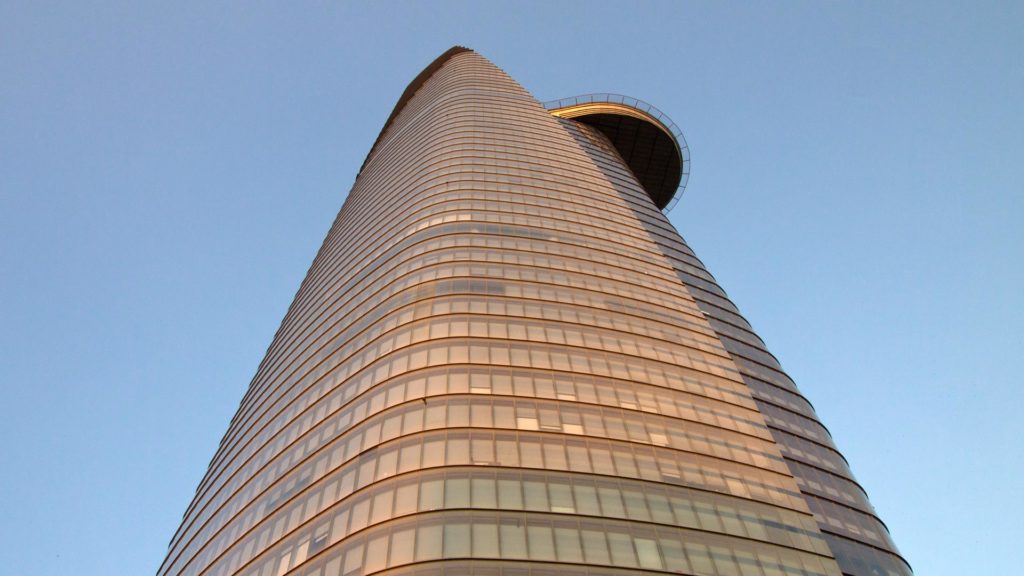 The Saigon Skydeck is located in the District 1 and from the Ben Thanh Market, which was only a few meters away from our hotel, you can reach it within 5 to 10 minutes of walking. So this is why we started for a visit to the Bitexco Financial Tower on the afternoon of our second day in Ho Chi Minh City.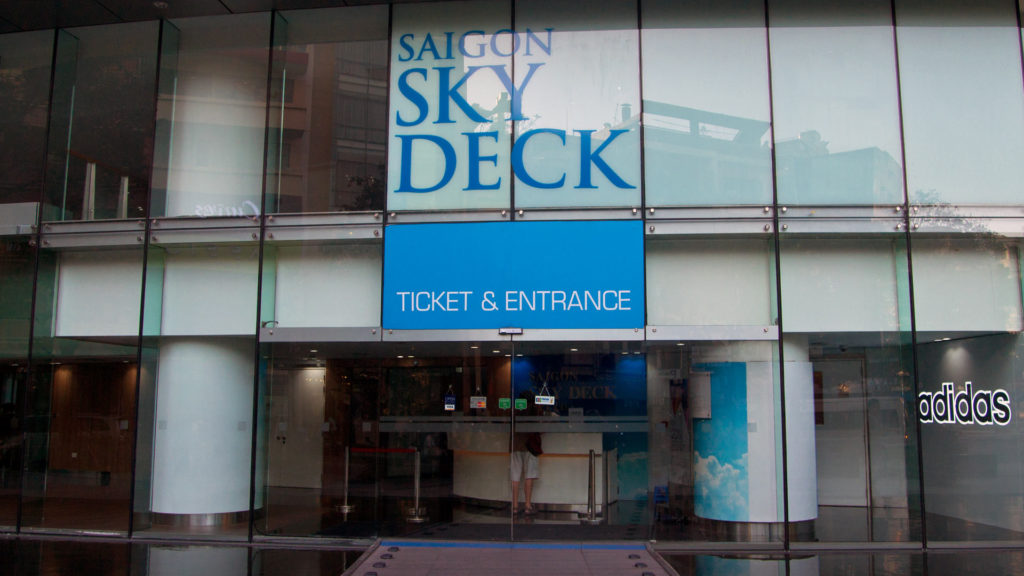 The Bitexco Financial Tower has 2 entrances. After the first entrance there are just some shops and you can access many of the offices inside. The second door is actually the one to the Saigon Skydeck. It's a separate entrance and it's signposted.
To get to the Saigon Skydeck on the 49th floor with a 360 degrees view, you have to buy a ticket at the entrance. As of our visit, the price for a ticket was VND 200,000, which is a little bit more than 8 Euros. The price is quite high in our opinion, but it is still worth it. We can even recommend to buy a ticket online in advance, because with that you safe some time and don't need to queue up on well-frequented days.
Tip: if you don't have to go to the skydeck by all means, but still wanna enjoy the view from above (no 360 degrees), you can just visit the cafe, restaurant or bar in the 50th to 52nd floors. This is for free. Of course you will have to order something there.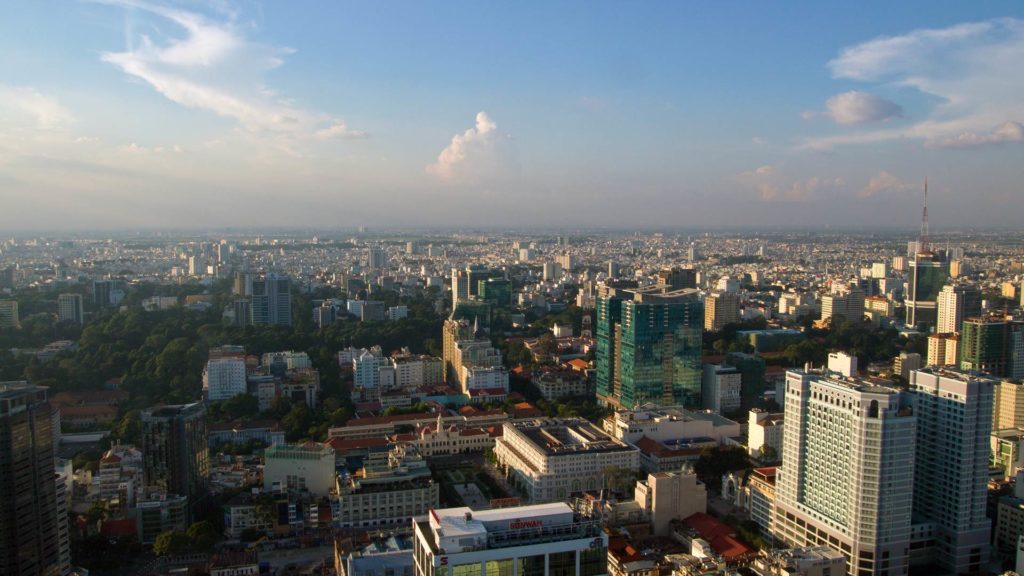 Once you arrive on the top, you will be rewarded with an amazing view over Ho Chi Minh City. We were lucky that the sky was quite blue and not too cloudy. I think this makes the pictures always much more beautiful.
But there's one downside: the Saigon Skydeck is panned, which means you can only take photos through the windows. Partially, they were quite dirty, but it was still possible. As for me, an open skydeck would be way better.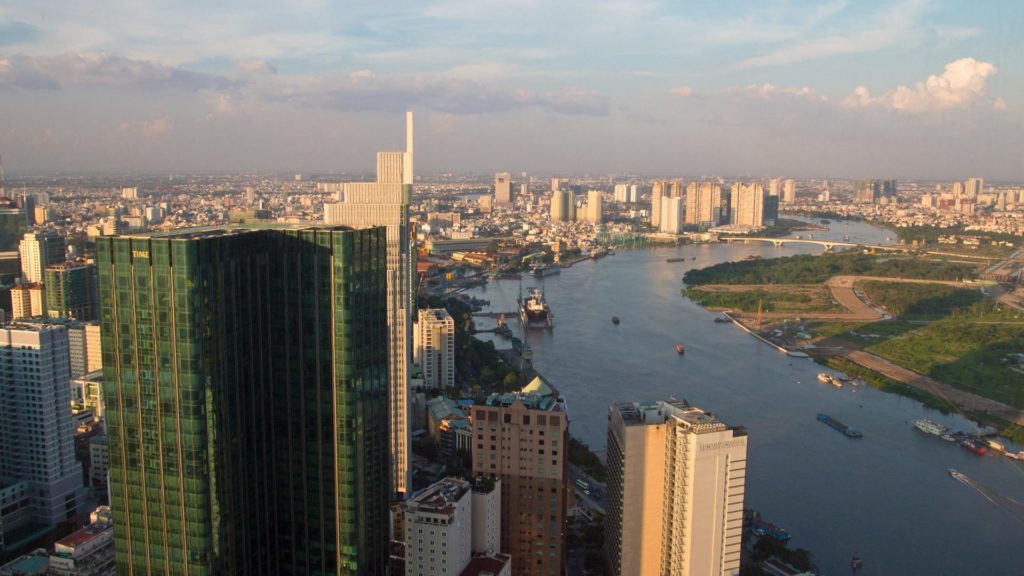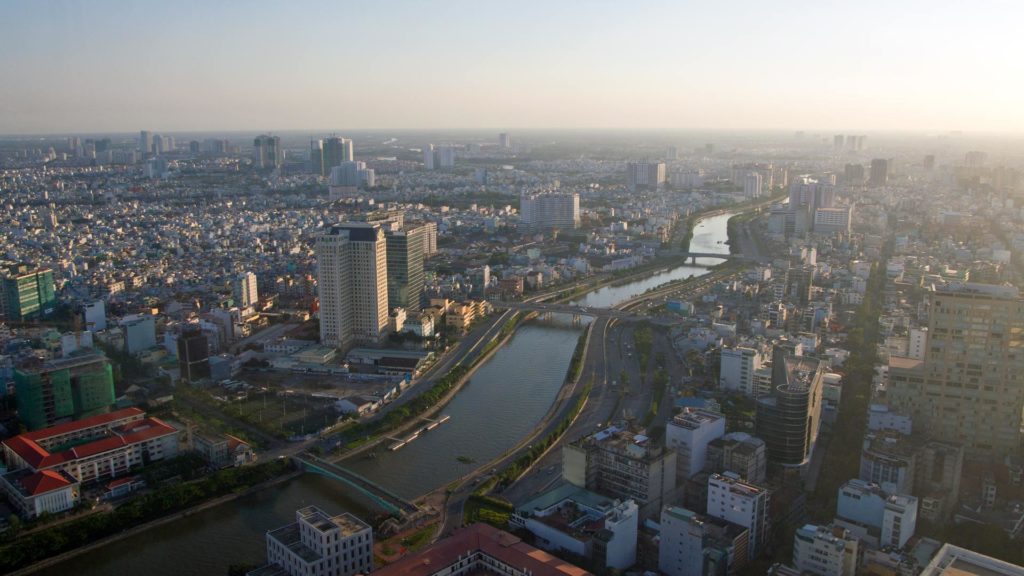 From here you can discover all the plenty sights of Ho Chi Minh City, e.g. the Ben Thanh Market, the Notre Dame Cathedral or the City Hall of Saigon. As you can see, the currently second highest building of Vietnam is totally worth a visit!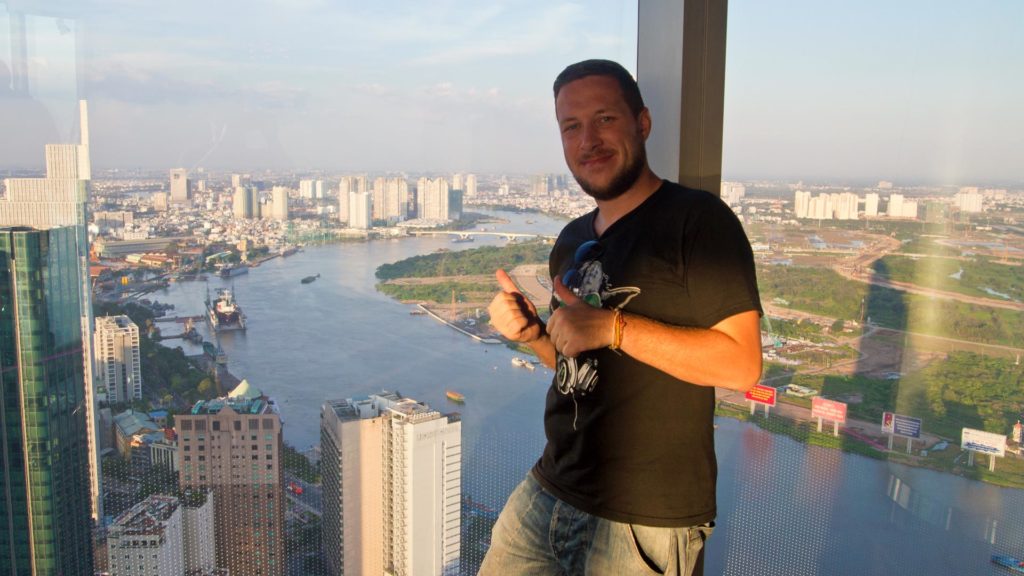 If you want, you can also buy some souvenirs here to have a nice memory of your Ho Chi Minh City trip. Also, there are free binoculars all over the skydeck so you can see the city from near.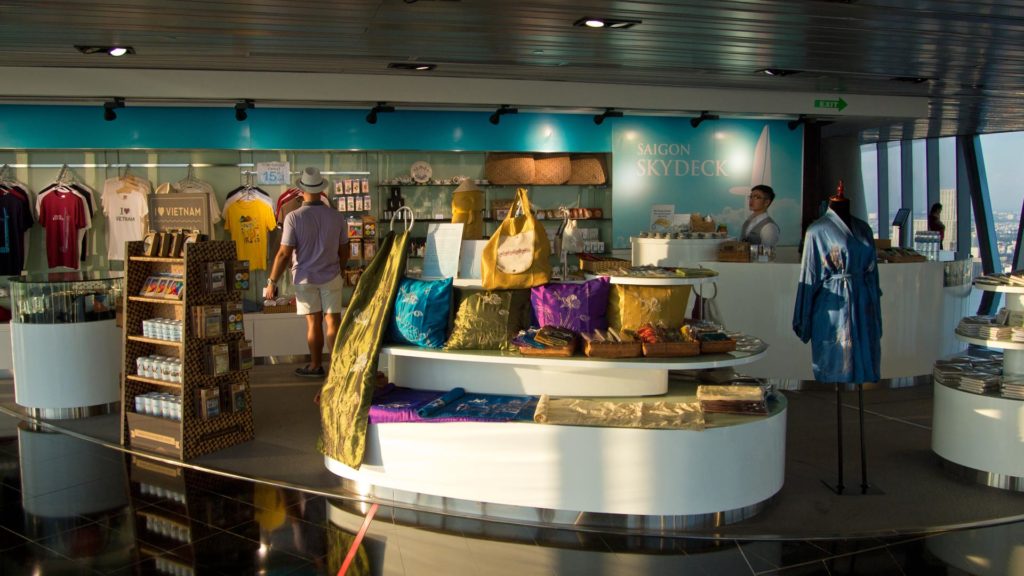 After the first photo session we went up one floor to the cafe. From there you can take an elevator another 2 floors up to get to the bar.
We sat down here for a while to enjoy a drink and wait for the sunset. There was also a band playing (sometimes really loud) live music to make your stay up there more entertaining.
It goes without saying that the drinks here are a bit more expensive and it can happen that you spend VND 100,000 for a beer, which is already half of the entrance fee!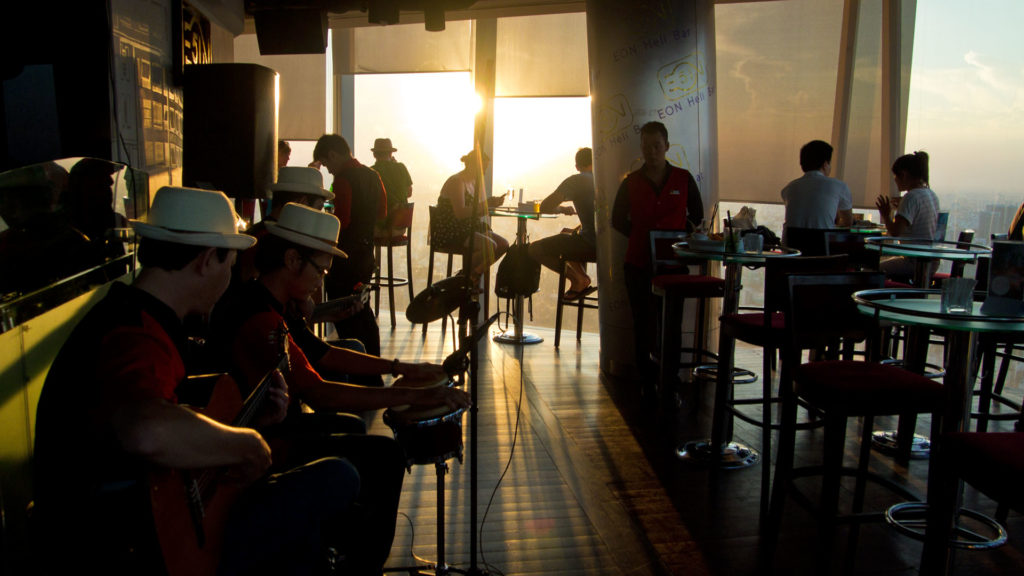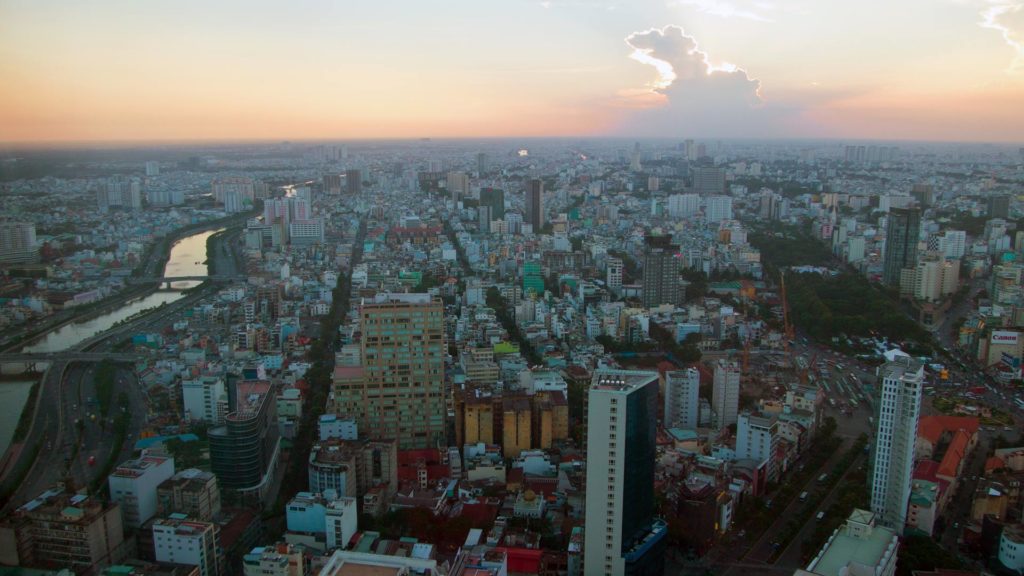 After a while in the bar and the sunset, it slowly but surely got dark. So it was time for us to go back to the skydeck and take some pictures by night.
The Saigon Skydeck is nicely illuminated from inside and looks really beautiful, however this makes it hard to take good photos. The lights often reflect in the windows and once again, I wish there was an open skydeck.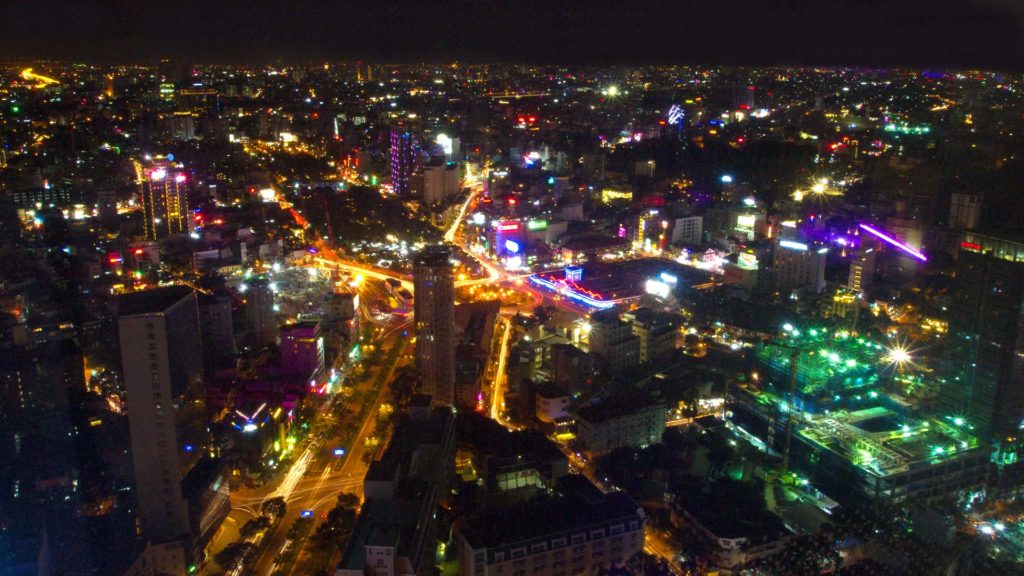 With a little bit of patience and the right exposure you can still capture a great shot of the city. Personally, I preferred the view by night since the city is illuminated all over, which makes the view more interesting. Or you combine the visit of the Saigon Skydeck with an evening boattour to get another feeling of the nocturnal Ho Chi Minh City.
Note: The Saigon Skydeck is opened daily from 9.30 a.m. to 9.30 p.m. The entrance fee is currently VND 200,000 for adults and VND 130,000 for children, seniors and handicapped persons.
Conclusion
We liked the visit to the Saigon Skydeck very much and we would recommend it to everybody. Especially if you are a fan of high buildings and great views from above like us, this is your spot!
Plan your trip to Ho Chi Minh City now
More hotel recommendations for Ho Chi Minh City:
Popular routes to Ho Chi Minh City:
---
Have you ever been to the Saigon Skydeck? How did you like it? Let us know in the comments!