Dieser Artikel ist auch verfügbar auf: Deutsch
Bangkok is the first destination for many Thailand travelers in the Land of Smiles. Every year the Thai capital welcomes tens of millions of tourists making at least one stopover in Bangkok, before moving further north to e.g. Chiang Mai or island hopping in the south.
Stopover Bangkok for 3 days: the highlights
Many love Bangkok, some hate the city, in between there is only little. The contrasts in Bangkok could not be bigger: golden temples, modern and huge shopping malls opposite old buildings that almost collapse. Bangkok has it all, but that's what makes the city so interesting.
In three days you will not be able to see everything in Bangkok, but in this article we'll tell you which highlights in Bangkok you should not miss.
---
How to get to Bangkok
Accommodation in Bangkok – our hotel tip
Bangkok stopover: Tours and tickets
---
Bangkok airport transfer: from the airport to the city
First of all you need a date for your trip. Some avoid the rainy season, often referred to as the Green Season, as you will have to expect rain showers now and then. Even the high temperatures in the summer can give one or the other a hard time. You should therefore first inform yourself exactly which temperatures, rainfall and possibly increased fares by seasons you will have to take into account. Thanks to combined flight overviews at Skyscanner, it's easy to find the most attractive offers for you.
If you have a flight to Bangkok then there are two ways to get there. Thus, also two different ways to get into the city.
There are two airports available for your flight to Bangkok. You either end up at Bangkok Suvarnabhumi (BKK) or Don Mueang (DMK). There are various public transport options available at both airports. It is worth to inform yourself before arrival which are the cheapest or fastest connections to the city.
When flying from Europe or America, you will arrive at Suvarnabhumi International Airport. This is the "newer" airport of Bangkok, where airlines such as Thai Airways, Lufthansa, Emirates and many more arrive.
The cheapest option to get to the city center is the Airport Rail Link. This is a train that goes directly from the airport to Phaya Thai, where you can transfer to the BTS Skytrain and travel to the city for only 45 baht (until Phaya Thai).
Other possibilities are e.g. the taxi. You will find the official taxi counters on level 1, so on arrival you have to take the escalator down. Most of the counters are relatively empty. But it can also happen that you have to wait a bit when a lot of people arrive in Bangkok and take taxis.
The trip costs to the city are depending on the distance: about 200-300 baht plus 50 baht surcharge on airport fees and about 70 baht surcharge, if you use the highway. The taxi driver will ask you in advance if you would like to use the highway. You pay a little more, but you're definitely faster in the city. When traveling with several people a taxi is definitely worth it and also more comfortable.
In addition to these two most-used variants, you could also book a private, but usually more expensive limousine or take the public bus, which is especially not recommended for Thailand beginners.
That means you have to take a taxi or a bus (for example, directly into Khao San Road). When you come from the luggage belt after your arrival, keep left to get to the bus as well as the taxi counter.
Public transport in Bangkok
Bangkok is huge and there are many public transport options. How could it be different in such a metropolis? Buses, taxis, grab, suburban and subway trains, Tuk Tuks, motorcycle taxis, express boats – the possibilities are diverse if you want to discover Bangkok.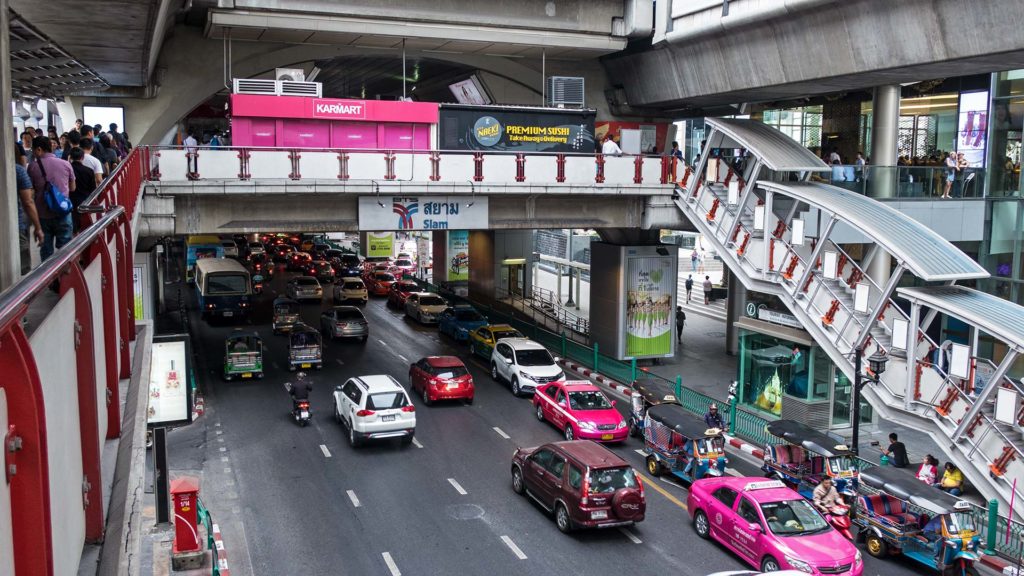 Our preferred style is definitely the BTS Skytrain or the MRT Metro, but there are also some places where you can only get by boat or taxi. The subway lines are also regularly expanded, so you can gradually explore other parts of the city by train.
Since this can easily become too much on your first visit to Bangkok, we have written a for Bangkok. Read our article: How to get around Bangkok – our transportation guide.
1. Bangkok's sights: the biggest highlights
Bangkok's number one attraction is certainly the Wat Phra Kaeo with the attached Royal Palace. Wat Phra Kaeo is considered the most important temple in Thailand, because it contains the sacred, green emerald Buddha statue.
The whole area is quite big and if you want to visit the Wat Phra Kaeo and Royal Palace in peace, then you should plan half a day. It is open daily from 8.30 A.M. to 3.30 P.M. and entrance fee is currently 500 baht.
By the way, keep in mind to cover your shoulders and wear long pants, otherwise you will be denied access. You can, if necessary, borrow something in front of the entrance for free.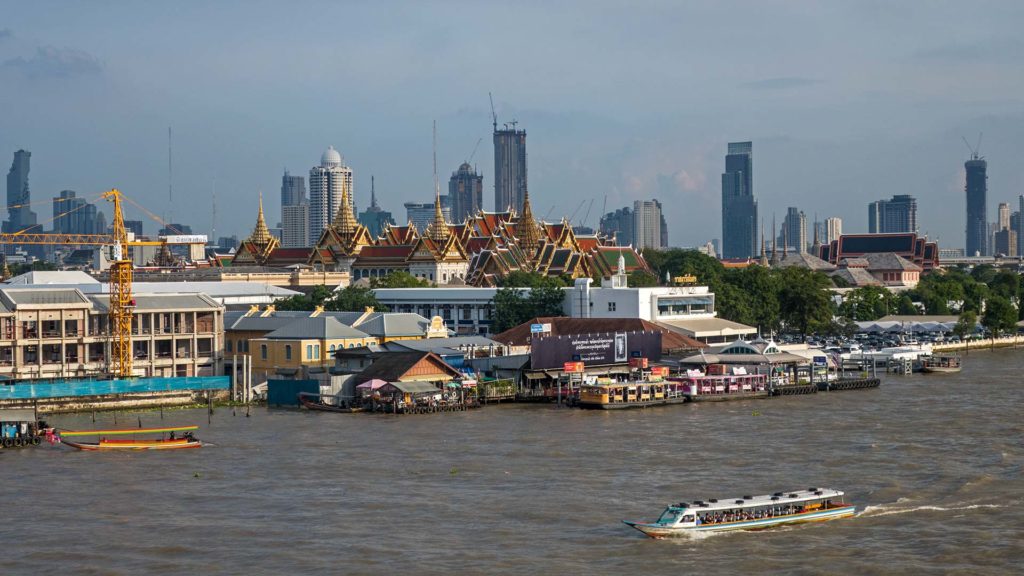 Some of Bangkok's sights are close to the Royal Palace, such as the famous Wat Pho or Wat Arun, which are absolutely among the highlights of the city. However, always expect a lot of visitors.
Wat Pho is known for its 45-meter-long Buddha statue, which requires a fee of 200 baht. There is also Thailand's most famous massage school on the site. You can not only get a massage there, but also learn the art of Thai massage.
The Wat Arun, also known as the Temple of the Dawn, is Bangkok's next highlight right at the Chao Phraya River. The 80 meter high Prang is covered with mosaic stones and truly a unique temple. The entrance fee of 50 baht is also ok. Wat Arun is definitely worth a visit!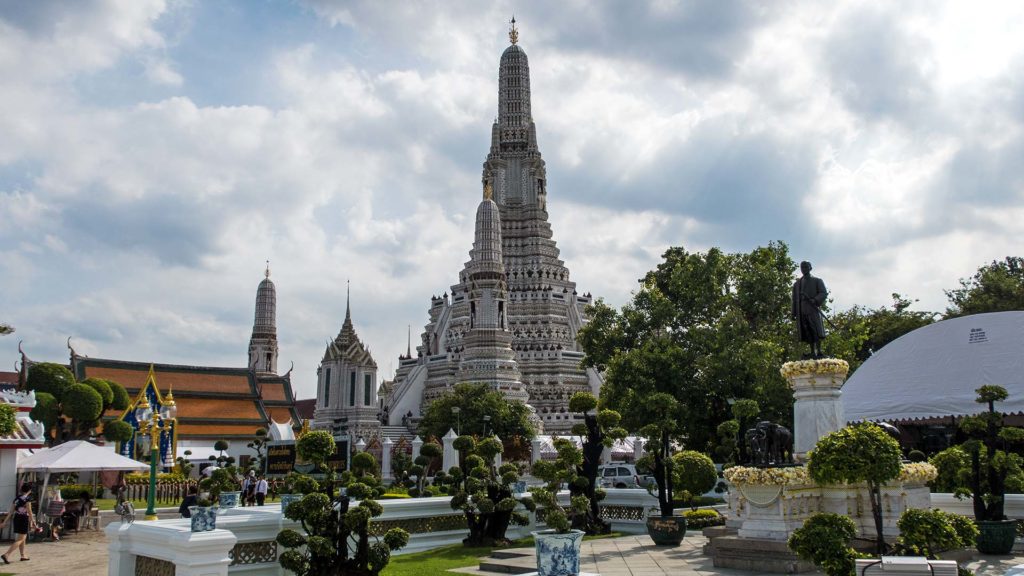 Only for these three temples you can spend almost a whole day in Bangkok, perhaps with a nice ending in a sky bar (see next point). Incidentally, you'll find even more worth seeing temples in Bangkok, if you are interested in further sightseeing.
However, this is just a small overview of some of the most important highlights of Bangkok, as the city has so much more to offer. Whether it's a visit to the Erawan Shrine, a boat trip on the Chao Phraya, exploring the floating markets or a night out, Bangkok has something for everyone. You can find even more tips in our article 20 things you should do in Bangkok.
2. Sky bars in Bangkok
Very popular among visitors are the sky bars in Bangkok. While most attend at least one sky bar during a stopover, often the Lebua Skybar from the Hangover 2 movie is the first choice. But there are a number of others to choose from, such as: the Octave Rooftop Lounge & Bar or the Hi-So Rooftop Bar.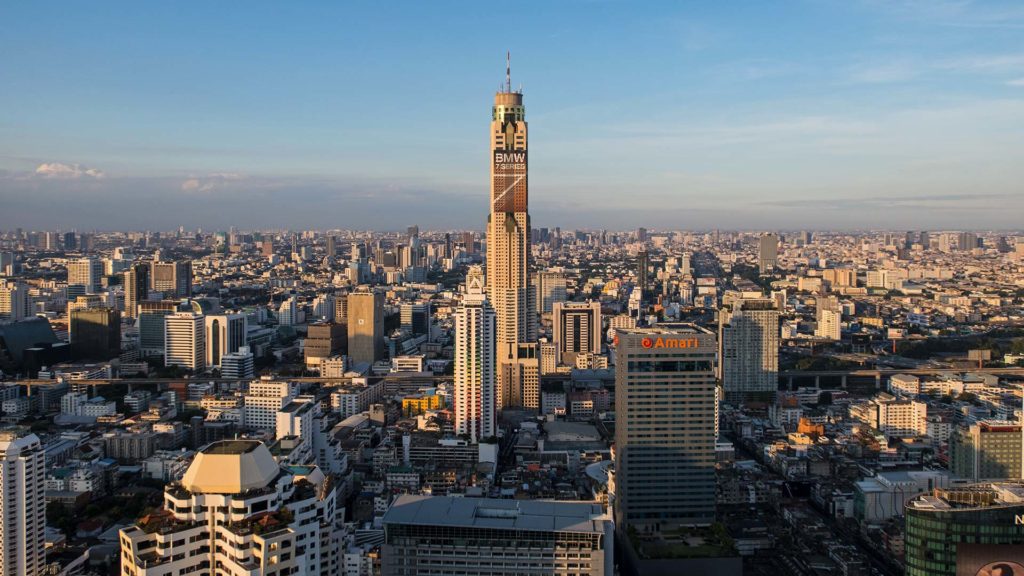 An evening in a sky bar in Bangkok is an unforgettable end to the day with all the lights in the metropolis. A must-do for a few days in Bangkok. Remember, some sky bars require something like a dress code. You can find more information about sky bars with addresses, dress codes and photos in our article on Bangkok's sky bars (coming soon in English).
3. Markets in Bangkok
Thailand and markets, that somehow belongs together and is absolutely indispensable. Markets sprout up inexorably, so there are new markets to discover every month. Of course, this is a bit exaggerated, but there are really countless markets and every time we are in Bangkok, we explore a few new of them.
There are many of the so-called "new" hipster markets, of which a you should visit e.g. the Rod Fai Ratchada (behind the Esplanade Mall at the MRT Station Thailand Cultural Center – open Thursday through Sunday from 5.00 P.M. to 1.00 A.M.) or the JJ Green Market, officially named Green Vintage Market (arriving by BTS or MRT to the Station Mochit or Chatuchak – open Friday to Sunday from 5.00 P.M. to midnight).
But of course there are many more night markets you can discover while visiting Bangkok. A few more would be e.g. Talad Neon Night Market, Suan Lum Night Bazaar or the Siam Gypsy Market.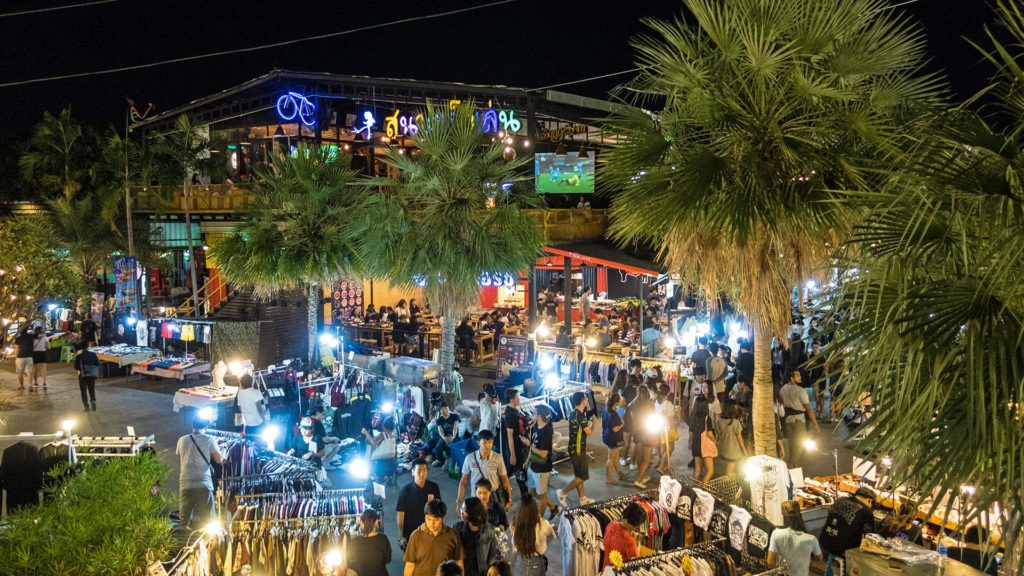 But there are also other night markets, such as the Patpong Night Market, which is located in the middle of a red light district, or the Asiatique Riverfront Night Market, which was built especially for tourists on the banks of the Chao Phraya River in Bangkok.
Also during the day you will find markets. One of the best known is the Chatuchak market with over 10,000 booths where you can buy just about anything. Every weekend it is open and attracts thousands of visitors. Definitely an experience! Here you can find out everything else about the Chatuchak Market.
Or how about a visit to Pak Klong Talad? There you will not find any souvenirs etc., but a huge flower market, which attracts many visitors especially in the morning hours.
As you can see, the selection is huge. However, we would advise you to visit no more than one market per day on your first visit to Bangkok, as the city has so much to offer. And if you are just staying a few days, there are many other attractions and activities to do in Bangkok.
4. Popular neighborhoods of Bangkok
Bangkok is big and has tons of neighborhoods. As a first-time visitor to Bangkok, you will most likely be staying in the most popular neighborhoods, they are popular with a reason.
For backpackers in Thailand, Khao San Road and the area around Rambuttri Road are very popular. It is called Rattanakosin, but is also colloquially referred to tourists as Old City. Incidentally, the Royal Palace or Wat Pho are also located here.
Another area that is very popular is the Riverside. Here are many first-class hotels like the Millennium Hilton or the Shangri La right at the river. But Rooftops Bars or Asiatique Market are also nearby. You can also explore the Chao Phraya River by boat and ride to the Old City.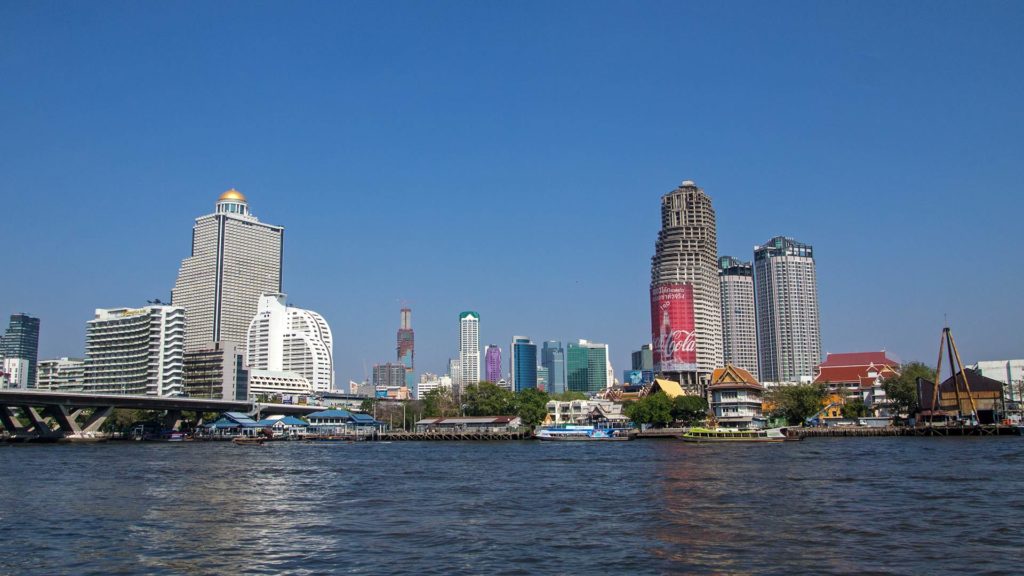 Furthermore, of course Chinatown has to be named in the popular neighborhoods. There is always something going on in Chinatown and the smells of the many kitchens and food stalls are constantly rising in your nostrils. If you love food, you're in the right spot. Other attractions, such as the Wat Traimit, Chinese temples or the many shops where you can buy a lot of things, attract many visitors.
Last but not least, our personal favorite district when we are in Bangkok is Sukhumvit. While the area does not have much to offer on sights, there are a few like the Erawan Shrine. However, there are several areas around the Sukhumvit Road, where you can eat cheap, many shopping malls (also with food courts) and, above all, a great connection to the train. Hence, for us it is the best starting point to explore Bangkok easily.
5. Interesting tours in Bangkok
If you do not want to explore the city on your own, because you might feel overwhelmed at the beginning, how about an organized tour? You can also get to know other Thailand travelers and at the same time see something away from the well-known destinations of Bangkok.
There are numerous tours offered in Bangkok. Also on site you will find offers for tours in almost every hotel or in the travel agencies. We have listed some interesting trips here, but of course that's just a small choice:
If you want to know more about trips and tours in and around Bangkok, have a look at our partner's website GetYourGuide. It's not just about tours in Bangkok, but also outside, for example to Ayutthaya or Kanchanaburi.
6. Cheap food in Bangkok
Bangkok is the paradise of the food stalls. Although much has been written about the fact that these are increasingly disappearing from the cityscape, there are still many to be found. But not only food stalls, even street carts you will find a lot, especially in the evening.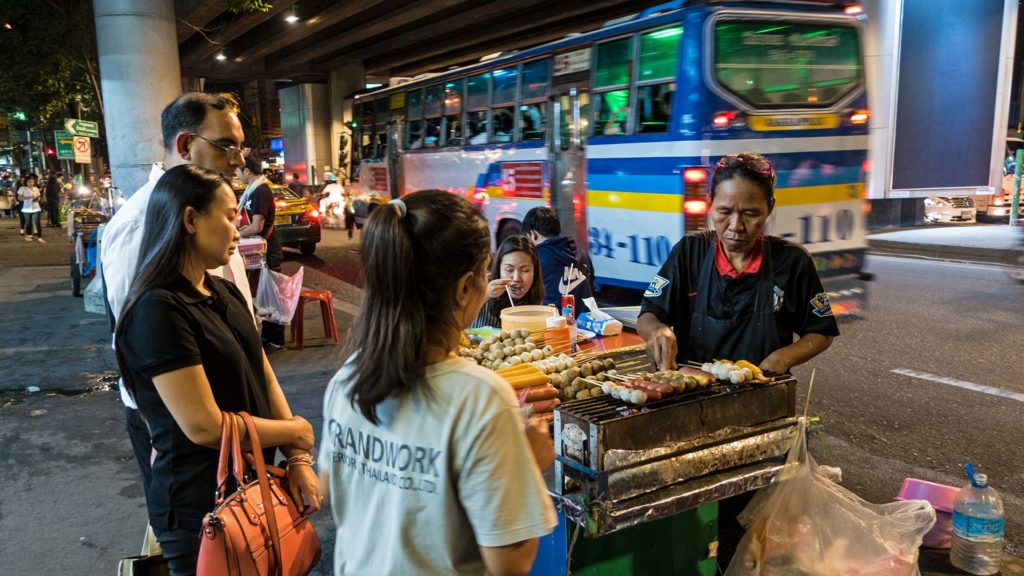 Here the food is the cheapest and usually the tastiest. But even in the restaurants you can eat on a budget, at least where the locals eat. The restaurants for tourists are of course the most expensive, but that does not mean that it is not too delicious.
By the way, you can find another cheap alternative while eating in the shopping malls like Terminal 21, MBK or in the Big C Supercenter. There are so-called food courts, where you can have delicious and, above all, cheap food. Everyone will surely find the right dish here.
You can find more tips on Thai dishes that you should absolutely try in our Thai food guide.
Plan your trip to Bangkok now
More hotel recommendations for Bangkok:
Popular routes to Bangkok:
---
Have you been to Bangkok for a stopover? How do you like the city? What do you think is a must on the first visit or stopover? We look forward to reading your comment.
Photo 1: Courtesy of Chatrium Hotel Riverside Bangkok