Dieser Artikel ist auch verfügbar auf: Deutsch
Wae Rebo is something special in every way. Not everyone knows the small village in the mountainous hinterland of the Indonesian island of Flores. But Indonesian travel influencers and instagrammers are working on this fact to change. Wae Rebo is already the dream destination of many adventurous Indonesians, whereas foreign tourists still regard it as a small insider tip.
Wae Rebo review – is it worth it?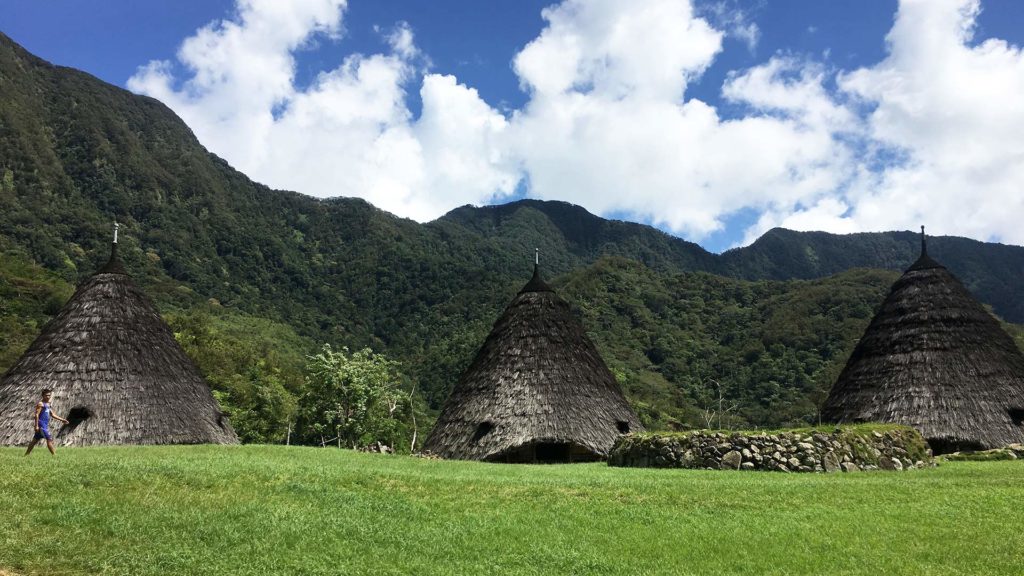 ---
First a few facts, so that you can imagine where you can find this legendary place:
Wae Rebo is located on the Indonesian island of Flores, which you can reach with a short flight from Bali or with a longer one from Jakarta.
From Labuan Bajo, the largest "city" in Flores, it is actually only 70 km to the foot of the mountain on which Wae Rebo is situated.
Wae Rebo itself can only be reached on foot, via a 2 or 3 hours hike steeply up the mountain (depending on your personal fitness level).
The village itself is situated on a plateau surrounded by breathtaking jungle-covered mountains.
Our own story with Wae Rebo began with a short trip to Flores in November 2018 – we flew to Labuan Bajo to discover Komodo dragons, manta rays and other marine life in the adjacent national park. Over beer and fried fish at the night market we had a chat with Indonesian travelers who told us about the mystical Wae Rebo. A village that can only be reached on foot? A wild drive into the hinterland of Flores? Indigenous people who lives there undisturbed? We were hooked.
How to get to Wae Rebo
A few months later we were ready to go: from Bali we flew to Flores, rented a motorbike in one of the many shops lining the street after a hearty breakfast in the Bajo Bakery (they have Swiss cheese and fantastic Flores coffee) and drove off.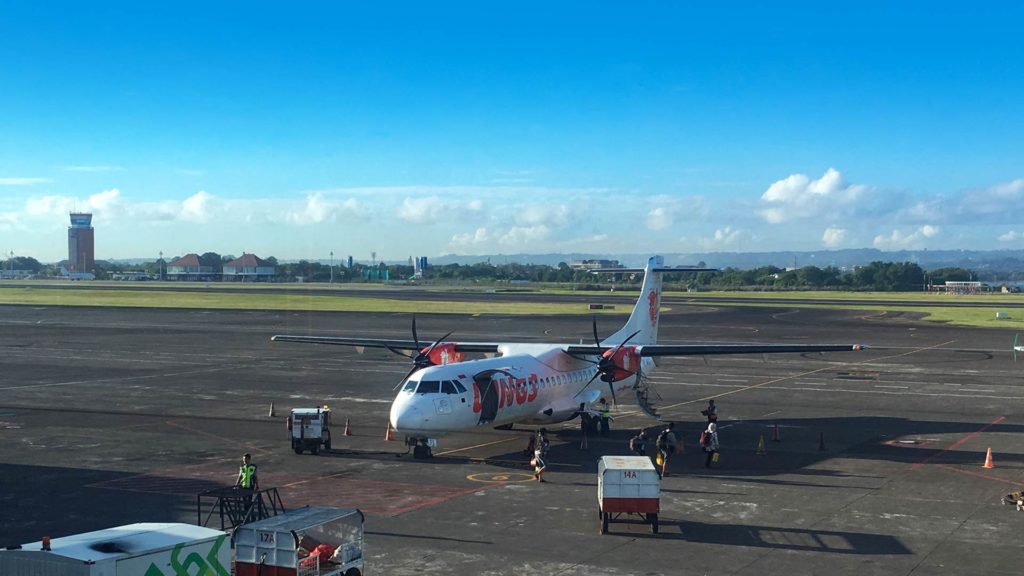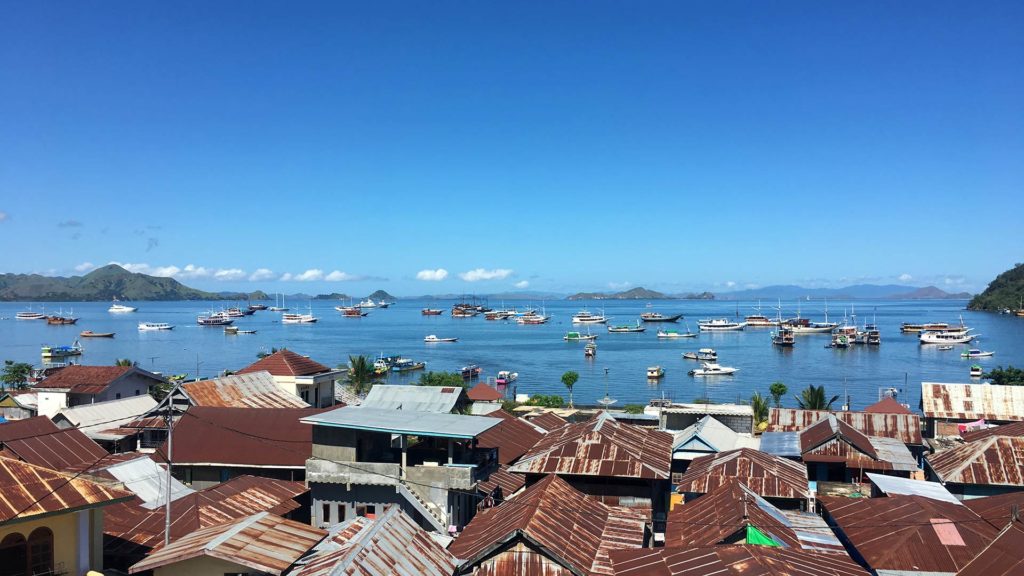 One more thing: If you decide to go on this adventure, you have to be able to ride scooters very well. Some "roads" are often not paved, very steep, completely made of huge stones with big gaps between them or lead through rivers. Be realistic about your driving skills and don't drive alone. For many kilometers you will not meet anyone – that means if you are out of petrol, get a flat tire or whatever, it's much better to drive together with a fellow traveler. And insist on a helmet – many scooter rentals won't automatically give you one, as police checks in Flores are rare. But since the roads are so bad, wearing a helmet is still a serious life insurance.
The first 20 or 30 km the roads are paved – very curvy and narrow, but paved. When we were on the road in April, there were several landslides – i.e. the roads were hardly passable. Fortunately it was dry. If it had rained, it would have been very dangerous. Therefore I recommend a trip in the dry season (March to September).
On the mountains above Labuan Bajo there are some nice viewpoints from where you can see parts of the Komodo National Park. That could be perhaps a first photo stop, in order to stretch your legs a little, because the way to Wae Rebo is still long.
In the hinterland of Flores
After we had passed the mountains, we arrived in the flat hinterland of Flores, which looks like it has fallen out of time. The further away we were from Labuan Bajo, the fewer cars there were. At a certain point there are no petrol stations, no supermarkets, no Warungs anymore. Only rice fields, farmhouses, cows and a few scooters. The silence was deafening. We were stunned. How could a few kilometers make such a difference?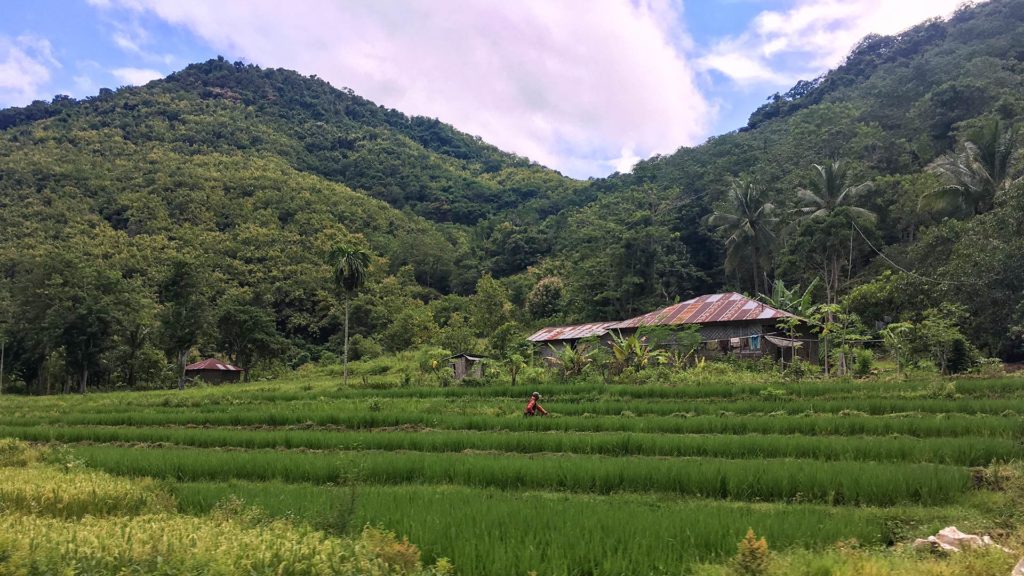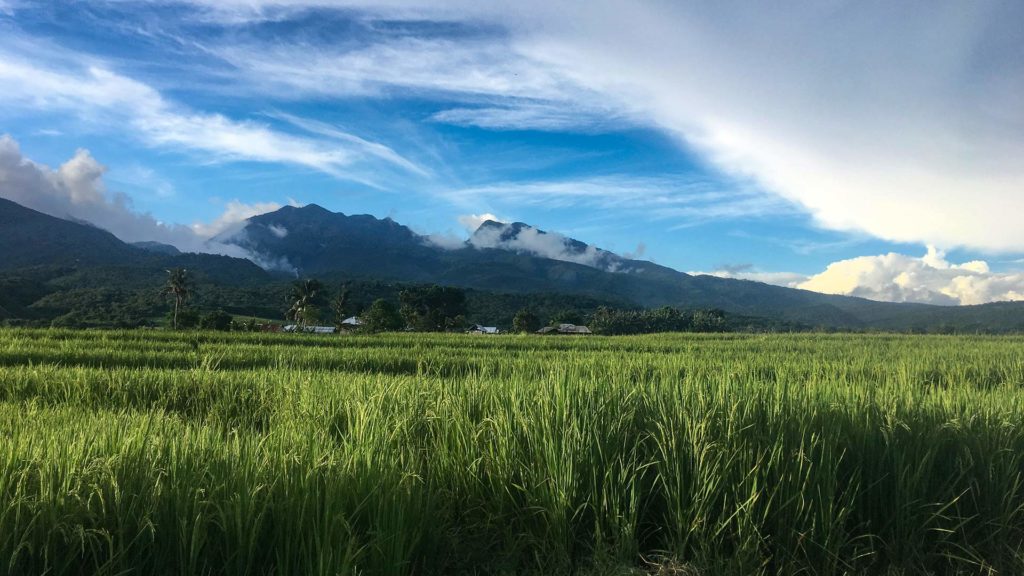 Our journey took us across makeshift bridges, wobbly wooden footpaths, through rivers, foothills of the sea (sometimes it takes a lot of strength to push the scooter up and down at places, because some stretches of the road are not "drivable").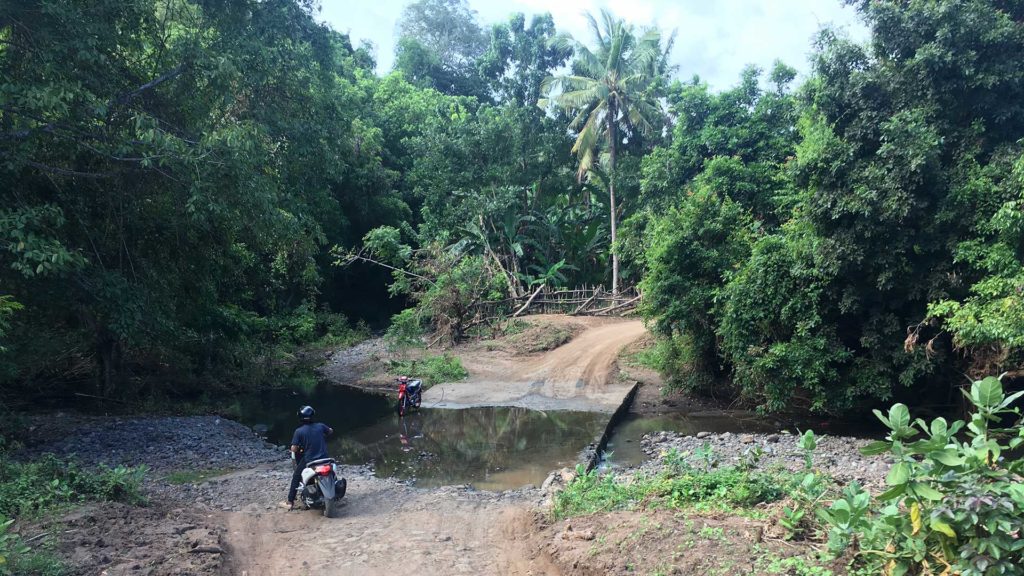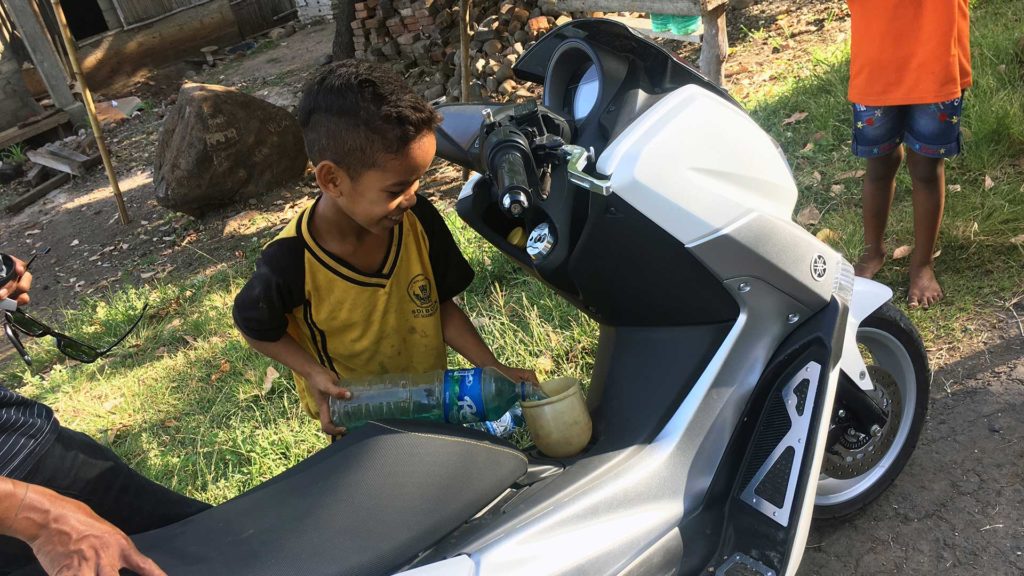 To get to Wae Rebo by scooter, there are several routes – it is best to download an offline map, as there is no cell signal after a certain point and no road signs anyway. I recommend you to enter "Dintor" or "SDK Denge" in Google Maps. Cars usually take the road to Ruteng, which is a bit further. We chose the route to Dintor, which led us along the sea. Long, long distances without meeting anyone (except a few goats) – the salty wind on our skin – it was a dream come true!
Although it is only about 70 km (depending on the route), our scooter tour took more than 5 hours because of the sad state of the roads. Don't underestimate that and start in any case before noon in Labuan Bajo. In the darkness, it is impossible to drive on these kind of roads, and you will very likely get lost as well.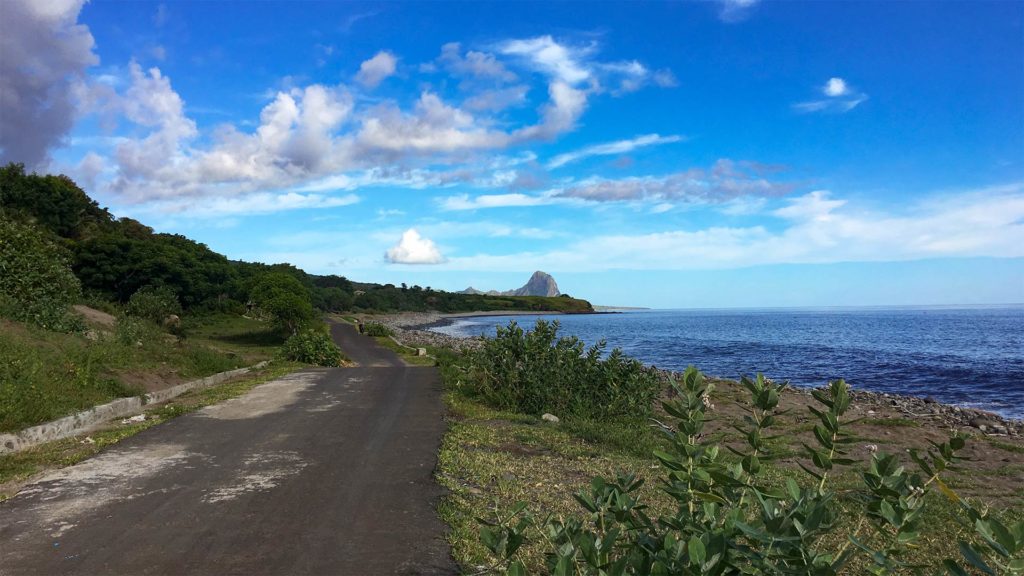 Wae Rebo Lodge
We arrived at Wae Rebo Lodge – one of the two accommodation options in the village of Dintor, where you can spend the night before your hike the next morning. The Wae Rebo Lodge is beautifully set in the emerald rice fields, has only a few hours of electricity a day (remember this if you want to recharge your phone) and serves you 3 meals (included in the price of approximately 25 Euro): In the evening when you arrive, in the morning before you leave, and after the hike when you return to pick up your scooter/luggage. The food has always been the same: rice with vegetables/fish/meat.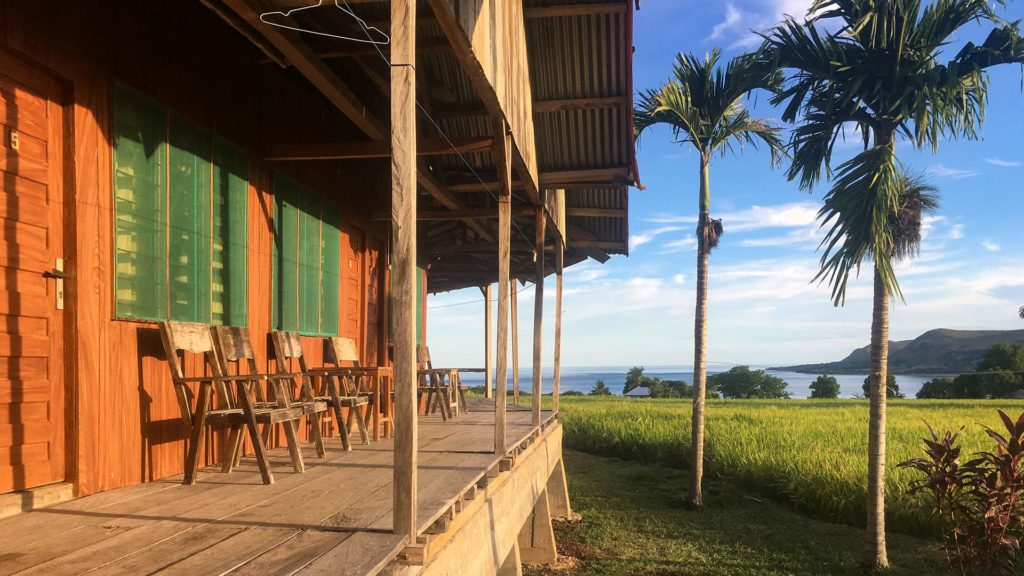 Since there wasn't much to do in the lodge, we went to bed early (not without taking a good look at the star-studded sky, of course). At 5.00 A.M. we got up, had our rice breakfast and drove the last few kilometers to a kind of parking lot from where all the hikes to Wae Rebo start.
We were not sure about whether we should hire a guide, but decided against it. As it turned out, this was not necessary. There is only one path and it leads steeply upwards through dense jungle with orchids, all kinds of plants and animals.
Depending on the humidity level, there can also be leeches. My travel partner got bitten by one – even though it is not considered dangerous, it is something to keep in mind. The (small) snake that crossed our path was also part of the whole jungle adventure package. You don't necessarily need hiking boots, a pair of good sneakers will do. But I recommend you to wear long (linen-)pants, because it's a bit cool up there (in the village). After 2 hours of climbing and clambering we reached a point with a view of the mountain valley, where the roofs of the huts of Wae Rebo were already peeking out of the forest. A very sublime moment and after all the sweating and getting up early we had the feeling that all the effort was worth it. But this feeling was not meant to stay…
Finally: Arrival in the village of Wae Rebo
In front of the village itself there is a board with rules which should give orientation: e.g. no display of affection, no leaving behind of garbage etc. After this board you walk through a solidly built village until you see the famous huts of Wae Rebo.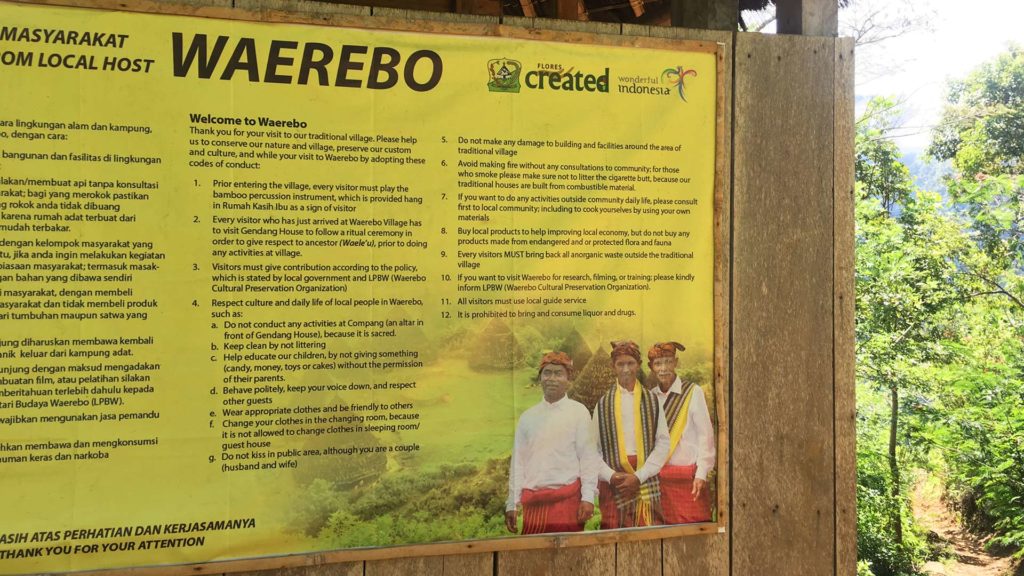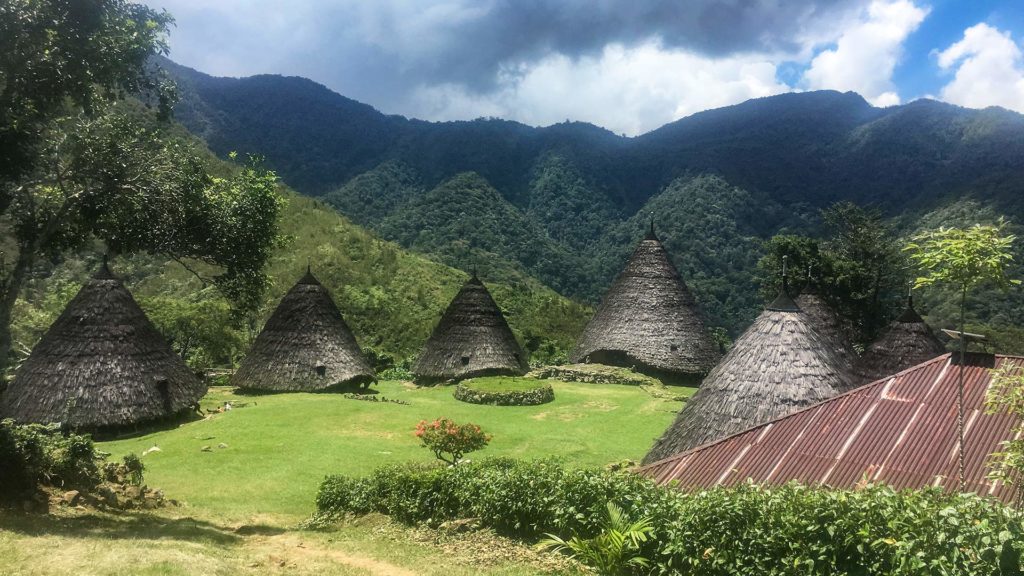 We were told to wait at the entrance until someone from the village picked us up. But since nobody showed up, we went straight to the biggest hut to present ourselves to the village elder.
Important note: you are not allowed to take photos until you have been greeted by the village elder. He accepted our mandatory "donation" of 50,000 IDR per person (about 3.50 Euro) and welcomed us to Wae Rebo. Theoretically, you can decide by yourself how much you want to "donate".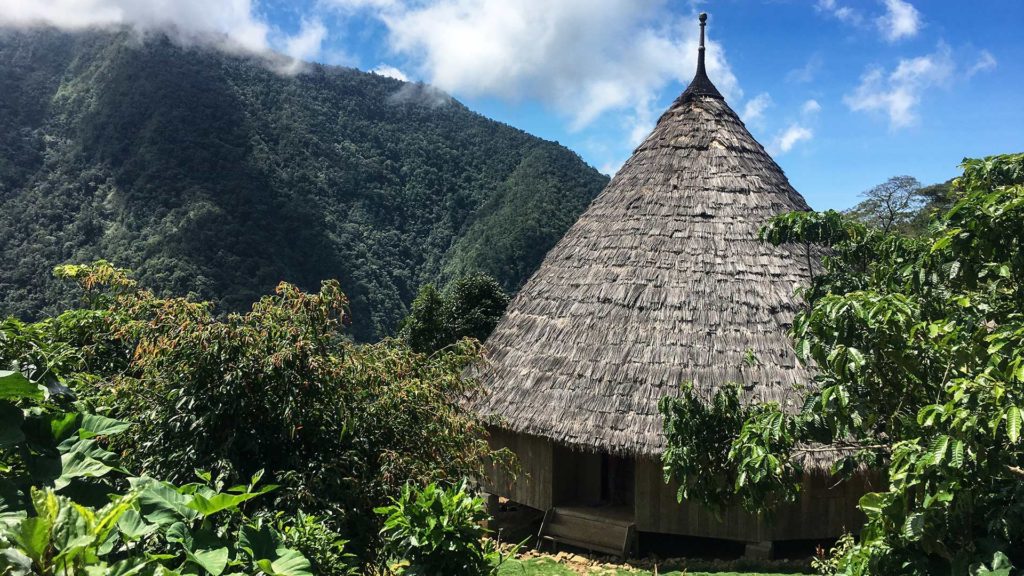 A young man led us to another hut – there he showed us our sleeping spots (350,000 IDR per person per night, about 22 Euro) on the floor of the common room. We were a little surprised about the price – even more when we learned that the huts were not "authentically" old, but were recently rebuilt by a team of architects from Jakarta according to old models.
The villagers also didn't seem to live in the huts at all, but in the more solid concrete houses a little further up. There was no interaction between the villagers and the tourists, but the children tore the wooden crayons we brought for them out of our hands and ran away. In the hut for the tourists there was also a souvenir shop where you could buy woven scarves, coffee and honey.
We were so surprised by the prices for the overnight stay, the anticipated coldness of the villagers and the generally rather unpleasant mood in the village that we turned back on our heels and started the way down with the hope to arrive back in Labuan Bajo before nightfall (spoiler Alert: we didn't quite make it and had to drive through the pitch-black mountain roads. Not to be recommended!).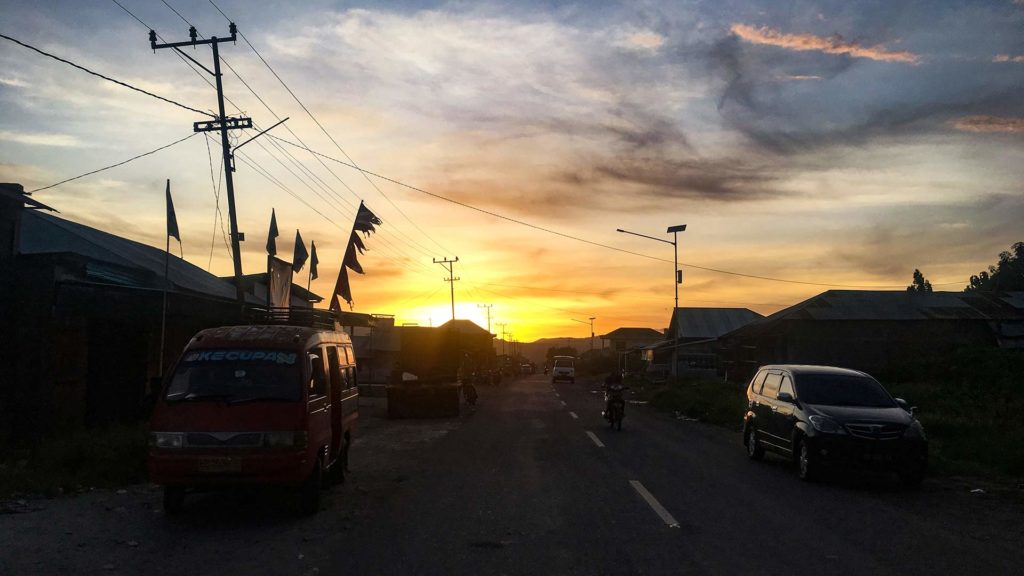 Conclusion
It is a sensitive topic and of course a matter of taste; also a matter of what you are looking for. How much "authenticity" can one expect when traveling to a presumably "remote" place? For me personally, the village of Wae Rebo was a bit too touristic, and not in a nice way. The atmosphere was weird and I had the impression that a show was put on for the tourists. Other friends who had visited the place found it magical, experienced the people as extremely friendly and the prices absolutely reasonable. So it really depends on what your own perspective is. For me, the beautiful motorbike trip back and forth was far more rewarding than the visit of the village itself.
---
About the author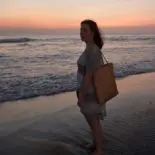 If she's not doing yoga or racing around Indonesia on a motorcycle, Lisa will be found close to a turquoise beach, preferably a glass of red wine in her hand and sand between her toes. Having lived in Southeast Asia for more than 4 years, she's fallen deeply for this part of the world – if only there was more 'real' Pizza around! You can follow her travels and hunt for Pizza on Instagram: @lisa_asia
Have you been to Wae Rebo before? How was your experience? Did you like the village? Let us know in the comments!