Dieser Artikel ist auch verfügbar auf: Deutsch
The Empire State Building. High above the roofs of New York. It has always been a dream of mine to enjoy this view, which is seen in many movies, TV shows and magazines. Almost 80 years after the opening in 1931 it was finally about to happen…
The impressive view from the Empire State Building at night
---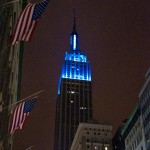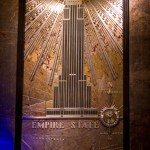 The night closed in and we walked from the Times Square to the Empire State Building, which is about 10 minutes away. From a distance we could see the blue illuminated top of this 102 floors high and at the Fifth Avenue located building.
It was 11 p.m. already but we decided to give it a try. Do we really have a chance to get up on the observation deck at this time? We weren't really prepared and so we neither knew the opening hours nor the lining up time. Whatever, you don't have to plan everything! As we finally arrived it turned out that being spontaneous is good. Opening hours from 8 a.m. to 2 p.m., 7 days a week – lucky us! The atmosphere of the entrance hall is quite impressive. The walls are decorated with marble and USA flags. A huge picture of the Empire State Building carved in marble is front of us.
So we took the escalator to the ticket office and were prepared to see a long waiting line in the next moments, but, oddly enough, there was nothing! We kept moving through the entry halls until we finally arrived at the ticket office – without even waiting a minute! After a look at the price list (adults $21 to the 86th floor and $15 more to the 102nd floor) we decided to take the cheaper one and hoped to not regret it.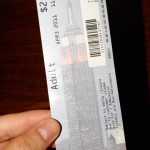 With the tickets in our hands we walked to the elevators (the Empire State Building has 73 of them but not all are opened for tourists). Then we were welcomed by a friendly staff member who showed us the way. A few moments later after entering the elevator it went up to the 86th floor. 10 – 20 – 30. How fast is that??? High speed elevators! At the 63rd floor it suddenly stopped and we were a bit confused until the staff told us to change the elevator. Finally we arrived at the 86th floor. We could also take the 1860 stairs but we are NOT insane!!!
We entered the observation deck and the view was literally breathtaking!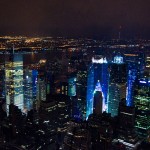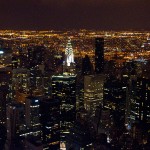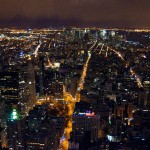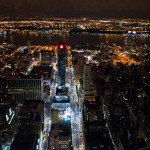 A 360 degree view over Manhattan with the Chrysler Building, Lower Manhattan, the Statue of Liberty and the Flatiron Building. Awesome! The wind is blowing hard up here and it's still really cold in april. So what are you supposed to do? Nothing, just shut up and enjoy! It was not a mistake to go up to the 86th floor today.
Despite the spontaneity it was an incredible first night in NYC and I'd recommend it to everybody. And if you don't wanna run around such disorganized as we did, here is some information:
Address: 350 5th Avenue, NYC
Official website: www.esbnyc.com
Opening hours: 8 a.m. to 2 p.m. (7 days a week)
Entrance fee (as of june 2012):
Adults $ 27 (86th floor)
Children $ 19 (86th floor)
Adults $ 42 (86th and 102nd floor)
Children $ 36 (86th and 102nd floor)
Height: 381 meters (449.5 meters with antenna)