Dieser Artikel ist auch verfügbar auf: Deutsch
Prague – the Golden City of 100 Spires, as it is often called, has something magical. The city has an exemplary flair of Eastern Europe but is still unique. Simply a true cultural metropolis with a long history.
One day in Prague – sights and tips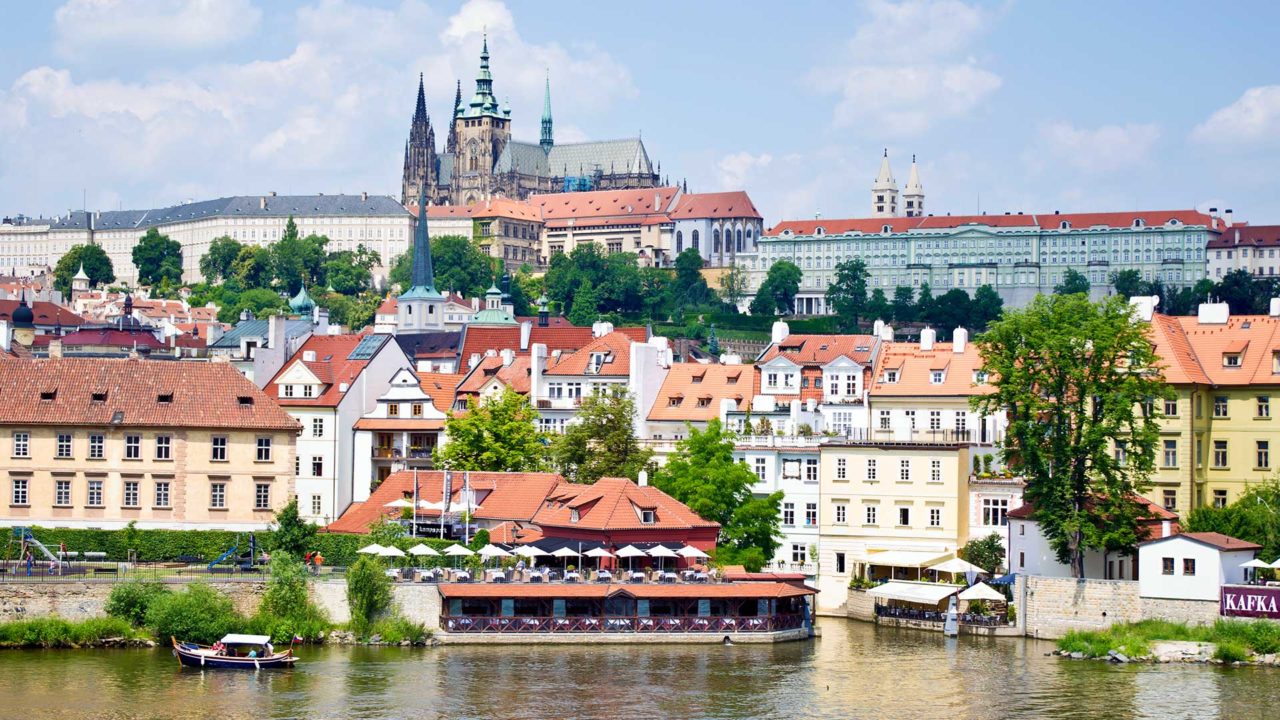 Most of the important sights you can explore perfectly on a one-day trip by foot and that's what we are going to do in this article. For the lazy ones there are also plenty of vintage cars that you can use for your sightseeing trip but the fact is that you will see more when you walk around on your own!
---
How to get to Prague
The fastest way to get to Prague is by airplane. Many German cities have direct flights to the Czech capital. From many cities such as Düsseldorf, Hamburg, Munich, etc. you can find great deals to spend a weekend in Prague. Times, connections and tickets can be found at Skyscanner.
Note: From the airport there is a cheap shuttle bus that will take you directly to your hotel in the city. Here you can find tickets online.
The intercity bus and also the train are alternatives with a direct connection e.g. from Hamburg, Berlin or Dresden. The ticket prices can vary a lot, but at Omio you will always find a good deal. Flixbus also has connections to Prague.
One last option would be the car. You can drive from the directions of Berlin or Dresden easily to Prague or you could also combine the trip with Vienna and start from there. Although it is comfortable and you are not tied to any time, parking can be difficult to find or expensive.
Accommodations in Prague – our hotel tip
Prague offers a variety of hotels for your city trip. Many of them are located in the old town or the surrounding area, which is a good starting point to visit Prague. It will only take a few minutes walk to the middle of the action and you can easily explore the city.
We can recommend you the Pytloun Boutique Hotel Prague. It is located directly on Wenceslas Square, which is also the starting point of this article. The modern rooms have a feel-good factor and come with air conditioning, free Wi-Fi, TV and much more. Despite its proximity to the city, it has a quiet location, friendly staff and a good breakfast on site. Find more hotels in Prague here.
Prague: Tours and tickets
Info: If you want to save time and money, then you should take a look at the Prague Card. This will give you free entry or discounts to many sights in Prague. It is really worth it!
---
1. Wenceslas Square (Václavské Náměstí)
We start at the Wenceslas Square which is only a few minutes away from the Prague central station. It is considered as one of the largest squares in Europe and with its length of over 700 meters that is no surprise. Here you can also find the National Museum of Prague. The entrance fee is 180 CZK (about € 7) and it is open daily from 10 A.M. to 6 P.M.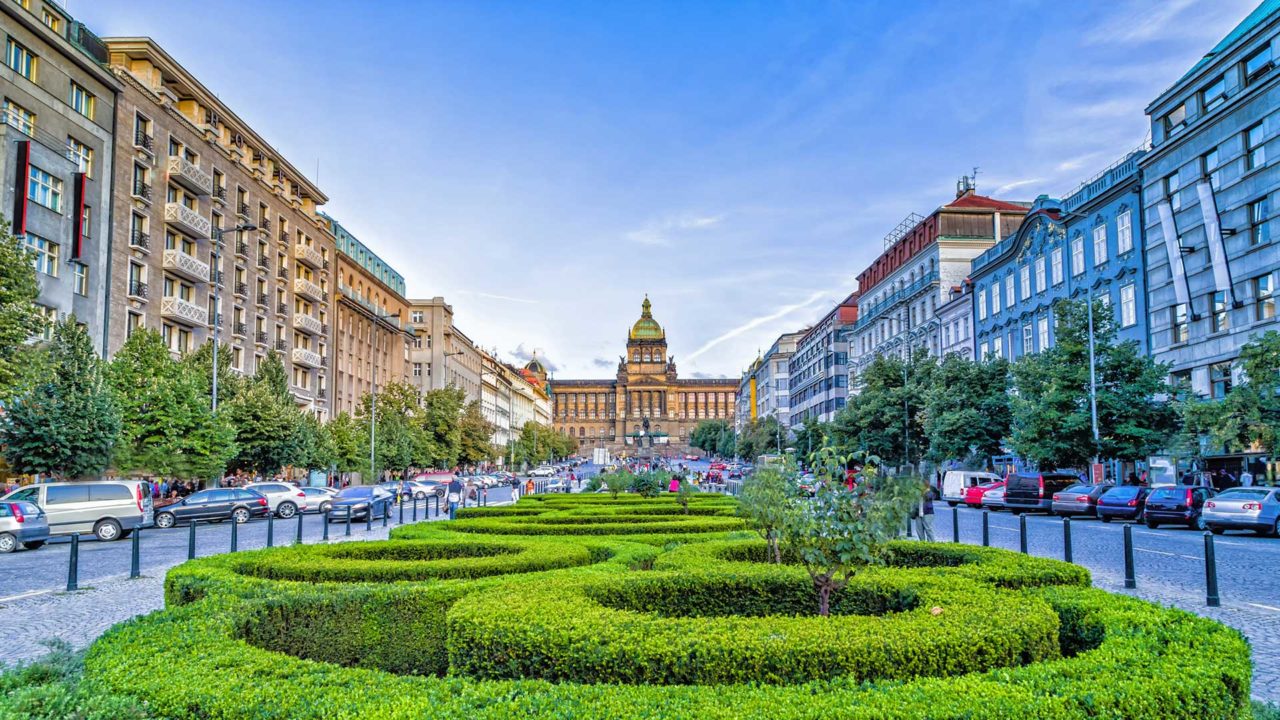 When you walk along the Wenceslas Square with its plenty shops and hotels towards the Old Town and follow the small streets and alleys, you will eventually arrive at the Old Town Square. Find out more about the old town and the Jewish quarter on one of the popular tours.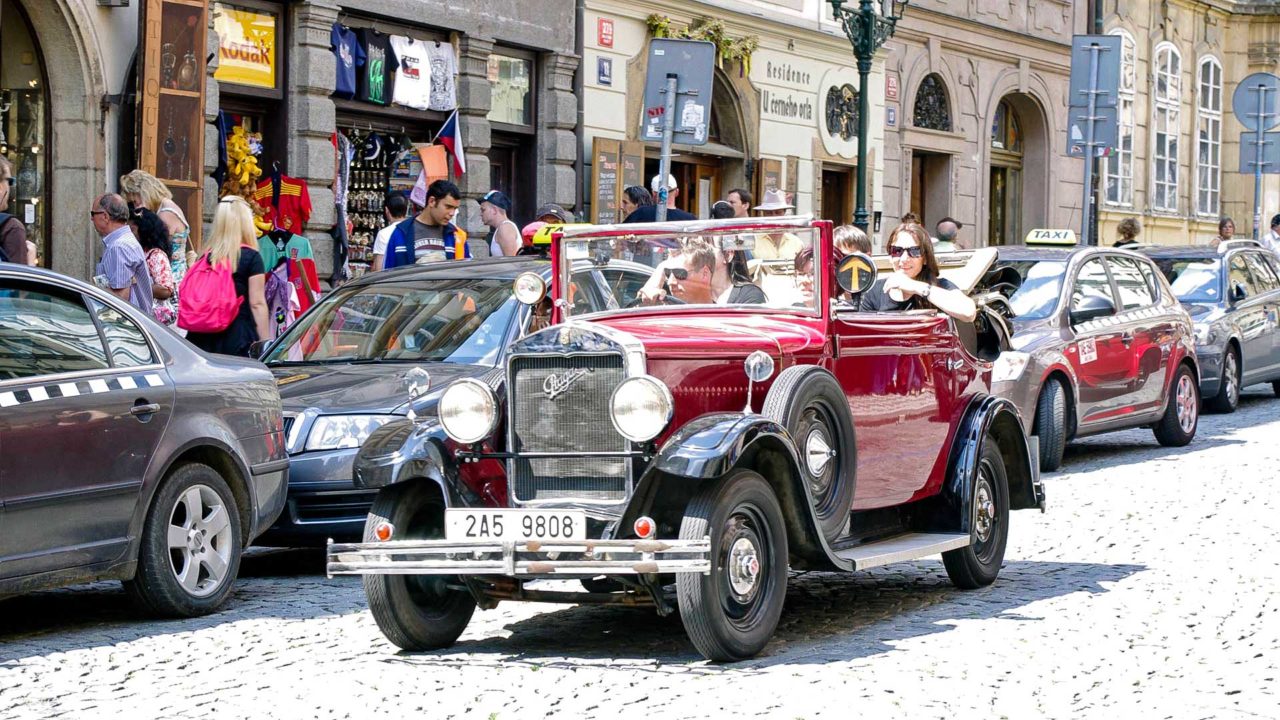 2. Old Town Square (Staroměstské Náměstí)
At the Old Town Square you will find the Town Hall Tower with the world-famous Town Hall Clock, also known as the Astronomical Clock that nobody can read. However, everyday hundreds of people stand in front of it and take numerous pictures.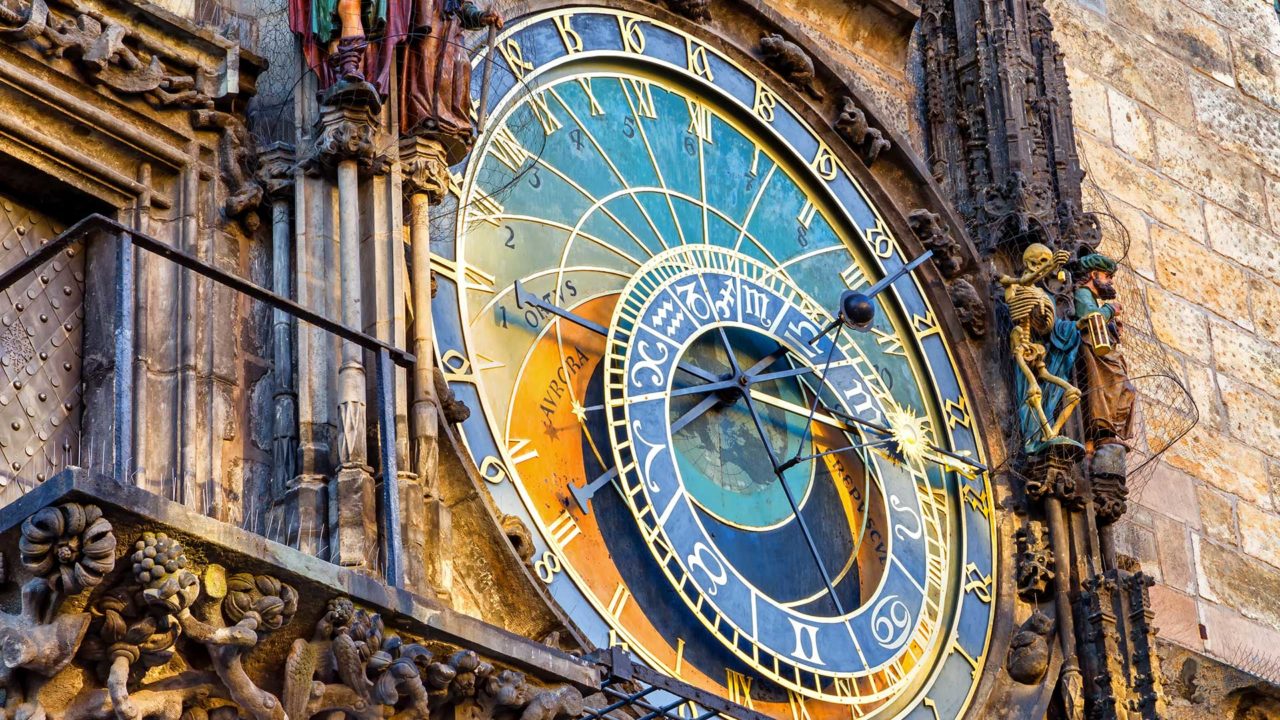 It gets really interesting at every full hour when the clock starts to move and the Apostles look out of the tiny windows or the "Death" rings the bell. After that the tower trumpeter comes out on the top of the tower and starts to play his instrument in all directions.
By the way, you can (and should) also go up the tower and enjoy the gorgeous view over the roofs of Prague. Depending on the time, it might get very crowded. Here you can find cheap tickets and tours.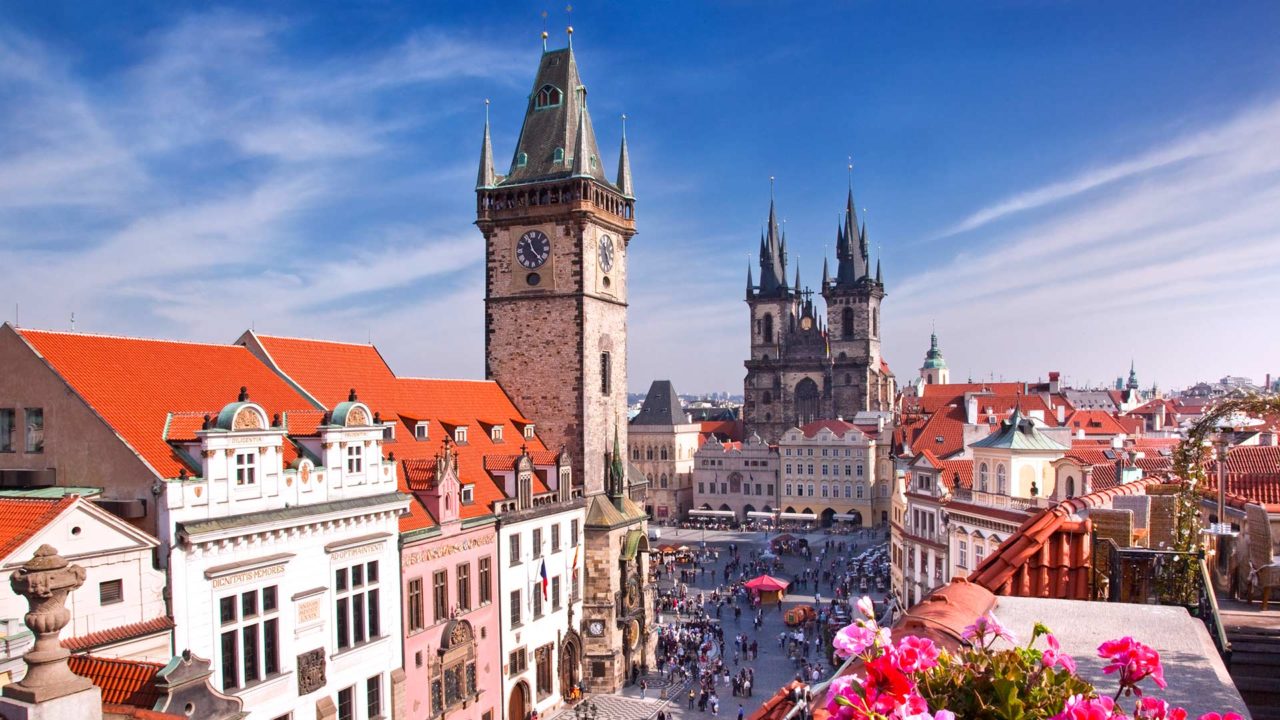 At the Old Town Square there are many restaurants where you can sit outside and have a nice view at the town hall tower or the Týn Church with its two remarkable towers.
Even if the prices are higher (comparing to Germany or Western Europe they are still cheap) it is definitely worth it! You can watch the hustle and bustle on the square and listen to the street musicians while drinking a delicious Czech beer – or just eat something. Hefty dishes and good beer – that's what Prague is also famous for. Simply Bohemian style! Na zdraví!
3. Charles Bridge (Karlův Most)
We move on towards east. After approximately 10 minutes of walking we arrive at the Charles Bridge – most probably one of the landmarks of Prague. Accordingly, you will find the typical scenario here: Asians with Nikon SLR cameras and big telephoto lenses (of course two more lenses are in their bag), souvenir vendors, street musicians, caricaturists, pickpockets.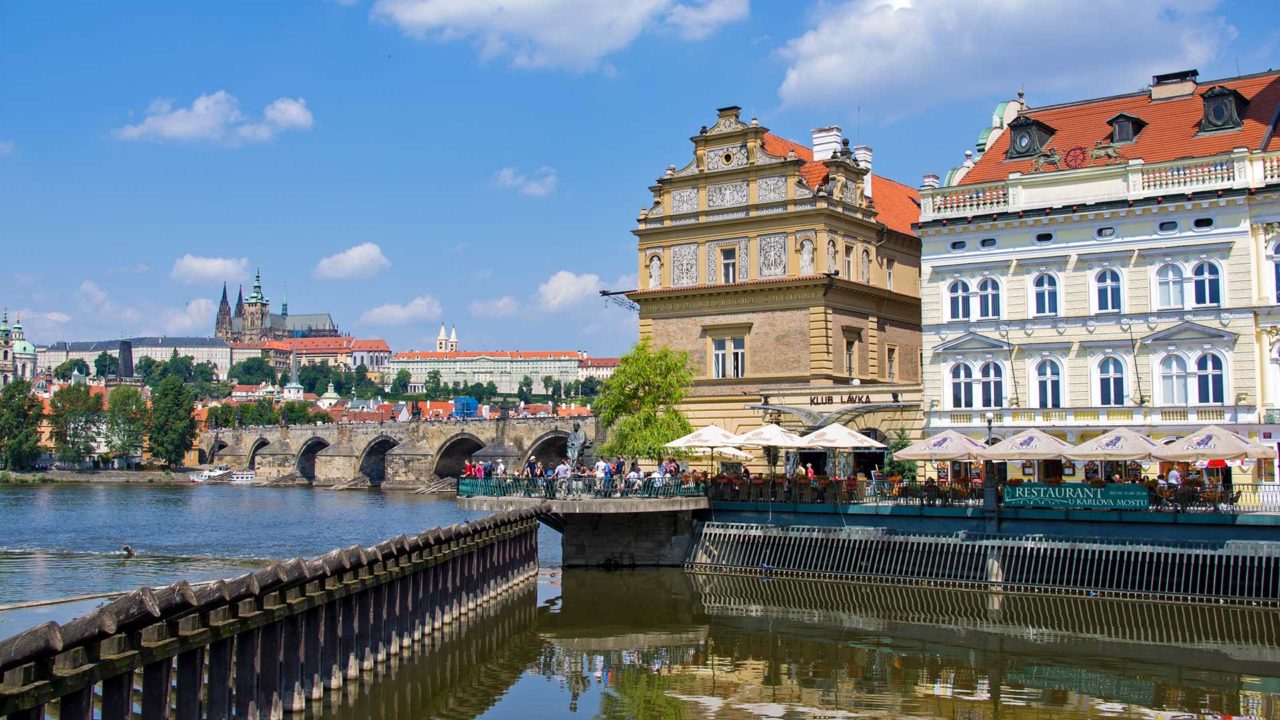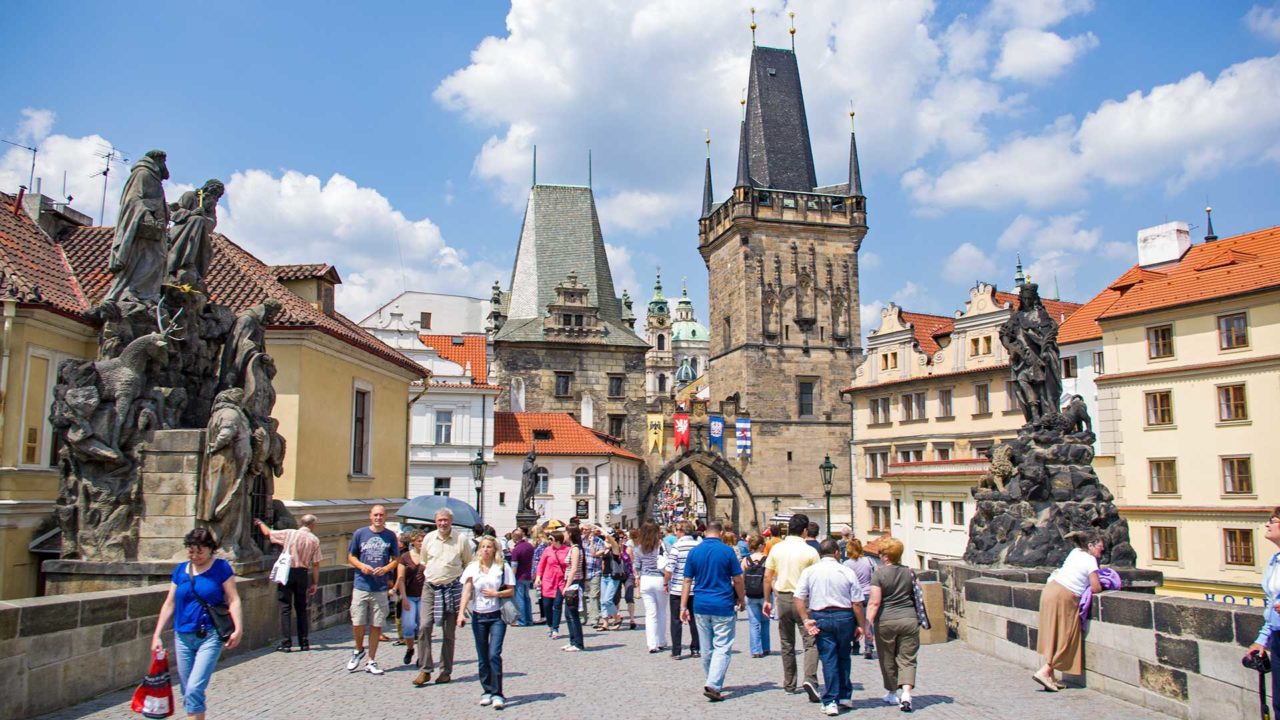 Remarkable are the plenty statues of the Saints placed on the bridge pillars. In the background you can see the Hradčany and the Prague Castle which will be our next destination. Cross the Charles Bridge and walk the way up to the Hradčany.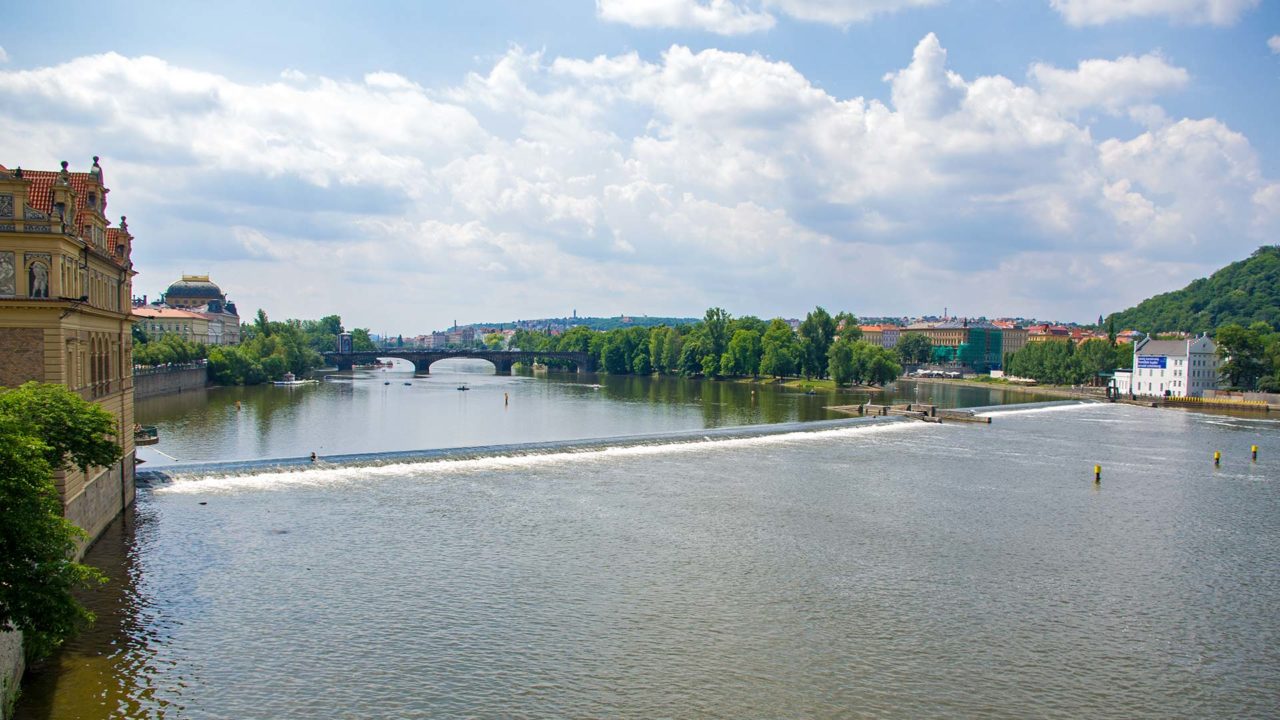 4. Hradčany and the Prague Castle (Pražský Hrad)
You will walk the "Royal Way" and follow the street "Mostecká" until you arrive at the Church of Saint Nicolas. From here you have to walk approximately 10 more minutes to get to the entrance of the Prague Castle.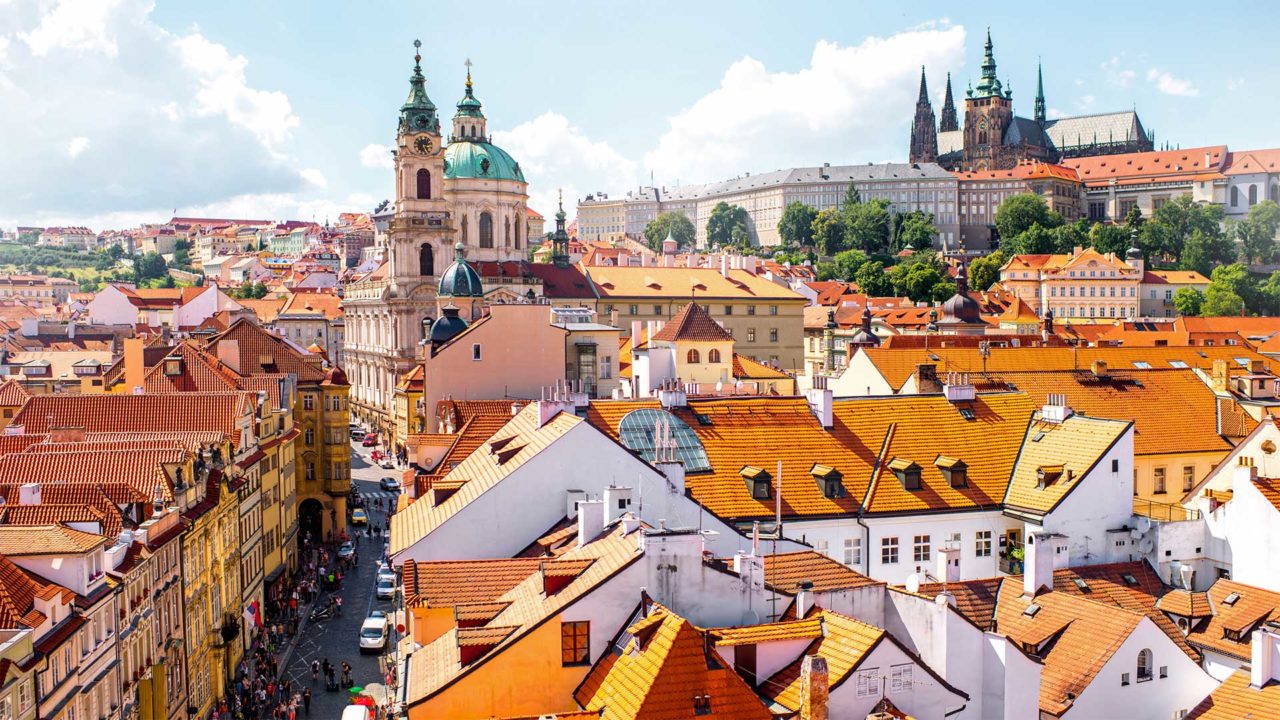 After you made the steep walk to the top you can finally enjoy a superb view over Prague and the Old Town. A great postcard motif and a short stop. In the distance you can also see some of the sights of Prague.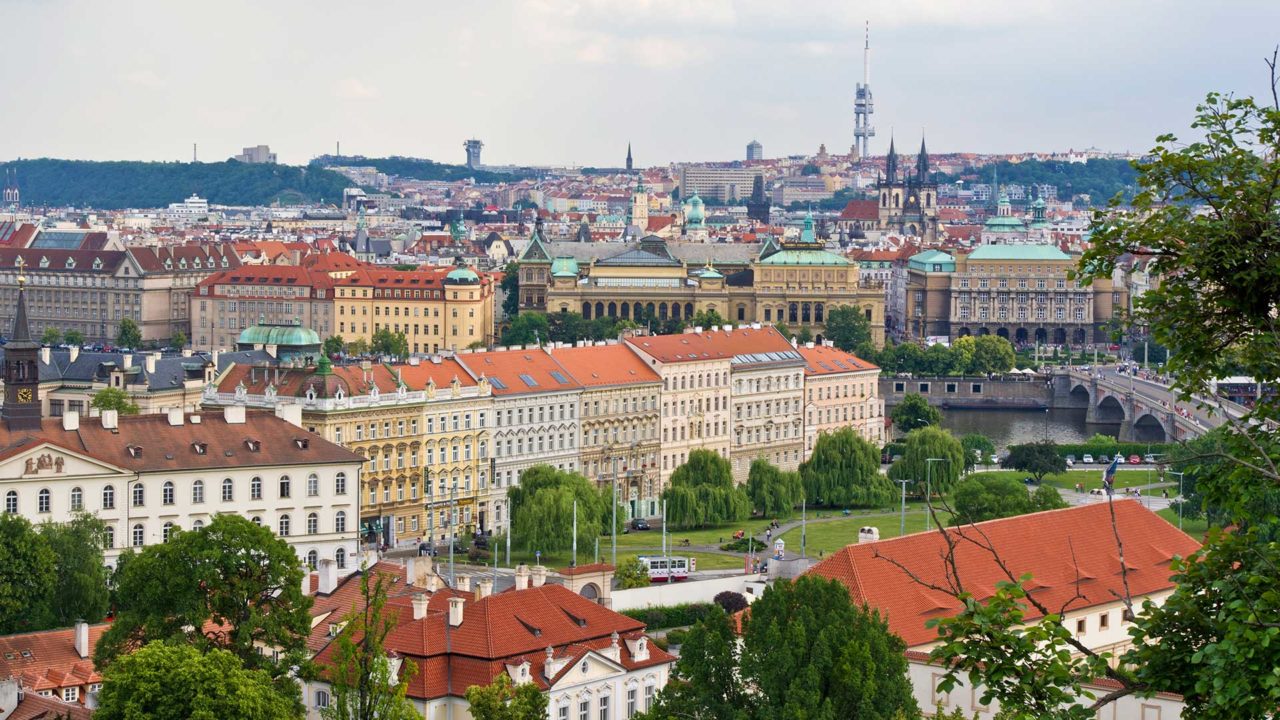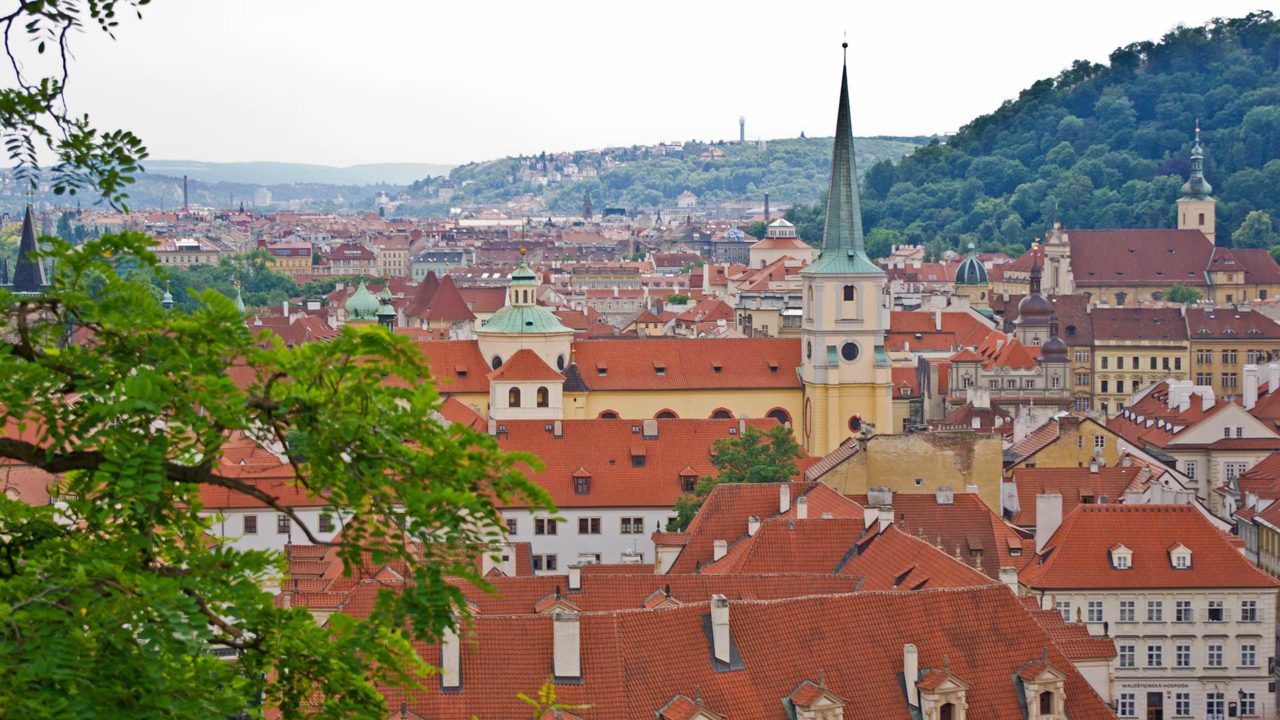 There are many things to discover on the castle grounds, including the St. Vitus Cathedral (somehow reminiscent of the Cologne Cathedral), the Old Royal Palace or the Golden Lane, where Franz Kafka used to live in the house number 22. You can spend a while up here without getting bored. Or you can just take a guided tour if you don't want to go on your own.
The complex around Prague Castle is open daily from 6 A.M. to 10 P.M. and you can visit it for free. But if you want to see some of the inside or visit exhibitions, there is an additional admission fee that varies. Good information can be found here.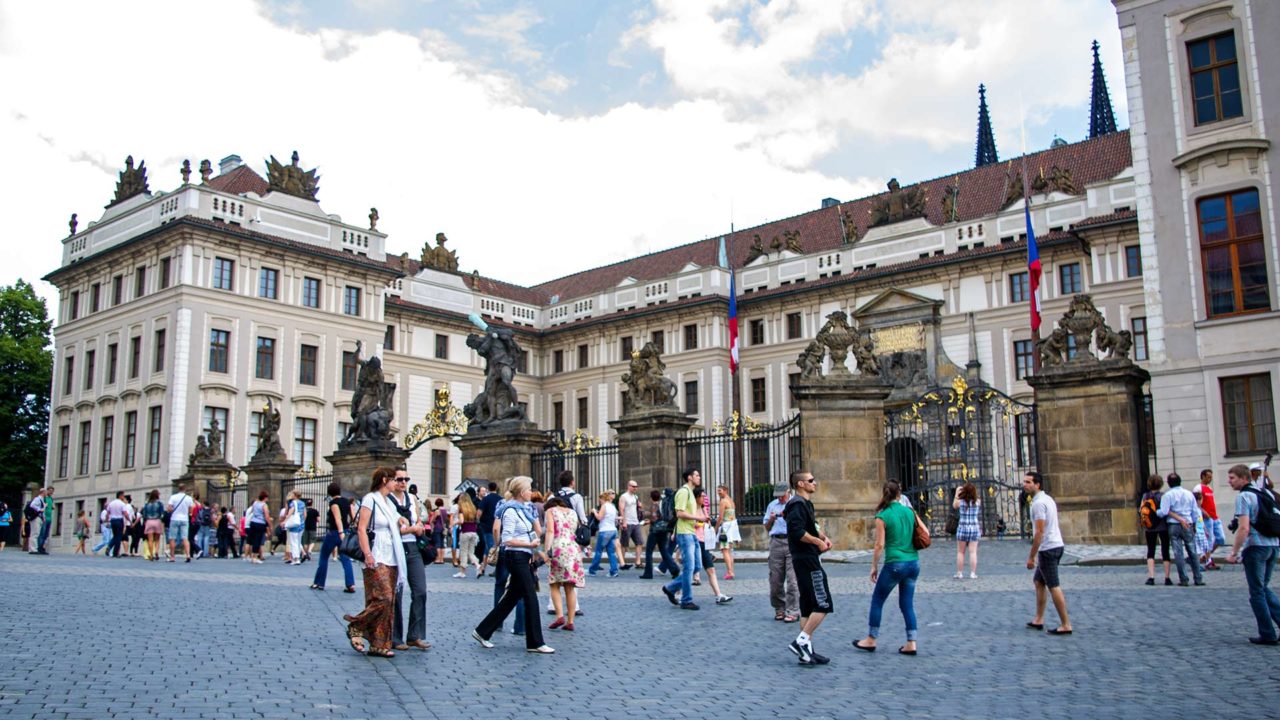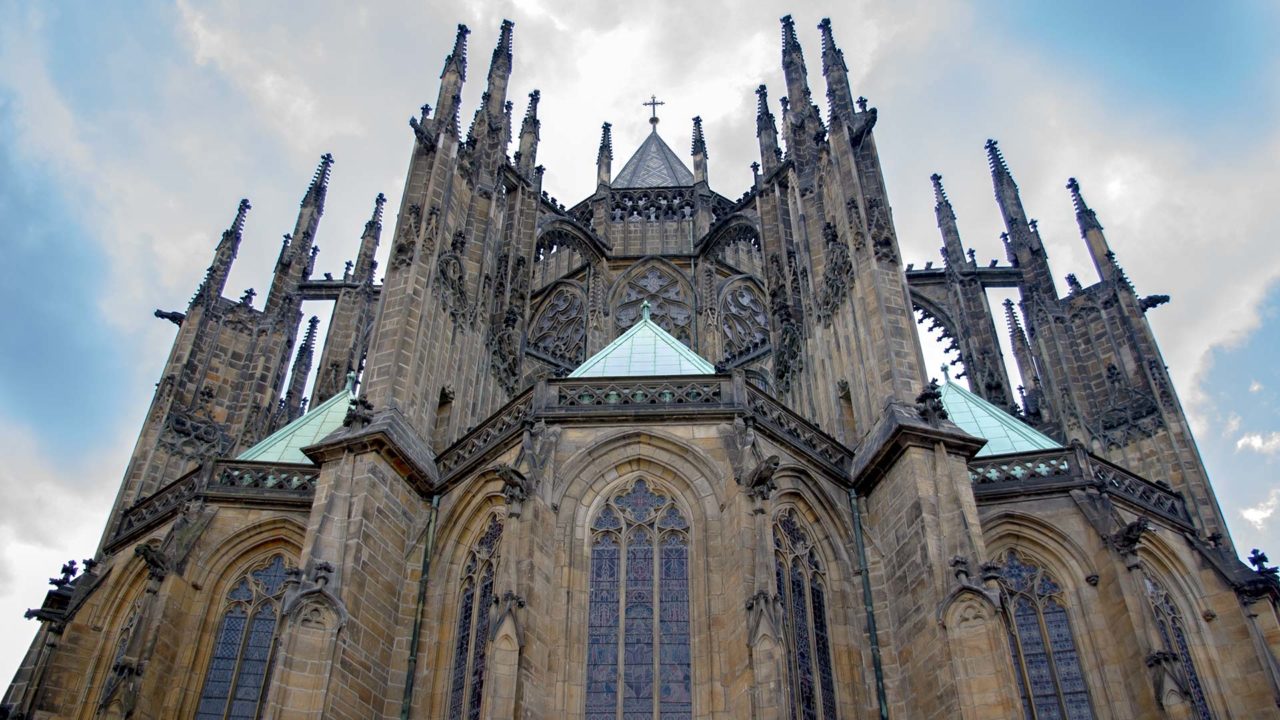 5. Boat trip on the Vltava River in Prague
After this you will return to the Vltava River, where you can do a one-hour cruise at many spots, including some nice beers. A 2-hour ride for lunch including food is also possible and certainly interesting.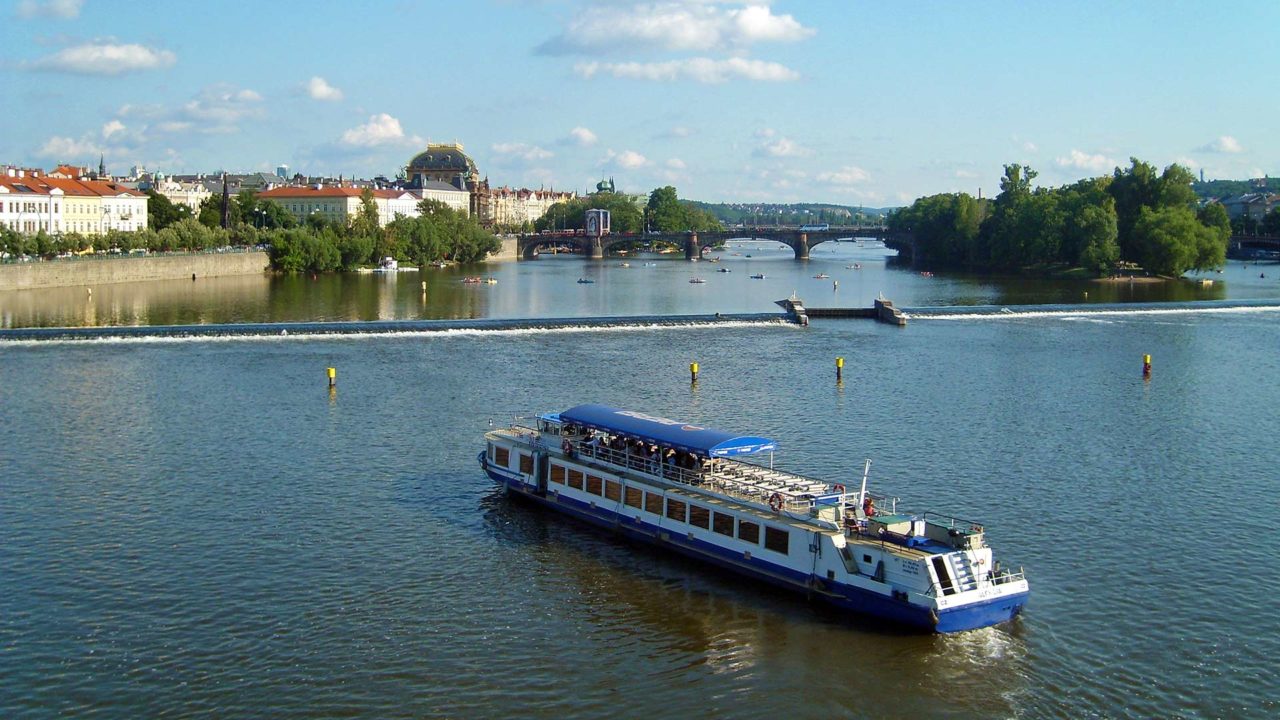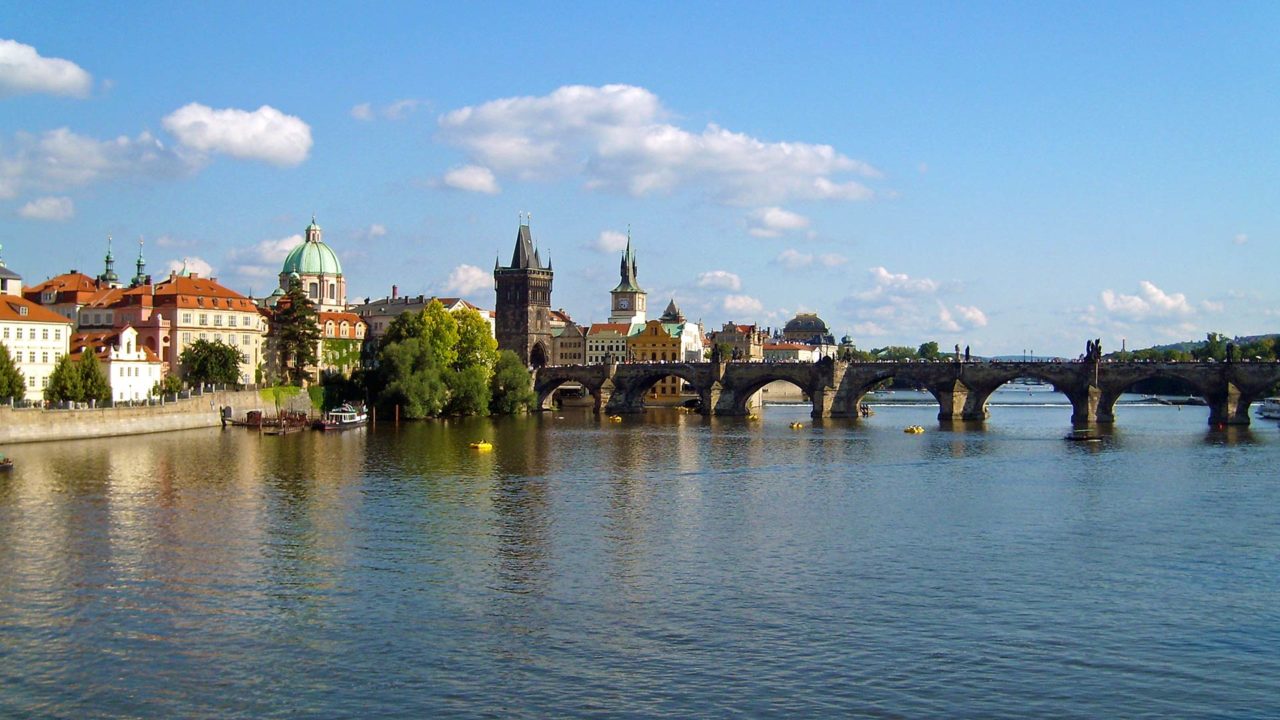 Fun Fact: Why do we keep mentioning beer that often? The Czech Republic is considered (even before Germany) as one of the leading beer countries and accordingly has a tasty selection that you shouldn't miss. Some famous beer brands are Pilsner Urquell, Budweiser (Budvar), Staropramen, Gambrinus, Radegast, Březňák (but there are many more).
6. More tips on Prague
A nice alternative to discover some corners of Prague is also a tram ride. You will get to see something outside of the sights of Prague or you can partly just save the way and relax your feet a bit from walking.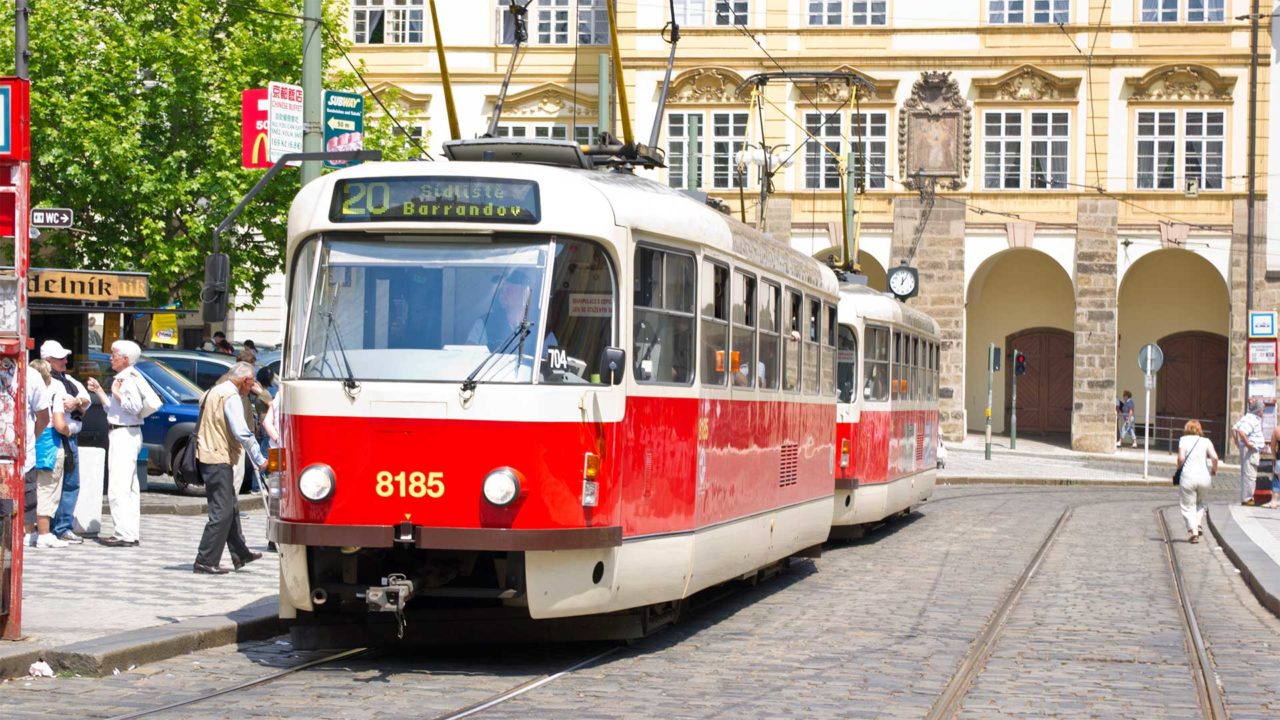 You can spend the evening, for example, perfectly at the Old Town Square. If you return there after visiting the Prague Castle, then you will already see how the square fills up at sunset. Numerous bars open and provide space for a relaxed start in the evening. If you want to move on, then you should take a look at one of the popular pub crawls.
7. Activities in Prague
Prague is a destination that seems to have always been on the tourist map. And it's easy to see why – it's an area steeped in history and culture which also has a wild nightlife. It's that blend of influences that have made it such a popular travel destination for so long. As well as old world charm and a raucous nightlife, Prague also offers up a wide range of great activities – to help you find the best we've listed a few of our favorites below.
Bubble Football
Basically Bubble Football is exactly like regular football, with the minor addition that the players are strapped inside a giant plastic bubble. The bubble protection encourages you to crash into one another– so it almost ends up as a game of football played by sumo wrestlers. Getting the hang of running, passing, shooting or doing just about anything takes a while, so get used to falling over in this laugh-a-minute activity.
White Water Rafting
The Vltava River runs right through the heart of Prague and is usually a relaxed water. If you're after something a little more fast and furious, we suggest you head less than an hour out of the city centre to tackle the rapids with some white water rafting which you can book through a company such as the Stag Company.
White water rafting is perfect for adventurous souls and is ideal for some exhilaration in the great outdoors.
River Boat Cruises
White water rafting isn't for all of us, but that doesn't mean you should miss out on Prague's waterways. A river boat cruise provides a more relaxed water experience. Although one of the charms of Prague is how walkable it is – seeing it from the River gives you a unique look at the city.
Clay Pigeon Shooting
Prague is a great place to go clay pigeon shooting. The picturesque countryside makes for an amazing backdrop. Even if you think it might not be the activity for you, there isn't much that's as satisfying as shooting down a clay pigeon with your fast developing sharpshooter skills.
Plan your trip to Prague now
More hotel recommendations for Prague:
Popular routes to Prague:
---
Have you ever been to Prague? Do you have more tips for exploring Prague? Leave us some feedback in the comments section.
Photos: Photo 2 (Wenceslas Square) – GoneWithTheWind/shutterstock.com, photo 4 (Astronomical Clock) – GoneWithTheWind/shutterstock.com, photo 5 (Old Town Square) – kps1664/shutterstock.com, photo 9 (Mostecká) – RossHelen/shutterstock.com