Dieser Artikel ist auch verfügbar auf: Deutsch
Phuket is Thailand's most famous island and therefore attracts many tourists. Most of them end up in Patong, Karon, or Kata. However, you can still find many beautiful beaches, away from the crowds, on Phuket. And some of them are even quite secluded. Most beaches on Phuket are easy to reach, but some are a bit hidden or you can only reach them by foot.
Our 6 Favorite Beaches on Phuket
As mentioned, there are many beaches on Phuket, and on our several trips to the island to explore the sights of Phuket, we have of course also visited some beaches. In this article, we'll introduce you to our six favorite beaches on Phuket that you shouldn't miss.
---
How to get to Phuket
Accommodation on Phuket – our hotel tip
Phuket: Tours and tickets
---
1. Freedom Beach
Freedom Beach is situated very close to Patong on the west coast, but somewhat hidden. You can reach it either by longtail boat from Patong, which costs about 750 baht per boat, or by scooter or car. When you're coming from Patong and drive towards Karon, you'll have to turn right, shortly after you've left Patong, and then drive up a hill to get to the beach.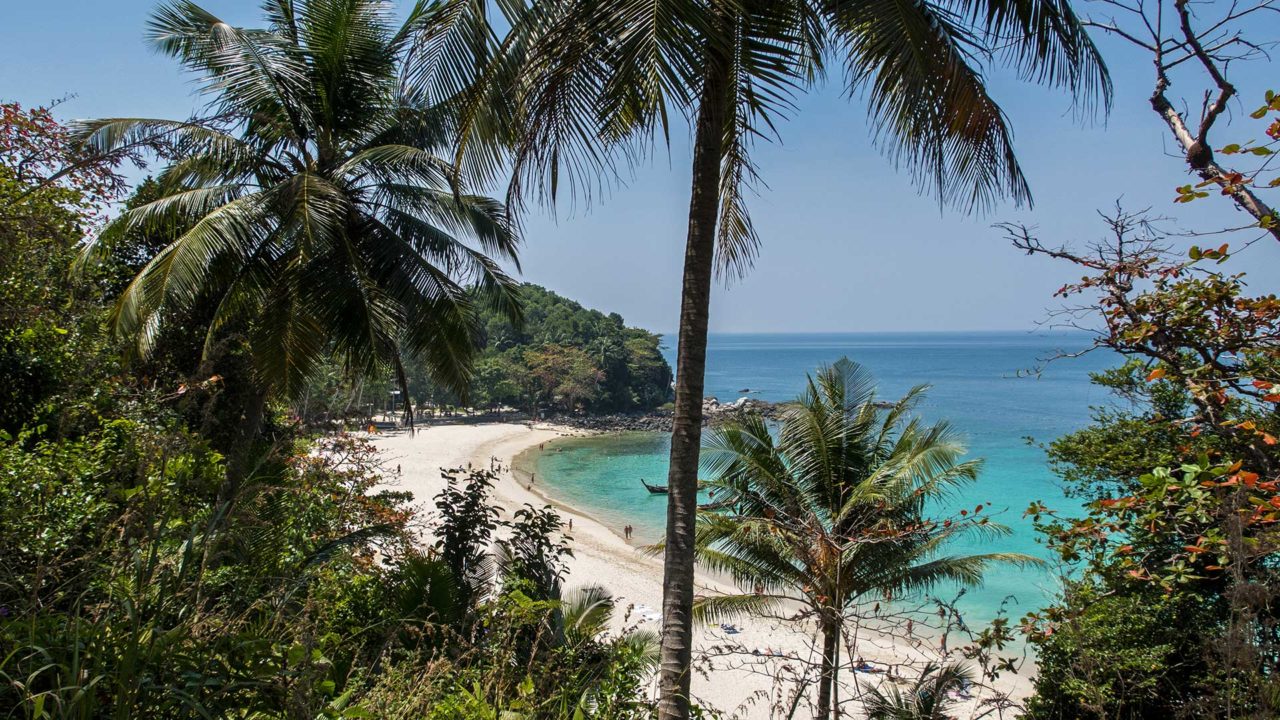 There's free parking available, but you'll have to pay an entrance fee to get to beautiful Freedom Beach. It's 200 Baht per person. After that, you can just walk down a path, which is quite easy.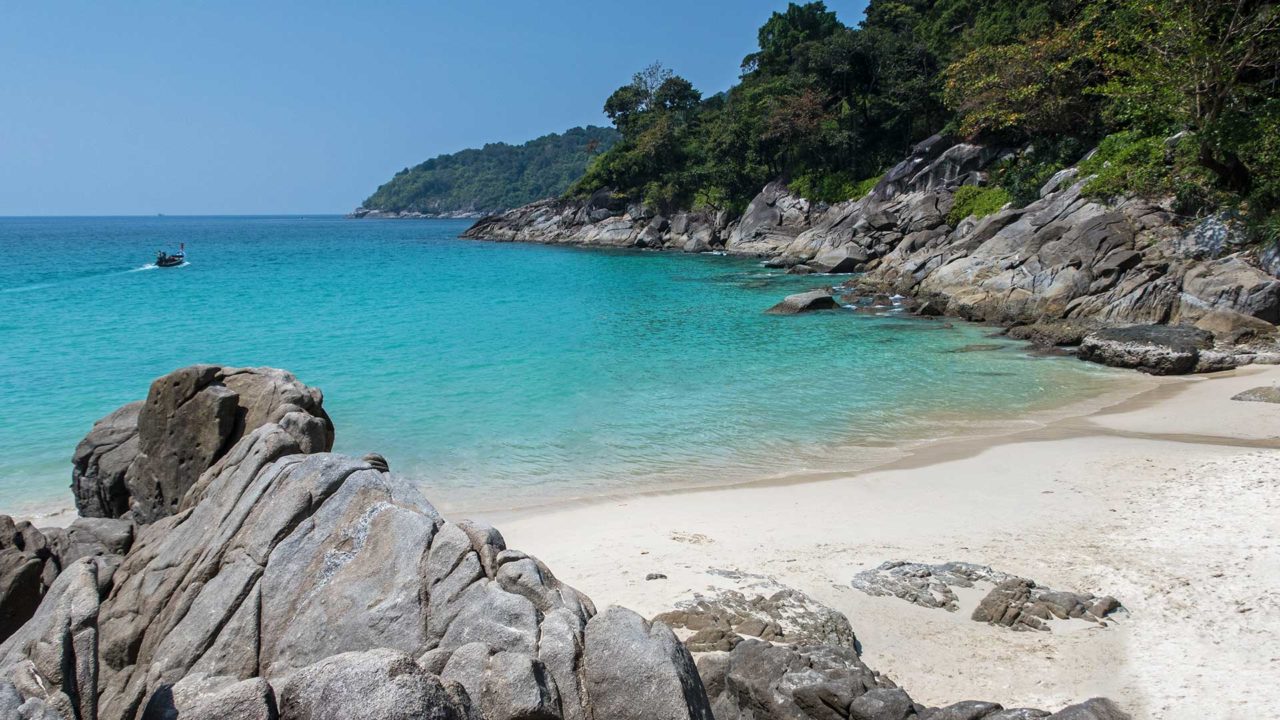 Arriving at Freedom Beach, you'll find turquoise water and white sand. Unfortunately, however, despite its remoteness, there are usually a lot of people at Freedom Beach. At least during high season. Nevertheless, for us, Freedom Beach is one of the most beautiful beaches on Phuket. The downside however is that there's no shade at the beach.
2. Tri Trang Beach
Tri Trang Beach is also not far from Patong. Despite its proximity to Phuket's main tourist destination, it's still relatively secluded. The beach is located in a small bay at the southern tip of Patong and offers white sand and clear water, which is ideal for swimming.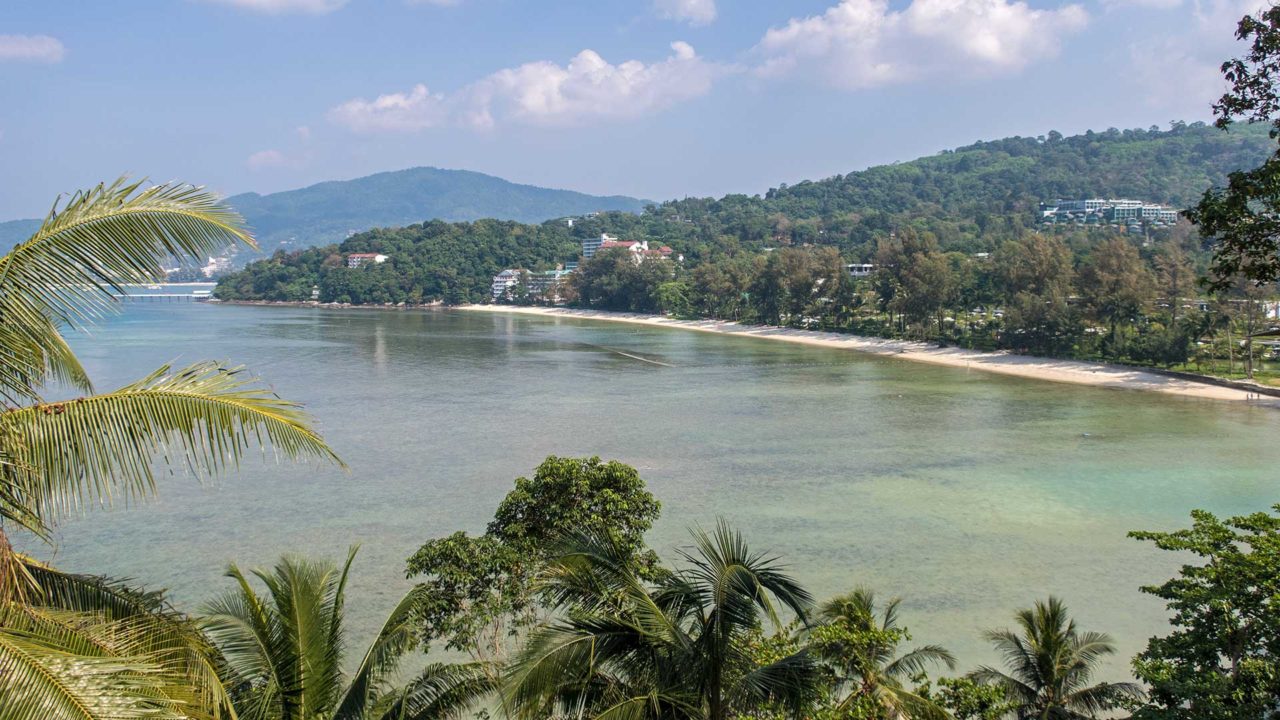 You can reach Tri Trang Beach if you drive over the bridge and up the hill, in the south of Patong, alongside the coast. On the right side, behind the Marriott Hotel, you'll find Tri Trang Beach. There are a few hotels at the beach and new ones are being built.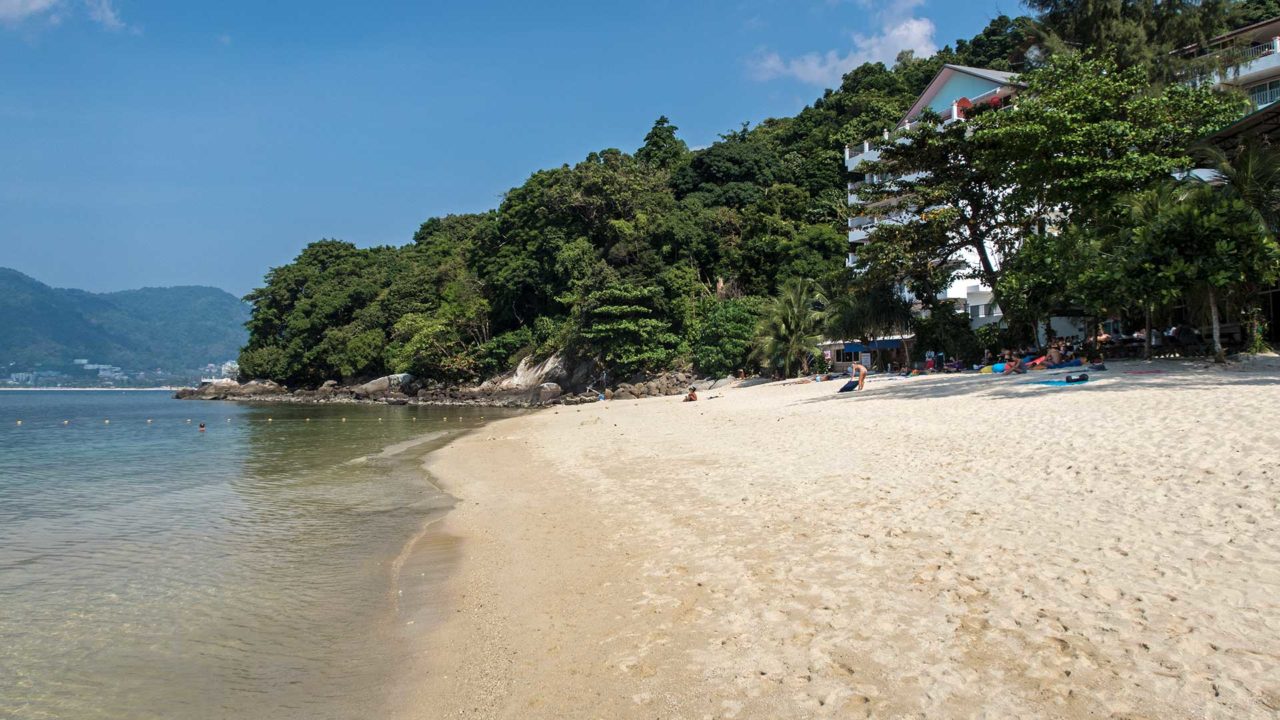 However, the disadvantage is that Tri Trang Beach is very shallow at low tide and you have to get out a bit further to be able to swim. But there are some places to stay in the shade and relax a little, far away from the hustle and bustle of Patong.
3. Lucky Beach
A little further, along the same road as to Tri Trang Beach, you'll find signs showing you how to get to Lucky Beach. This beach is very popular because you can bathe with elephants, but we don't recommend it! It looks fun, but the elephants are usually under a lot of stress.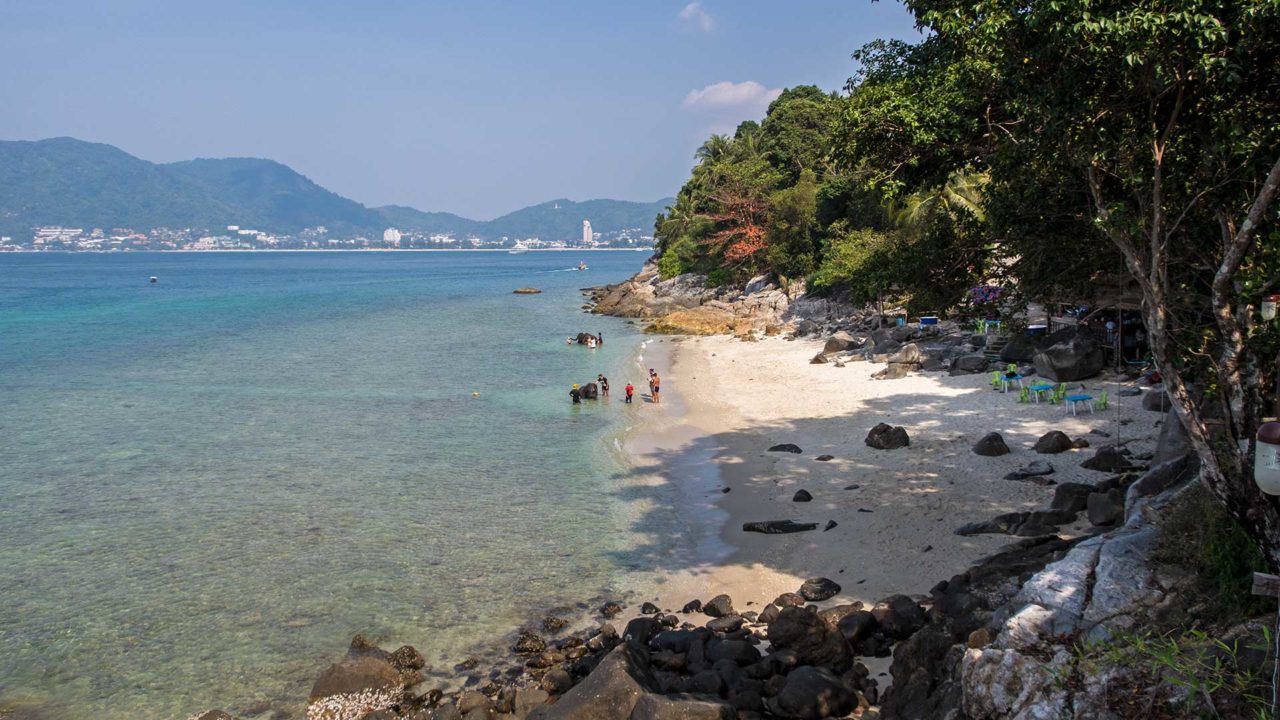 From the beach with the elephants, a small path leads you towards the next small bay. Here, it's absolutely quiet and peaceful and several times we were the only guests there – even during high season. However, the beach is not great for swimming, because there are many stones in the water. But snorkeling is great and above all you can just enjoy the peace and tranquility away from Patong.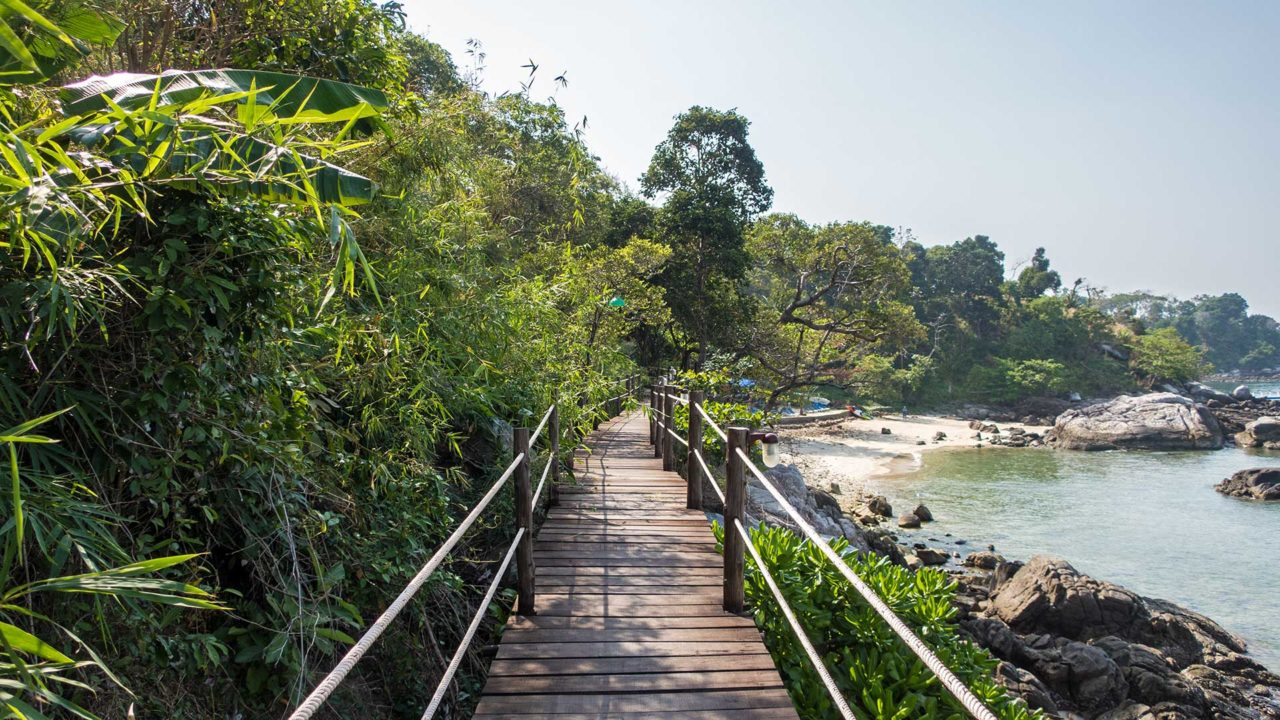 There's a bar/restaurant at the beach that offers delicious food and drinks. The view is also very beautiful and you can spend a few quiet hours there. We'd even call the beach behind Lucky Beach a little insider tip, if the term is still applicable in this area of Thailand.
4. Laem Singh Beach
Laem Singh Beach is a small, beautiful beach on the west coast of Phuket. It's somewhat hidden below the Laem Singh Viewpoint, which you'll find on the coastal road between Kamala and Surin. You can't miss it because of a small house, but there's no public path leading down to the beach anymore.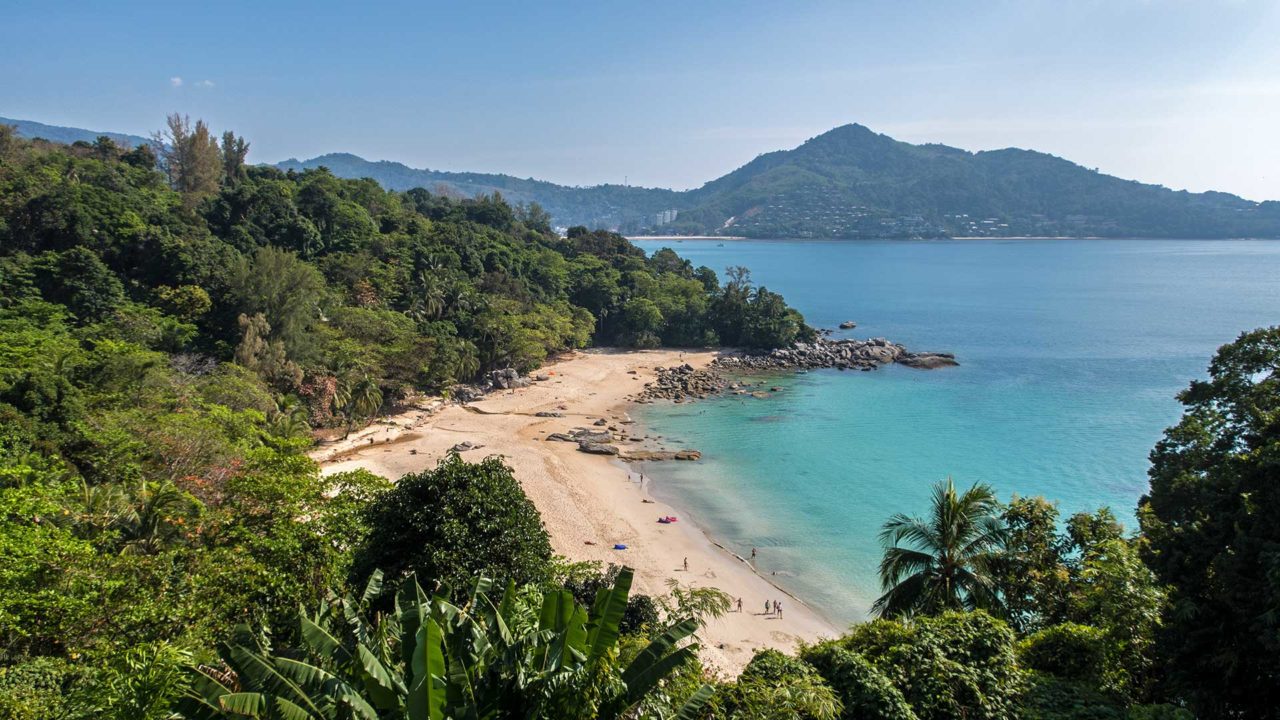 Since the road is private property, you currently can't get to the beach by foot. To get to Laem Singh Beach, you'll have to take a boat for 100 baht per person from Surin Beach. However, the 10-minute ride is well worth it.
Due to the difficult access, Laem Singh Beach is very secluded, the water is crystal clear and perfect for swimming. A truly gorgeous beach that is absolutely one of our favorites.
5. Kata Noi Beach
Kata Noi Beach is located behind Patong, Karon und Kata in the south of the west coast. It's not the quietest beach, but it's beautiful. White sand, turquoise water, good for swimming and a great beach for the whole family.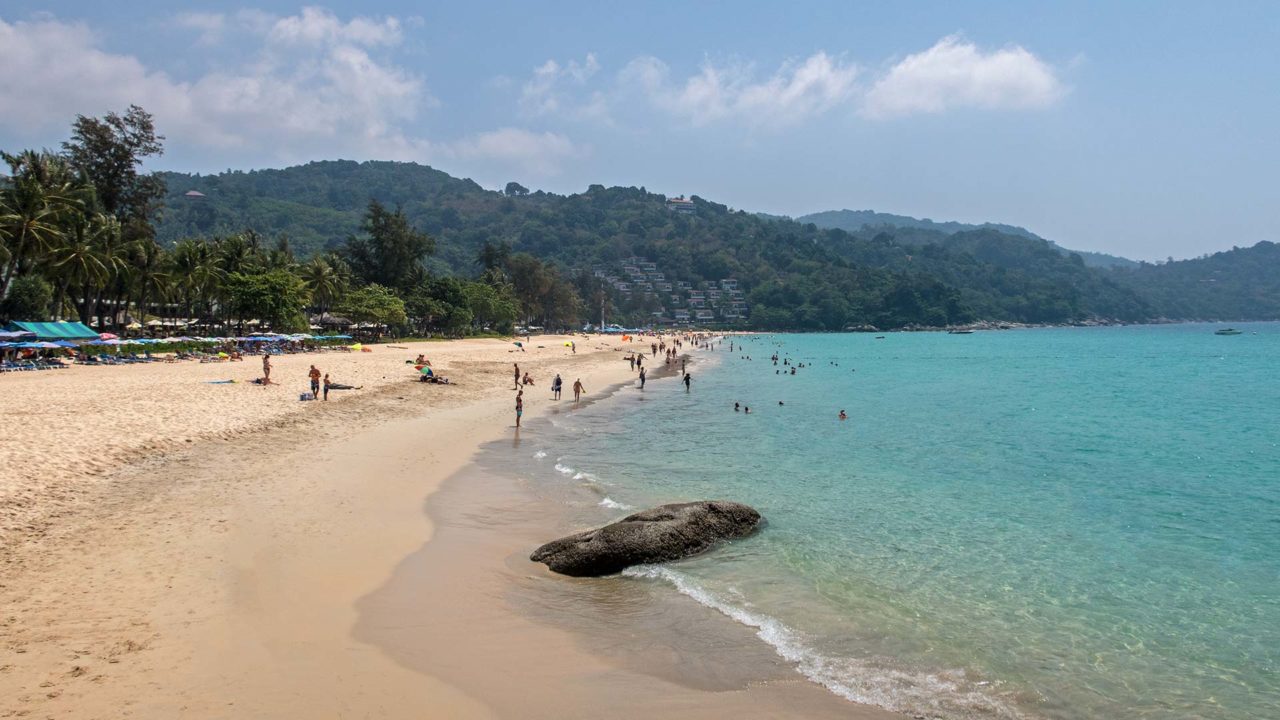 However, Kata Noi Beach has one disadvantage: there are very few places in the shade, at least if you don't want to rent an umbrella with a sunbed. But at the southern end of the beach, at the entrance, there's a small restaurant directly on the beach with delicious food and refreshing drinks, where you can relax in the shade.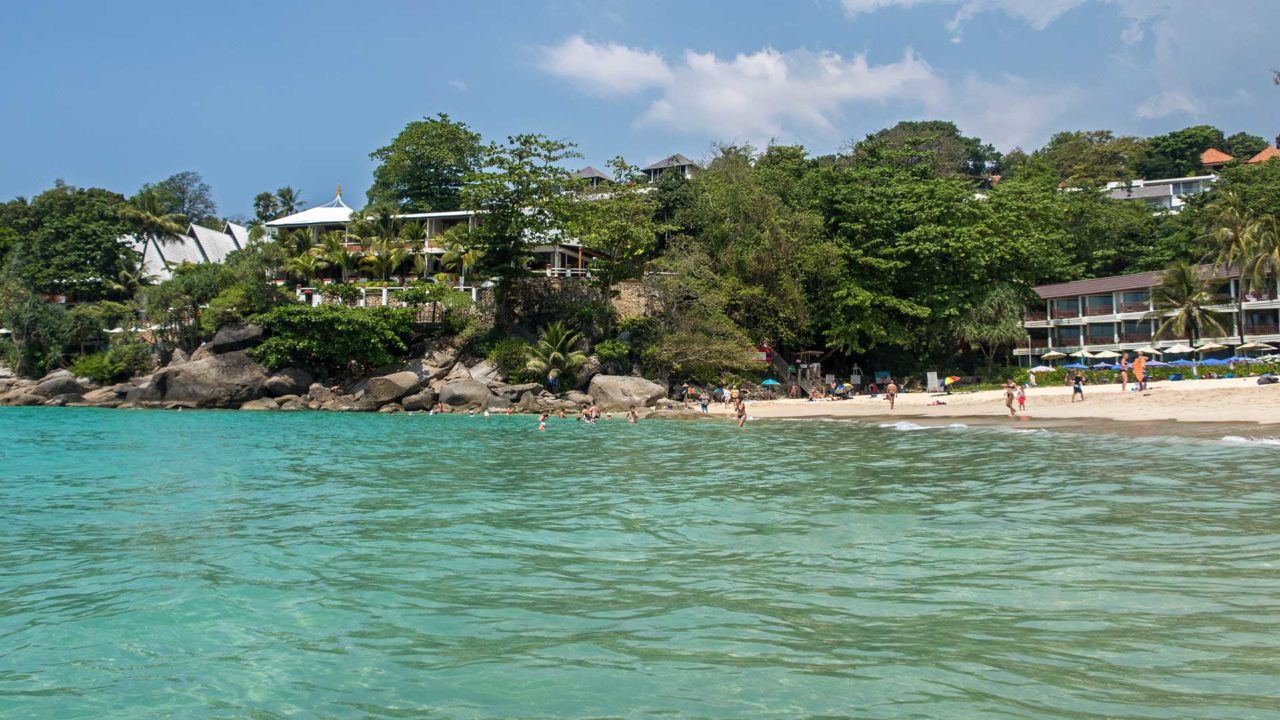 Along Kata Noi Beach there are many resorts, which is why you often meet many hotel guests on the beach. Nevertheless, the beach is so beautiful that it has definitely impressed us. By the way, the beach is also great for surfing during off-season.
6. Laem Ka Beach
Laem Ka Beach is no longer the insider tip it once was, but still super nice. It can sometimes be a bit crowded, but at least outside the peak season it can still be secluded.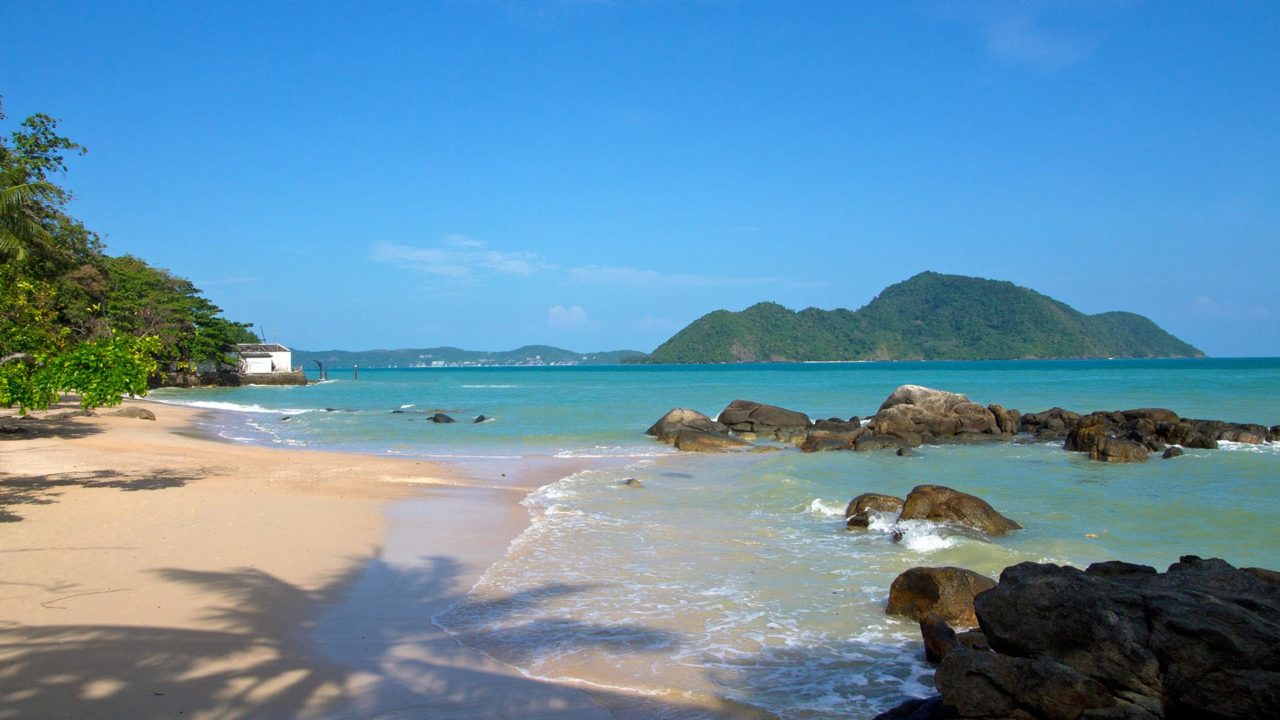 There's a simple reason why we like Laem Ka Beach so much: you can relax in the shade under the palm trees, enjoy the view of the offshore islands of Phuket (e.g. Koh Lon or Koh Maiton) and also go for a really nice swim, as the beach does not descend too shallowly into the bright turquoise water.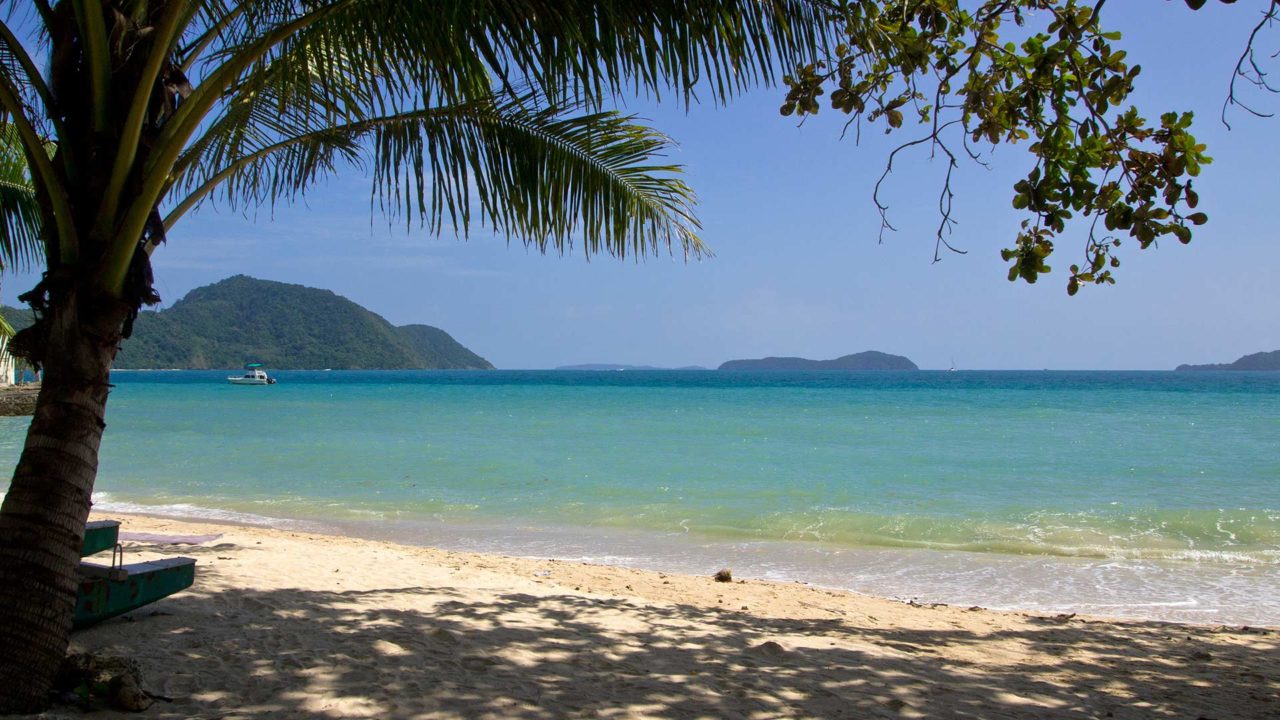 When we visit the beaches of Phuket in the future, we'll definitely visit Laem Ka Beach again. It's situated in the east of Phuket just before Rawai, when coming from Chalong. Near the Sea Shell Museum, there's a 7-Eleven where you have to turn. Follow the right road to the parking lot and you're almost there.
Plan your trip to Phuket now
More hotel recommendations for Phuket:
Popular routes to Phuket:
---
Which is the most beautiful beach on Phuket for you? What can you recommend? Tell us about your experience in the comments.