Dieser Artikel ist auch verfügbar auf: Deutsch
Pattaya is one of the most famous cities in all of Thailand. Every year thousands of people spend their vacation in the notorious city. The vibrant nightlife with its many bars undoubtedly plays a major role for most visitors. Many confidently refer to the Pattaya seaside resort as Sin City of Thailand.
Tips and sights in Pattaya
Due to the media, Pattaya doesn't have a really good reputation. Lovely ladies offer their services here in abundance. I would like to prove to you that there is another way to explore Pattaya. Here I show you 8 sights and activities that make Pattaya worth seeing for everyone.
---
How to get to Pattaya
Accommodation on Pattaya – our hotel tip
Pattaya: Tours and tickets
---
1. Walking Street (Nightlife)
The Walking Street is the epicenter of the nightlife in Pattaya. Countless visitors come here every night in search of pleasure. Several beer bars and A-Go-Go clubs have settled here. But there are also very good restaurants, discos and even an ice bar.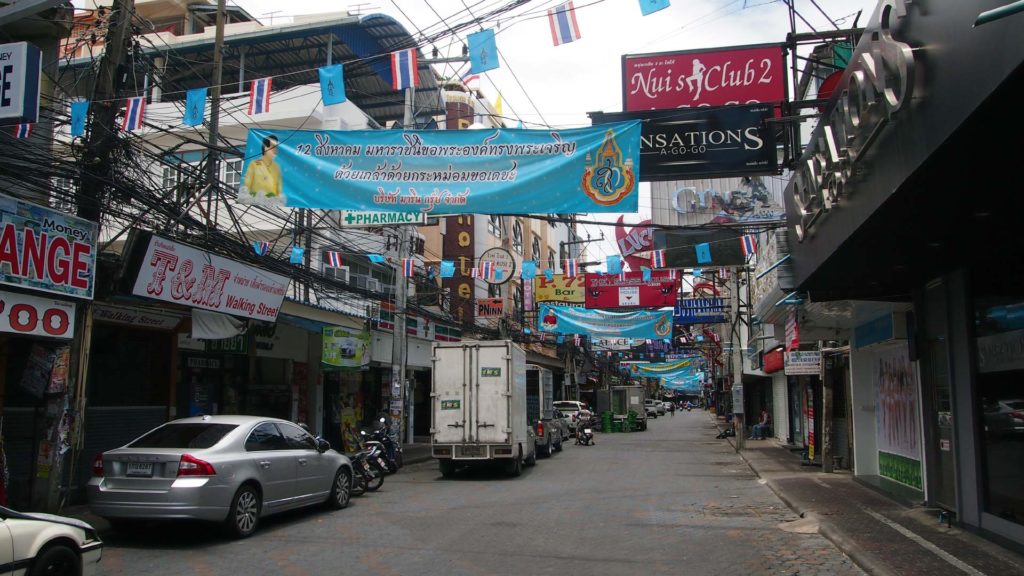 During the day, it's like a different world in the Walking Street. A visit to the Walking Street is definitely a must. Whether you like it or not, is up to you. Everyone has to find out for themselves! Of course, a visit to the Walking Street of Pattaya is only partially family-friendly.
2. Sanctuary of Truth – Prasat Sut Ja-Tum
The old temple complex of "Prasat Sut Ja-Tum" was commissioned in 1981. The great location and the beautiful carvings make the Sanctuary of Truth a special attraction among the sights of Pattaya.
However, the temple is still under construction today and is expected to be completed in 2025. Good things do take time. And that is especially true in Thailand. It is open daily from 10.00 A.M. to 6.00 P.M. and admission costs currently 500 baht per person.
If you haven't planned to stay in Pattaya, you can also visit the Sanctuary of Truth as a day trip from Bangkok.
3. Big Buddha (Wat Phra Yai)
The Big Buddha gracefully towers over Pattaya. It is particularly popular not only with tourists. The locals also come here to find their spiritual center, meditate and enjoy the peace.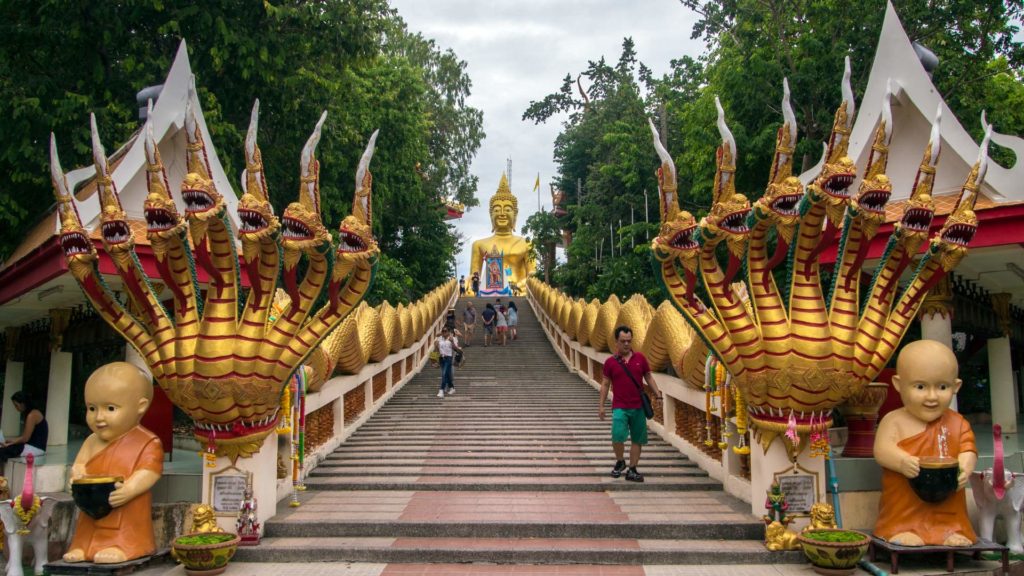 You can see this especially in the early morning. Those who have made the admittedly somewhat tedious climb to the Big Buddha will be rewarded with a magnificent view of Pattaya.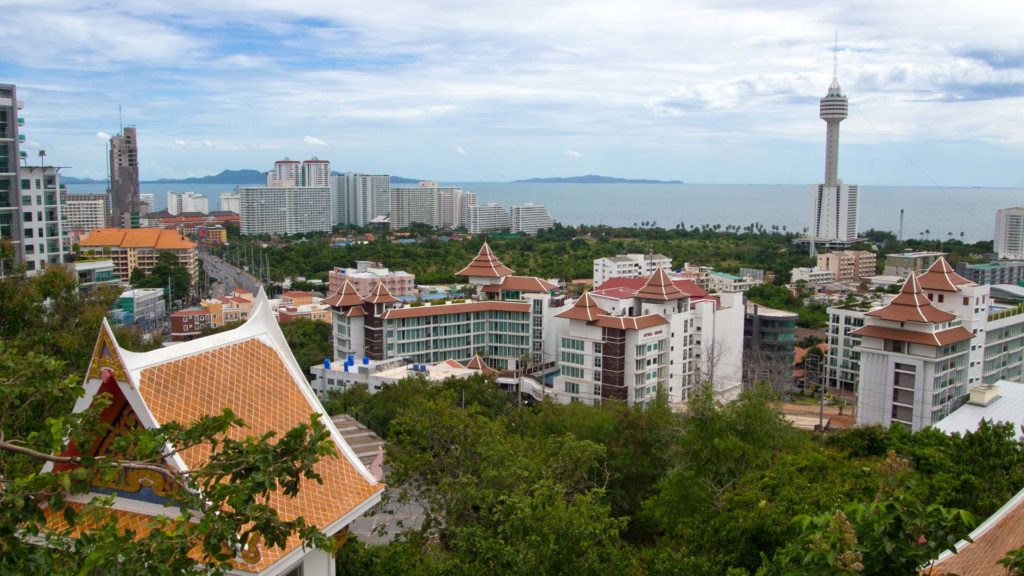 You can also visit Pattaya's Big Buddha on a few day trips.
4. Wat Yansangwararam
The Indian-style temple, just over 20 Kilometers south of Pattaya, is an important center for the Thammayut-Nikai monks and a popular tourist attraction. In addition to a school, the facility also houses a hospital. The tower of the temple is accessible and offers nice views over the Gulf of Thailand in good weather condition. Entrance is free.
5. Buddha Mountain (Khao Chi Chan)
Located only a few Kilometers from Wat Yansangwararam, you can visit the Buddha Mountain – a really spectacular attraction in Pattaya. A combined visit to these two "temples" is therefore a good idea.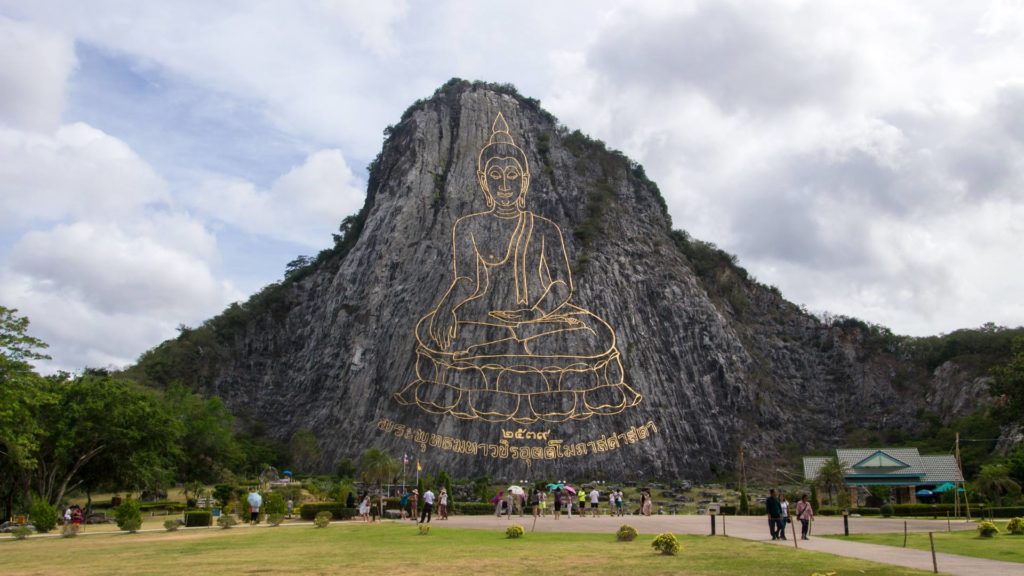 Here, a 130-meter-high Buddha figure was burned into the rock using a laser. The artwork was then gilded. It is said to be the largest portrait of the Buddha on earth and for this reason alone the mountain is one of the top sights around Pattaya.
6. Jomtien Beach
Jomtien is a family beach on the south end of Pattaya. In high season it can get quite crowded and cramped. The beach is quite nice, but on the other hand it is not one of the dream beaches of Thailand.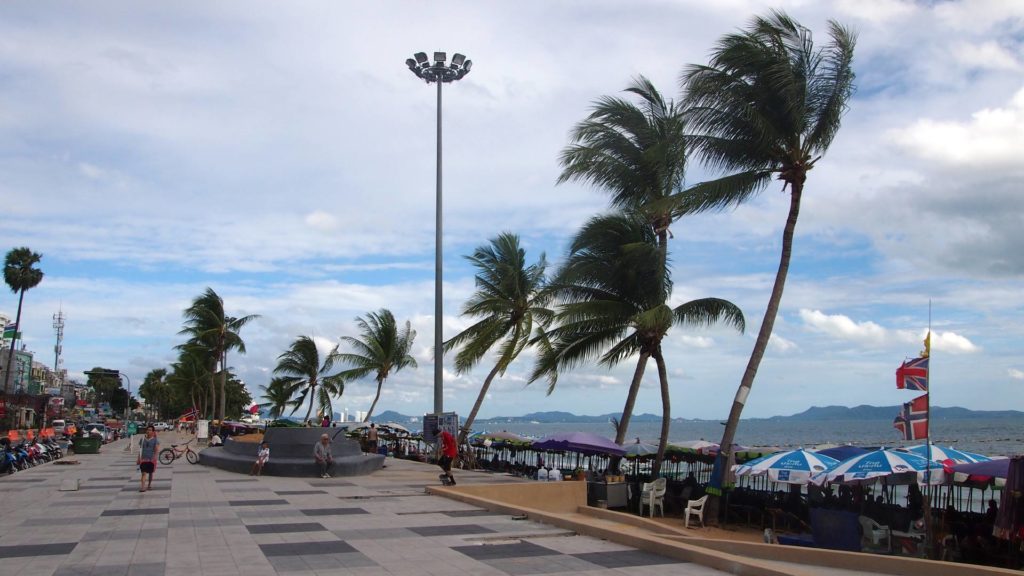 In addition to countless hotels and the huge Pattaya Park Tower, this is also home to the largest hotel in Asia with around 4,000 rooms. Watching what is going on at Jomtien Beach is an experience, however. If you are in Pattaya, you should also take a look at Jomtien Beach.
7. Koh Larn
The small island in the west of Pattaya is always worth a day trip. The water on Koh Larn is a lot cleaner than on the city beaches of Pattaya. This is not the only reason why many visitors come here for snorkeling and diving.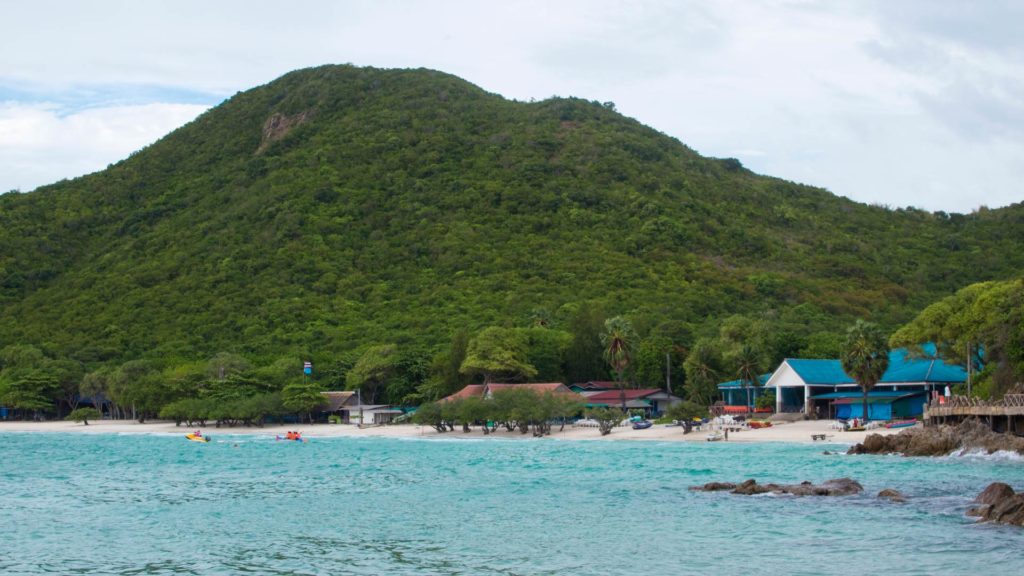 Koh Larn has a total of 6 beaches with beautiful white sand that invite you to relax. The ferry to Koh Larn runs from the pier at the very end of the Walking Street and the crossing takes between 30 and 45 minutes. Cost is 30 baht per person.

You can find out more about the island and a day trip there in our blog article about Koh Larn.
8. Nong Nooch Botanical Garden
The Nong Nooch Botanical Garden is a 25-minutes ride outside of Pattaya. In addition to a beautifully landscaped garden, sports cars can also be admired in a salon in the middle of the park. Furthermore, an elephant show is included in the admission price. The Nong Nooch Garden is always worth a visit and suitable for the whole family.
---
About the Author
Marvin mainly travels through Southeast Asia, mostly Thailand, as a backpacker and Flashpacker. On his blog Flashpacking4life you can find great tips, food guides, travel reports and free travel guides to download. It is also worth following him on Facebook.
Plan your trip to Pattaya now
More hotel recommendations for Pattaya:
Popular routes to Pattaya:
---
Have you ever been to Pattaya? Which Pattaya sightseeing attraction did you particularly like? Give us feedback in the comments.
Photos: photo 7 (Wat Yansangwararam) – Asim Verma/shutterstock.com and photo 12 (Nong Nooch Botanical Garden) – pimuk wattanapongsakul/shutterstock.com
Gast
Dies ist ein Gastartikel. Falls du Fragen oder Anregungen zum Thema hast, schreibe sie einfach in die Kommentare oder kontaktiere den Gastautor direkt auf seinem Blog.