Dieser Artikel ist auch verfügbar auf: Deutsch
Bali on its own, without sunrises and sunsets, is certainly a unique paradise. Jungles, rice fields, hidden beaches, happy people. You simply feel at home.
Tips for a trekking tour to Mount Batur (Gunung Batur) in Bali
But would you like to add a little adventure to your stay? How about one of the most spectacular sunrises you'll ever see? Even better, what if you watched it from the top of an active volcano? Sounds exciting? It is!
---
How to get to Bali
Accommodation in Ubud – our hotel tip
A great place to stay in Ubud is the Sapodilla Ubud, which offers a good location. If you want to stay in the midst of a green and well maintained complex, then you are in the right place. There is also a swimming pool and worth mentioning is the great service from the staff and the delicious breakfast. Find more hotels in Ubud here.
Ubud, Bali: Tours and tickets
---
Mount Batur on Bali
Those who go to Bali and have already spent one or two days here have probably also heard of Mount Batur.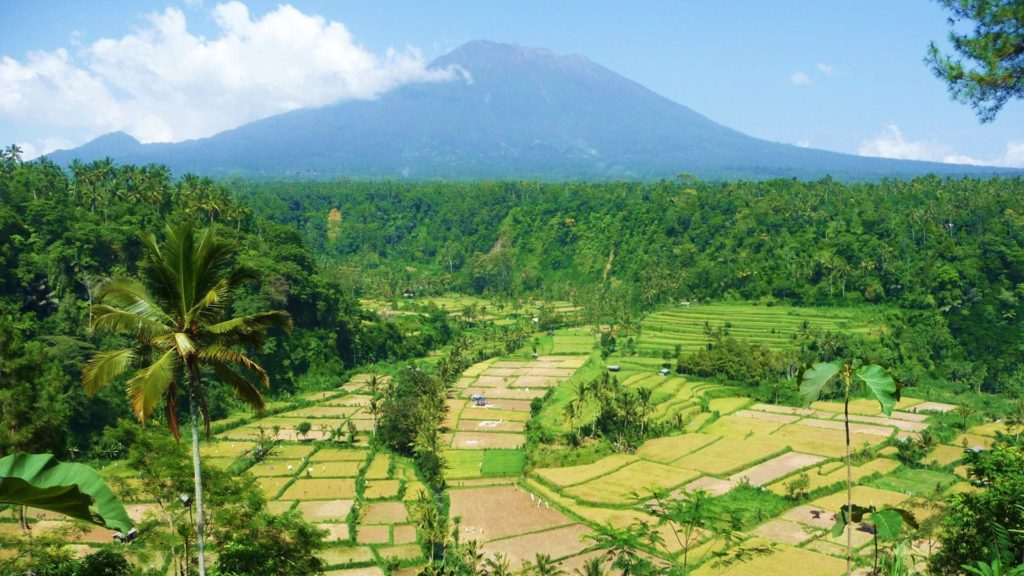 Mount Batur is an active volcano, surrounded by a lake and various mountains. Lake Batur is the largest lake on Bali. The scenery itself is simply breathtaking and if you manage to climb up here early in the morning, you will be rewarded in every way. The sun rises in the early morning hours and offers an incredible colour show that you shouldn't miss.
Some key facts: the volcano has a height of 1717 meters and the last eruption happened in 2000, not that long ago. Also: the volcano first erupted 30,000 years ago and it is still known as one of the largest eruptions on earth.
How do I get to Mount Batur?
The volcano is located in the north of Bali and there are tours offered from most places on the island.
A tour is recommended in any case, because you don't want to climb the volcano alone. On average you should expect to pay € 15-20 per person. The price usually includes transportation, flashlights, breakfast and a guide who walks up and down with you.
How does the sunrise tour to Mount Batur work?
In the early morning hours (between 2 and 3 am) you will be picked up from your accommodation and taken to the foot of the volcano. Some tours also offer a breakfast stop – not a bad idea, as you shouldn't walk up with an empty stomach.
So in my case we had pancakes to charge our batteries. Then you will be equipped with a flashlight and off you go! In the beginning you might think that this would be a easy walk, but beware! It goes steeply upwards and it feels like there are a thousand steps. There are stones and boulders everywhere, so you have to be careful and watch your step. From a distance you can see other tourists with their flashlights on. Good, you're not alone.
After about 1 to 1.5 hours you made it! Completely sweaty you are standing on the volcano. First you have to process what you have just done.
Even if you associate Bali with tropical temperatures, the complete opposite is true at the top of Mt. Batur. It's freezing cold! So be sure to bring a sweater and a warm jacket. Since you sweat during the demanding trek, it is even more important to keep yourself warm at the top.
When you get to the top, the sky is still dark and you can only see a few lights in the surrounding villages. Maybe it is cloudy – and you'll be above the clouds! Then the unique show of colours begins. First in dark red tones, then orange, pink, yellow – a mix that only nature can come up with.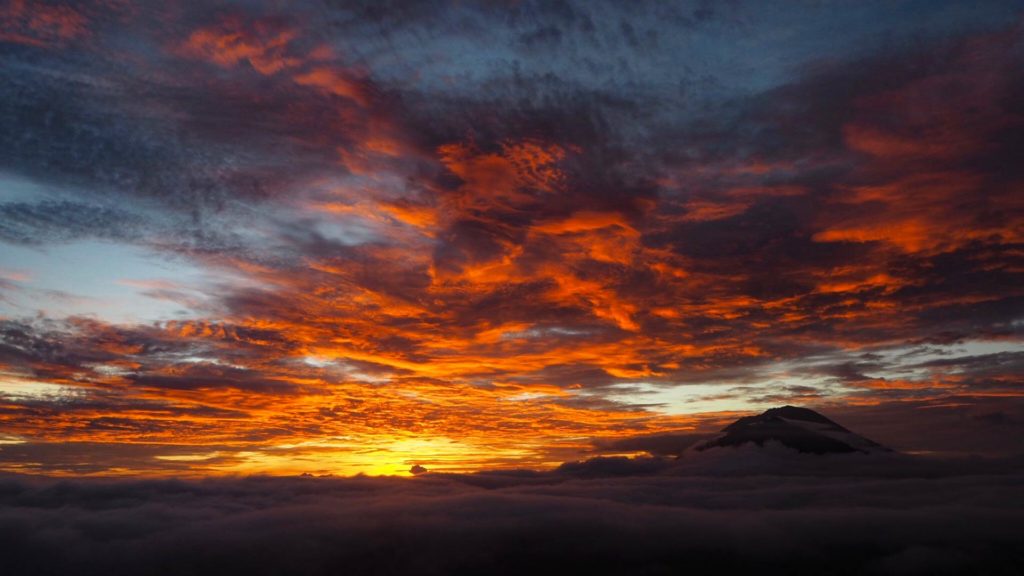 Fascinated by the colours you stand there and watch the sun slowly rising. Meanwhile don't forget to take incredible pictures!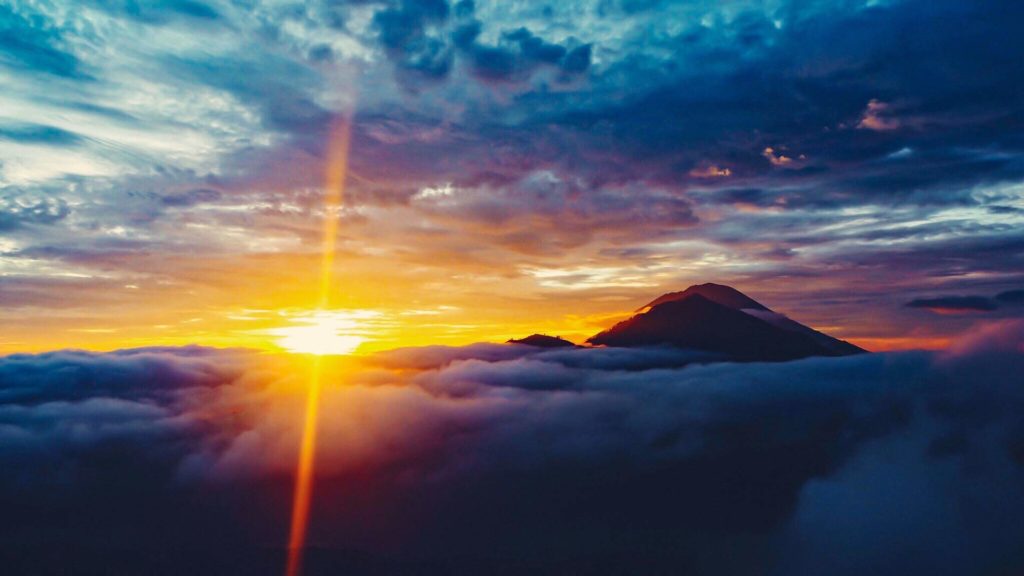 Tip: It is quite unlikely that you are alone at the top and can enjoy the view by yourself. On average, 200 tourists make their way up with a tour like this every morning to admire the sunrise. If possible, avoid the months of December, July and August. Otherwise, just try to get a good spot as high up as possible so you can take selfies without any photobombs.
When you can put your flashlights down and the sun shines bright enough, breakfast begins. Your guide prepares some snacks and you sit down and process the natural spectacle. There is also a small "kiosk" at the top where you can buy water and snacks. The sellers are certainly the fittest people in Bali when they walk up there every day.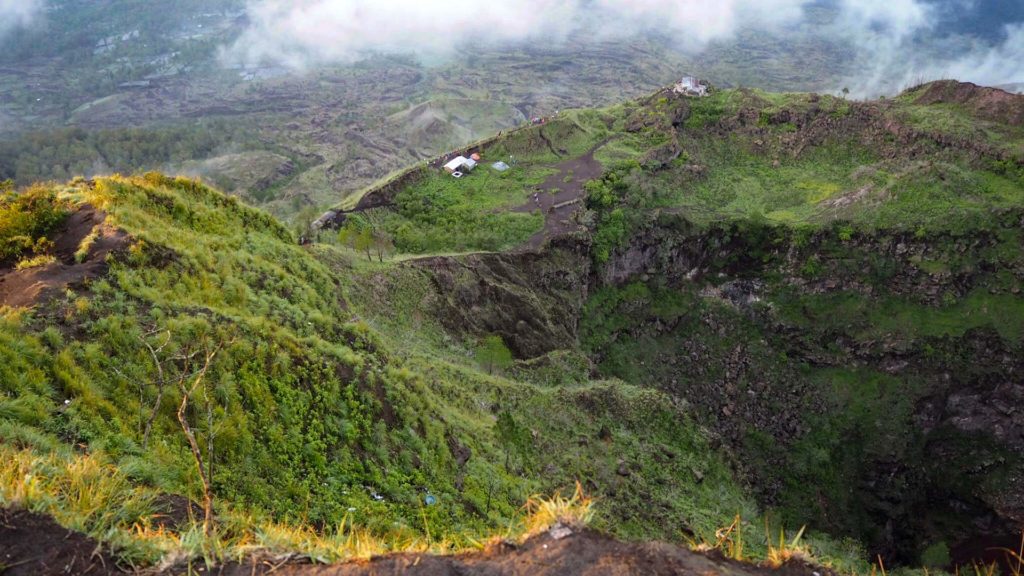 Then we start the descent from Mount Batur, where the guide will give you more information about the volcano. You'll pass some very cute monkeys and probably get stuck taking pictures! Towards the end you will run past various fields and the trail ends in an asphalted road – how good it feels to walk on a normal road again!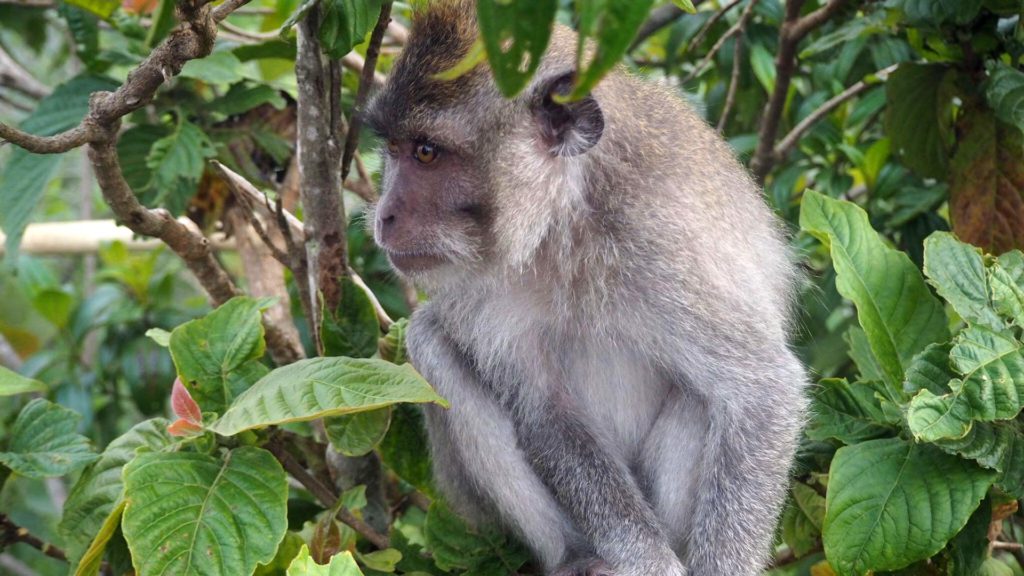 The descent is not as easy as you would think – you can really start to slip. That's why it's a good idea to put on really solid shoes. Don't let the locals confuse you – they run up and down in flip flops.
If you're as scared as I am, you can let your guide take you by the hand, but that's up to you.
The entire experience takes up the whole morning. But you won't think about the restless night, the ascent and any effort anymore. After all, you have just seen the most beautiful sunrise in Bali!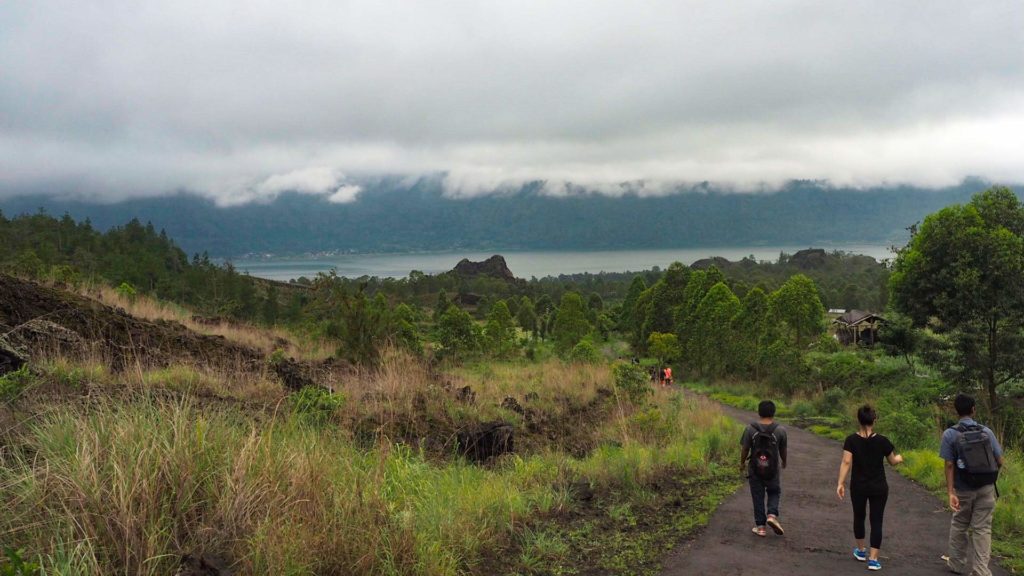 General tips for Mount Batur Trekking:
Take thick, warm clothes with you
Put on solid shoes
Bring water with you
Have enough memory on your camera + fully charged battery
Go to bed early to be fit in the morning of the ascent
Have you ever done the Mount Batur trek? Was it exhausting? How was your sunrise? Leave us a comment below.
Guest article by Sophia Niekler.
Photos: Photo 1 – Amy Cora Megan/shutterstock.com. All others: Sophia Niekler