Dieser Artikel ist auch verfügbar auf: Deutsch
Traveling the Maldives on your own is something that very few people do. Most holidaymakers book package tours where everything is organized from front to back. But did you know that you can also travel individually to the Maldives? It is particularly suitable in combination with other countries, for example Thailand, Malaysia or Sri Lanka. It doesn't matter whether you go to one of the local islands or one of the countless resort islands – nowadays, both are easily possible.
Travel the Maldives individually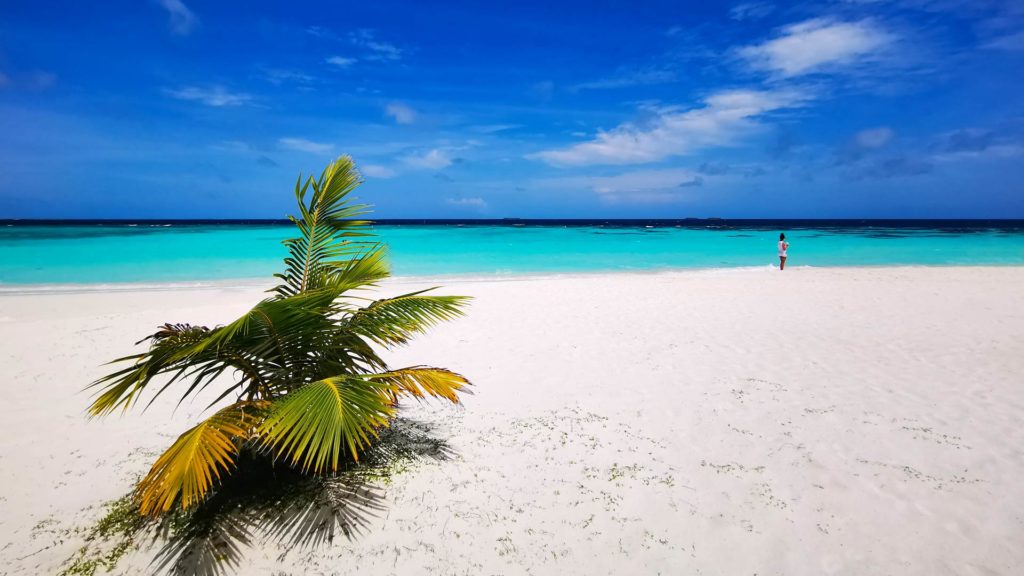 Today we have 9 little tips for your Maldives trip. Maybe this article can give you some inspiration and help. Or maybe you will feel like spending a few days in the Maldives before or after your Thailand holidays. As beautiful as Thailand is – the beaches in the Maldives are even more paradise-like, the water more turquoise, the sand even more white.
---
How to get to the Maldives
The only notable way to get to the Maldives is by plane. There are many flight connections to the capital Malé, both from Asia and Europe. From Germany there is e.g. the connection via Dubai to Malé, but also some direct flights from other airlines are available. It's even easier and cheaper to get to the Maldives from Asia. For more information, see point 3 below.
You can get a first overview at Skyscanner.
Accommodation in the Maldives – our hotel tip
The choice of accommodation in the Maldives is huge. Of course, the luxurious water villas of the resorts are particularly outstanding, but you can also find cheaper accommodations around €50 per night on the local islands. Depending on your budget, you are spoiled for choice.
If you are looking for a comparatively affordable resort that offers both water villas and cheaper beach bungalows, then I can recommend you the Thulhagiri Island Resort. I spent 3 wonderful nights there and thought it was a dream. Information and photos can be found below in this article.
You can find more accommodation in the Maldives, whether it's on a local island or a private island, here.
---
1. Travel time Maldives
The travel time plays a crucial role in an individual Maldives trip. If you want to visit the Maldives on your own, you should make sure that you avoid the high or peak season. This can save you a ton of money and it is generally less busy.
When it comes to weather, the best time for the Maldives is from around the end of November to the beginning of April. That is why many visitors come to the small country, especially in the winter months. Logically: tourists want to escape the winter in Europe and at the same time have almost guaranteed good weather in the Maldives.
Here you should think exactly the other way around and choose the months when there is less going on. For example, I was in the Maldives in June, which means in the rainy season. It only rained for a few hours and most of the time there was plenty of sun. Of course, you can also be unlucky and it might happen that you have several days of rain. This can happen especially during the change of monsoons. However, this does not apply to all islands in the Maldives. The weather can vary from atoll to atoll or even from island to island. I would definitely take the "risk" again and take the comparatively very low prices of the off-season with me.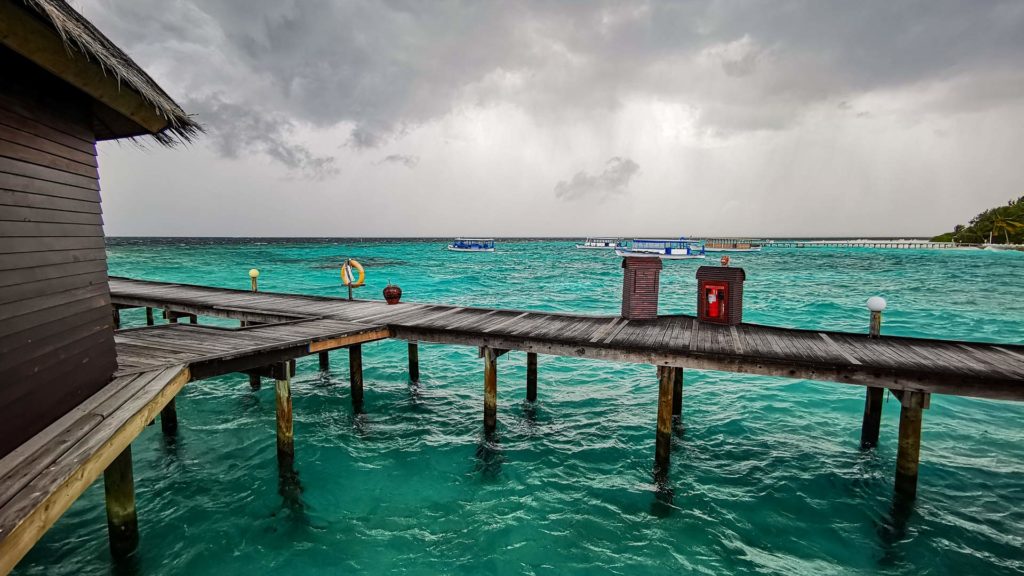 Should it still happen that the rain doesn't stop and even lasts for several days, just make the best of it. Even if it's annoying, the water in the Maldives often still looks beautifully turquoise, even when it rains or when the sky is cloudy. Take a good book with you and relax a bit – the sun will eventually show up again at some point. And of course you can still go swimming.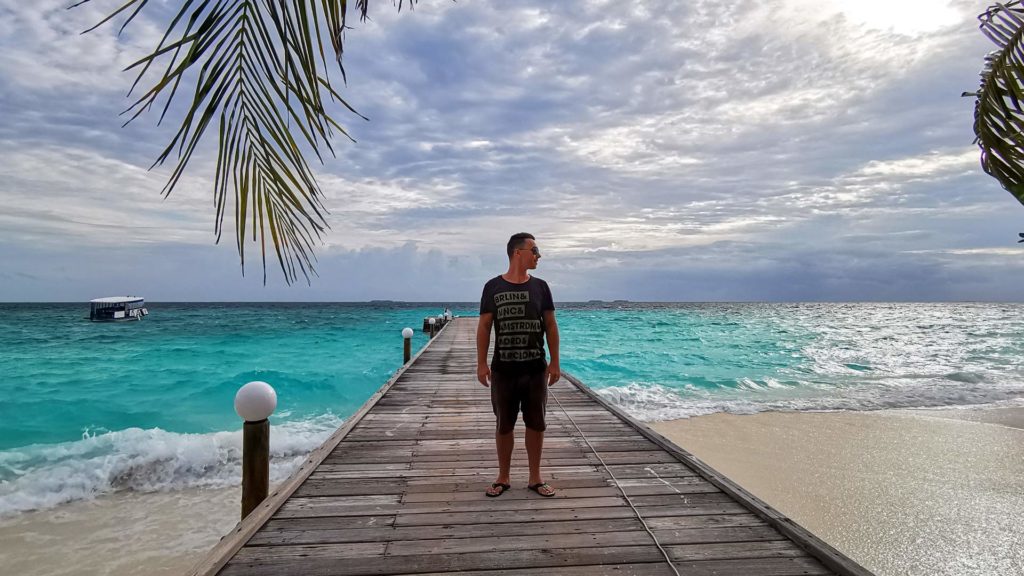 2. Be flexible: flights and hotels
You should be very flexible in terms of time on your individual Maldives trip. The more flexible you are, the cheaper you can travel to the country.
Compare the prices for both the flights and the hotels on different days. When I flew to the Maldives from Thailand, I did the same when looking for a flight. With AirAsia from Bangkok, for example, there was differences of up to several dozen euros for different days.
For hotel search you can use the two platforms Agoda and Booking. We always use both sites and take part in the reward programs there. This is particularly worthwhile with Agoda, because you get a certain number of Agoda Coins for each booking (depending on the booking value), which you can use again later for new bookings. If you take part often, small sums of money come together. So I could save almost € 50 when booking the Thulhagiri Island Resort in the Maldives. Better than nothing.
You can find more tips on finding hotels and flights in our two articles: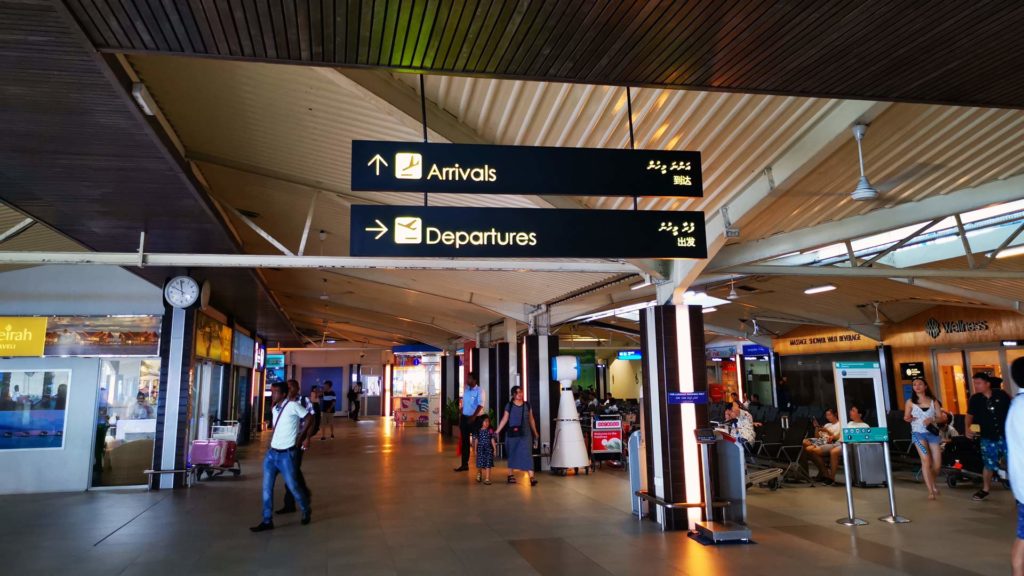 3. Combined trip Maldives and Thailand
If you want to start a Maldives trip on your own, Thailand is a good starting point. So you can combine a Thailand and a Maldives trip and fly from Thailand to Malé. There are some comparatively cheap flights from Bangkok, especially if you are traveling in the off-season. I did it that way and you can find a travel report about it here.
Search for flights to Malé on Skyscanner to get an initial overview. You can also check fork flights there and compare prices for different days. I did the same and got hold of a very cheap flight from Bangkok to Malé with AirAsia.
Sri Lanka is also ideal for a combined trip with the Maldives. A flight from Colombo to Malé only takes around 1 ½ hours. Sri Lanka is the perfect change from the Maldives, because there you can discover great mountain landscapes, green nature, elephants, Buddhist temples and much more.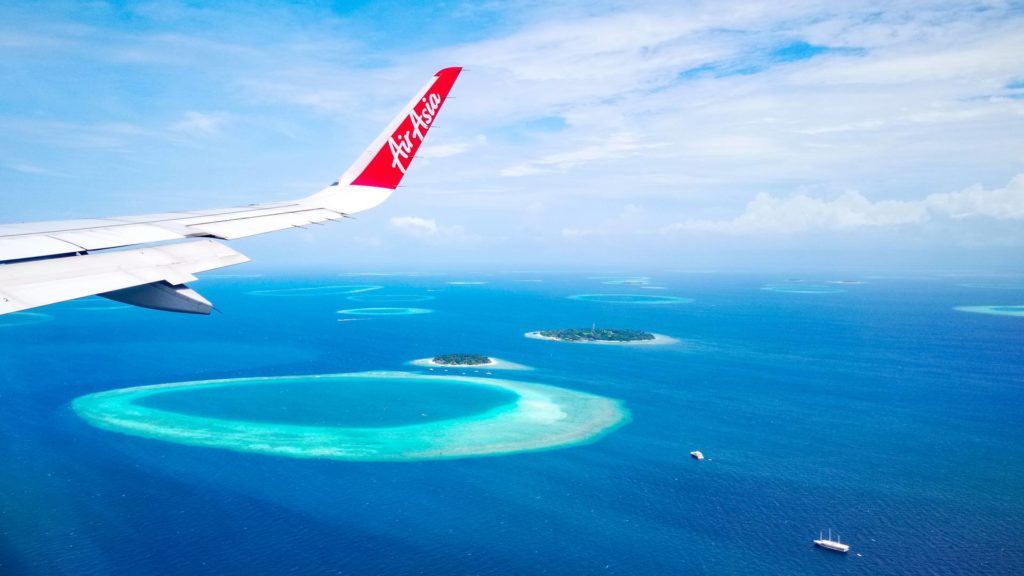 4. Maldives visa
With most European passports you don't need a visa for your individual Maldives trip. Thais can also enter the country without any problems. Provided, of course, that you don't want to stay in the country for more than 30 days.
Entry is very easy. Shortly after arriving in Malé, leaving the plane and entering the small airport, the immigration counters come next. Please note that you should definitely have a return ticket ready, even if in practice it's not always asked. Regardless of whether you are visiting a local island or a resort: you should at least have booked accommodation for the first few nights. Even if I haven't been asked, you may have to show your booking.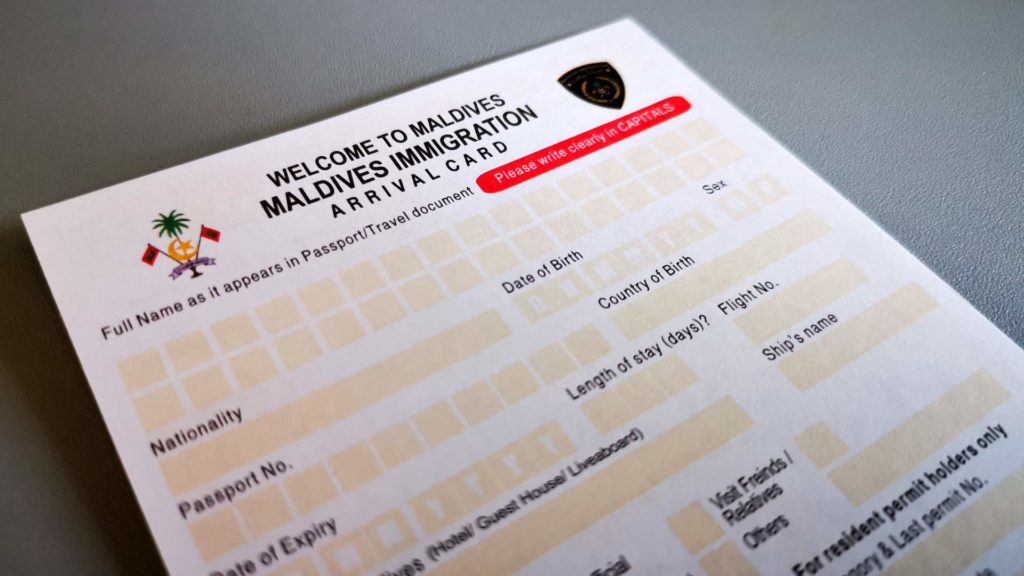 Should it be necessary to extend your 30-day stamp, then you have to go to the capital Malé. Note that Velana International Airport is not on the same island as Malé, but on the neighboring island of Hulhule. Between the islands there is a public ferry that runs regularly.
Note: When extending your Maldives visa, be sure to pay attention to the local holidays. Especially important Muslim holidays, such as Eid al-Fitr (end of Ramadan) could mean that the immigration office in Malé is closed. You can find more about religion in point 9.
5. SIM card
When we travel to a new country, we always get a SIM card first or as early as possible. In most Asian countries you can get many gigabytes for relatively little money. In the Maldives, the largest and best-known providers are Ooredoo and Dhiraagu. You can buy your tourist SIM card as soon as you arrive at the airport. If you want to find out more in advance, take a look at the Ooredoo website.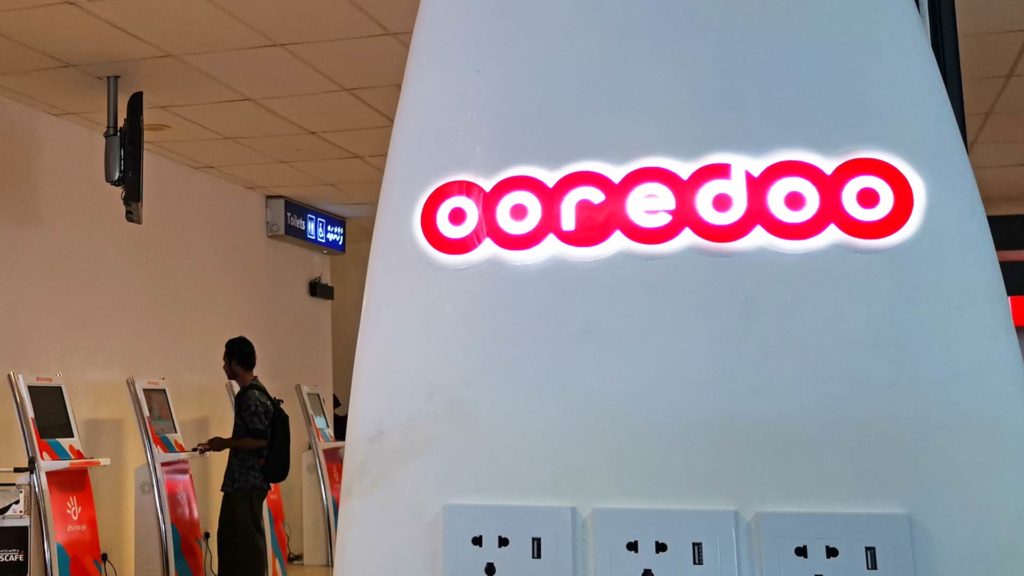 Most of Malé has 4G, but you cannot expect this on each of the almost 1200 islands. Islands that are a bit remote probably don't have a good network. But you can expect at least 3G in many places these days. Most resorts also offer fairly reliable WiFi.
6. Resort Islands
On your Maldives holidays you have the choice between a (private) resort island and a local island. The advantage of the resort islands is that you have the real holiday feeling and everything is very easy. After all, you are in a resort where everyone speaks English, the service is excellent and you don't have to worry about crime, etc. The disadvantage is that you don't have much to do with real local life.
No matter which atoll: the selection of private islands in the Maldives is huge. Even the cheapest islands are quite expensive compared to other holiday destinations. Some resorts, such as the Instagram-famous Hurawalhi Island Resort are almost priceless. But you also have fantastic beaches that are kept clean and staff that read all your wishes from your lips. Service in paradise has its price.
But some resort islands are also quite affordable in the Maldives. For your individual Maldives trip, I first recommend an island that is not too far away from Malé Airport. So you can take the speedboat instead of the seaplane, which is mostly many times more expensive. In addition, waiting times for a speedboat are often shorter than for a seaplane. Should you book the hotel on your own, e.g. on Booking.com, you will in most cases have to pay extra for the transport from the airport to your dream island. In my case, at Thulhagiri Island Resort, that was $ 100 per person both ways. The hotel will contact you and arrange everything with you.
As nice as it is: Note that you don't necessarily have to stay in a water villa, even on resort islands. Simple beach villas are sometimes only half as expensive and if you still want to stay in a water villa, then only book one night there.
Tip: some resorts offer all-inclusive upgrades that you can book separately. When booking on Booking.com and Agoda, you get either breakfast or half board. Just ask at your resort if you want all-inclusive. However, you have to decide for yourself whether this is worthwhile for you. The big advantage of the resort islands is that you get alcohol (in contrast to the local islands) and all kinds of it. Then all-inclusive could be worthwhile for you. Beer, wine, whiskey, rum and a range of cocktails were included in my booking.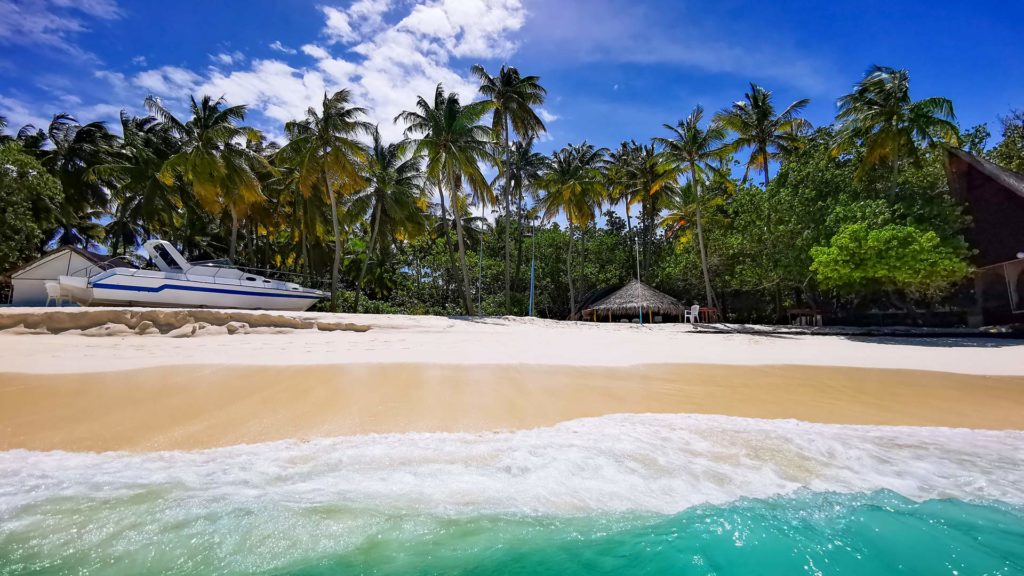 7. Local Islands
Some people claim that you haven't actually been to the Maldives if you haven't visited one of the local islands. There may be something to it, but visiting the local islands also means for you that there may be language barriers, the service is not always as good and the beaches are not always as perfectly clean as on the Maldives postcards. In addition, and this is a very important point, it is forbidden to drink alcohol anywhere on the local islands and to walk around in bikini (except in certain bikini zones). You are also not allowed to bring your own booze, beer, etc. (for more on this see point 9).
Maafushi
Maafushi Island is located about 30 kilometers south of Malé (in the South Malé Atoll) and is often referred to as the "Prison Island". The name comes from the state prison on Maafushi. There are currently 2500 inhabitants on the island, many of whom now also live from tourism. Hence, Maafushi is clearly one of the best known and most popular local islands in the Maldives.
If you want to visit Maafushi as an individual tourist, you will find a large selection of hotels and guest houses that are MUCH cheaper than the comparatively expensive resort islands. Not only are the accommodations much cheaper, but also food. You pay significantly more for a bottle of water or snacks on a resort island than in the small supermarkets on the local islands.
From Malé there is a daily ferry to Maafushi, which is not available on major Muslim holidays. In any case, inform yourself in advance if your arrival falls on a public holiday. In exceptional cases it can also happen that no boats are operating during a storm. Additionally, you should of course compare the departure time of the ferry with your flight. After all, you don't want to spend half a day or more at Malé Airport.
More local islands in the Maldives
Here are some more local islands in the Maldives you can visit (these are just a few). They are all more or less close to Malé and, depending on the island, can be reached either by speedboat or public ferry. The rule here is often: the smaller the island, the fewer guest houses there are available. Some islands only have a handful of accommodations, while Maafushi has meanwhile over 70.
Himmafushi (Kaafu Atoll – distance from Malé: 16 kilometers)
Huraa (Kaafu Atoll – distance from Malé: 20 kilometers)
Gulhi (Kaafu Atoll – distance from Malé: ca. 21 kilometers)
Thulusdhoo (Kaafu Atoll – distance from Malé: ca. 27 kilometers)
Guraidhoo (Kaafu Atoll – distance from Malé: ca. 30 kilometers)
Dhiffushi (Kaafu Atoll – distance from Malé: ca. 37 kilometers)
Fulidhoo (Vaavu Atoll – distance from Malé: ca. 56 kilometers)
Rasdhoo (Alif Alif Atoll – distance from Malé: ca. 58 kilometers)
Gaafaru (Kaafu Atoll – distance from Malé: ca. 62 kilometers)
Ukulhas (Alif Alif Atoll – distance from Malé: ca. 72 kilometers)
8. Malé
For many, an individual Maldives trip also includes a visit to the state capital Malé. Some, on the other hand, absolutely advise against a visit. The fact is that you see real local life there. The extremely densely populated city has around 150,000 inhabitants and the majority of them are located on the island of Malé (North Malé Atoll). This island is even one of the most densely populated islands in the world, which you can certainly imagine very well if you look at it from above on Google Maps.
You can visit the National Museum, the Fish Market, the Sinamalé Bridge, Hukuru Miskiiy Mosque (Old Friday Mosque) and the Islamic Center.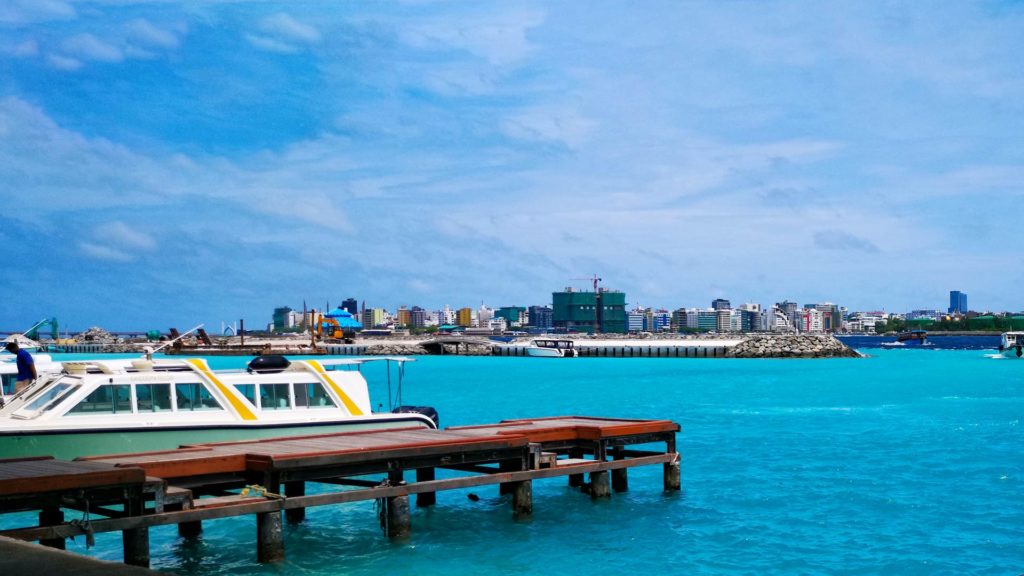 9. Religion
As already mentioned in point 7, the import, purchase and consumption of alcohol in the Maldives is generally prohibited. The Maldives is a strict country and every Maldivian has to adopt the Muslim faith by law. Maldivians who convert to Christianity are facing deprivation of their citizenship.
This is the reality away from the resort islands, where you don't notice any of this. It should therefore be clear to you that as a woman outside of your resort you should always dress properly and of course not walk through Malé in a bikini or hot pants. Even as a man, you shouldn't necessarily be walking around town in a tank top (or even topless) and short swimming trunks. That's just not right – not only in the Maldives.
Despite all these relatively strict rules, the Maldivians are all very nice. It is not uncommon for locals to invite friendly tourists to their home for dinner. You should definitely accept such an invitation, because you will not have a better opportunity to immerse yourself in real local life and even try one or the other delicacy that you would otherwise never get to see on a tour. If this happens, of course, pay attention to the clothes mentioned above and a small guest present is always a nice gesture, too (attention: in the Maldives, never give away sweets that may contain pork gelatin).
The import of certain goods, such as alcohol, pork, porn or sex toys, is also prohibited. Even Buddha statues or Christian figures are not allowed to be brought into the Maldives according to customs. I wear a Buddha amulet and had no problems – I would still recommend you to keep things like this out of sight, especially on the local islands.
Muslim holidays only play a role in the individual Maldives trip if you want to visit the local islands. Above all, pay attention to the Ramadan time, which of course does not play a role for tourists on the resort islands. During the month of Ramadan on the local islands, you should be prepared for the fact that from sunrise to sunset you will find no open restaurants (or only with difficulty).
Have you already visited the Maldives on your own? Do you have any further tips or would you like to share your experiences as an individual traveler? Write us a comment.
Photos: Photo 10 (Maafushi): Guadalupe Polito/shutterstock.com – Photo 12 (Islamic Centre Malé): pisaphotography/shutterstock.com