Dieser Artikel ist auch verfügbar auf: Deutsch
Malaysia is one of the most popular destinations for a vacation in Southeast Asia and has a lot to offer, especially for beach lovers. Some of the most beautiful beaches we have ever seen in Asia, are located in Malaysia.
Ideas for your vacation in Malaysia
In our opinion, Malaysia is a wonderful destination for a vacation. There are flights from all over the world to Kuala Lumpur, the tourist infrastructure is mostly well developed, and the people are friendly and speak good English. And then of course, there's the incredibly diverse and delicious Malaysian cuisine.
Malaysia offers many destinations for every taste, whether you are traveling alone or with the whole family. In Malaysia, you can even find paradise islands and resorts for a honeymoon. Accommodation is also available for every budget, from simple beach bungalows to well-appointed mid-range hotels and luxurious resorts.
---
1. Kuala Lumpur
With nearly 2 million inhabitants, Kuala Lumpur is the capital of Malaysia. Even if a big city does not necessarily qualify as a vacation for many, a few days in Kuala Lumpur are definitely well worth it.
In 2-3 days you can discover most of the sights of Kuala Lumpur and already get to know the diversity of Malaysian culture and cuisine. KL, as the city is often called, offers interesting destinations for culture and history buffs. But also visitors who want to experience an impressive, modern big city in Asia are exactly at the right place. A trip to the Batu Caves, a little north of Kuala Lumpur, is also absolutely worthwhile.
We have been to Kuala Lumpur ourselves countless times and look forward to further visits. With its two airports, KLIA and KLIA2, the metropolis is one of the most important tourist hubs, both in Malaysia and the rest of Asia.
Our hotel recommendation for Kuala Lumpur: Aloft Kuala Lumpur Sentral
2. Langkawi
Langkawi is Malaysia's most popular and well-known vacation island and in our opinion well worth a visit. The southwest coast of Langkawi with its main beach, Cenang Beach, is the tourist center of the island. There is a lot going on there and if that's too much for you, you can always go to one of the quieter beaches of Langkawi.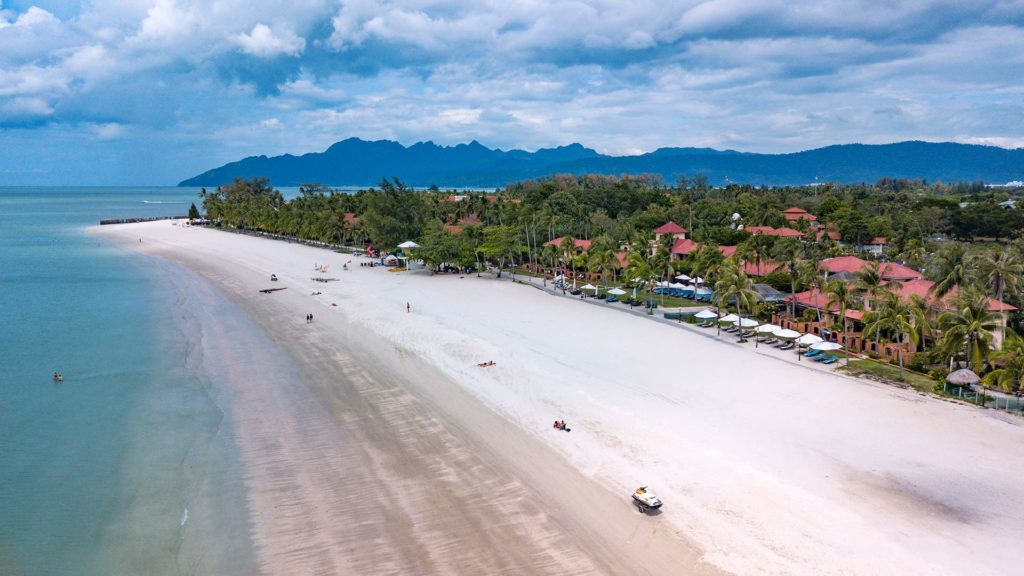 Tanjung Rhu's Four Seasons Resort offers a dreamlike resort for travelers – by the way this beach section is also one of the most beautiful of the island. South of Cenang it also gets much quieter: Tengah Beach (Pantai Tengah) is a wonderful choice for idyllic sunsets.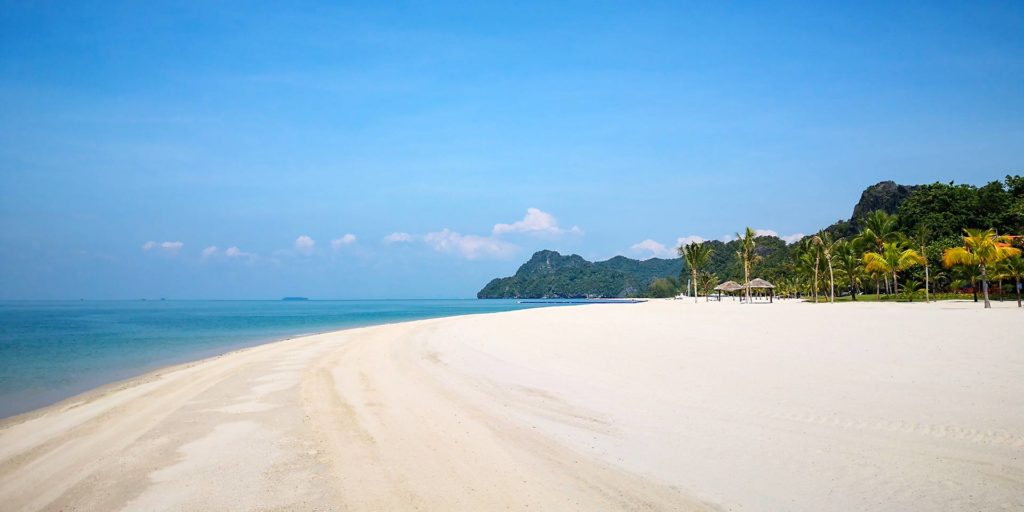 We have summarized everything else you can experience on Langkawi in an own blog article (coming soon in English). Because a vacation on Langkawi doesn't have to be just about relaxing at the beach. There are countless activities on Langkawi and so there are plenty of things to do.
Our hotel recommendation for Langkawi: Paretto Seaview Hotel
3. Redang
The island of Redang (called Pulau Redang in Malaysian) is often considered a mass tourism destination for the Chinese. But this is not necessarily true for the entire island. Especially not at all times of the year. While the main beach, the Long Beach, is usually very well visited, the north of the island is absolutely idyllic. The two bays of Pantai Teluk Dalam are a dream for every traveler and we can only recommend a stay at The Taaras Resort.
The second bay of Pantai Teluk Dalam is nowadays often called Turtle's Beach. Surely, you can already guess where this name comes from. During our visit a few years ago, we swam there with some turtles and it was wonderful. At that time, the beach was completely deserted. Today, there are some small beach huts, where you can have something to eat or treat yourself to fresh coconut. Nevertheless, there is no trace of mass tourism here.
A snorkeling tour is a very popular activity on Redang and we enjoyed it very much. Some impressions of our snorkeling tour on Redang can be found on our blog and also on YouTube.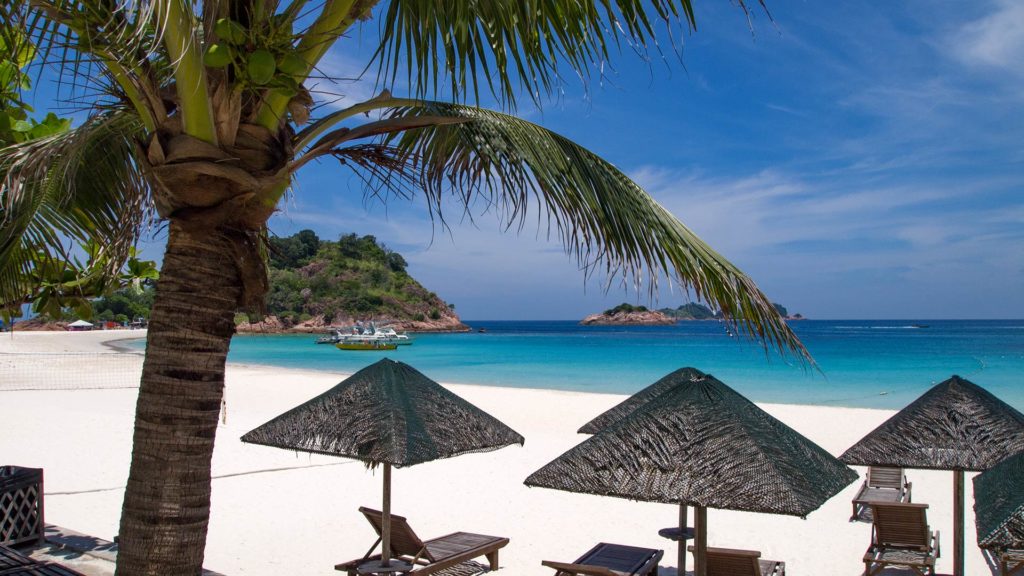 If you want to spend your vacation on Redang and you don't mind many people on the beach, you should check out accommodations on Long Beach. The beach section at Laguna Redang Island Resort is one of the most beautiful on the island and a popular photo motif (see photo above). We actually didn't even experience Long Beach as being particularly crowded ourselves. However, this can change quickly during vacation season.
Our hotel recommendation for Redang: The Taaras Beach & Spa Resort
4. Perhentian Islands
The Perhentian Islands are located near the coast town of Kuala Besut. They consist of two islands: Perhentian Besar und Perhentian Kecil. The smaller island, Perhentian Kecil, was long considered a backpacker's paradise. For a dream vacation in Malaysia, however, we clearly recommend the other island, Perhentian Besar. It's much quieter and definitely more beautiful.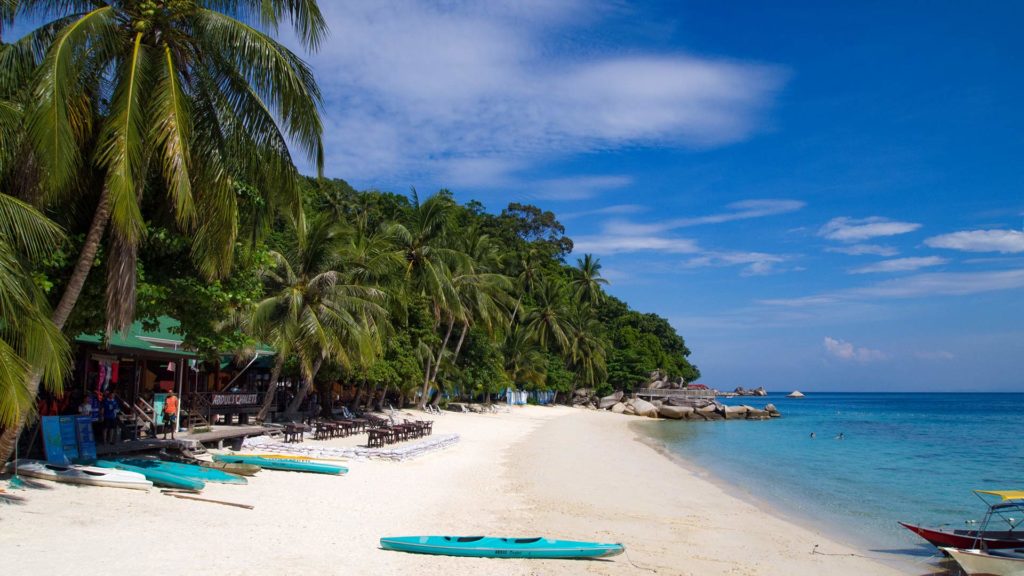 I was absolutely speechless because the beaches there are amazing! Again, there are several beaches from where you can go snorkeling and swim with turtles. Aside from snorkeling, swimming and diving though, there's not a whole lot to do on the Perhentians. But if that's what you're looking for, you should definitely check out the islands.
Tip: If you are flexible about your Malaysia vacation, you can also connect the Perhentians with Redang (see point 3) and do a little island hopping. There are boat connections to the other island.
Our hotel recommendation for the Perhentian Islands: Perhentian Island Resort
5. Borneo
The country Malaysia consists of two big parts and the island Borneo (better said a part of it) is the second half of Malaysia. Parts of Borneo belong to Indonesia and the state of Brunei. The Malaysian part consists of the states of Sarawak and Sabah.
Borneo's nature and flora and fauna are unique. You can go on adventurous jungle tours and observe wild orangutans in their natural habitat. Borneo is also a good choice for dream beaches and paradise islands. So, if you are looking for many different things to do during your vacation in Malaysia, Borneo certainly is a good choice.
A popular vacation destination in Borneo, especially for locals, is the coastal town of Kota Kinabalu. From there you can for example do tours to offshore islands like Pulau Manukan or Pulau Mamutik.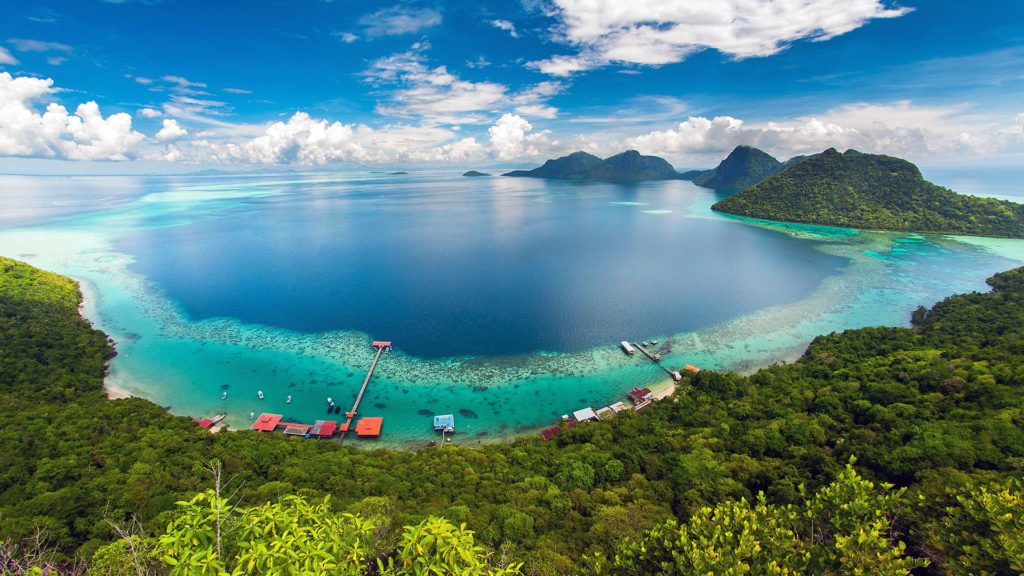 About 500 kilometers to the southeast, things are even more remote and paradisiacal. The islands of Semporna, for example Sipadan Island (Pulau Sipadan) or Mabul Island (Pulau Mabul), are a real paradise for divers. Mabul Island offers some accommodations and is especially wonderful for a diving vacation. The island Bohey Dulang offers a fantastic viewpoint that you can climb.
6. Tioman
Tioman is also a great diving and beach paradise. The island is located off the eastern coast of the Malay Peninsula and is best reached by ferry from the mainland. Tioman has its own small airport, but the choice of flights is vanishingly small.
If you want to have a quiet vacation in Malaysia and don't need much action, Tioman is a good choice. If you decide to go to Tioman, we can definitely recommend the beautiful Juara Beach. The bay consists of two large parts and offers a small selection of accommodations and restaurants. If you get bored during your vacation, you can always check out the other side of the island with its Salang Beach, Monkey Bay or Teluk Kekek. There are even a number of other beaches on the west coast of Tioman.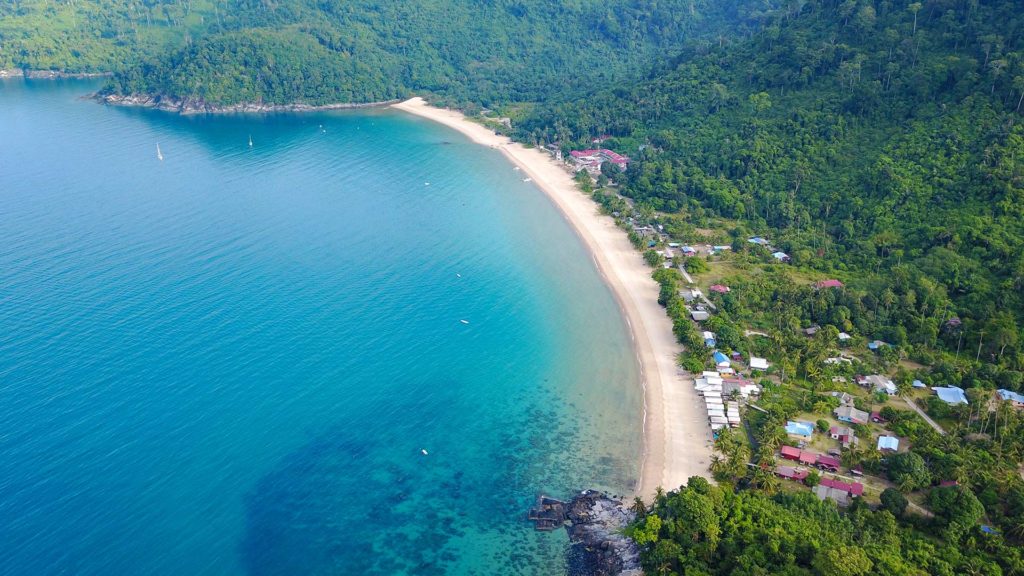 The only downside is the relatively tedious journey to Tioman. As already mentioned, the airport is hardly usable and so you have to go there via the coastal town of Mersing. Mersing is about 5 hours away from Kuala Lumpur by bus, which does not make the journey particularly pleasant. But the tickets are very cheap, the buses are reliable and there are frequent connections. Take a look at 12go.asia for the best times and to compare prices.
Our hotel recommendation for Tioman: Rainbow Chalet
7. Penang
If you're rather looking for some culture and a wide range of food during your vacation in Malaysia, you shouldn't miss Penang. Penang offers not exactly countless dream beaches, but a variety of things to do instead.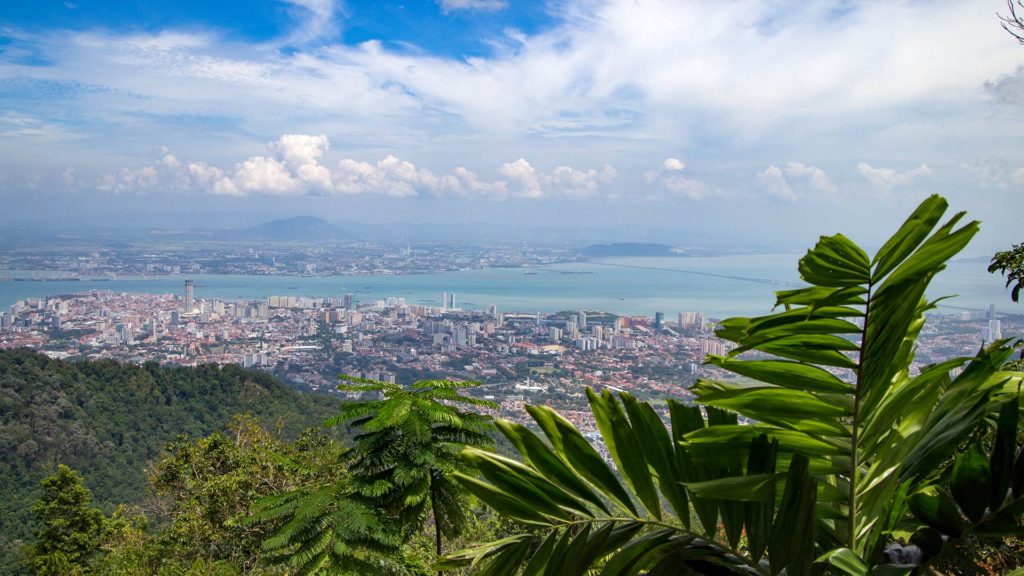 The capital George Town is known worldwide for its many street art creations, which can be found everywhere in the old town. So you can stroll through the old town and discover a new interesting and creative piece of work around every corner. At the same time, Penang is a melting pot of cultures, so you'll have the choice between typical Malaysian food and dishes that have Indian or Chinese influences. You can find out what else you can experience at Penang in our blog article (coming soon in English). So you can see already how interesting a vacation at Penang can be.
Penang is easy to reach thanks to its international airport and also domestic flights from Kuala Lumpur are sometimes very cheap. Penang is also a great choice if you want to fly to one of the neighboring countries after your Malaysia trip. You can easily find flights to and from Penang at Skyscanner and compare them.
Note that Penang (at least George Town and its surroundings) is not a typical destination for a relaxing vacation. George Town is a relatively large city, where there is also sometimes a lot of traffic. However, for a cultural trip including day trips to the rest of Penang, George Town is a wonderful place to visit.
Our hotel recommendation for Penang: Hotel Kimberley
8. Pangkor
Pangkor Island (Pulau Pangkor) is a vacation destination in Malaysia that is probably not mentioned that often. This might be due to the fact that Pangkor is rather visited by Malaysian tourists, especially on weekends and during the vacation season. The island is located in the state of Perak on the west coast of Malaysia and even has a small airport. However, many airlines do not fly to Pangkor Airport, so it is recommended to travel by boat from Lumut.
On Pangkor it is mostly quiet and of course you will find some beautiful beaches. But besides the idyllic beaches, the island also offers interesting sights, such as the floating mosque, some Hindu temples and a Chinese temple. You can guess already that Pangkor is also very influenced by the Indian and Chinese cultures, similar to Penang. The range of food is also accordingly diverse.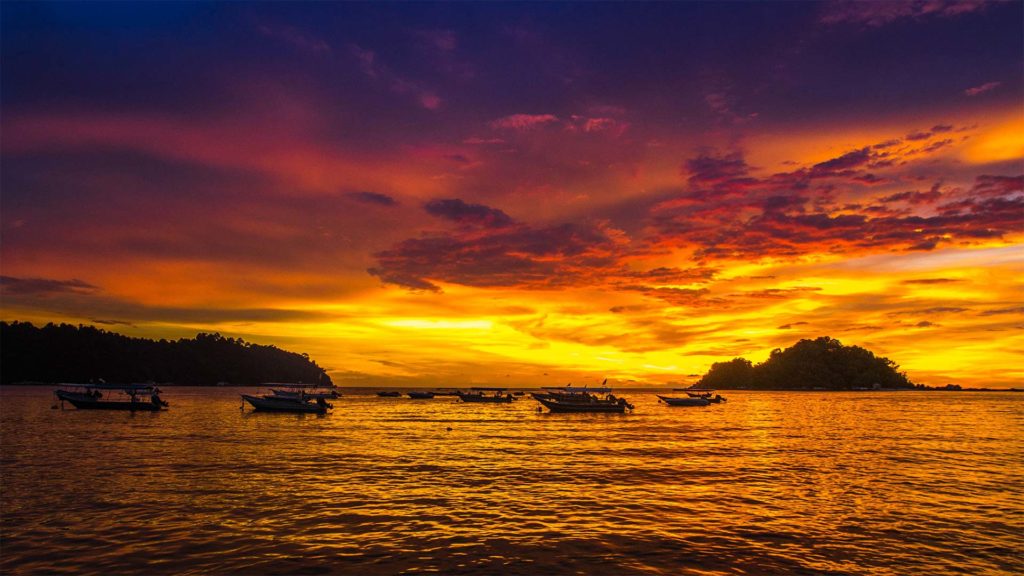 Have you ever been on vacation in Malaysia? What was your favorite destination there? Leave us a comment.
Photos: Photo 6 (Pulau Bohey Dulang): nasrul hisham/Shutterstock.com – Photo 9 (Pangkor Sunset): Fhaizal Mazlan/Shutterstock.com