Dieser Artikel ist auch verfügbar auf: Deutsch
Despite Pai being a popular backpacker hub, Mae Hong Son province doesn't appear often on a tourist's radar. Situated in Northwest Thailand on the border to Myanmar, Mae Hong Son was put aside from its neighboring provinces such as Chiang Mai or Chiang Rai when it comes to popularity and activities.
Tips for Mae Hong Son in the North of Thailand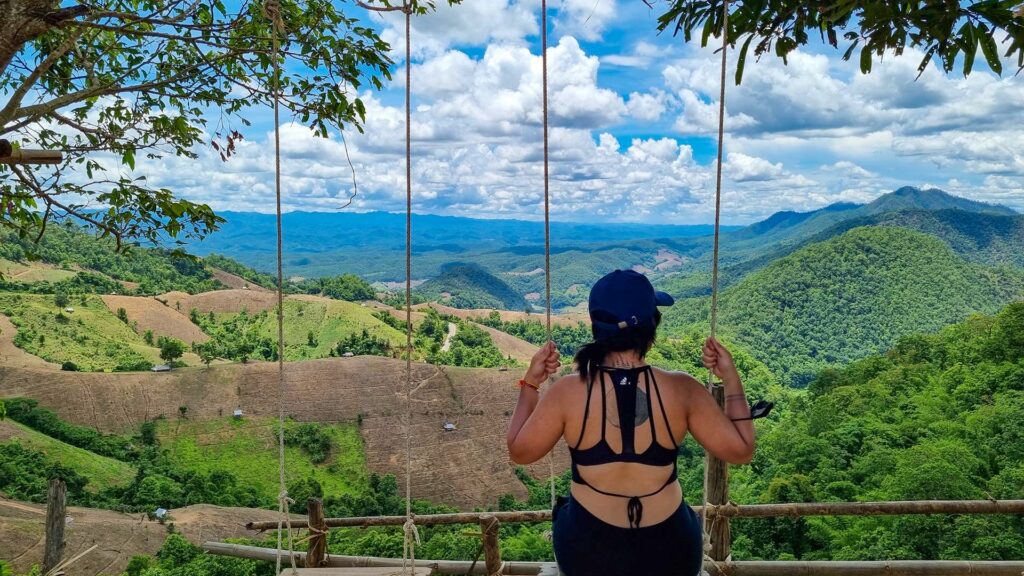 However, visiting Mae Hong Son feels like a frontier experience since it's off from the usual tourism buzz and thus, most of its towns and attractions aren't easily accessible for tourism. Some might assume that it's more authentic than other provinces in Northern Thailand. Moreover, it's rich with luscious green mountains, dense rainforest, neverending rice fields and ethnic hill tribe culture which makes you feel like an explorer in an unknown territory. The natural resources of Mae Hong Son alone makes your trip more than worth it!
In this article, I will tell you about the activities you can do and which sights you need to see for your little Mae Hong Son adventure.
---
How to get to Mae Hong Son
By bus/minivan
Mae Hong Son is the westernmost province in Thailand. Due to its high mountain ranges covered in mist most of the time, it is also called 'the city of three mists' (three referring to the three seasons in Thailand; dry season, rainy season, cold season). The higher the location, the more windy and narrow the streets can be. If you're not driving on your own, I highly recommend you to bring some travel medicine along with you if you travel by minivan or bus. Otherwise, you will easily get motion sick.
There are some bus companies which provide services to and in Mae Hong Son province. Most of the minivans by Prempracha start from the bus terminal (Arcade 2) in Chiang Mai. Do not be surprised: Thai locals also use Prempracha to send off packages. If you're sitting next or in front of a pile of boxes, that is a common sight here.
The bus company Sombat Tour has long-distance night buses connecting Bangkok to Mae Hong Son and other towns in the province along the way. The ride takes around 15 hours.
By plane
The most convenient (and also not budget-friendly) way to get to Mae Hong Son is by airplane. From Don Mueang Airport in Bangkok you can hop on a plane to Mae Hong Son which shouldn't take you more than 1,5 hours. There are frequent domestic flights operated by Nok Air.
By rental car/motorbike
If you want to take a deep dive in the culture and landscapes of Mae Hong Son by driving on your own, I highly recommend you to rent a motorbike or car and do the Mae Hong Son Loop.
Accommodation in Mae Hong Son – our hotel tips
Traveling through Mae Hong Son province, there are many hotels, guesthouses and homestays available. Even if you stop in a small village, you can find suitable accommodations. Here are a few that I can recommend to you.
The Quarter (Pai): The Quarter is an elegant 4-star hotel, located in the heart of Pai. Each hotel room is bright and spacious (especially the bathrooms). Moreover, it has a terrace with a great garden view. Besides the cozy rooms, the green swimming pool is a highlight of the Quarter. Breakfast is included in the hotel fee.
Countryside Resort (Pai): The Countryside Resort is a budget-friendly hotel a bit outside of town. The bamboo huts are directed to rice fields and mountains. I stayed for a couple of days there and I would do this again. The staff is not only friendly and super helpful, they also offer you laundry service (30 Baht per kg) and give you a lift to Pai Bus station or other destinations.
B2 Mae Hong Son Premier Hotel (Mae Hong Son): This hotel is located right in the heart of Mae Hong Son town. The rooms are quite comfortable and clean. The staff is very friendly and doing their best to make your stay enjoyable as possible.
Herntai Resort (Mae La Noi): Constructed in the Northern Thai traditional style, it is located in the center of Mae La Noi. The rooms aren't that big, but very clean. The garden around Herntai Resort is quite spacious, with an awesome view of rice paddies and mountains. Just lie down in one of the hammocks and relax.
Ban Huai Hom Resort (Mae La Noi): If you're a coffee lover like me, don't miss this place! Ban Huai Hom is a small village located near the border of Chiang Mai province. You can enjoy coffee that the people grew in this area. Besides, you can rent one of the rooms if you want to stay overnight. Just ask the locals. They are more than delighted to help you out.
Above the Sea (Mae Sariang): A modern boutique hotel in the center of Mae Sariang. The rooms are quite clean and the beds are more than comfortable. A pool and a small gym is also part of the facilities. When I stayed there, I felt more than welcome at Above the Sea. Breakfast is included in the hotel fee.
---
1. Mae Hong Son Loop
The loop starts and ends in Chiang Mai and takes you mostly through the provinces of Mae Hong Son, Lamphun and Chiang Mai to a small extent. Due to its many turns and twists along this excursion, the loop is preferred by many motorbikers. Doing the loop, you will experience the most astonishing mountain sceneries, learn about the people of the ethnic hill tribes, and have a once-in-a-lifetime sense of deliberation. The 373-mile (ca. 600 km) route can be done within 4 days, but if you're not in a rush, I recommend you to prolong your trip. The fascination of the Mae Hong Son Loop can be compared to a dry-aged beef: the more time you invest, the more intense your (taste) experience will be.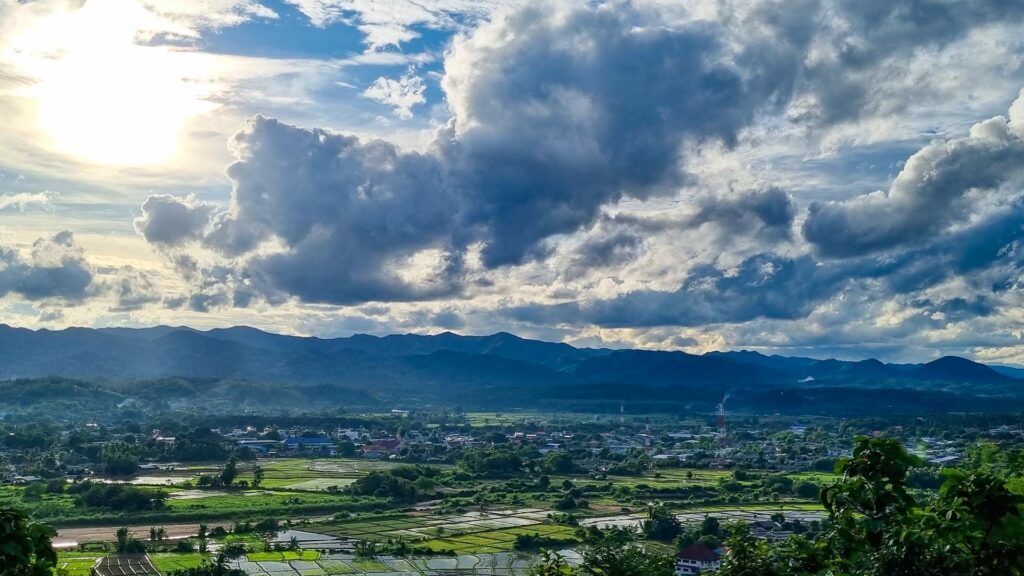 The preferred time to do this loop is either in the cold season (October-February) or dry season (March-May). If you like to be adventurous, you can ride the loop during the rainy season (June-September). The rice fields are luscious green during this time while in the other seasons the rice plants are either already harvested or not planted yet, hence, they look rather naked. The streets are very slippery if it rains. Potholes and landslides are common, so better be extra cautious.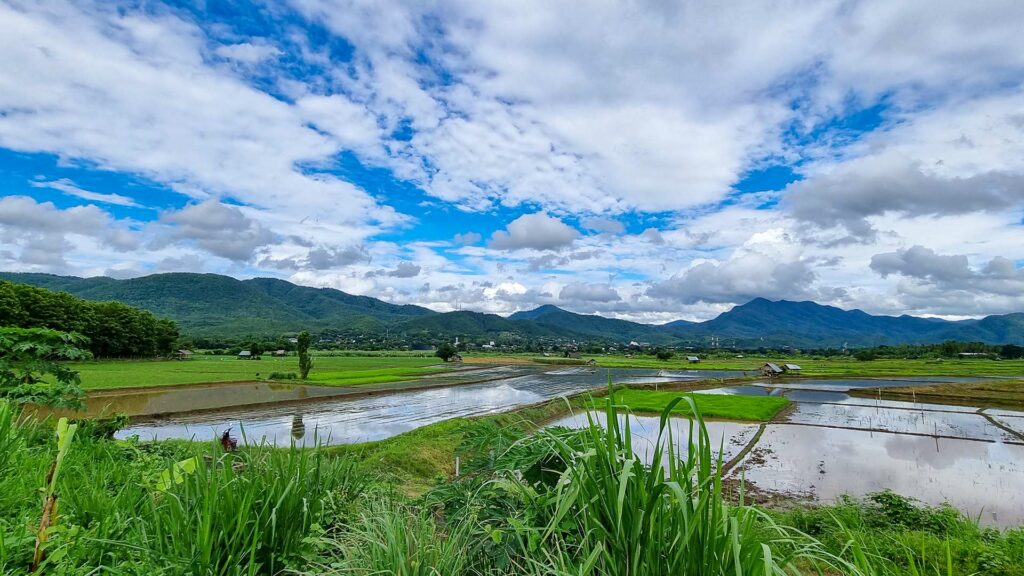 If you don't feel comfortable to ride on your own, you could also book private tours.
2. Mountain viewpoints
Number 2 correlates with number 1 on this list. Mae Hong Son has one of the most stunning mountain views in the whole country where you can look far into the distance! Since this province is way less urbanized than its neighbor Chiang Mai, most of the nature remains untouched and well-preserved. There are many viewpoints along the Mae Hong Son Loop.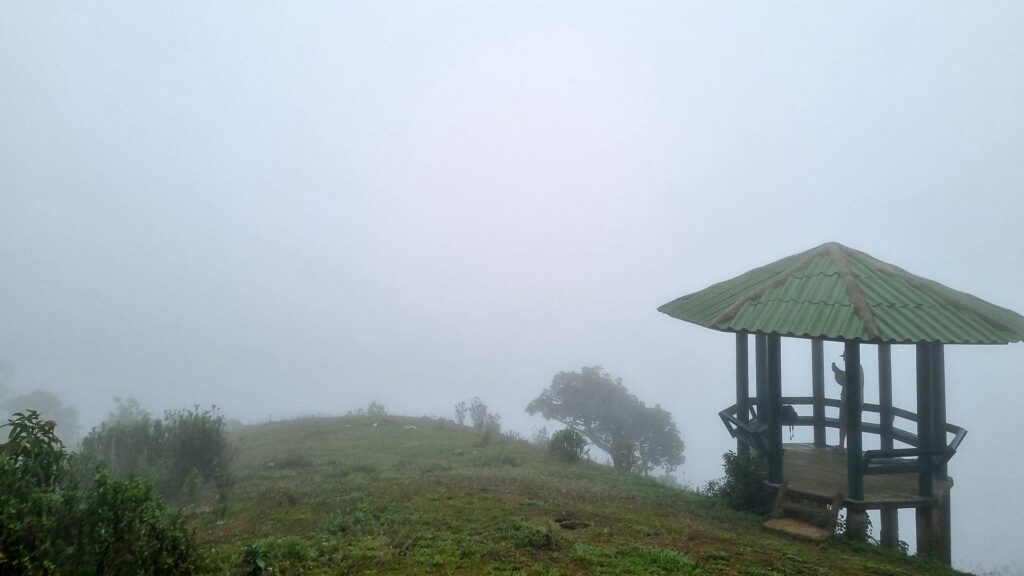 3. Hot Springs
While you're on the Mae Hong Son Loop, take a break at one of the hot springs in the province. The entrance fee shouldn't be more than 50 Baht and you can stay as long as you want. Hot springs such as Nong Haeng Hot Springs or Pha Bong Hot Springs invite you to rest and contemplate. You can also rent a private bathtub if you want to have more privacy. However, after Covid most of them look a bit run-down and not very well-maintained.
4. Visit the only crystal calcite cave (Tham Kaew Komol) in Southeast Asia
Around 6 km east from Mae La Noi town on Doi Tham, there is one of the most beautiful crystal calcite caves in Thailand. The cave goes 30 meters deep and has five chambers in different sizes where calcite crystals are formed like snowy corals or clouds. This is a rare phenomenon since calcite can only become crystalized and set solid at the right temperature of hot steam. Walking in and out Tham Kaew Komol doesn't take more than 30 minutes. You can only enter the cave with a guide. Entrance fee is 80 Baht.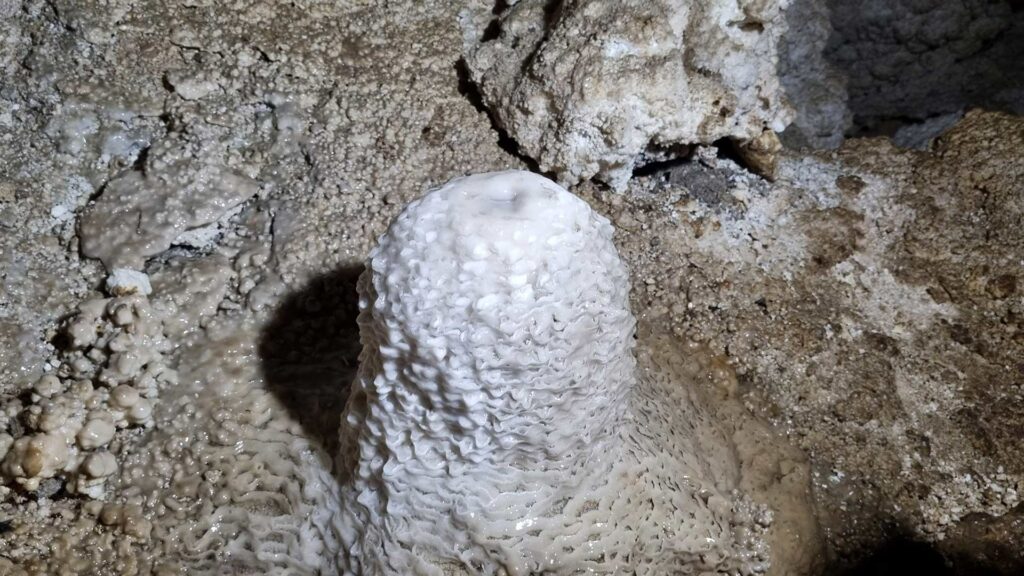 5. Wat Tham Phra (Mae Sariang)
Close to the city of Mae Sariang, there is a unique Buddhist cave temple called Wat Tham Phra. By scooter, the temple is very easy to reach from the town. The temple is constructed inside of a mountain. From there you have an amazing view over Mae Sariang and its surroundings. The cave part of this temple is quite small, however, the Buddha statues are gigantic. Normally, the temple doesn't have many visitors, so enjoy the calm and tranquil atmosphere at Wat Tham Phra. No entrance fee.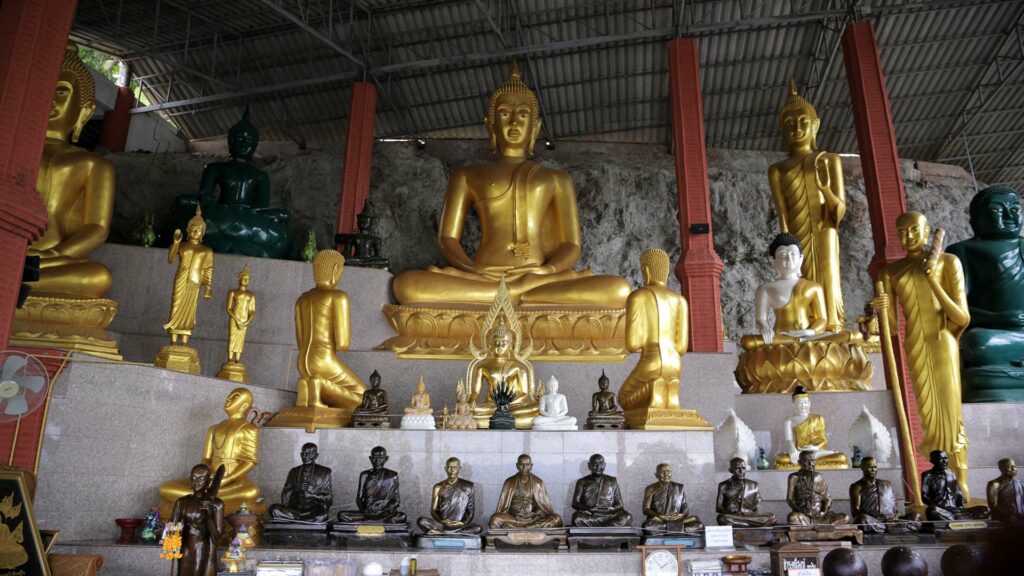 6. Local Thai Nightlife
If Chiang Mai is still too hectic for you, but you don't want to miss the nightlife. I recommend you go to local Thai bars in the towns of Mae Hong Son. Some of them are more bustling than you think. Depending on the bar, there are also live music or karaoke nights. If there is a live band playing, the Thai locals can be extremely extroverted. Despite language barriers, Thai people might be interested and want to chat with you over a beer or two.
My favorite bar in the whole province is Ching Ching in the center of Mae Sariang. The beer prices are between 60 and 90 Baht per bottle. In addition, the bar is very relaxing and often plays a variety of Thai and Western music.
7. Salawin River Boat tour
The Salawin National Park is located right at the border to the Kayah state in Myanmar. The park itself is a highlight of its own; it's very mountainous and consists of different types of forests. However, the Salawin river is what makes it so special (also it's in the name of this park). The Salawin river flows from the Tibetan Plateau and ends in the Andaman Sea, crossing through three different countries. Furthermore, it functions partly as a geographical demarcation between Thailand and Myanmar.
You can sit on a boat which sails across the river, literally crossing borders. There isn't much public information about the itinerary. However, I recommend driving south from Mae Sariang towards Sop Moei and heading west to the Thai-Myanmar border. There is a small village called Baan Mae Sam Laep at the Salawin riverbank. Ethnic minorities such as Karen and Shan people live there who are very friendly. Just ask around about the boat tour and they'd be happy to help you.
8. Thom's Elephant Sanctuary (Pai)
Thom's Elephant Sanctuary offers relaxing Elephant tours in nature outside of Pai. At the camp, we had the pleasure to meet Ot and Tutdao, two graceful elephant ladies who are very playful and enjoy eating. It was so much fun to walk with the gentle giants and bathing with them in the river. Thom herself grew up in a mahout family (mahouts means elephant keepers or trainers) and takes great care of them. A two-hour elephant tour including Bamboo rafting and lunch costs around 1800 Baht per person. Riding the elephants is strictly forbidden.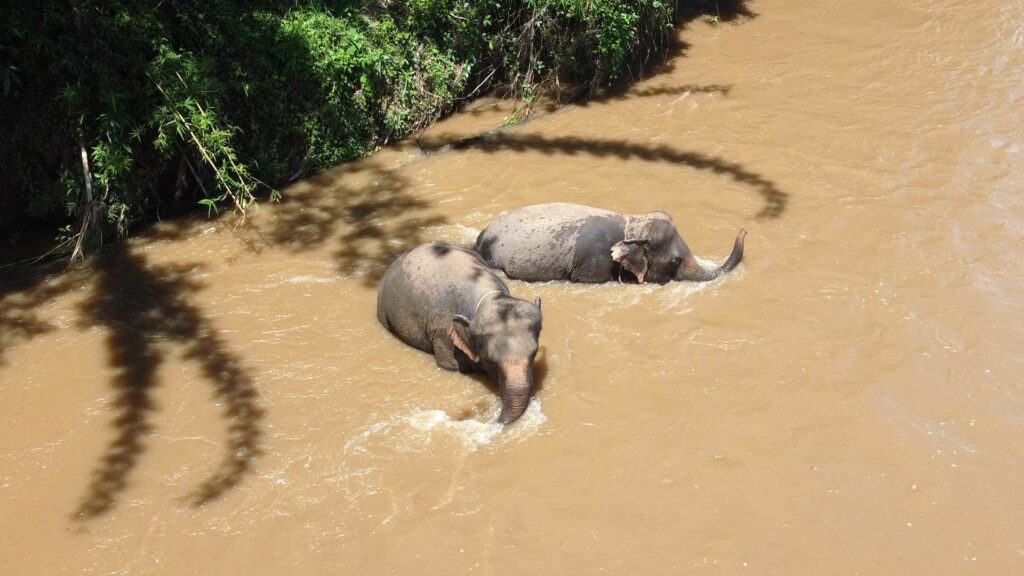 9. Ban Rak Thai (Mae Aw)
If you're doing the Mae Hong Son Loop, don't miss Ban Rak Thai (In Thai, the name means 'the village loves Thai'), a Chinese village 44 km north from Mae Hong Son city. During the rise of Communism in China, people from Yunnan province fled the country and settled in this area. Some generations later, they fully adapted Thai language and culture, but they've never forgotten about their heritage. The village also known as Mae Aw is very small and you can easily explore everything by foot. Especially during winter, it can get quite chilly here, so better pack some warm clothes. One of the best sightseeings is the central lake covered in mist in the early morning and the Chinese-style houses surrounded by tea plantations.
You can either book a private tour to get there or drive yourself with a rental vehicle from Chiang Mai, Pai or Mae Hong Son town. But the windy streets might not be suitable for inexperienced drivers. There are also yellow pick-up trucks going back and forth between Ban Rak Thai and Mae Hong Son town.
10. Relax at cafes next to a rice field
In Mae Hong Son province, you'll have many opportunities to enjoy a cold beverage with a splendid view over broad rice fields. Most of the population in Mae Hong Son work in the agricultural field and growing rice is very essential for many families. Some of them built lovely cafes next to rice farms.
Two of my favorite cafés which are located next to rice fields are Mana and Phamolor Coffee in Mae Sariang. They also offer a great menu with self made cakes and delicious coffee! Moreover, for the digital nomads among us: The WiFi connection is really fast and power outlets are available at these places.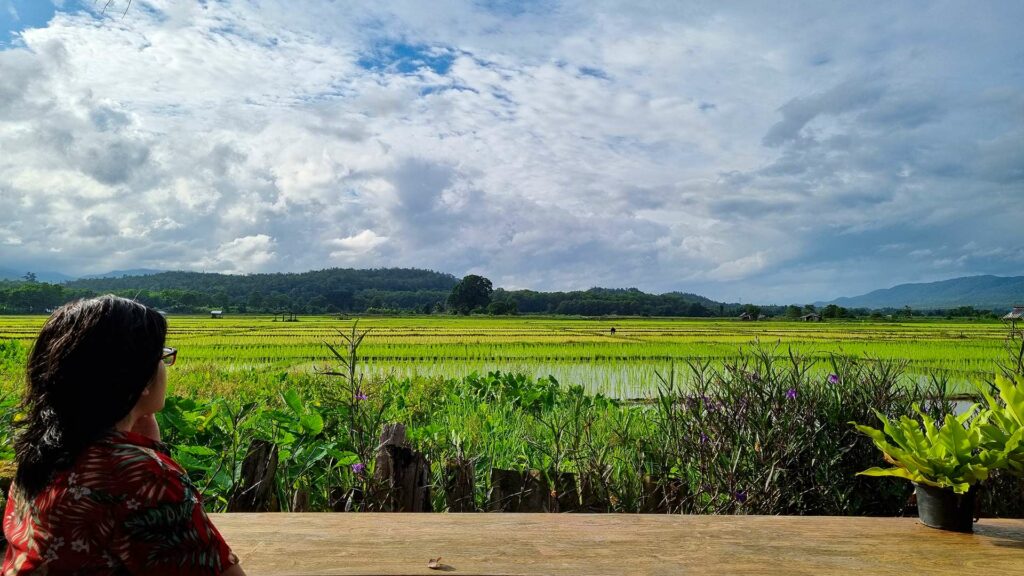 Tailpiece
Honestly speaking, if you're searching for the ultimate, exciting 'Thailand' experience, Mae Hong Son might be the wrong place for you. The province is very down-to-earth, mostly rural and deeply relaxing. If you're a fan of remote places far away from the tourist-y hustle (Pai is a big exception) and gorgeous nature, then you got to see Mae Hong Son.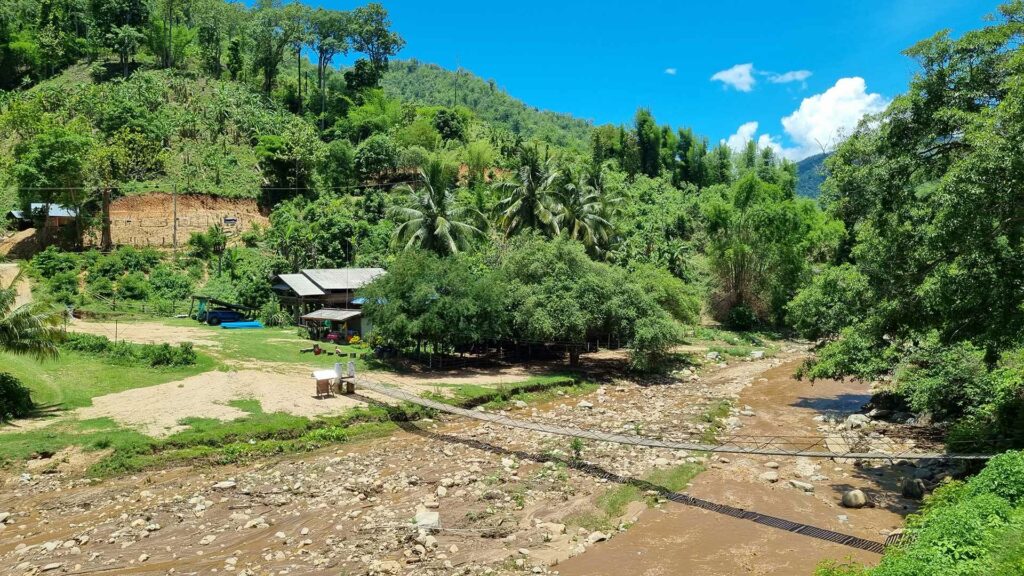 This province invites you to dive into the ethnic hill tribe life and enjoy the small things in life. Mae Hong Son does neither offer a great variety of activities nor the most stunning temples. Just drive around, explore the province on your own and talk to the people. By doing so, Mae Hong Son will provide you with the best Thai local life experience than anywhere else.
---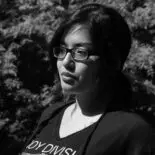 About the author
Hey guys, it's Pako Nam, working as a freelance author and digital creator. Born in Thailand and growing up in Germany, my cultural identity interchanges between East and West. Traveling and writing is my way to explore the world which I document on my social media channels.
Have you been to Mae Hong Son Province? What is your favorite thing to do in Mae Hong Son? Tell us below in the comments.
Gast
Dies ist ein Gastartikel. Falls du Fragen oder Anregungen zum Thema hast, schreibe sie einfach in die Kommentare oder kontaktiere den Gastautor direkt auf seinem Blog.