Dieser Artikel ist auch verfügbar auf: Deutsch
Mighty mountains, crystal clear lakes, lush meadows and powder snow in winter: what more do you want? Leogang could have originated directly from an advertising brochure of the Austrian Tourism Association, because it really has everything you can only dream of. Close enough to justify an extended weekend trip, but at the same time so different from German (big) cities.
7 reasons why Leogang in the Salzburg region should be your next destination in Europe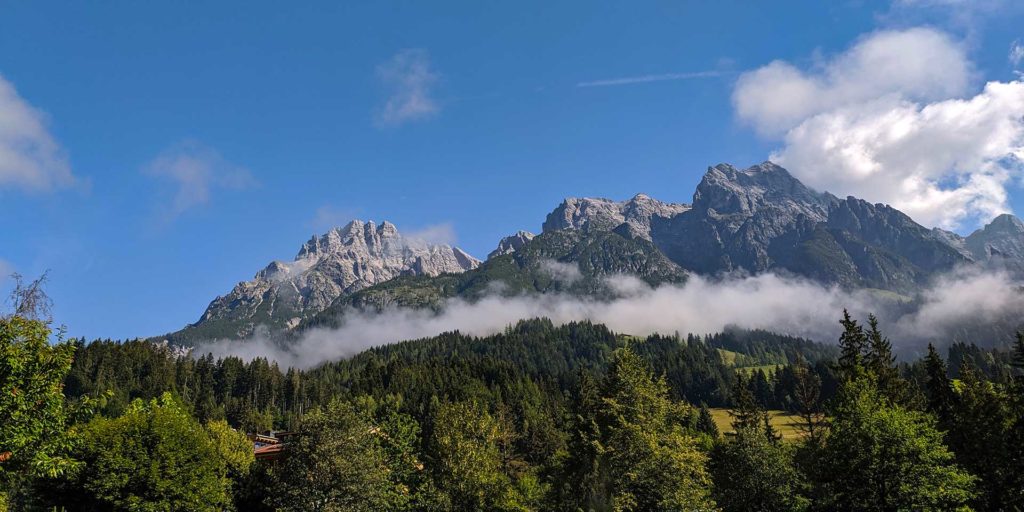 We arrived by train (!) from Berlin in a little more than 8 hours – with two easy transfers in Munich Central Station and Wörgl. The trip itself is a real treat for sore eyes, and from Munich onwards we were spoiled by mountain panoramas and landscapes like from 'Heidi' movies.
I had never been to Austria before in my adult life and was completely blown away! Everything that I liked (which was everything!) I will share with you today.
---
1. Summer highlights
Hiking, biking, swimming, riding, paragliding – what do you fancy? Apart from a beach, Leogang really has everything. Even sweaty activities become somehow bearable in view of the impressive mountain scenery.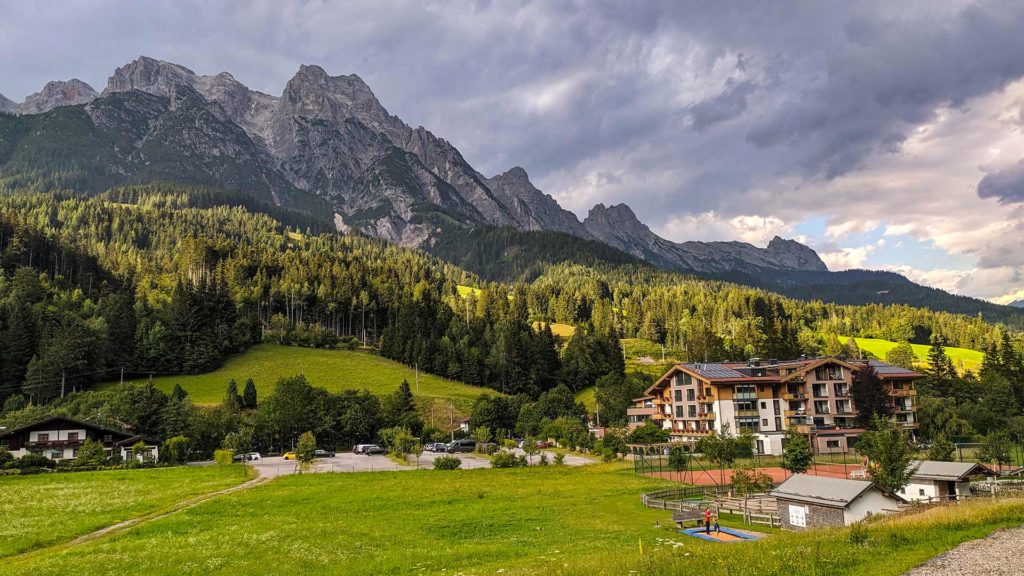 In summer, the most colourful mountain flowers and herbs bloom wildly all over the meadows, making sure that the milk of the cows consuming them tastes especially good. Even in the high season in summer, I could still find quiet corners – which means that even if the area gets busy, you won't feel like it is. Of course, this can be different in winter.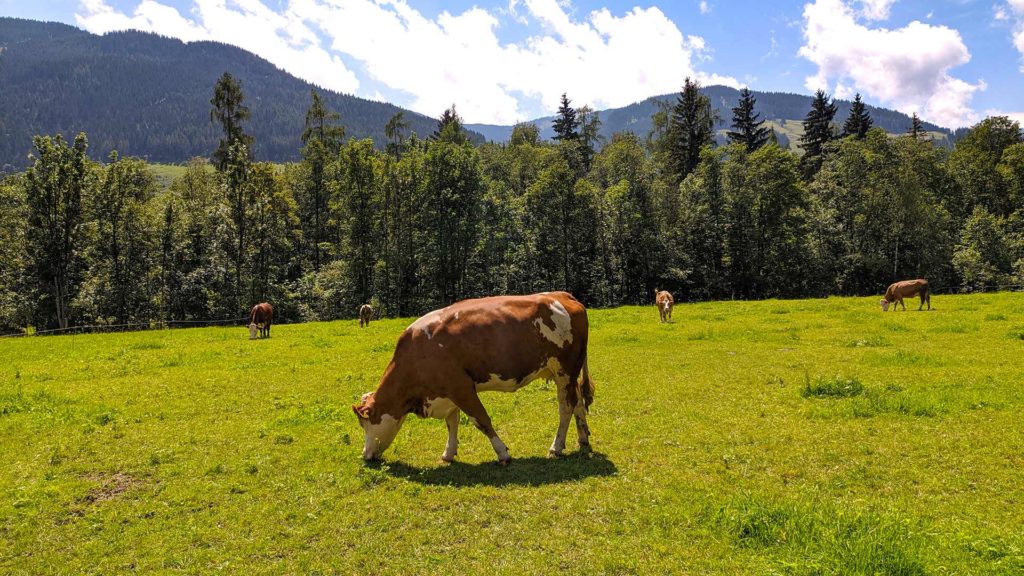 2. Winter dreams
I personally wasn't there in winter, but it's on my list – if I go, then of course there will be an update for you here. For now, just the facts for you: The Skicircus Saalbach-Hinterglemm offers 270 km of slopes and 70 lifts!
Since almost every hotel or guesthouse has a sauna, I can well imagine that even in winter Leogang is a great place to stay for people who tend to prefer warmer climates (like me). I have also seen some Après-Ski bars, which suggests a lively party scene in winter.
3. Sports activities
Leogang does not only have hiking trails and ski slopes – in summer you will find a very impressive Bikepark in the centre of the village. You can rent bikes of various kinds directly at the valley and then take the ski lift up – and then it's downhill for up to 4km!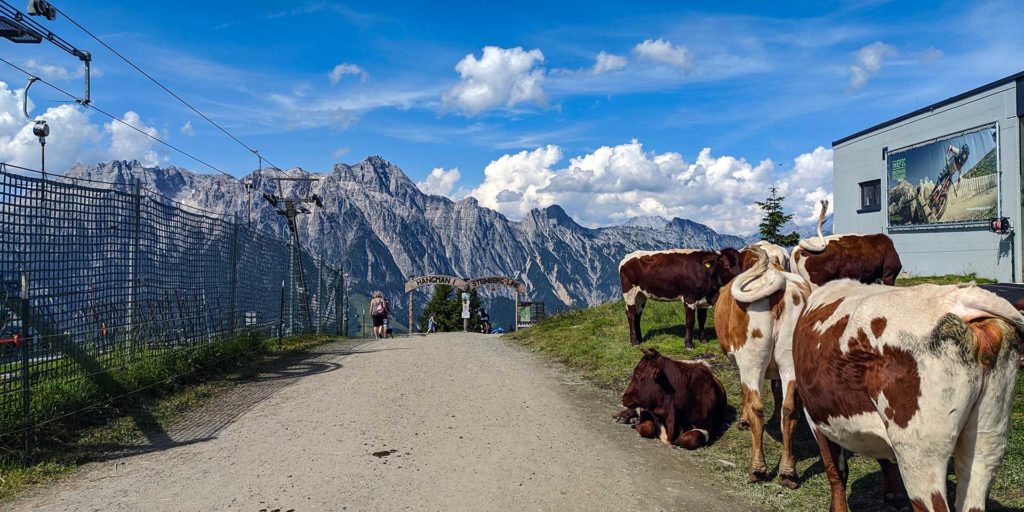 There are harder and easier tracks, but all of them look like extreme fun (the dirt-splashing, adrenaline-racing kind of fun) If you prefer to stay clean, a tandem flight on a Paraglider is recommended. On beautiful, clear days, the sky is populated by numerous gliders enjoying the mountain panorama from above.
Of course, "normal" bike tours for non-adrenaline junkies are also possible – especially nice if you can pop your feet into an icy cold mountain stream afterwards. There are also several riding stables where you can book riding lessons and/or experience the mountain scenery on horseback.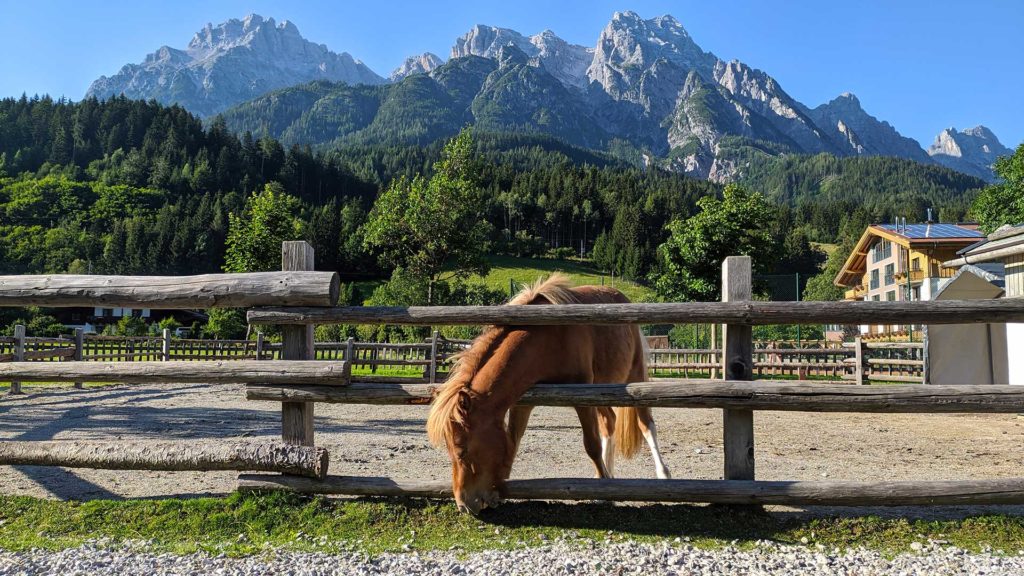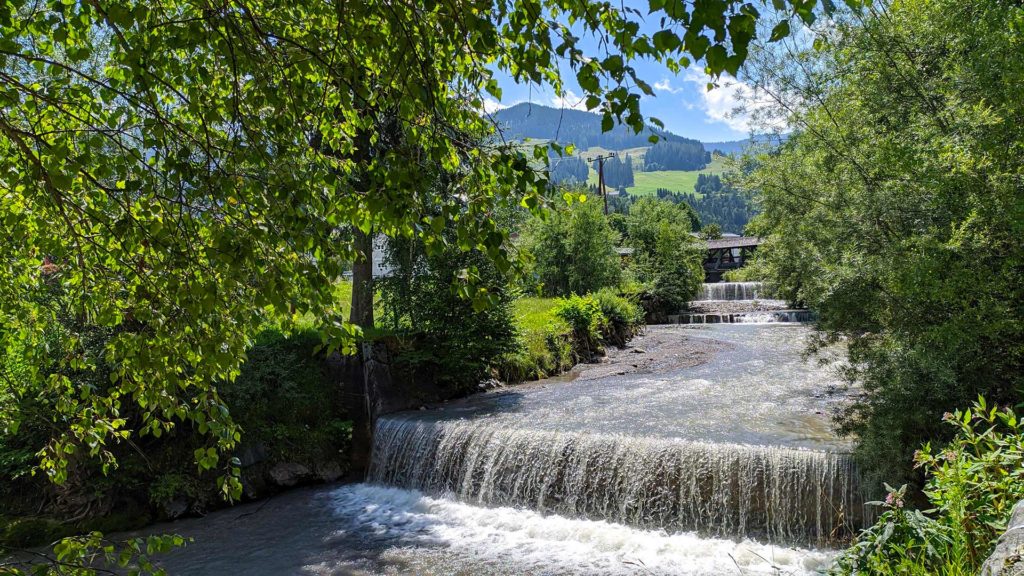 4. One of the most beautiful nature hotels in Europe
Granted, it is not cheap. Not at all. But it is worth spending a few nights at the Naturhotel Forsthofgut. The hotel impresses with its own bio bathing pond, which is lined with pavilions, perfect for daydreaming.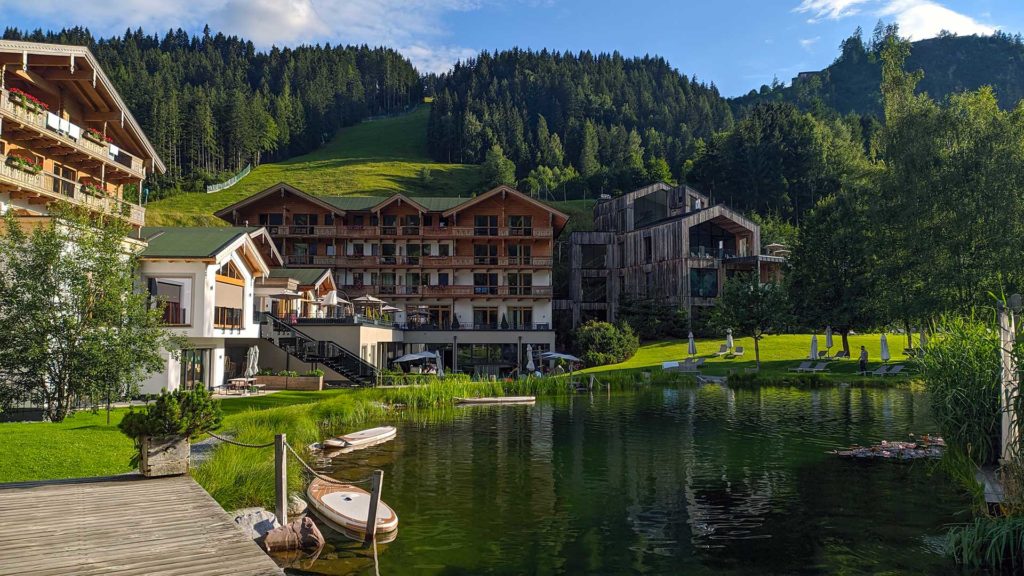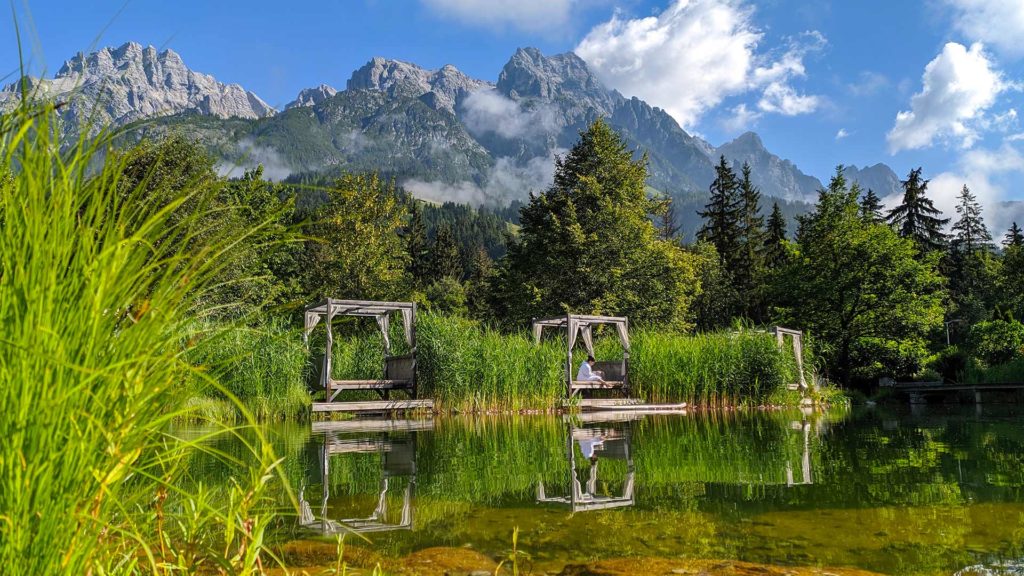 Included in the price is full board with a multi-course evening menu, where you can choose from the categories "Alpine", "Regional" and "Vegan" – I tried everything and it was excellent! In the sauna area, which is "adults only" (there is also a separate family area), you will find state-of-the-art wellness equipment as well as a 25 meter infinity sports pool with a breathtaking view of the mountains.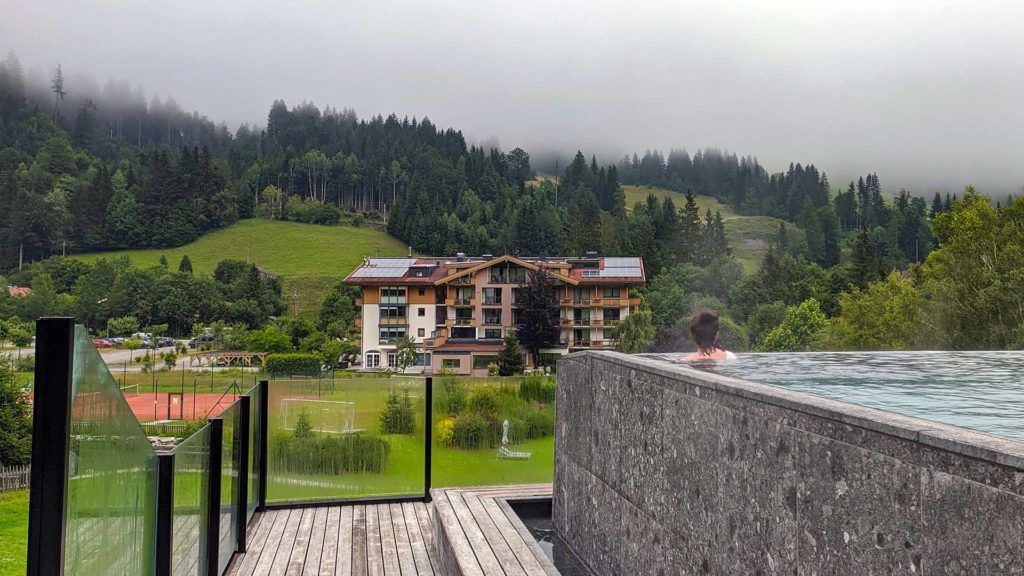 For the kids there is a "mini farm" with cute mini-pigs, ponies, sheep, goats and more. The hotel, which has already won several prizes, is located directly on the ski slope. Where the ski slope is in winter, you will find an extensive game enclosure in summer. Rarely have I been so impressed by a hotel: but this one I recommend one hundred percent!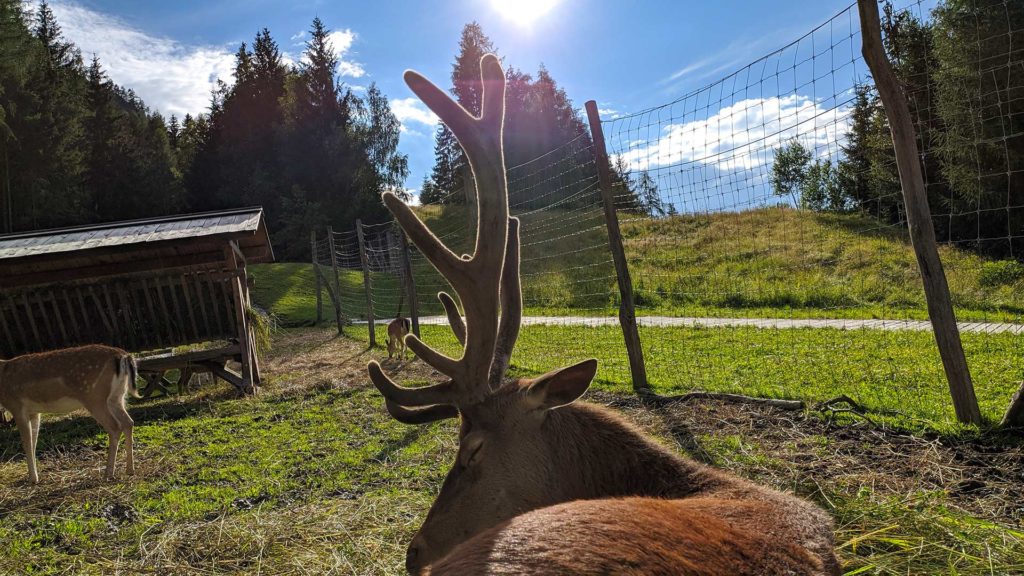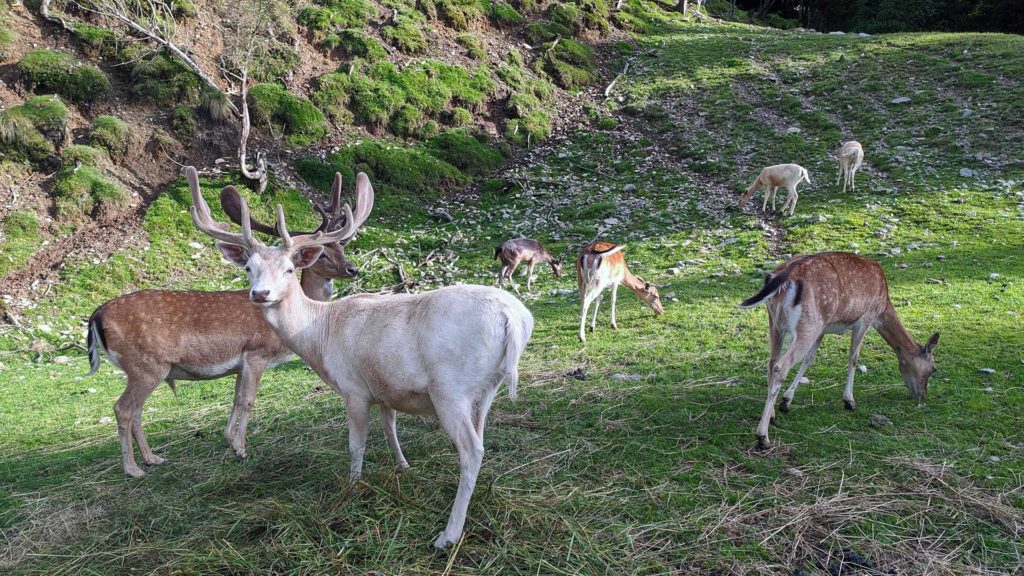 5. The legendary Almwuzl by Resi on the Lindalm
Admittedly, I didn't know the word "Almwuzl" until then either. It is a Kaiserschmarrn that has been pulled into pieces, and if you don't know what a Kaiserschmarrn is, you probably are not allowed to enter Austria!
The Almwuzl is by far the most popular dish on the Lindalm. The Lindalm is a short hike from the Leogang cabins district. At a moderate walking speed you should need about 2.5 to 3 hours. At the Lindalm, the spirited senior manager Resi serves not only the Almwuzl, but also bread, bacon, sausages and other alpine delicacies.
6. Saalfelden Jazz Festival
Every summer, the neighboring village of Saalfelden hosts a jazz festival that attracts visitors from all over the country. No wonder – the stages are spread all over the village and there are even concerts on the alpine meadows!
The opening concert is traditionally performed by an Austrian artist, but there are also some international acts. Many concerts are free of charge, so if you like jazz concerts and open airs, this is the place to be.
7. The hospitality of the people
It probably sounds a bit cheesy, but the locals we met on this trip made the region at least as appealing as the mountains.
From the excellently trained and hyper-competent staff at the Forsthofgut, the saleswoman in the gourmet store (that's where you have to go before you leave – to buy cheese!), the mountain bike rentals, the other hikers – everyone, literally everyone has a smile on their faces. This gave us a lasting impression, because we have only experienced such friendliness from Asia so far – but not in the middle of Europe!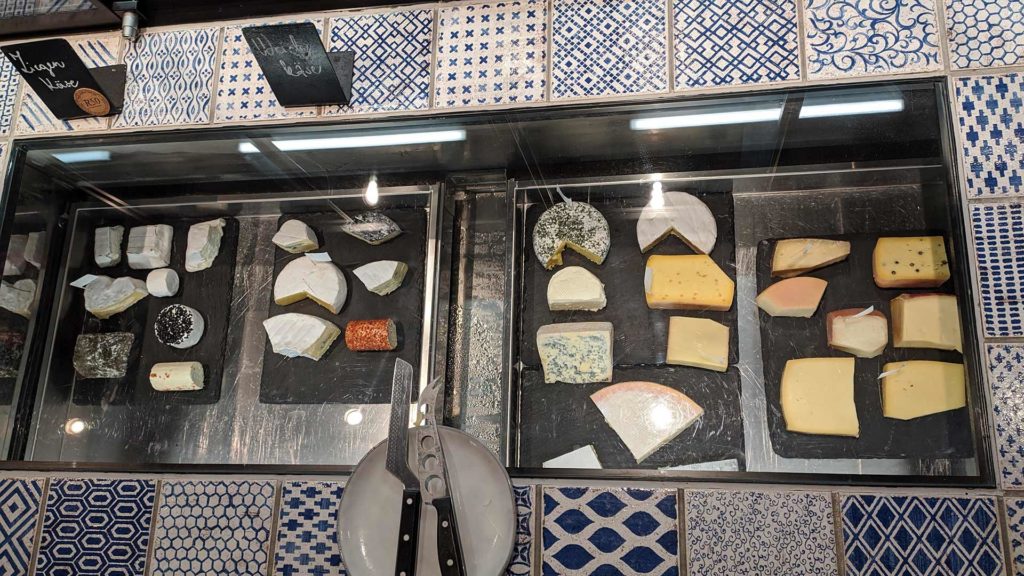 Pro tip: the Saalfelden-Leogang-Card
Many hotels, including the Forsthofgut, will get you the Saalfelden-Leogang-Card. With this card you can take a ride up the mountain with the cable car (and back down again, of course) every day. You get free admission to the outdoor swimming pool, free use of all public transportation in Pinzgau and free admission to various museums (in case the weather is not good.) In winter you can also use this card for free admission to the ice rink.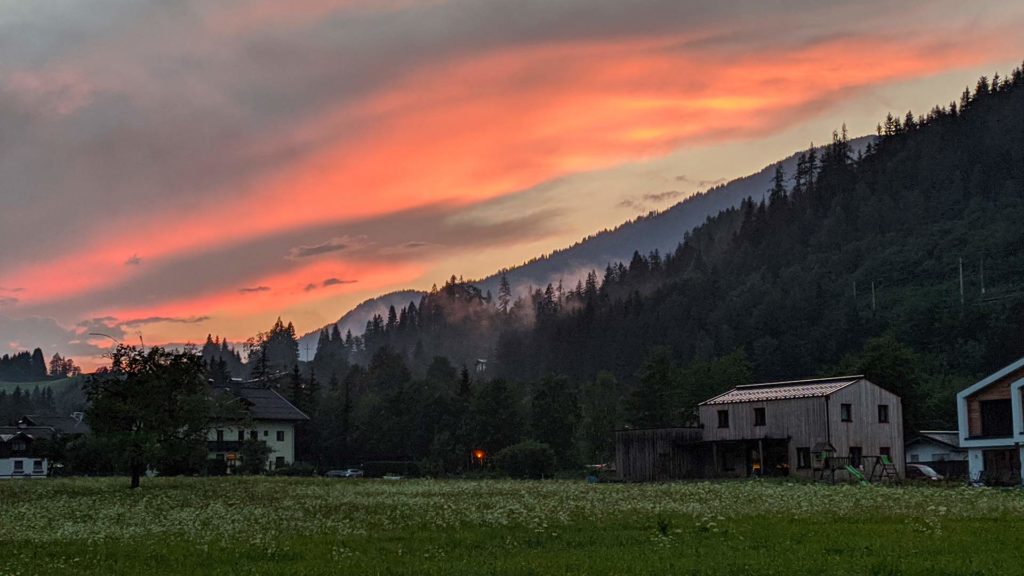 ---
About the author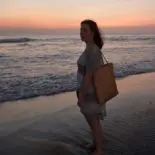 If she's not doing yoga or racing around Indonesia on a motorcycle, Lisa will be found close to a turquoise beach, preferably a glass of red wine in her hand and sand between her toes. Having lived in Southeast Asia for more than 4 years, she's fallen deeply for this part of the world – if only there was more 'real' Pizza around! You can follow her travels and hunt for Pizza on Instagram: @lisa_asia
Plan your trip to Leogang now
More hotel recommendations for Leogang:
Popular routes to Leogang:
---
Have you ever been to Leogang in Austria? Do you have any other tips on what to include on every list? Write us a comment!
Gast
Dies ist ein Gastartikel. Falls du Fragen oder Anregungen zum Thema hast, schreibe sie einfach in die Kommentare oder kontaktiere den Gastautor direkt auf seinem Blog.