Dieser Artikel ist auch verfügbar auf: Deutsch
There are countless islands off the coast of Langkawi, making island hopping on Langkawi one of the most popular activities. From freshwater lakes to wild eagles and fabulous beaches, Langkawi's day trips offer a lot.
Island hopping – a Langkawi day trip
On an island hopping tour from Langkawi, different islands are visited, all of which are very diverse. Which islands you visit, where your island hopping tour starts on Langkawi and what the tour costs, we explain to you in this report.
---
How to get to Langkawi
Accommodation on Langkawi – our hotel tips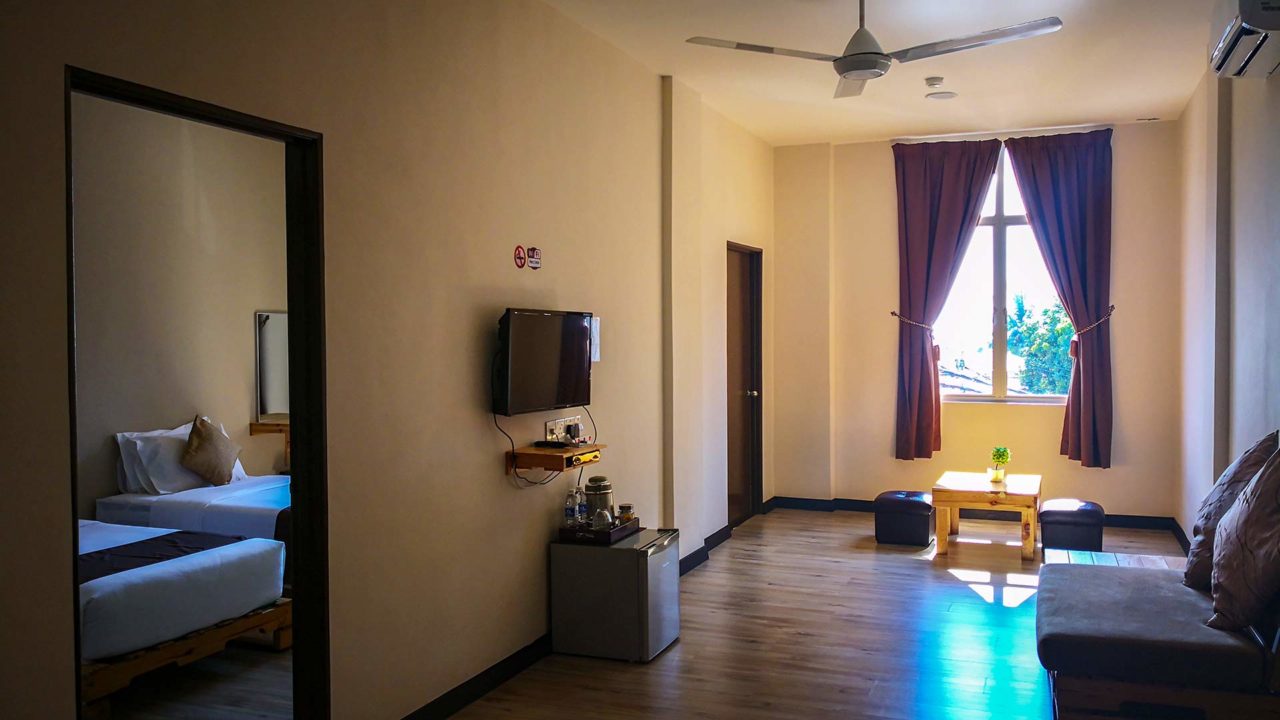 Langkawi: Tours and tickets
---
An Island Hopping tour to the smaller neighboring islands is almost mandatory when being on Langkawi. Some other backpackers that were our next-door neighbors recommended us this trip. So we spontaneously booked this tour for the next day on the very same evening. Price: 25 Ringgit (as of February 2013).
One of these typical white Minivans picked us up (late as usual) at our accommodation "AB Motel" at the Cenang Beach. Then they picked up some more people until, of course, the bus was totally full. After approximately 15 minutes of driving you eventually arrive at a small harbor at the southern tip of Langkawi, from where the speedboats depart. After a little fruits-in-a-bag and Chicken Satay breakfast the tour finally started. It takes 4 hours in total and has 3 stations…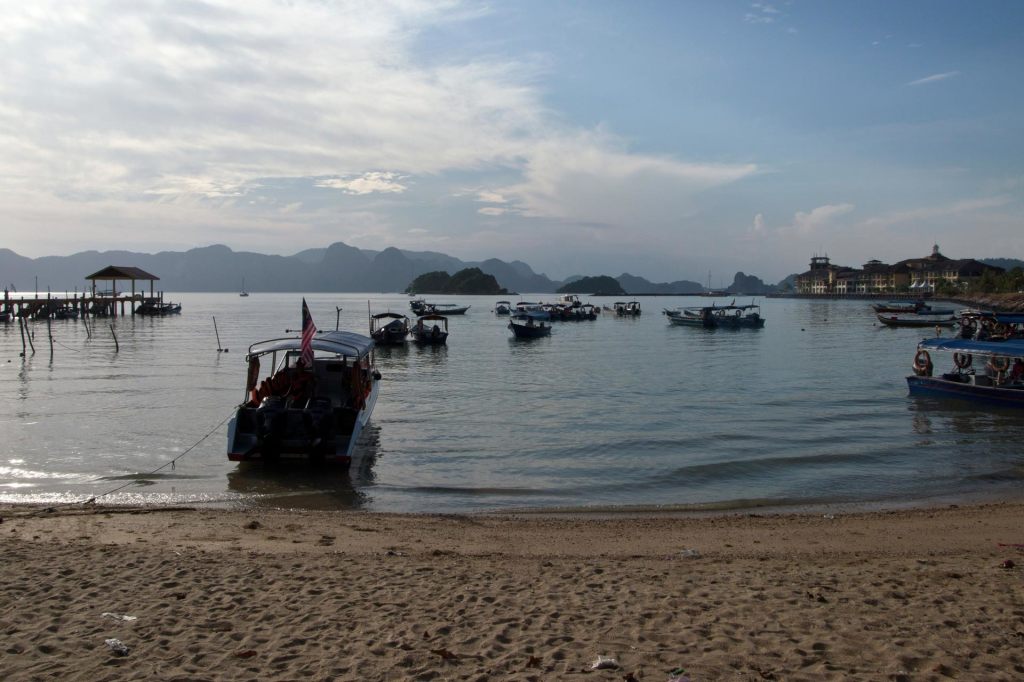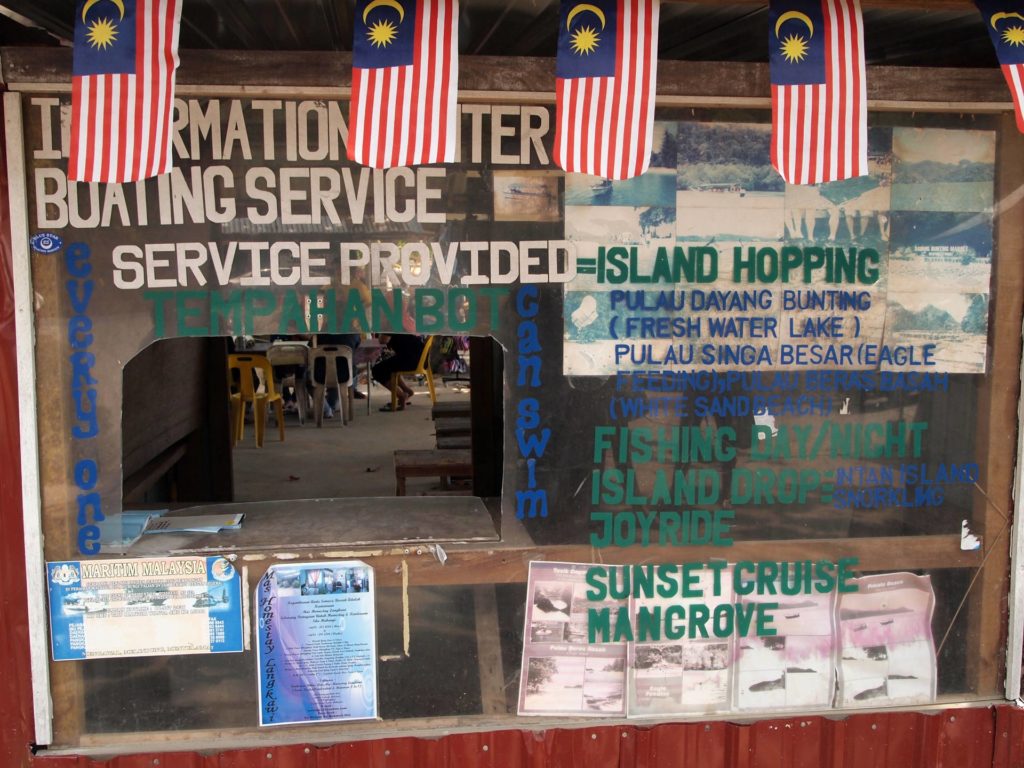 1. Island of the Pregnant Maiden (Pulau Dayang Bunting)
The island got its name from a chain of mountains that remind of a pregnant, reclining woman. On arrival on the island you are immediately welcomed by a mob of wild monkeys that are waiting to be fed. And if they don't get anything they simply try to meddle with your clothes and bags :D. A roughly 10 minutes walk away there is a freshwater lake where we could stay for about an hour. Here you can swim, rent a paddle boat or just relax and watch the nearby countryside – we chose the last option 😉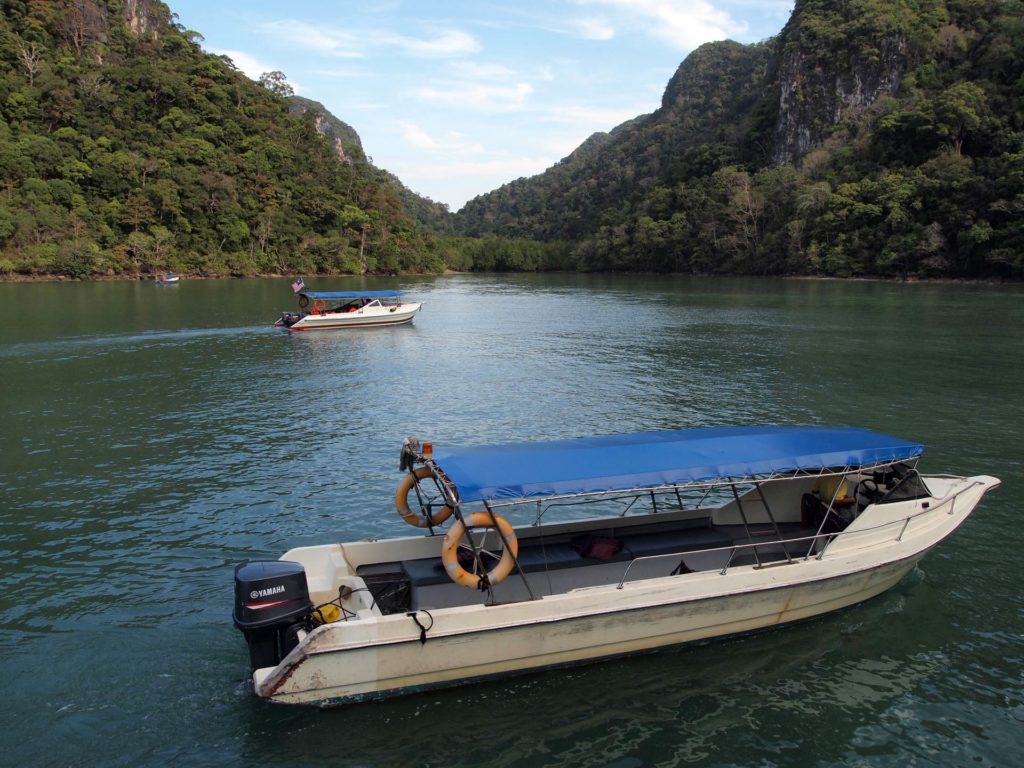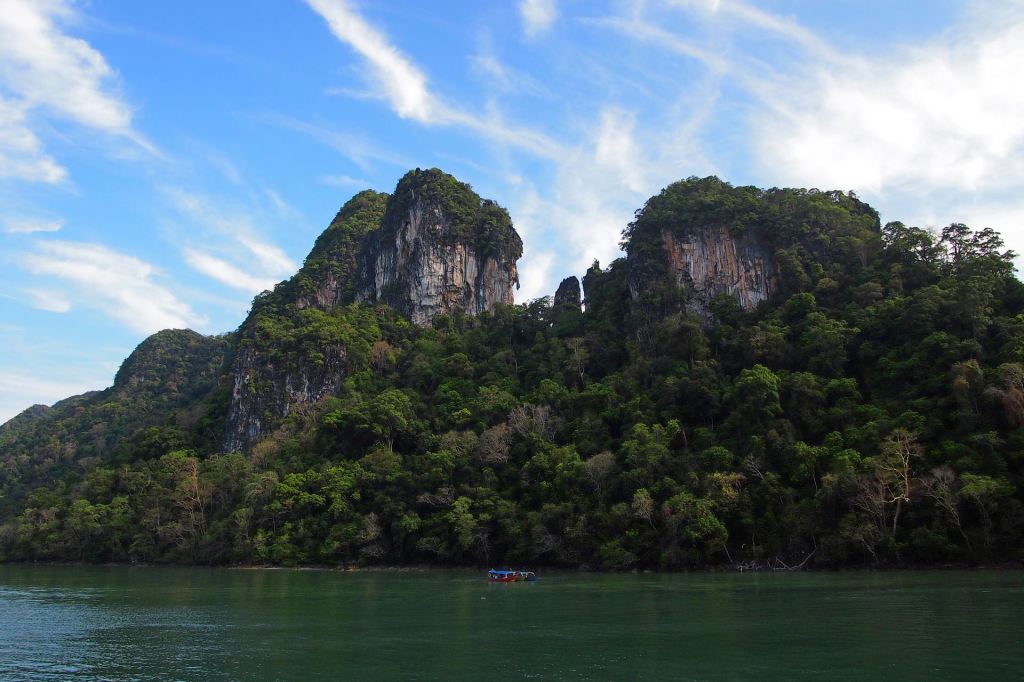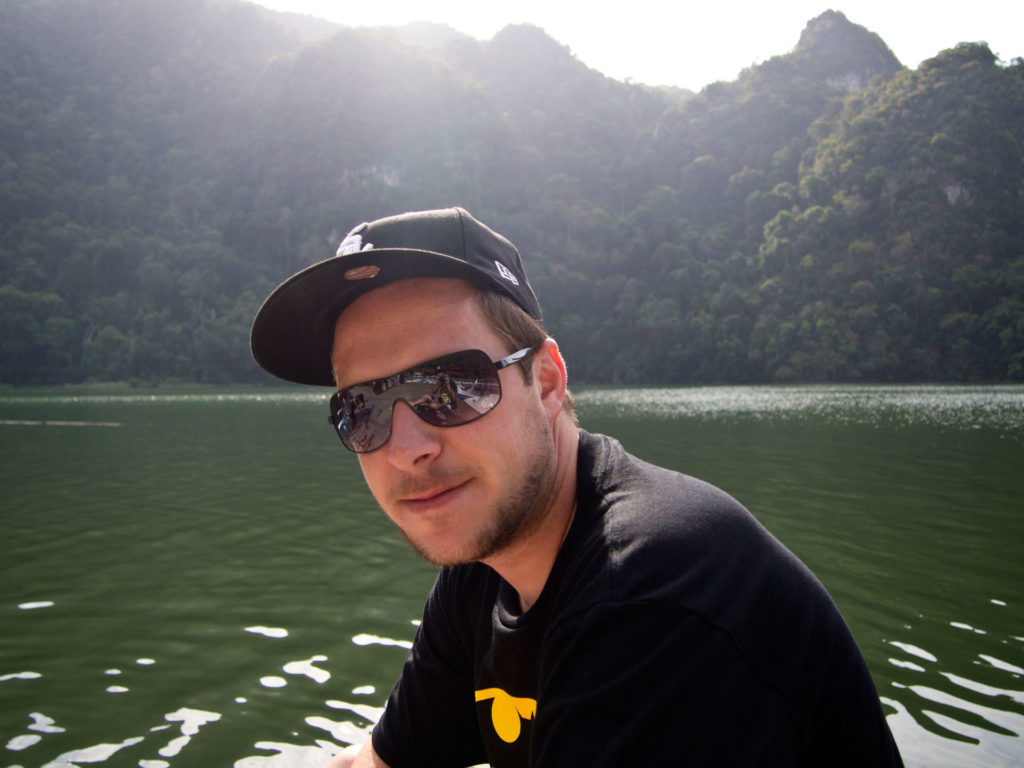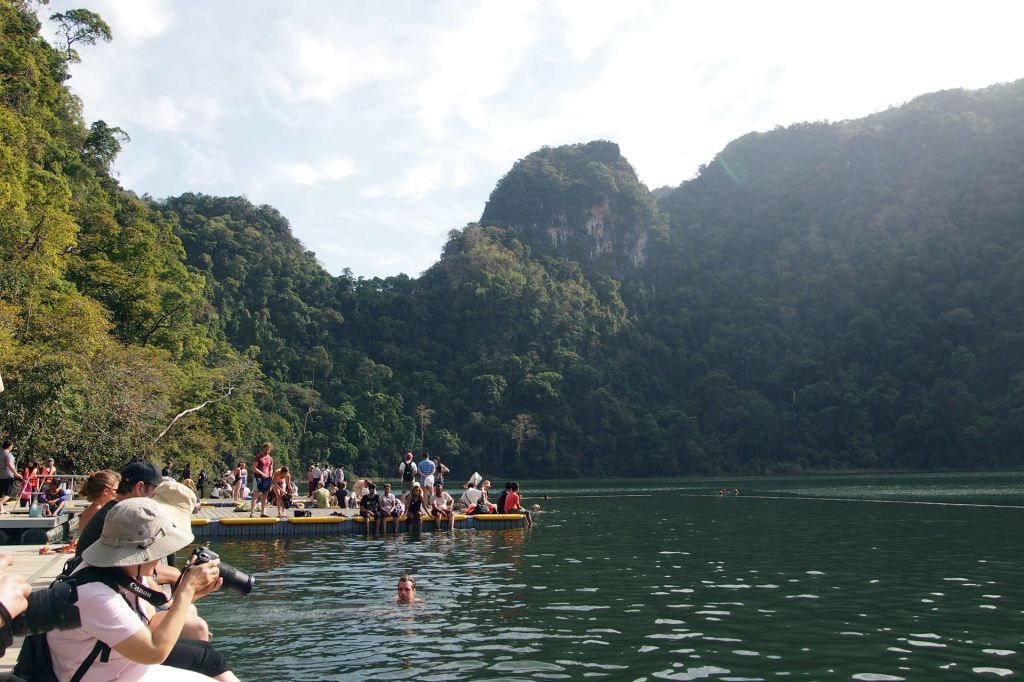 2. Pulau Singa Besar
The next stop was the island Pulau Singa Besar (="island of the big lion") where we made a short stop off the coast and could watch wild eagles in the air. They could be fed with small pieces of meat when you throw them in the air and then the eagles go for the prey. That's it. Actually, it didn't knock my socks off. Next.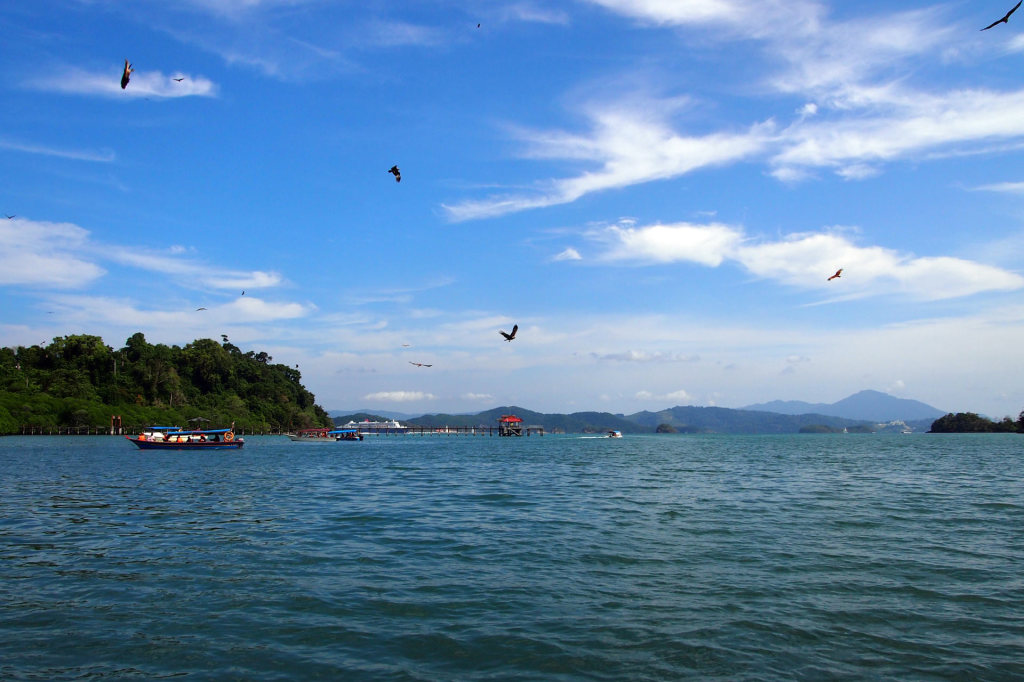 3. Pulau Beras Basah and the cheeky thieving monkeys
The last station of the Island Hopping was Beras Basah Island, where we had another approximately one hour stay for snorkeling, swimming, relaxing etc. Too short in my opinion since the island had some nice beach spots and I'd really like to stay here longer. But the highlight this time definitely were the wild monkeys again whose audacity really culminated here! While some people unsuspectingly were enjoying the water, these little bastards sneaked up to their bags and backpacks that were left at the beach and tried to steal stuff from it. And the next thing you see is how the people quickly get out of the water and desperately trying to run after the monkeys :D. Very entertaining as long as it doesn't affect you 😉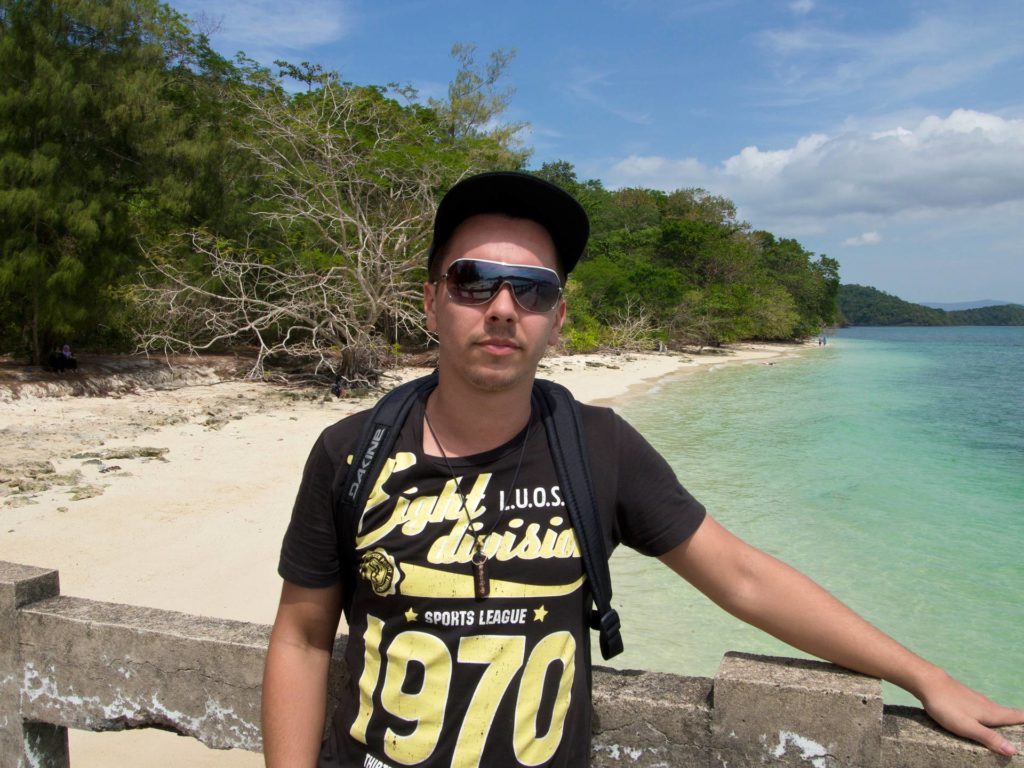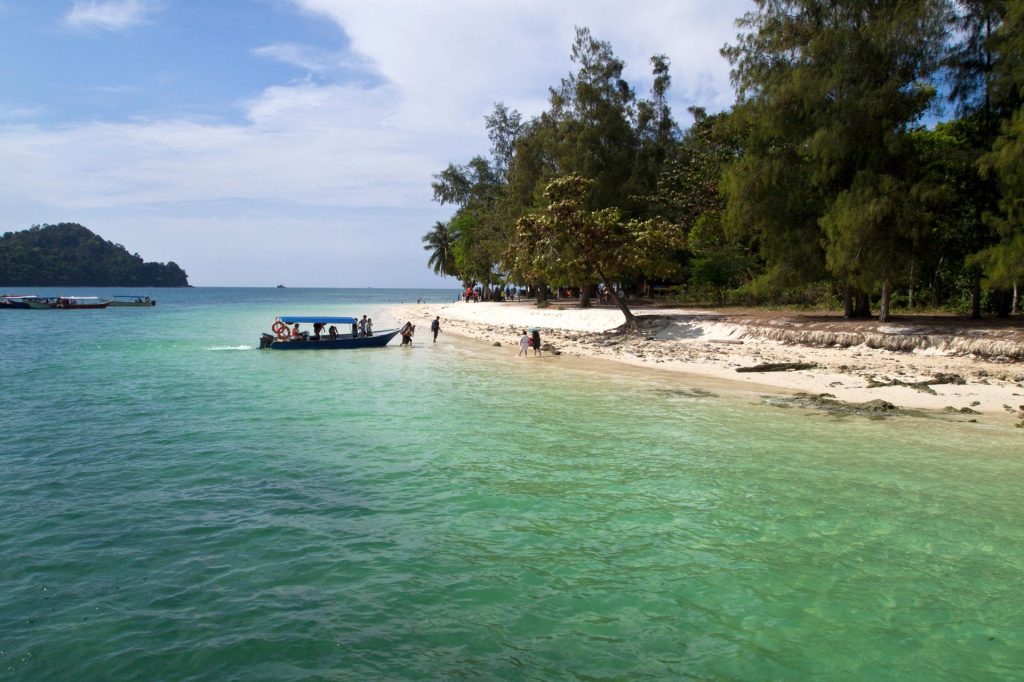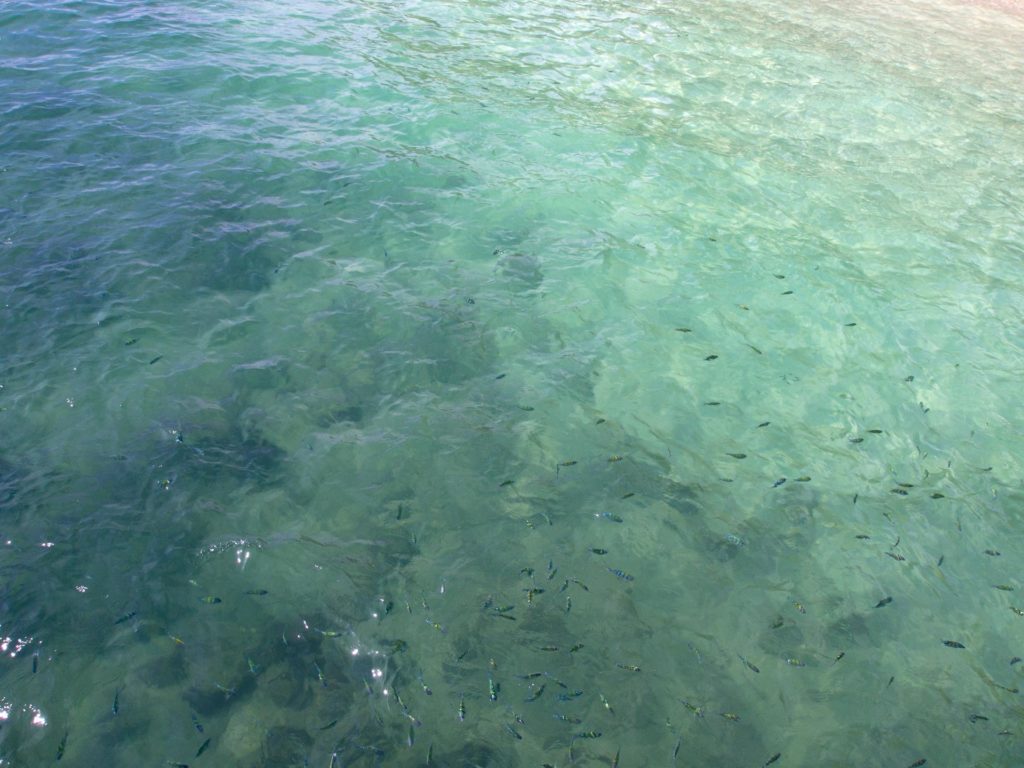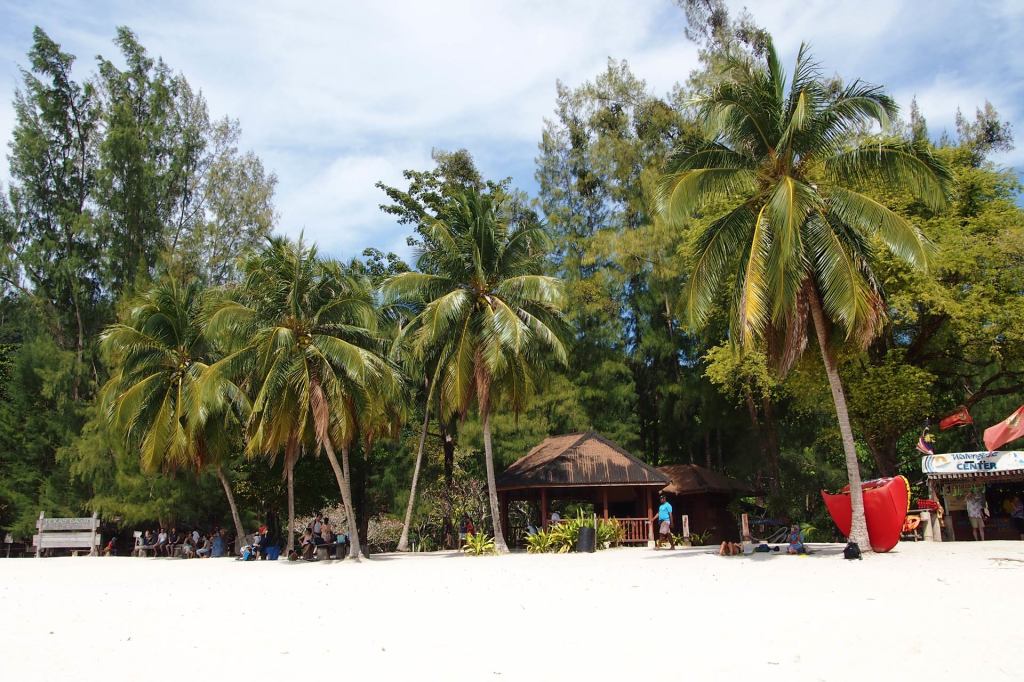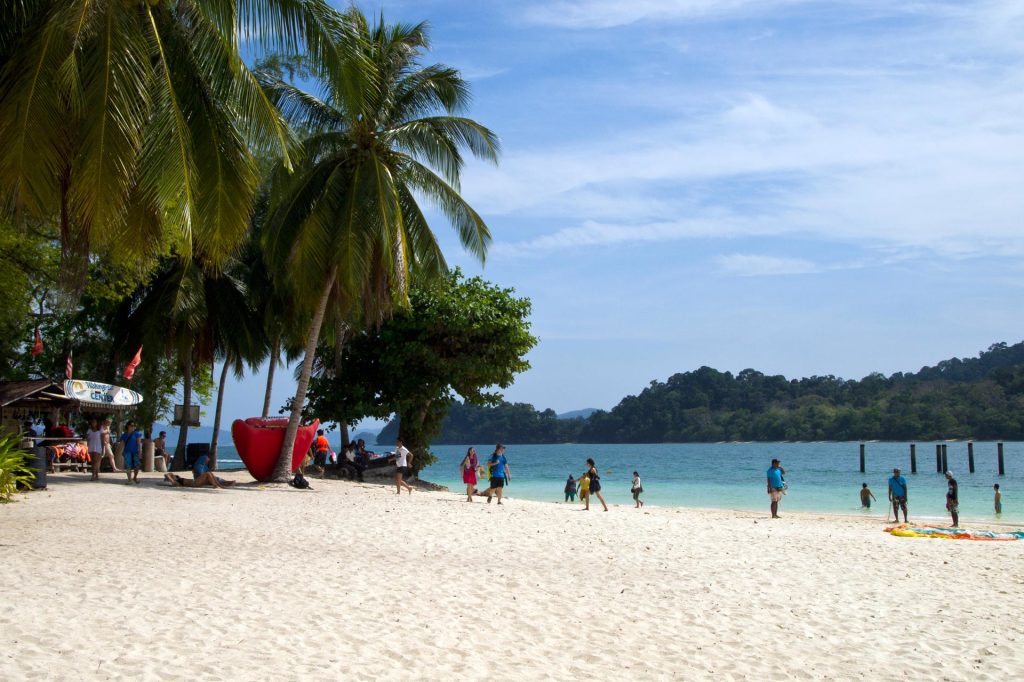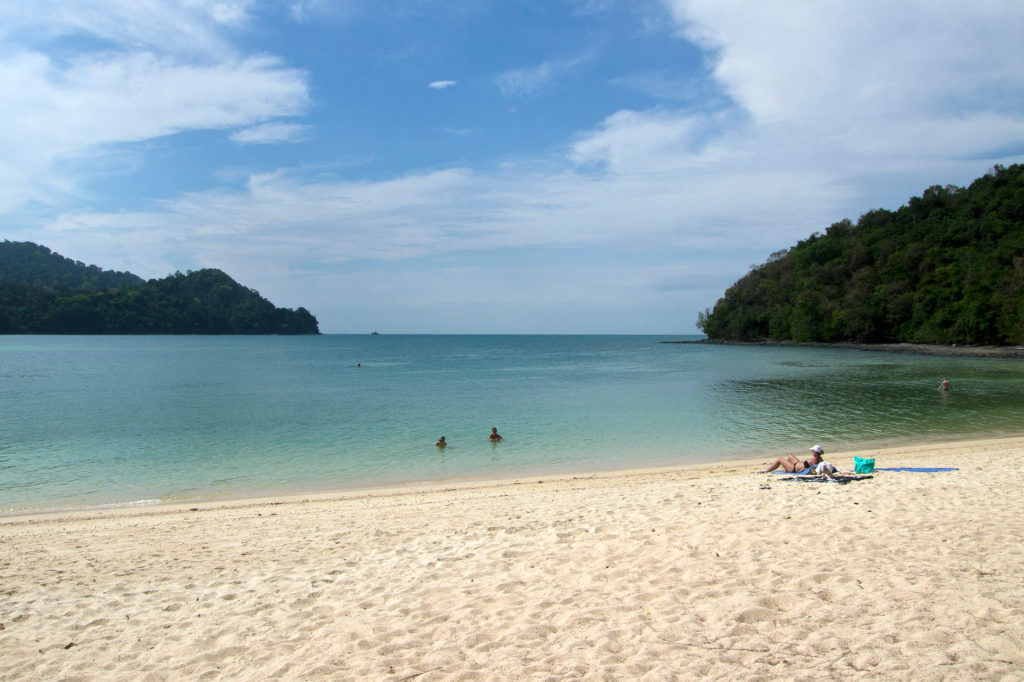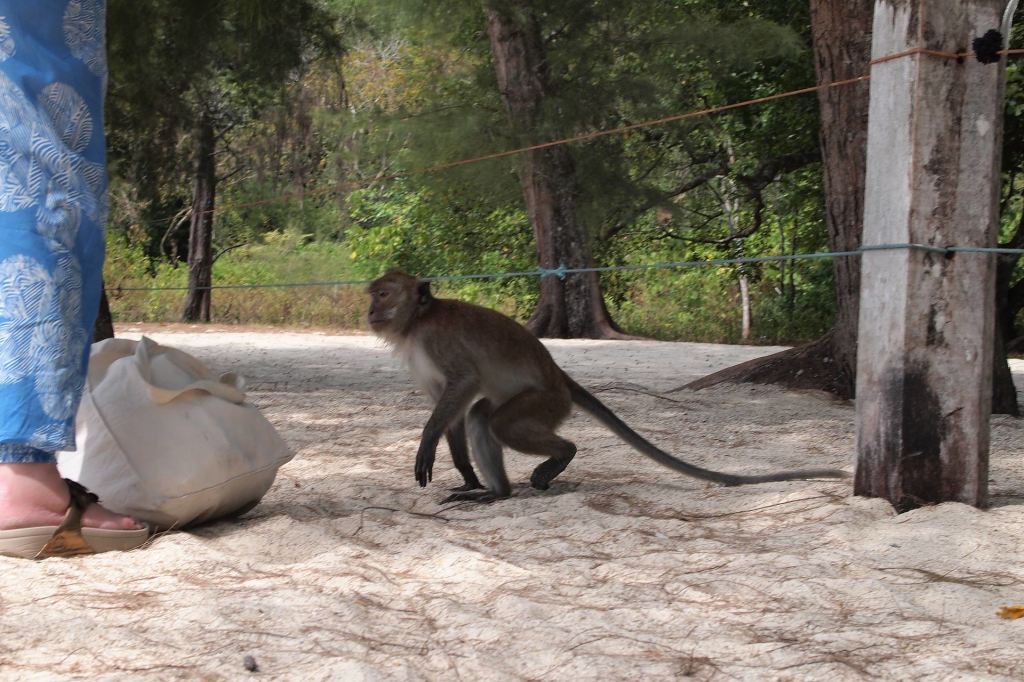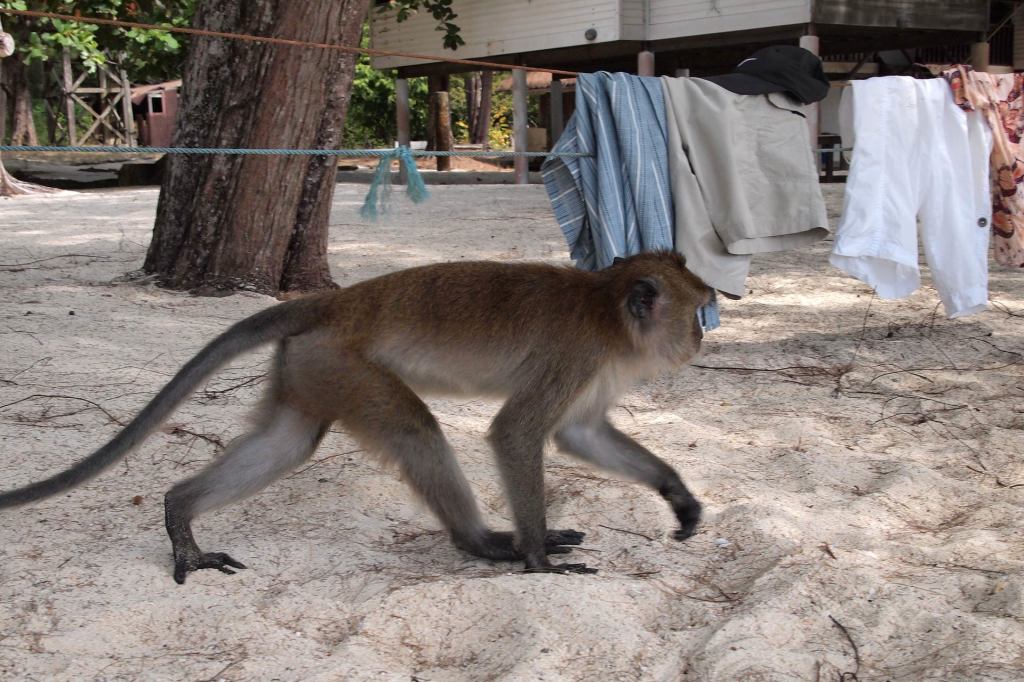 Conclusion: A nice trip that you certainly can do. With the equivalent of €6 the price is totally reasonable! Well, the organization could be better because after the arrival back on Langkawi no Minivan came to pick up the rest of the people – us included – and bring them back to Cenang Beach. Only after a phone call somebody came after a while…