Dieser Artikel ist auch verfügbar auf: Deutsch
You want to visit Koh Samui and need some tips about sights and activities? You want to discover the beaches of Koh Samui? Or you want to explore the fascinating Buddhist temples and countless markets? In this case you are absolutely right here!
Sights and tips on Koh Samui
The tropical island Koh Samui is one of the most popular destinations in Thailand and has a lot to offer so that you almost can't get bored during your stay. You can do and explore a lot on Koh Samui. Below you can find 16 tips, which will make your vacation on Koh Samui an unique experience.
Many of these can be explored on your own, but also organized tours are popular or hiring a private driver on Koh Samui to get to know the island.
---
How to get to Koh Samui
Accommodation in Koh Samui – our hotel tip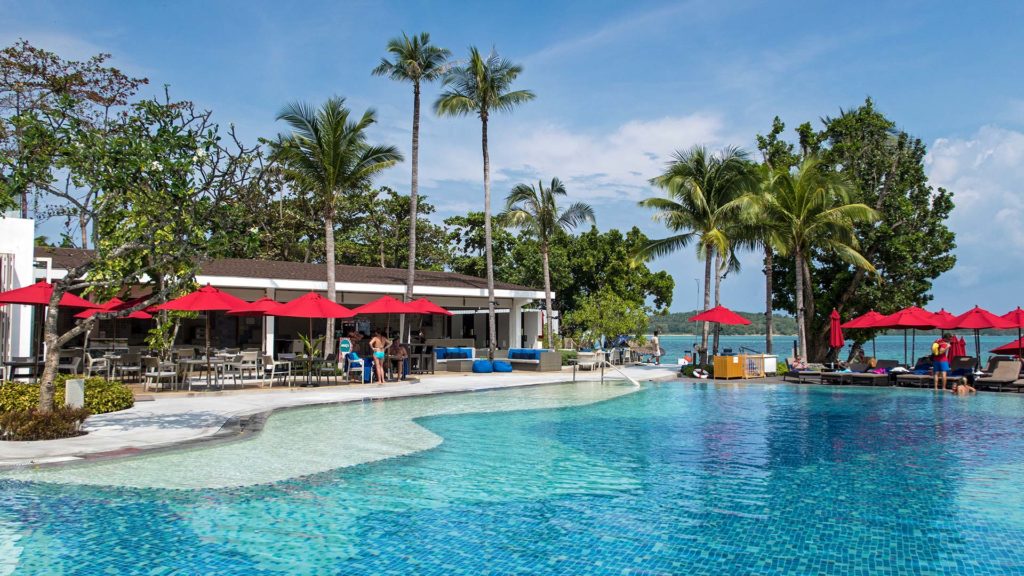 Koh Samui: Tours and tickets
---
1. Dreamlike beaches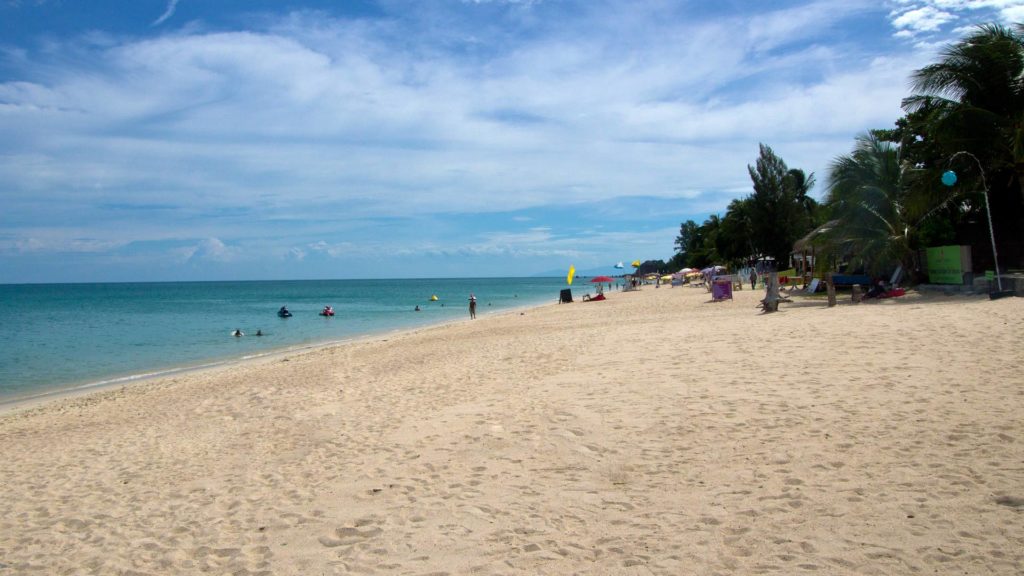 Koh Samui's coastline is almost completely covered with beaches. You can find some calm and quiet, as well as some vibrant beaches. According to what you are looking for, you will definitely find the right one. The most popular and sometimes crowded beaches are Chaweng Beach and Lamai Beach in the east of the island. The towns of those two also offer the most things to do for their guests.
If you like a more calm atmosphere, I can recommend for example the Bophut or Maenam Beach. You can even find some lonely beaches on Koh Samui like the Bang Por Beach.
2. Buddhist temples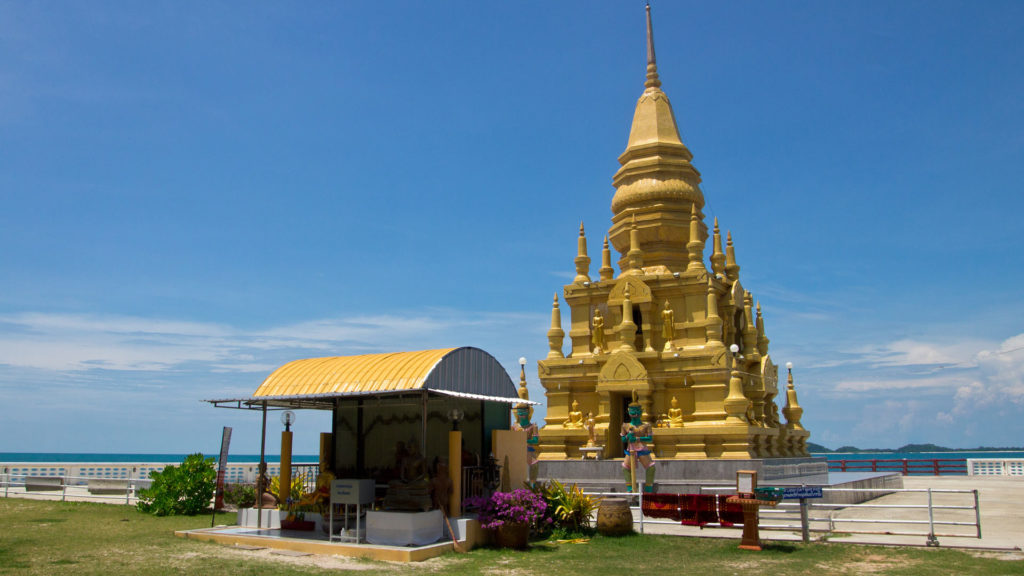 Are you into culture and temples? No problem. The temples of Koh Samui are really beautiful. But there are more to see than the famous Big Buddha, the Wat Plai Laem or the Wat Khunaram with the mummified monk. You can find some infos on those three temples in our 7 free sightseeing tips for Koh Samui article.
In my opinion, the Laem Sor Pagoda and the Wat Rattanakosin, close to the pagoda on a small hill, belong to the most beautiful temples of the island. You can reach them best with a motorbike because they are located deeply in the south.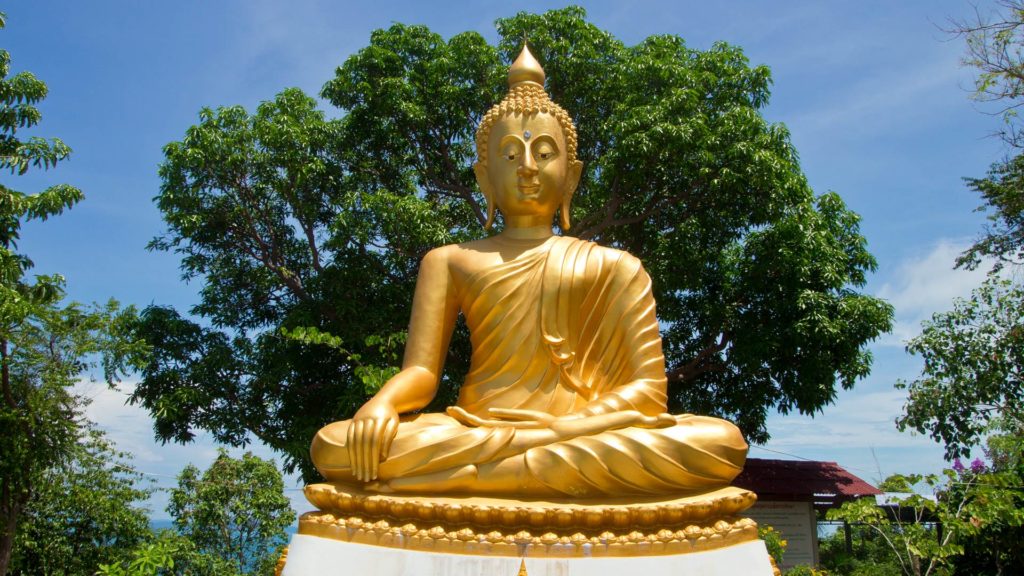 But we are not finished yet. With the Wat Kiri Wongkaram close to the Elephant Gate in Taling Ngam, the Wat Samret or the Khao Hua Jook Pagoda with a view at the airport of Samui, you can find a number of further temples.
3. Walking Streets and night markets on Koh Samui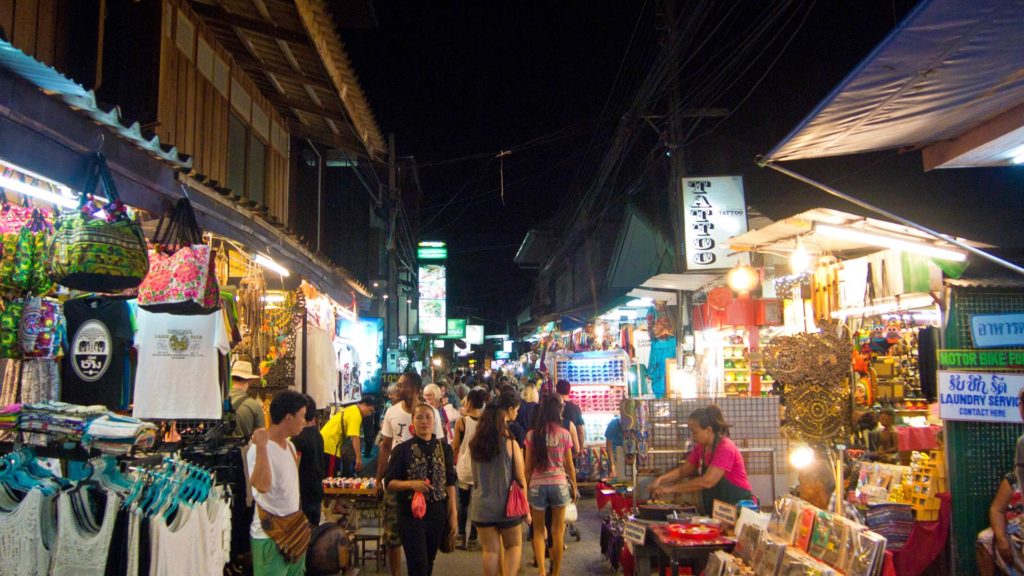 If you like Thai markets, then you're absolutely right on Koh Samui. You will find several spread around the towns of the island. Besides the various and delicious Thai food, which you can try at those, you will find clothes, cocktails and souvenirs – just everything you can imagine.
Every Friday evening there is a huge Walking Street between the Fisherman's Village and The Wharf Samui in Bophut. On Sunday there is for example another big Walking Street from 5.00 P.M. to 10.00 P.M. in Lamai.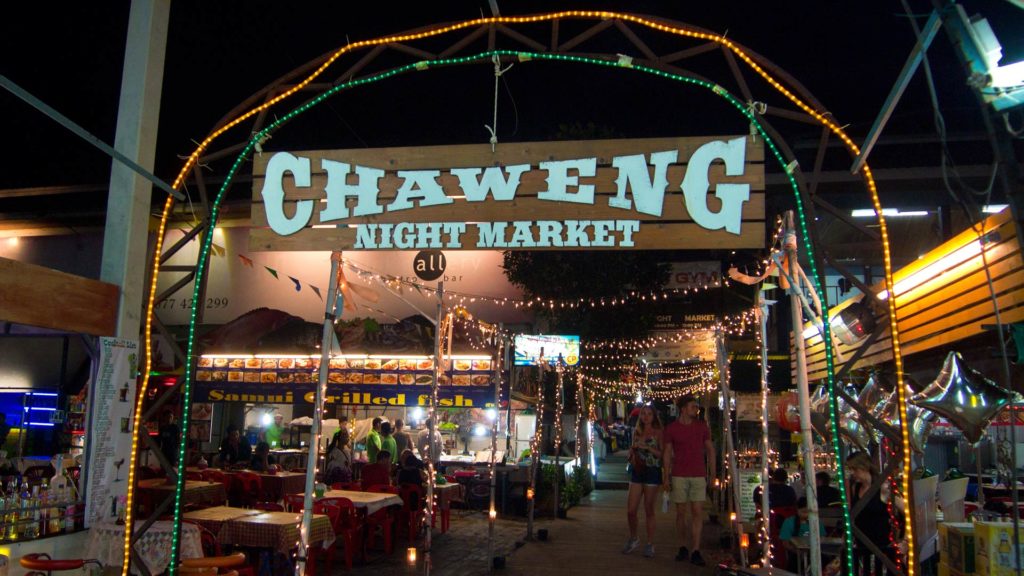 In addition, there is every evening the Chaweng Night Market right next to the Chaweng Lake and every two days the Chaweng Walking Street near the Petch Buncha Samui Stadium. So if you like, you can visit every day another night market or Walking Street, where you can eat delicious but inexpensive food or just do some shopping.
4. Amazing viewpoints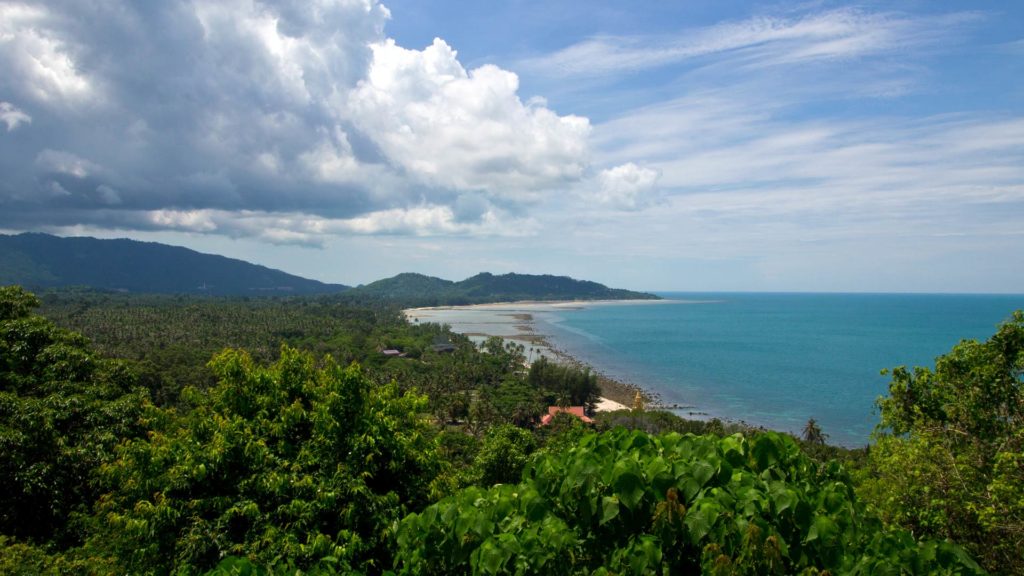 Due to the many hills, Koh Samui offers a range of view points at the island and the Gulf of Thailand. Wether it's the view from the Wat Rattanakosin or the Khao Hua Jook pagoda. I just love view points and I always try to visit every view point when I visit a place.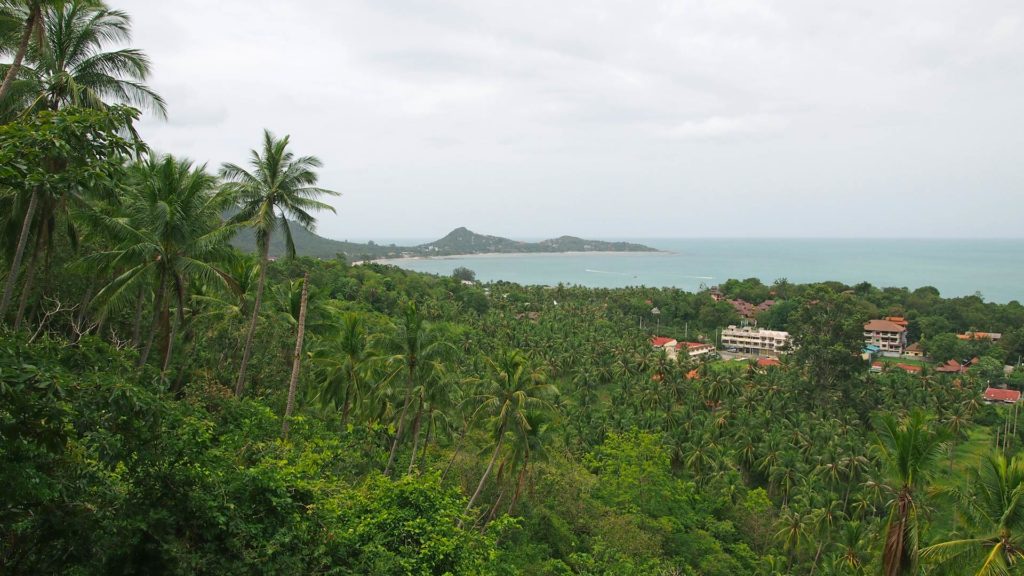 I can also recommend some more view points like the Samui Viewpoint between Chaweng and Lamai at the ring road or the Lamai Viewpoint. You can find the view point from the second picture, if you follow the signs inside Lamai heading to the Valentine Stone. After a short way up you can find a small café and a beautiful view.
5. Tarnim Magic Garden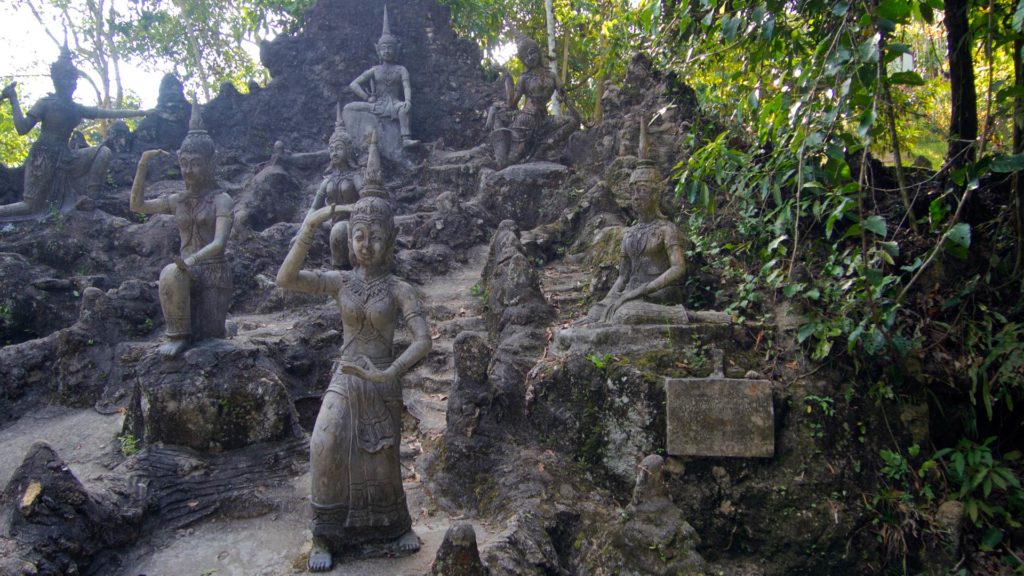 The Tarnim Magic Garden, also known as Secret Buddha Garden, is located on a hill (Khun Nim Peak) inside the island. You will find the street to the hill opposite the Wat Khunaram. When you arrive, there will be a big garden which is decorated with many statues. Many Buddha statues, but there are also some other like snakes, birds or legendary creatures.
Although some websites claim the contrary, you can definitely go there with a motorbike. The streets are really in a good condition. Many websites state that you can only go there with a tour and a jeep. The entrance fee is 80 baht per person, which is used to maintain the garden. In my opinion it's absolutely worth a visit.
6. Motorbike trip on Koh Samui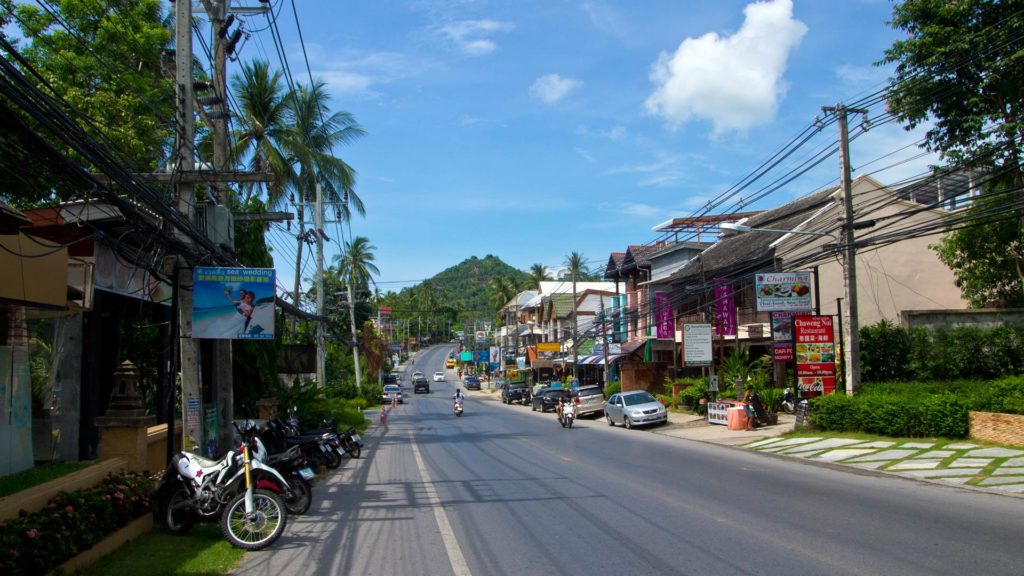 A trip with a motorbike is perfect if you want to explore Koh Samui on your own. You can rent a motorbike at the most hotels or in one of the plenty shops around the island. The rental fee is about 150 – 300 baht per day.
There is a ring road around the island on which you can drive to Chaweng, Lamai, Nathon, Maenam or Bophut. It's very easy to navigate around Koh Samui. If you need a map, you can get one at most hotels or you can make a stop at a travel agency and pick one up.
7. Waterfalls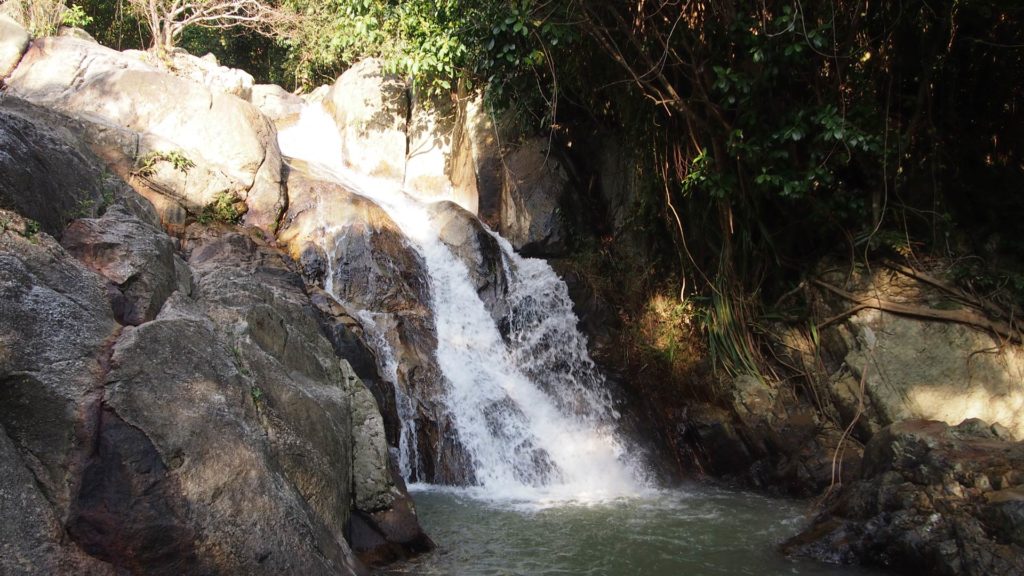 You can also find some waterfalls on Koh Samui. Moreover, you will find some fresh natural pools at the Namuang Waterfall and Namuang Waterfall 2, where you can go for a swim. Due to the fresh water, those are really cool. But don't jump inside from the edge, you never know if there are some rocks in the water. You don't want to hurt yourself during your trip.
Besides those famous waterfalls, you can find a few more on Koh Samui. Near the town of Nathon is for example the Hin Lad Waterfall, also available with a guided tour, or near Lipa Noi the Wanorn Waterfall. During the high season they don't carry too much water though.
8. Muay Thai at Petch Buncha Samui Stadium
Like in many places in Thailand, you can of course see some Muay Thai fights on Koh Samui as well. Almost every night there is a tournament at the Petch Buncha Samui Stadium in Chaweng. There you can see some fights and normally the event takes about 2-3 hours.
9. A trip to the Ang Thong Marine National Park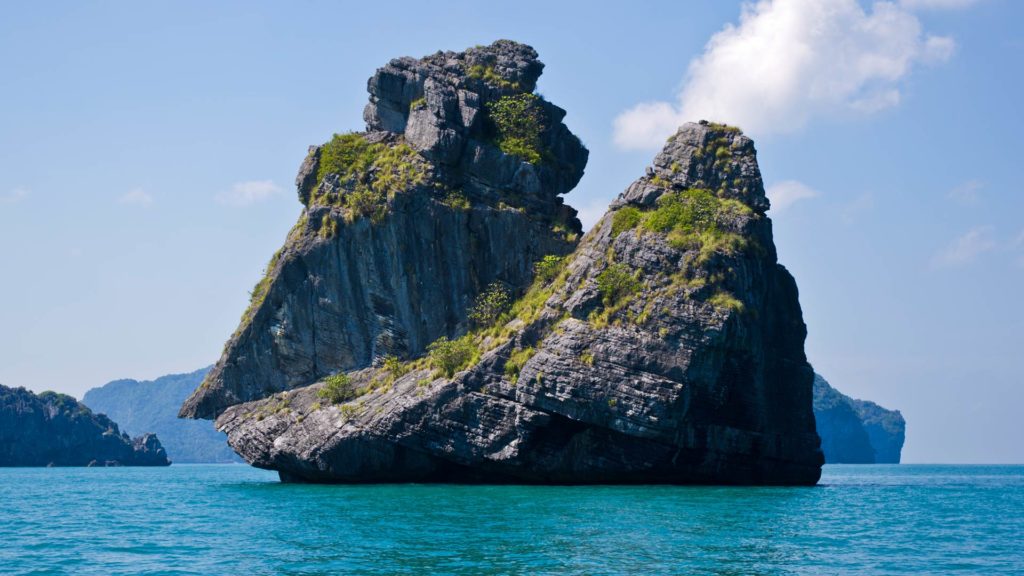 The Ang Thong Marine National Park with its many islands and snorkeling areas is located off the coast of Koh Samui in the Gulf of Thailand. Most of the speedboat tours are starting at the Big Buddha Pier in Bangrak, but there are also some cheaper tours with wooden boats. The cost for a speedboat tour is about 2000 baht (50 €), but definitely worth it.
You will get to amazing snorkeling sites, to Koh Mae Koh with its blue lagoon, see the monkey rock (the picture above) and much more. In our article about the Ang Thong Marine National Park you can learn what it's like to go on a tour like this.
If you would like to plan your stay in Koh Samui in advance, you can also book these tours online.
10. Party on Koh Samui: nightlife, clubs, bars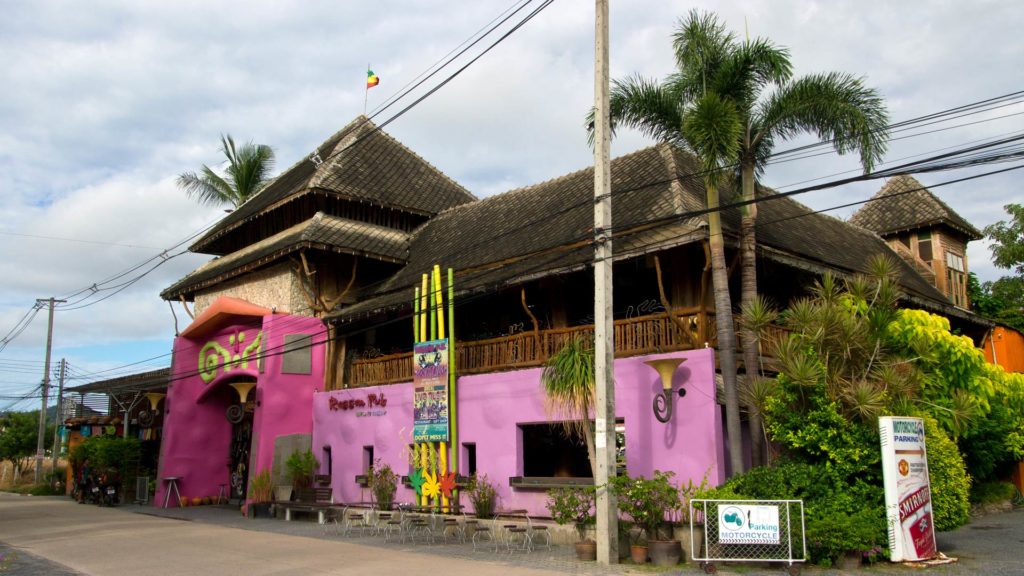 The nightlife is mainly focused on the Chaweng area. You can find a lot of bars at the Chaweng Beach Road, but there are two main areas to party.
The first one is the Soi Reggae at the Chaweng Lake. Here you can find a lot of beer bars and the famous Reggae Pub. Every evening there is a band playing live music, of course Reggae style. Sometimes there are also performing some famous Thai bands like Job 2 Do. The vibe is really good and if you like some live music, then you shouldn't miss the Reggae Pub.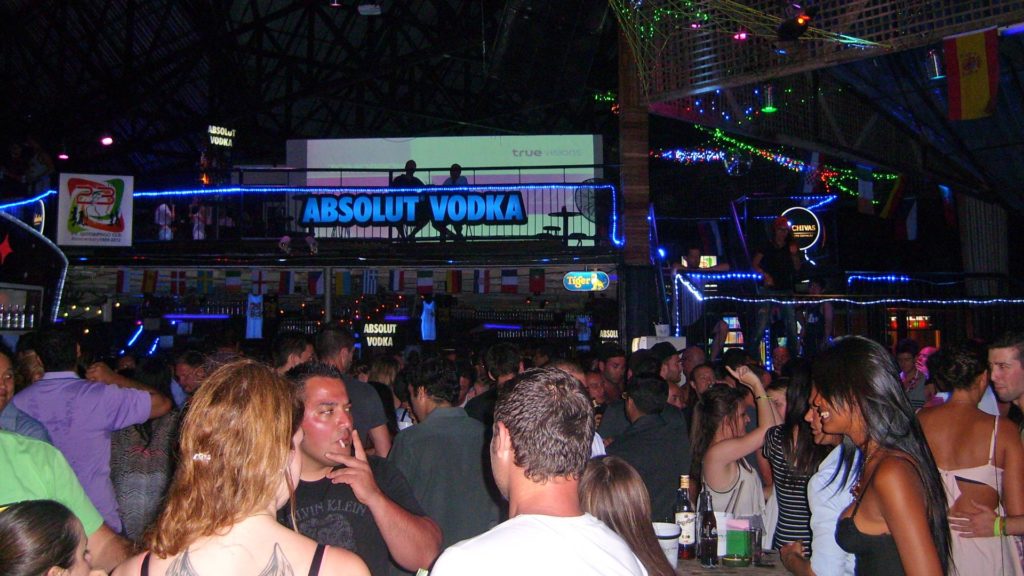 The second main area is located in the Soi Green Mango, where you can find the same-named club. Although it gets only crowded after midnight, you can have your party way earlier. You should head to the Ark Bar at the Chaweng Beach with its fire shows and DJ every evening. When the Green Mango gets empty about 3.00 A.M., you can head a few more meters further to the Soundclub. There the party continues until sunrise.
Apart from those two "party areas", there is a relatively small one in Lamai, where you can find some beer bars and the Fusion club.
11. Massage on Koh Samui
Of course you can find countless massage parlors around Koh Samui to relax. If you like your massage a little bit more strong, then you should try a Thai massage. Or just a back, neck or shoulder massage. Prices start at 200 baht for an hour, but vary from shop to shop. Really good and trained masseuses you can mostly find in the bigger Spas for example in Chaweng.
12. Chaweng Go Kart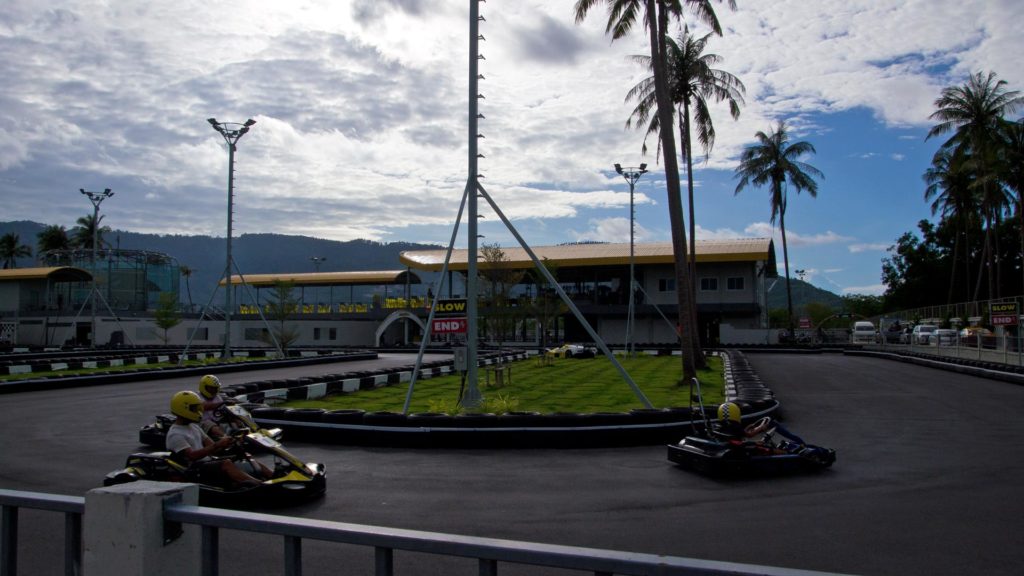 If you like speed, then I recommend you to take a look at Easykart at the Chaweng Lake. You can start a race with your friends and have a lot of fun. The race track is opened daily from 10.00 A.M. to 1.00 A.M. For further information about the race track and a gallery check out the website of Easykart.
13. Grandmother and Grandfather Rock (Hin Yai & Hin Ta)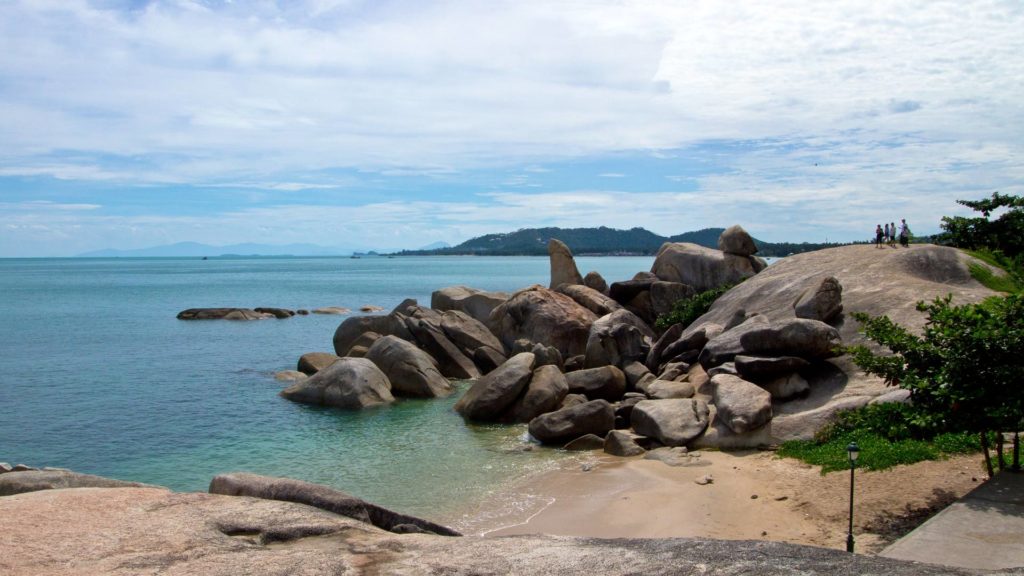 One of the most famous sights of Koh Samui you definitely shouldn't miss. The Grandmother and Grandfather Rock, in Thai known as Hin Yai and Hin Ta, are the most popular photo scene. They are located south of Lamai Beach and represent the male and female sexual characteristics. You can find some more information regarding the history of the Grandmother and Grandfather Rock in our article about 7 free sightseeing tips for Koh Samui.
14. Jeep tour across Koh Samui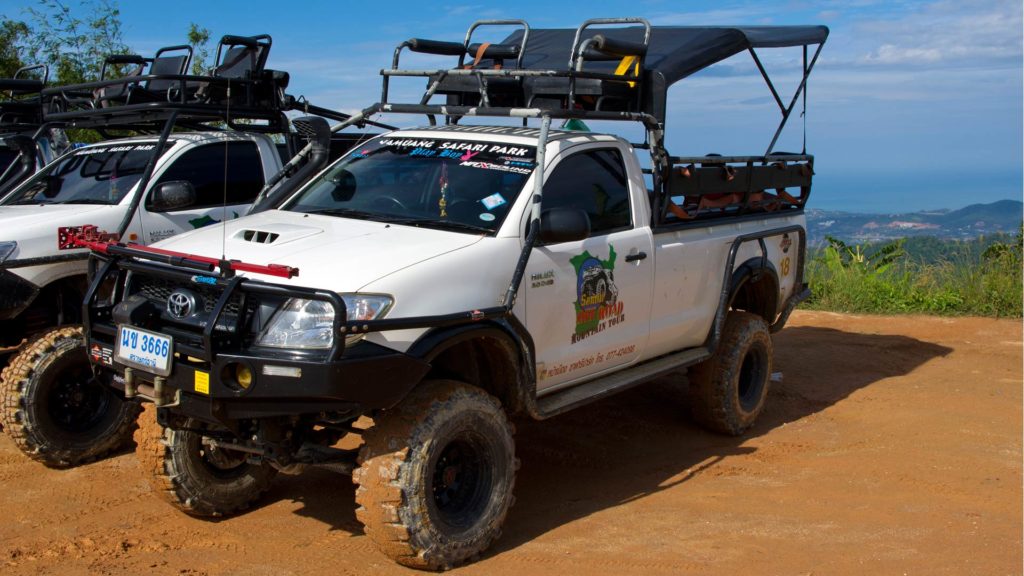 If you don't want or can't explore Koh Samui on your own with a motorbike, then an off-road jeep tour would be the right fit for you. You will be picked up at your hotel with a jeep and discover many sights of the island, like the ones I mentioned above.
On a tour like this you will visit the Grandmother and Grandfather Rock, the Namuang Safari Park with the Namuang Waterfall 2, the Wat Khunaram with the mumified monk, the Tarnim Magic Garden and finally have a magnificent view from the hills at Koh Samui and Koh Phangan. A lunch is normally included. The whole trip will cost about 1600 baht (40 €) and is a good alternative to a motorbike trip on your own.
You can book the tour almost in every hotel and in many of the small travel agencies around Koh Samui. You can also get sometimes cheap tickets for the tour online in advance.
15. A trip to Koh Madsum or Koh Tan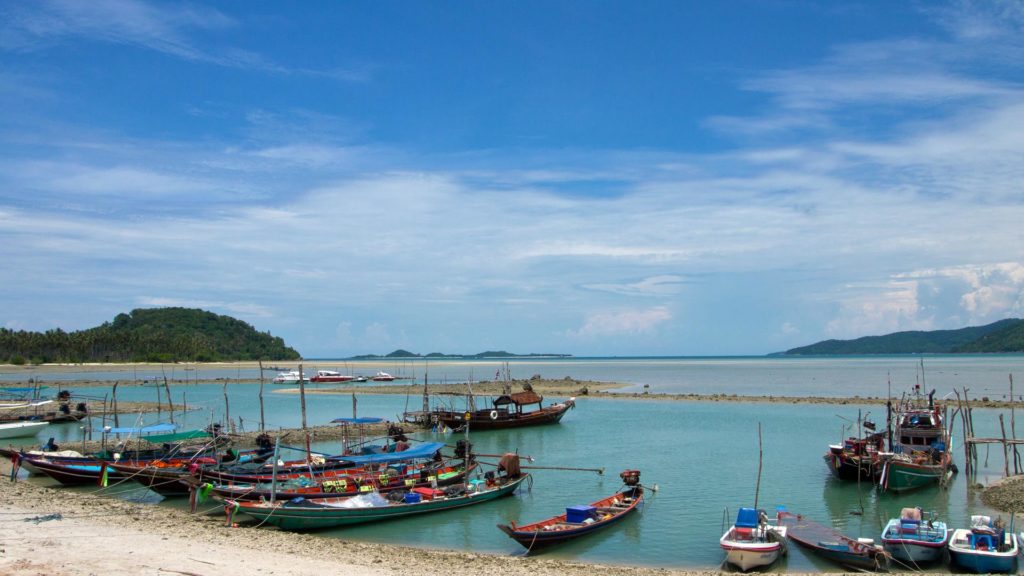 South of Koh Samui there are two small islands located in the Gulf of Thailand, which are not being visited too much. You can see Koh Madsum and Koh Tan already from Samui and they are a great destination for a day trip. Really calm and natural. In the village of Thong Krut in the south of Samui you can rent a taxi boat for about 400 baht (always try to bargain) and get to the island. You could also go to a travel agency on Koh Samui and book a tour there or online in advance. Those would be more expensive and cost about 2000 baht up.
By the way, on Koh Madsum there is a nice hotel on this paradise-like island called The Treasure Koh Madsum, where you can stay for a couple of quiet and relaxing days.
16. Movie night at the beach
If you feel like a movie night at the beach, then you can experience this unique event every saturday night in front of the Hansar Samui Resort & Spa. An amazing scenery with a view at Koh Phangan and a screen directly at the beach. Starting from 200 baht per person.
---
Tip: If you don't want to discover Koh Samui by scooter, but still individually, you will find many interesting excursion options at Get Your Guide. Here you will also find another overview of interesting tours on Koh Samui.
Plan your trip to Koh Samui now
More hotel recommendations for Koh Samui:
Popular routes to Koh Samui:
---
Have you already been to Koh Samui? Did you like the island? Are there some more activities we should add to this list? Just leave us a comment right now. We're always happy to hear your opinion!