Dieser Artikel ist auch verfügbar auf: Deutsch
Koh Samui is the third largest island of Thailand and a popular holiday destination. With its own airport the tropical island is really easy to reach by flight. Whether you want to explore Koh Samui with an organized tour or on your own with a scooter, it certainly has the right activity for you.
Our hotel tips and recommendations for Koh Samui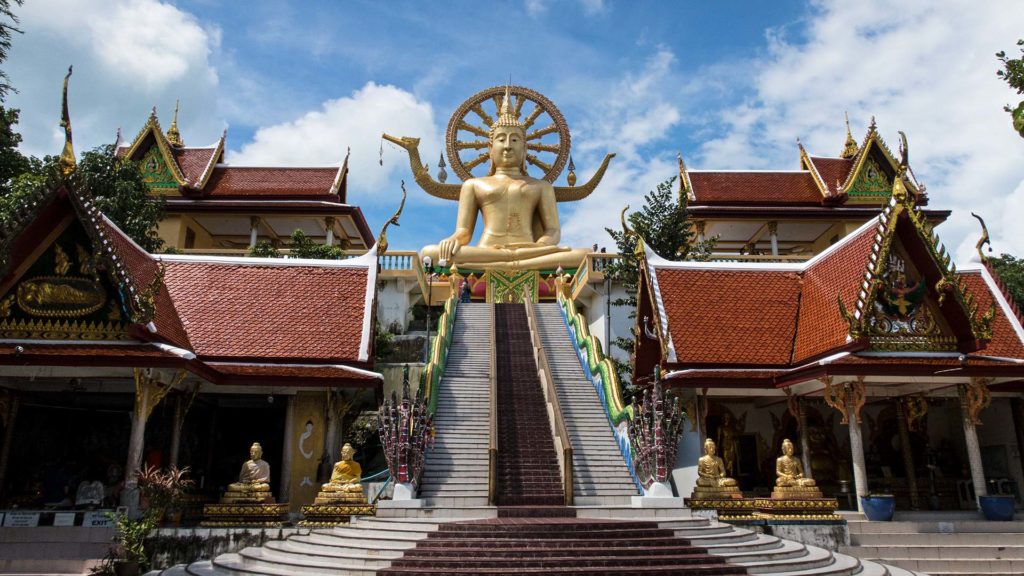 There are not only countless sights and activities on Koh Samui, but also many beautiful beaches to spend your holiday at.
Of course you need to find the right hotel for your stay on the island. That's why we are often asked by our readers to recommend them some nice accommodations for a dream vacation.
Therefore, we have compiled our hotel recommendations for Koh Samui in this article. From dreamlike 5 star hotels to cheaper alternatives, you can find countless accommodations on the island.
---
How to get to Koh Samui
Koh Samui: Tours and tickets
---
1. Bophut
Bophut is located at the north coast of Koh Samui between the town of Maenam and the famous landmark of the island, the Big Buddha. Bophut is especially popular for its beautiful Fisherman's Village in the middle of the beach. The old Chinese town houses with the many boutiques and restaurants with a sea view are quite charming.
In addition, there is a weekly walking street at the modern Fisherman's Wharf shopping complex in Bophut, which attracts many visitors. A great place for your holiday with many possible activities. Nevertheless, you can still enjoy the tranquility of Bophut.
Our hotel tip for Bophut
The Ibis Samui Bophut is located at the western end of the beach in a peaceful environment. The hotel area with a big swimming pool directly at the beach looks very inviting from the start. Furthermore, you can enjoy the nice view at Koh Phangan from the beach or swimming pool.
The rooms of the Ibis are spread across several buildings, each with three floors. There are 209 rooms in total, all with balcony and partly with a nice ocean view. The "Taste" Restaurant provides a nice breakfast as well as lunch or dinner, which you can enjoy on site. The beautiful Fisherman's Village is only a short walk away.
For further information please visit our experience review of the Ibis Samui Bophut Hotel.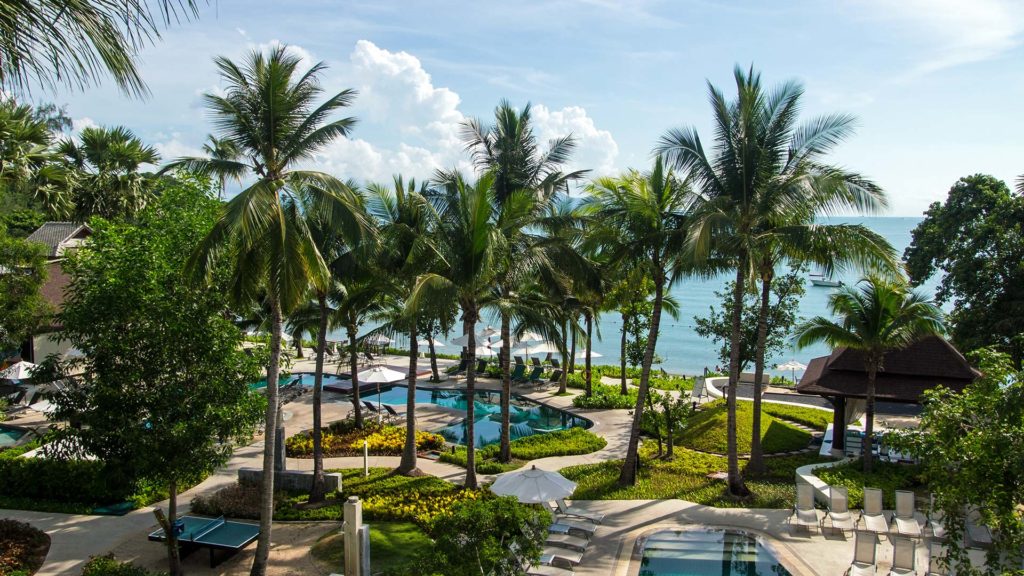 More hotel tips for Koh Samui in Bophut:
2. Chaweng
Chaweng is the most lively part of Koh Samui and is situated at the east coast of the island. The town of Chaweng offers a long and beautiful beach, where many of the best hotels of Koh Samui are located. You will also find plenty of bars, restaurants, markets and other shops along the Chaweng Beach Road so you won't miss anything. If you like the hustle and bustle, Chaweng is the place to be.
The town of Chaweng is also the center of Koh Samui's nightlife. You can find pubs, cocktail bars, beach clubs and discos. There is everything to spend a great night out in Thailand. You see, Chaweng is also the right place if you're looking to go out at night.
Our hotel tip for Chaweng
The Anantara Lawana is located in a somewhat more quiet part at the northern end of Chaweng. The beautiful complex is situated at a small private beach and offers 122 villas for guests. From deluxe rooms to the Royal Lawana Pool Villa you will find a wide variety of accommodations.
There is also an infinity pool by the beach as well as a pool bar and restaurant, where you can enjoy your breakfast with a view at the Gulf of Thailand in the morning. Furthermore, there is the "Tree Tops" Restaurant, where you can dine in a tree house. A really unique experience.
You can find more information about the Anantara Lawana Resort & Spa on Booking.com.
More hotel tips for Koh Samui in Chaweng:
3. Lamai
Lamai is the second largest holiday resort on Koh Samui after Chaweng. A little bit smaller and more relaxed, but there is still plenty of entertainment, restaurants, bars and a nice beach. The town of Lamai is somewhat more peaceful and therefore popular with a bit older tourists since the majority of the party scene is located in Chaweng.
Of course you can still do a lot in Lamai. For instance, every Sunday the largest walking street of the island takes place in the heart of Lamai. There are also many famous sights like the Grandfather and Grandmother Rock nearby and the Lamai Beach Road has also many shopping opportunities.
Our hotel tip for Lamai
The Banyan Tree Samui is situated just outside the town of Lamai in a secluded bay with a private beach. The 88 villas of the hotel are built on a hillside with a fantastic location and a private swimming pool. The Banyan Tree offers everything you could wish for – spa and wellness, restaurants, bars, entertainment and more.
The complex is designed in a classical Thai style. The high-quality hotel is actually suited more for luxury travelers, but it will surely make your stay on Koh Samui unforgettable. The Banyan Tree is also a perfect hotel to spend your honeymoon at.
You can find more information about the Banyan Tree Samui on Booking.com.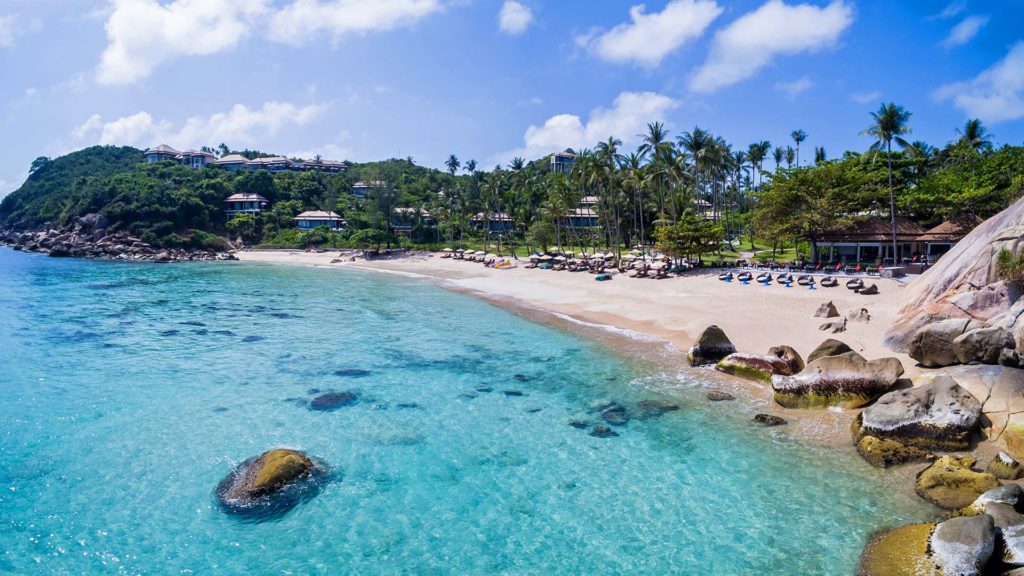 More hotel tips for Koh Samui in Lamai:
4. Maenam
The town of Maenam is located at the north coast of Koh Samui. The almost 5 kilometers long beach and the fantastic view at the neighboring island Koh Phangan make Maenam an amazing holiday resort. Although it's less busy than Chaweng or Lamai, it's not too far to the lively part of Koh Samui.
Maenam Beach is a quiet place, which still attracts visitors due to this fact. There are many accommodations directly at the beach from low budget to luxury hotels and plenty restaurants inside the town. Maenam is a great spot for a peaceful and quiet holiday and yet it is still not too boring.
Our hotel tip for Maenam
The high-class Santiburi Samui Beach Resort & Spa is situated directly at the Maenam Beach within a tropical garden. The 77 villas in a quiet location are equipped with everything you wish for and partly have a private swimming pool and direct access to the beach.
The well-maintained complex of the Santiburi Samui is completed by two restaurants, a lounge, a huge swimming pool, an excellent spa and a great golf course on the tropical island of Koh Samui. You can find some more restaurants and bars nearby, too. It's also not far to get to Chaweng, the lively part of the island.
You can find more information about the Santiburi Samui Beach Resort & Spa on Booking.com.
More hotel tips for Koh Samui in Maenam:
---
These 4 towns are just a small insight into the popular holiday island of Koh Samui. Around the island you can book many more quiet and beautiful hotels. Here you will find another overview for hotel tips on Koh Samui at Booking.com.
All prices shown are subject to season and availability.
Pictures: picture 3: © Anantara Lawana Resort & Spa – picture 4: © Banyan Tree Samui – picture 5: © Santiburi Samui Beach Resort & Spa
Have you ever been to Koh Samui? Which hotel tip do you got? We're looking forward for your tips in the comments below.