Dieser Artikel ist auch verfügbar auf: Deutsch
Koh Nang Yuan is located in the Gulf of Thailand and is the smallest of the neighboring islands of Koh Tao. Actually, Koh Nang Yuan consists of three islands which are connected with a sandbank. Koh Nang Yuan, Koh Nang Yuan Lek and Koh Hang Tao.
While you can also stay the night at Koh Nang Yuan, most of the visitors come with day trips from Koh Tao or the nearby islands of Koh Phangan and Koh Samui.
Day trip to Koh Nang Yuan
The beautiful and famous viewpoint itself is worth the trip, but also the dreamlike water and powdery white beach. But you have to come at the right time. How to get to Koh Nang Yuan, what's the best time and what to do on site, can be found here.
---
How to get to Koh Tao
Accommodation in Koh Tao – our hotel tip
Koh Tao: Tours and tickets
---
Getting from Koh Tao to Koh Nang Yuan
From Koh Tao there are several options to get to Koh Nang Yuan. You can either do organized snorkeling trips, take the Lomprayah speedboat or hire a longtail boat.
Info: Of course you can also make day trips from Koh Samui or the neighboring island of Koh Phangan to Koh Nang Yuan. These are e.g. also offered with the Lomprayah Speedboat.
Most of the visitors are doing one of the first two options. We decided to use the longtail boat and therefore we will feature this opportunity.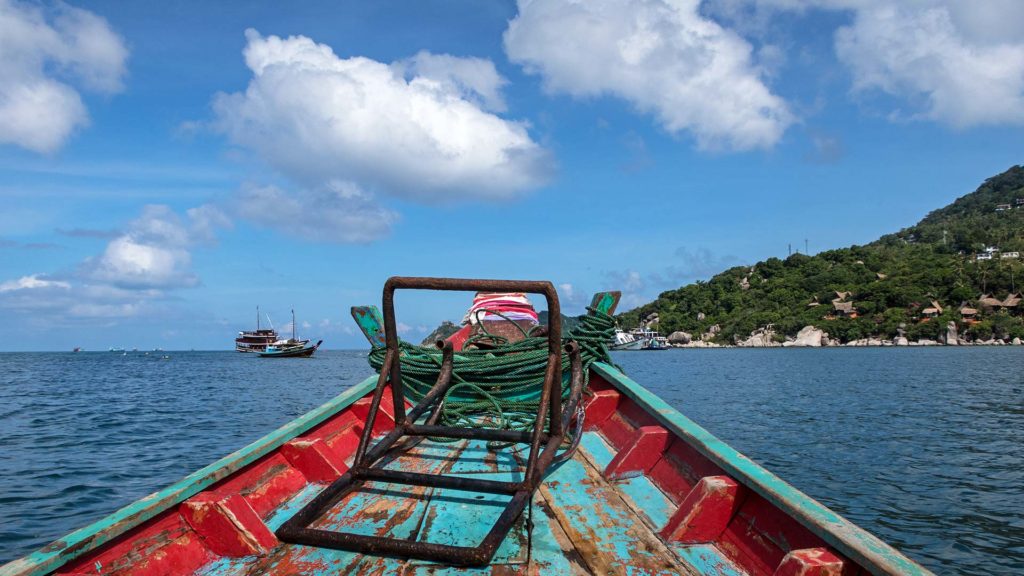 A longtail boat can be rented either on the beach of Mae Haad, the main town of Koh Tao, or at the Sairee Beach. From Mae Haad a round trip costs 400 baht per person, from the Sairee Beach it's only 300 baht per person. Providers can be found directly at the beach.
The trip takes about 15-20 minutes and takes you past the coast of Koh Tao with terrific views at the island. You can arrange a pick-up time with your driver during the trip. The driver will then wait at the pier of Koh Nang Yuan at the arranged time to get you back to Koh Tao.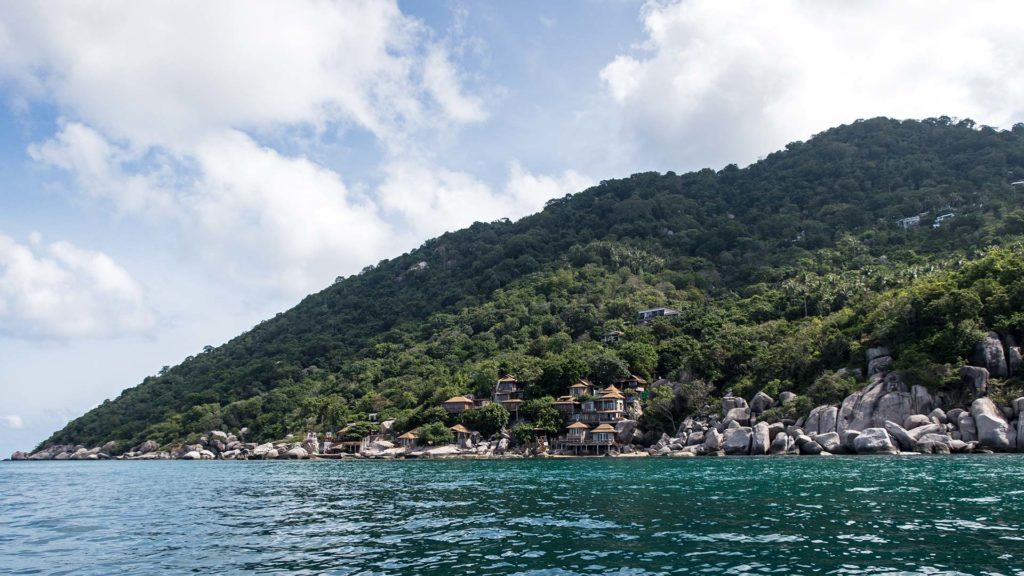 Note: There are also trips available if you are not staying on Koh Tao, but want to visit Koh Nang Yuan from Koh Phangan or Koh Samui. One of the operators is Lomlahk Khirin High Speed Ferries. Prices for a full-day trip are about 2200 baht per person including lunch, snorkeling equipment etc.
Arrival at Koh Nang Yuan
As you make your way with the longtail boat, you can see the dreamlike island as it gets closer. And the closer the island comes, the more it looks like a paradise with turquoise water. The longtail boat driver or your tour operator will leave you at the jetty of Koh Nang Yuan Lek.
Upon arrival on Koh Nang Yuan you will have to pay an entrance fee at the pay booth at the end of the jetty. The fee is 100 baht per person and you can't take any plastic bottles with you. They are not allowed on Koh Nang Yuan and you will have to buy some drinks directly on site.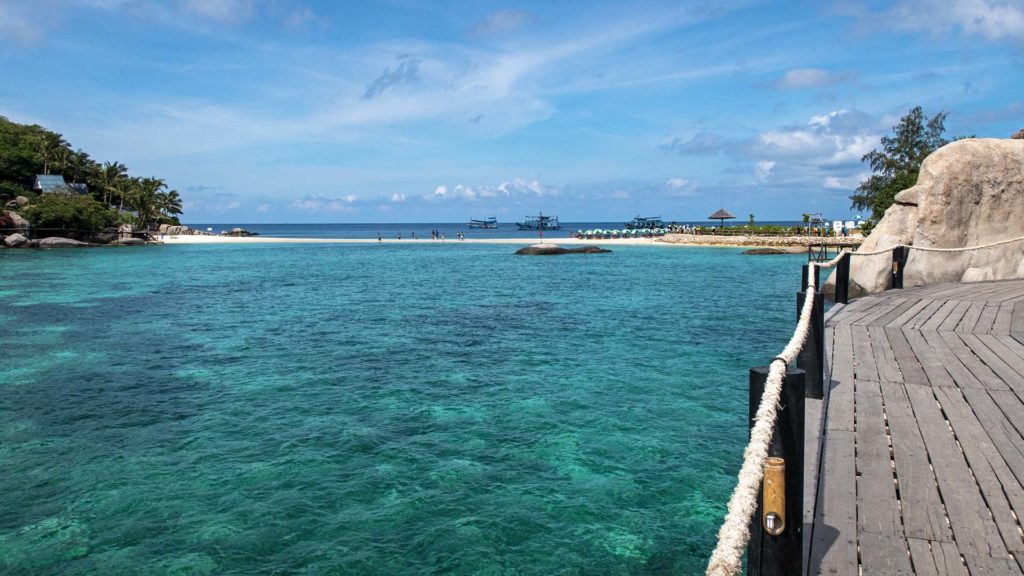 From the jetty you can take the first pictures of beautiful Koh Nang Yuan and the sandbank, before you go to explore the island.
Koh Nang Yuan Viewpoint
The Koh Nang Yuan Viewpoint is one of the views that you've probably seen on many postcards or Instagram pictures and when you visit the island, you want to see the fantastic view over the three small islands and the sandbank with your own eyes.
From the jetty on Koh Nang Yuan you will have to walk left across the sandbank. After that, a wooden walkway leads past the rocks and reveals some beautiful views for some pictures of the island.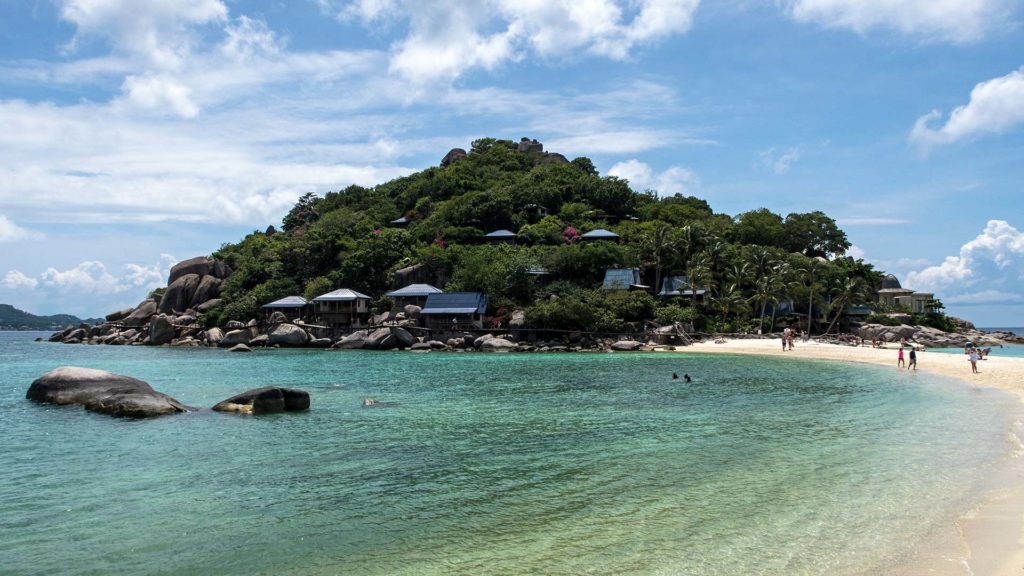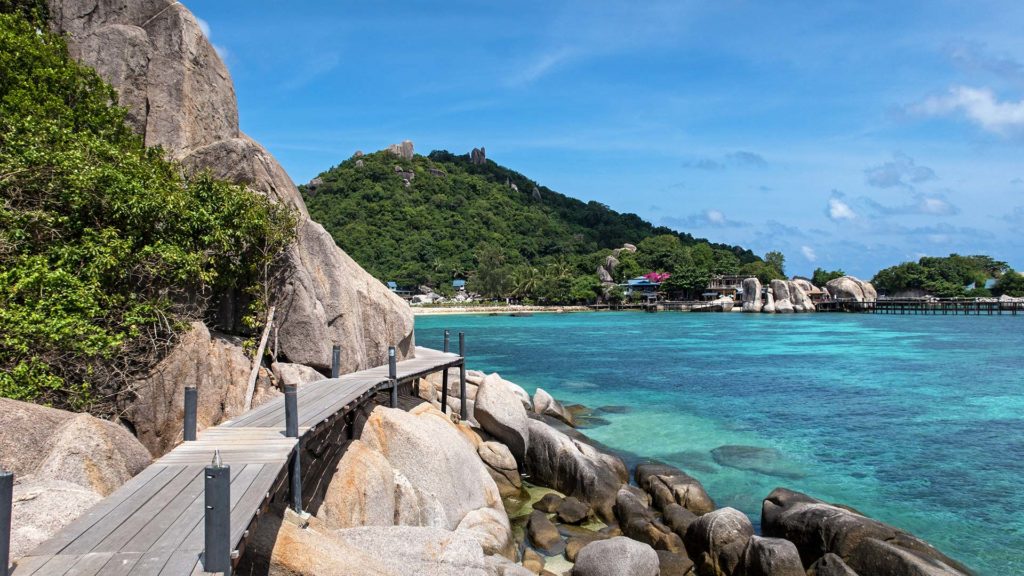 You can follow the wooden path until you see the sign to the Koh Nang Yuan Viewpoint on the right hand side. From there a path leads over several stairs up to the viewpoint.
Most likely you will meet some other visitors on the way. But if you're going in the early morning to the Koh Nang Yuan Viewpoint, it should not be too crowded.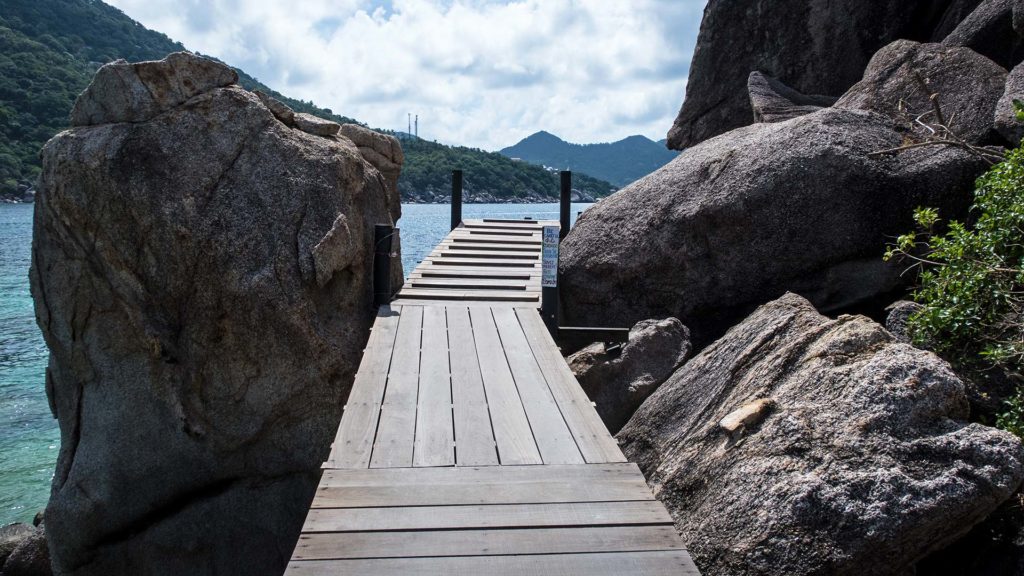 After the 10 minutes climb up you will arrive at the top where you have to climb another few rocks. But it's not that difficult and you will be rewarded with a breathtaking view over Koh Nang Yuan. If some people are already up there, you will maybe have to wait a few minutes to get a good spot.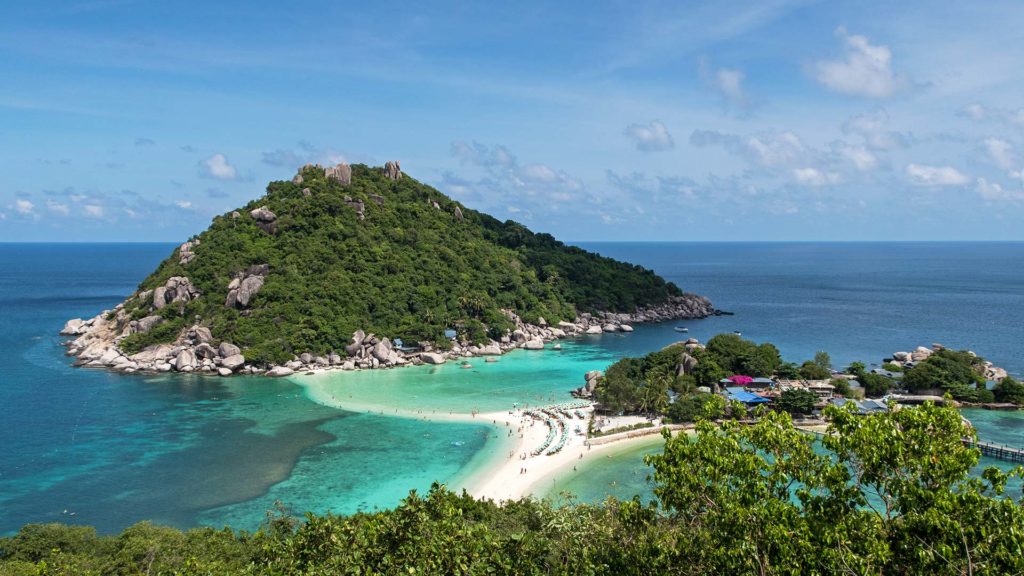 Note: If you arrive late at Koh Nang Yuan, the queue in front of the viewpoint can be quite long. When I went back down, there were lots of people already waiting. I was really glad that I came early. Half of the last staircase was filled with people and I guess it would be an additional waiting time at least of 30 minutes.
Swimming and snorkeling on Koh Nang Yuan
Besides the viewpoint, the visitors like to spend time at the beach which is why there are plenty sunbeds and umbrellas available to rent. At noon the beach is pretty crowded, but the fine white sand and the crystal clear water make up for that a bit.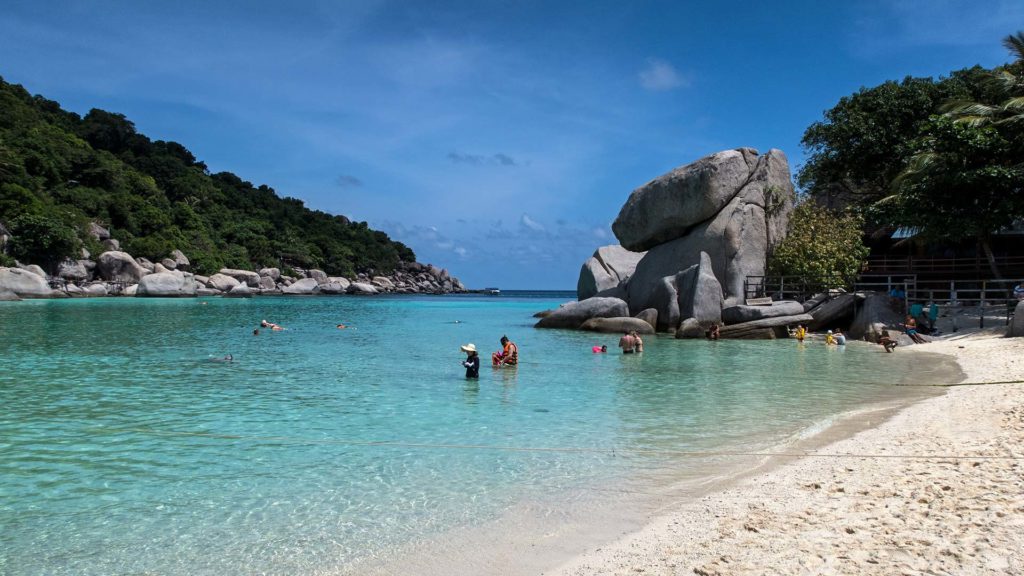 By the way, it's not allowed to place your towel directly in the sand on Koh Nang Yuan. Accordingly, there are signs on the beach to indicate that, since every year several tons of sand are being removed from the island.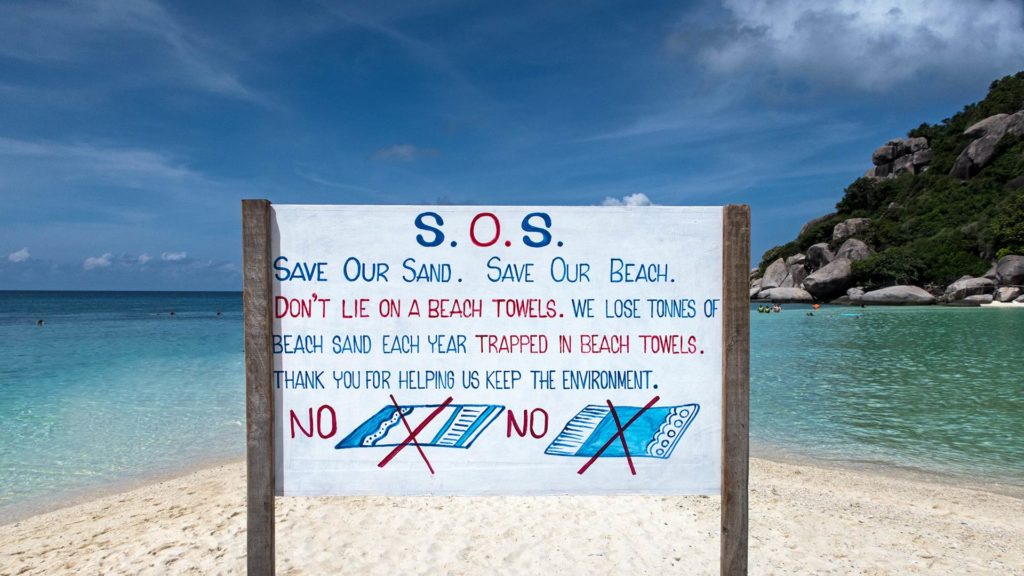 The water is very shallow at the beginning with fine sand. After that it will be unfortunately a little bit stony because the underground is full of dead corals. That's why the water color is so beautiful, but you can sadly see how many corals are dead already.
Anyway, you can still watch some fish in the water near the rocks. I have to admit that I expected a far more diverse and larger underwater world on Koh Nang Yuan. But the underwater world suffered a bit with all those daily visitors. So please be careful and do not stand on living corals!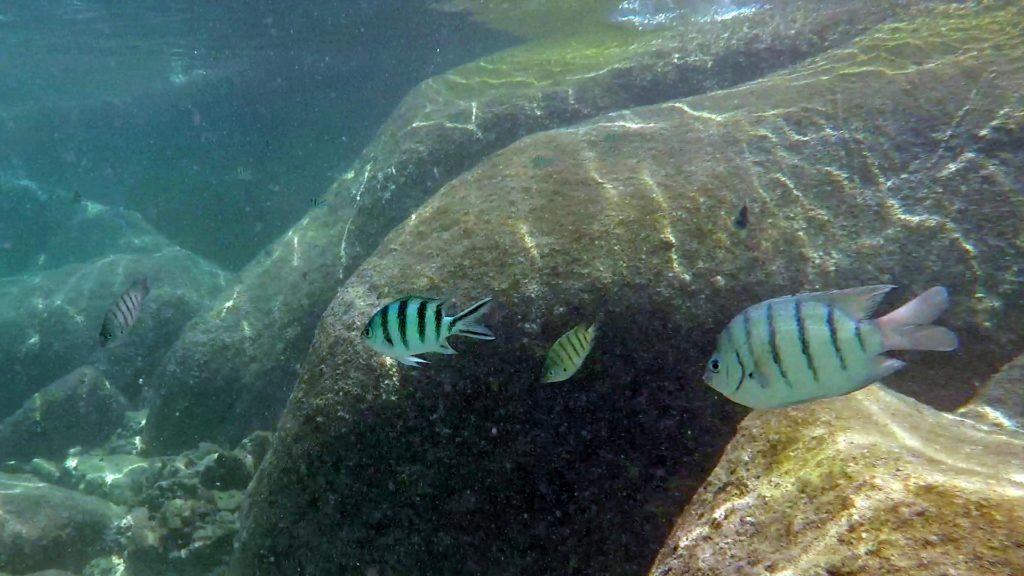 Nevertheless, you can spend a couple of hours at the beach. However, be careful because there are not so many shady spots and you will easily get a sunburn from the heat of Thailand. Sunblocker is absolutely required!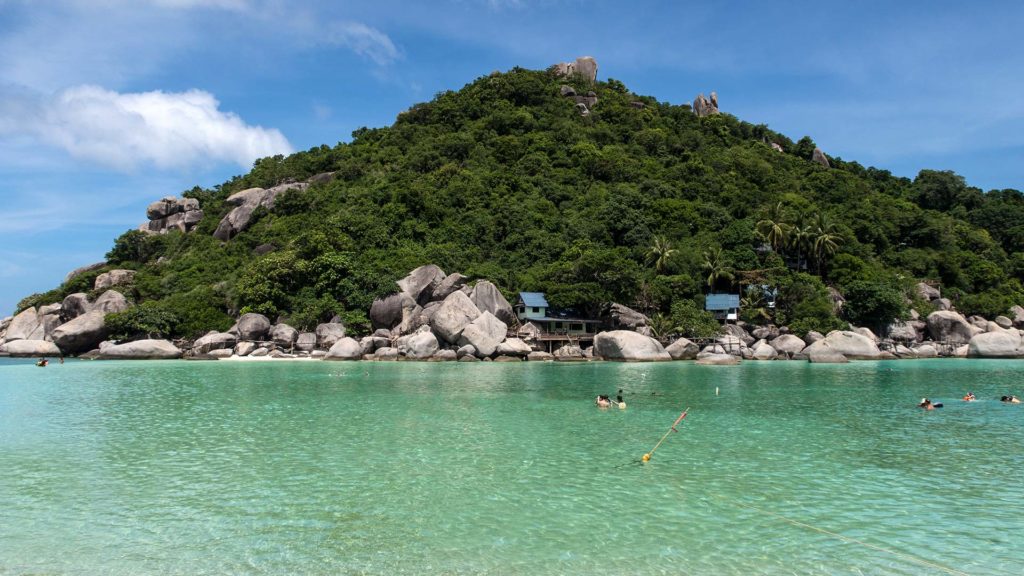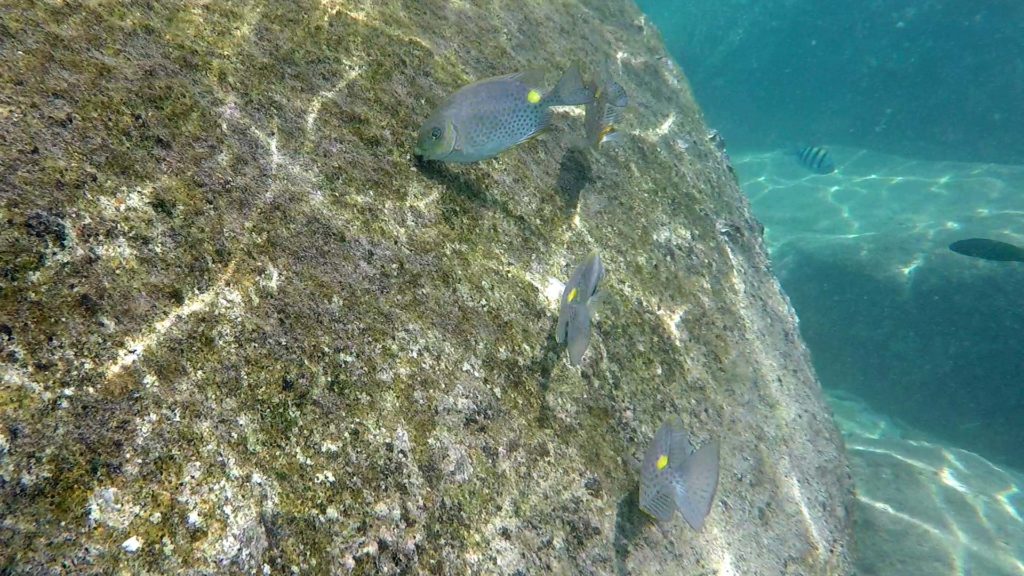 Accommodations and restaurants on Koh Nang Yuan
If you want to stay overnight on Koh Nang Yuan, there is also a resort on the small island which offers accommodations. The Nangyuan Island Dive Resort has some bungalows on the island. I'm sure you won't be ever able to experience Koh Nang Yuan quieter than staying there overnight.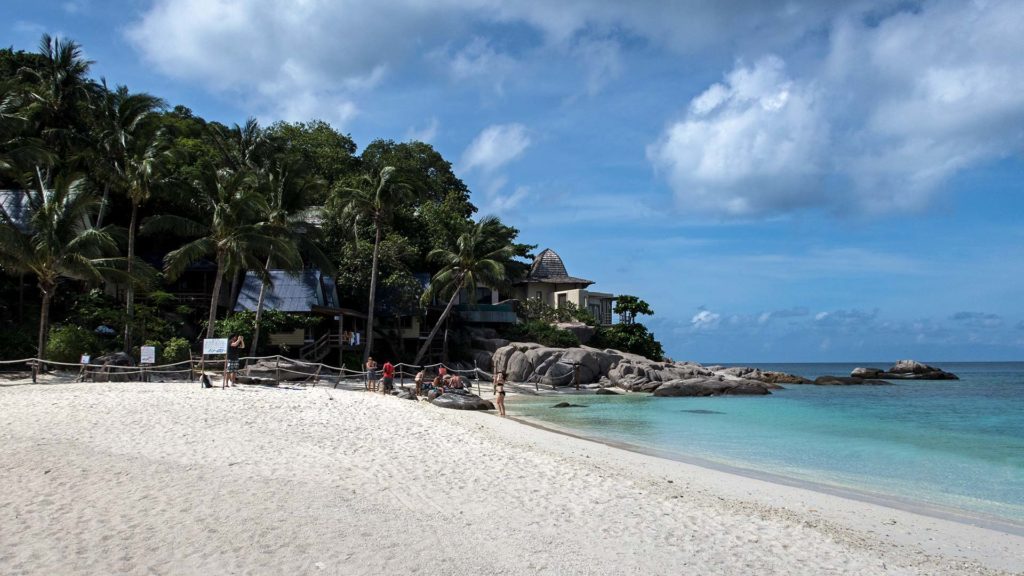 Since you are not allowed to bring plastic bottles to Koh Nang Yuan, there is of course a restaurant as well as a bar right on the beach. The water is still affordable, but with a price of 30 baht more expensive than on Koh Tao.
If you are hungry you can also order some food in the restaurant. It will be also much more expensive than you are used to in Thailand. It's certainly not wrong to pack some snacks for your trip to Koh Nang Yuan.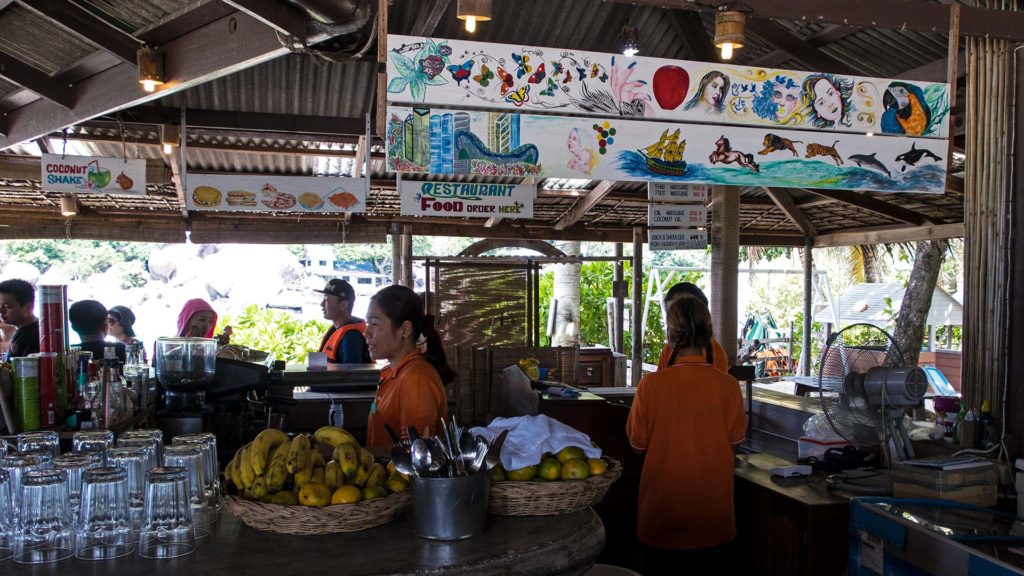 Conclusion & tips
Koh Nang Yuan is a really nice day trip from Koh Tao. Especially since you can go there individually on your own and you don't depend on day trips like from Koh Phangan or Koh Samui, which are unfortunately a mass processing of tourists.
The island is quite stunning. Fine white sand, crystal clear turquoise water and an amazing viewpoint. Unfortunately, due to the many visitors most of the corals are dead and snorkeling isn't that nice if you don't snorkel near the huge rocks. But still worth a trip!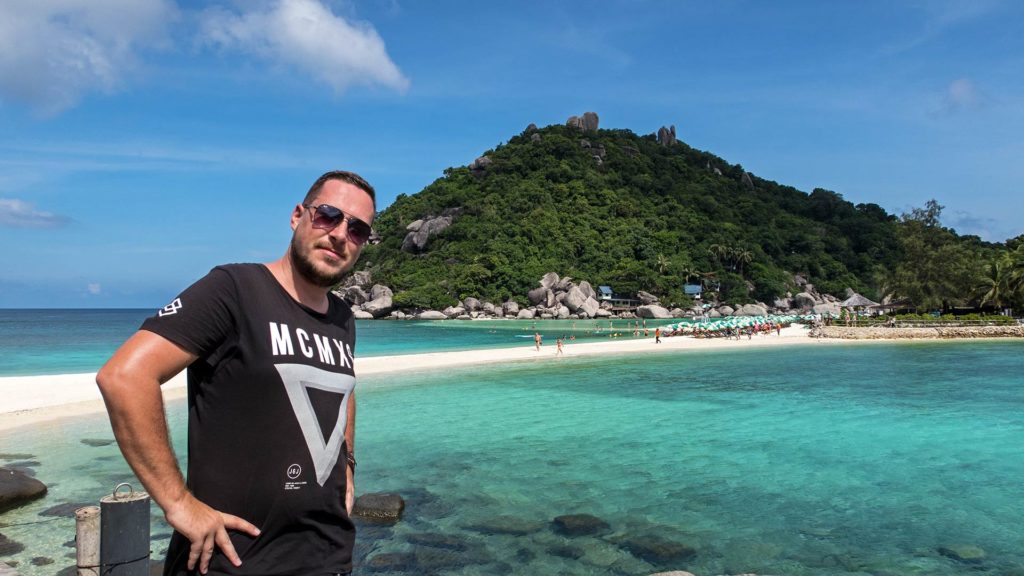 Tip: In order to explore Koh Nang Yuan in all its beauty, you should arrive in the early morning. It's best to be on site around 9.45 A.M. since the island opens at 10.00 A.M. Many of the group tours arrive around 10.30 A.M. and then the island will get really crowded. You even have to queue up for the viewpoint at some time.
An alternative would be the late afternoon, around 3.00 P.M., when most of the tourists are gone. However, the island closes early so you would only have an hour or two to explore Koh Nang Yuan. I think the early morning is a better choice and I would definitely recommend it.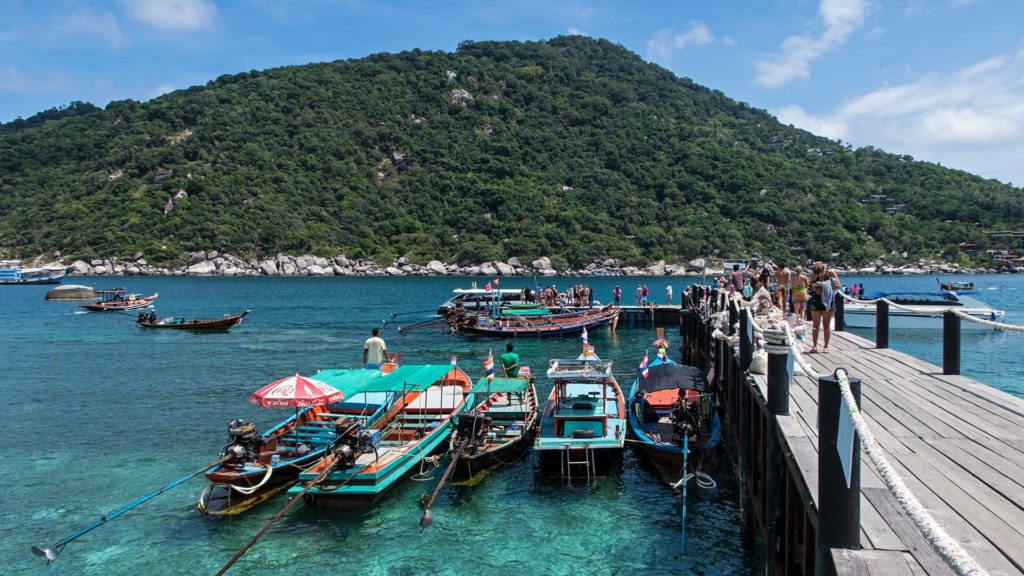 Plan your trip to Koh Tao now
More hotel recommendations for Koh Tao:
Popular routes to Koh Tao:
---
Have you ever been to Koh Nang Yuan? How did you like it? Leave us a comment below.