Dieser Artikel ist auch verfügbar auf: Deutsch
Khao Sok National Park is located in the province of Surat Thani and besides islands like Koh Samui or Koh Phangan in the Gulf of Thailand, it is probably the highlight of the whole region. Khao Sok National Park stretches over an area of just over 700 km², making it an absolutely diverse place to visit.
At Khao Sok National Park you can go hiking, marvel at wild animals like elephants or bears, go on a boat tour across Cheow Lan Lake, or simply be impressed by the huge limestone rocks and the lush flora and fauna. A trip to Khao Sok National Park will certainly not be boring.
A trip to Khao Sok National Park
In this article, we take you along on our trip across Cheow Lan Lake (sometimes spelled Chiao Lan), where we spent two days on the lake with an overnight stay in small bungalows on the water.
We can absolutely recommend a trip to Khao Sok National Park, which is often called Guilin of Thailand (based on the Guilin Region in China), and a tour across the lake, if you want to get to know another side of Thailand other than its beaches and temples.
---
How to get to Khao Sok National Park
Khao Sok National Park does not have its own airport and most people travel to the National Park from either Surat Thani, Krabi, Phuket or Khao Lak. Since Surat Thani, Krabi and Phuket also have an airport; you can fly from Bangkok to these places and continue your journey from there. Tickets, connections and prices can be found at Skyscanner.
There are buses going to Khao Sok National Park from Surat Thani, Krabi, Phuket, or even Khao Lak on a regular schedule. The journey takes about 2-3 hours depending on where you depart from. If you are traveling with several people, you could also hire a private cab. Taking the train to Surat Thani followed by a bus ride to the National Park is also an option. More information about schedules, prices, etc. can be found at 12go.asia.
Overnight Stay on Cheow Lan Lake – Our Hotel Tip
We stayed at the Smiley Lakehouse during our first visit. Their rooms are very affordable, but they are also very basic. If you are looking for slightly better accommodation on the lake, you should take a look at the Keereewarin. Their rooms are much better and definitely more comfortable.
More hotels in Khao Sok National Park and Cheow Lan Lake can be found here.
Khao Sok National Park: Tours and Tickets
---
Ratchaprapha Dam
There are two options to get to Khao Sok National Park. The first is to pass through the national park headquarters and the second is to go via the Ratchaprapha Dam, which we chose. This is also where the boats that take you across Cheow Lan Lake and the accommodations on the water, depart from.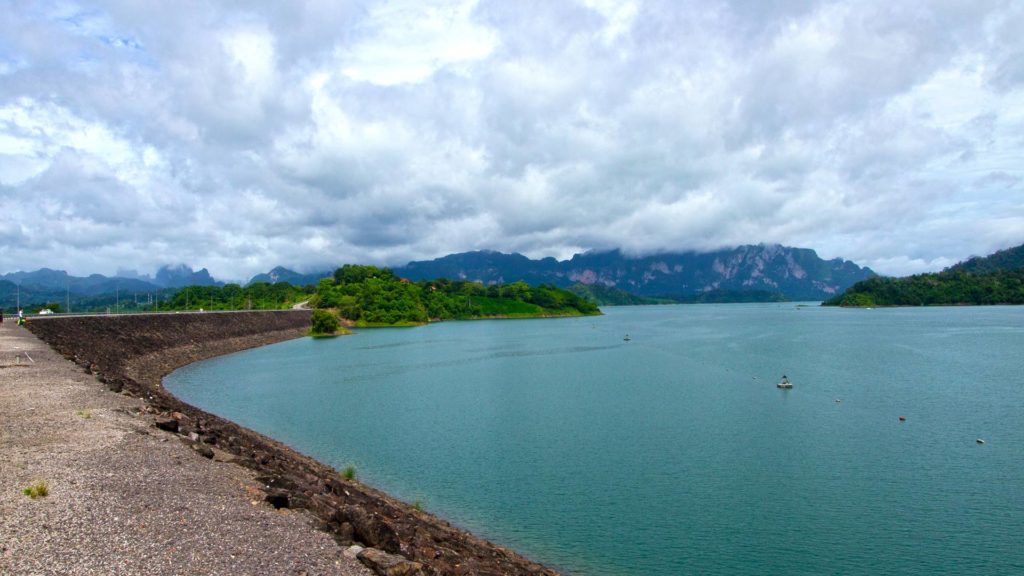 Not far from the dam, there is a somewhat larger boat landing where tour buses and cars can be parked. You can find a building for any last purchases and a few souvenirs as well as small ticket booths where you have to pay the entrance fee for the national park. It's currently 300 baht per person.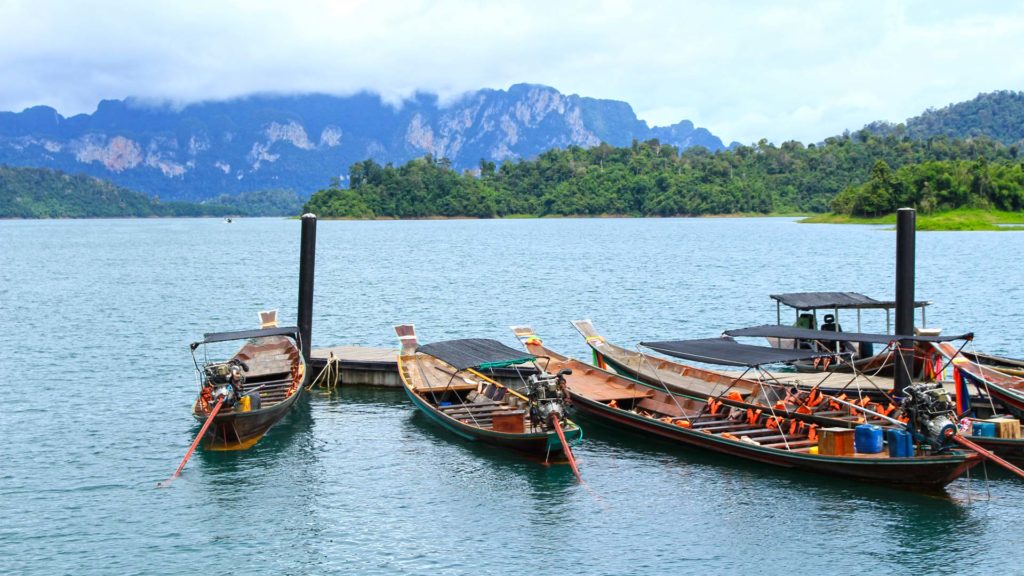 If you have made a reservation for a boat and accommodation in advance, you will be picked up from here and driven across the lake to your accommodation.
Cheow Lan Lake
When the Ratchaprapha Dam was built in 1982, Cheow Lan Lake was created because many parts of Khao Sok National Park were flooded. Today the lake has a size of 162 km² and is surrounded by beautiful and huge limestone cliffs.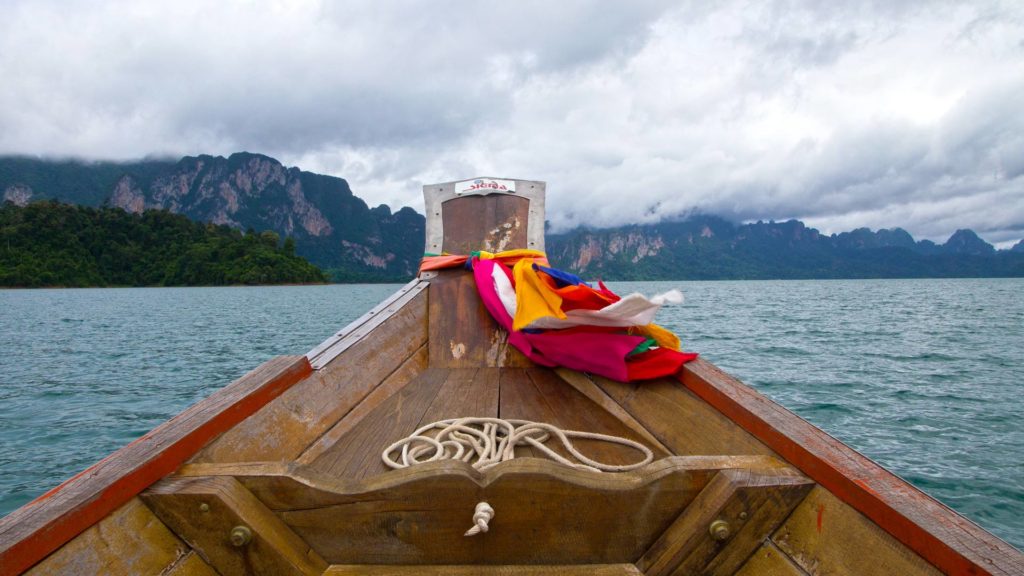 Cheow Lan Lake quickly became a tourist attraction and is now a popular destination for going on a boat tour and spend the night in the bungalows built on the water. This is exactly what we had in mind and so the journey to our accommodation already was already an enjoyable 1 ½ hour boat ride across the lake.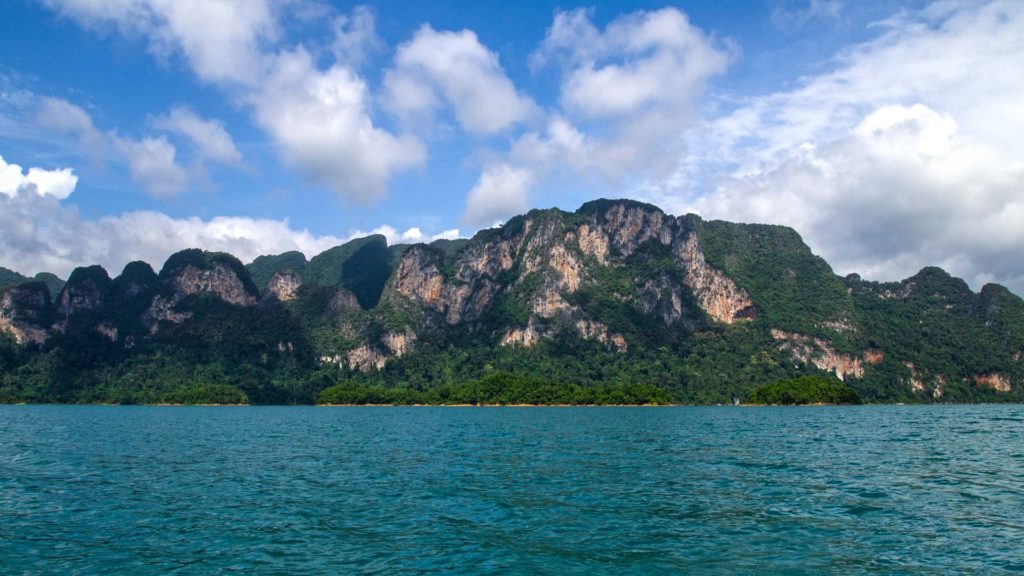 Khao Sok National Park is one of the wettest regions in Thailand and so it is not unusual to see lots of clouds clinging to the rocks. Nevertheless, it is a beautiful scenery and a great possibility to take pictures. We couldn't get enough of it.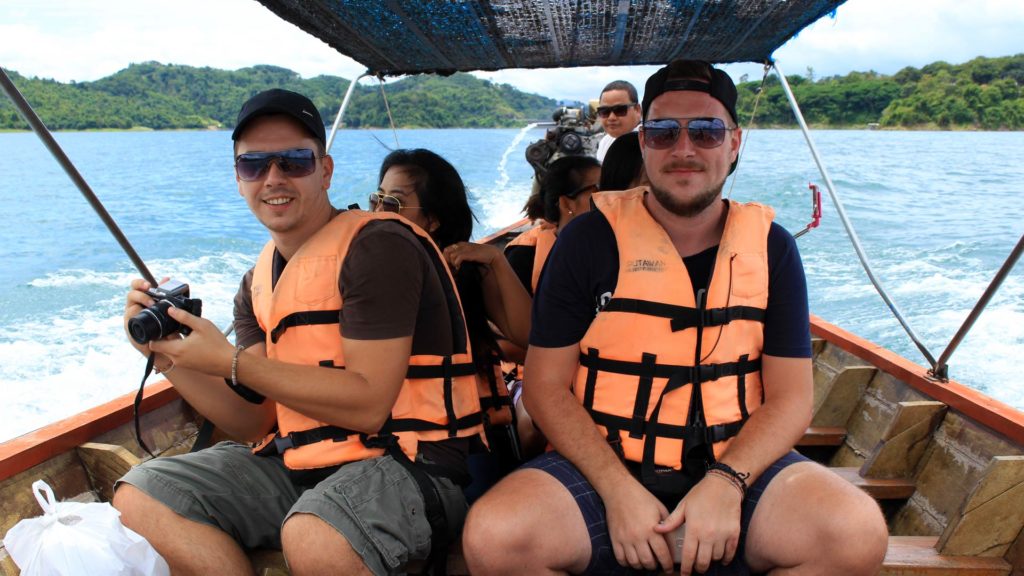 Smiley Lakehouse
Despite the many clouds, 1 ½ hour later, when we arrived at the Smiley Lakehouse it was very sunny and Khao Sok showed its best side.
On site itself, there's not much you can do. There is very poor to no cell phone reception, so you can finally devote yourself only to the offline world.
There are, for example, free kayaks with which you can explore the surroundings or you can simply go for a swim. The water is pleasant, not too warm and not too cold, and it's also very clean.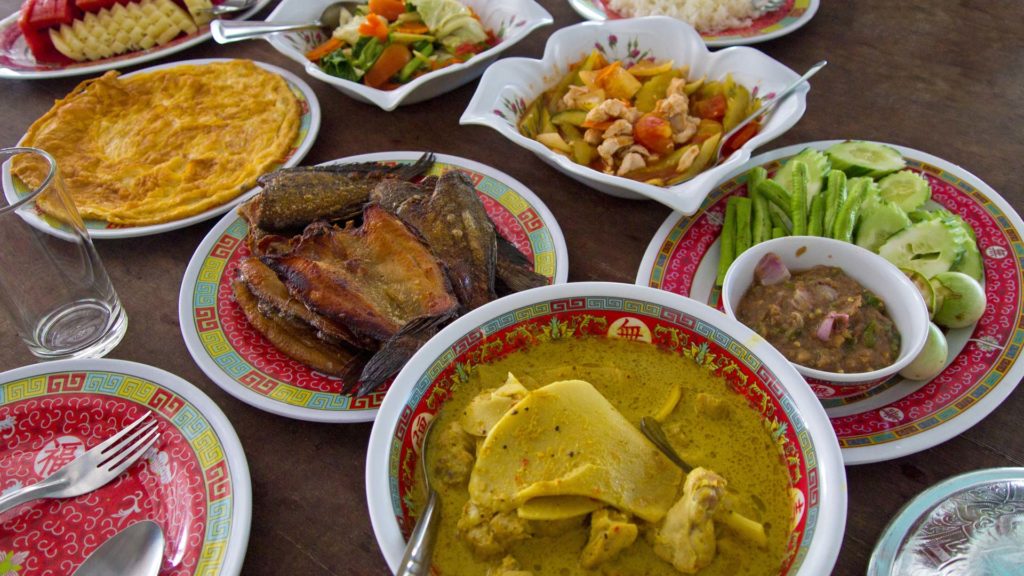 The price for staying in the bungalows included lunch, dinner and breakfast the next morning. Since there are no other options here to get some food, this of course makes sense. The meals are mostly adapted to the taste of tourists, so they are not too spicy.
You can also buy something to drink like coke, beer or water in the lounge/bar area and small snacks as chips are offered, as well. It's best to take a book, card game or something similar with you to spend the evening. Because otherwise there's not much to do apart from having an early night. Which is actually not the worst thing to do when you are planning on going on a tour the next morning.
You will most likely wake up with a wonderful view of the rocks the next morning, which still look a bit mystical wrapped in clouds. The sun also came out and so we were full of excitement for our boat trip across Cheow Lan Lake.
By the way, electricity is not available at all times in the bungalows. So if you need to charge the batteries of your camera, for example, do it between 5 pm and midnight. Before and after that there is often no electricity available.
Bang Hoi Waterfall
On the day of our arrival, we went on a short tour to the Bang Hoi waterfall in the afternoon. According to the guides on site, it is relatively new or newly discovered. Nevertheless, a few boats with visitors were on site, but it did not spoil the beauty of the waterfall at all.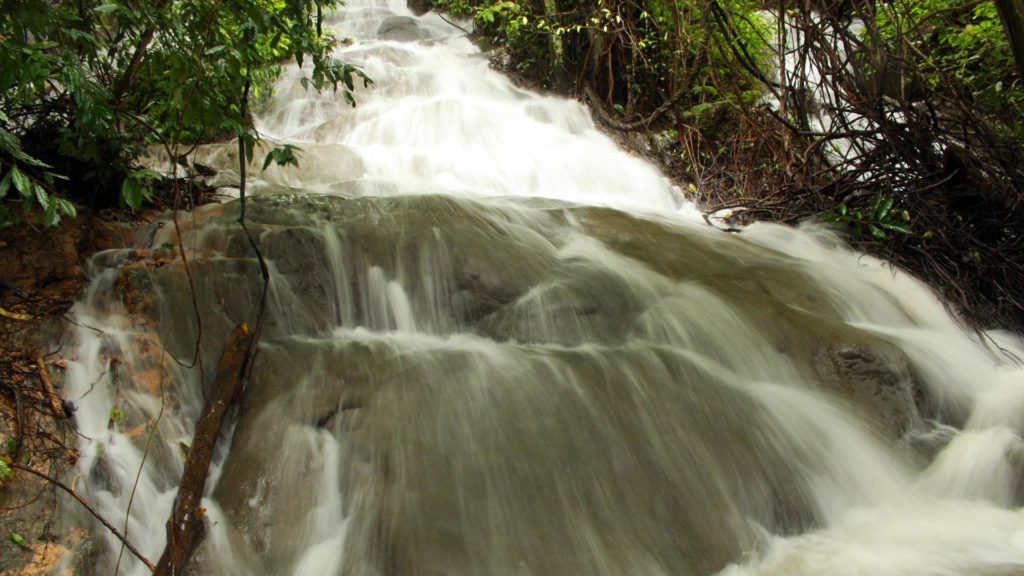 From the outside, it looks like just a small waterfall. But the first impression is deceiving. The Bang Hoi waterfall hides its numerous cascades behind the trees and when you have overcome the first step, you can guess the dimensions of the waterfall.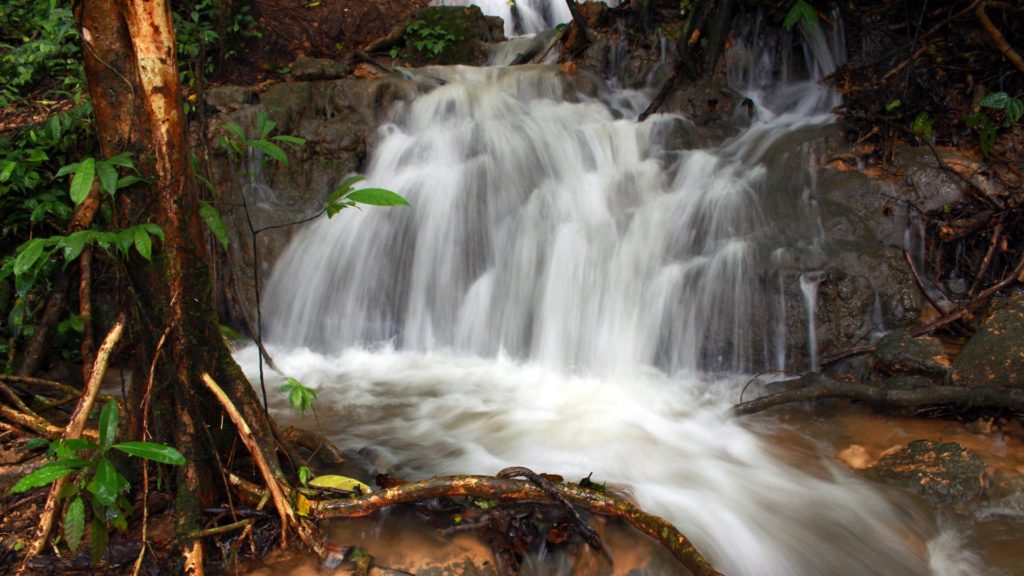 Our guide led us up the waterfall, always slowly and carefully, because it can get very slippery on the wet stones and the muddy ground. On our way to the waterfall there were always new and fascinating spots to take pictures of the waterfall. It is definitely a great trip that we can recommend to everyone.
Boat trip at Khao Sok National Park
The next morning, after an early breakfast, we left our bungalows around 8:30 am and headed out to explore Cheow Lan Lake. This was also our return trip to the pier at Ratchaprapha Dam, so we took our backpacks with us on the boat.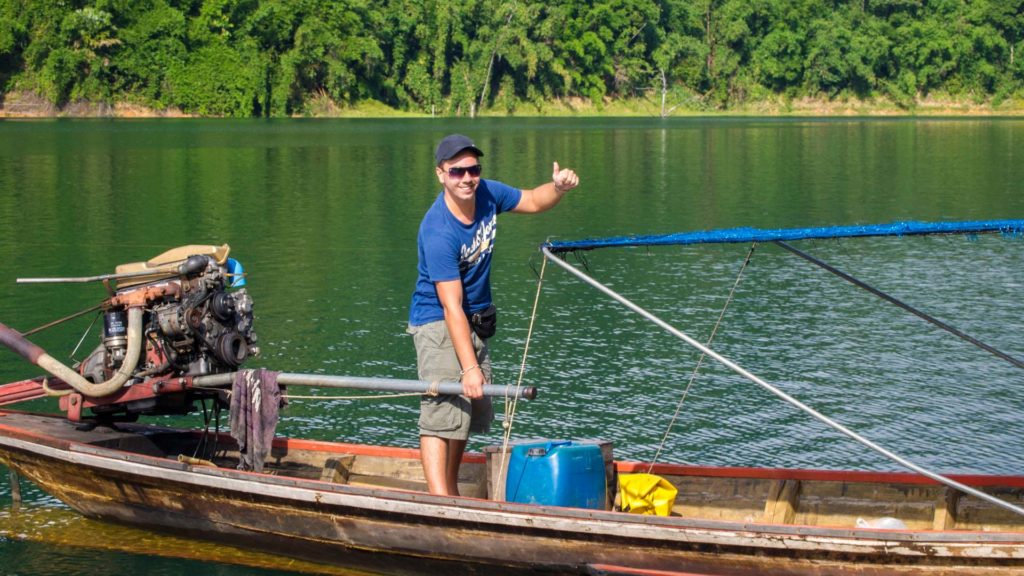 The tour takes just under 3 hours and leads past countless beautiful limestone rocks. And when the sun comes out, you can take even more beautiful pictures of the amazing surroundings.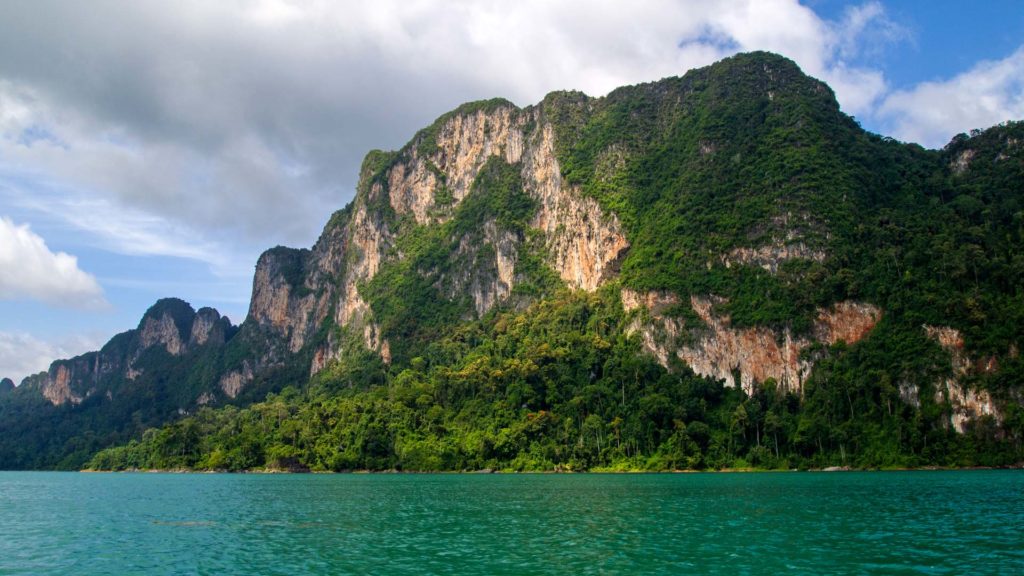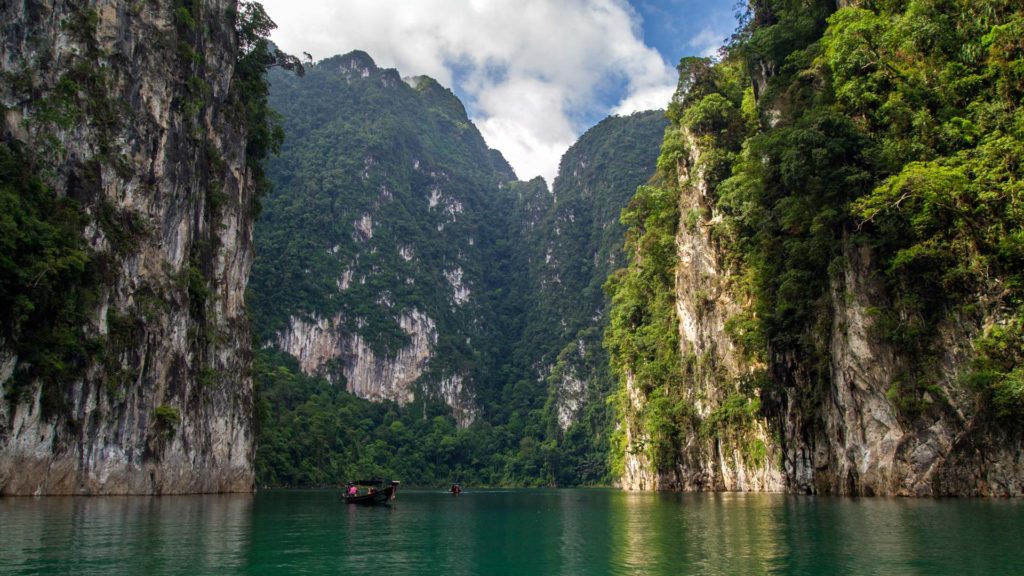 The highlight of most boat tours are the tree famous rocks, in Thai Hin Sam Glur. Translated, this means something like "3 brothers rock" or "3 friends rock". The tours normally provide a long and extensive stop to take photos and enjoy the entire impressive area.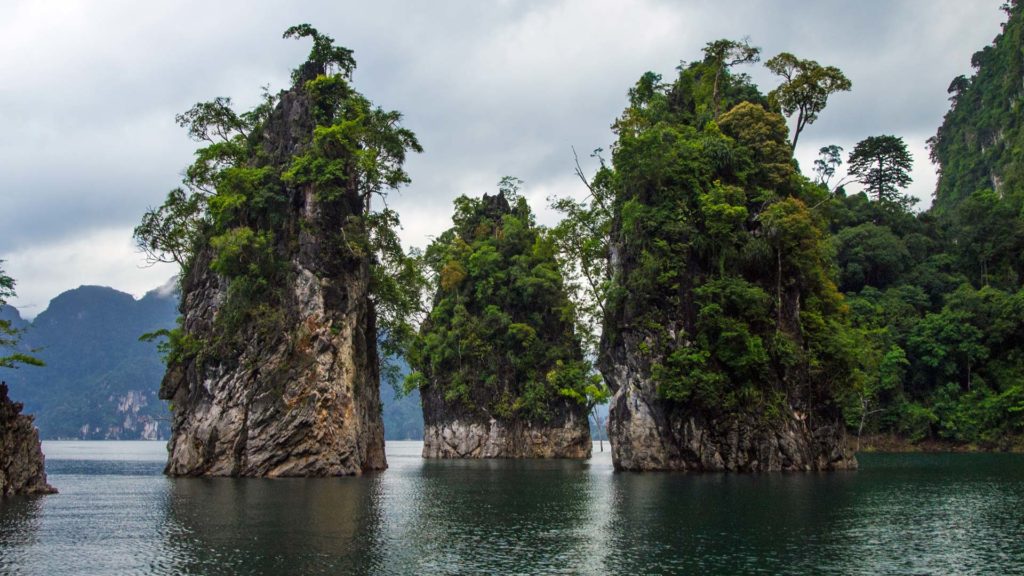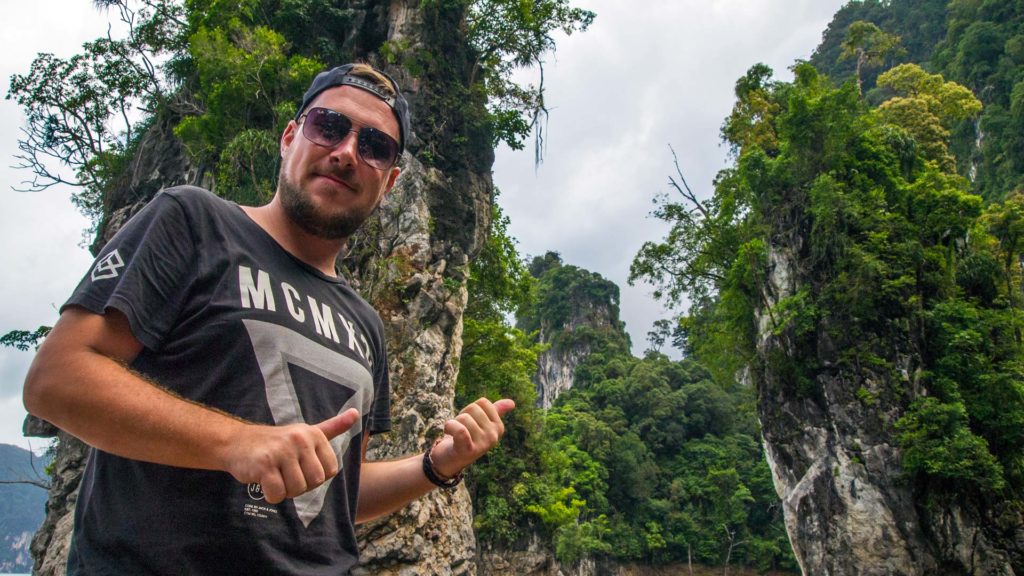 After that, we slowly headed back towards Ratchaprapha Dam with some more short stops and fascinating sceneries of Khao Sok National Park.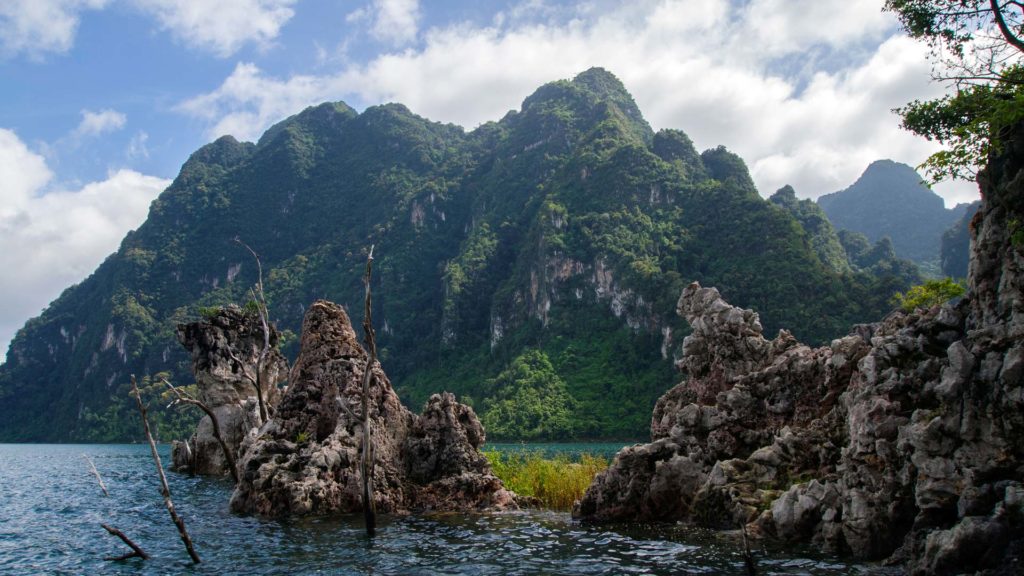 Info: We paid 2500 baht per person as a package price for the whole trip. This included the pickup from the pier at the Ratchaprapha Dam, the overnight stay and food in the bungalows, the tour to the waterfall, and several hours of our boat trip across the lake. If you don't have time for an overnight stay in the national park, there are for example also day trips from Khao Lak.
Conclusion
It was a relatively short stay with only one night in Khao Sok National Park, but it left a lasting impression. The scenery on the lake is really gorgeous and the whole trip calls for a rerun.
So if you're anywhere near Khao Sok National Park in Surat Thani, you should definitely take a trip there. It's worth it and shows you an absolutely great side of Thailand.
Have you ever been to Khao Sok National Park? How did you like it and what was your highlight? We are looking forward to your feedback in the comments.