Dieser Artikel ist auch verfügbar auf: Deutsch
Remember your favorite fairytale that took place in a magical landscape with mystical beings? If you've always wanted to visit one of those places, then I can only recommend Guilin in China (no mystical beings though).
Wonderful landscapes in Guilin and Xingping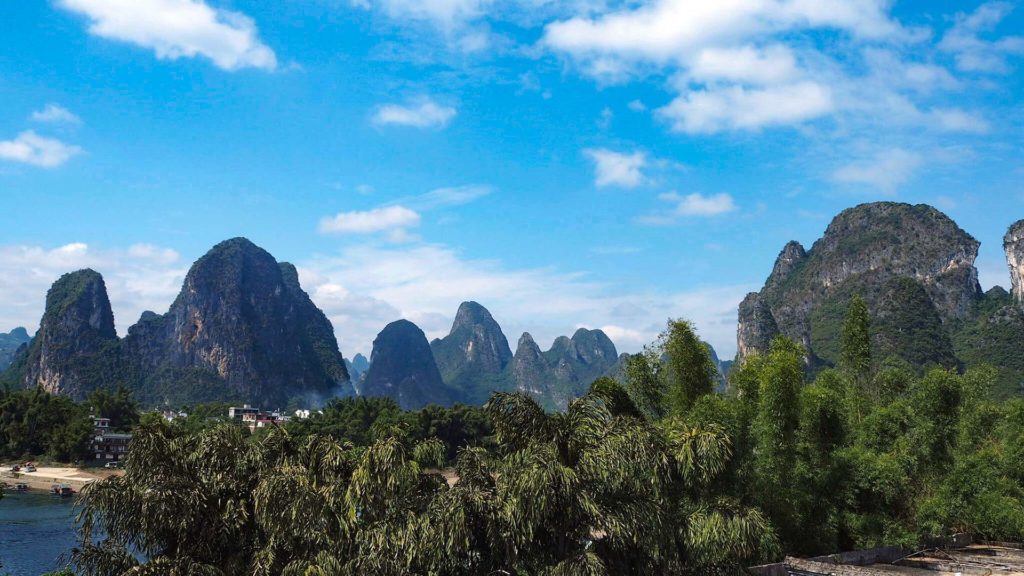 When you think about China, Beijing and Shanghai probably come to your mind first. But the majestic country has so much more to offer than crowded cities. I recommend that you plan a few extra days on your trip so that you can make it all the way to Guilin.
---
How to get to Guilin
The city is located in the southeast of China and can be easily reached by train from Hong Kong. Here the high speed trains G311/312 run between Hong Kong West Kowloon Station and Guilin West Station. At 12go.asia you will also find some train connections.
The whole trip takes about 3 hours and costs 379 CNY. You can also book flights from Beijing or Shanghai. From Shanghai, for example, it takes 2:40 hours to land in Guilin. You can compare and book the flights easily on Skyscanner.
Guilin is actually only the starting point to discover the famous rice terraces of Longsheng and the beautiful landscape of the Karst Mountains on the Li River. I spent a total of 4 days here and will show you the best way to organize your trip. 3-4 days is the ideal time to explore everything without stress.
Overnight stay in Guilin – our hotel tip
The Guilin Central Hostel is the perfect base from which to plan your excursions. As the name suggests, it is centrally located and right next to a huge selection of street food and shops.
The hostel offers all tours in the area at fair prices. Booking through the hostel was more than convenient and you can also meet great people to travel with. You can also find more accommodation in Guilin here.
Guilin: Tours and tickets
---
Longsheng Rice Terraces
For the first day I recommend a tour to the village of Dazhai. From here you can spend 5 hours alone (or with your group of new friends) exploring the rice terraces and learning a little about the locals. They will want to show you their traditional clothes – a picture with it is worthwhile in any case.
From April to June the rice fields are watered and the sun is reflected in the standing water. If you want to see the terraces in lush green, July to September is the best time.
After the beautiful hike you'll pass a few fruit stands, can admire rare fruit and meet your driver again, who'll take you back to Guilin.
Don't forget your solid shoes and a charged camera! During the hike it can get very warm, so it's best to use the onion technique for clothing.
Now you have a second night in the hostel, so you can start the next part of the trip full of energy on the next day.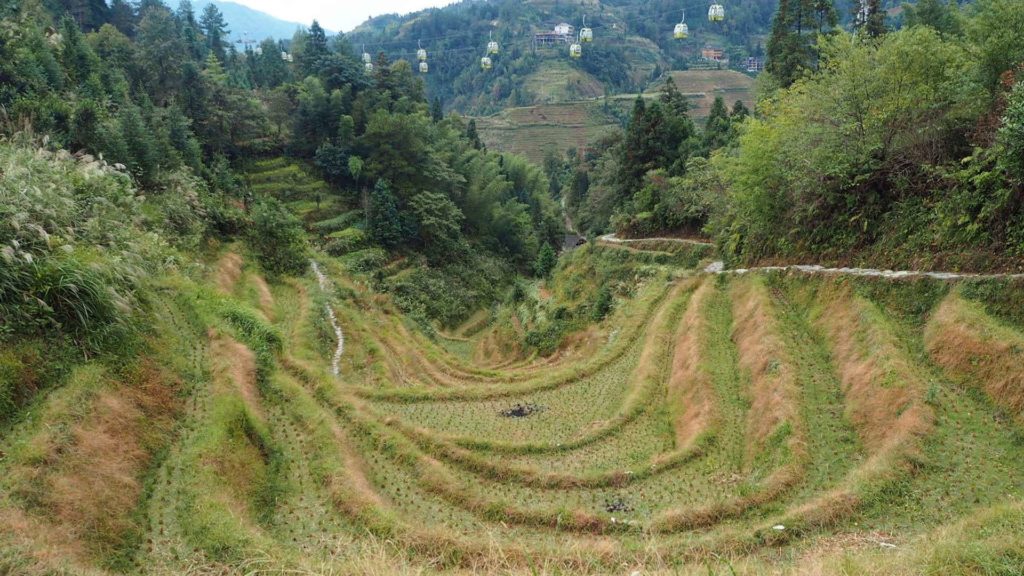 Xingping on the Li River
Now to the real highlight in the area around Guilin: the Karst Mountains – a picturesque landscape on the Li River. So picturesque that it is even printed on the 20 yuan bill. And best of all: you can visit the exact place that inspired the painter.
First of all: Many tourists come to Guilin and then book a tour to Yangshuo to see the mountain landscape. But Yangshuo is very touristy and therefore I recommend you to travel directly to Xingping.
For this you book a boat tour or a full-day tour with a private guide – with a classic bamboo raft you sail along the river and I promise you, you will be in awe. When the raft docks, Tuk Tuks will be ready to take you to Xingping. The easiest way to book the tour is at the Guilin Central Hostel and the staff will tell you exactly how to get to Xingping. Most of the group from the raft will go on to Yangshuo, but don't let this confuse you.
On the way to the river tour many Chinese women will want to sell you wreaths of flowers. I rarely let myself be talked into something, but these wreaths look so beautiful and look perfect on photos in the fairytale landscape.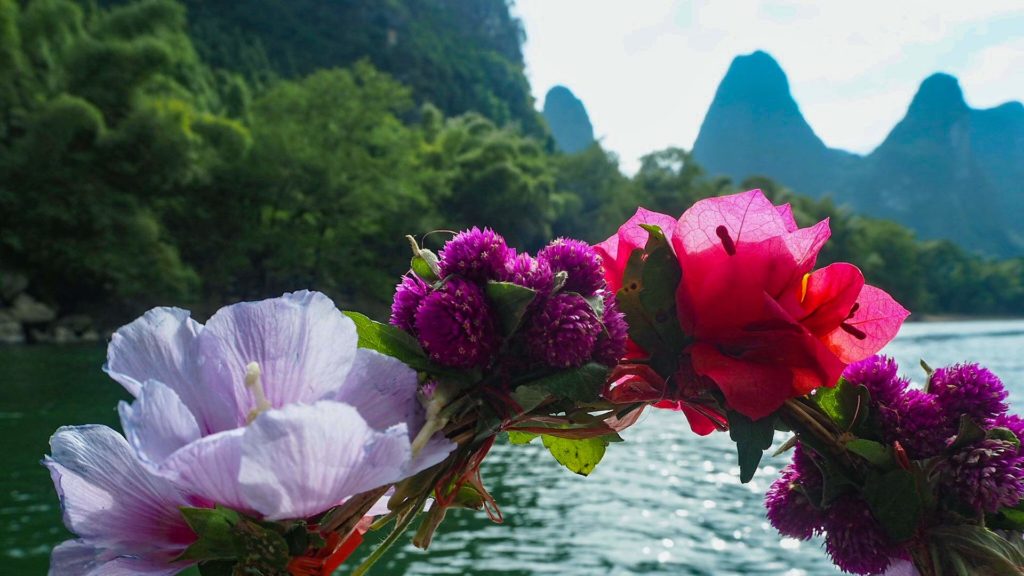 When you arrive in Xingping, all you have to do is go to your hostel: This Old Place International Youth Hostel is a great place to spend a night or two. The view is also fabulous, there is a roof terrace and the restaurant offers fresh pizza from a wood-burning oven (if you ever need a break from Chinese food). From here you can explore the area and fill up your memory card.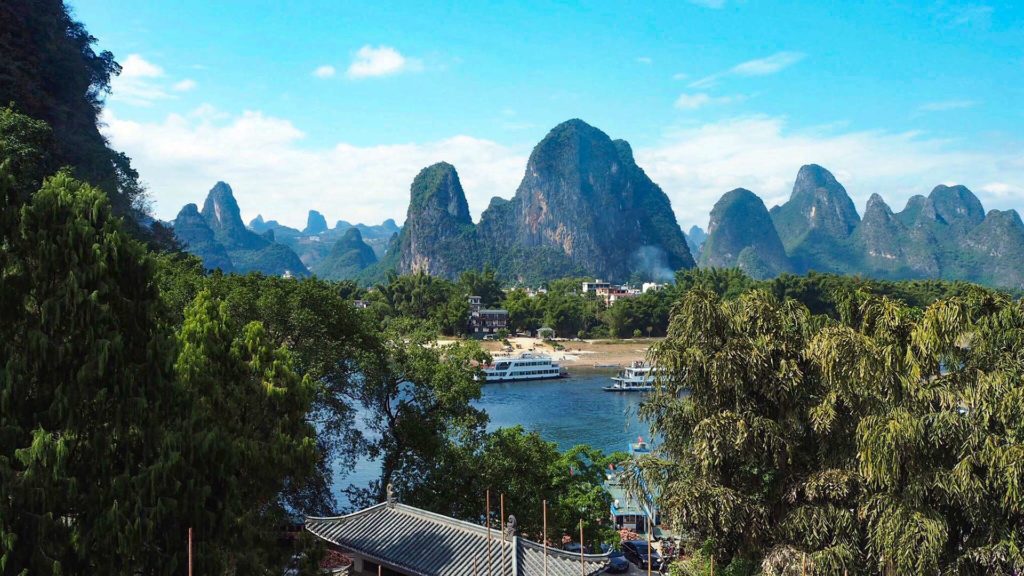 The village itself is picturesque and it is worth taking a little tour and sampling local specialities. If you are looking for souvenirs, you will find them here.
For the first day in Xingping two friends and I decided to visit the Old Fishing Village. It's described by the hostel as a two-hour hike – we took much longer as we didn't know where we were half the time. It is an exciting hike – the trail is lined with orange and pomelo trees and you are almost alone. However, I only recommend the tour if you speak some Chinese, otherwise it might be a bit difficult.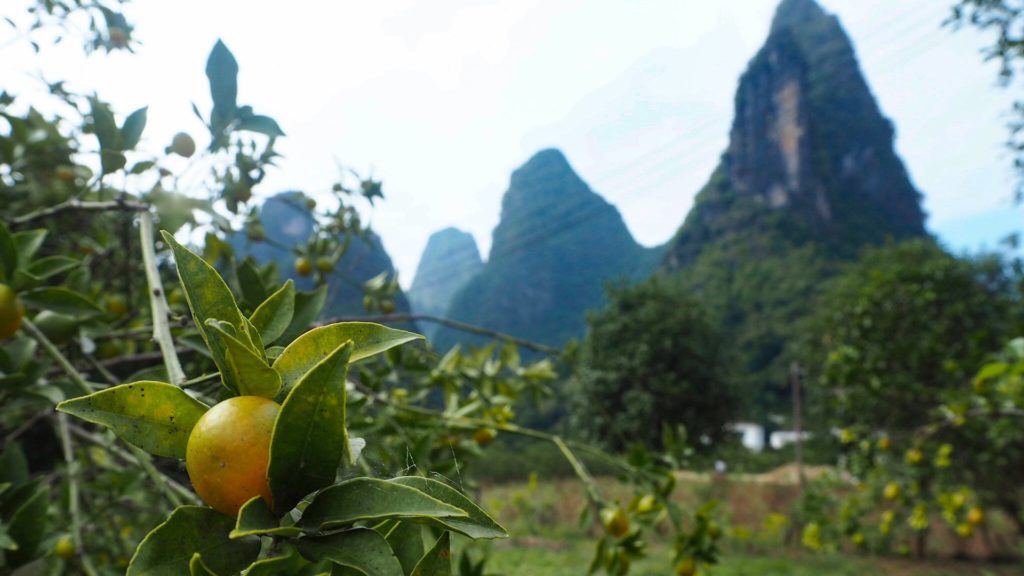 The Fishing Village is not really a fishing village – only a few small houses and the locals try to charge admission. Here you just have to ignore the shouting and sneak in a few meters further. Then you have to find the right way uphill and over the mountain back to the Xingping village. A successful adventure with amazing views, if you are ready to be far away from tourism.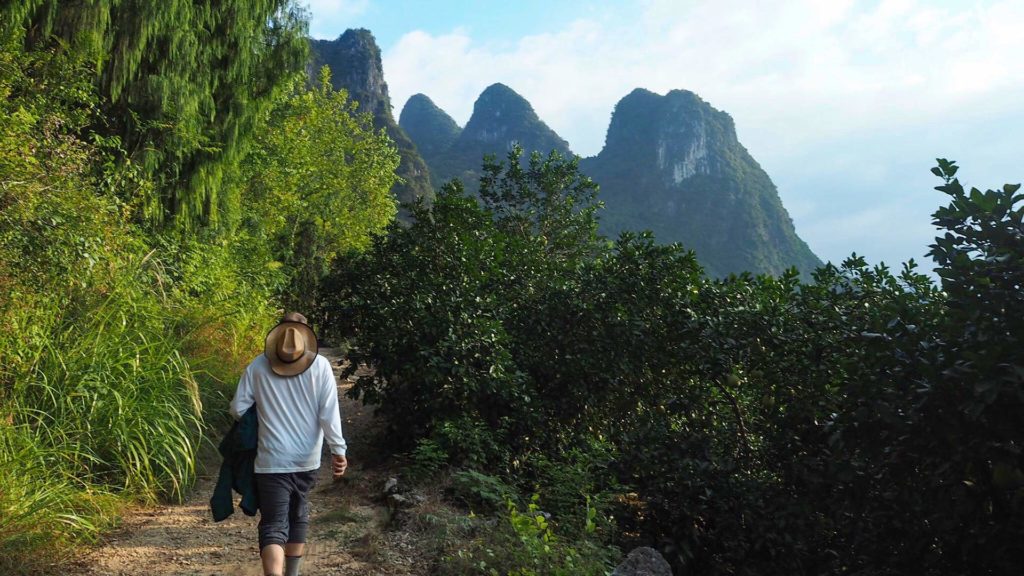 Less adventurous, but just as beautiful, can be a trip on a bamboo raft if the first trip to Xingping wasn't enough for you. A must is a hike on the Laozhai Hill. From here you can see the whole hilly landscape and ask yourself if this is real or if you are in a wonderful dream. The ascent takes about 40 minutes, depending on your fitness. The view is breathtaking at any hour!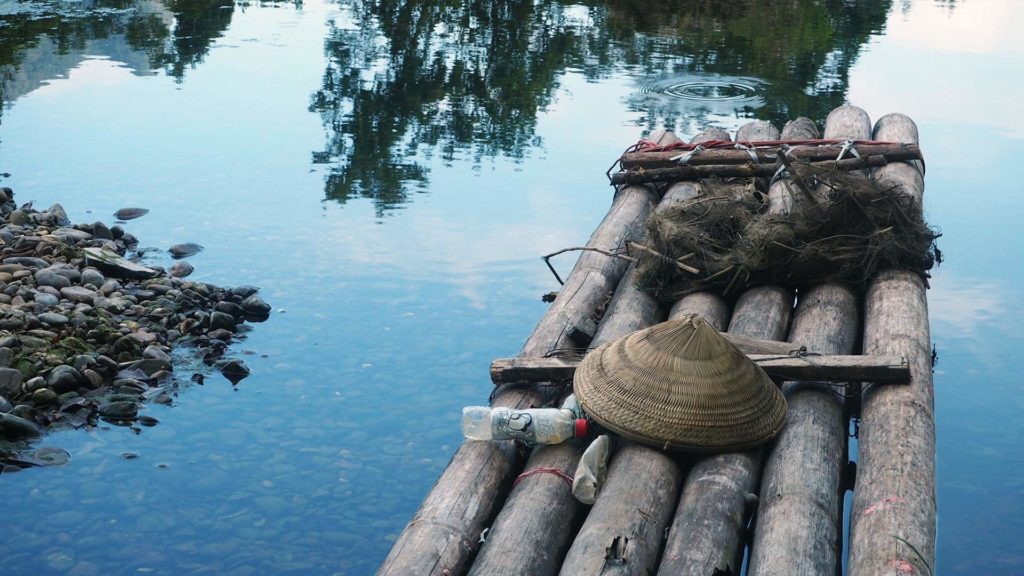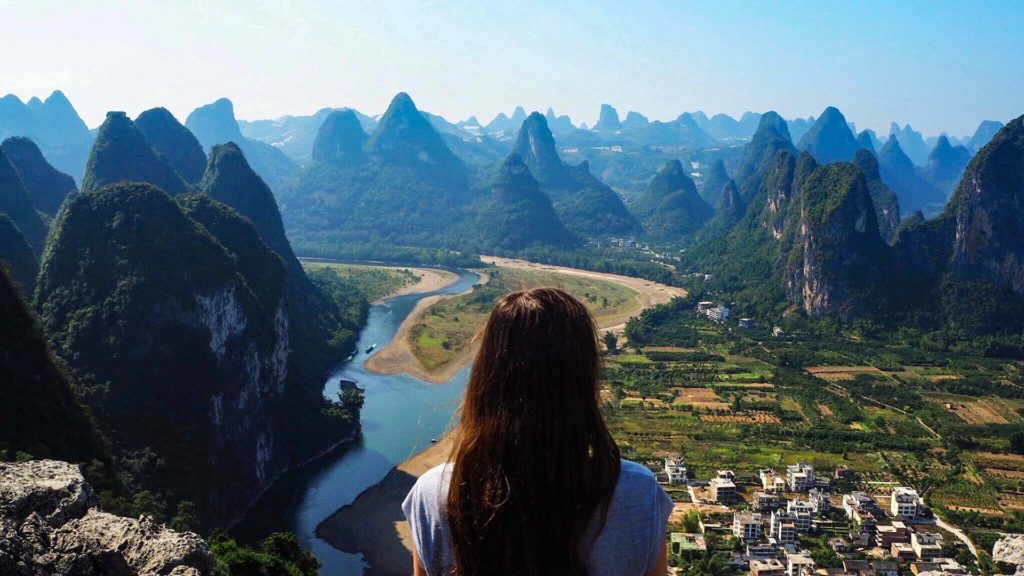 Now we got one more highlight left in Xingping – the picture of the 20 yuan bill. You can easily walk there. On the road there are signs pointing towards the viewpoint. About 15 minutes by foot and you can compare the bill with the original!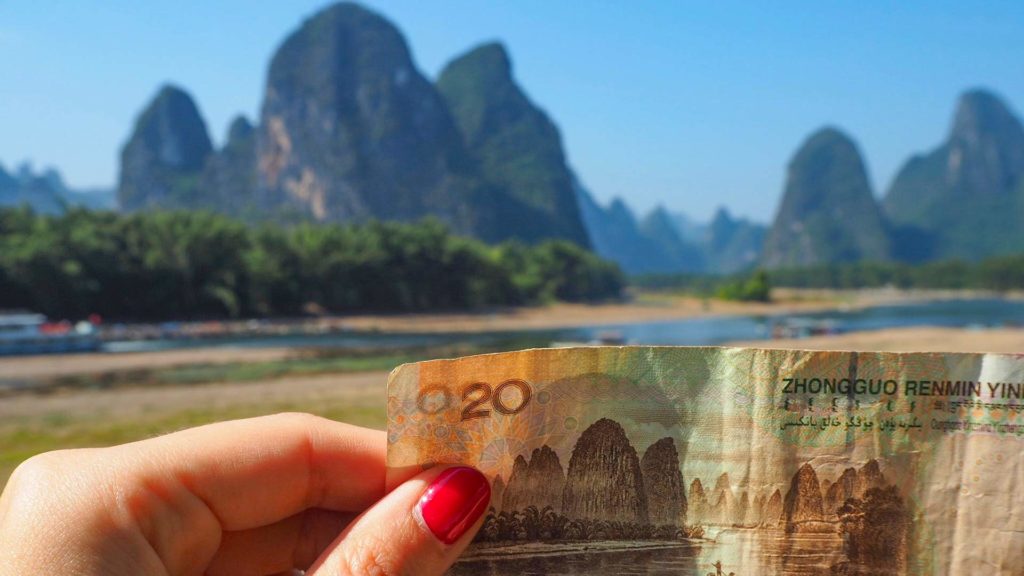 As you can see, the landscape around Guilin has a lot to offer. If you are a bicycle fan, you can rent a bike in Yangshuo and explore the area. Whether hiking, on the river or by bike, a trip to Guilin will be remembered forever.
---
About the author
Sophia is a Life & Mindset Coach, travel addict and helps Millennials to break through their fears and build a self-determined life outside the rat race.
Find out more here: www.sophianiekler.com
Have you ever been to Guilin? How did you like it and do you have more tips? Write us a comment!