Dieser Artikel ist auch verfügbar auf: Deutsch
In Senggigi, Lombok's tourist hotspot, you can find plenty of accommodations from low-budget to high-class. However, well-situated and quiet resorts that offer both affordable rooms AND magnificent luxury villas, are not very common. Kebun Villas & Resort is one of them.
Hotel review: Kebun Villas & Resort
---
Location
The resort is located a little bit outside of the center of Senggigi – it's a walk of approximately 15 minutes to get there. It's nestled in an amazingly green landscape of hills and that is what makes it so special. The beach however, is a 5-10 minutes walk away but when you wake up in the morning with a stunning view like this it's not really bad. If you're looking for a quiet accommodation among the nature of Lombok – far away from the tourist hustle and bustle – this place is the right spot for you. The resort's tagline "Leave your city worries behind" is indeed very appropriate.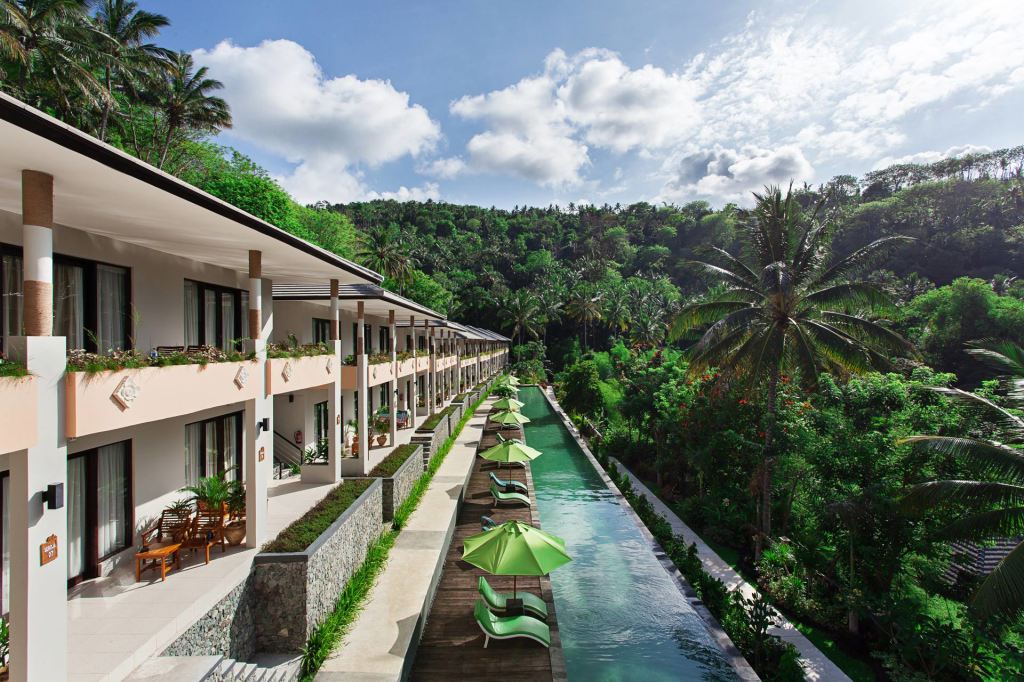 Rooms
The overall 60 rooms are all affordable and well-equipped with AC, TV, DVD player, safety box, mini bar and a desk. There are 3 types of rooms: "Kamboja" for families, "Dahlia" for couples and "Seroja" with twin beds. Especially the "Seroja" is suitable for Flashpackers or Backpackers who want to allow themselves a better accommodation for a change. 😉
For working it was important for me to have a good WiFi connection and it definitely met my requirements. Surely, on Lombok you can't expect a high-speed connection like in western countries but I was very happy with the WiFi.
Almost directly at the rooms you have the longest infinity pool of Lombok where you can enjoy and relax perfectly. My advice is to book an upper floor room if possible so you can have a wonderful view on the surrounding landscape from your balcony.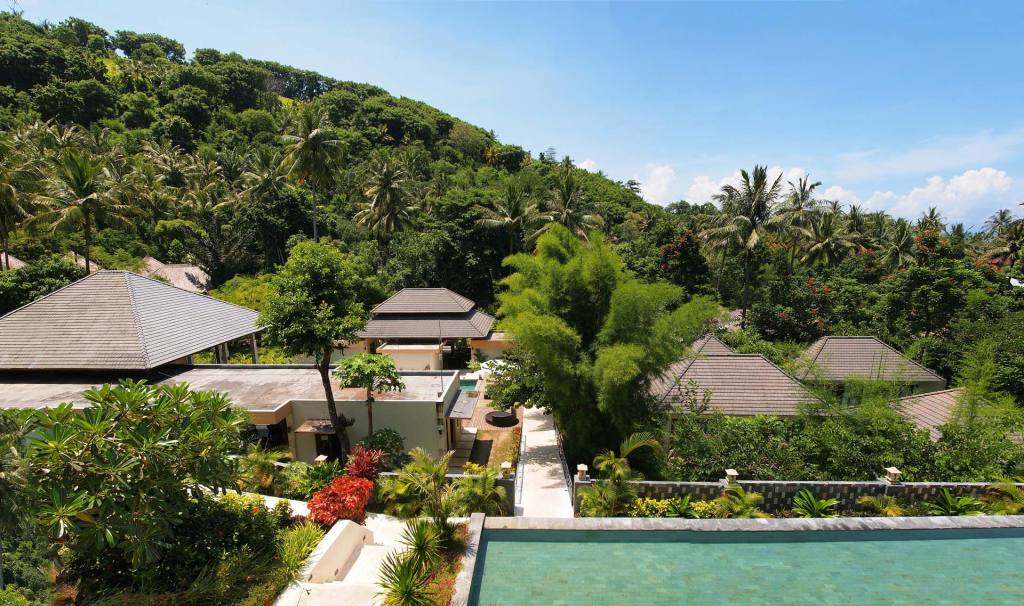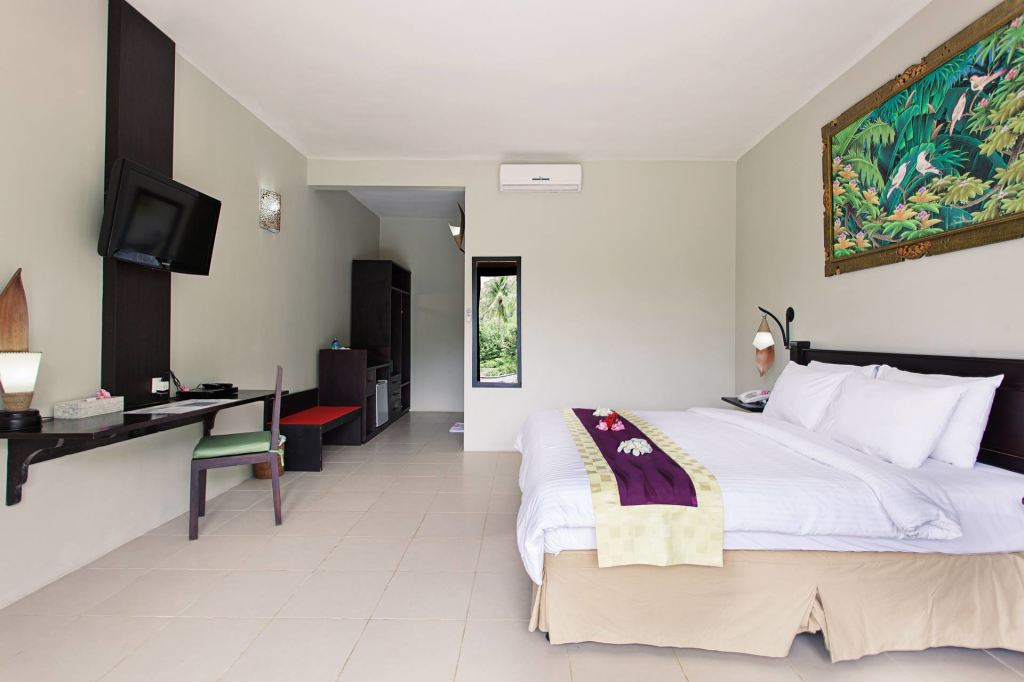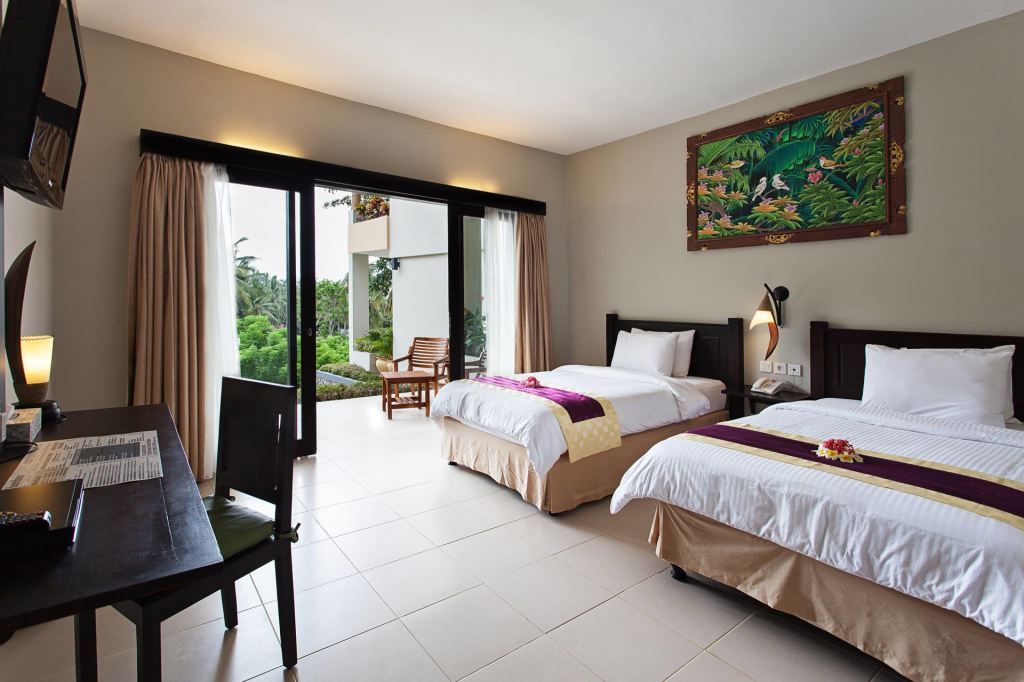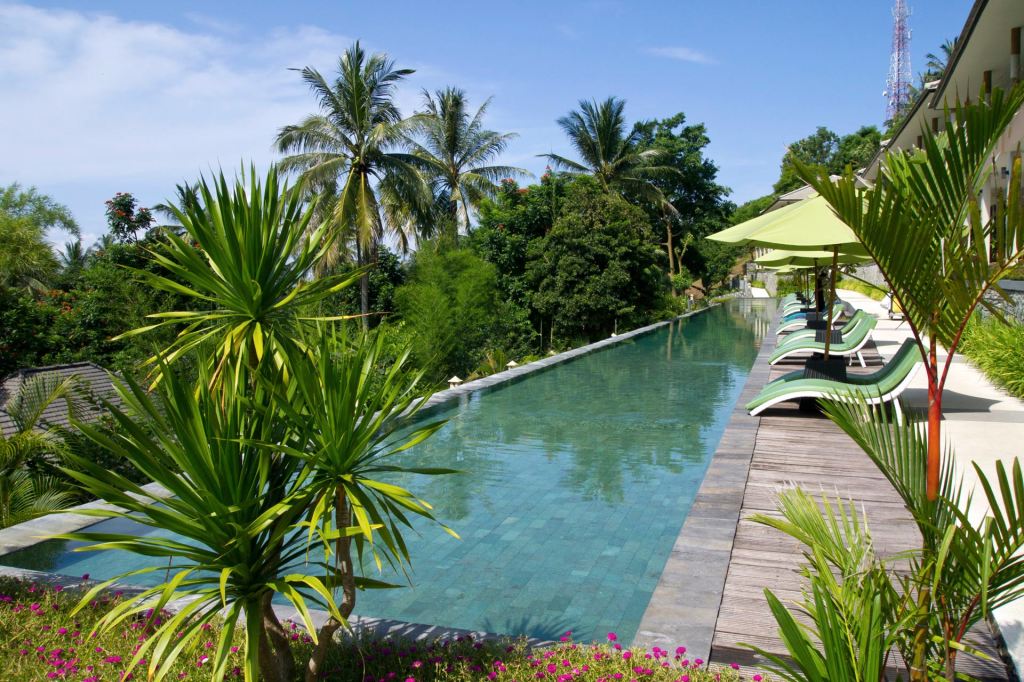 The villas
If you REALLY wanna indulge yourself and can afford it, one of the 10 villas is a great choice. I had the opportunity to stay one night in the "Angsana" villa and was so delighted! Where else you can have a private swimming pool (that I used immediately of course) only for yourself? Until now, this kind of feeling as I entered the villa I only had in the Millennium Hilton in Bangkok.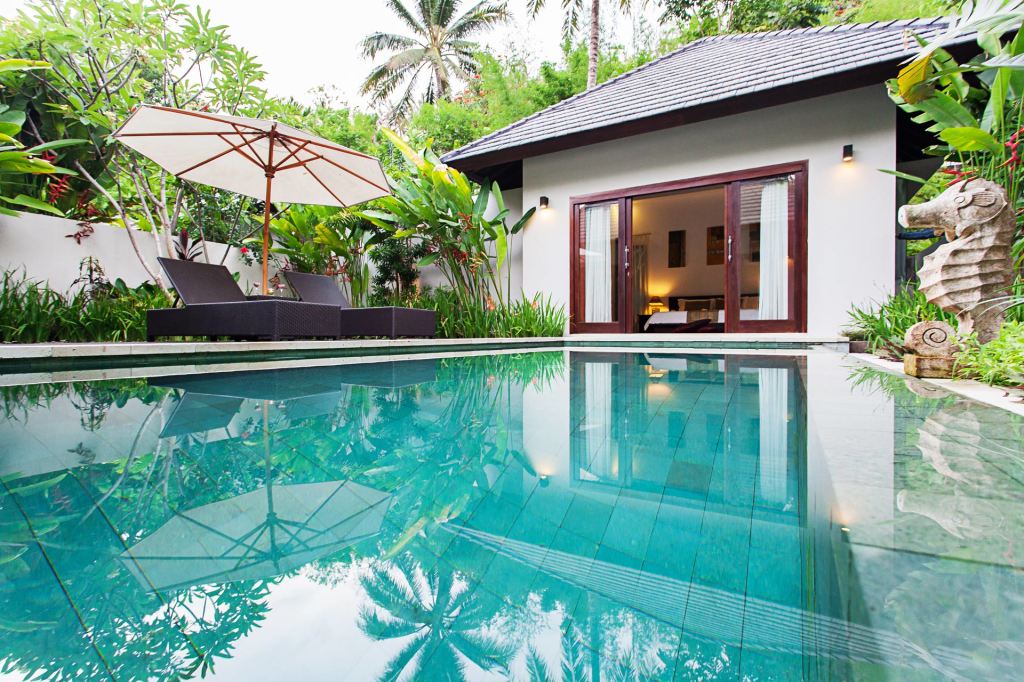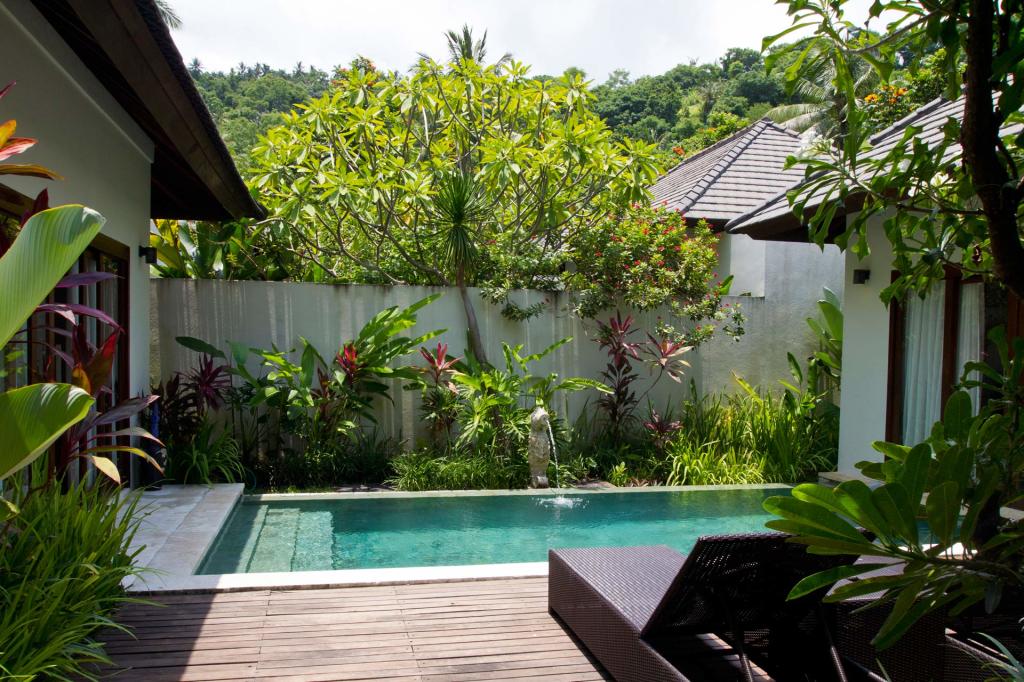 Obviously, the rooms here are creme de la creme. 2 separate buildings with a living room (including AC, TV, DVD player, HiFi system, minibar, couch, dining table and a work desk) and next to the huge bathroom a bedroom with a nice view on the pool.
Well, this is certainly not the typical backpacker accommodation, but for a beautiful couple holiday or even honeymoon trip this is simply perfect! Waking up in the morning and having your own swimming pool and garden right on your doorstep is just awesome! 😉
Large families can even book a presidential villa ("Cendana") with 3 bedrooms, a living room, 24-hour guard patrol, a huge swimming pool and an own dining area. Here you have the feeling of having your own little private hotel complex!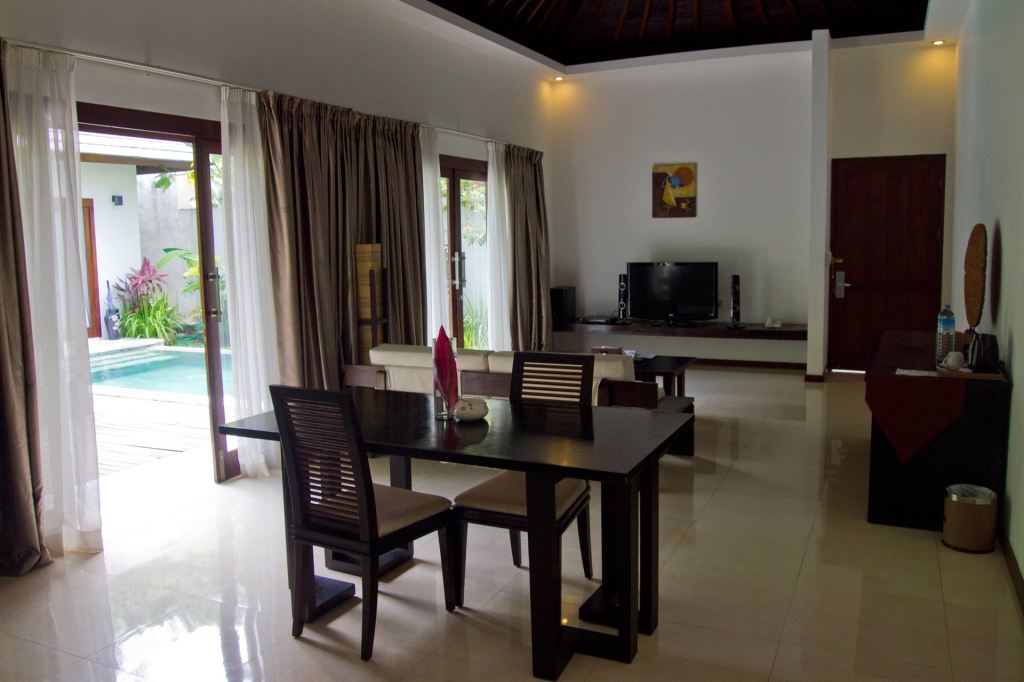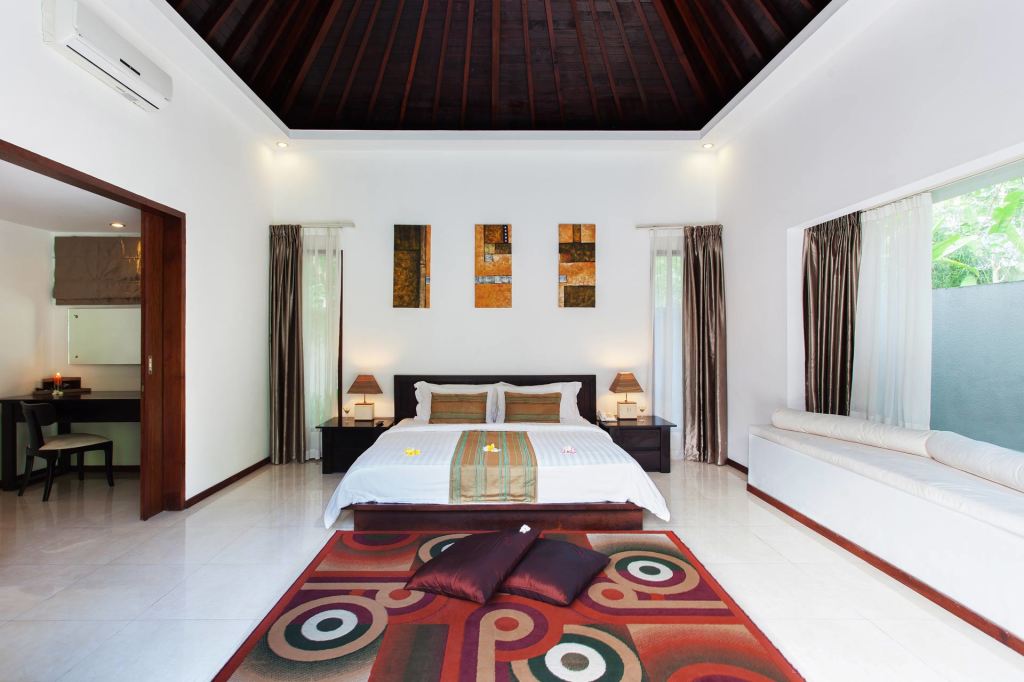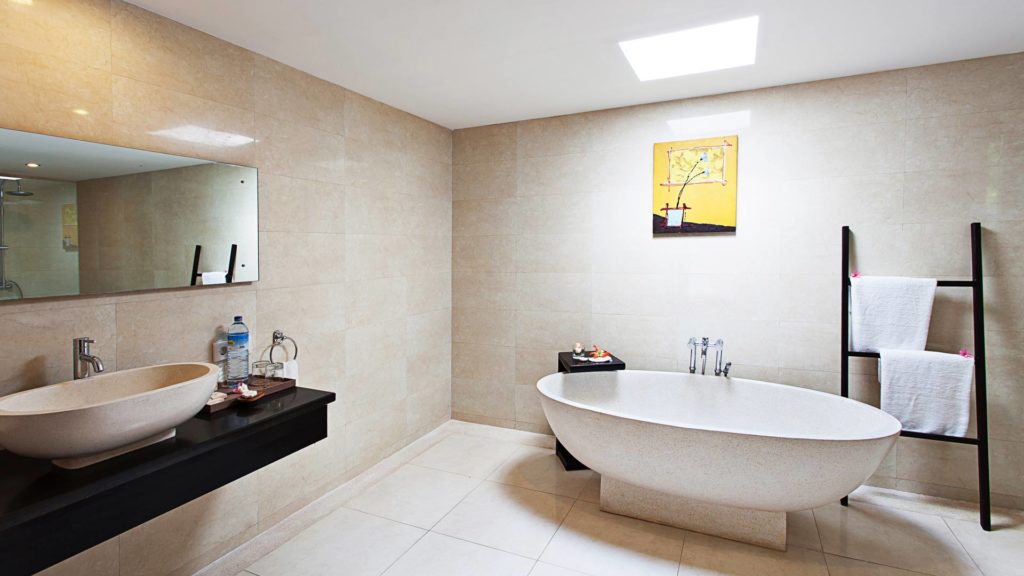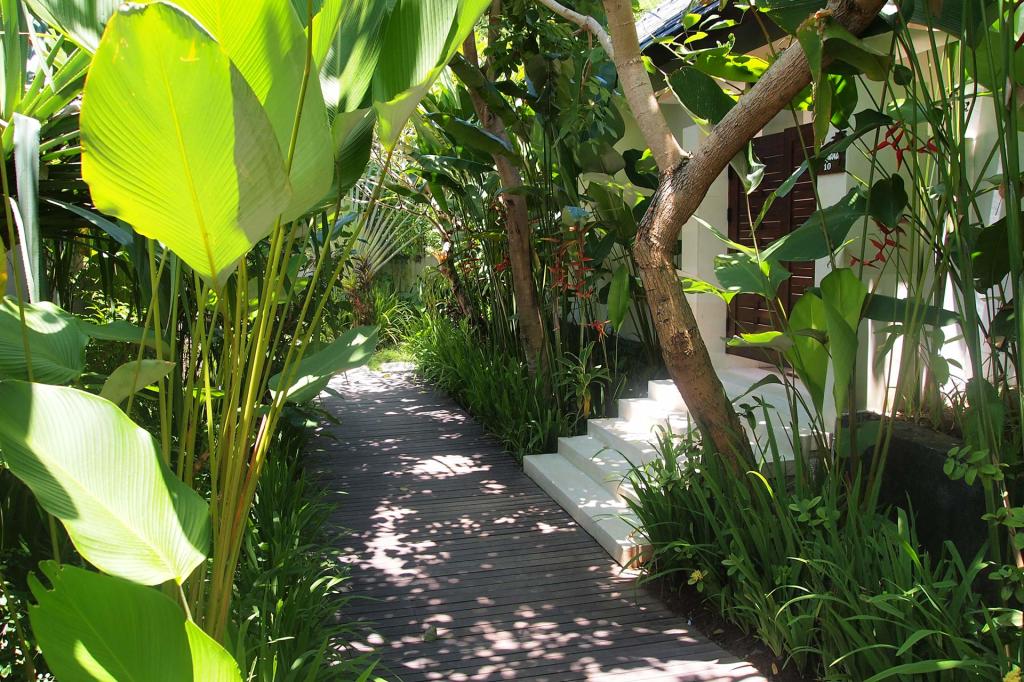 Food and drink
The resort has one restaurant that offers both Indonesian cuisine and Western Food. I tried both and was very satisfied. They have a wide range of dishes and drinks to suit all tastes: Nasi Goreng, fresh fish and seafood, burgers, sandwiches, Mexican and Italian food, steaks, ice cream, different cocktails and beers, wine, whisky, fresh juices and much more. The breakfast buffet was also diverse and most of the time very delicious.
The food price range is on the usual Senggigi level, sometimes slightly above it. Well, it should be clear that you can't expect Warung prices here. 😉 Comparing to the European food prices, this is still a very good value.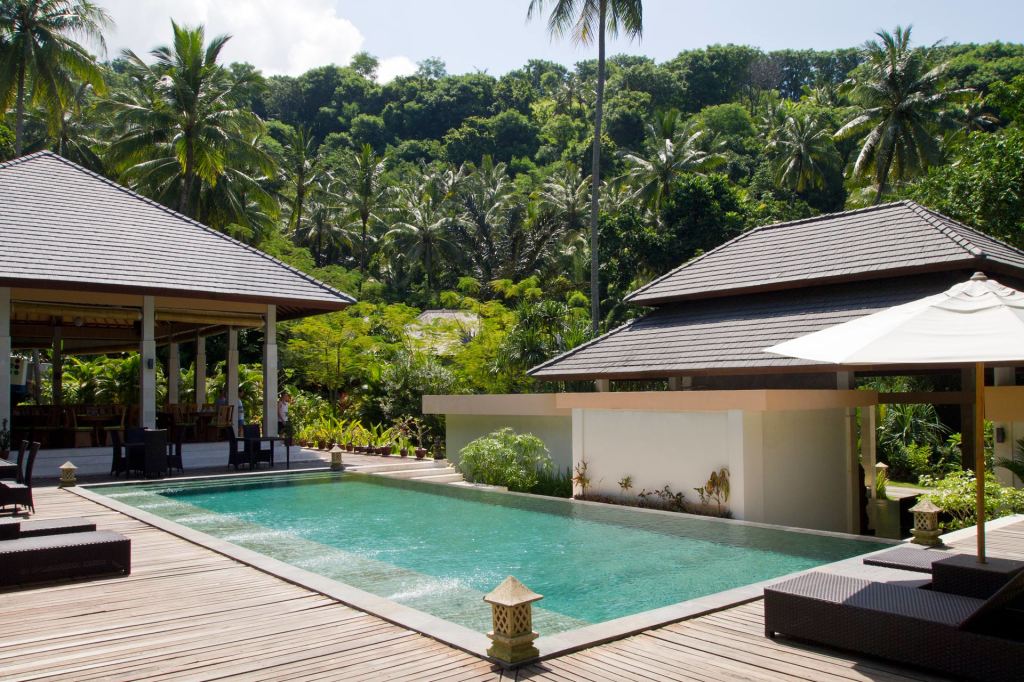 Kebun Villas & Resort also offers trips and tours to Mount Rinjani, snorkeling/diving or to some beautiful waterfalls. Massages and airport pick-up services are also available. Questions regarding the tours and other trips will be answered readily. Generally, I have to say that the staff members were throughout very kind, friendly and always helpful.
Detailed price information for the rooms and villas you can find on the resort's website or by emailing them. Tip: when you book directly on their website or email them instead of booking at common hotel portals you can save a considerable amount of money.
Bottom line: a fantastic stay with a nice quiet atmosphere among a beautiful environment. I will gladly come back!
Web: www.kebunresort.com
Facebook: facebook.com/kebunresort
Photo 1, 3, 4, 6, 9, 10: Kebun Villas & Resort + Kai, Que Sera Sera Studio
This is a cooperation article with Kebun Villas. Text and opinions are of course freely written by me. We only recommend hotels when we find they are good!