Dieser Artikel ist auch verfügbar auf: Deutsch
Not far from Amsterdam, the city of Haarlem is bursting with Dutch charm and there are many things to do and explore. Small alleys, the Grote Kerk, canals, and the windmill De Adriaan make the capital of Noord Holland an interesting place to visit, with plenty of sights.
Day Trip to Haarlem – Sights and Tips
Haarlem and Amsterdam are only 20 kilometers apart, but in terms of tourist crowds, they are worlds apart. Due to the proximity, a day trip from Amsterdam to Haarlem is already worthwhile, but of course, a longer visit is also a good idea. Haarlem is just like Amsterdam, but smaller and more laid back. In today's article, we'll show you around the city. Check our the best things to do in Haarlem!
---
Getting to Haarlem
There are several ways to get to Haarlem in Noord Holland. If you travel by car, just drive towards Amsterdam. From there you can reach Haarlem via the N200 and you will end up directly in the center of the city.
A good alternative is to go by train. From Amsterdam Centraal, the train takes about 15 minutes and they depart every 10 minutes. It's only a 10-15 minute walk from Haarlem Central Station to the old town.
The third option is to go by bus. Haarlem has two bus stations and is connected with many cities such as Amsterdam, Utrecht, or The Hague. There are also buses from Amsterdam Schiphol Airport directly to Haarlem.
All further information on how to get to Haarlem, as well as tickets, can be found at Omio.
Accommodation in Haarlem – Our recommendation
The Hotel ML is situated right in the old town of Haarlem by the Grote Markt and the Grote Kerk. It offers a fantastic starting point from which to explore the city of Haarlem. The rooms are equipped with all amenities and look cozy as well as modern. The delicious breakfast buffet, the hotel's terrace, and the restaurant will definitely make your stay perfect.
Here you'll find more hotels for your stay in Haarlem.
Haarlem: Tours and Tickets
---
1. Grote Markt
The big market, or Grote Markt in Dutch, is the center of Haarlem's old town. It's the heart of the city, where you'll find a daily market, ice cream cafés, restaurants, and regular cafés. The Grote Kerk is located here as well (see next point).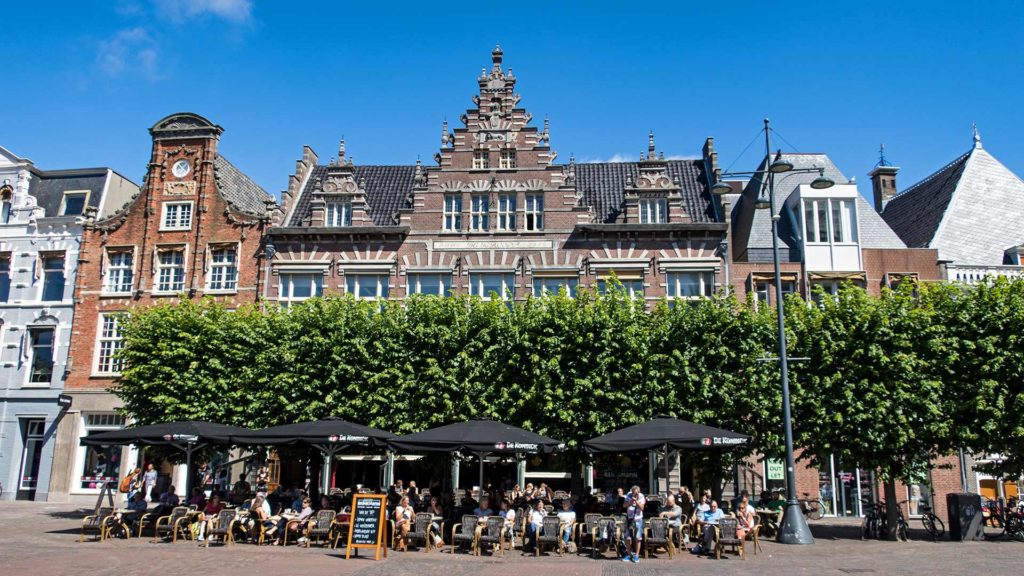 When you're visiting the sights of Haarlem and walking through the city center, you'll automatically come to the Grote Markt. So you can't really miss it, and you could also explore it by doing a tour of Haarlem. Sometimes concerts or festivals take place here, if you're lucky, you might even catch one during your visit. But also otherwise, the Grote Markt, with its ancient houses is very nice to look at and a good landmark.
2. Grote Kerk/St. Bavokerk
Built between 1370 and 1520, the Grote Kerk, as the St. Bavokerk is called by the inhabitants of Haarlem, is a real highlight of the Grote Markt. The 108-meter-long and 76-meter-high church, measured by the tower, is still an active Protestant parish church today, and there are regular church services that you can attend.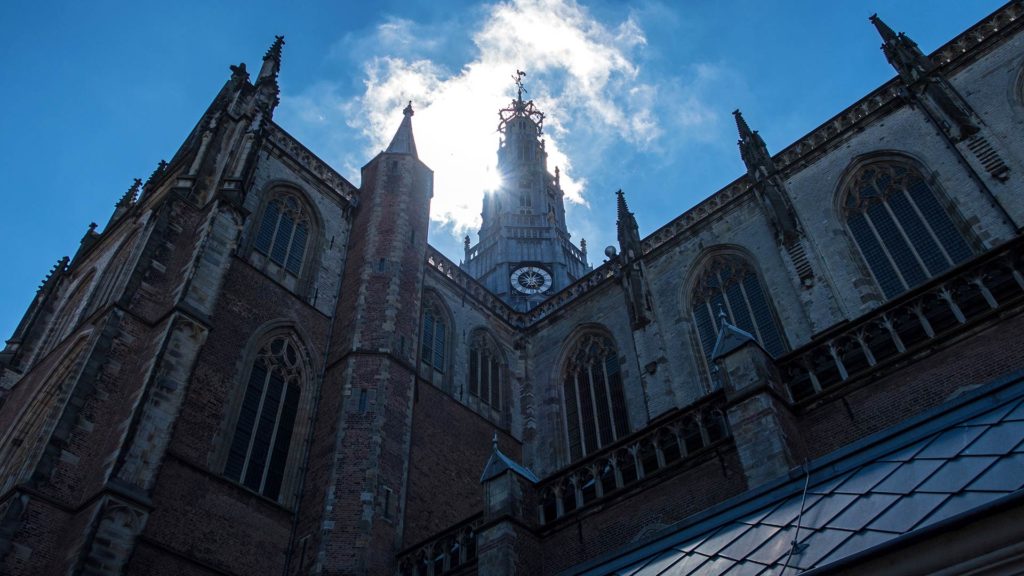 Until 1831, funerals were held in the Grote Kerk of Haarlem and, for example, the famous Dutch painter Frans Hals is buried there. The church, built in Gothic style, also makes a beautiful impression from the outside and visiting this place is a nice thing to do when traveling to Haarlem.
3. The alleys of the old town
If you're researching sights in Haarlem, the small charming alleys are always mentioned. Of course, they are not a sight in themselves, but if you like ornamented and old house facades or small decorated boutiques, this is the place to be.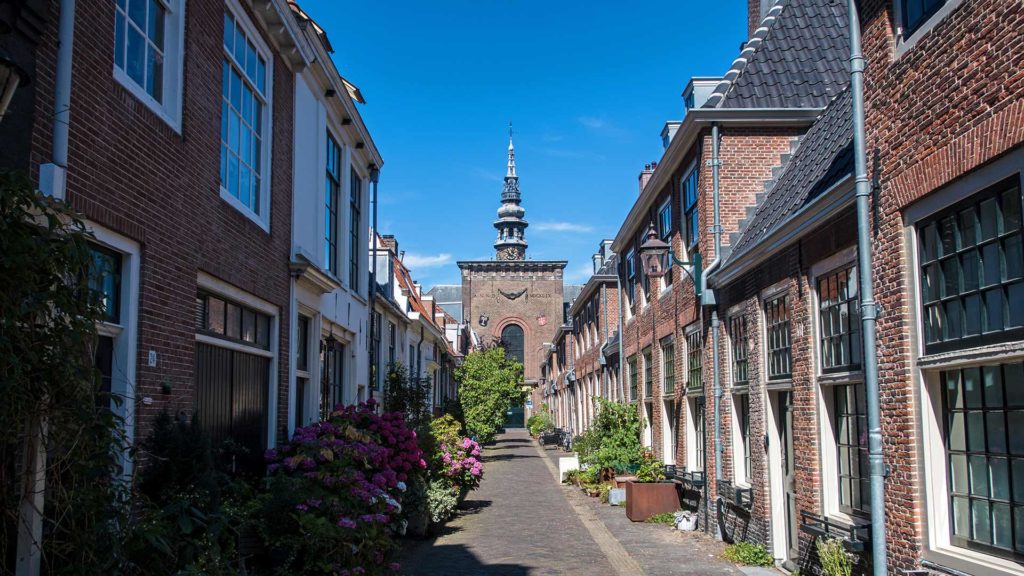 While a few tourists may drift through the alleys, many of the houses there are mainly apartments or stores where the locals of Haarlem go shopping. Small shopping streets, so to speak. This fact doesn't actually make them less beautiful, but might only make them more interesting for some people.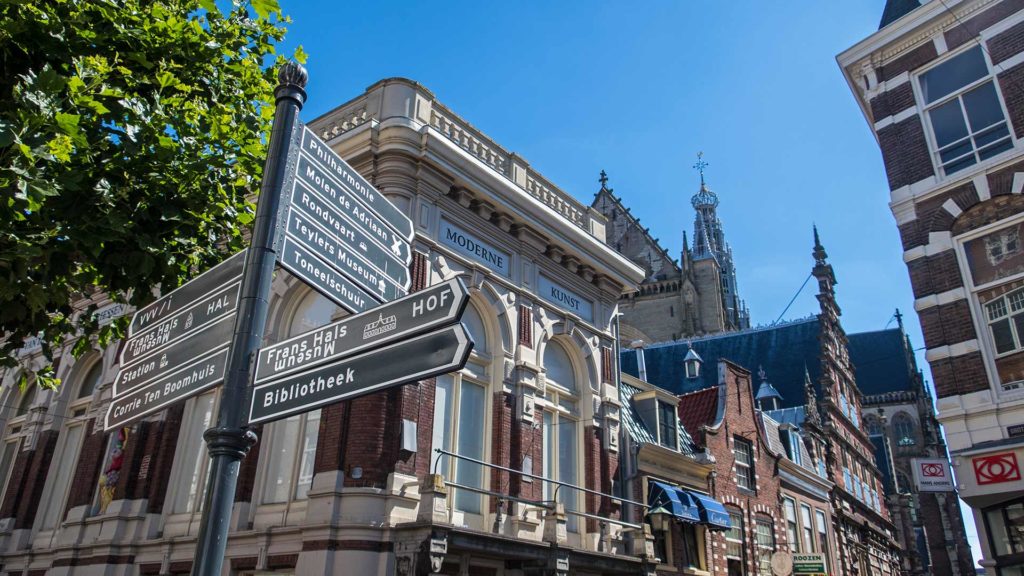 If you're walking through the old town of Haarlem, you should have a look to the left and right into the small streets and take a spontaneous turn. It's definitely worth it.
4. The Gouden Straatjes
Not only the small alleys of Haarlem are worth a visit, but also the so-called Gouden Straatjes, the golden streets. These shopping streets stretch around the Grote Markt and make Haarlem the number 1 shopping city in the Netherlands. Already in the golden age, the city was considered a commercial center in the Netherlands and today, the Gouden Straatjes are a sight of Haarlem you shouldn't miss – especially if you like shopping.
The Gouden Straatjes are 7 streets or alleys with many stores and boutiques waiting for visitors. There you'll find concept stores as well as small stores selling second-hand or vintage items. Everything your shopping heart desires. To help you know exactly which streets belong to the golden streets, we'll list them for you: Gierstraat, Zijlstraat, Koningstraat, kleine Houtstraat, Warmoesstraat, Schagchelstraat and Anegang.
However, you can visit these 7 streets not only to do some shopping but also to spend time at the great cafés or restaurants. Everything else you need to know about the golden streets, you can read on the website of the city of Haarlem.
5. Teylers Museum
Founded in the 18th century, Teylers Museum is the oldest and, above all, the first museum that was created in the Netherlands. The museum is dedicated to the history of technology and nature but also features many paintings by various artists.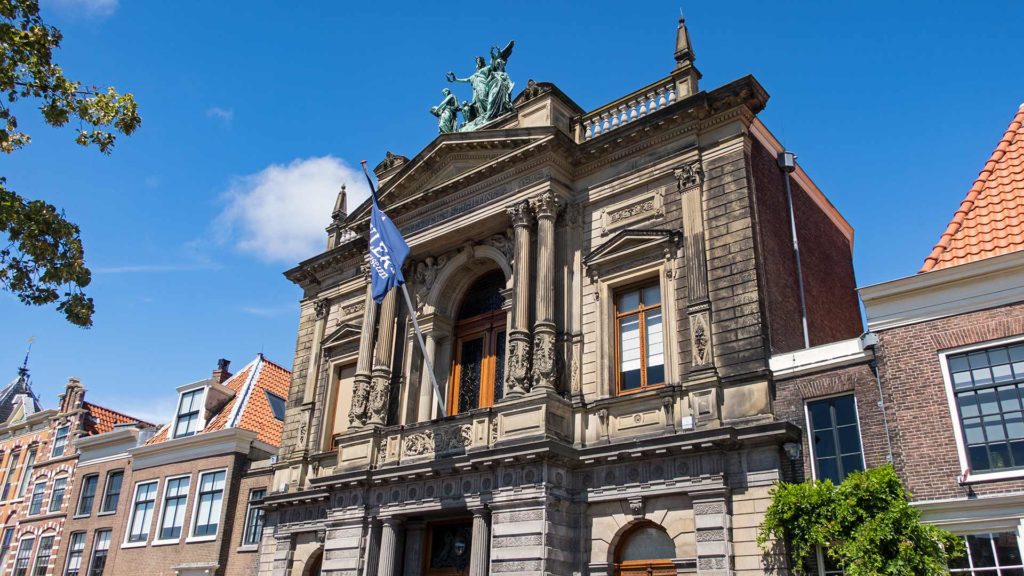 The oval hall with its classicist architecture also attracts many people, resulting in around 100,000 visitors a year. In addition, there are changing exhibitions, about which you can get information here. It opens daily from 10:00 a.m. to 5:00 p.m., but on weekends only at 11:00 a.m. The ticket costs € 14.
6. Boat Trip in Haarlem
A great way to enjoy Haarlem is to explore the city by boat – it's one of the best Haarlem things to do! A popular company is Smidtje Canal Cruises, who take you on small boats to historical sites of Haarlem, such as the windmill De Adriaan (see point 9). But you can also find other boat companies along the canals.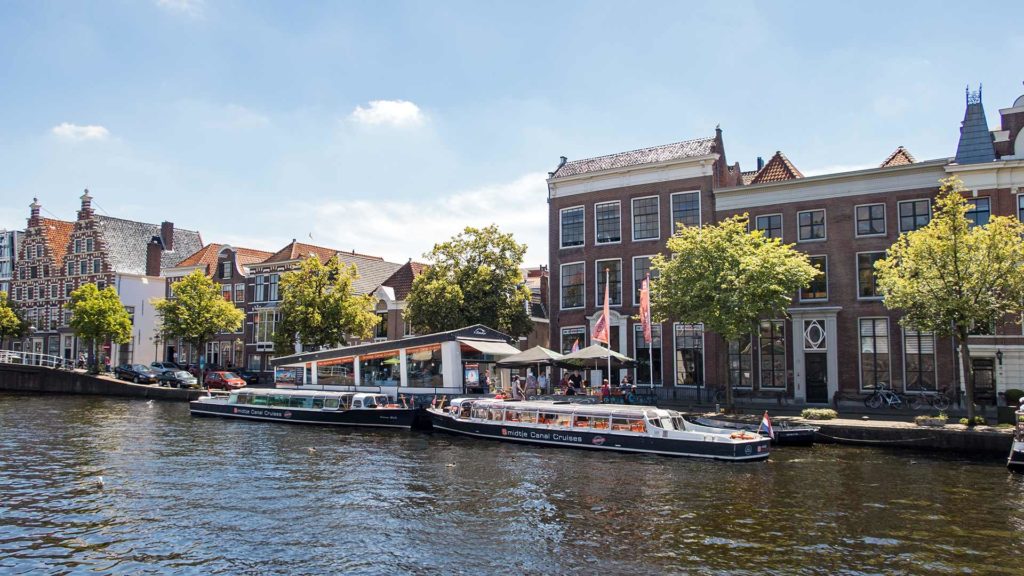 Or would you prefer to travel the canals of Haarlem on your own? How about renting a boat from one of the Rent a Boat companies? Here you can rent electric boats for which you don't need a license. Depending on how much time you have, you can sail small and large routes that the rental company will provide you with. The cost is about € 50 per hour.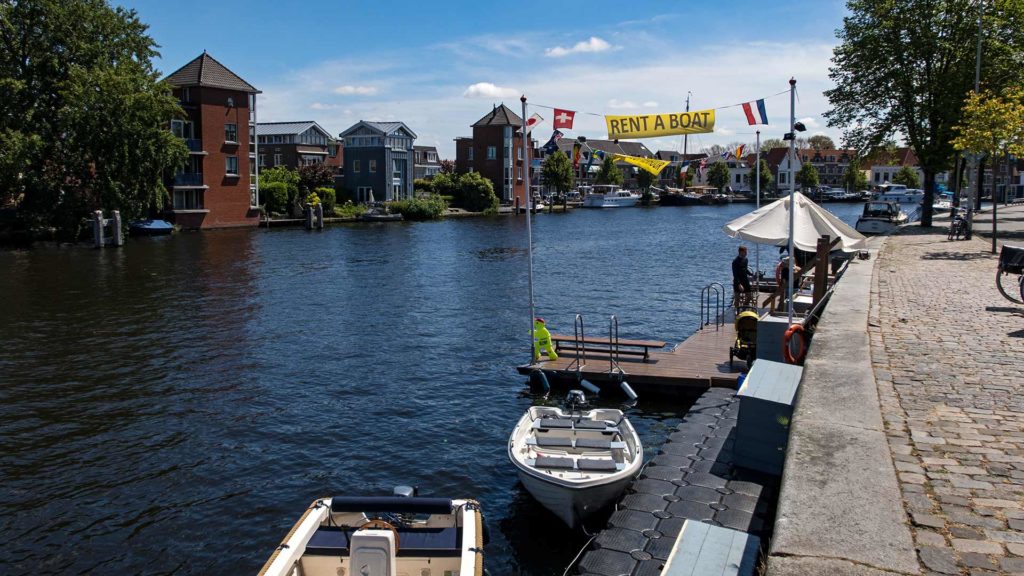 7. Stroll along the canals
Like Amsterdam and many cities in the Netherlands, several canals flow through Haarlem. To the east and west of the old town are the largest, which you can explore during a walk or simply enjoy life on the water from there.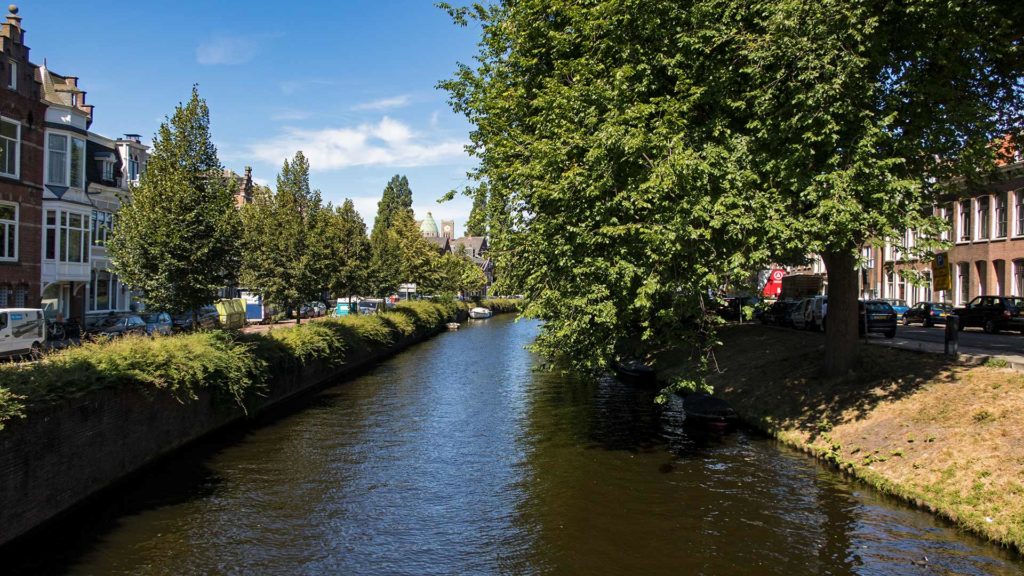 The Spaarne, where also the windmill De Adriaan is located (see point 9), is definitely a highlight. Bridges, boat rentals, and beautiful houses are lined up here. One photo motif follows the next. We can only recommend a walk here.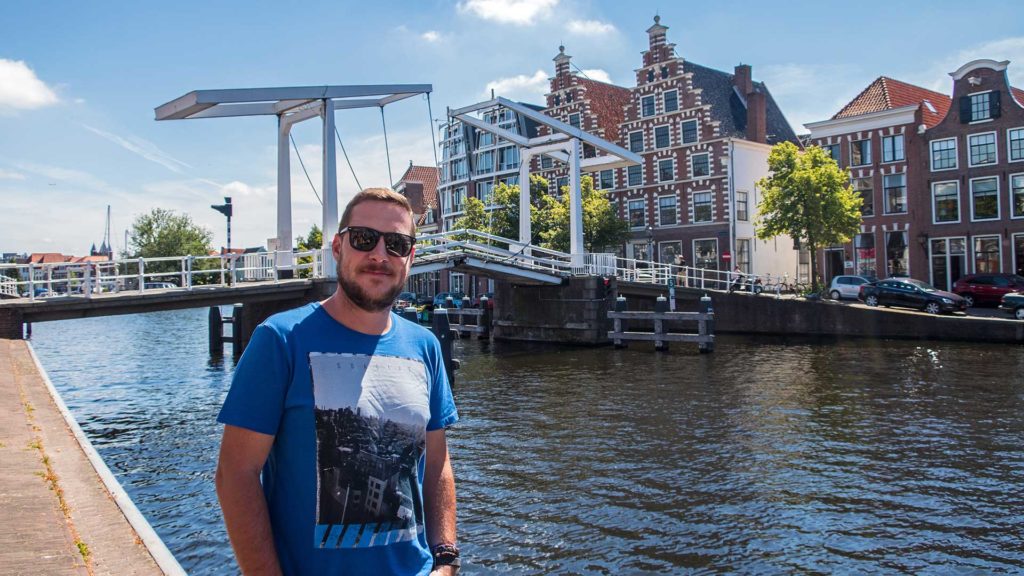 Info: Another great way to explore the old town and the canals of Haarlem is to go on a bike trip and get some insider tips from a guide.
8. Visit the Hofjes of Haarlem
Hofjes are small courtyards that are common in the Netherlands but are kind of a hidden attraction in Haarlem. Hofje van Bakenes is even the oldest of its kind and it's located in Haarlem. Originally, these hofjes were created by somewhat wealthier merchants to offer older women a place to stay during their retirement years. Thus, they could enjoy their time in the Hofjes instead of having to go to a convent.
Haarlem has one of the most preserved complexes of these hofjes and even today people live in the apartments around the courtyards. Not for free like back then and not only older women, but still, living there is considered very communal. Hofjes you can visit in Haarlem are for example Hofje van Guurtje de Waal, Hofje van Loo, or Hofje van Oorschot (near the Grote Kerk, but you can only have a look from the outside).
9. Windmill De Adriaan
The Molen de Adriaan, as the windmill is called in Dutch, stands on the river or canal Spaarne. While it was originally built in 1778 and later completely destroyed in a fire in 1932, today you can find a replica of the De Adriaan windmill that comes pretty close to the original.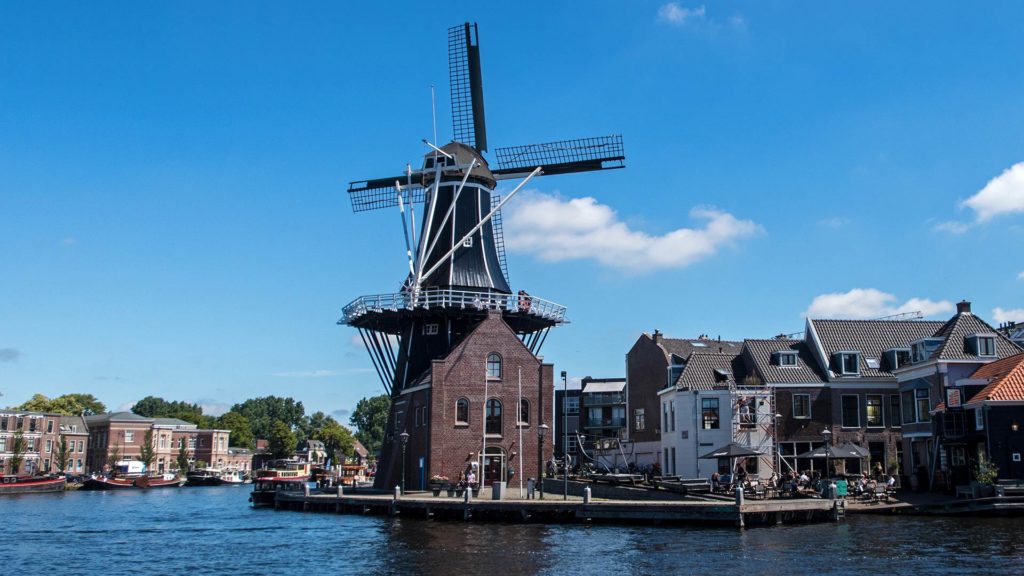 Today, the windmill is only active for show purposes every Saturday, at least when the weather is good. You can visit De Adriaan on Monday, Wednesday, Friday, Saturday, and Sunday. During your visit, you can learn about the windmill, its purpose, and its history. By the way, it's considered one of the most beautiful windmills of the Netherlands, so you shouldn't miss it when visiting Haarlem.
Additional tip: Bloemendaal aan Zee
Bloemendaal aan Zee is a popular seaside resort on the coast of Holland and is only a few minutes' drive from Haarlem. It's definitely worthwhile to spend a few hours on the beach and combine it with a visit to Haarlem.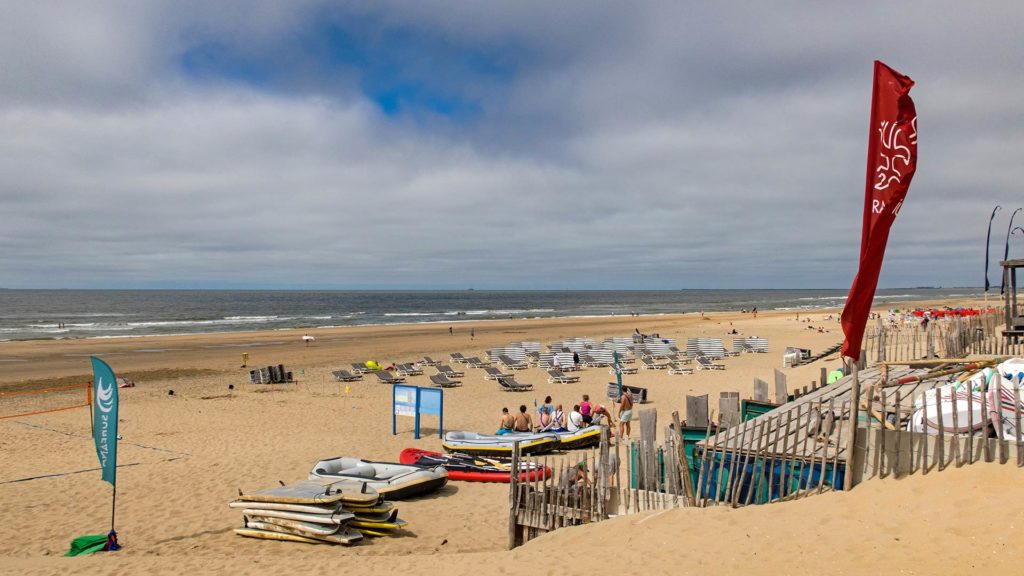 The wide beach in Bloemendaal aan Zee is perfect for walks, but in summer it can get quite crowded. By then, surfers, sun worshippers, and many other visitors can be found on the beach or at the beach bars. However, the atmosphere is still relaxed and offers a real vacation vibe.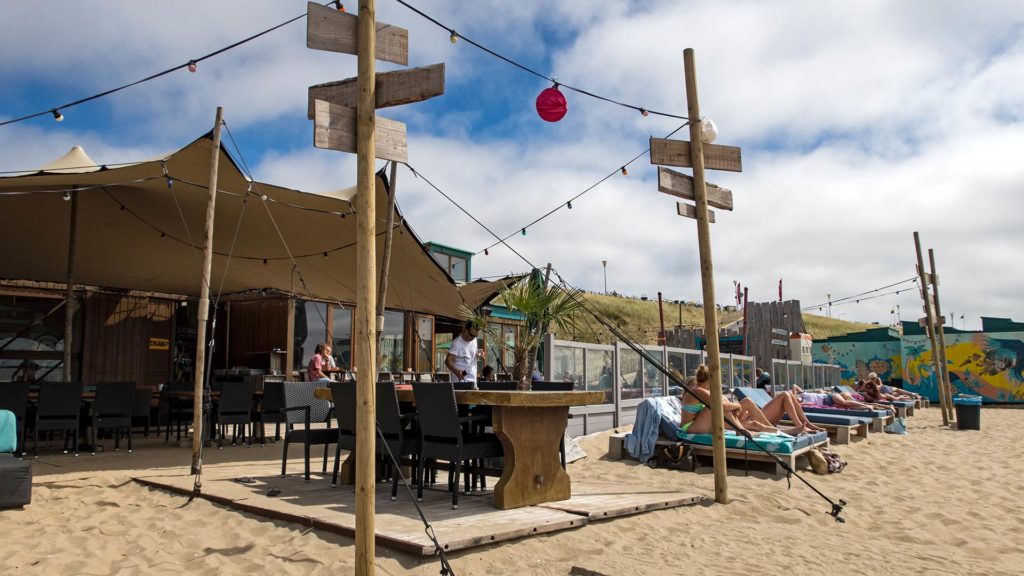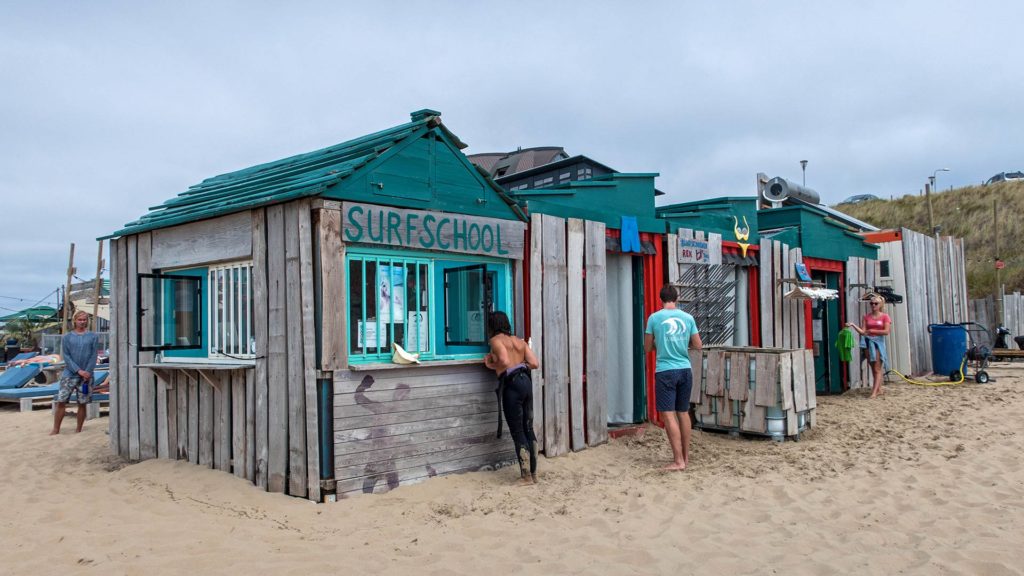 During our visit to Bloemendaal aan Zee from Haarlem, the weather, unfortunately, did not really play along, but we could spend a few relaxing hours in the Rapa Nui Beach Bar. The dunes and the beach are really beautiful and offer a nice change and contrast to the city trip in Haarlem.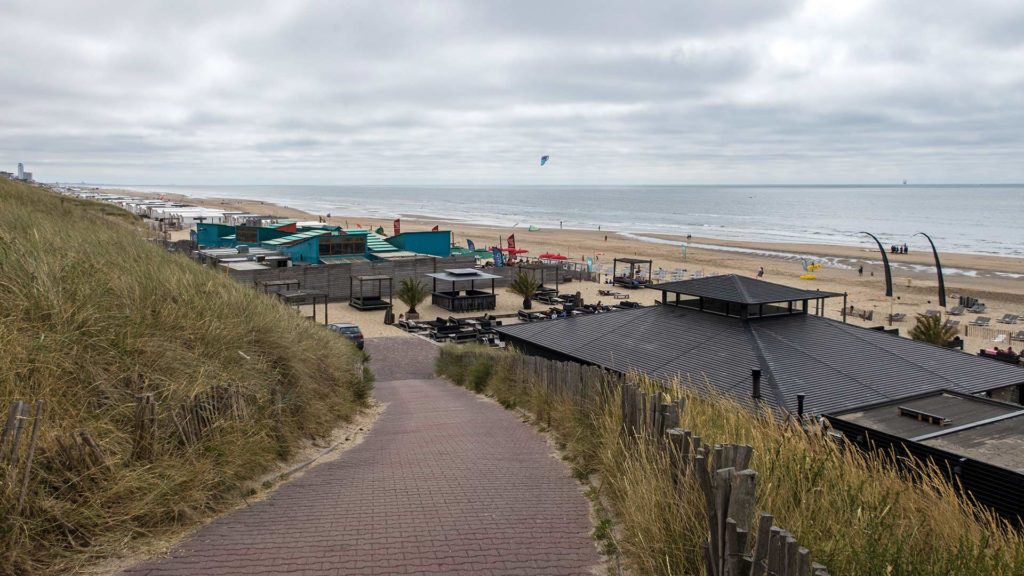 Plan your trip to Haarlem now
More hotel recommendations for Haarlem:
Popular routes to Haarlem:
---
Have you already visited Haarlem? How do you like the city and do you have any tips for things to do in Haarlem? We're looking forward to your comment.