Dieser Artikel ist auch verfügbar auf: Deutsch
Whenever I thought of Sumatra, images of dense jungle, Orang Utans, the famous Lake Toba or the rugged, rainforest-fringed volcanoes came to my mind. While researching places in Indonesia that are still unspoiled by tourism, I was even more surprised to come across this island paradise on the west coast of Sumatra.
Cubadak off Sumatra – a great insider tip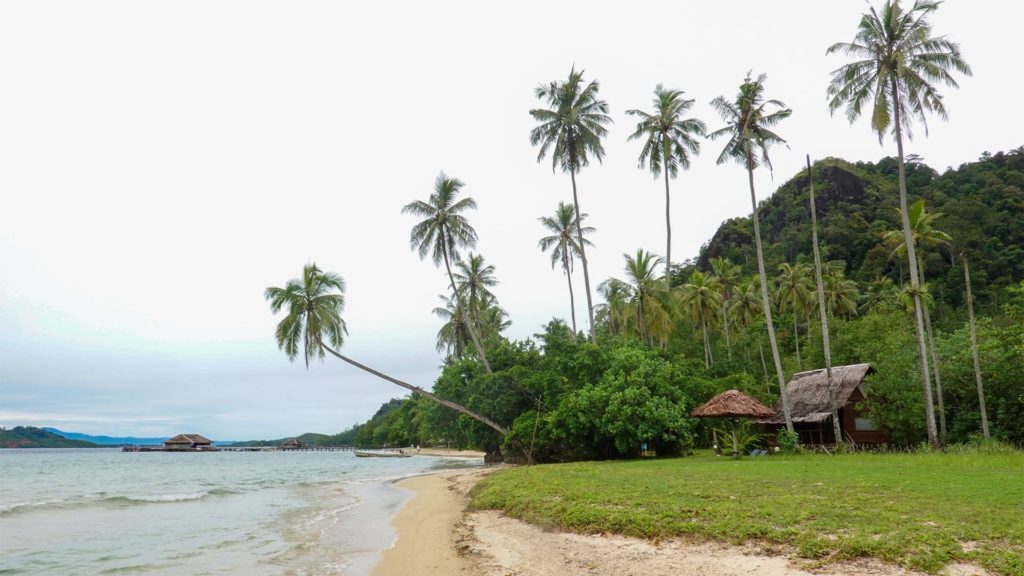 There is only one place to stay on Cubadak Island so far – a bungalow complex with 14 wooden cottages, one of them directly above the water.
Since I have always been faithful to my favorite places in Indonesia Bali and Flores and was in danger of going to the same place and falling into the habits of a pensioner, I finally forced myself to try something new. Indonesia with its 17,000 islands has so much to offer – one lifetime is not enough to visit them all!
---
Our way to Cubadak Island
So in April 2019 we set out to explore Cubadak Island (Pulau Cubadak). From Jakarta we flew to Padang in the west of Sumatra. At the airport we were picked up by a driver from the resort and drove a leisurely 2 hours through a hilly landscape full of rice fields, jungle and coastal roads.
The Padang region is famous all over Indonesia for the concept of "Nasi Padang" – a restaurant where numerous cold dishes are presented in a glass showcase and then brought to the table on many small plates. You only pay for what you eat – a very cheap and delicious lunch, provided you can stand the spiciness, which should not be underestimated!
The driver dropped us off at a harbour where a small motorboat was already waiting for us. The fresh sea air was a real treat after more than 5 hours of traveling from Jakarta. After we and our luggage were safely stowed away in the boat, our short crossing began.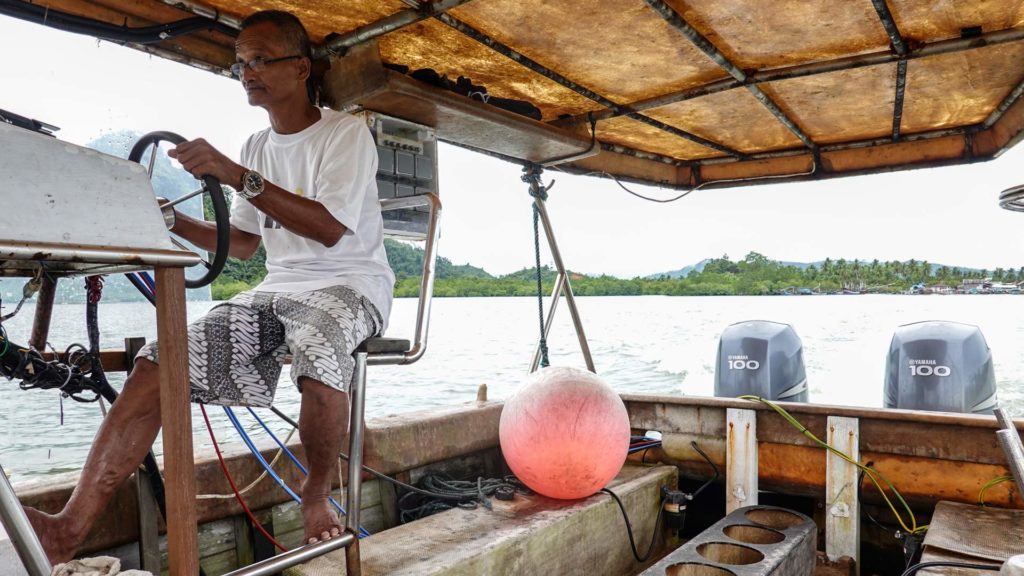 After about 200 meters Cubadak Island became visible – a hilly island in the middle of the clearest blue-green sea. Our hosts picked us up at the resort's own jetty and led us to our bungalow – directly at the shore, surrounded by coconut palms. If you now think of the Maldives with its paradise resorts, you are wrong: it may be the only place to stay on the island, but it is more on the rustic side. The bungalows are made of wood and are spotlessly clean, but there is, for example, no air conditioning or refrigerator.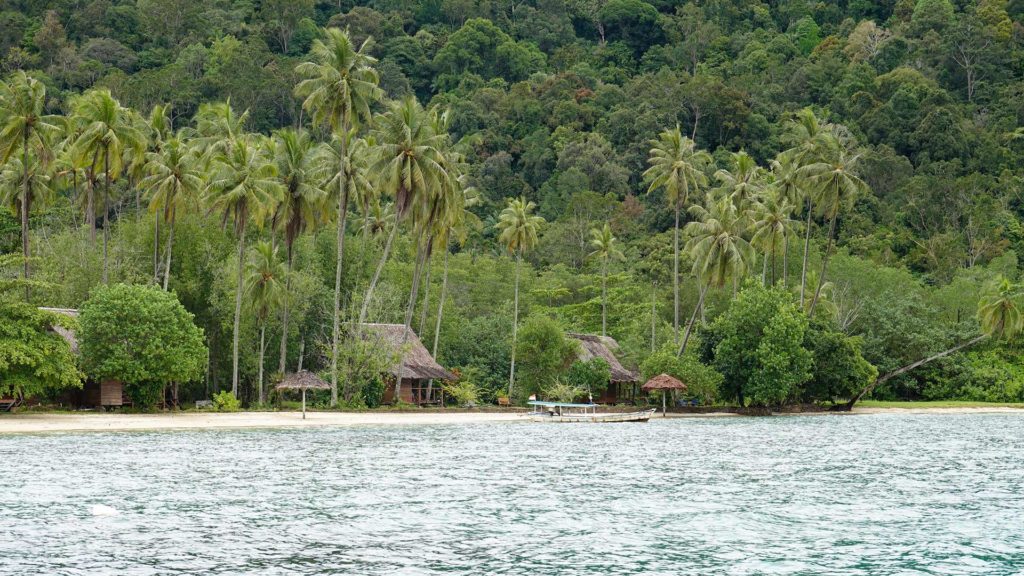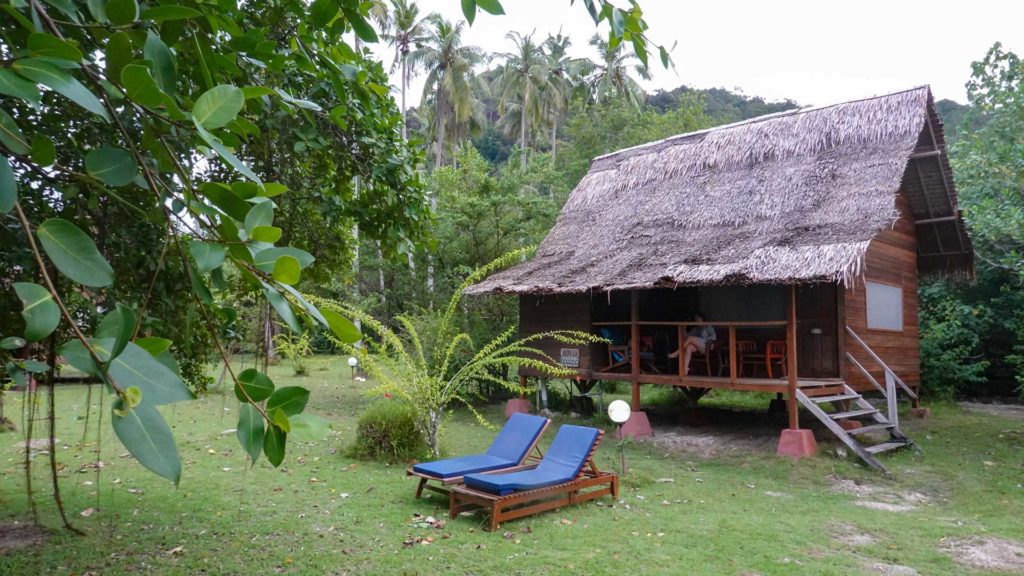 Collective meals for all
The owners explained to us that meals are announced with a bell and taken in the restaurant open to the sea at a large table with all guests together. Over the next few days, we realized that the fun factor of eating increases and decreases with how well you get on with other people. If you consider yourself as a social, uncomplicated person, you will certainly have no problems with the collective meals. It's also a good opportunity to talk to the other guests and share traveler stories.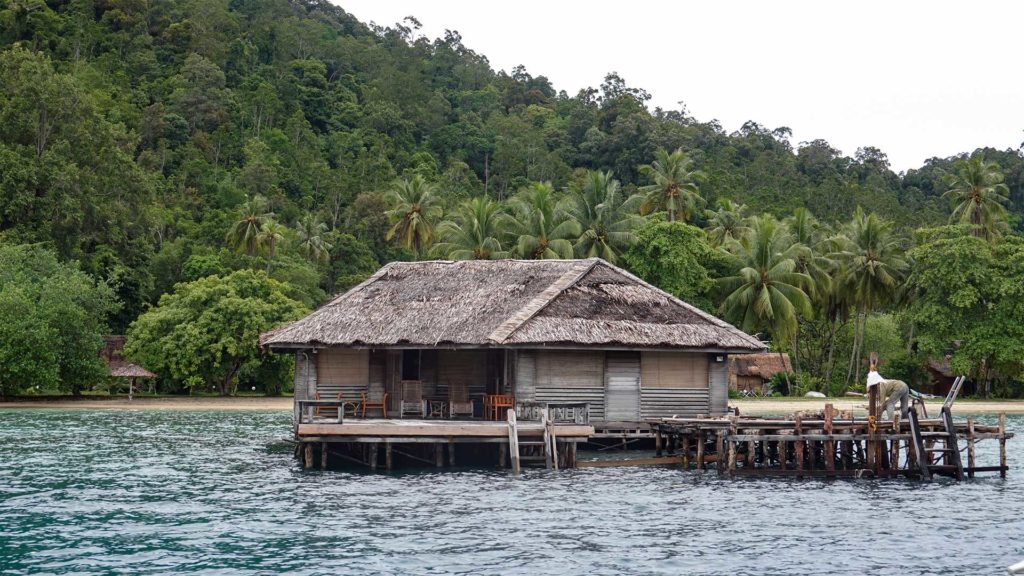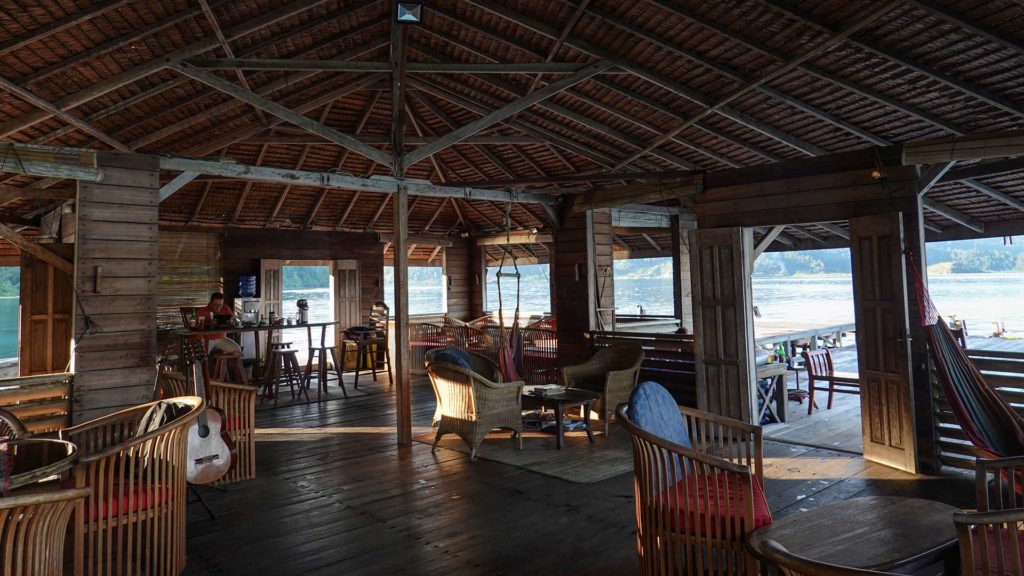 Turtle(s) at sunset
The bungalows are so far apart from each other that you have plenty of privacy. We spent most of the time relaxing on the jetty and staring into the crystal-clear water (whilst drinking a cold beer or two).
Our daily highlight was spotting sea turtles. It was actually possible to see the turtles from the jetty. Every day around 4.30 P.M. we saw at least two (maybe it was always the same one though) turtles coming up to the water surface to take a breath. Funnily enough we did not see a single one while snorkeling.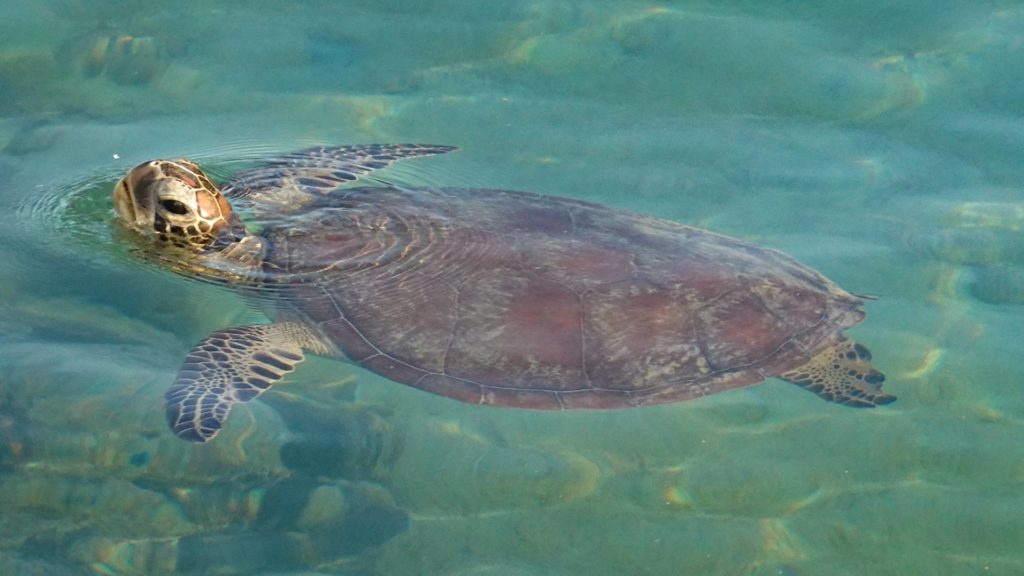 Snorkeling equipment can be rented for free at the resort. There is also a dive shop where you can book dive tours to explore the underwater world of the area. There is no free wifi on the island (a factor that many other guests criticized), but since we had Indonesian SIM cards, this was no problem for us. Maybe you can consider the non-existent wifi not as a lack but as a chance for a digital detox.
Cubadak Island: total relaxation
It is very difficult NOT to relax on Cubadak Island. The sound of the sea, the swish-swish of the coconut trees in the wind and the calls of the monkeys create a sound that is almost hypnotic. After two (of a total of four) days we were so deeply relaxed that we wondered how we could ever return to civilization.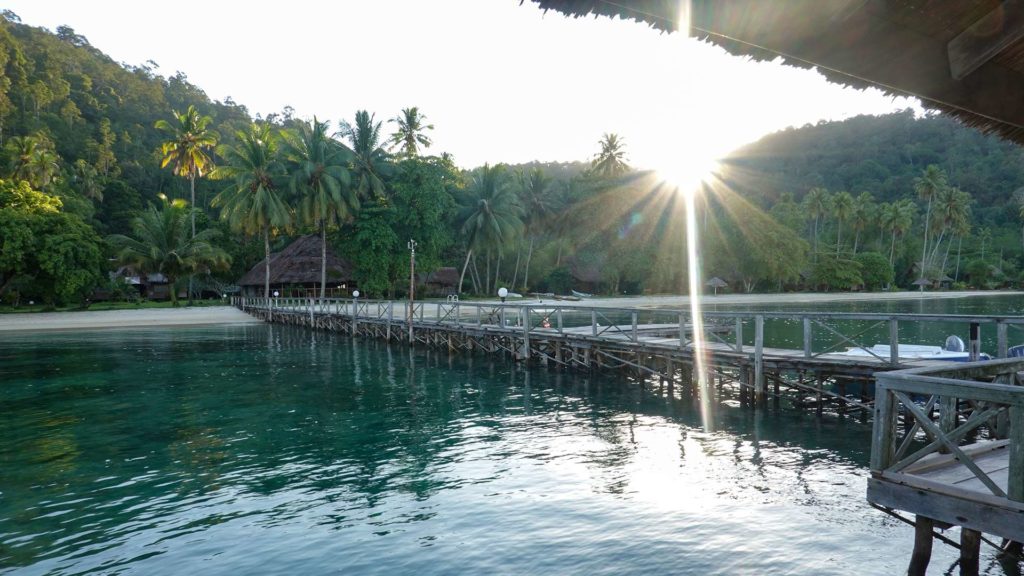 In order to at least give ourselves the feeling of having "done" something, my boyfriend and I borrowed the canoe from the owners of the resort and took a little paddle tour on the crystal-clear sea, which spread out in front of us like a mirror (Spoiler alert: if you want to test the stability of your relationship, you should go paddling with your partner). Besides seeing the island from a different perspective and having the illusion of an activity, this "adventure" gave us canoeing novices some laughs and mocking comments from the other guests. Anyway, we had fun!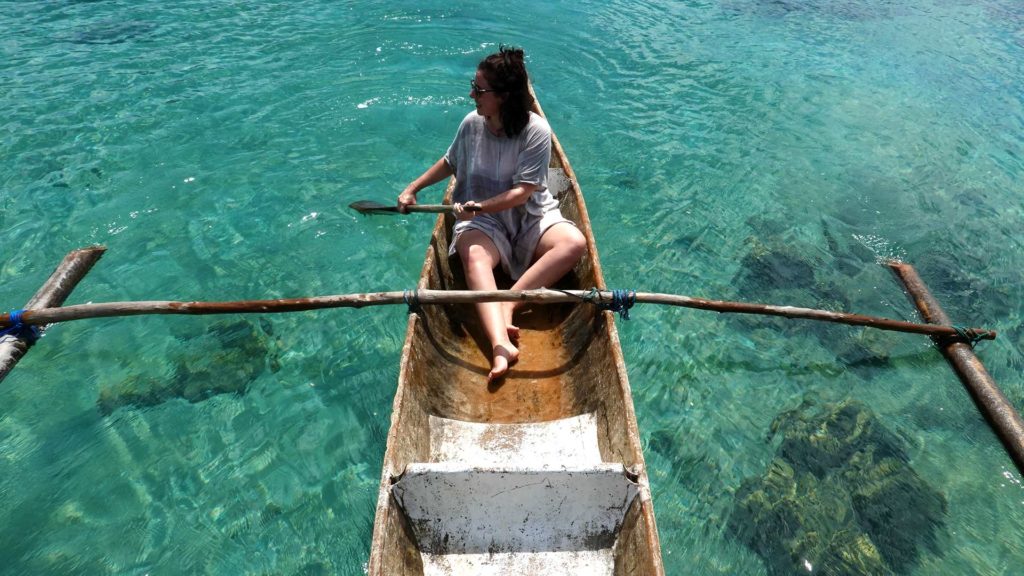 Not really recommended for adrenaline junkies
Another activity, if you don't want to spend the whole day lying around, reading and looking at the sea, is to climb to the island's viewpoint. There are actually 2 viewpoints – one that is about 20 minutes away from the resort and a higher one that takes about 90 minutes to reach.
According to the resort owners, the second option is sweaty and exhausting – and since we were already in relaxation mode anyway, we decided to go for the first one. What we thought was a short walk soon turned out to be an obstacle course and sweaty workout.
The path up the hill consisted of temporary steps carved into the ground, which were of different heights, very steep and extremely slippery. Another factor is the omnipresence of several monkey families who were very interested in us. We needed two attempts for our trip to the viewpoint, because the first time the complete monkey gang blocked the way and did not let us pass.
When we finally made it to the top, we were rewarded with a wonderful view over the island world of West Sumatra. The many different shades of green, blue and brown were really mesmerizing to look at. But we could not relax too long on the viewpoint, as we knew that we still had the way down in front of us that could be lined with more or less inquisitive monkeys. But we made it down without any problems and rewarded ourselves with a very cold beer for our passed adventure.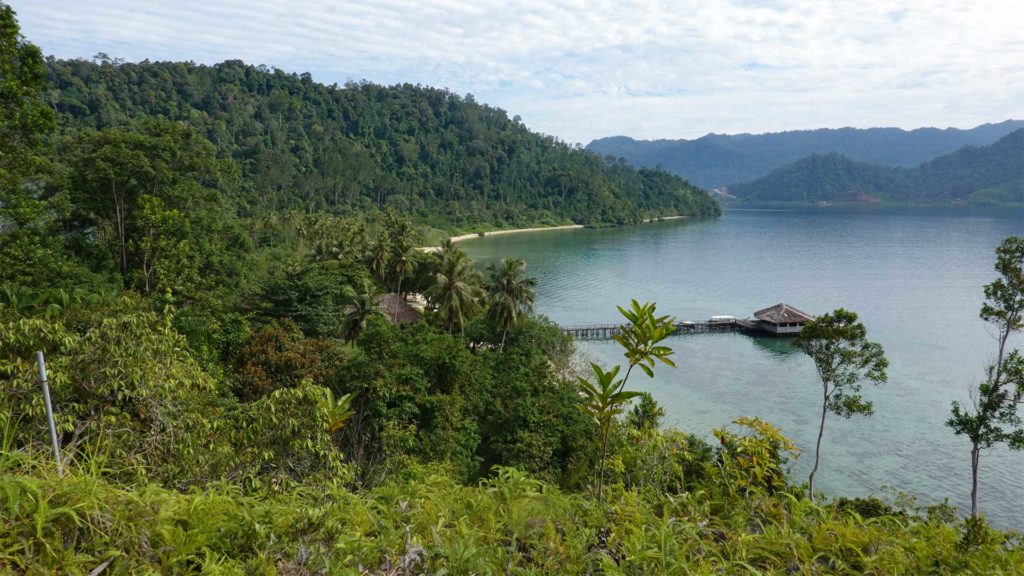 The most beautiful thing about this island for me was the close proximity to the rich flora and fauna. Sometimes maybe a little TOO close! One morning I stepped outside the door of our bungalow and in front of me stood a family of wild boars. After a moment of staring at each other, I cautiously withdrew and watched them from inside. Almost every day we saw smaller and larger monitor lizards fighting over the kitchen waste together with the wild boars and the omnipresent monkey gangs.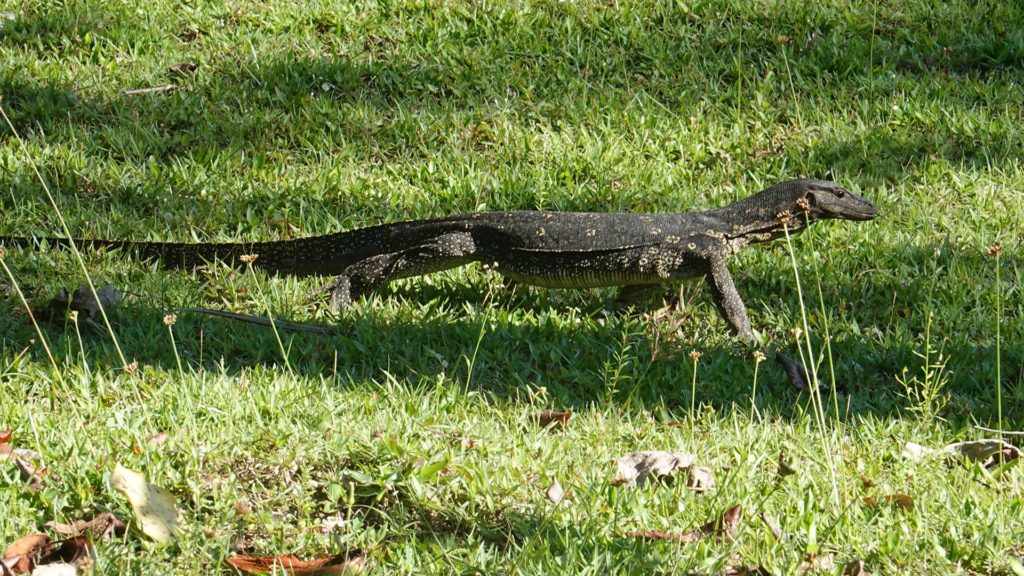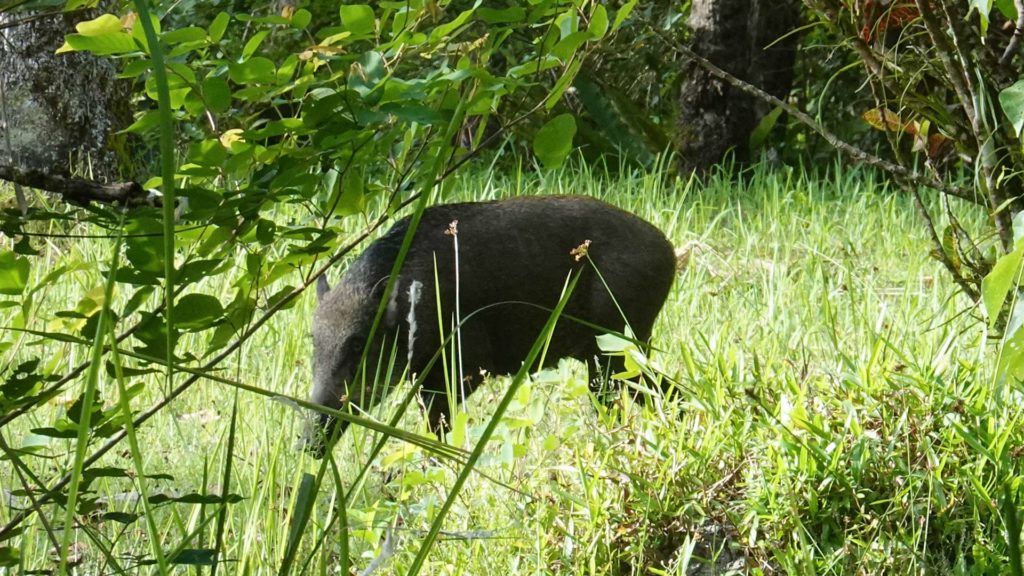 Jellyfish occur seasonally, but are rather harmless
During the first days, countless carcasses of jellyfish shimmering in purple lined the beaches – a mysterious phenomenon I could not understand. The dead jellyfish were then collected and burned by the janitor. Also in the sea while snorkeling we could see numerous living and dead jellyfish.
On the first day I accidentally brushed one out of the way while swimming, which led to a painful burn on my hand – but after a few hours and a dab of vinegar it was all good again and did not stop me from continuing to swim in the wonderful water (the jellyfish abundance decreased rapidly after day 2). The owner informed us that black and white water snakes nested in the wooden stilts on which the jetty was built. We were lucky enough not to encounter any of these wondrous creatures, which are poisonous but supposedly docile.
The sky lights up in all shades of the rainbow
Every evening around 5.00 P.M. we sat down on the jetty with a cold drink and watched how the colours of the sky changed from light blue to orange, red, purple and then dark blue – I just NEVER get bored of this.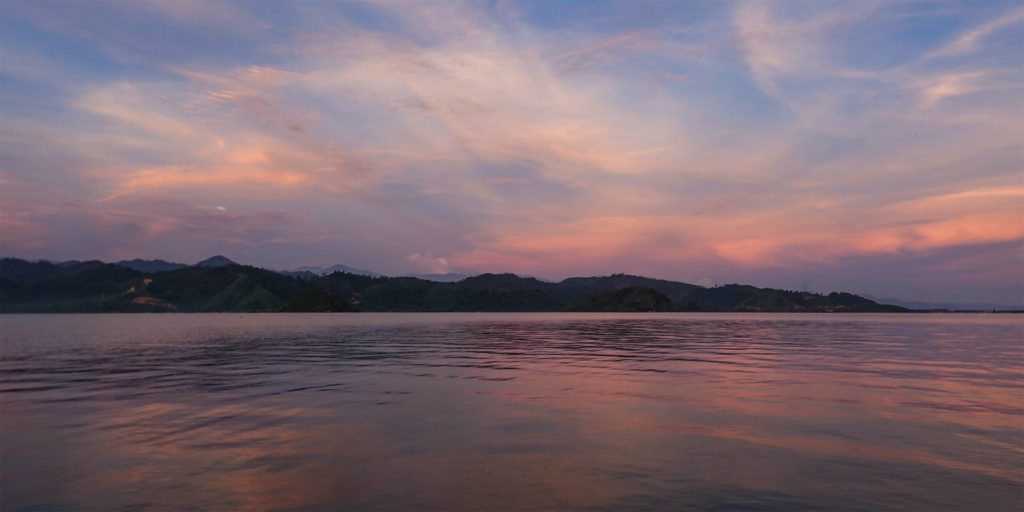 Keyword boring: this island is not the right place for people looking for an active holiday. There is not much to do except swimming, snorkeling, canoeing, diving and climbing up the hills – but there is peace, quiet and tranquility as much as you want. I recommend it especially for people who have perhaps already done a round trip of Indonesia and have already seen the other hotspots of Sumatra. It is the perfect culmination of a trip to Sumatra.
From Padang airport you can easily get to many other places in Indonesia. There is even a flight connection to Singapore. Two or three days on the island should be enough to recharge your batteries. Cubadak is a really uncomplicated, beautiful little island for a quick break from civilization.
---
About the author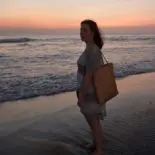 If she's not doing yoga or racing around Indonesia on a motorcycle, Lisa will be found close to a turquoise beach, preferably a glass of red wine in her hand and sand between her toes. Having lived in Southeast Asia for more than 4 years, she's fallen deeply for this part of the world – if only there was more 'real' Pizza around! You can follow her travels and hunt for Pizza on Instagram: @lisa_asia
If you are planning a trip to Cubadak Island yourself or have any questions, please write it in the comments.
Gast
Dies ist ein Gastartikel. Falls du Fragen oder Anregungen zum Thema hast, schreibe sie einfach in die Kommentare oder kontaktiere den Gastautor direkt auf seinem Blog.