Dieser Artikel ist auch verfügbar auf: Deutsch
A trip to Berlin is worthwhile at any time of the year – especially since the weather there is rarely really good anyway. But there is a lot to see and most of it is free. Here are my hotspots for your next trip to Berlin!
Berlin sights and highlights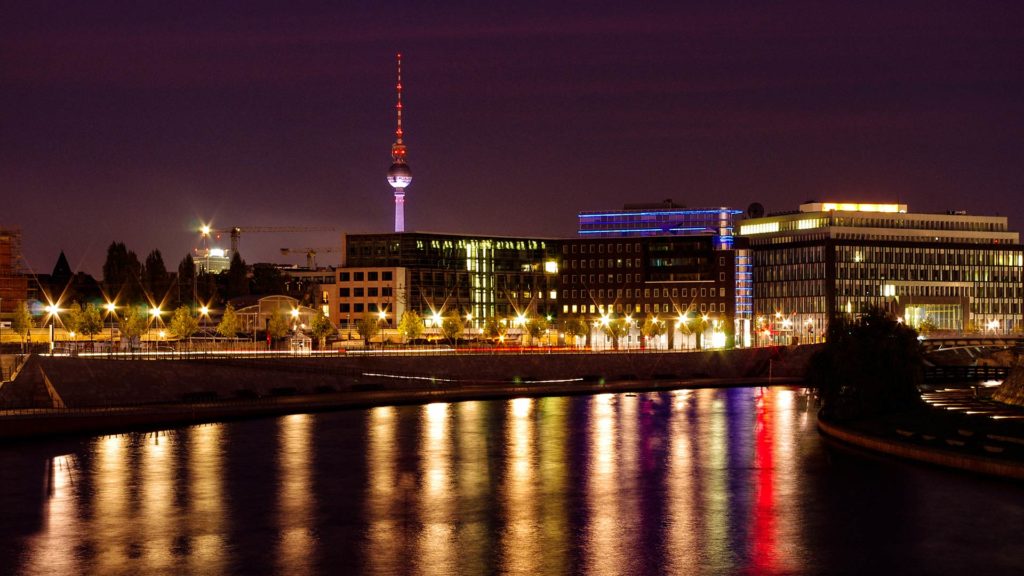 In this article you will find many of the famous sights in Berlin, but also some hidden gems. Have fun discovering the German capital!
---
How to get to Berlin
Accommodations in Berlin – our hotel tip
Berlin sightseeing: Tours and tickets
---
1. Alexanderplatz with World Time Clock and Television Tower
A classic you can't avoid. Apart from Primark and Galeria Kaufhof you'll find a lot of street artists and weirdos of all kinds, a police station and base jumping (from the roof of the Park Inn). The World Time Clock is a (surprise!) clock that shows the time in different countries and which was used as a meeting point for first dates. It's quite a special meeting point, compared to McDonald's at least!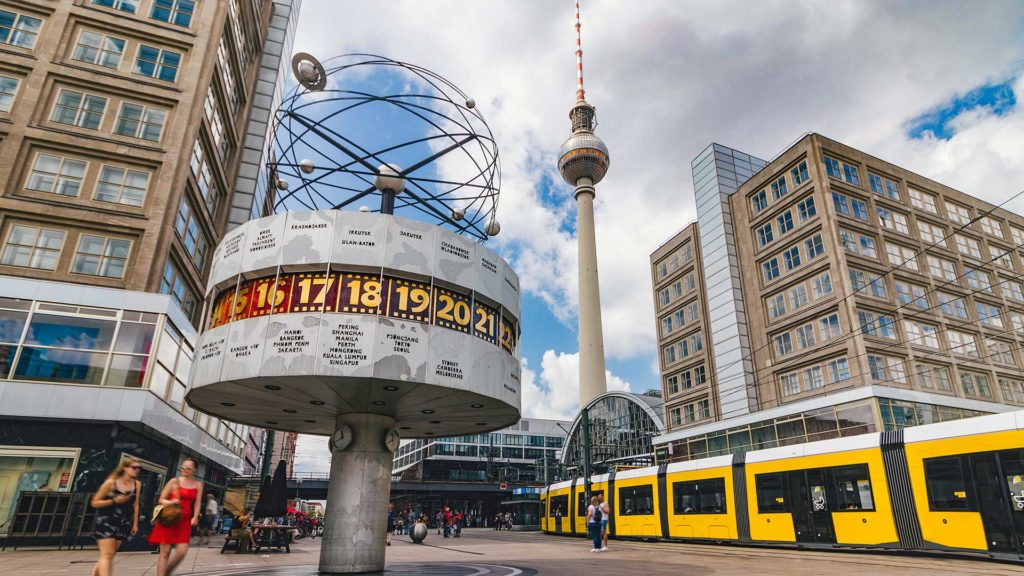 2. Goldelse (Victory Column)
The Viktoria on the Siegessäule (Victory Column), which crowns the street "Straße des 17. Juli" at the Tiergarten, is affectionately called "Goldelse" by the Berliners. After you have had a nice cold beer at the Café am Neuen See (you can also go boating there), make a detour to see the famous Else. From there you can also walk to the Brandenburg Gate.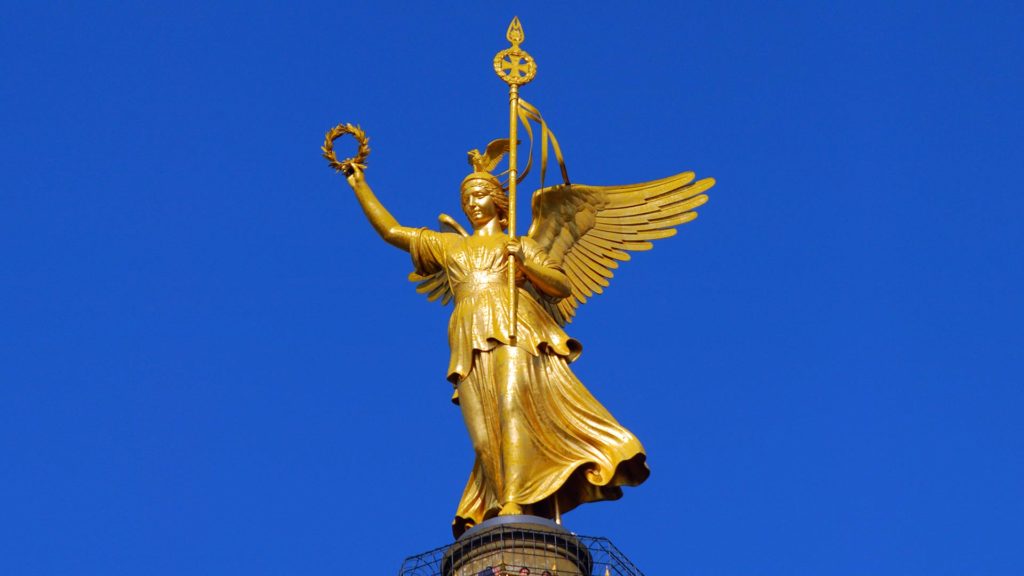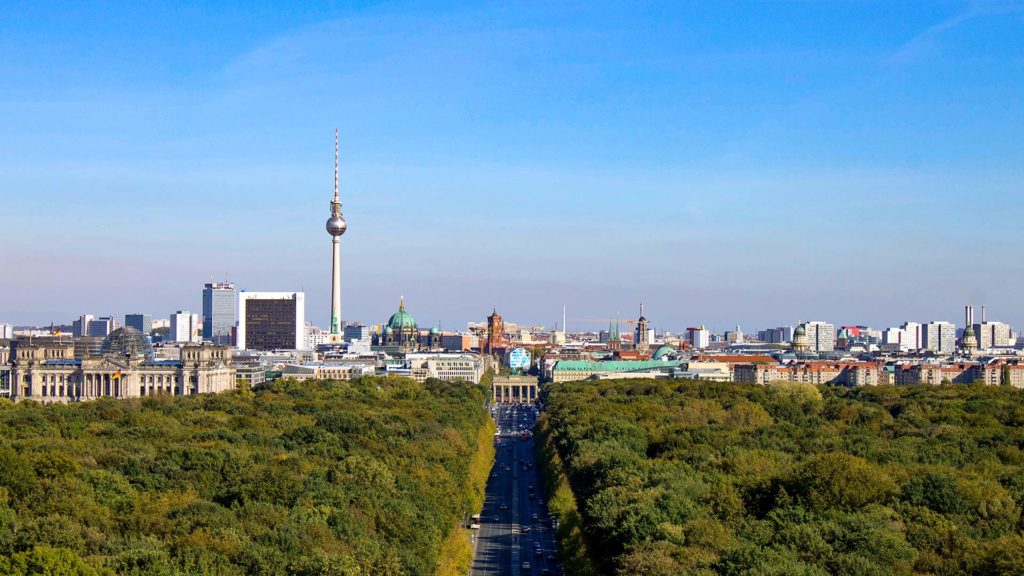 3. Brandenburg Gate
Of course, this can't be missing on any Berlin list, and rightly so: a trip to Berlin would not be complete without a visit to the most iconic Berlin monument. Right at Pariser Platz in front of the gate you will find Japanese tourists, school classes, horse-drawn carriages, one-man demonstrations, singers and all kinds of folks which sometimes seem more interesting than the famous sight itself!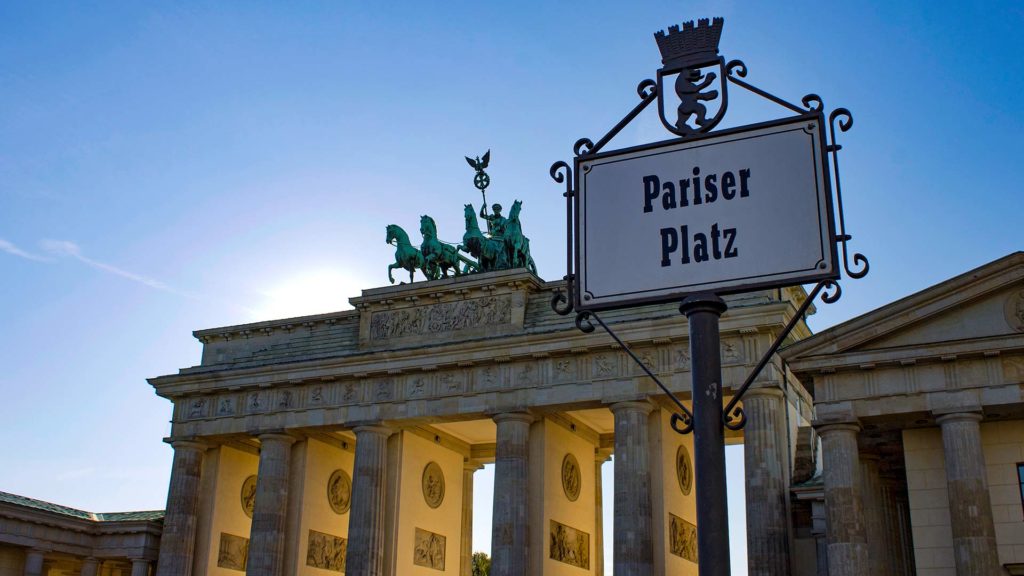 4. Memorial to the murdered Jews of Europe
Within walking distance of the Brandenburg Gate is the monument commemorating the Jews of Europe murdered in the Holocaust. Metal steles are built on a sloping and rising ground, casting shadows of varying lengths depending on the incidence of light. Please do not sit on the steles and do not use them as a selfie background, but treat the place with respect and remember that it is a memorial.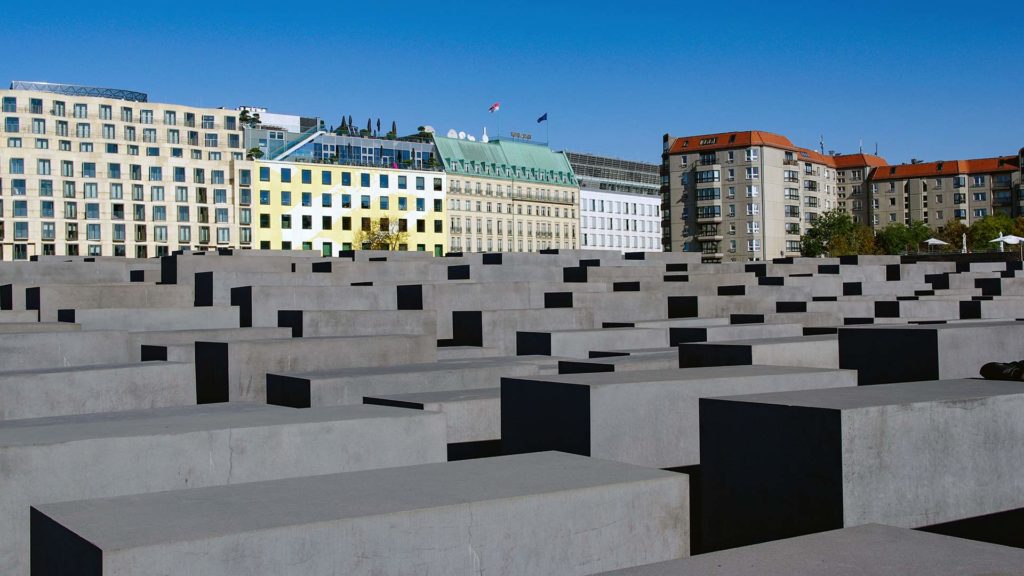 5. East Side Gallery
Speaking of selfie backgrounds! Artists from all over the world were invited to design parts of the longest remaining section of the Berlin Wall. Buy a beer in a Späti, sit down at the Spree and take a walk along the East Side Gallery. The Mural depicting the brotherly kiss between Brezhnev and Honecker is probably one of the most famous.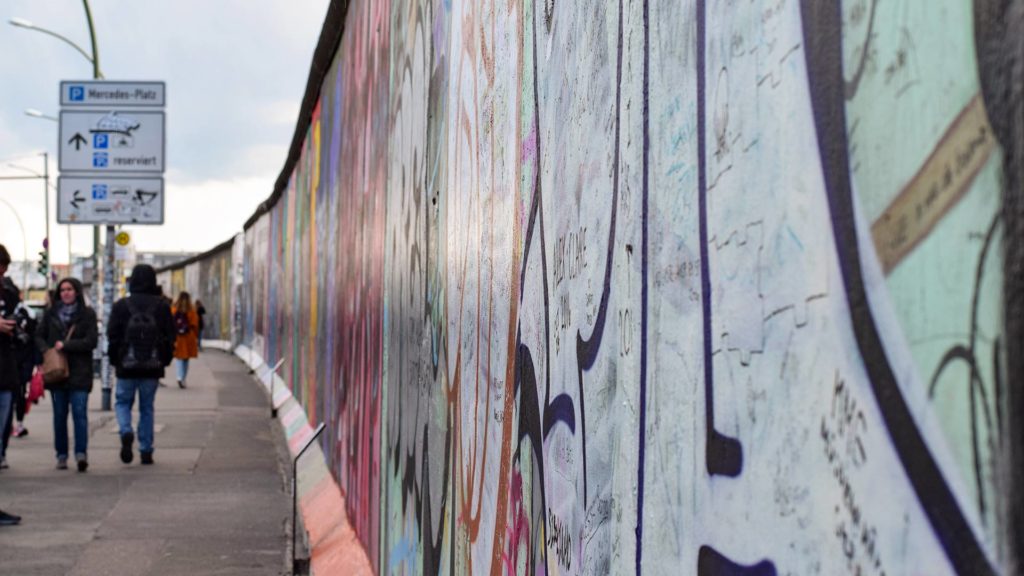 6. Checkpoint Charlie
If concrete could tell stories, then this border crossing would have a lot to say. When the Wall was built in 1961, this checkpoint connected the American sector with the Soviet sector. Until the fall of the Wall, this place became the scene of spectacular (sometimes successful) escapes from the GDR to the West. Today there is a museum nearby, which retells the history of the checkpoint very well.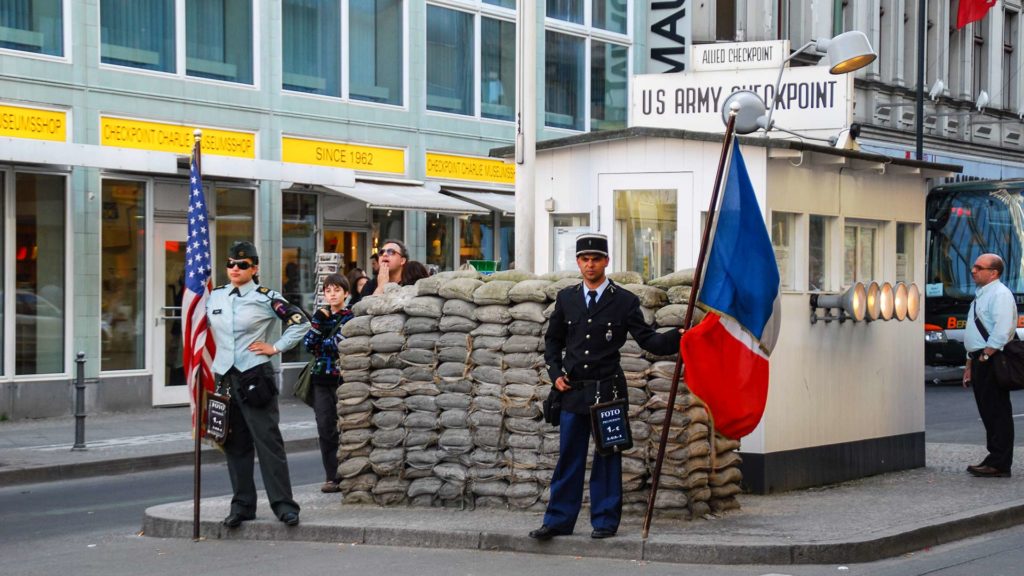 7. Reichstag building with glass dome
The Reichstag building with its famous glass dome, gently modernized by the British architect Norman Foster, is probably one of the most photographed objects in Berlin. Tours of the dome are often fully booked. It is definitely worthwhile to book in advance, otherwise you will have to queue forever. The grass in front of the building is often filled with sunbathing pupils on class trips.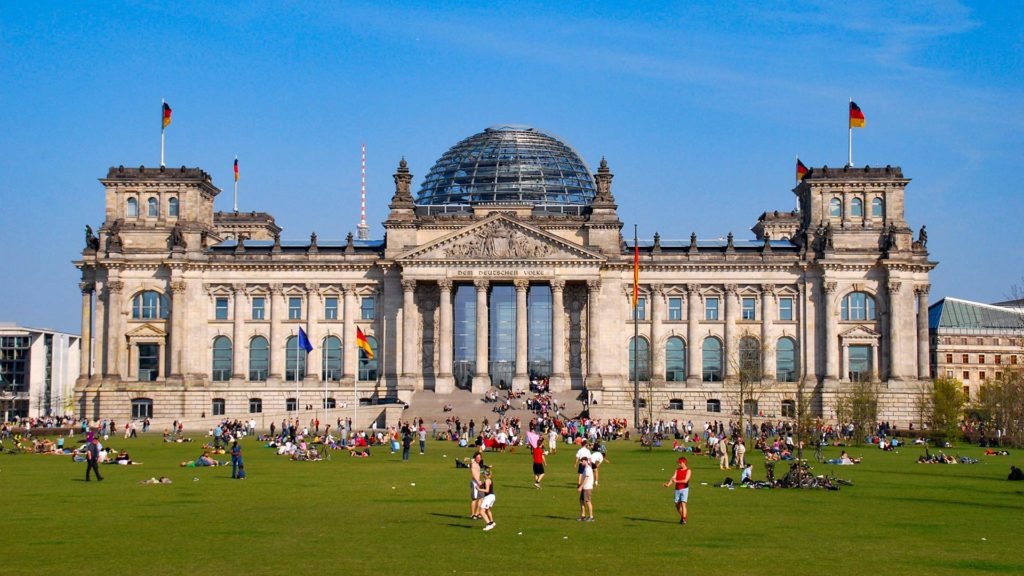 8. Museum Island
Berlin is a city of art. Apart from the obvious big museums, there are lots of small galleries spread all over the city. Old masters, sculptures and more can be found on the Museum Island in Mitte. It's really worth it and the innovative concepts of the museums ensure it's never boring.
Further tips are also the Berlin Bunker Museum in a real bunker, the Ramones Museum or the very cool Computer Games Museum, which is also interesting for un-nerdy people.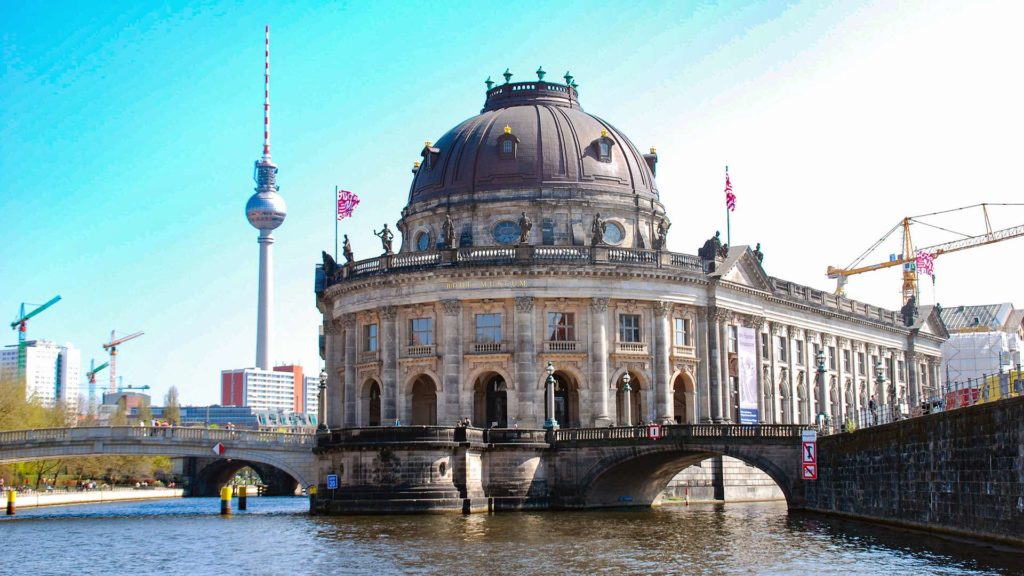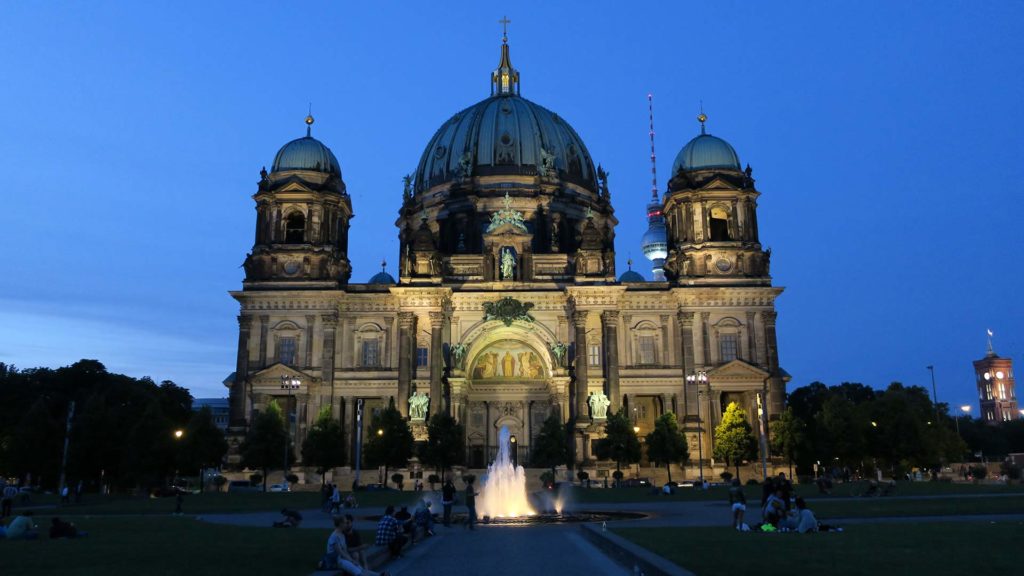 9. S-Bahn station Friedrichstraße/Tränenpalast
The S-Bahn train station Friedrichstraße was one of the most famous border crossings between the GDR and West Germany. The name "Palace of Tears" came from the fact that most GDR citizens had no opportunity to travel to the West and therefore often bid farewell to their departing friends and family members in tears. Next to the building you can find more information about the story of it.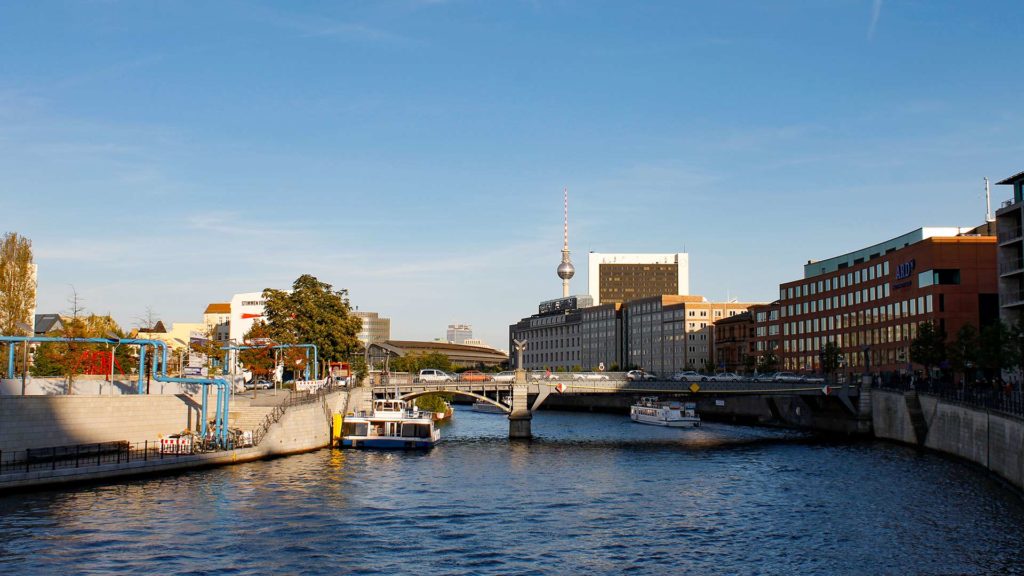 While you're there, you can also board one of the Spree boats at the Reichstagufer, where you can relax with a cold drink in your hand as you cruise along the Spree and listen to the tour guides telling historical facts about the monuments on the shore.
10. Ku'damm und KaDeWe
The Ku'damm, officially called Kurfürstendamm, is probably one of the most famous streets in Berlin – you can't miss it. Crowds of visitors, tourists from all over the world, vendors, screaming children and dogs cover the wide sidewalks, especially on weekends. The street itself rather disappoints with chain stores like ZARA, H&M and Douglas, which you can also find in any small town in Germany.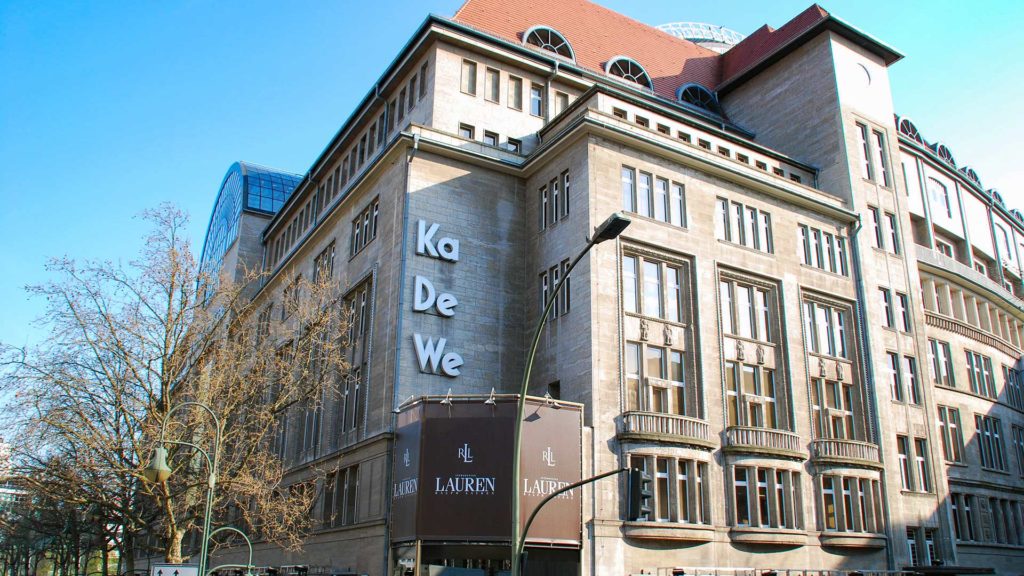 However, you will find a unique shopping highlight in KaDeWe, the Department store of the West. Conveniently located directly at the underground station Wittenbergplatz, this historic department store has everything a shopper's heart desires.
Insider tip: Try fresh oysters with West Berlin grannies at the oyster bar in the food department – there you will find genuine West Berlin originals. The bouillabaisse in the fish department is also legendary and extremely tasty.
Excursions for sunny days
At Floß & Los you can rent a raft with several people (it's worth it if you are 3 or more) and cruise the numerous Berlin waterways. The raft can even be equipped with a barbecue for an extra charge – dishes and so on are also available. For the route I'd recommend to cruise towards Köpenick/Grünau. To jump directly from the raft into the river Spree is good fun and the water quality is not as bad as one might think.
If you don't feel like doing water-based activities, I recommend a visit to the flea market at Mauerpark. The flea and food market, which takes place every Sunday, is not only a tourist magnet, but still a meeting point for Berliners who want to buy records, taste delicious wine and burritos from the food trucks or listen to the tourists singing karaoke in the open air theater. Great for people watching!
A little insider tip: Mustafa's Vegetable Kebap is mentioned in every travel guide, and it tastes great, too. But do you really want to queue 30 minutes for a Döner Kebab? The Shawarma and Falafel at 1001 Falafel or the kebab at Imren are the same tasty and you don't have to queue at all.
---
About the author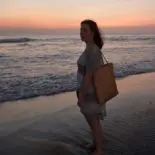 If she's not doing yoga or racing around Indonesia on a motorcycle, Lisa will be found close to a turquoise beach, preferably a glass of red wine in her hand and sand between her toes. Having lived in Southeast Asia for more than 4 years, she's fallen deeply for this part of the world – if only there was more 'real' Pizza around! You can follow her travels and hunt for Pizza on Instagram: @lisa_asia
Plan your trip to Berlin now
More hotel recommendations for Berlin:
Popular routes to Berlin:
---
Which places do you think you should definitely see as a visitor in Berlin? Which are overrated? Drop us a comment below.
Photos: photo 2 (Alexanderplatz): taranchic/shutterstock.com – photo 7 (East Side Gallery): Linquedes/shutterstock.com
You might also like
Gast
Dies ist ein Gastartikel. Falls du Fragen oder Anregungen zum Thema hast, schreibe sie einfach in die Kommentare oder kontaktiere den Gastautor direkt auf seinem Blog.