Dieser Artikel ist auch verfügbar auf: Deutsch
Thailand's capital Bangkok is notorious for its nightlife. This guide to Bangkok's nightlife will give you some tips on the best nightlife areas and hotspots for night owls in Bangkok.
Bangkok's nightlife is legendary, at least since the famous song by Murray Head: "One Night in Bangkok makes a hard man humble".
Bangkok Nightlife: 6 Top Tips for a Night Out
And the movie Hangover 2 has further built up this reputation. However, Bangkok doesn't deserve the nickname "city that never sleeps". If you go to the club at 1 a.m., like it's usual in Germany for example, you will get there just before the early curfew. Prior to that, though, there're plenty of things to do for night owls in the City of Angels.
There're a huge number of tips for a night out in Bangkok. Do not miss out on these 6 Highlights of Bangkok's Nightlife.
---
How to get to Bangkok
Accommodation in Bangkok – our hotel tip
Bangkok temples: Tours and tickets
---
1. Enjoy the Sunset from a Sky Bar
For example: Above Eleven (Sukhumvit)
The sky bar Above Eleven is visited by a younger crowd, offers a relaxed vibe and, of course, spectacular views. The bar is located above the popular party street Sukhumvit Soi 11 and therefore a visit can be easily combined with a pub crawl. The place is a tad more casual than the rooftops of some prestigious 5-star hotels. In addition, the dress code is not as strict and prices are not quite as high.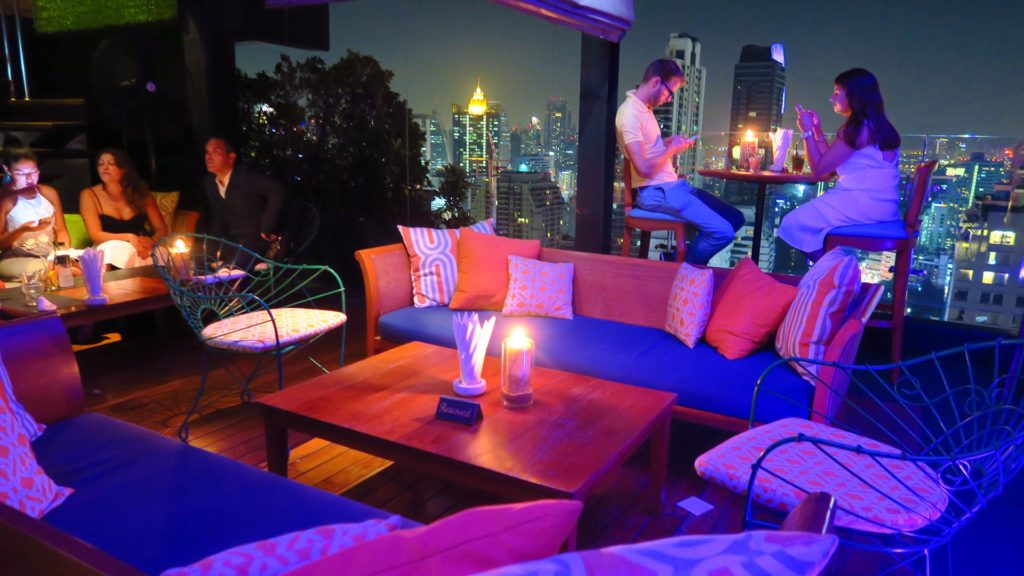 With its varied music selection, Above Eleven is a great way to start your Bangkok nightlife experience. After that, there are plenty of other bars awaiting you, such as the Havana Social Speakeasy Bar, just across the street.
Web: aboveeleven.com
Address: Above Eleven, Fraser Suites, 38/8 Sukhumvit Soi 11, Bangkok
How to get there: Canal boat: Nana Nua, Nana Chard, MRT: Sukhumvit, BTS: Nana
Other great sky bars worth checking out are Cielo Skybar, Mode Sathorn and Park Society. For more details, have a look at our post about Bangkok's sky bars.
2. Drink a Cocktail at a Rooftop Bar
For example: 342 Bar (Thonburi)
The 342 Bar on the roof of Baan Wang Lang is a real highlight, close to the palace. Its standards and prices attract mainly tourists, but like any rooftop bar in the old town, it's much cheaper and less touristy than the sky bars in the city center.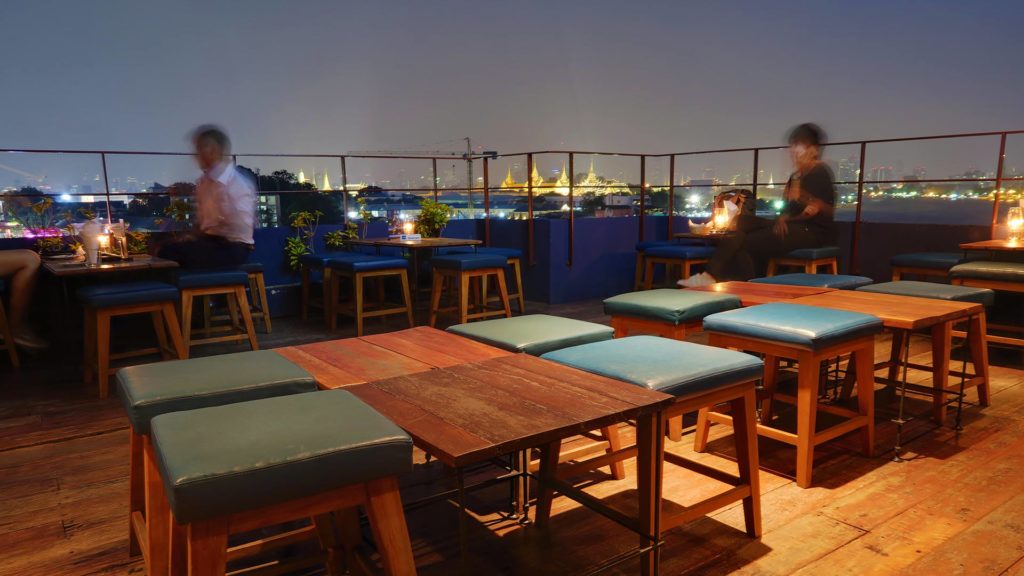 From the 342 Bar you can enjoy one of the most breathtaking views in Bangkok, with a view over a river bend to the Royal Palace, Wat Pho, and Wat Arun with the downtown skyline on the horizon. The former King Bhumibol spent his last years enjoying this vista right next door at Siriraj Hospital.
Web: baanwanglang.com
Address: Baan Wang Lang, Soi Wat Rakang, Bangkok
How to get there: River boat: Wang Lang, Siriraj
Other amazing rooftop bars to visit are Phra Nakorn Bar, River Vibe, and Sky Train Jazz Bar.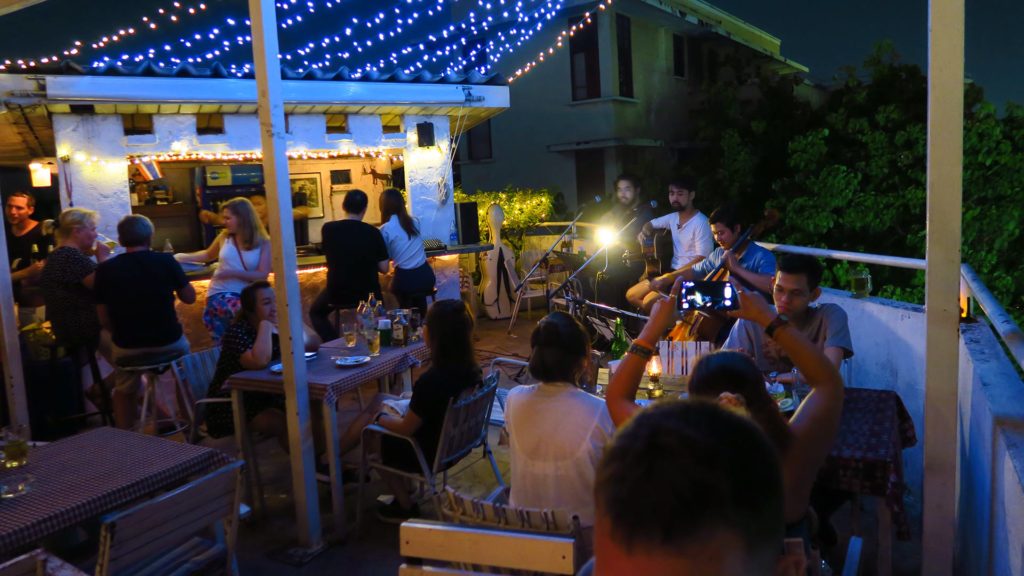 3. Experience Authentic Thai Nightlife at a Night Market
For example: Talad Rot Fai 2 Ratchada (Ratchada)
Hipster night markets are quite hot right now in Bangkok. That means vintage stalls, trendy bars, stylish clothes and VW buses. There's even a bar in a former school bus at Talad Rot Fai 2 Ratchada, and that's merely the start of a whole street full of bars with lots of live music happening later in the evening.
Food stalls are of course a must at any Thai market, and the ones at a hipster market offer an even bigger variety than you would usually find. The first three rows of tents are a foodie's paradise, offering everything from Thai food and Korean barbecue to burgers and pizza. The back of the market, the retro section, is also home to food trucks and container restaurants. Note that hipster night markets are only open from Thursday to Sunday.
Address: The New Rot Fai Market Ratchada, 99 Ratchadaphisek Rd, Bangkok
How to get there: MRT: Thailand Cultural Center
Other great night markets include JJ Green, Hua Mum and Siam Gipsy Junction.
4. Be amazed by a Show
For example: Play House Magical Cabaret (Chatuchak)
A Ladyboy Show is a unique experience that can only be found in Thailand: Transvestites twirl around the stage in colorful women's dresses and blow air kisses at the audience. The shows are extravagant, over-the-top and absolutely worth seeing. A Ladyboy Show has nothing to do with the red-light district or even a curiosity cabinet. You'd better think of it as a fancy Broadway show.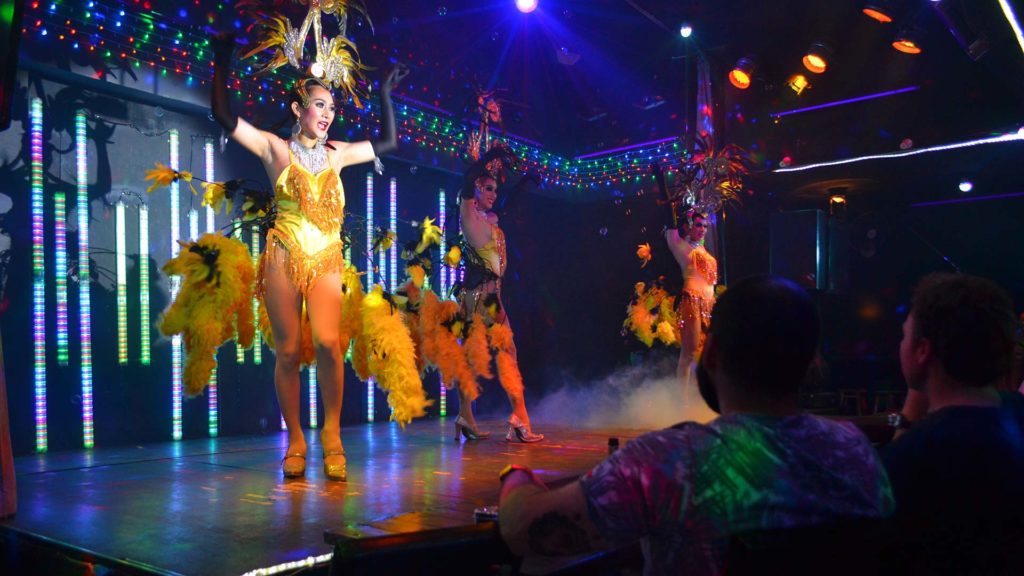 While some shows in Thailand are happy enough to let ladyboys in colorful outfits just swing their long legs, the shows of the Play House have higher standards and focus on sophisticated 70-minute choreographies. Their emphasis lies on artistic performances, live music and magnificent stage sets.
Address: Play House Magical Cabaret, 5 Suan Lum, Bangkok
How to get there: MRT: Lat Phrao
Other great shows to watch are Calypso Cabaret, Siam Niramit, Cookin Nanta and the Khon Mask Dance at Salachalermkrung Royal Theatre.
5. Listen to Live Music in Bangkok's Jazz and Blues Scene
For example: Saxophone Pub and Restaurant (Victory Monument)
Just off Victory Monument you can find one of the most important establishments in Bangkok's live music scene. For more than 30 years, Saxophone Pub has been considered as one of the best venues for blues and jazz. The classy rooms are decorated with jazz posters, record labels and pictures of jazz legends.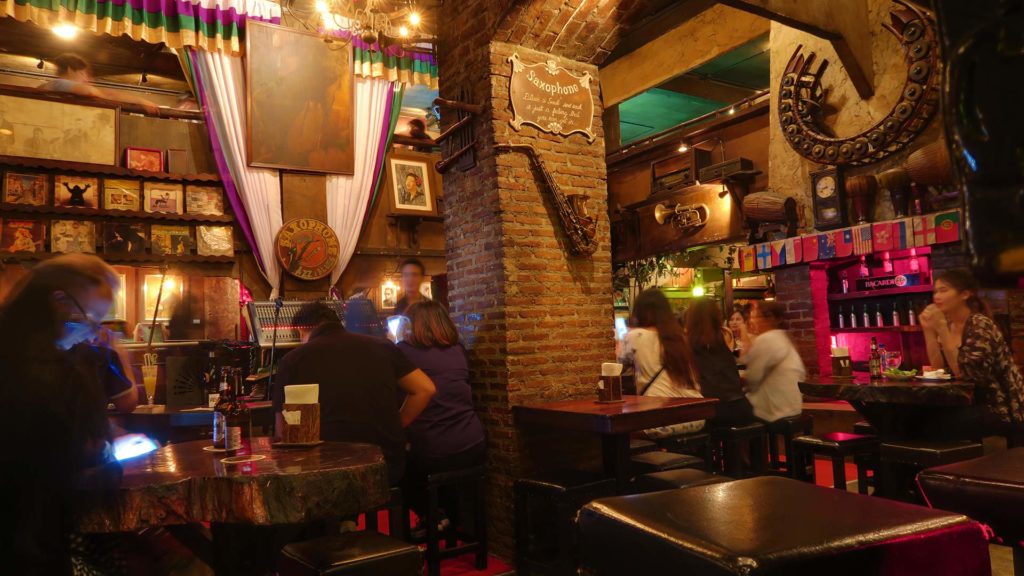 But jazz and blues are not the only types of music you can listen to at Saxophone Pub. Reggae, rock, country and even ska are played here as well. The ska band T-Bone, that is quite famous in Thailand, plays every Friday. The weekly rotating schedule of three live bands per night can be found on the website.
Web: saxophonepub.com
Address: Saxophone Pub and Restaurant, 3/8 Phayathai Rd, Bangkok
How to get there: BTS: Victory Monument
Other great live music venues are Jazz Happens!, Brick Bar and Adhere the 13th.
6. End your day in Bars & Pubs
For example: Co-Co Walk (Siam)
You'll find not one but dozens of bars under the corrugated metal roof of Co-Co Walk. Once you've done a mini pub crawl and worked your way backwards from Retro Bar to Skate Café to Hok Klom Pub to Guts Bar to Chilling House, you'll be glad the Skytrain stops right in front of Co-Co Walk.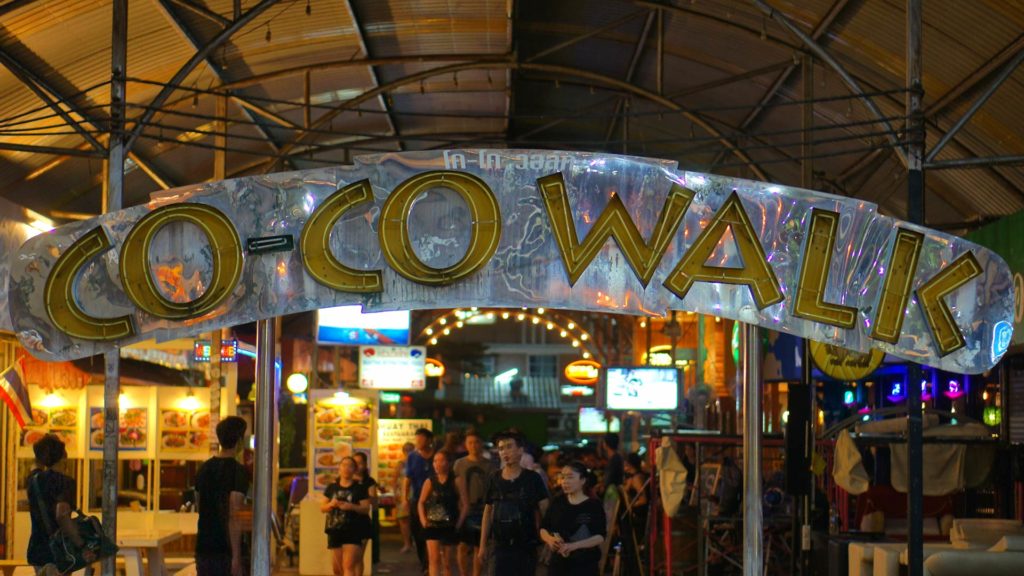 If you want to grab a bite to eat before starting on your pub crawl, the bars also have a menu and there are several restaurants including a hot pot and even a cat cafe. If you're looking for street food, all you have to do is cross the street. In front of the Asia Hotel there is a wide selection of cookshops. Co-Co Walk is conveniently located between old town and downtown and is connected to Khao San and Sukhumvit by the 24-hour bus line No. 2.
Address: Co Co Walk Pub, 89/70 Phaya Thai Rd, Bangkok
How to get there: BTS: Ratchathewi, Canal boat: Hua Chang, ARL: Phaya Thai
Other terrific bars are Havana Social Speakeasy, Superflow City Beach Club and Wong's Place.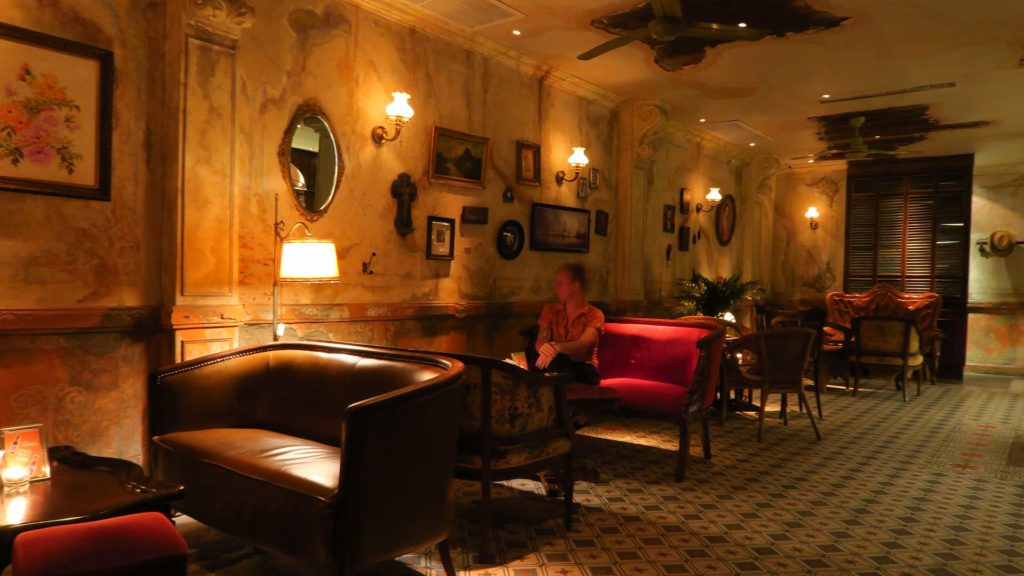 Nightlife Hotspots in Bangkok
The party street Khao San Road in the old town is probably the most popular nightlife hotspot for tourists in Bangkok. Younger travelers in particular can enjoy themselves to the fullest in this former backpacker street until late at night. But there are also some quieter corners close by, like Soi Rambuttri and Sam Sen.
Older generations are better off in the tourist street Sukhumvit in the city center. The standards are higher and so are the prices. In Sukhumvit, nightlife is mainly found around the side streets of Soi 11, Soi 22, Soi 33 and Soi 55, and near the two red-light districts Nana and Soi Cowboy.
There is also a red-light district and some nightlife venues for tourists around the Patpong night market in the Silom financial district. Patpong, however, has seen better days and is now famous for its gay bars and notorious for ping pong show scams.
If you want to party like the locals, you have to leave the usual tourist spots. Royal City Avenue, northeast of downtown, is a huge party area, with bars and several large night clubs. The crowd is almost exclusively Thai.
Around Bangkok's largest university, Ramkamhaeng, the scene becomes even more authentic. With more than half a million students enrolled, Ramkamhaeng is not just a place to study. Most student bars can be found on Ramkamhaeng Soi 65.
Khao San Road (Old Town)
In the eighties and nineties, Khao San Road was the most famous backpacker street in Southeast Asia – probably even throughout the world. By now, the whole old town district has grown into a tourist area and Khao San Road has become one of the most famous party streets of the city.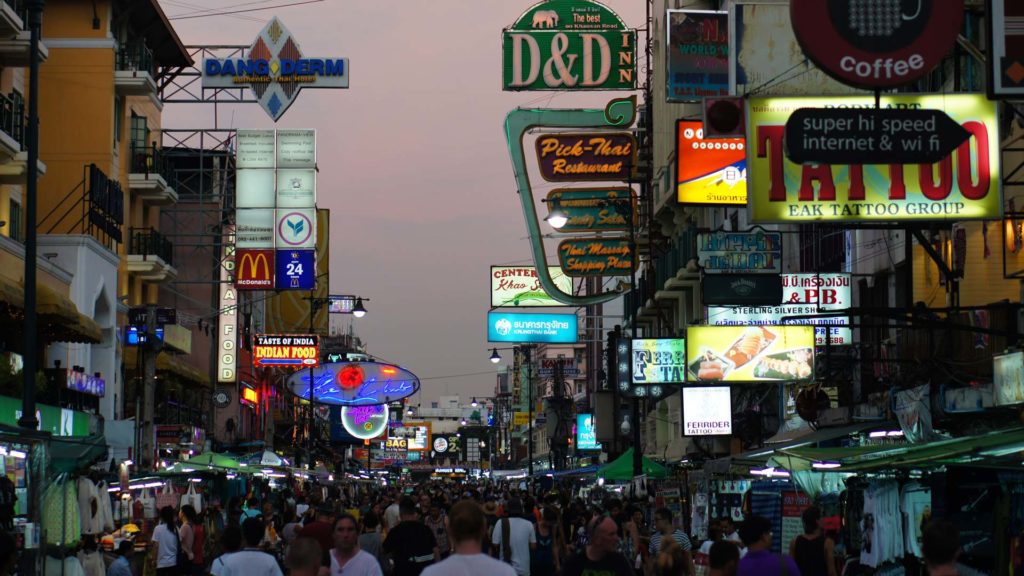 Many young people are still heading for the clubs and bars on the street. The vibe is similar to Full Moon Partys on Koh Phangan, high school graduation trips to Lloret de Mar, or Spring Break in Cancun. However, it's not quite as wild. On special occasions like Halloween, New Year's or Songkran, the street is packed with young party animals and is then somewhat similar to the madness of Magaluf on Mallorca.
The rest of the time, however, Khao San Road is much more harmless than its reputation. Unlike the bar districts downtown, there is almost no prostitution.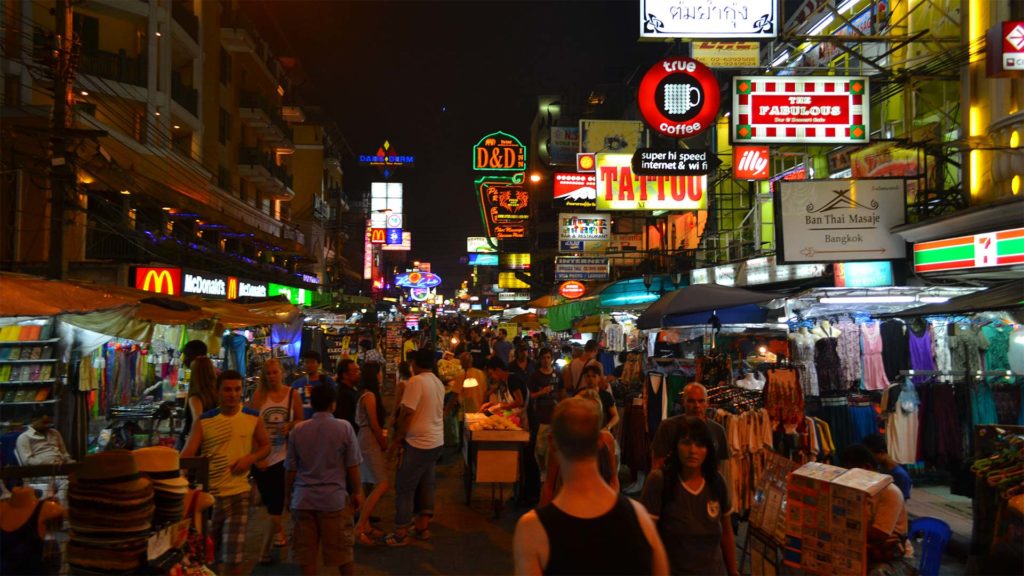 For a more laid-back atmosphere, you can look for bars in the quieter parallel street of Rambuttri Road or across the canal in Sam Sen.
Address: Khao San Road
How to get there: River boat: Phra Arthit, Canal boat: Panfa
Sukhumvit 11 (Sukhumvit)
Sukhumvit 11, also known as Soi Ambassador, is a very popular street for a night out. Here you will find many excellent restaurants, no matter if it's Japanese, Indian, Thai or Western food you are craving. You can also find plenty of cookshops there.
There are bars of all shapes and colors to quench your thirst, such as the sky bar Above Eleven or the Rooftopbar The Nest. In addition, there are sports pubs, fancy cocktail bars and regular street-level bars. It feels like all nations are represented and there is even a "German" pub with the Old German Beerhouse.
The Cuban-style Havana Social Club is definitely a highlight, if you can find the hidden entrance. Nightclubs such as Levels, Climax and Sugar Club complete Bangkok's most diverse bar street.
Address: Soi Sukhumvit 11
How to get there: BTS: Nana, MRT: Sukhumvit, Canal boat: Nana Chard
Sukhumvit 22 (Sukhumvit)
The Queen's Park Plaza Entertainment Complex at Sukhumvit 22 consists of about 30 hostess bars and pubs in a confined space. However, it's probably only a matter of time before the complex is torn down. At Washington Square, in the same soi, that has already happened.
Until then, the relaxed bar scene with many pool tables is a budget retro alternative to other bars on Sukhumvit Road. At the entrance to Suk 22, there is also the well-known Titanium Ice Bar and wine lovers will adore the Wine-Depot just past Queen's Park Plaza.
Address: Sukhumvit Soi 22
How to get there: BTS: Phrom Phong, MRT: Sukhumvit
Sukhumvit 33 (Sukhumvit)
Because of hostess bars' names like Monet Club, Dali Club, Goya Club and Renoir Club, Sukhumvit Soi 33 is also called "Dead Artists". Culinary highlights include Tenderloin Steak House, Italian restaurants like Basilico, Peppina and Pan Pan, and several Japanese restaurants.
At the very end of the soi, secluded and with a great garden, lies Bistro 33, where many meetups take place because of its quiet atmosphere. To get there, however, you have to pass at least 20 "Teen Massage Parlours".
Address: Sukhumvit Soi 33
How to get there: BTS: Phrom Phong, MRT: Sukhumvit
Sukhumvit 55 (Sukhumvit)
Sukhumvit Soi 55 is the hipster spot in Bangkok. Also known as Soi Thonglor, the street and its side alleys are home to many fancy restaurants and no less than three lifestyle malls: The Commons, Seen Space, and 72 Courtyard.
The hip bar scene of Thonglor expands along the 2.5 kilometer long street, with the main focus in the middle. If you don't know where to look, you'll quickly feel lost, especially because of discreet front doors á la Rabbit Hole or Iron Fairies. The scene also extends towards Sukhumvit Soi 63 Ekkamai, and towards Thonglor Soi 10/Ekkamai Soi 5 in particular.
Address: Sukhumvit Soi 55, Bangkok
How to get there: BTS: Thonglor, Canal boat: Thonglor
Royal City Avenue (Ratchada)
The largest entertainment district in Bangkok is none of the red-light districts, but a party area like Munich's former "Kunstpark Ost". The nightclubs on Royal City Avenue (RCA) are a Mecca for dance-loving party animals. You can choose from more than a dozen nightclubs and many of them have a legendary reputation in Bangkok. Most notable are Route 66, LED and ONYX.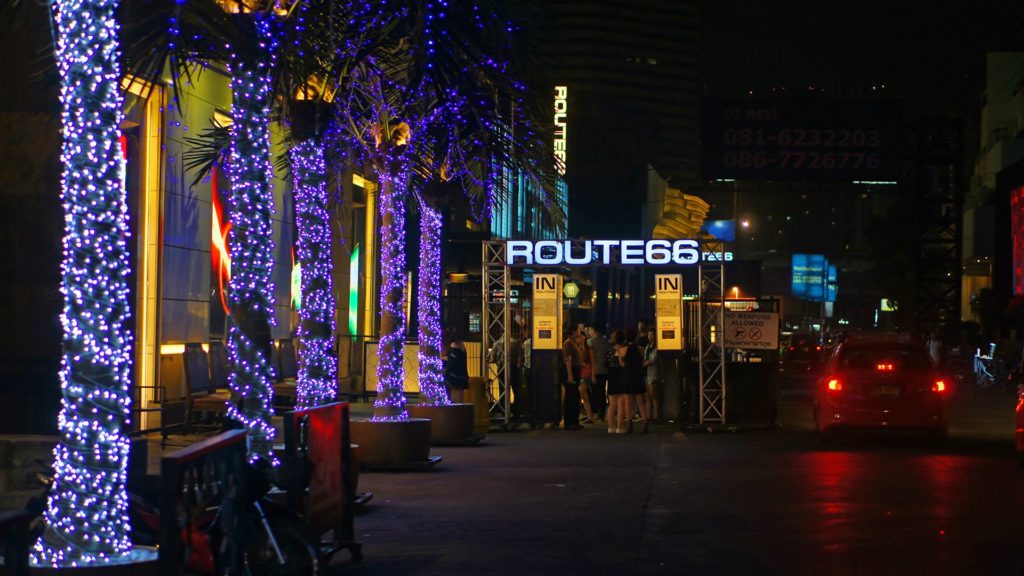 Being over 30, you already belong to the scrap heap at RCA, and although more and more farangs want to party like locals, the vast majority of visitors are Thai. If you don't like hip hop or electronic dance music, you'll feel a little out of place here.
If RCA sounds too modern and westerly for you, try a spot only a few minutes away by motorcycle or cab. Hollywood Awards is one of the biggest nightclubs in Bangkok. Along with the other clubs in Ratchadaphisek Sois 4, 6 and 8, you'll feel like you've time-traveled back to nightlife at the turn of the millennium.
Address: RCA Alley
How to get there: Canal boat: Thonglor, MRT: Phetchaburi
Soi Mahadthai (Ramkamhaeng)
With more than 500,000 students, Bangkok's major university Ramkamhaeng is bigger than any European or American university. It's no surprise that Ramkamhaeng Road offers its own ecosystem for nightlife entertainment to the half-million students – anything from a large night market to a pub street.
Soi Mahadthai has three names, because it merges from Ramkhamhaeng Soi 65 into Lat Phrao Soi 122. You'll find pub after pub here, and some occasional dance clubs. There are beer gardens, sports pubs, live music venues, extremely small pubs and bars open after curfew, and much more. Of course, you can also find Thai food everywhere, as a solid foundation for a long night.
Because it's mostly students who visit the pubs, the prices are super cheap. But that also means that you're already old here if you're 30. The atmosphere is equally offbeat but much more relaxed than at the hip Thonglor.
There are even more nightlife options all around Ramkamhaeng University, especially in the sois south of Rajamangala National Stadium. At Ramkhamhaeng Soi 89/2, there are gay bars.
Address: Soi Mahadthai
How to get there: Canal boat: Mahadthai Pier
Red-Light Districts at Sukhumvit and in Silom
Bangkok's nightlife also includes some of the city's most notorious red light districts. The three most famous are Nana Plaza, Soi Cowboy and Patpong.
Nana Plaza (Sukhumvit) is Bangkok's sex mall, so to speak, with go-go bars and other establishments on three floors. The rest of Sukhumvit Soi 4 is also devoted to the oldest profession in the world. Men without female company are quite obtrusively courted and approached by prostitutes.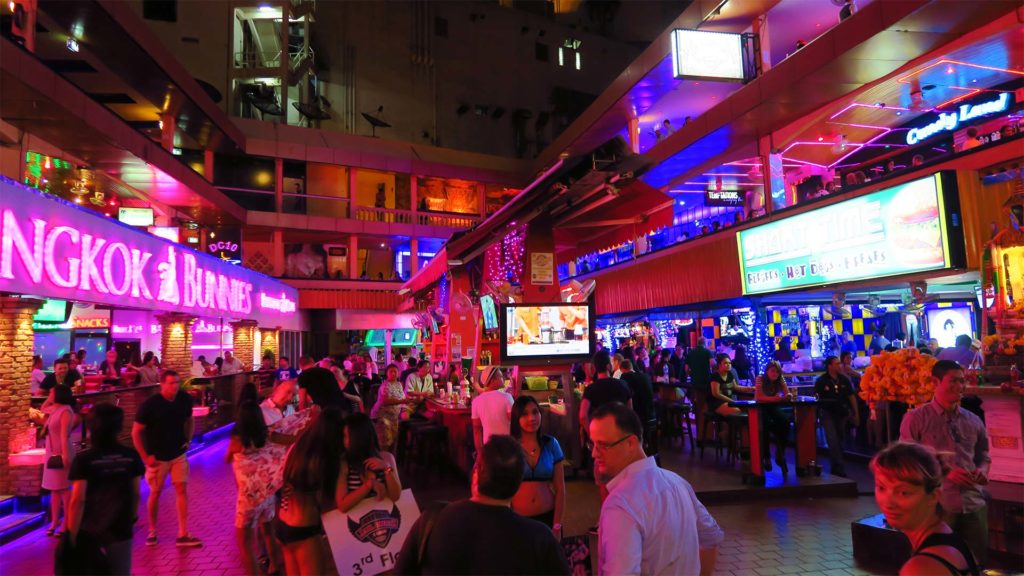 A bit further up Sukhumvit Road, you will reach Soi Cowboy. On a length of only about 100 meters, there are around 30 strip clubs and pubs. With its large neon signs and attractive strippers in front of the bars, the street was used as the film set of the Hollywood movie Hangover 2. When you reach the end of the short alley in Sukhumvit Soi 23, you will find massage parlours – some with special offers.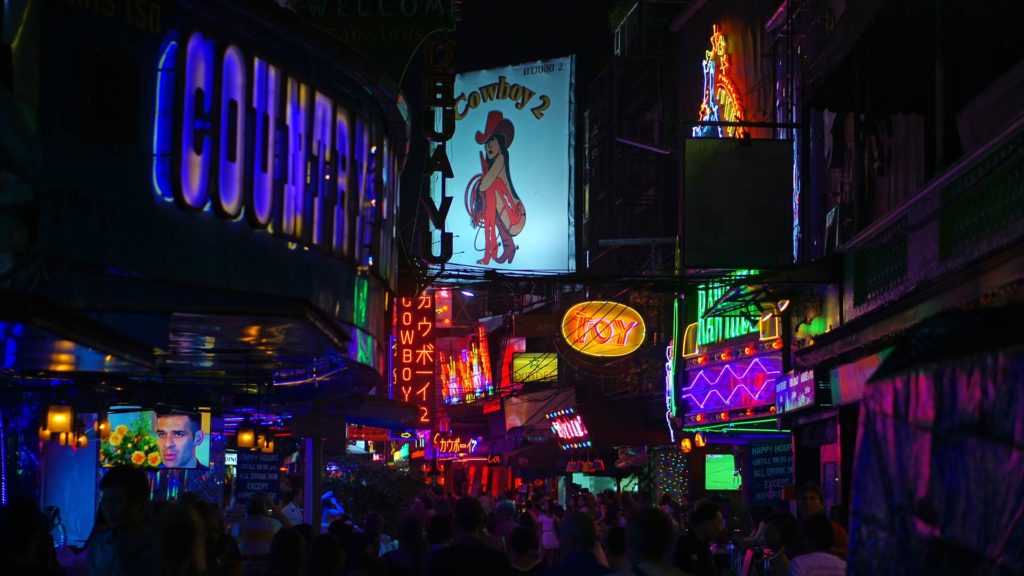 Patpong (Silom) feels a bit like the "Reeperbahn" and also a little like Frankfurt's train station district. It's Bangkok's oldest red-light district for foreigners. And back in the fifties, this place first gave the capital of Thailand its dubious reputation. Countless go-go bars, as well as a few clubs and pubs bustle along two streets with a length of only 200 meters.
Patpong has long since passed its peak as the queen of the entertainment districts. Probably because of that, some offers here are more extreme and special than in the red-light districts of Sukhumvit. Nevertheless, the area is quieter and more tourist-friendly than Nana or Soi Cowboy. Not least, this is due to the night market in Patpong 1. You should, however, buy souvenirs elsewhere. The prices here are still outrageous, even after persistent haggling.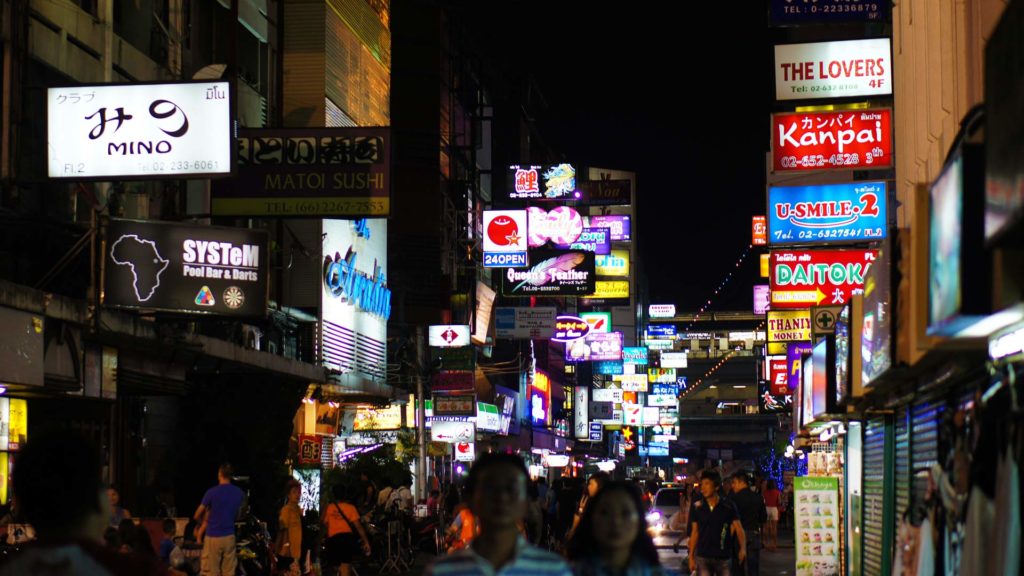 Right next door you'll find the red-light district for the Japanese on Soi Thaniya and Bangkok's most famous gay bars on Soi Twilight and Soi Kathoey.
Web: Nanaplazabkk.com
Address: Nana Plaza, Sukhumvit Soi 4
How to get there: BTS: Nana, Kanalboot: Nana Nua Pier
Address: Soi Cowboy
How to get there: BTS: Asok, MRT: Sukhumvit, Canal boat: Asok
Address: Patpong Night Market, Phat Pong 2 Alley
How to get there: BTS: Sala Daeng, MRT: Silom
---
About the authors
This is a guest article by Stefan Diener from Faszination Südostasien and Florian Blümm from flocblog. If you are a German reader, check out the German version of this post and follow their websites for more inside information about Bangkok city.
Do you have a tip for nightlife in Bangkok? Do you know another nightlife hot spot in Bangkok? Leave us a comment below.
Photo 1: With kind permission of Chatrium Hotel Riverside Bangkok
Gast
Dies ist ein Gastartikel. Falls du Fragen oder Anregungen zum Thema hast, schreibe sie einfach in die Kommentare oder kontaktiere den Gastautor direkt auf seinem Blog.