Dieser Artikel ist auch verfügbar auf: Deutsch
Ban Krut is located in the province of Prachuap Khiri Khan, south of Hua Hin and north of Chumphon. While the place is no longer a hidden gem, it is still off the beaten tourist path. Originally, there were many Kaffir lime trees, called Ma Krut in Thai, from which the name Ban (village) Krut comes.
Sights and Tips for Ban Krut
Known for its beautiful beach and one of the most beautiful temples in Thailand, we have collected tips for the quiet town of Ban Krut that you can see during your stay. There may not be too much to discover, but if you're looking for a relaxed, quiet place without much tourism, then you're in the right place here.
---
Getting to Ban Krut
There are several ways to get to Ban Krut. Since the small town does not have an airport nearby, you can either drive via the Asian Highway 2 (AH2) to Ban Krut or take one of the buses from the southern Sai Tai Mai bus station in Bangkok.
Another option would be the train from Bangkok (about 7 hours) or another railway station north or south like Hua Hin or Surat Thani. You can find affordable tickets at our partner 12go.asia.
Accommodation in Ban Krut – Our Hotel Tip
The idyllic Baan Klang Aow Beach Resort is located directly on the Beach Road and thus only a few meters from the beach. The bungalows offer air conditioning, minibar, television, and a seating area inside and outside. You will receive free wifi throughout the resort. In addition, the restaurant serves delicious food and the staff is helpful with any concerns and will make sure you have a nice vacation.
Another selection for accommodations in Ban Krut and the surrounding area can be found here.
---
1. Wat Thang Sai
Constructed only in 1996, Wat Thang Sai is located north of Ban Krut Beach and sits on top of the Thong Chai Mountain. Therefore, it can often also be seen from the beach. It was built to commemorate the 50th anniversary of the former King Bhumibol. King Rama IX, which is why Wat Thang Sai has 9 pagodas.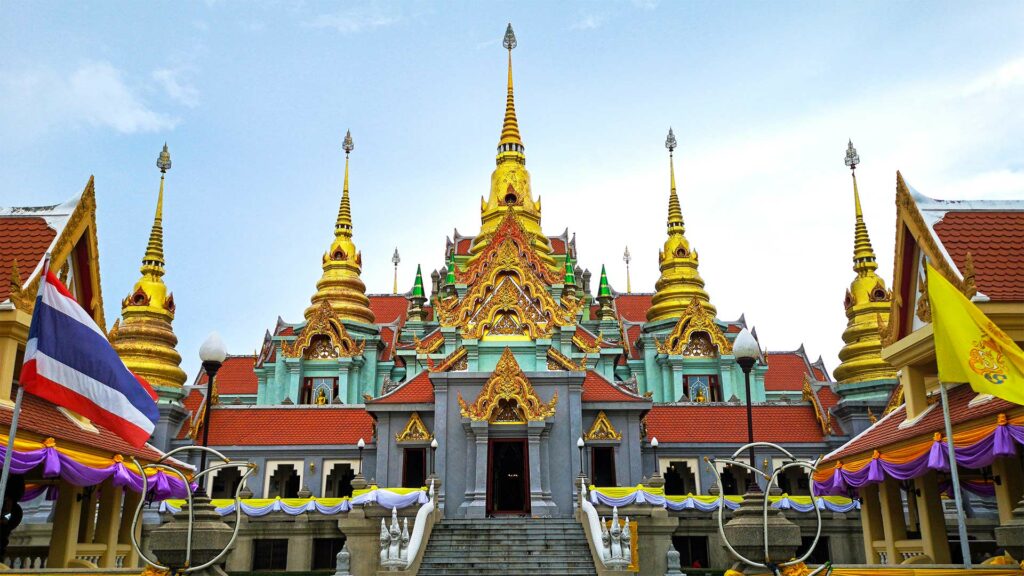 It is considered one of the most beautiful temples in Thailand, but it is rarely visited by foreign tourists, as it is off the beaten tourist track. On weekends, however, it can get crowded when Thais go on weekend trips.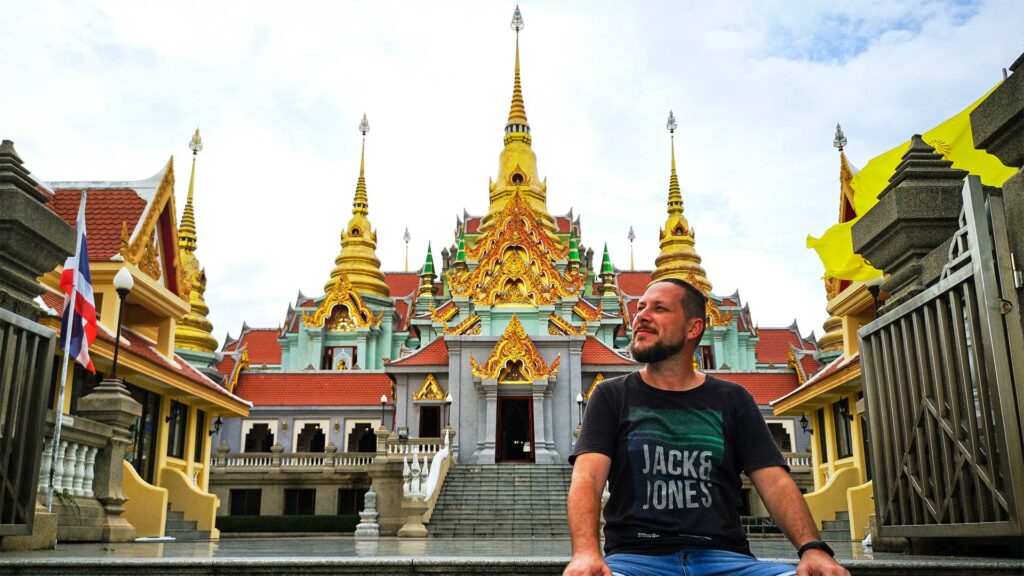 Wat Thang Sai is open daily from 9:00 am and you can visit it for free. You can drive or ride a scooter to the Statue Phraphut Kiti Sirichai and from there it is about 100 meters on foot to the temple. It's especially beautiful on Thai holidays, when it is lit up at night and you can admire it from the beach.
2. Phraphut Kiti Sirichai
The massive golden Luang Por Yai statue, also known as Phraphut Kiti Sirichai, was built along with the Wat Thang Sai. You can find it on the way to Wat Thang Sai at the foot of the stairs. Overlooking the ocean, the statue was built to commemorate the 60th birthday of Queen Sirikit. Thais come here to worship and pray to the statue. It is open daily from 8:00am to 5:00pm.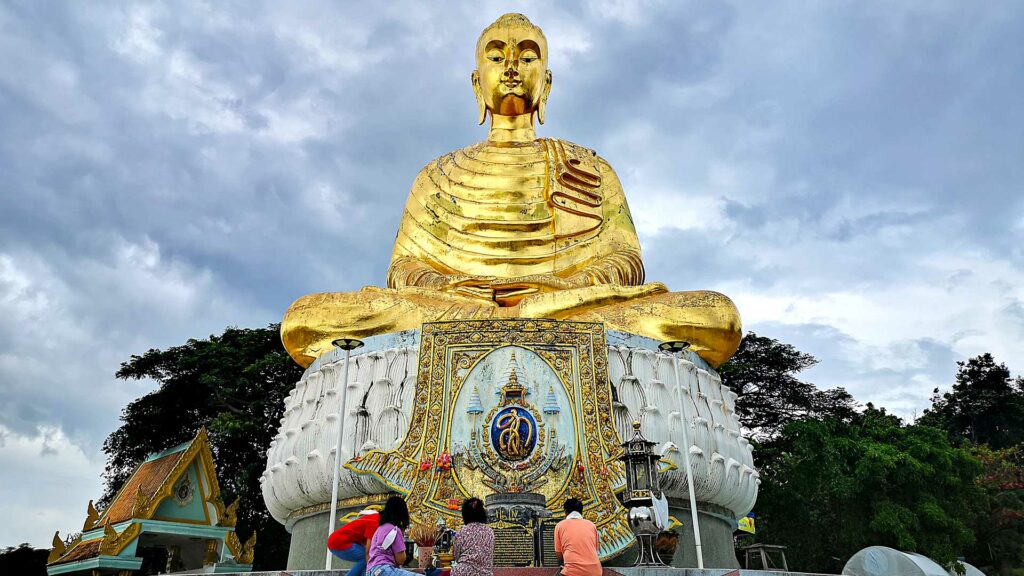 3. Ban Krut Beach
The town's beach is actually the first of the Ban Krut tips that is typically mentioned. It is a fine white beach that is about 12 kilometers long. Most of the time, the small Beach Road runs along it. At several points, you will find palm trees and trees that provide shade.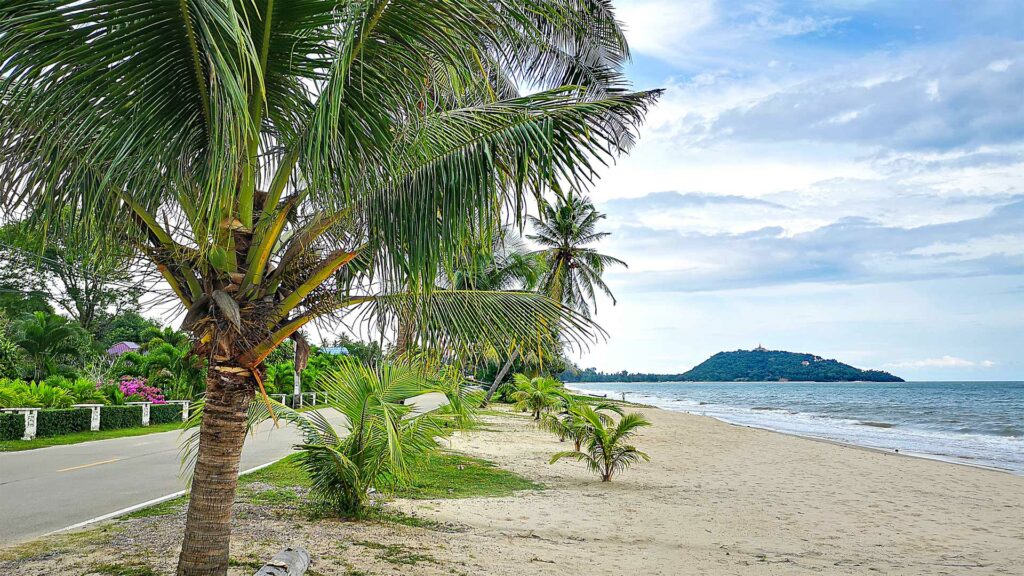 You will find a few sun loungers at some resorts on the beach. But here, above all, there is one thing and that is peace. No water sports and no vendors. The Ban Krut Beach is actually made up of two beach sections, the Ban Krut Nuea Beach and the Ban Krut Tai Beach. The areas are divided by the Thong Chai Mountain, on which you will find the Wat Thang Sai (see point 1).
4. Bo Thong Lang Bay
Located south of Ban Krut Beach, about 18 kilometers along the Beach Road, you can find the Bo Thong Lang Bay. It is 4 kilometers wide with fine sand and shallow water. At low tide, the water is so shallow that a sandbar forms leading to a small offshore island.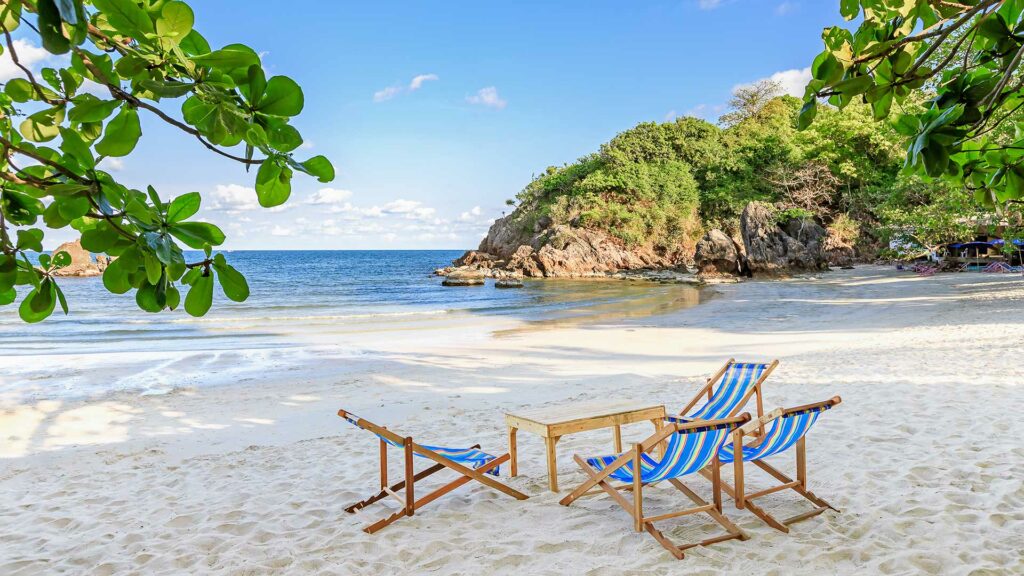 Around the area, you will find a few restaurants where you can order food and drinks and sometimes even find seating directly on the beach. A nice little excursion from Ban Krut Beach.
5. Wat Khao Tham Ma Rong
Not far from the Bo Thong Lay Bay is the Wat Khao Tham Ma Rong. A well-known temple among tourists in the area, especially for its caves that you can visit on site. But beware, there is even a bat colony living in them. The name of the temple comes from the fact that a rock in it is supposed to remind of a horse with a lot of imagination.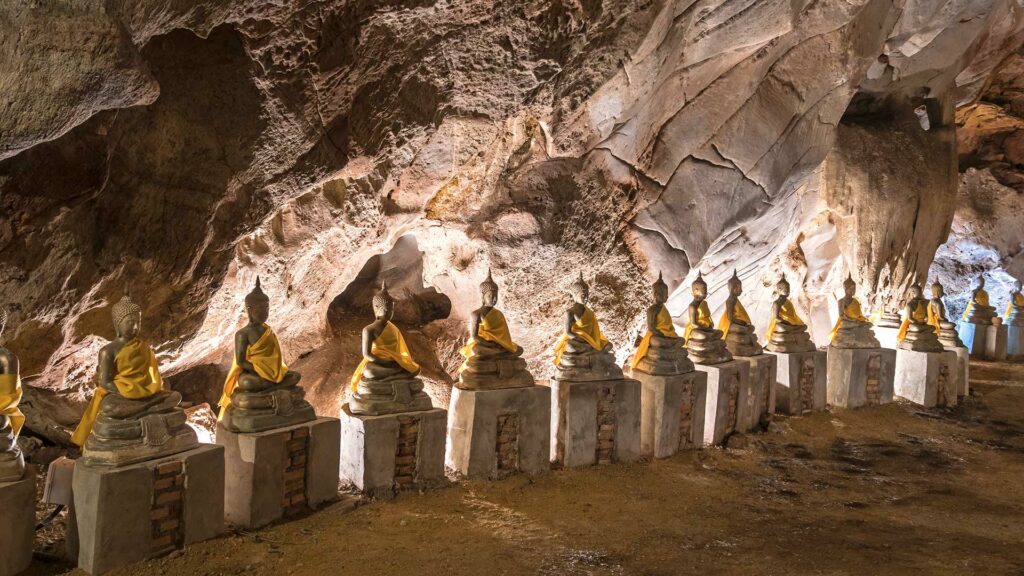 Otherwise, you can admire various statues of Buddha in the caves and let yourself be captivated by the very special atmosphere. Not a must-see for every traveler, but in contrast to the grand temples like Wat Thang Sai, it is certainly a great change.
6. Wat Tham Kiriwong
Contrary to the majestic Wat Thang Sai, the Wat Tham Kiriwong temple gets only little attention. However, if you enjoy visiting temples, it can be a fascinating visit. Unimpressive on the outside, the highlight here are the two cave chambers where you can view several images as well as a golden lying Buddha. It is located a short distance north of Wat Thang Sai and is easily accessible by car, scooter, or even bicycle.
7. Bike Trip
Ban Krut is still a very relaxed place, and there is not much traffic. Some accommodations offer bike rentals and since the Beach Road runs along the coast for quite a while, the route is also great for a small bike tour.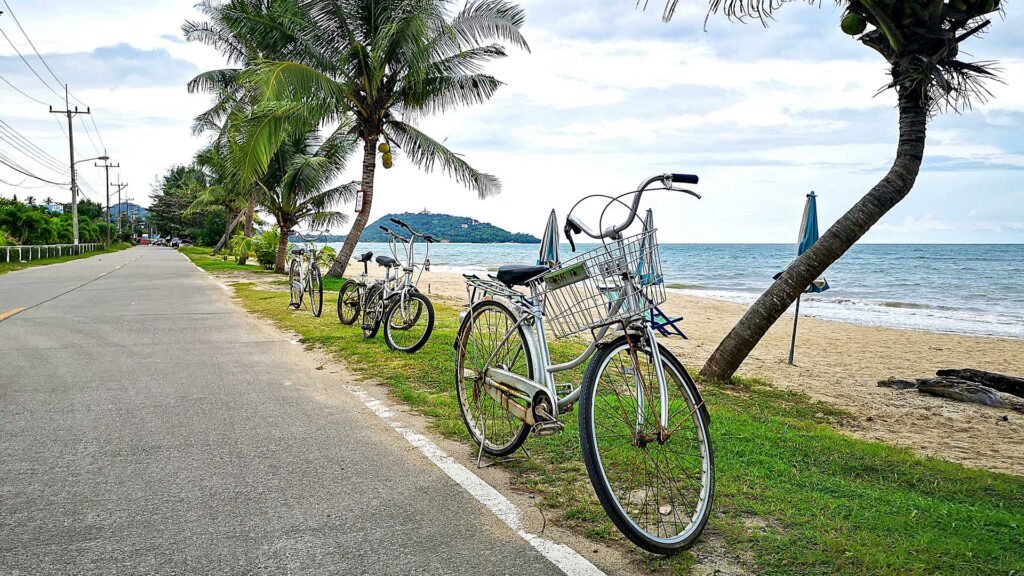 Usually you can rent a bike for 100 baht per day and explore the area. From Ban Krut Beach to Bo Thong Lang Bay it is a good 18 kilometers, a relatively long trip. If you want to see some of the Ban Krut sights that are further away, then renting a motor scooter is also worth it.
Tip: Wat Ang Thong
If you're traveling by car from the north (e.g. from Hua Hin), Google Maps will take you right past Wat Ang Thong. It's located on the AH2 (Asian Highway 2), which runs through all of Thailand and beyond. The temple caught our attention from the main road with its large golden Chedi.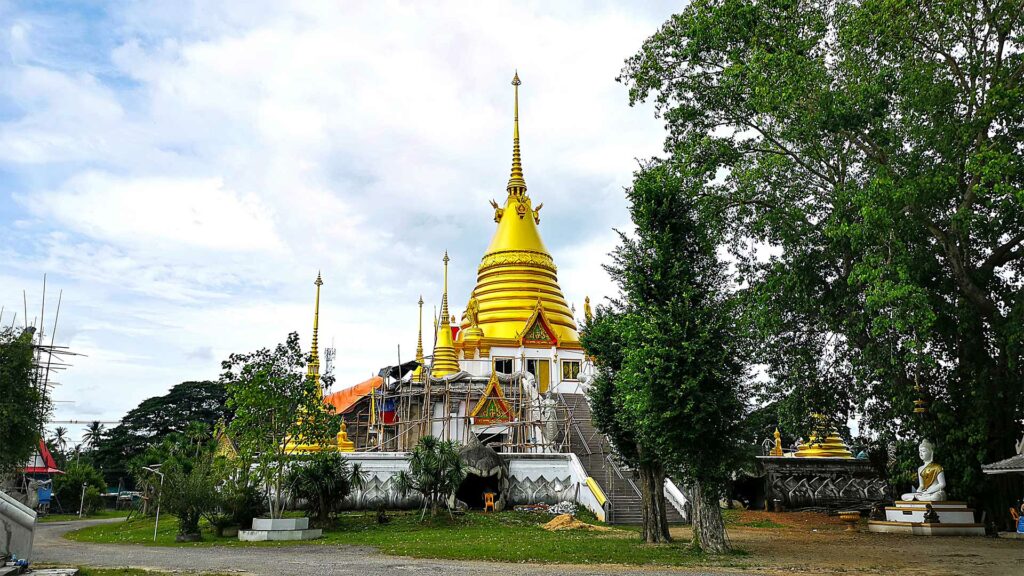 It's a newer temple that doesn't have much history, but it's very nice to look at. As of late 2022, it's not yet finished. If you visit, it might look a little different than in our photo.
Do you have any tips for Ban Krut? Do you like the quiet place by the sea far away from mass tourism? Leave us a comment.
Photos: Photo 5 (Bo Thong Lang Bay): Casper1774 Studio/shutterstock.com – Photo 6 (Wat Khao Tham Ma Rong): anandoart/shutterstock.com