Dieser Artikel ist auch verfügbar auf: Deutsch
I have to admit, I never dealt with Bali and Indonesia before a lot. Sometimes you heard stories from other people telling you how paradise-like it is there. Accordingly, our imagination of Bali before the first big Southeast Asia trip was characterized by this statements and the island was supposed to be THE highlight of this trip. We had this pictures of a small paradise island with loads of untouched dream beaches in our heads, probably in the size of Koh Tao. Oh, how naive we were. Everything turned out differently. Mass tourism, constant rain, heavy traffic, police checks, bad beaches, sickness – all of these things spoiled our party…
Our very first Bali trip was a little different than we had imagined
OK – it's only our and not the island's fault that we went there during the rainy season. So we spent most of our time in the hotel, under umbrellas or some roofs and in flooded streets. That's why we wanted to take full advantage of the days with no rain. For example with a nice stay at one of the paradise-like dream beaches I mentioned before. But why the hell we had to choose Nusa Dua, a place at the southern tip, where there was absolutely nothing going on!? We passed plenty of all-inclusive resorts (where there were apparently only retired couples and families staying) to go to the beaches. But they turned out to be the second disappointment. Not the clearest water, barely palm trees, partially dirty sand and as an extra bonus there was a magnificent view on a rusty ship wreck in the offing!!! I didn't even take pictures and that is saying much! 😀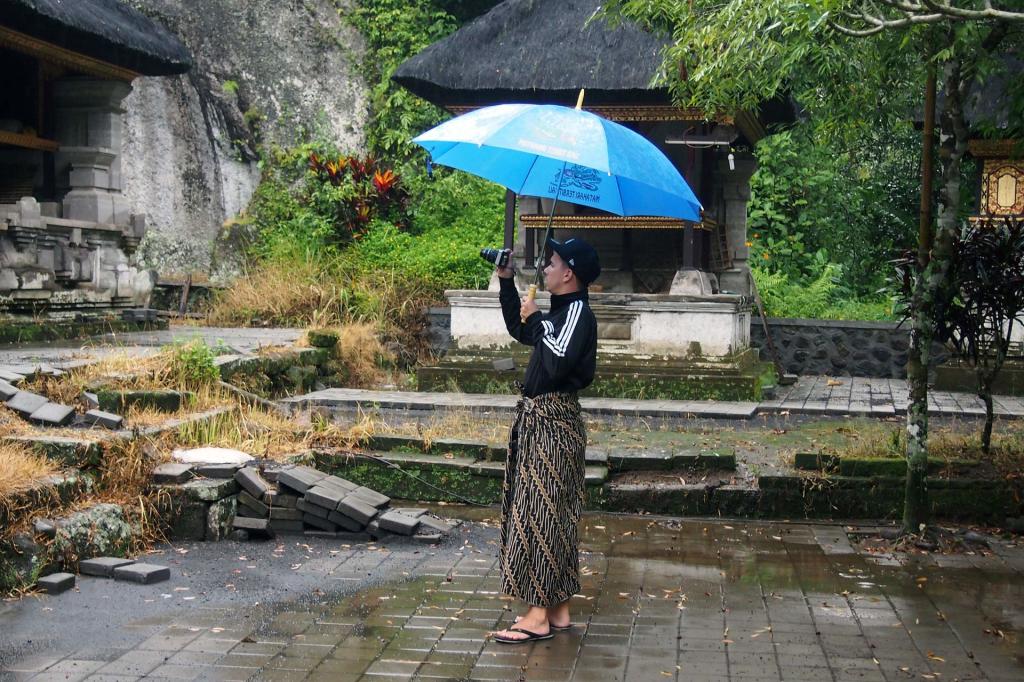 Well, it was probably simply the wrong choice of the location. But at least all the temples and other sights were supposed to score. So one day we rented a motorbike from Ketut, the friendly hotel owner of the Tanjung Sari Inn (at least the hotel wasn't a disappointment but the total opposite) and went to Uluwatu on the other side of the peninsula. It didn't take long until a nice guy from the "Polisi" stopped us, checked our allegedly invalid documents and demanded IDR 300,000 a head! And I'm pretty sure we weren't the only "Bules" that day. A nice secondary income :). But your Karma will get you some day and your Shiva, Brahma and Ganesha see everything!
By the way, Melissa from Indojunkie gave me a simple but good advice when going by motorbike that I never thought about before: Simply take a second wallet with only a small amount of money and in case of a police control you can just say: "Sorry, this is all I have with me". The cops will be happy about 50.000 Rupiah as well and most probably they won't take the trouble to go to the police station with you. And obviously, nobody else should get to know about their "Korupsi". To avoid police controls in the first place you should dress yourself like a local and don't wear swimming trunks and a tanktop. 😉
Let's stick to the sightseeing. After this incident we had enough of driving the motorbike (and the island is actually really huge), so we wanted to rent a driver for the whole day. That's very easy in Indonesia and the prices are ok as well (and of course negotiable, too 😉 ). So we made a tour to some temples and sights and were quite appalled about the extreme mass tourism at some places! Luckily, there were still some places where there was not so much going on and which you almost have alone for yourself. For example the Gunung Kawi with the ancient royal tombs and rice fields. This was our driver's recommendation. Thumbs up for this!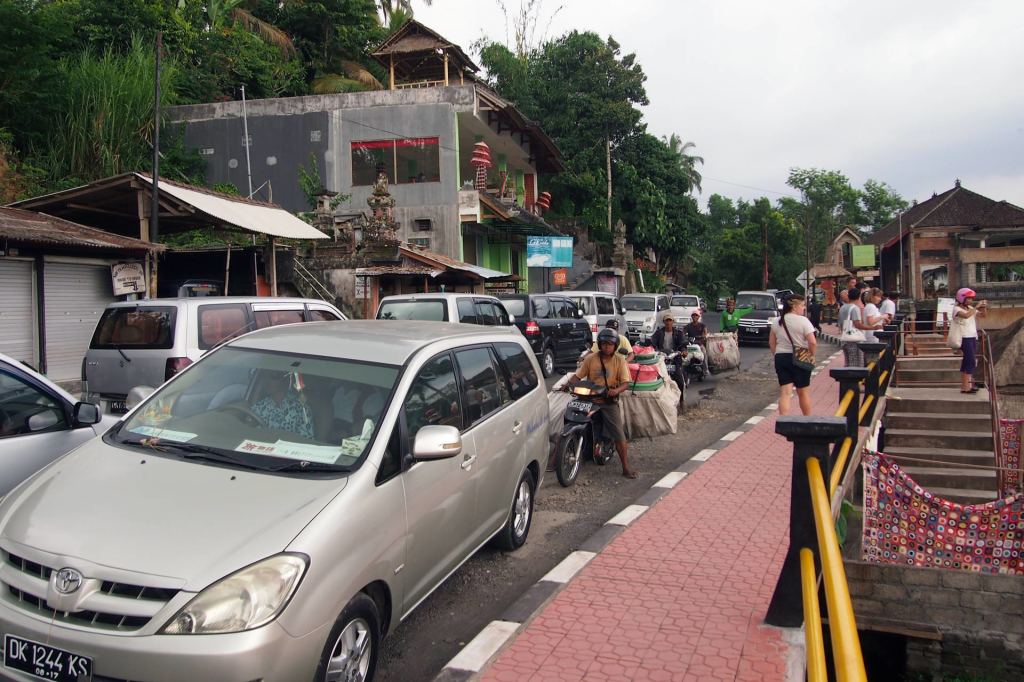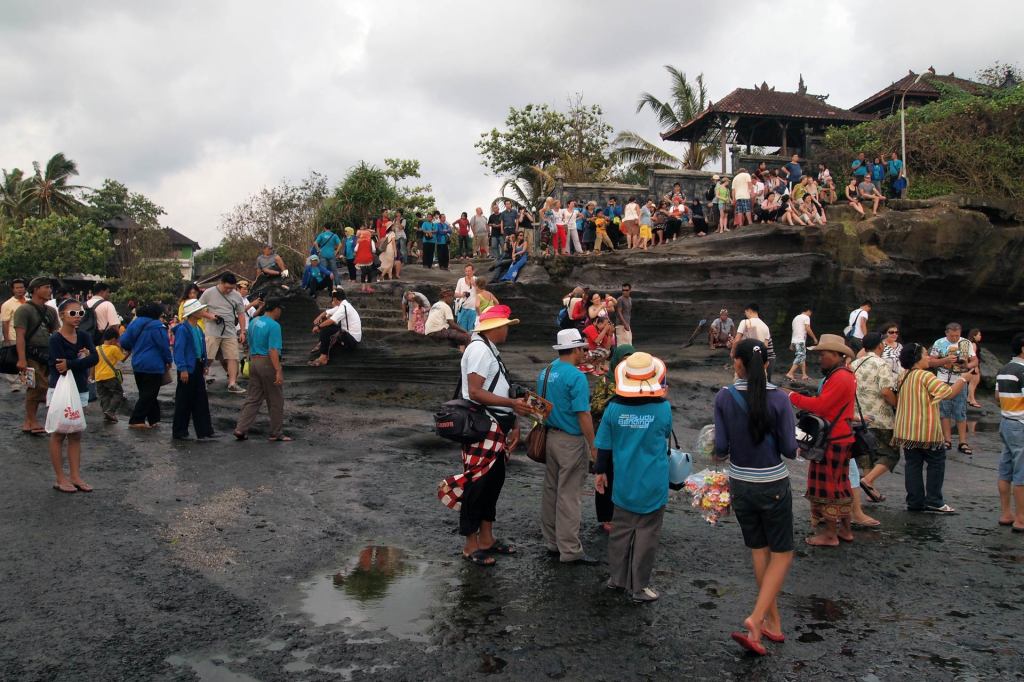 And last but not least, Tobi caught a bad gastrointestinal virus with shivering and all the other pleasantnesses that come with it.
But enough nagging. Not everything was bad, but quite the contrary. We just were in the wrong place at the wrong time. And luckily there are much more beautiful sides of Bali, like the dreamlike nature and countryside, the fascinating culture and the temples (when it comes to culture by the way, you should choose Ubud), the friendly and pleasant people (I would even dare to say that the friendliest people in the world live on Bali 😉 ) and the nice food. And probably there are indeed some paradise-like dream beaches like we almost imagined them, but didn't find them (who knows some, please write a comment). I would never ever discourage anybody from visiting Bali. You should simply plan better than us and inform yourself a little bit more.
Bali, I will come back and then I'm sure we will be good friends. But not the best since there is Lombok already 😉