Dieser Artikel ist auch verfügbar auf: Deutsch
Ubud in Bali is the cultural and artistic center of the island. It is a true paradise for yogis and wellness junkies, plus an oasis for vegans and vegetarians.
The craftsmanship plays a big role around Ubud, but also the cultural offer is outstanding. In addition to many dance performances, you will also find fascinating temples and palaces around Ubud.
Ubud – Bali's Cultural and Artistic Center
Nature lovers can marvel at the lush green rice fields outside of Ubud, loose themselves in the small villages or walk along rivers amidst the beautiful nature.
Tourism has become the region's main source of income, and instead of only backpackers, more and more holidaymakers are discovering the cultural center of Bali.
In spite of everything, Ubud was able to maintain its magic – on the streets, in the cafes and the hearts of the people who live or are stuck here. You just have to keep your eyes open…
---
How to get to Bali
Accommodation in Ubud – our hotel tip
A great place to stay in Ubud is the Sapodilla Ubud, which offers a good location. If you want to stay in the midst of a green and well maintained complex, then you are in the right place. There is also a swimming pool and worth mentioning is the great service from the staff and the delicious breakfast. Find more hotels in Ubud here.
Ubud, Bali: Tours and tickets
---
1. Discover the artist scene of Ubud
Ubud is extremely popular among artists of all kinds – musicians, craftsmen, photographers or designers. Therefore, you will also find a large number of very interesting museums here, such as the Agung Rai Museum of Art (ARMA), which exhibits countless paintings by Balinese painters. Also they offer many workshops such as wood carving and Balinese painting.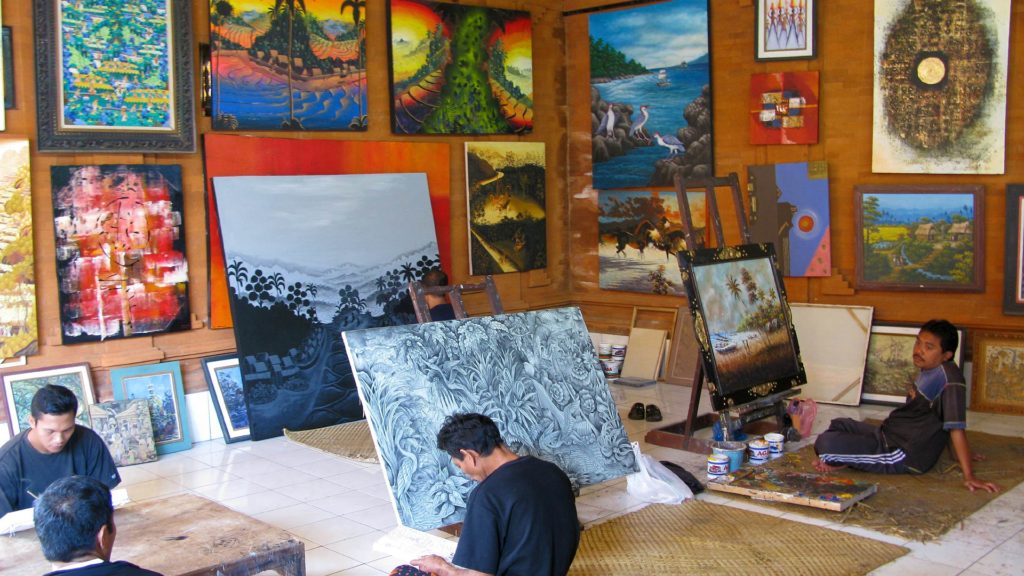 The Taksu Photo Gallery by David Metcalf, a New Zealand photographer, is also worth a visit. Here you can find a constantly changing selection of great photographic works on the subject of Indonesia. David also offers professional photo tours through Ubud.
For amateur photographers, such a tour is a great way to see Bali "off the beaten track" and capture it digitally or analogously.
If you'd rather make something actively, check out Rizal Abdulhadi. He is a great artist, storyteller and musician who specializes in bamboo instruments. He even invented a new instrument: the Rasendriya – a mix of guitar, didgeridoo and percussion.
In his regular bamboo workshops he shows you how to use this sturdy material to make your own glasses or ukulele.
2. Walk through the rice fields around Ubud
The best-known (and therefore most touristic) rice fields are in Tegalalang, near Ubud. The place has become one of the most popular places for Instagram photos.
A beautiful rice field path for a leisurely walk is on the way to the sweet restaurant Sari Organik, which is also surrounded by rice fields. You should also visit the Ayung River between Ketewan and Sayan.
Surrounded by rice fields and wild trees, a small path leads along the river. Around the Ayung River, you can watch Chinese and Japanese tourists rafting and look behind the scenes of rice cultivation.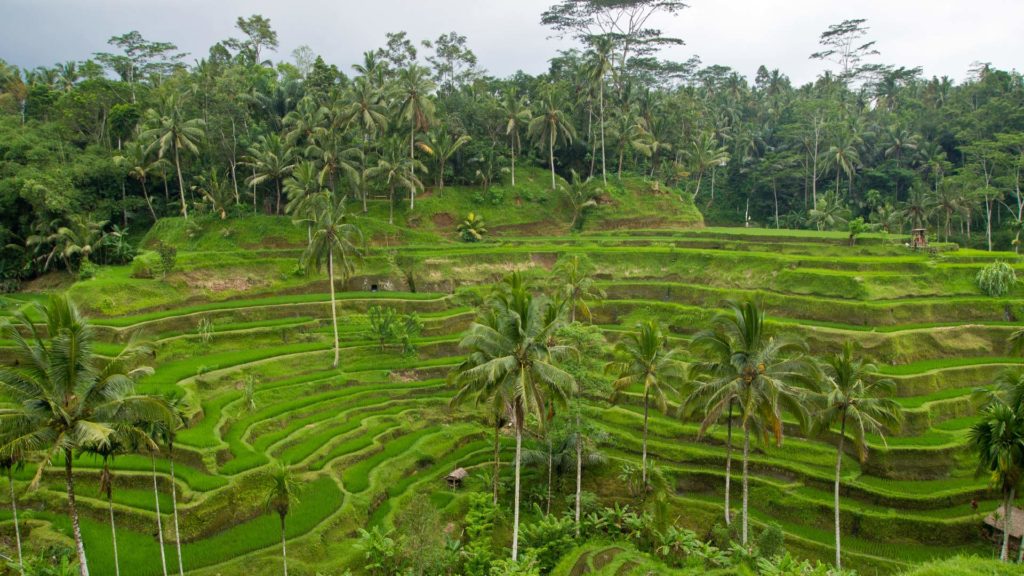 Although so much rice is grown in Bali, the local harvest is not enough to supply the population and many tourists. Therefore, Bali imports large quantities of rice from Java.
If you have a little more time left, head to the Pantai Masceti (45 minutes south of Sideman). Here you can stop in the middle of rice fields in a wonderfully quiet environment at Barn N Bank and support a great project.
Unfortunately, more and more rice farmers are selling their rice fields to investors who are looking for a place to build villas. As a result, many families lose their source of income over the long term.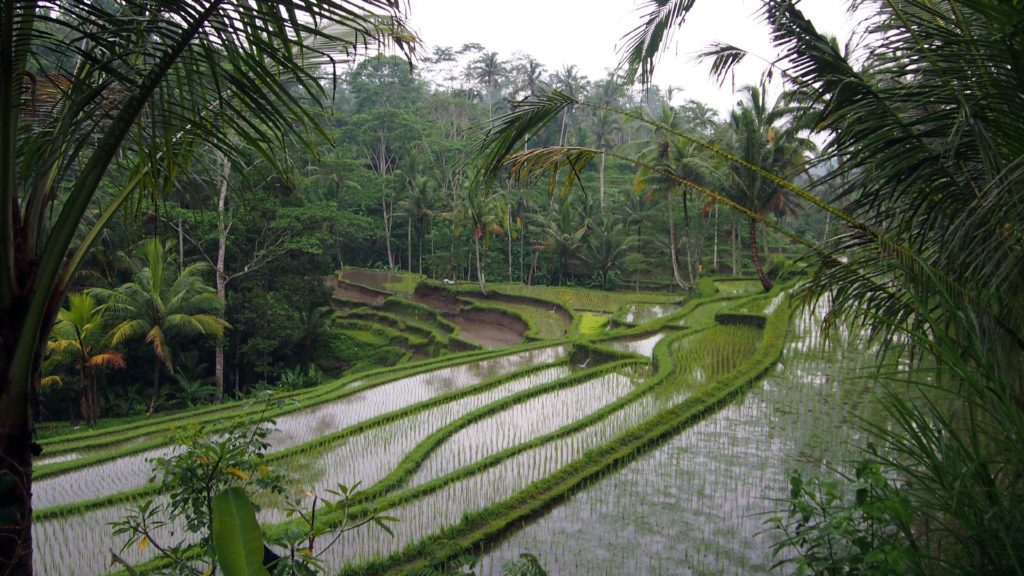 Some locals have recognized this development and are targeting it. Lili is from Java and has studied sustainable architecture. She leases a small portion of paddy fields for the construction of guesthouses, but farmers can continue farming their fields and provide tourists with rice and other local products.
The first pilot project Barn N Bank is located in the beautiful Gianyar area on the Pantai Masceti. A very supportive approach!
3. Purify yourself in the water temple and visit the royal tombs
You have something on your mind or a minor ailment? Then go to the water temple Tirta Empul in the center of the island. The believing Balinese like to come here to purify themselves in the sacred water and free them from worries and illnesses.
For cleaning, there are several basins ready to splash into the warm water. The visitors start on the left side and go through each fountain. According to stories, every fountain has a different function. Believing Hindus also often pray during their cleansing.
There are regular ceremonies in which incense sticks are lit and colorful petals float in the pool. These ceremonies are accompanied by mystical Gamelan sounds.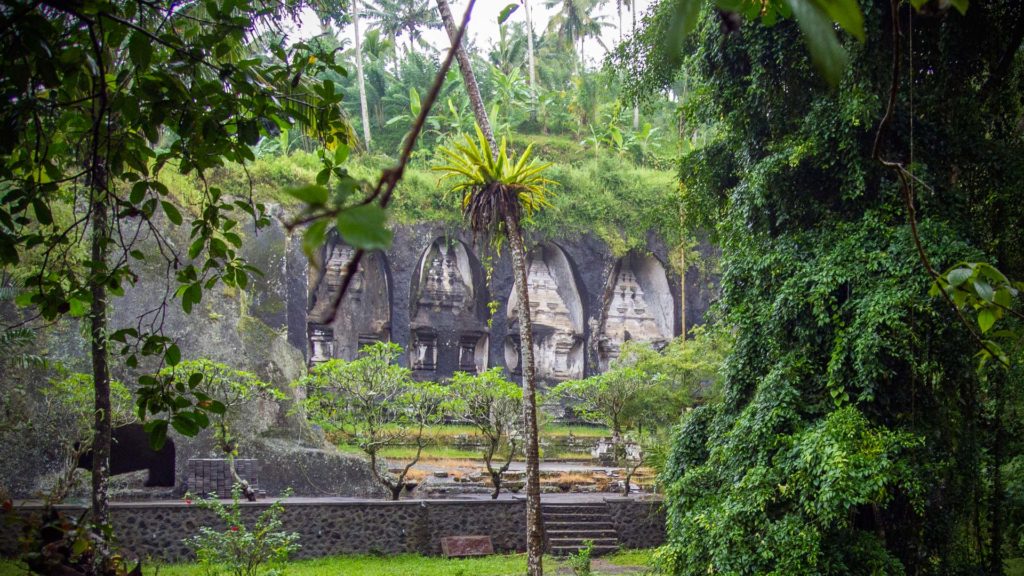 After cleaning you can search for the temple complex and memorial Pura Gunung Kawi. These royal tombs were created in the 11th century and are considered an exceptional cultural asset of the island.
You reach the tombs set in a deep ravine over a stone staircase cut in a rock with more than 270 steps. The stairs are now lined with several tourist shops.
In steep cliffs, meters high tombs were struck and the statues look reverently over the land. A legend says that a giant gnawed this gigantic monument out of the rocks with his fingernail in a sweaty night.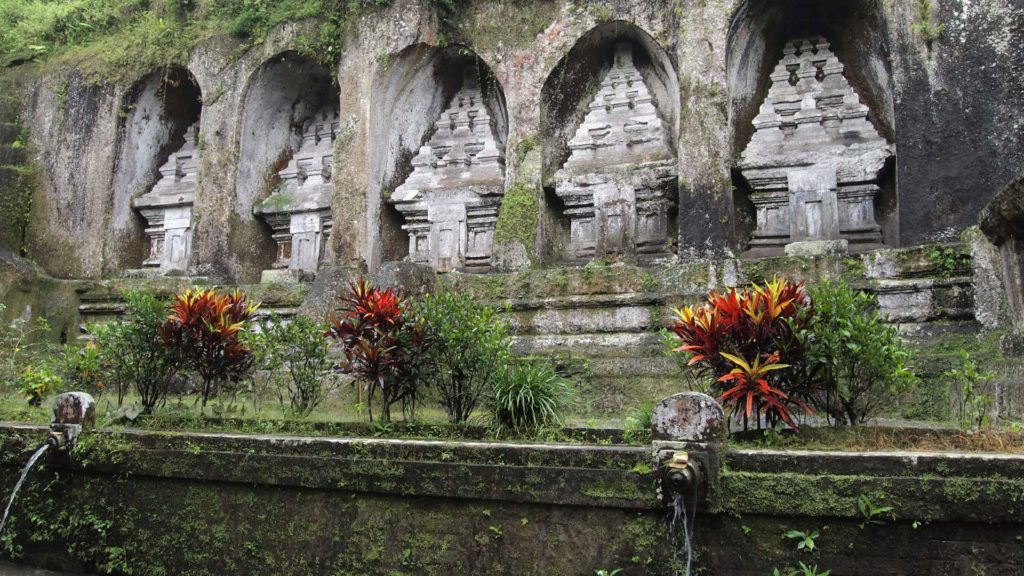 Especially in the early morning, when almost no tourists have climbed down the many steps to the temple, this place has something magical. By contrast, it can get very crowded during the day.
4. Visit the monkey gang in the Monkey Forest
The Monkey Forest in Ubud is a must for many travelers! The monkeys are very used to humans here – also because they are fed. That's why they are not afraid of us anymore. So you can get very close to the little animals.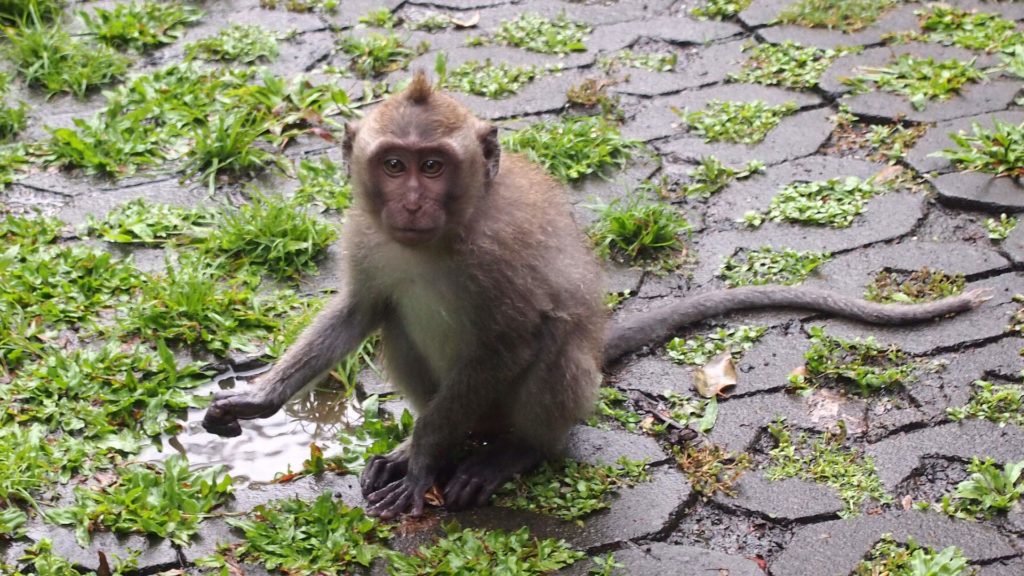 But be warned! They will try to steal everything that is left unattended or hanging out of the pockets. In addition, they are known to become very aggressive when they are snapping at food. Do not miss the Dragon Bridge during your walk through the Monkey Forest. At its foot you will also find a sacred spring.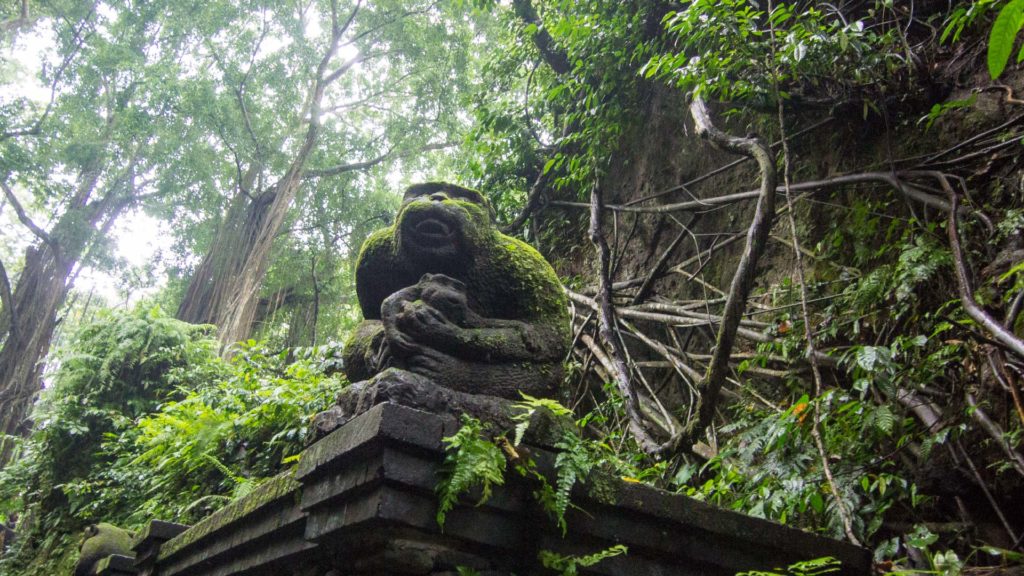 5. Learn to cook Indonesian in the paddy field
You love the Indonesian cuisine and feel like enjoying good Indonesian food at home? Then you should definitely do a cooking class during your trip. The locals introduce you to the secrets of Indonesian cuisine, and it's also fun to prepare meals together and then eat them.
Cooking classes are offered all over the island. However, the best courses are in Ubud and the surrounding area. There you have the opportunity to harvest the ingredients yourself and then process them in a small hut, in the middle of the rice fields, on an open fire.
How about a Balinese cooking class on an organic farm?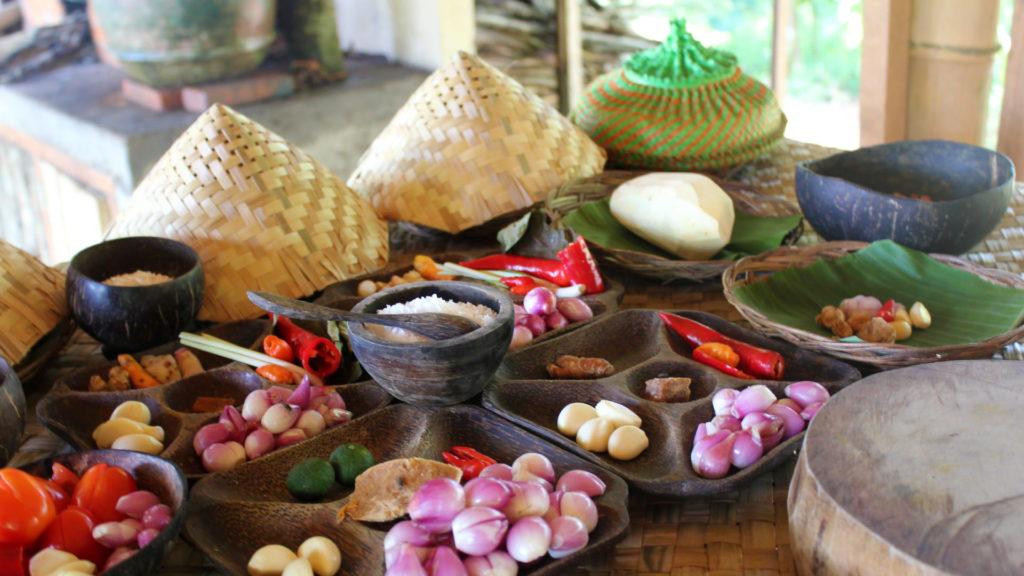 Anything you can not find on your own field can be bought at a local market. It's good that the native instructors know how much the goods are allowed to cost – because travelers are usually called significantly higher prices.
In the cooking class you do not only learn how to make curry, but also how to make the coconut milk from a coconut or prepare a spicy Sambal sauce.
At the end, there is a small collection of recipes and of course a delicious, self-cooked meal in the middle of the rice fields and a breathtaking scenery. For such a course, you pay about 30 euros, including the pick-up at your accommodation, the market visit and of course the preparation and the food itself.
6. Cool off in the Tegenungan and Kanto Lampo waterfalls
You're tired of Ubud's town and the busy streets? Then take a break and drive to the Tegenungan waterfall in Gianyar, known to Balinese as a place of relaxation.
After a few steps to descend, you can bathe in the waterfall and enjoy the tranquility – if you are not in the "tourist rush hour".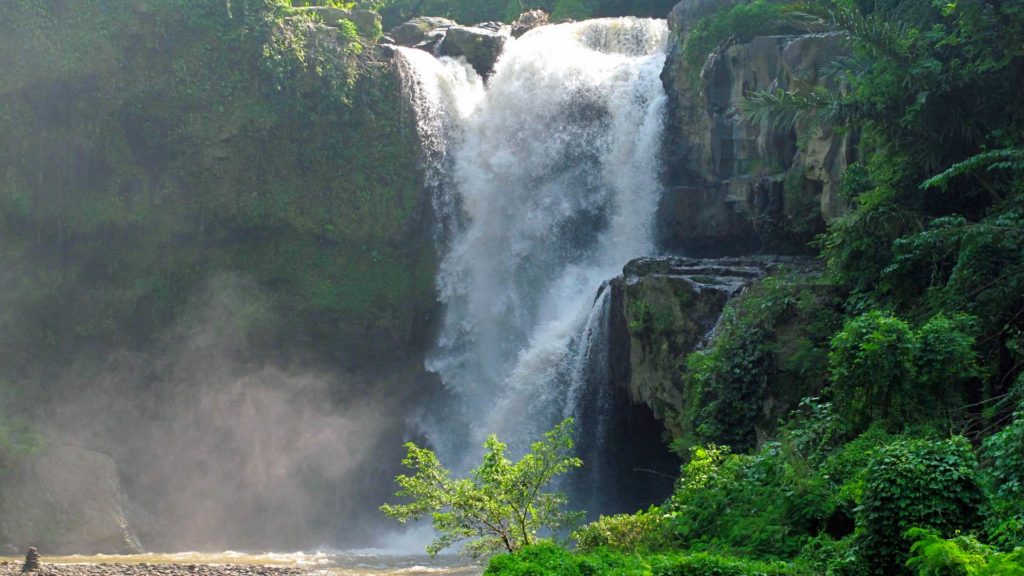 Tip: Photography lovers should visit the waterfall in the afternoon. The light is then best suited to make great pictures.
The not so well-known but beautiful Kanto Lampo waterfall can also be found in Gianyar, in the village of Beng, about 30 kilometers from Denpasar.
7. Visit a temple ceremony in Bali
In Bali, about 95% of the inhabitants are Hindus, in contrast to the rest of Indonesia, which are mainly Muslim. The Hindu Dharma religion in Bali is composed of Hinduism, animistic rites and rules, as well as Buddhist elements. Offerings and ceremonies determine daily life.
The right days for the ceremonies are calculated from different calendars. During your visit to Bali you will surely notice that a ceremony takes place almost every day, because the beaches are also very popular places for it.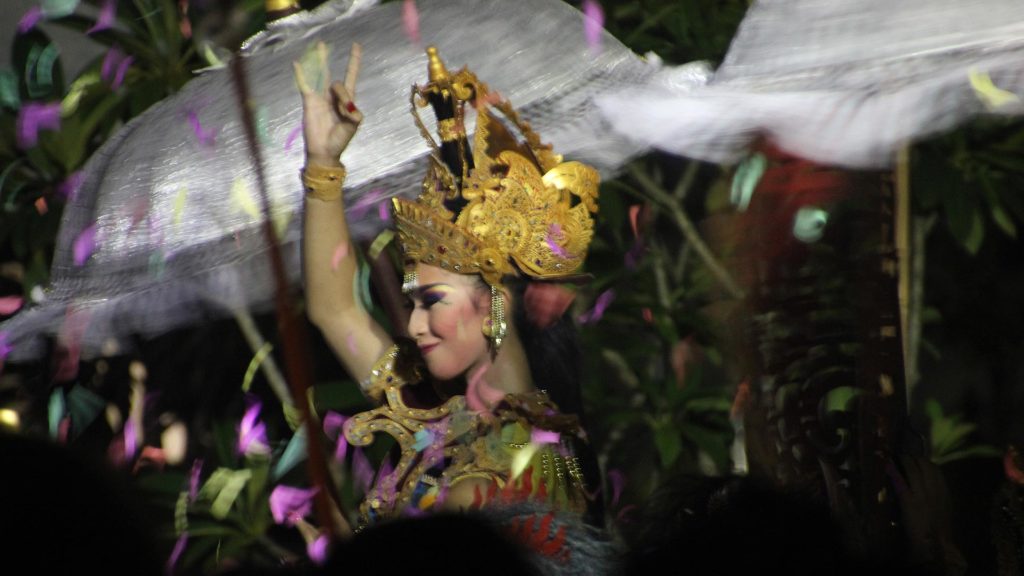 In addition to private events such as the birth or death of a family member, temple ceremonies take place again and again. You can tell by the fact that large groups of Balinese with white headscarves are streaming into the local temples and hearing Gamelan sounds all day long.
These festivities are mostly public and also freely accessible to visitors. Inquire first and ask at the temple from where you may observe the ceremony. Some rooms are reserved for the priests.
8. Enter the Goa Gajah – the Elephant Cave
Although there were never any elephants in Bali, you'll find an elephant cave in Bedulu, east of Ubud. Starting from the parking lot, after a few meters you will discover a beautiful complex with smaller Buddha statues and the temple Pura Taman.
That it is actually a spring sanctuary, you can tell by the pool in front of the entrance to the cave. Received from a stone demon figure, your path leads you into a small, dark cave.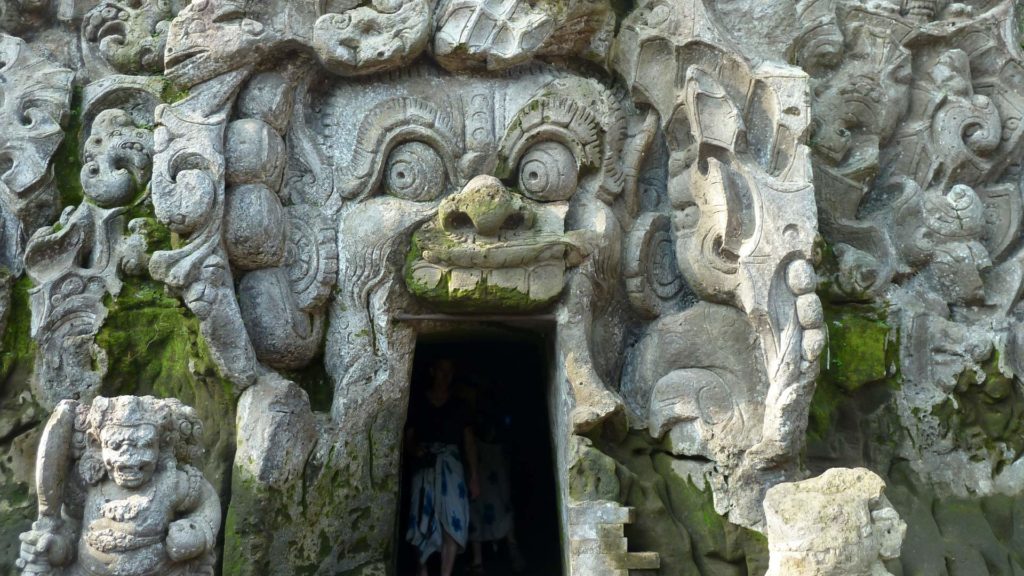 Inside, you can discover various other statues, including a Ganesha figure. Bali is the only Hindu island in Indonesia. In the cave, however, you can admire both Hindu and Buddhist elements. The researchers still puzzle over this mixture today.
9. Feast on the night market in Gianyar
A visit to a night market is a must for any Bali traveler. In these markets you will find every culinary delicacy that the island has to offer. Probably the most beautiful night market is located in Gianyar, about 25 minutes from Ubud.
In addition to a huge range of Indonesian dishes, you will also find clothes, movies and other stuff here. It is best not to eat anything before the visit, so you can try all the more.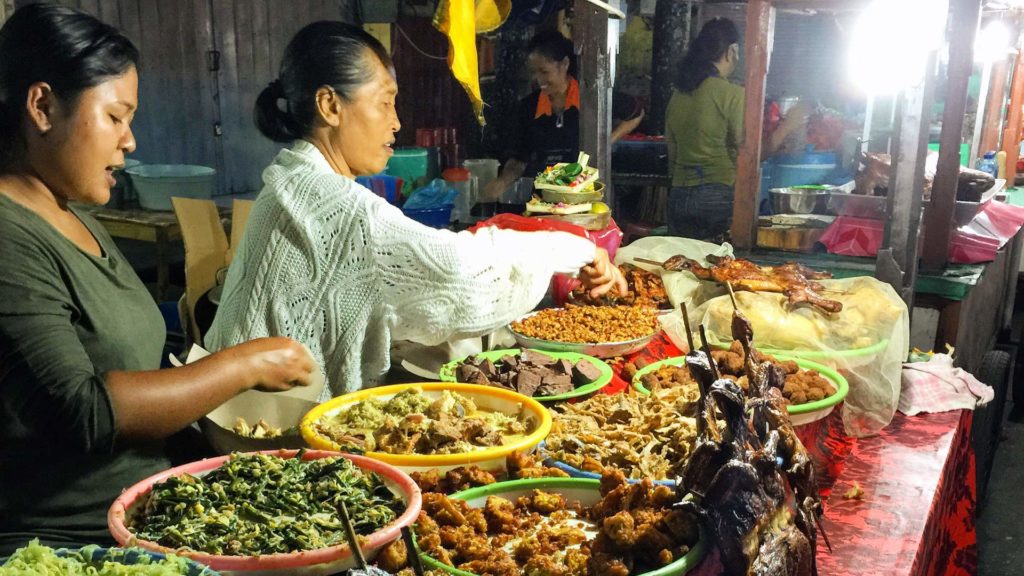 If you go to the night market with a larger group, you can share the food to try out many delicacies on one evening. Delicious are, of course, Nasi Goreng (fried rice) and Mie Goreng (fried noodles), but also Babi Guling (suckling pig), Ikan Bakar(grilled fish) and Ayam Asam Manis (chicken sweet and sour) taste better at the night market than at any restaurant.
And of course, before you go back on the scooter, a dessert is mandatory, whether it's Es Buah (ice fruits), Jajan, Pisang Goreng (fried bananas) or Bubur Ijo (green porridge). Night markets can be found in every major village. Just ask for "pasar malam" and the locals can tell you if and where to find a night market.
10. Enjoy yoga and wellness in Ubud
If you want to concentrate on yoga, a healthy diet and an extensive wellness program, Ubud is the place for you. The town is considered the spiritual center and yoga mecca of Bali.
Many travelers start their day in Ubud with morning yoga. The yoga schools Radiantly Alive or the famous Yoga Barn have a great atmosphere, nice staff and comparable prices.
Also check out the program of the individual yoga studios. There's a whole bunch of inspirational offerings – from Acro Yoga, Contact Dance to Full Moon Meditation.
During the day you can try the wellness program. A massage in Ubud is a must-do. Visit the Kumara Resorts and treat yourself to an Ayurvedic oil massage or a traditional Mandi Spa treatment, including a rose bath. After the treatment you will feel like a new person.
You want to immerse yourself completely in the world of yoga for several days? Then you should let your soul caress in a yoga retreat in Ubud. In order to find the right retreat, you should consider what is important to you personally and what budget you want to spend.
Yoga retreats usually have different emphases – from raw food to healing, to Ayurveda and detox. Some retreats clearly focus on yoga and meditation without much frills around it. Other promoters, especially those in the higher price segment, pamper their guests with wellness, healthy cuisine and a warm touch of luxury.
In addition, there are countless yoga shops in Ubud that sell yoga mats, yoga clothing and inspirational sayings. If you are bored, you can be completely yogic with a shopping tour.
Once a year, between March and April, a great event takes place in Ubud: the Bali Spirit Festival. The entrance is relatively expensive, but also highly recommended. It's all about music, yoga, meditation and dance.
---
By the way: If you do not want to explore Ubud on your own, you can also book guided tours online. So you are traveling with a guide who knows everything well and can explain all to you. A lunch is also included.
About the authors
Texts and photos are by the authors and bloggers Petra, Melissa and Lisa. The three girls are passionate about traveling, living and working in Indonesia on the German travel blog indojunkie.com. Recently they have launched the slightly different Bali travel guide "122 Things to Do in Bali".
Plan your trip to Ubud now
More hotel recommendations for Ubud:
---
Photos: Photo 1 (artist): Steel Wool/flickr (CC BY-NC-ND 2.0) – photo 8 (cooking Indonesian): Lisa Scheffold/Indojunkie – photo 9 (waterfall): Amelia Prayoga/flickr (CC BY-ND 2.0) – photo 10 (temple ceremony): Lisa Scheffold/Indojunkie – photo 11 (Goa Gajah): Lisa Scheffold/Indojunkie – photo 13 (night market): Isabel Sommerfeld/flickr (CC BY 2.0)
Gast
Dies ist ein Gastartikel. Falls du Fragen oder Anregungen zum Thema hast, schreibe sie einfach in die Kommentare oder kontaktiere den Gastautor direkt auf seinem Blog.