Dieser Artikel ist auch verfügbar auf: Deutsch
Traveling is a wonderful opportunity for you to discover new cultures, experience breathtaking landscapes, and escape the daily grind. We too love traveling and have often wondered during our first extended trips how we should finance the whole thing. Many times, the budget is simply a hurdle that prevents many from exploring their dream destinations. However, this doesn't have to be the case if you can effectively plan your travel expenses.
10 Tips for Effectively Planning and Saving on Your Travel Expenses
In this article, we will introduce you to various strategies that will help you effectively plan and save on your travel expenses. From early planning and creating a budget to choosing the travel time, important points will be covered that will help you get the most out of your money and enjoy unforgettable travel experiences without financial worries.
---
1. Plan Early
Planning early allows you to take advantage of, for example, early booking discounts and lower prices. The sooner you plan your trip, the more options you have for flights, accommodations, and activities. In addition, you can optimize your travel itinerary to save time and money by considering seasonal peculiarities.
Especially when you're on a longer journey, early planning may fall short, and many things will be done spontaneously. This doesn't mean that it always has to be more expensive, but if you think about how and where you want to go beforehand, you can save quite a bit. Simply take the time for good planning and try out various options.
2. Create a Budget
Creating a budget can help you keep track of travel expenses and avoid unexpected costs. Take into account all cost factors such as accommodation, food, transportation, and activities. Always plan for an emergency buffer as well! However, the budget is only a guide for your expenses. It is not set in stone.
This point also includes saving up for the trip. Where will you get the money from? Do you want to save up some beforehand? Do you want to work while traveling, for example, during Work and Travel in Australia? Have you received money as a gift, or do you want to fulfill a dream and take out a small loan for it? All of this is possible today, and you can perform a loan comparison online if that is an option for you. No matter what you decide, you should plan it well in advance to avoid money worries during your travels.
3. Travel Time
Travel time also plays a significant role in the overall cost of a trip. In the off-season, prices for flights, accommodations, and activities are often cheaper. In addition, tourist spots are less crowded, allowing for a more relaxed travel experience. Research the best time for your destination, such as Thailand, to reduce costs and find the right place within the country for you. You probably don't want to visit a rainy area either, so your trip doesn't literally end up in the water.
4. Compare Prices
Another point to effectively plan travel costs is to compare prices. This way, costs can be reduced and the best deal can be found. There are a multitude of comparison portals and apps available to help you find cheap flights, accommodations, and rental cars. For example, we use Skyscanner for flights, 12go.asia for transportation in Asia, and especially Booking.com to find affordable deals on hotels.
By systematically comparing prices and offers, you can often save significantly without having to compromise on quality or comfort. Make sure to consider reviews and testimonials from other travelers to avoid potential problems or hidden costs. That's why we always write reviews ourselves afterwards, if possible. This way, you help other travelers and that's a nice additional effect.
5. Accommodation
Choosing the right accommodation can have a significant impact on your travel budget. Instead of expensive hotels, you can consider more affordable alternatives such as hostels, vacation rentals, Airbnb, or even Couchsurfing. Hostels often offer dormitories or private rooms at lower prices and provide opportunities to interact with other travelers.
Vacation rentals are ideal if you are traveling with a group or planning extended stays. They offer more space and allow for self-catering, which can save additional money. Couchsurfing is a free option where you stay with locals and immerse yourself in local culture at the same time. Compare different accommodation options and choose the one that best fits your budget and travel style.
Whether you want to share a room in dormitories or prefer your own private space depends entirely on your comfort level. If you find out during your travels that hostels are absolutely not your thing, you can always switch to regular hotels or similar options. Don't stress yourself out when making the decision beforehand.
6. Public Transportation
Using public transportation can be a cost-effective method to get around affordably during a trip. Buses, trains, subways, and trams often offer budget-friendly fares and allow you to explore a destination like a local. Instead of spending a lot on taxis or a rental car, you can save a significant portion of your transportation costs by relying on public transportation.
Familiarize yourself in advance with the various ticket options, such as daily or weekly passes, which often provide additional savings. Furthermore, using public transportation is more environmentally friendly and helps reduce traffic congestion. Plan your routes carefully and utilize schedules and navigation apps to get the most out of the local transit network.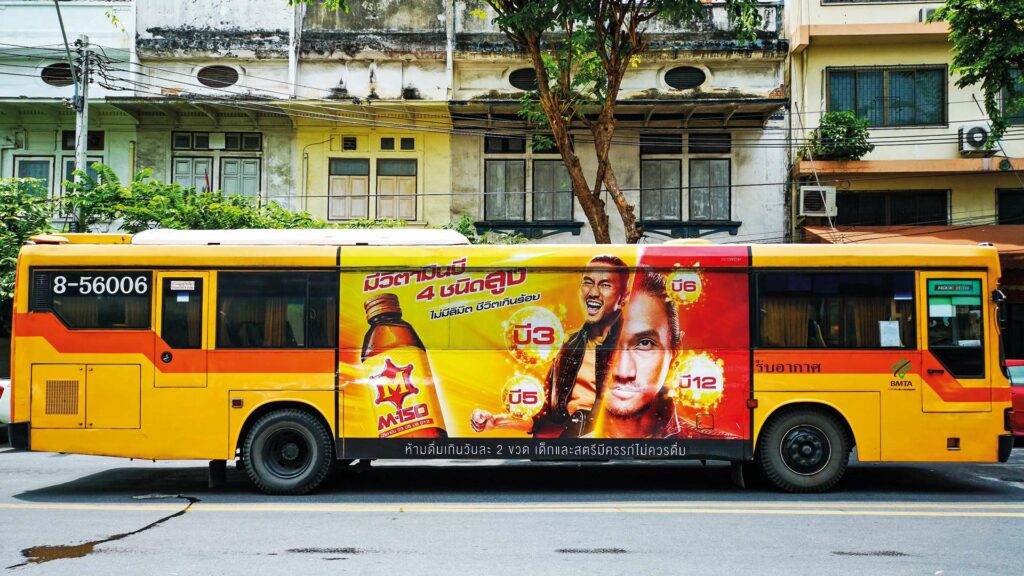 In Asian metropolises like Bangkok, Singapore, Tokyo, or Hong Kong, the train network is truly outstanding and also easy to navigate. We always enjoy using public transportation there and, in doing so, get a taste of local life.
7. Free Activities
Another (albeit simple and even obvious) way to effectively plan and save on travel expenses: Incorporate free activities and attractions into your trip. Many cities and destinations offer numerous free options for exploring local culture, history, and nature. These include public parks, museums with free admission, historical sites, free city tours, or local events and festivals. Look online for free offers before your trip and plan them into your itinerary to save on your budget while enjoying unique experiences.
8. Travel Companions
Having a travel companion can have a significant impact on the cost of your trip. By sharing expenses for accommodation, meals, transportation, and activities, you can relieve your budget while creating shared experiences. Traveling with friends, family members, or other travelers also allows for the exchange of ideas, sharing experiences, and mutual support in planning and organization.
Before setting off with a travel companion, make sure you have similar interests, budgets, and travel goals. Otherwise, disagreements may arise along the way, and your paths may part, which can create smaller or larger problems for both of you. Open communication and a willingness to compromise are crucial for traveling together and saving costs simultaneously.
9. Cash and Currency
Handling cash and the respective local currency is an important aspect of travel expense planning. Make sure to research exchange rates and fees in advance to avoid unnecessary costs. It's best to exchange money at local banks or currency exchange offices. Always compare the exchange rate with the current rate. Avoid exchanging money at airports, as they usually offer worse rates.
When withdrawing money abroad, it makes sense to withdraw larger amounts at once to minimize fees. Make sure to always have some cash on hand for emergencies. If possible, use credit cards that charge no or low foreign transaction fees. Some cards even offer additional benefits such as travel insurance, cashback, or reward points, which can lead to further savings. You can find even more tips in our article on finances while traveling.
10. Flexibility
The last tip for effectively planning travel costs is flexibility. It can help you save significant expenses and take advantage of unexpected opportunities. Be open to alternative routes, destinations, or travel dates to benefit from affordable offers and last-minute deals. Flights or accommodations can be considerably cheaper on certain days or times.
By adjusting your plans to these circumstances, you can save your budget. Flexibility also allows you to incorporate local tips and recommendations from locals or other travelers into your trip. As a result, you often discover less touristy places that provide more authentic experiences and are frequently more affordable. Flexibility in travel planning contributes to a relaxed and cost-efficient travel experience.
Do you have any more tips for effectively planning travel costs? We look forward to hearing about your experiences in the comments.