Dieser Artikel ist auch verfügbar auf: Deutsch
Koh Kradan is located off the coast of Trang and is another insiders' tip in the Andaman Sea off the beaten path. The small island Koh Kradan is only 3 kilometers long and at some places just a few hundred meters wide. Furthermore, Koh Kradan is a part of the Had Chao Mai National Park.
A day trip to Koh Kradan
We made a day trip to Koh Kradan during our stay on Koh Mook. The island is only a few kilometers away and easy to reach with a rented longtail boat.
---
How to get to Koh Kradan
---
Boat trip from Koh Mook to Koh Kradan
The way from our accommodation to our first stop on Koh Kradan only took about 30 minutes and as soon as we passed the Sivalai Beach on Koh Mook, we could spot our destination at the horizon.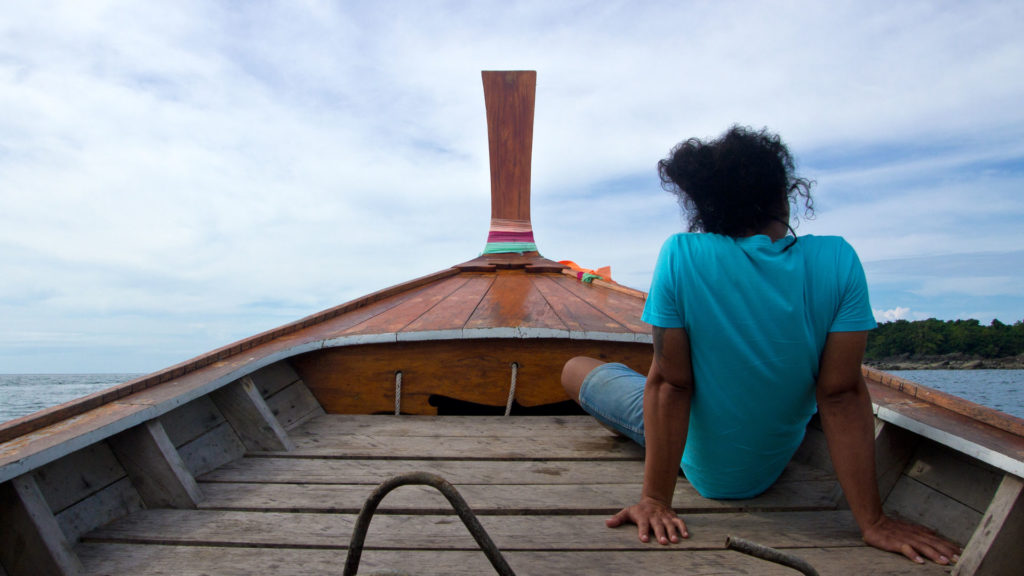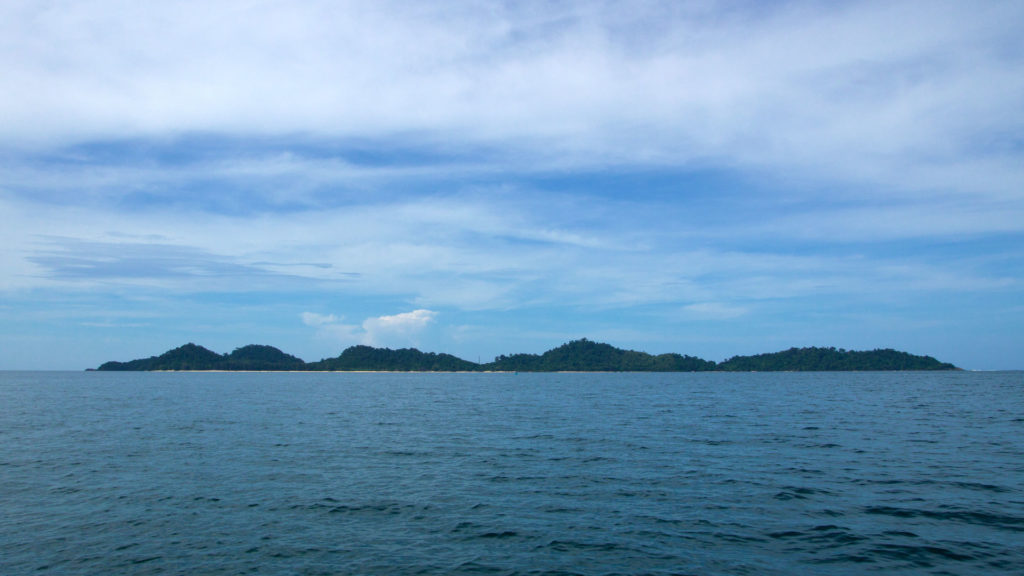 Unfortunately, the sky was really cloudy during our way to Koh Kradan and we expected the worst. The start of our trip at 9.00 A.M. was quite early, but as time went on, the sky became clearer around noon. Lucky us.
Sunset Beach and snorkeling
The Sunset Beach is one of the two main beaches on Koh Kradan and a popular spot to do some snorkeling. The reef is well preserved and only a few meters away from the beach. You can go inside the ocean directly from the beach and after a few meters you can start snorkeling and discovering the beautiful underwater world with its many fish.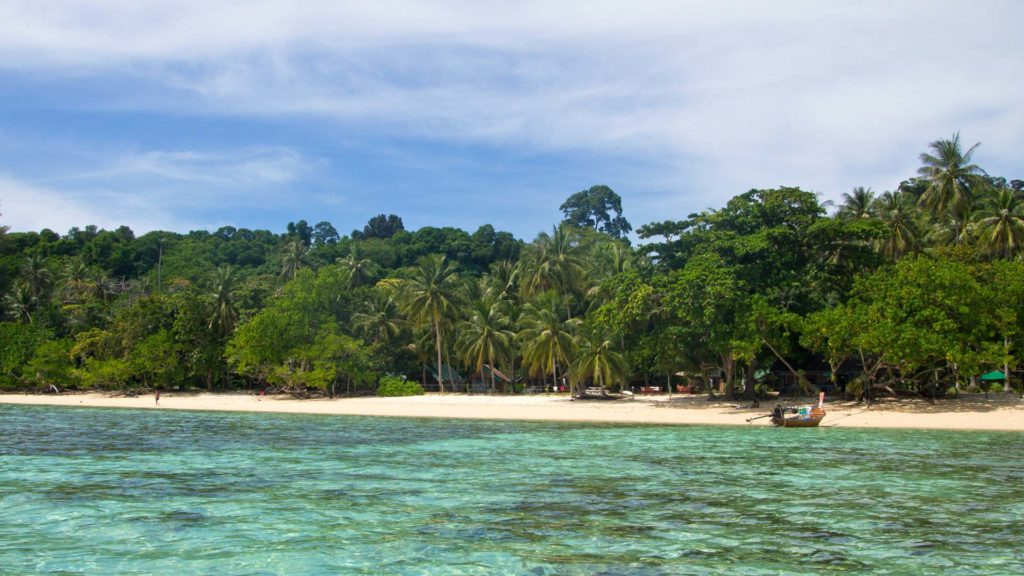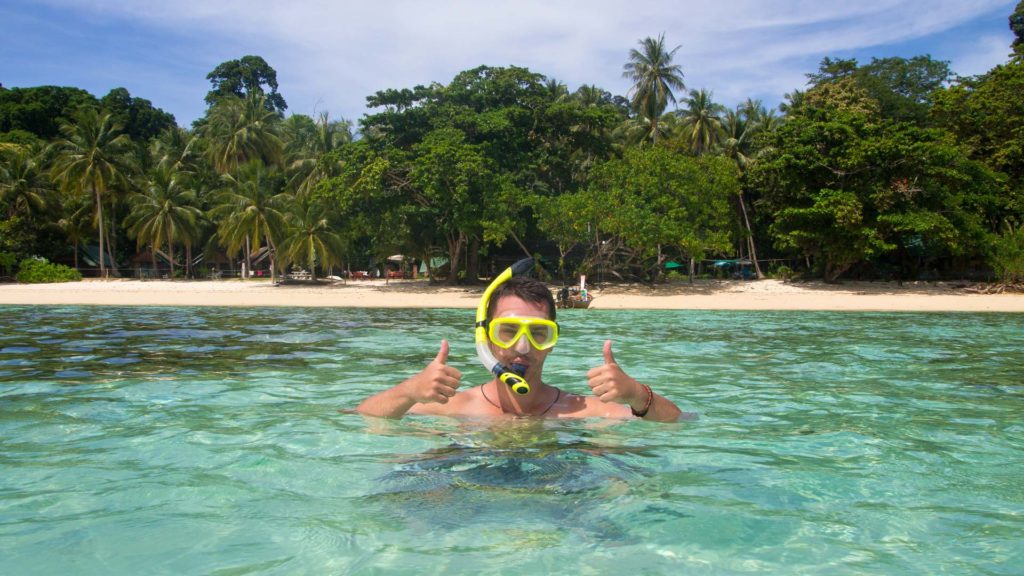 There isn't much to do at the beach itself and during our stay there were only 2 more people at the same part of the beach. Here you can relax, get a drink or snack at the only restaurant on site or just go swimming and snorkeling.
There is nothing more to do, but sometimes that has also its charm. You can also spot Koh Libong in the distance and some other small islands, which we will definitely visit the next time in Trang.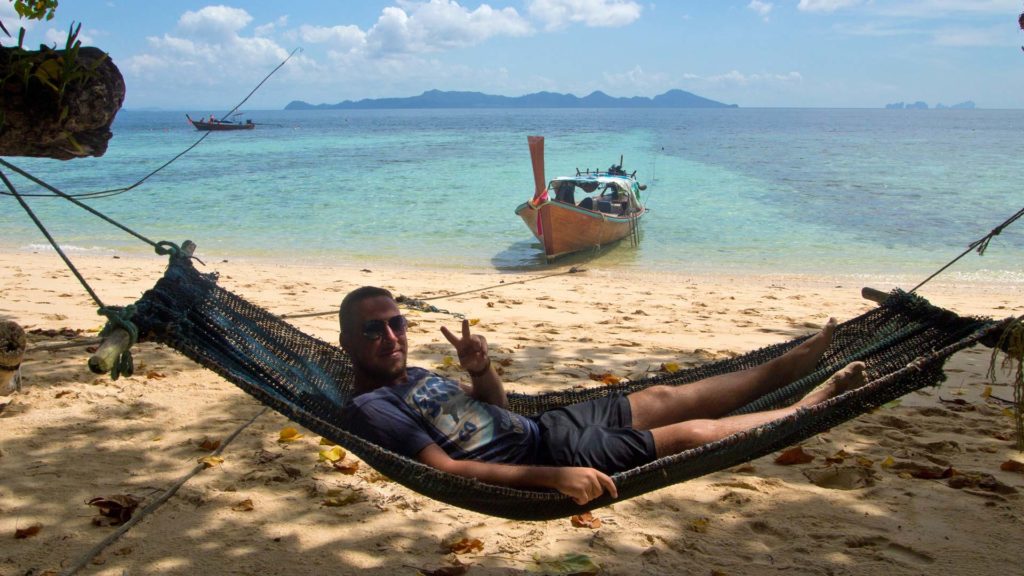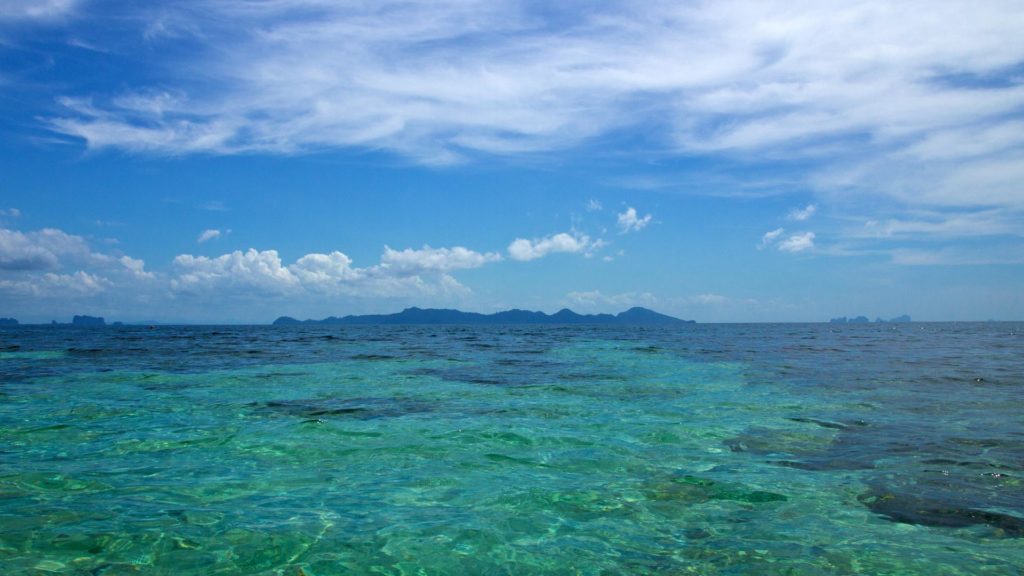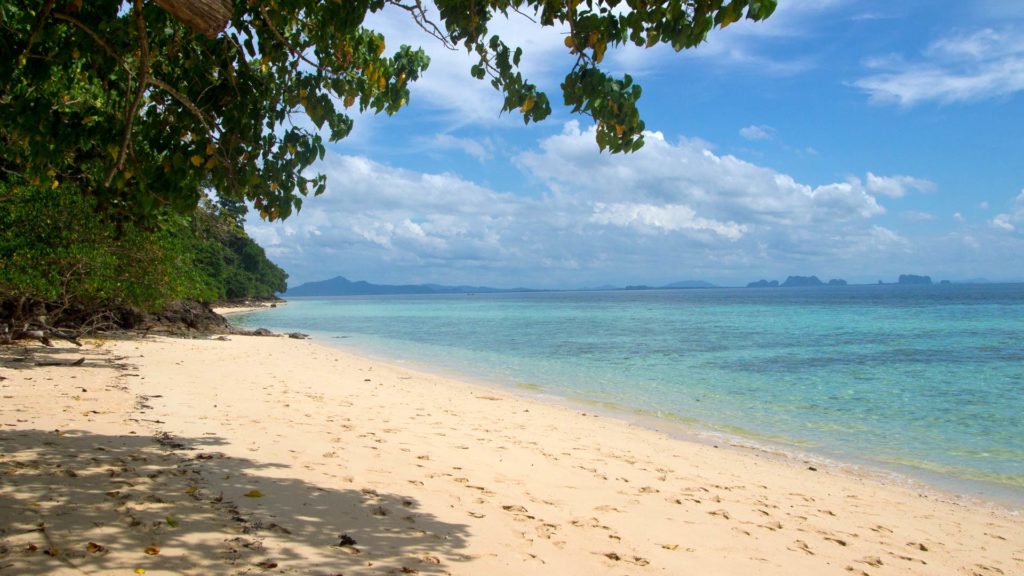 Paradise Beach
Afterwards, we went on with the longtail boat to the east coast of Koh Kradan. The Paradise Beach is a 1 kilometer long stretch of sand and the other main beach of the island. Not only are the most accommodations of the island located over here, but there are also many day visitors on this beach.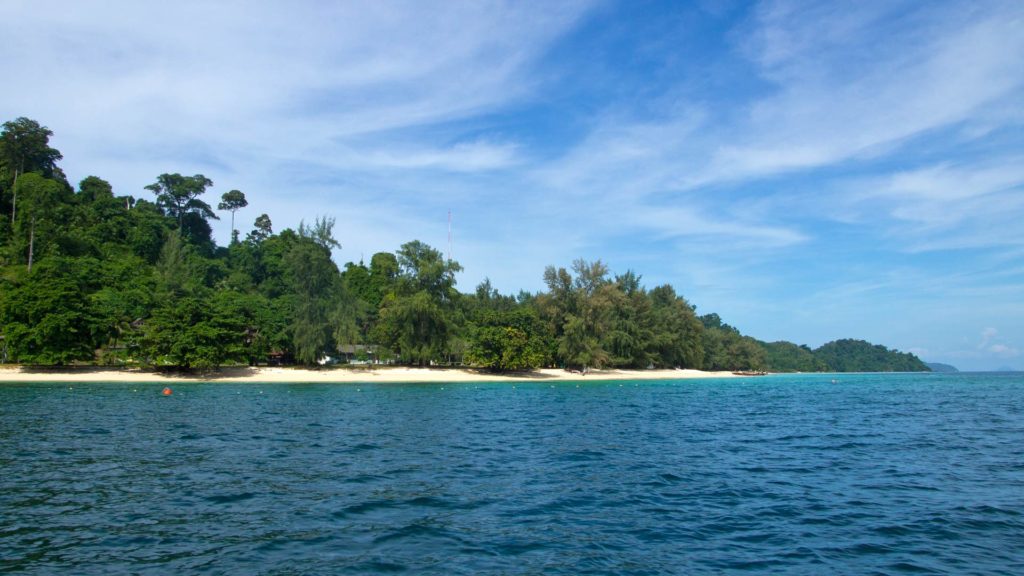 Although there isn't a great underwater world for snorkeling at the Paradise Beach, it's still a stunning beach. Fine white sand, crystal clear and turquoise water and some trees, where you can find a shady spot in the heat of Thailand.
Moreover, the Paradise Beach on Koh Kradan offers a terrific view at Koh Mook and the mainland of Trang.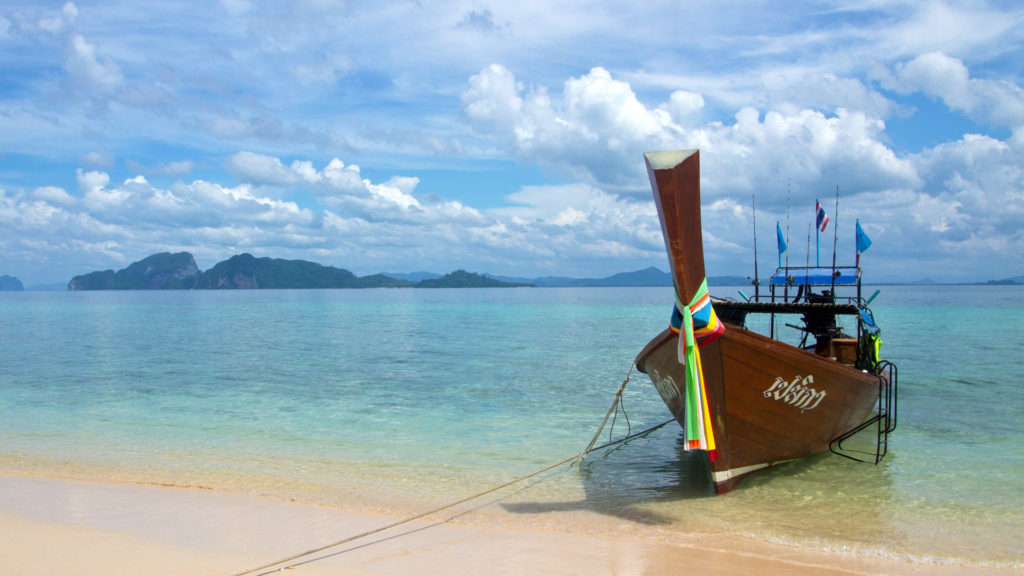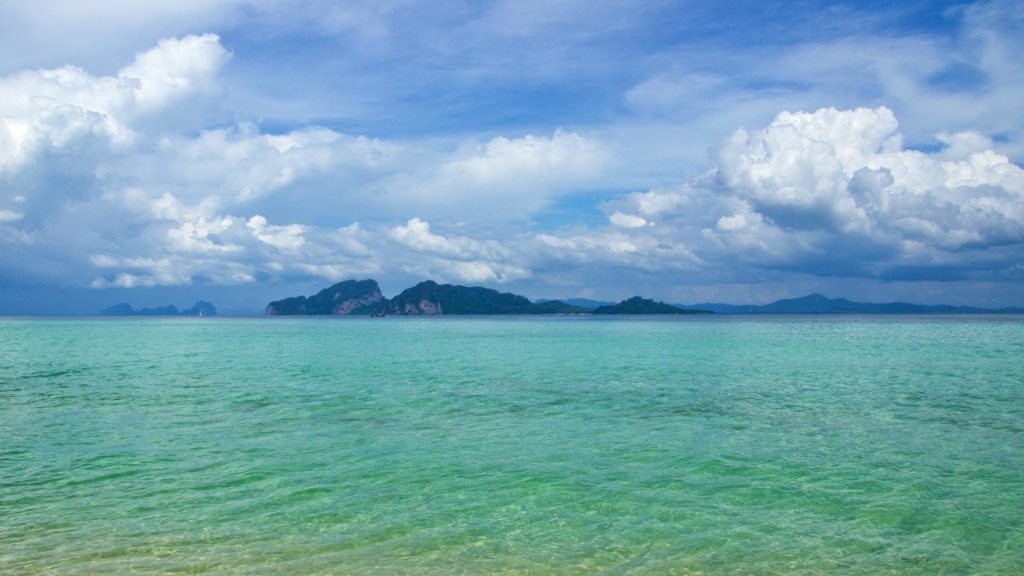 Tip: Since there aren't any supermarkets, villages or similar on Koh Kradan, you can only get some food in the restaurants of the resorts, which could be quite expensive. Therefore, we bought some food for take away in the morning on Koh Mook and ate that for lunch at the beach of Koh Kradan.
In the afternoon around 3 P.M. we went back with the longtail boat to Koh Mook. Just in time, because a huge rain shower was approaching Koh Mook.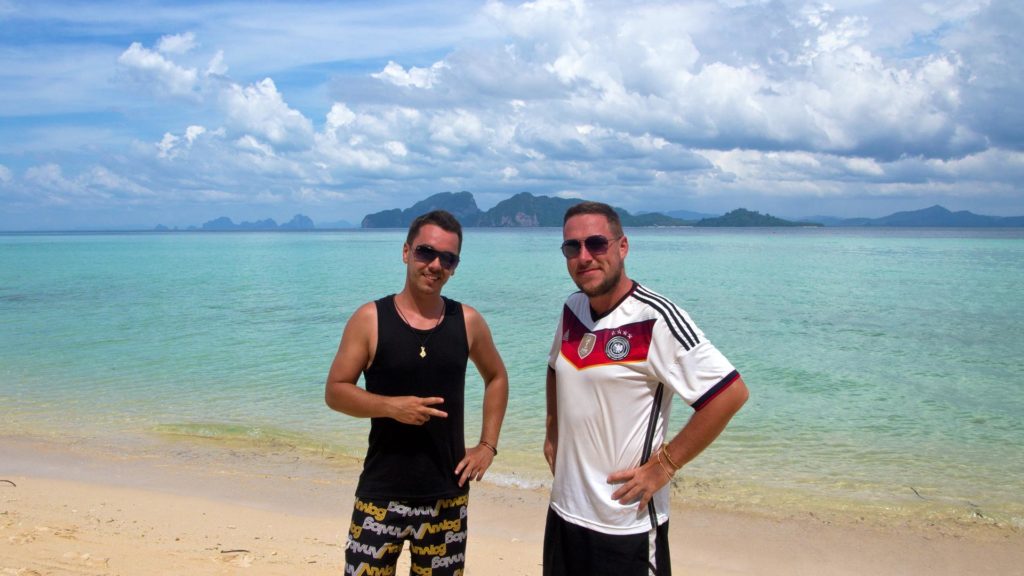 Conclusion
We can absolutely recommend a trip from Koh Mook to Koh Kradan. The sky could have been less cloudy, but aside from that it was a perfect trip. The beach was amazing, the water crystal clear and turquoise and the whole island really quiet and calm.
If you want to stay on a low budget, then you should stay on Koh Mook and just do a day trip to Kradan like us. Renting the longtail boat did cost us about 1200 baht for a day and an accommodation on Koh Kradan would have cost twice as much as on Koh Mook. So it's worth it!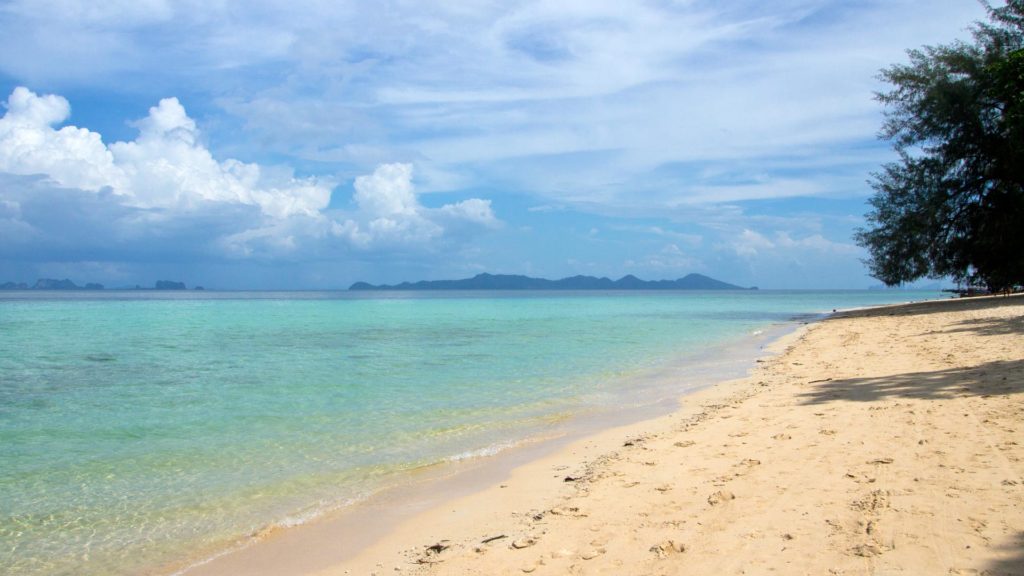 Have you ever been to Koh Kradan? Did you like the paradise island? Leave us a comment below!