Dieser Artikel ist auch verfügbar auf: Deutsch
Singapore is an evergreen tourism hotspot at the heart of Southeast Asia with world-class attractions like Universal Studios and the Singapore Zoo. But trodding down the city's streets here is equally magnificent.
Chinatown is one such part of the country with bustling narrow streets, shimmering lights, tiny shops, and hawker restaurants – it's a sight worth witnessing! Here are some interesting things to do in Chinatown for your next Singapore Itinerary.
Things to do in Chinatown, Singapore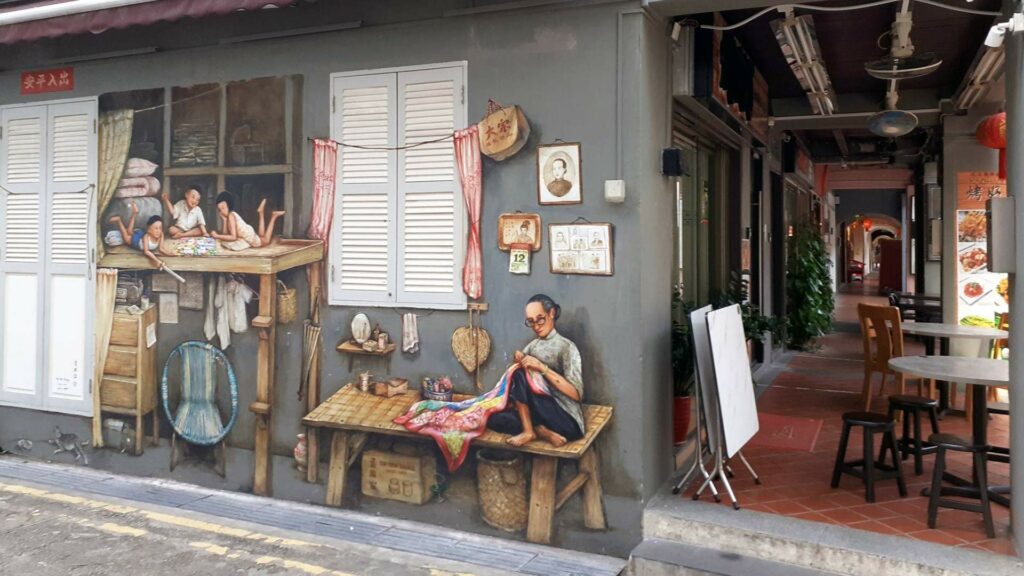 I visited Chinatown around 4:30 in the evening. I couldn't stay for long as my stay was far from here and had to return. But I recommend visiting Chinatown in the evenings because that's when the streets come to life with their vibrant lights.
It's a paradise for shopping, bargaining, and Chinatown's delicacies. But to name the best, here are things you shouldn't miss out on when here.
---
1. Visit the Buddha Tooth Relic Temple
The Buddhist temple and Museum are on one end of Chinatown's district facing Kreta Ayer Square. Visitors are allowed inside between 9 am – 5 pm. While Chinatown is never without commotion, the Buddha Tooth Relic Temple is always a silent religious spot.
The exterior looks something out of a movie but the interior was exquisite. The sides of the insides are ornamented with thousands of small Buddha pavillions which makes one wonder about the amount of work and dedication put into the building.
The main feature is no doubt the 15-foot golden statue of Buddha and a stupa made from 320 kg gold.
2. Shop at Chinatown Street Markets
Walking down the narrower roads from the Buddha Relic temple into the heart of the town is Chinatown's bustling handicraft markets. Some shops are fancy with delicate ceramic crafts.
However, the popular ones are by the road selling everything from printed hand fans and clothes to cheap electronics. This is somewhere one can bargain. I had no such skill whatsoever so I got myself a hand fan for the noted price.
3. Eat at Chinatown Complex or Maxwell Food Center
Chinatown Complex (Entrance at the Kreta Ayer Square) and Maxwell Food Center are some of the best well-known complexes for tiny shops serving all sorts of budget Chinese delicacies including the infamous Dim Sum.
These stalls are usually always busy. I ate at the Chinatown Complex and had to wait a good 15-20 minutes to get my Dim Sum! I loved how the food court floor mentioned on its tray areas its separation of Halal and Non-Halal plates.
Maxwell Food Center, another popular series of hawker stalls under one food court, was a bit of a walk away from Buddha Relic Temple and I was pretty much full, so I decided to skip it.
4. Glance at the People's Park Complex
People's Park Complex, hyped up by bloggers for its instagramable shots, has much more history to its mysterious stand. Built in 1973, it's the first shopping center of its kind in Southeast Asia.
It's a residential-cum-commercial building at the heart of Chinatown with the large words "Pearl's Center" on the structure's side face. It's hard to put it in words but the building's colors and structure look distinguished compared to most skyscrapers in Singapore – and that's what makes it worth visiting!
And of course, it's a gram-worthy shot, trust me.
5. Don't miss out on Hawker Chan and Chicken Rice
Hainanese Chicken Rice or simply called chicken rice is popular throughout Singapore. The hundreds of hawker stalls on the streets here make it a must-try if not anywhere. Different hawkers offer their own touch of flavors. Some are pricy, others are simply amazing for just SGD $3 – $4.
A few familiar options offered in most Hainanese chicken rice stalls are steamed chicken and fried in a choice to select its size. A hawker (Tiong Bahru Chicken Rice) recommended that steamed chicken is the best, so I got a medium-size for myself. It came alongside a lukewarm soup and it was worth the SGD $3 – $3.5!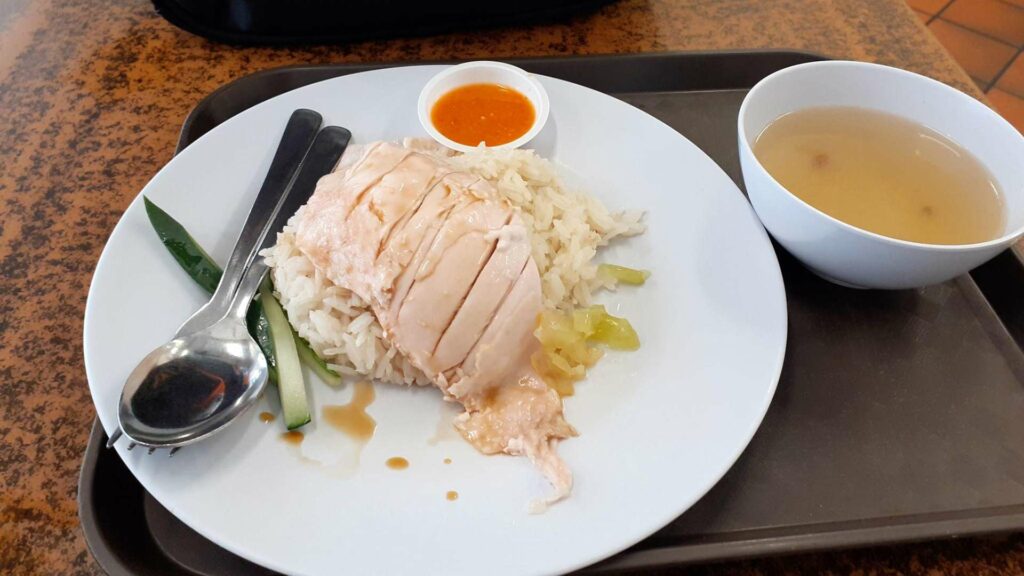 Another must-visit here is Hawker Chan which previously held a Michelin Star for its soy sauce chicken noodle. While one could get dishes from SGD $2.50 here back then, I visited Hawker Chan only to find out it was a franchise now with higher rates.
Away from the bustling hawker stalls of Chinatown's center are a few streets with saloons, larger restaurants, and hotels that sleep during the day and wake up during the evenings.
The 3-4 story antique yet modern complexes with paintings on walls, the road, and high-end cars parked by the road were quite a blend that seemed something out of a movie.
To get to Chinatown, I got off the MRT at Tanjong Pagar (EW15) only to realize Chinatown's center was 0.5 km away. Walking down Tanjong Pagar Rd, I didn't regret it anymore. I crossed the enigmatic Oasia Hotel looming before the Tras Link Park.
6. Check out the Chinatown Heritage Center
Last but not least is the Chinatown Heritage Center. Located on Pagoda Street, the heritage center takes you back to the time of the first Singapore and Chinatown settlers – traders and laborers.
Though fit on shophouses, the heritage center makes for an immersive experience into the everyday lives and past stories of Chinatown's early residents.
For foreign tourists, this is a must-visit. It costs SGD $18 for adults and $14 for kids. An audio tour is available with the heritage tour. To get around the place thoroughly, keep at least an hour for this spot.
Tailpiece
That sums up the top handful of things to do in Chinatown, Singapore. It's not about how many things you check out in Chinatown, it's simply exploring the town for yourself. You might find something new.
Many articles I read before visiting Chinatown recommended visiting the Maxwell Food Center, so I sat at Kreta Ayer's Square looking at the Buddha Tooth Relic Temple in the evening before walking again. The square was filled with Chinese workers chit-chatting with one another after a long day – it was quite a sight.
One man sitting beside asked, "You're traveling solo?". I said yes. He told me all the food centers are more or less the same. He, being a worker himself, told that he couldn't afford the expensive places so he recommended checking out the stalls inside the Chinatown Complex food center.
I did, skipped the Maxwell Food Center, and it was worth it. Let me know if you explored any other interesting spots in Chinatown, Singapore yourself. I'd love to know!
---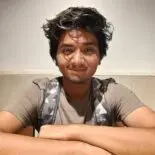 About the author
Hi! I'm Manas. While I pursue my bachelor's degree, I currently work on my blog as a hobby having a zeal for travel and passion for putting words together.
Have you ever been to Singapore's Chinatown? How was your experience? Let us know in the comments.
Gast
Dies ist ein Gastartikel. Falls du Fragen oder Anregungen zum Thema hast, schreibe sie einfach in die Kommentare oder kontaktiere den Gastautor direkt auf seinem Blog.