Dieser Artikel ist auch verfügbar auf: Deutsch
Our very first day in Bangkok, Thailand. Of course, it is obvious that many visitors first explore the obligatory sights of Bangkok, such as the Royal Palace or Wat Arun, the Temple of the Dawn.
One day in Bangkok – sights and our experiences
The Thai capital really has a lot to offer. From temples to markets to great sky bars. It is guaranteed not to be boring in Bangkok. You can find out what we experienced on our very first day in Bangkok in this report.
---
How to get to Bangkok
Accommodation in Bangkok – our hotel tip
Bangkok: Tours and tickets
---
The way to the Royal Palace
To explore Bangkok on our first day, we had to cross the Chao Phraya River to begin with. Our hotel, the Millennium Hilton, was located on the west side of the river, the so-called Thonburi side.
The small ferry to the other side of the river, which started very close to the Millennium Hilton, was a bit overcrowded and we were the only foreign passengers. Therefore we didn't know where to pay for the ferry. We just hoped this would turn out easy at the end. After only a few minutes we arrived at the Si Phraya Pier and found out that you pay when you leave the pier (the price was the equivalent of a few cents).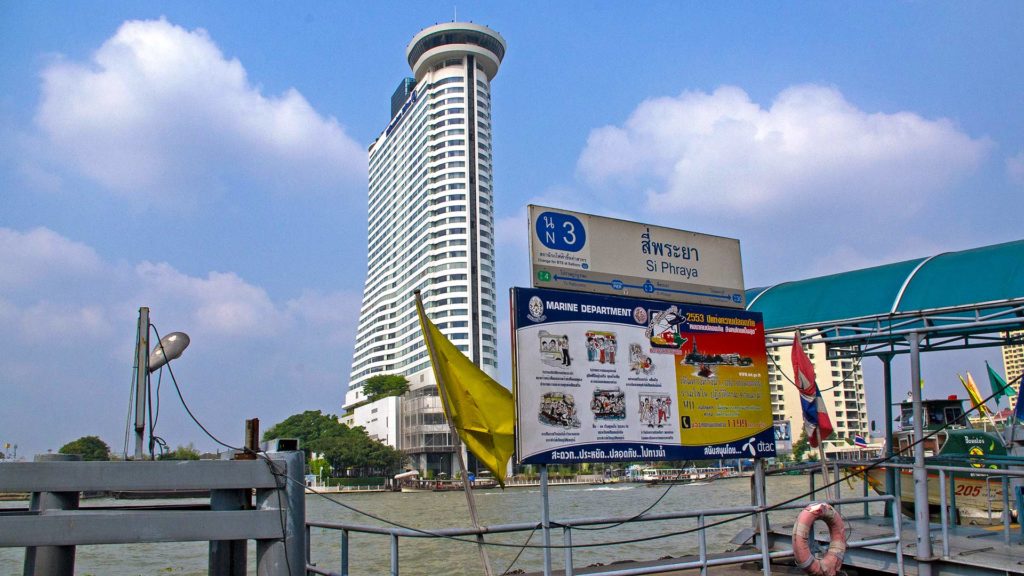 After a small fruit breakfast, a taxi driver started talking to us and asked us where we were going. Grand Palace, Wat Phra Kaeo? Very naively and cluelessly, we agreed and got into the vehicle. In a small subordinate sentence, he mentioned that he still had to make a short stop at a friend's house who is a tailor. All right, no problem. But that was our mistake number one.
Bangkok and the touts
As mentioned briefly in the Ayutthaya report, Bangkok is full of tailors (who, by the way, are all exclusive Armani and Hugo Boss tailors – of course!) and their touts who are looking for tourists or backpackers and stopping there on their way to the actual destination. The prices for the trip are (mostly) relatively cheap, because the drivers receive a certain commission from these tailors for each made-to-measure suit. Good deal for a few thousand baht per suit.
As newcomers to Bangkok we didn't know that, of course, and drove along courteous until we stopped at the tailor and the driver asked us to take a quick look there. "Why?" we thought, he said that he himself wanted to go there. "No, you don't buy, just take a look". After a brief discussion and some confusion, we did him a favor and were back outside after a few minutes. It may well be that the tailor-made suits are quite good and comparatively cheap, but we weren't looking for suits at all.
Almost there
We got out of the taxi at another pier, from where we had the opportunity to take the Chao Phraya Express boat down the river towards the Royal Palace. After about 20 minutes the next ferry came, which took us to Tha Tien Pier near the Royal Palace.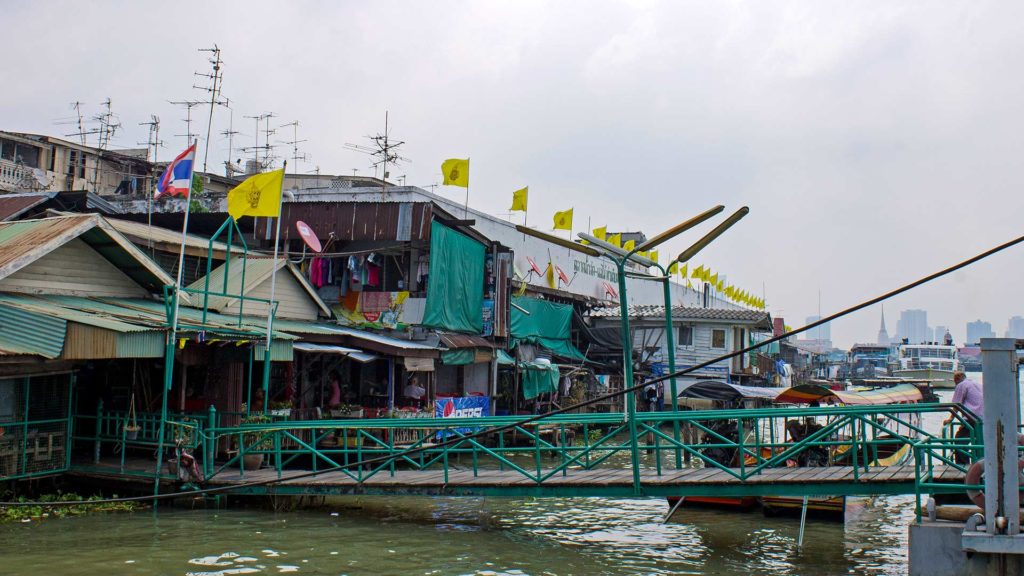 From there you have a nice view of Wat Arun, the Temple of the Dawn. It is one of the most famous sights in Bangkok and was really nice to see from the other side of the river. After a short photo stop, we continued.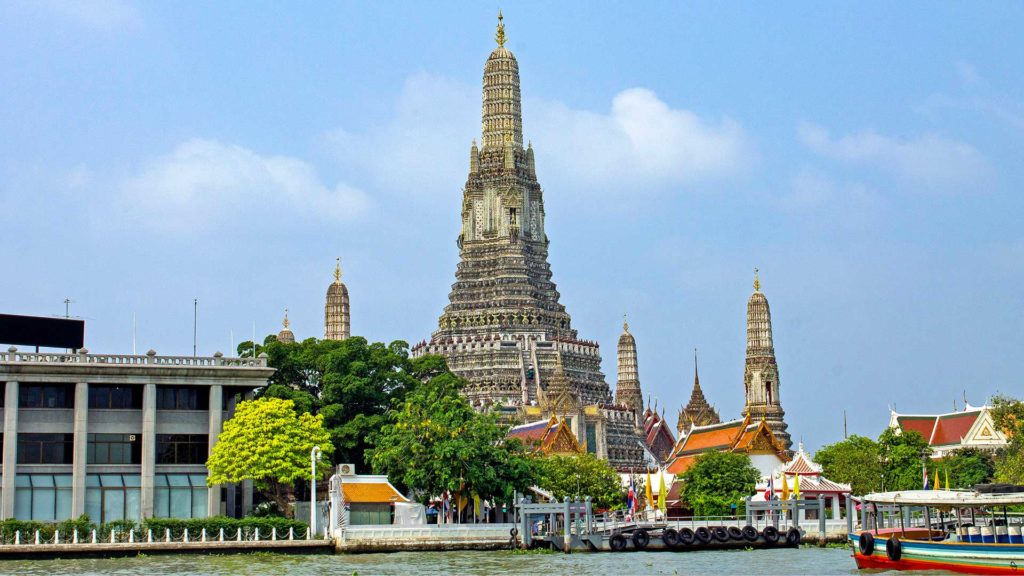 Shortly afterwards, a friendly guy from the Tourist Police approached us and we had a short chat. We told him about our plans and he gave us a few tips on where else to go. He gave it so extensively that he scribbled all over our Bangkok map! Could be worse, because with this knowledge we almost felt like a local.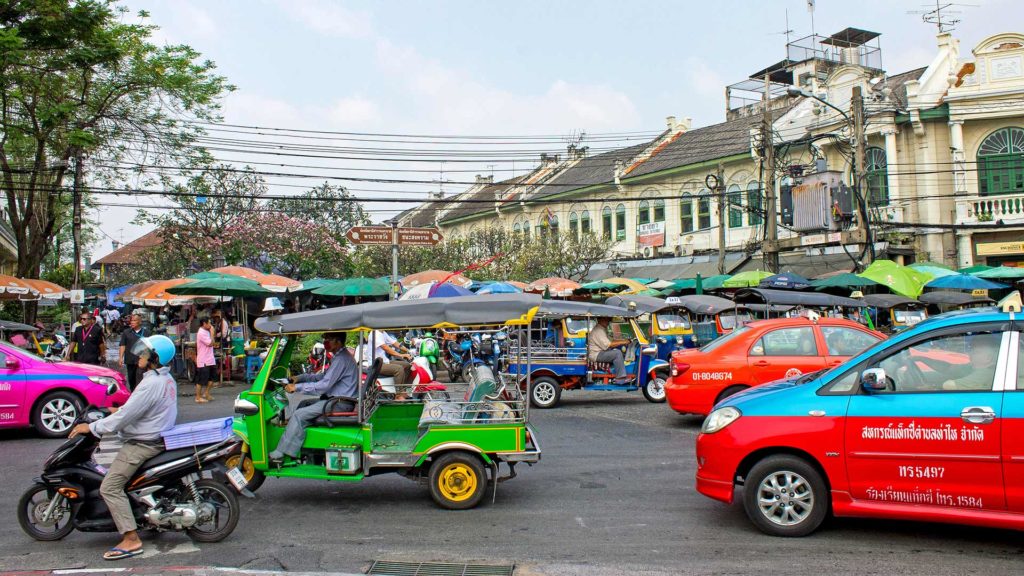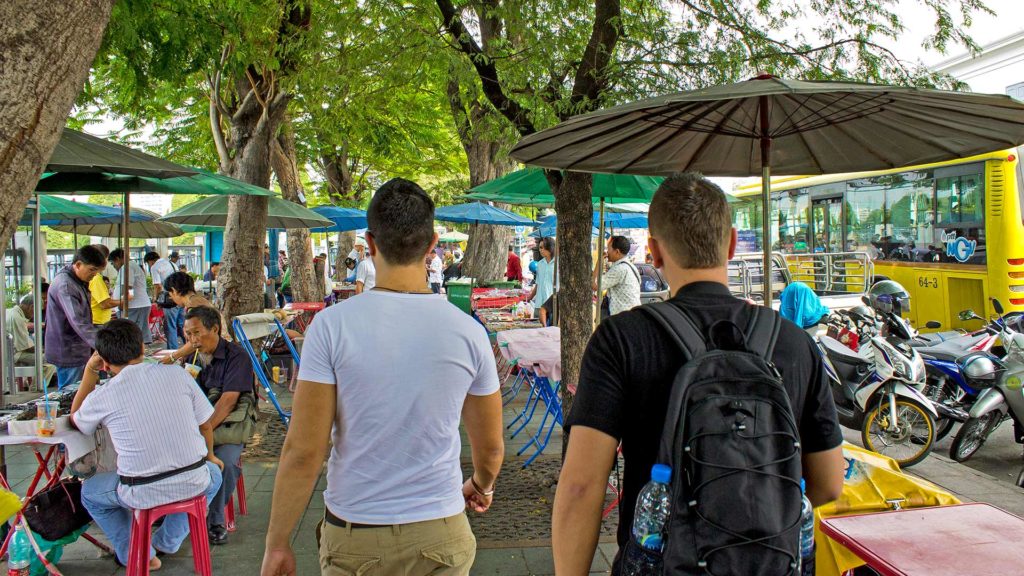 Wat Phra Kaeo/Royal Palace
After another short walk through a market, we were finally at the entrance of the Royal Palace. It was almost overrun with tourists, Tuk Tuks, taxis and buses. It was loud, hectic and the moment we really felt we had arrived in Bangkok.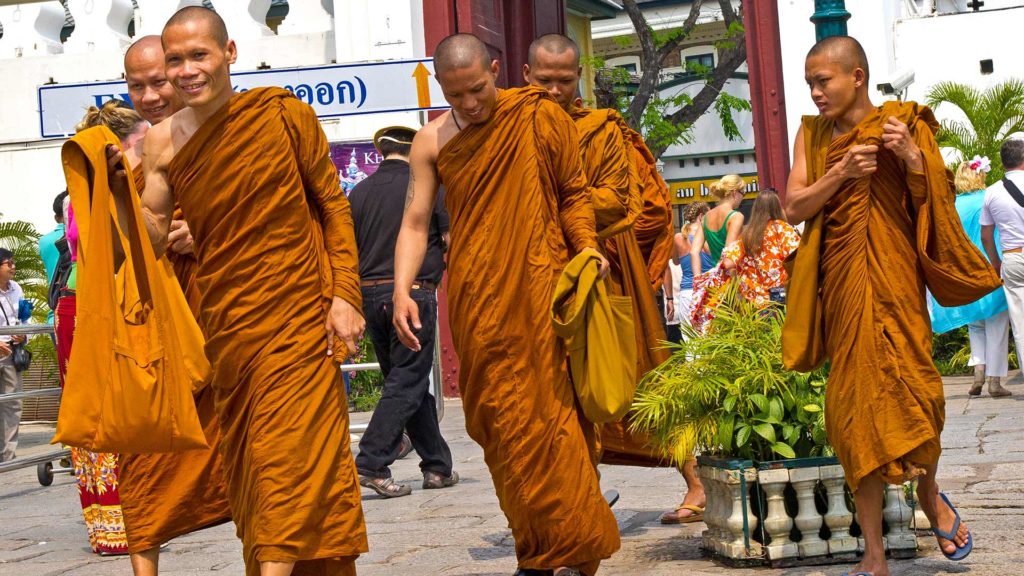 In the inner courtyard, just before the way to the ticket counters of the Wat Phra Kaeo, there were even more people! Europeans, Australians, Asians with parasols or Thai monks. To get into the Wat Phra Kaeo temple and the Royal Palace, you must strictly adhere to the dress code, i.e. shorts were a taboo.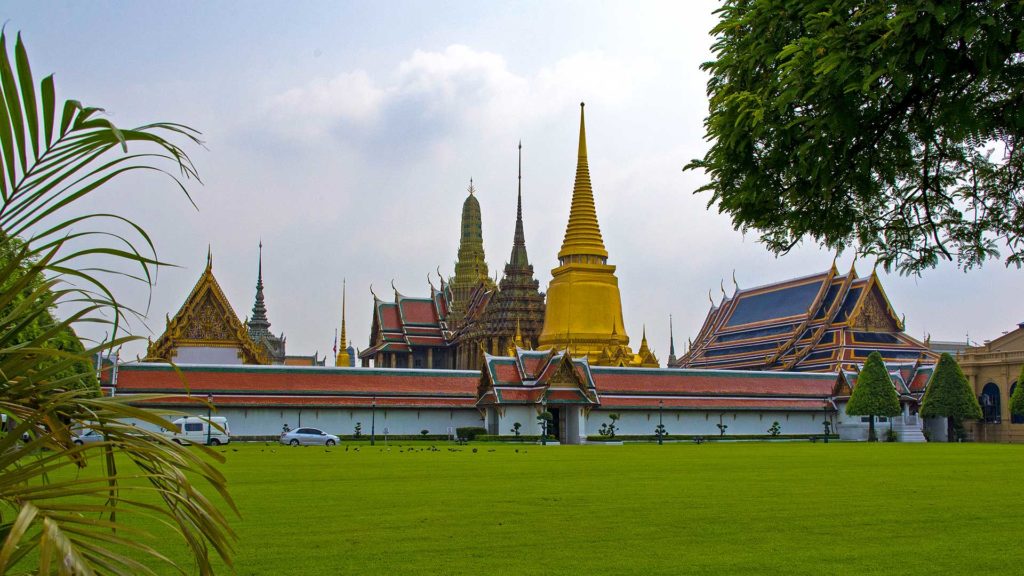 We actually knew that beforehand, but we still said we'd give it a try. Maybe it will work that way. Unfortunately, that was mistake number two. There is the possibility to borrow long coveralls for free, but the queue was very long. As the Thai says "Mai pen rai", it doesn't matter. Then we'll visit the Royal Palace the next time and take a look at other sights of Bangkok that were still on the plan…
To be continued: One day in Bangkok (Part 2) – coming soon…
Plan your trip to Bangkok now
More hotel recommendations for Bangkok:
Popular routes to Bangkok:
---
How was your first day in Bangkok? Tell us about your experiences on your first visit to the Thai capital in the comments.
Photo 1: Courtesy of Chatrium Hotel Riverside Bangkok