Dieser Artikel ist auch verfügbar auf: Deutsch
It was our third day in Bangkok, which started this time with a day trip. We went to Ayutthaya, the old capital of Siam – that's how Thailand was formerly called.
Travel report about a day trip to Ayutthaya from Bangkok
In this article we tell you about our experiences and the schedule of the day trip from Bangkok to Ayutthaya, which we did for the first time in 2012. You can find more tips and newer experiences from Ayutthaya here.
---
How to get to Bangkok
Accommodation in Bangkok – our hotel tip
Bangkok: Tours and tickets
---
The trip to Ayutthaya
After crossing the Chao Praya River by ferry from our hotel, the Hilton Millennium, we immediately looked for a means of transport to the train station.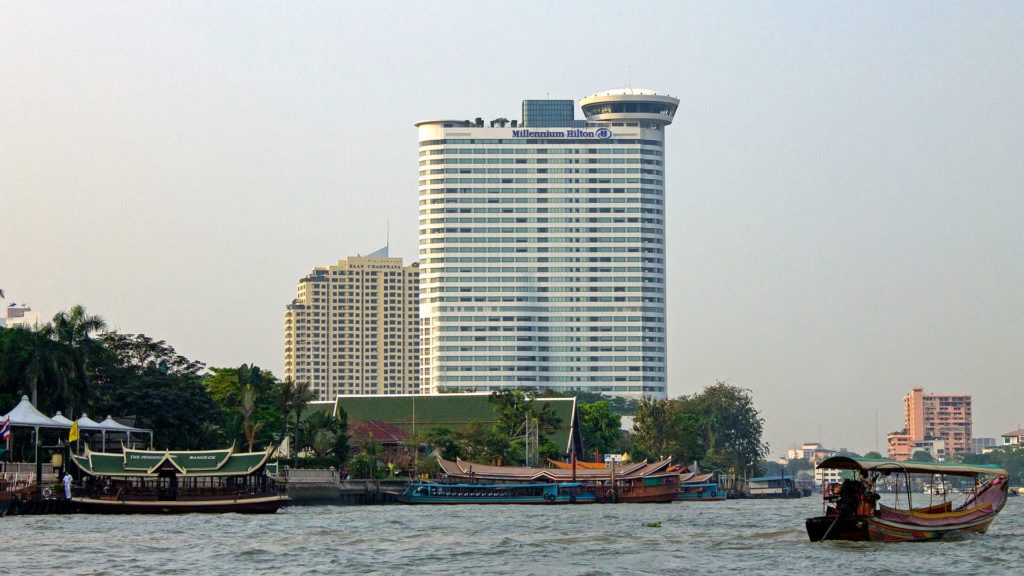 It didn't take us long to find a Tuk Tuk (or did it find us?). We briefly negotiated a price to the station and then got on straight away. After a few minutes of driving, the driver suddenly started mumbling something in English that none of us really understood. We could only hear the word "suits". Please don't take us to the tailor, was the first thing that came to our minds. We acted as if we didn't understand anything, smiled friendly and just let him go on.
At first, that worked quite well, until he was apparently annoyed, made a u-turn and asked us to leave the vehicle: "I have no time, I have no time." What it is about "suits" and tailors we'll tell you another time. But probably everyone knows that who got into a Tuk Tuk in tourist areas for the first time in Bangkok.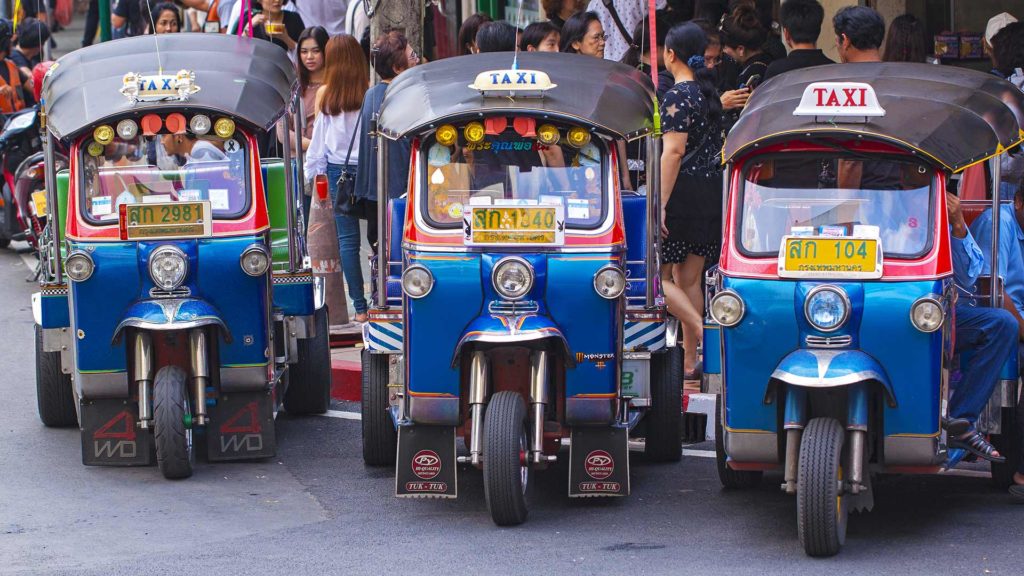 The next Tuk Tuk finally brought us to the train station. At the entrance we were caught off by a young woman with whom we spoke briefly about our plans. She gave us the tip to take a taxi for the whole day instead of the train and then called us one. Air-conditioned taxi and a personal chauffeur who knows his way around. Did not sound bad. And for the equivalent of only 60 euros. Highly recommended for day tours in general in Thailand. Also for Ayutthaya's temple, as they are sometimes a bit apart (you can also rent a bike or scooter on site).
The first 20 minutes with Mr. Jomron, our driver, were not particularly exciting. In order not to fall asleep, we asked about music. He nodded and immediately put in his favorite CD – and turned it up! The genre was something like a mix of traditional Thai music, pop and hip-hop. Insane! And the singer laughed loudly into the microphone every few minutes: "Ha ha ha, ha ha!"
Visiting the temples in Ayutthaya
This was how the rest of the trip went until we finally arrived in Ayutthaya. The first stop was Wat Yai Chai Mongkhon, which is still outside the old city walls and where we spent some time.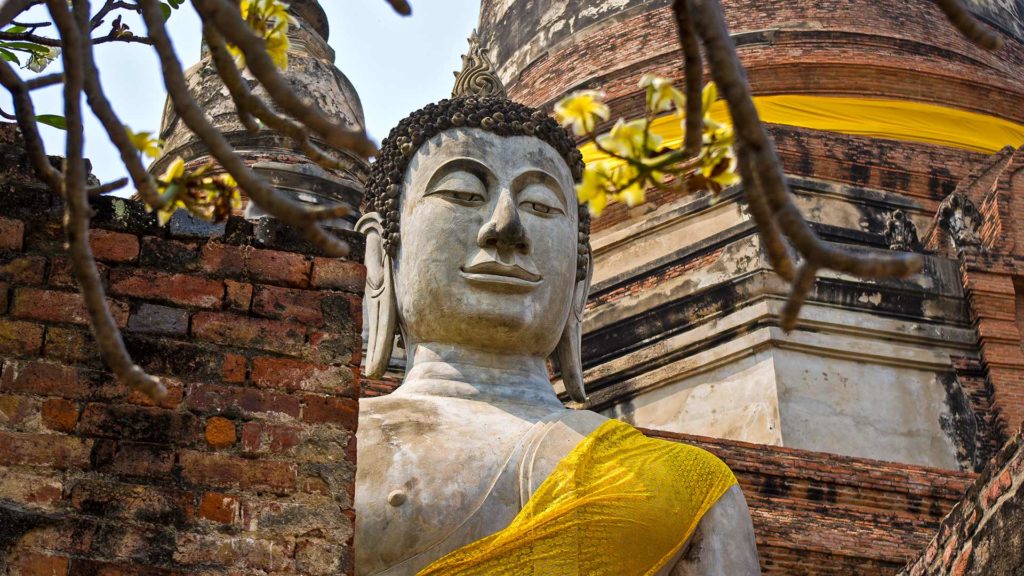 Many of the temples in Ayutthaya are now ruins or badly damaged due to a Burmese campaign in 1767. However, the Wat Yai Chai Mongkhon is mostly well-preserved and offers huge Chedis and many Buddha statues that you can see. Very fascinating.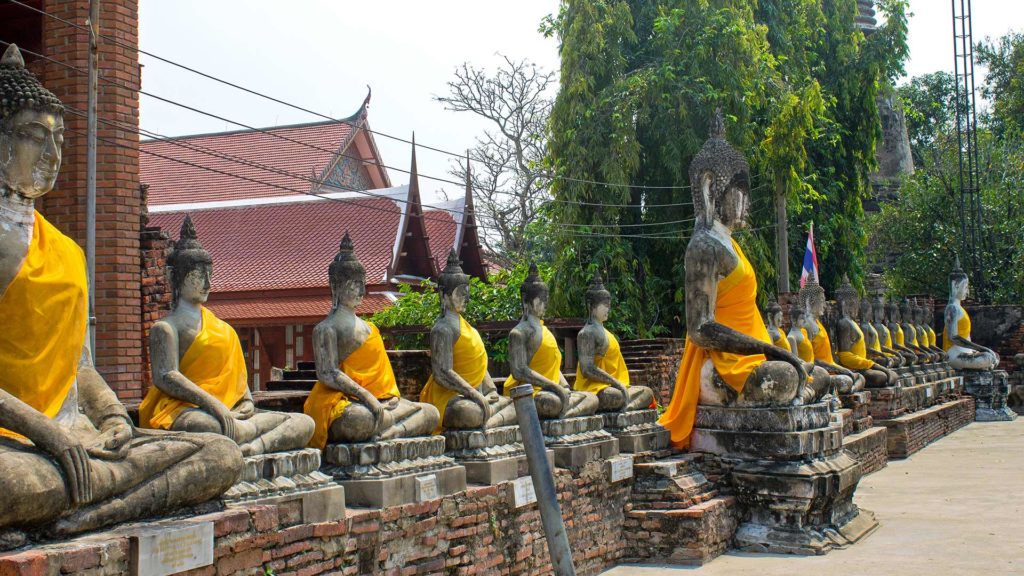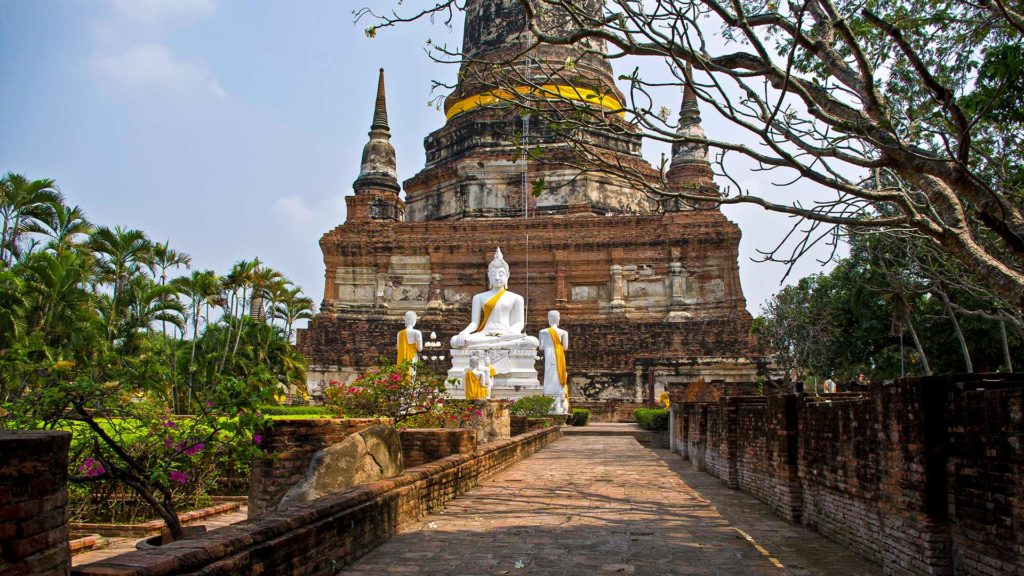 Then we went back to the taxi, where Mr. Jomron was waiting for us and we drove to the next Wat (= temple/temple complex). The main temple Wat Mahathat was next. It is one of the most visited temples and was built in 1374. The highlight there is the fig tree, in which a Buddha head has ingrown.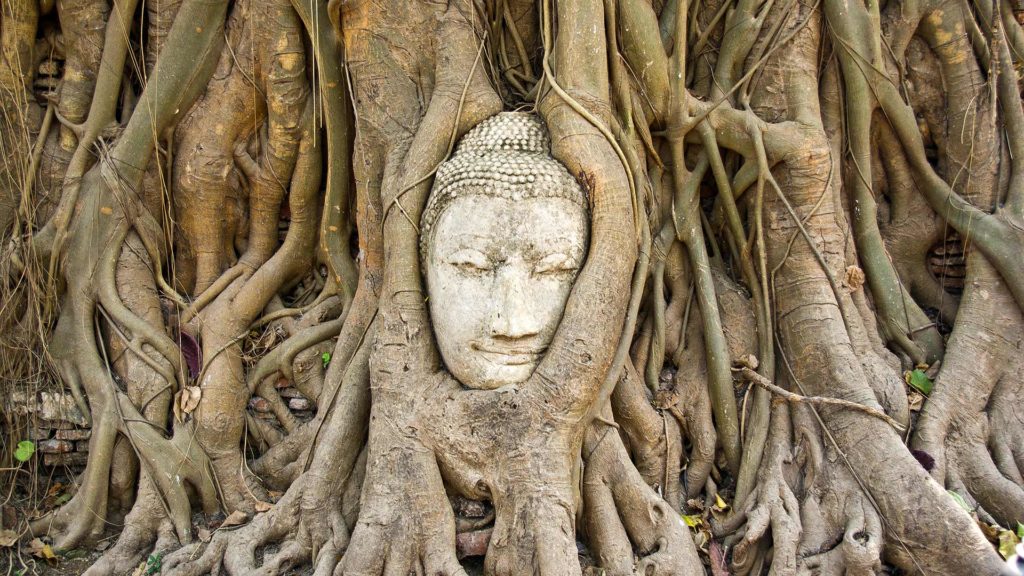 So we went from "Wat" to "Wat" in the Historical Park of Ayutthaya. Wat Ratchaburana, Wat Phra Si San Phet and many more. On the first visit, the amount of temples can be quite overwhelming.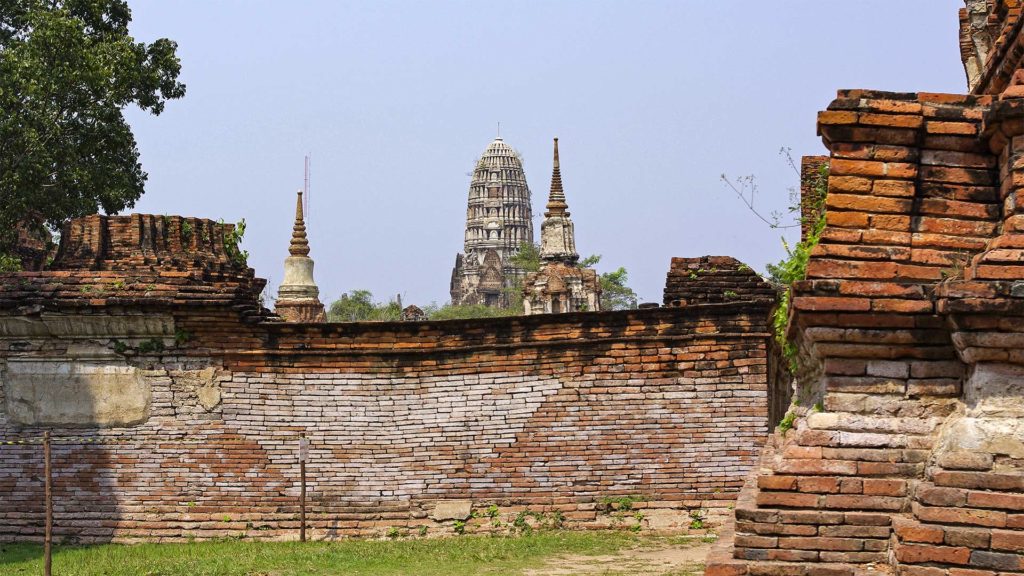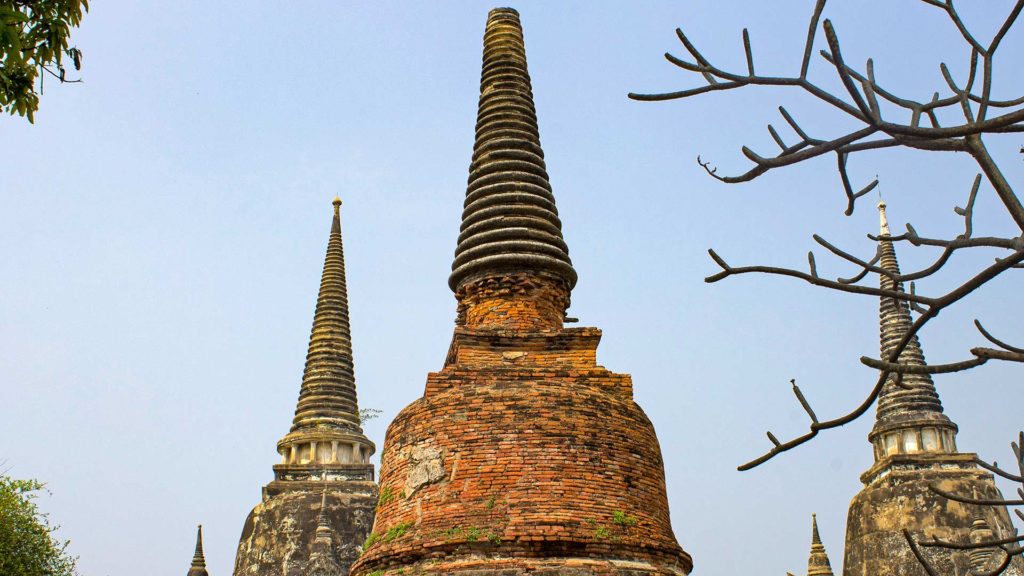 After hours and visiting some of the temples, we decided to end the tour and back to Bangkok. We only saw a fraction of the entire complex and temples and could easily have spent a few more hours here in Ayutthaya! But the time was unfortunately too short, because we still wanted to go to the Hindu temple in Bangkok.
The Sri Maha Mariamman Hindu temple in Bangkok
At arrival at the Sri Maha Mariamman, which is located in the Silom district in Bangkok, we were approached directly by a Thai. He explained to us that at Wat Khaek, as the temple is also known among the locals, we are not allowed to take photos inside.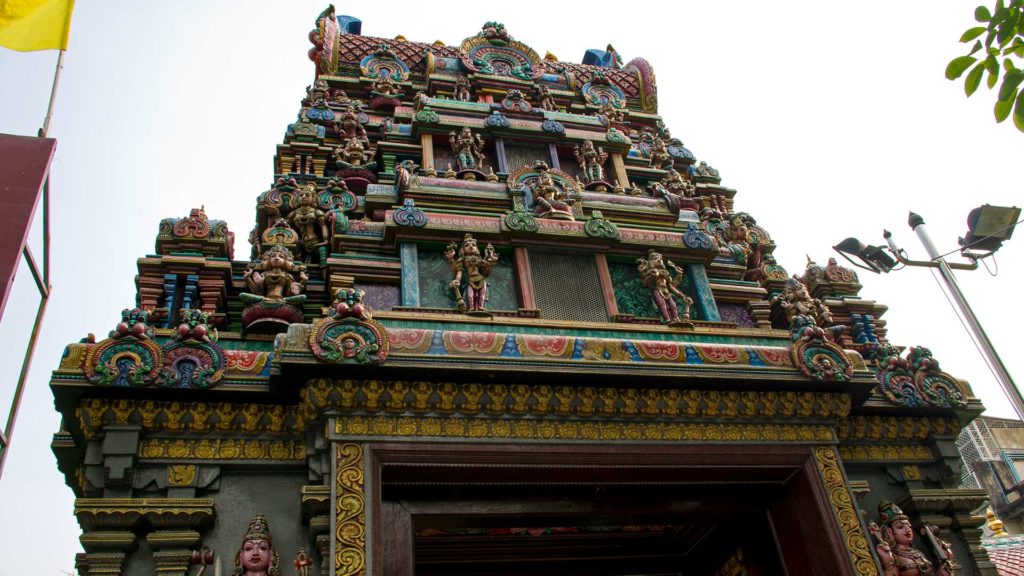 Immediately after entering the temple we felt like in another world. The smell of incense came immediately to us, it was very intense throughout the courtyard. At the same time, we heard a mantra all the time, which was being recited and has an absolute catchy tune. Very fascinating!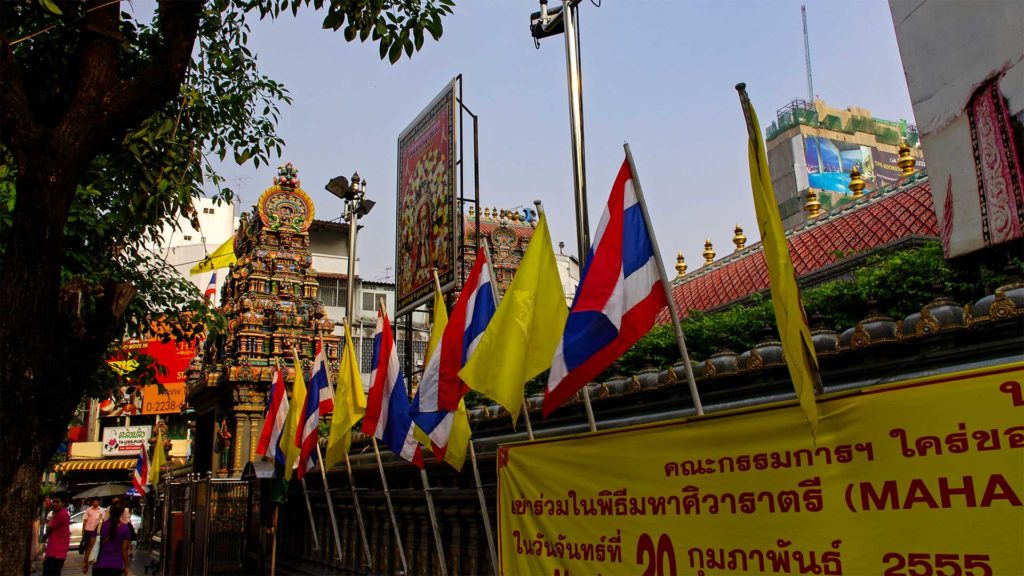 Tourists are hardly found here. We took a tour around the temple, past statues and images of many Hindu gods such as Ganesha, Vishnu, Kali etc. But there were also images of the Buddha. If you want to see something other than Buddhist temples in Bangkok, this place is highly recommended. While walking along Silom Road back to the pier (and past the Lebua Hotel) we still heard the mantra in our heads all the time.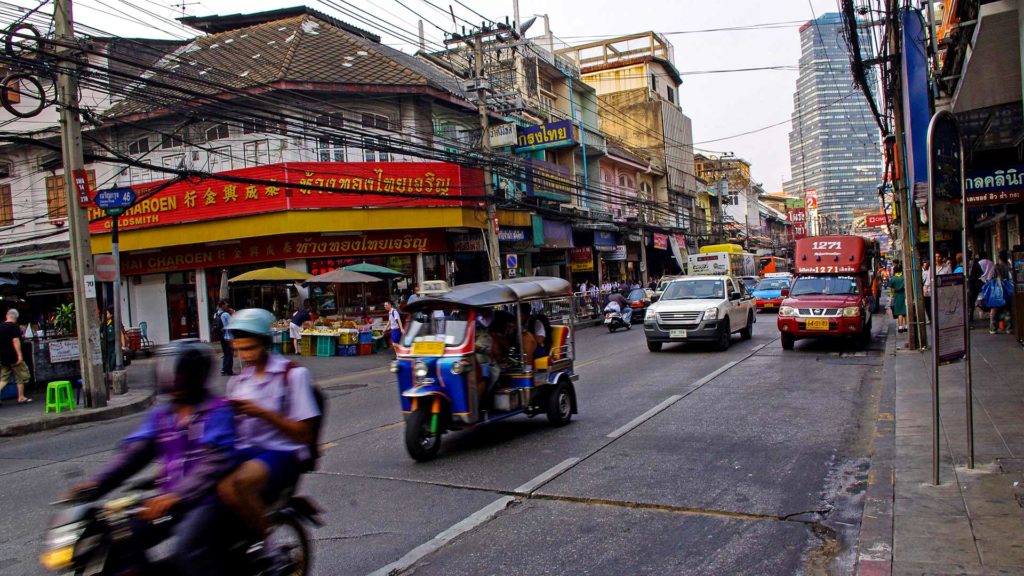 Plan your trip to Bangkok now
More hotel recommendations for Bangkok:
Popular routes to Bangkok:
---
Did you visit Ayutthaya on a day trip from Bangkok? How did you like the trip? What was your experience like? We look forward to your comment.
Photos: Photo 1 courtesy of Chatrium Hotel Riverside Bangkok – Photo 3 (Tuk Tuks): pr_camera/shutterstock.com