Dieser Artikel ist auch verfügbar auf: Deutsch
Koh Phayam is one of the more tranquil islands in Thailand. With its often deserted beaches, it is perfect for a relaxing beach holiday. For couples, families or solo travelers – Koh Phayam's vibe makes you feel a bit like going back in time.
But on Phayam you do not just have to be lazy on the beach all day! At second glance, the island has more activities and attractions than you might actually think. In addition to the usual island activities such as swimming etc. Koh Phayam offers a lot more.
Koh Phayam – activities and must-sees
In this post we will introduce you to 12 great things to do or see on the island. How to get to Koh Phayam is explained in our article Koh Phayam – getting there and first impressions in detail.
---
How to get to Koh Phayam
Accommodation in Koh Phayam – our hotel tip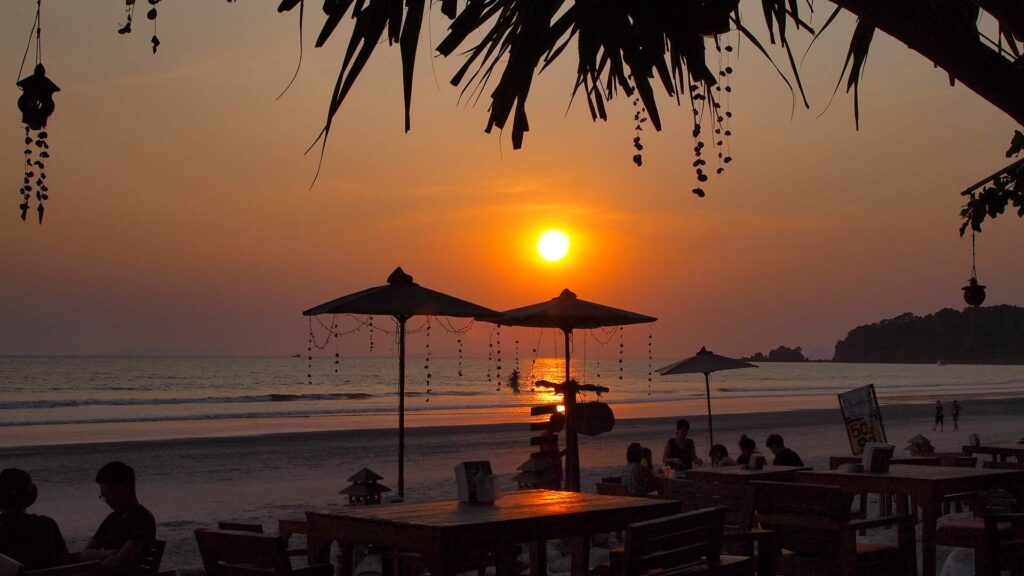 ---
1. Scooter tour & beach hopping
Get a scooter that you can borrow in the main town by the pier and explore the island on your own! There's nothing like exploring Koh Phayam's beaches and coves by yourself.
The roads of the island are sometimes quite narrow and have potholes every now and then, but are mostly concreted. So do not worry. Only a few side roads are unpaved and should be used with care.
You can often park your scooter somewhere before and explore the rest on foot. Koh Phayam is a relatively small island and you do not need to walk far.
Some beaches, such as the Ao Mook are easiest to reach by longtail boat as the jungle path to the beach can hardly be used. Even the last piece to the Monkey Bay is not so easy (but quite possible). You can find out more about the beaches in our Koh Phayam beach guide (coming soon in English).
Alternatively, if you do not want to drive yourself, there are some motorcycle taxis on Koh Phayam – but there are no other transportation options.
2. Viewpoints
Koh Phayam also has some viewpoints to offer. Probably the best viewpoint offers a view of the north of the island with the huge Buffalo Bay. Up there is also a small hippie bar, where you can order a cold Chang, cocktail, coconut or other drinks. The bar is run by Thai Rastas who are very cool.
You can find the bar and viewpoint at the northern main street from the Long Beach to the direction of the pier. From Long Beach, the entrance to the viewpoint is on the left approximately halfway along the main road. There you will find a sign pointing to the viewpoint.
As soon as you leave the main road, the path is currently no longer paved and sometimes a bit steep. Drive carefully.
The Phuree Hut Resort also offers great views if you are looking for a nice place to stay.
3. Snorkeling & diving
As from many islands in the Andaman Sea, you can also do wonderful snorkeling and diving trips from Koh Phayam. Koh Phayam itself is not really good for snorkeling though.
Around Koh Phayam, however, are some beautiful snorkeling and diving spots for beginners and advanced. With the Buffalo Bay Vacation Club, Phayam Divers, Aladdin and others, Phayam has a number of providers.
Very popular are for example tours to the Surin and Similan Islands, Koh Chi, Ko Bon, the Richelieu Rock and some islands in the Mergui Archipelago (Myanmar).
4. Visit the Pier Temple
Also on a small island like Koh Phayam a temple can not be missing. Koh Phayam even has a very special temple built on a pier. You can visit and enter the temple – however, there is only one Buddha shrine inside, and otherwise the room is empty.
Do not miss the Big Buddha of Koh Phayam! It is located opposite the Pier Temple and there are only a few steps up. From up there you have a nice view of the pier and the temple.
5. A kayak tour through the mangroves
In the west of the island, between the Buffalo Bay Vacation Club and Long Beach, is a large mangrove forest. The mangroves start at the western end of the Buffalo Bay and then lead into the interior of the island. Grab a kayak and explore the wilderness and nature of Koh Phayam!
Alternatively to the mangroves, you can also rent kayaks on the main beaches and take a relaxed tour on the sea.
6. Watch the sunsets
The Long Beach (Ao Yai) is the island's hotspot for beautiful sunsets.
Long Beach has some nice accommodations and restaurants. Especially the beach bars and restaurants are perfect to end the day at sunset. I recommend the JJ Seafood restaurant at the JJ Beach Resort where I think the best food on Long Beach is served. Definitely a must-visit!
But you can also enjoy the sunsets on the northern part of Buffalo Bay (Ao Khao Kwai).
7. Jungle trekking
On many corners of Koh Phayam you will find wild jungle trails – for example, in the north (near Monkey Bay) or in the south of the island. During a jungle trek you can often see wild monkeys, monitor lizards or the beautiful hornbills. Especially for its many hornbills, the island of Koh Phayam is known – it is even not quite unlikely that you will encounter them.
8. Surfing
You can also surf at Long Beach. The not so high waves are suitable at least for surf beginners, or just if you want to try out surfing. In the high season, the sea is much more quiet than in the low season, which starts around May. Then the waves become much bigger.
Surfboards can often be rented right on the beach in the adjoining resorts (for example at Bamboo Bungalows) and you can start right away.
9. Island hopping
Around Koh Phayam are some nice islands that can be visited. On the one hand there is Koh Chang (not to be confused with the island of Koh Chang on the other side of the country).
In the Laem Son National Park, south of Phayam, there are small, lonely paradise islands to which day trips are offered. Islands like Koh Khang Kao, Koh Yee Pun or Koh Kam are completely out of touch with tourism.
As described in point 3, there are also tours to the Surin Islands, where you can snorkel wonderfully.
In addition, some companies in Ranong offer tours to neighboring Myanmar islands, e.g. the Cock's Comb Island. By the way, from Ranong you can make a quick Visa Run to Kawthaung in Myanmar, too.
10. Feel like a hippie
Koh Phayam is Thailand's hippie and Rasta island. Accordingly, you will find charming small wooden and bamboo bars with Rastafari colors or Bob Marley pictures in many places.
Probably the most famous bar on the island and an absolute must-see is the Hippie Bar on the northern part of Buffalo Bay. The two owners took a total of 10 years to build this iconic bar right on the beach!
The bar is completely made of wood and has the shape of a big ship. Accordingly, you can also sit further up and enjoy a beautiful view of the bay of Ao Khai Kwai. Even in the evening it remains spectacular: when it gets dark, the bar is completely illuminated in red and green, which gives it a special, even a bit scary, atmosphere. Mandatory visit on Koh Phayam!
11. Yoga
This, too, may not be missing on an island like Koh Phayam! In many places of the island you can find yoga schools or courses. Many resorts also offer yoga. Very popular on Koh Phayam is for example 1-Self-Yoga.
12. Just laze around and enjoy the island
And last but not least, what the island is best for: chill out, relax and unwind.
Most beaches of Koh Phayam are so quiet and empty that you are guaranteed to find a secluded spot.
Whether it's the main beaches Long Beach and Buffalo Bay – they are not crowded even in high season. I visited Koh Phayam in the off season (early May) and there were hardly any people on the beaches. Beaches like the Monkey Bay or Ao Ko Kyu I had completely for myself. Fantastic!
And if there is again no electricity (which can happen more often, especially in the low season), relax in your hammock and just switch off.
Plan your trip to Koh Phayam now
More hotel recommendations for Koh Koh Phayam:
Popular routes to Koh Phayam:
---
Have you been to Koh Phayam? How did you like it and do you think there are other activities and places that belong in this list?