Dieser Artikel ist auch verfügbar auf: Deutsch
The Island Koh Lanta that also belongs to the Krabi region, has many beaches to offer and almost all of them are located at the west coast, except the beach in the national park that you can find at the southern end of Koh Lanta Yai.
The island itself is not very affected by mass tourism and still very calm – no clubs, no McDonald's, no big night life. Well, there are a few hotels, but you can also find some quiet and small bungalows. Here you have time for relaxing and maybe doing some motorbike trips.
The most beautiful beaches of Koh Lanta – our beach guide
As a beach lover, it was obligatory for me to check out all the beaches. Personally, I think that Koh Lanta's beaches are not as pretty as the beaches of Koh Phi Phi, which is not very far away.
But I think it's still nice to have some quiet days here relaxing and having the beach almost completely for yourself – which is not so easy on Koh Phi Phi. Well, maybe it was only because of the approaching rainy season. I will definitely come back someday.
So here I put together the most beautiful beaches of Koh Lanta for you – of course with pictures. They are listed in the order from north to south.
---
How to get to Koh Lanta
Koh Lanta doesn't have its own airport, which is why it is best to travel by airplane to Krabi International Airport. Various airlines such as AirAsia, Bangkok Airways, Thai Air and more fly domestic and Qatar Airways or even AirAsia from international destinations to Krabi. For more information on flights and times, kindly check Skyscanner.
Further arrivals can be made either by bus or minivan from Krabi. Another option would be to reach Koh Lanta by ferry from e.g. Ao Nang, Phuket or Koh Phi Phi. There are daily connections to Koh Lanta in both variants. Prices, times and tickets can be found on 12go.asia.
Accommodation on Koh Lanta – our hotel tip
The hotel selection on Koh Lanta is quite large and most accommodations are located on the west coast. A popular beach is the Klong Dao Beach and our hotel tip for this is the Royal Lanta Resort & Spa, which is right on the beach. The location is great, as restaurants and other shops are also nearby. Even the relatively large rooms have everything you need and they are clean.
If you would like to stay at another beach on Koh Lanta, have a look on this page.
Koh Lanta: Tours and tickets
---
1. Klong Dao Beach
For me, personally, the prettiest beach of Koh Lanta. The sand is very soft, almost white, and during low tide the beach becomes very wide. Also, the water is really beautiful. Admittedly, not so crystal clear like I love it, but still very good for a nice swim.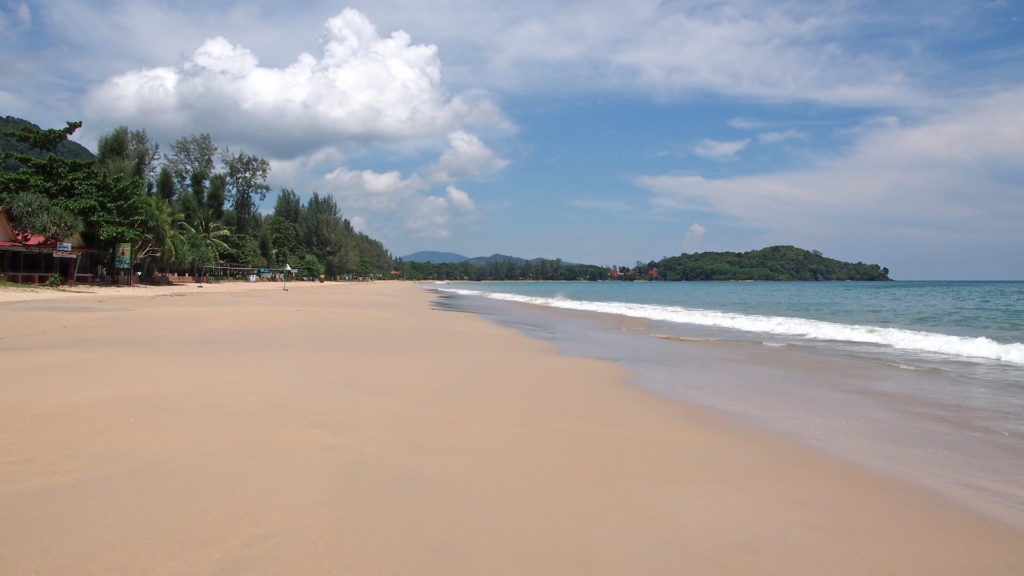 In the water there are no stones at all and you can enjoy the sand under you. The only disadvantage is that there are only very few trees that give you shadow. Hence, you will be under the blazing sun all the time, which isn't quite good, is it?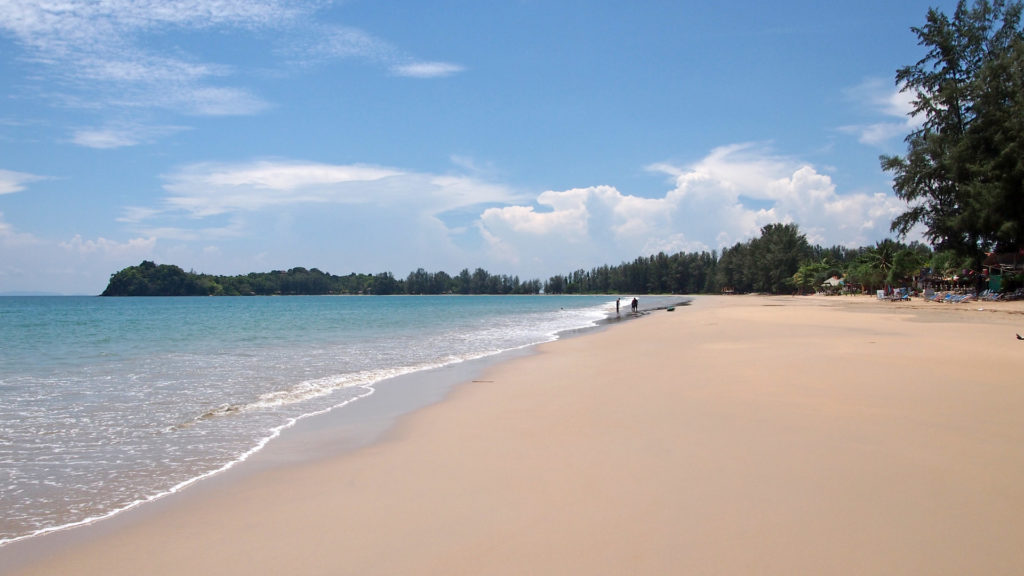 2. Phra Ae Beach (Long Beach)
This is the longest beach of Koh Lanta and in the north it adjoins the Klong Dao Beach. At the southern end I was staying in the Gooddays Lanta Resort. A nice little resort with cheap bungalows directly at the beach, which I can definitely recommend (800 baht in low season).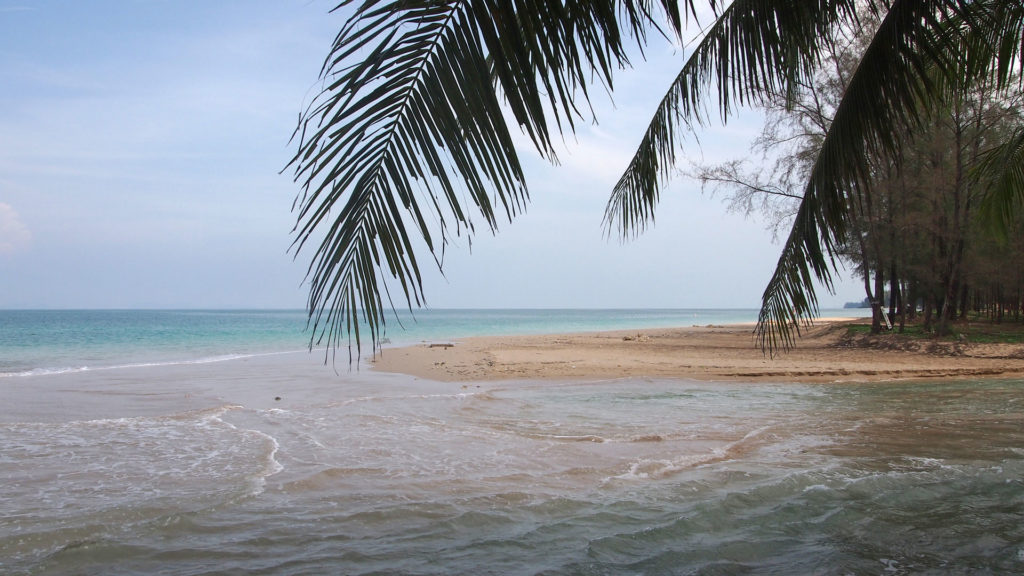 The water here is beautiful, but not as gently sloping as the Klong Dao Beach. When you swim a little bit more far, there are plenty of stones in the water which I personally don't like.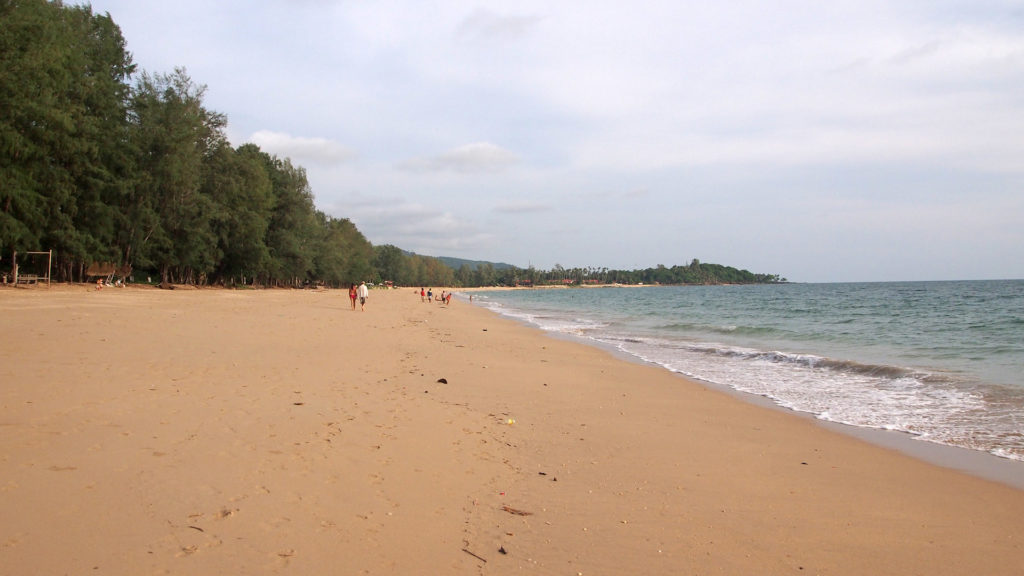 But for a nice and relaxed day this beach is still a good choice since it's very long with its 4 kilometers and you can always find a lonely place there. But, a leafy bower is hard to find here, too. At evening, when the sun is almost going down, this beach is also nice for a long walk – especially for couples this might be a good option.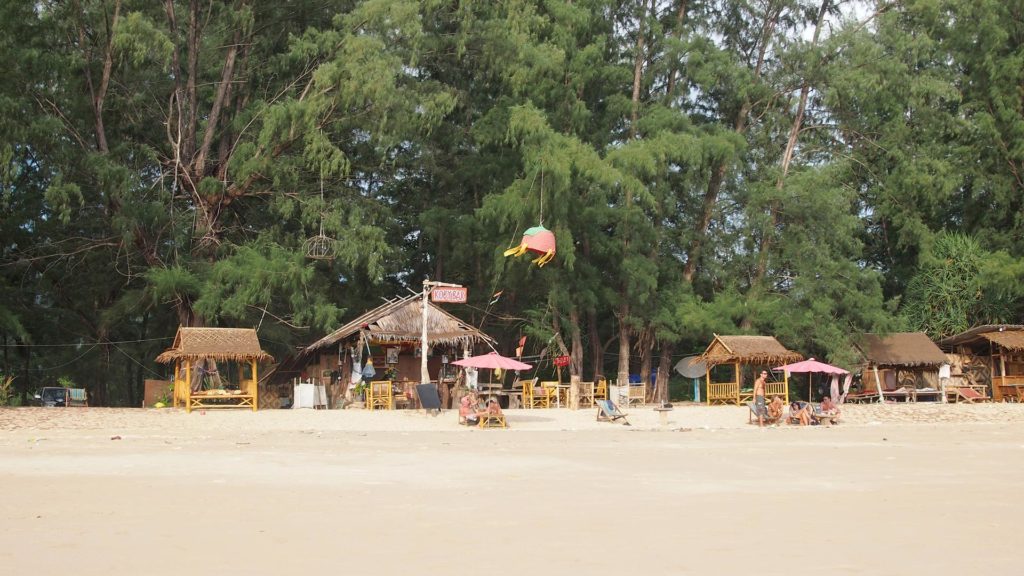 3. Klong Nin Beach
This beach section offers plenty of space for swimming and is bounded by big rocks at both ends. At some parts, the beach is a bit rocky but you can still find a few places without stones at all.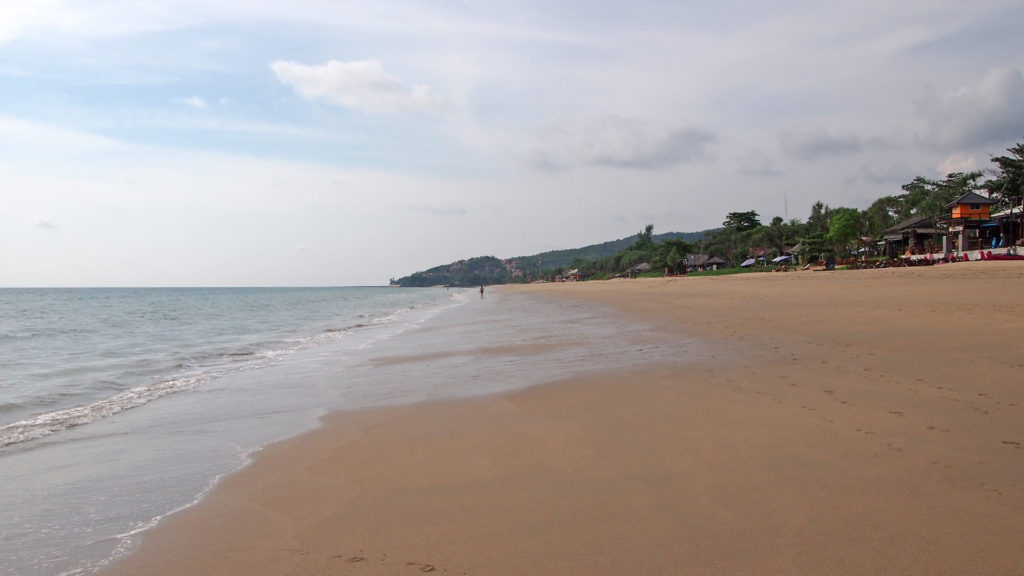 At the beach there are also some accommodations and beach bars, where you can comfortably take one or another nice drink. A great place to end the day with a delicious cocktail.
4. Ba Kan Tiang Beach
The bay where this beach is located, is considered as one of the most beautiful ones of Koh Lanta. It looks indeed very pretty, but the beach itself it partially studded with shells. This makes it not very easy to walk bare-footed. No problem with flip-flops.
There are not many shady spots, but since it was a little cloudy (see picture) when I arrived at the beach, it wasn't that bad. At the Ba Kan Tiang Beach you can also find the 5-star luxury hotel Pimalai Resort & Spa, which is well-known on Koh Lanta and considered as a great place to stay.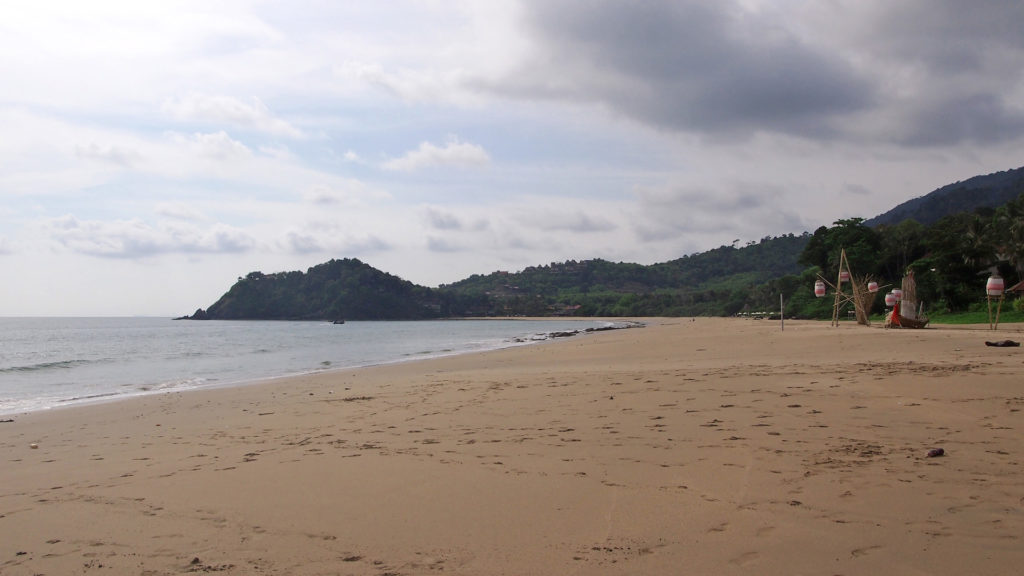 Besides of that you can have your peace here since the beach is never really crowded. Also, the sunset is amazing here. I never tried it, but many people say that this is a great snorkeling spot, too.
5. Klong Jark Beach
Since there is no surfaced street leading to the bay where this beach is located, is is not so easy to reach. But once you arrive there, it's amazingly quiet and making you wanna swim there immediately.
There's also a restaurant/bar where you can enjoy nice food. It can actually happen sometimes that you are the only person at this beach, because not many tourists usually come here.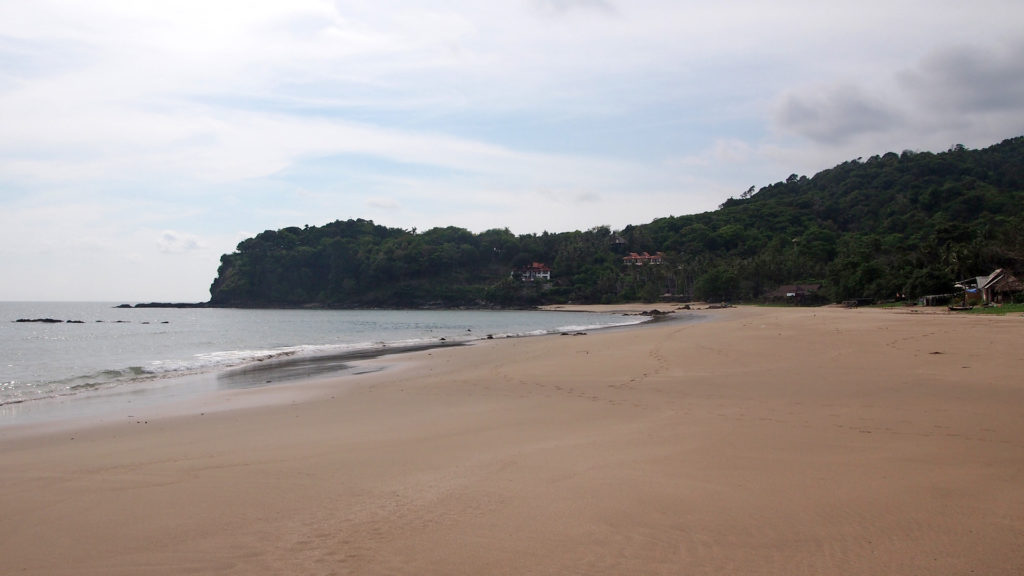 6. Mu Ko Lanta National Park
The national park is located at the southern end of Koh Lanta and you have to pay an entrance fee of 200 baht per person to enter it. This park is definitely well-kept and beautiful to look at.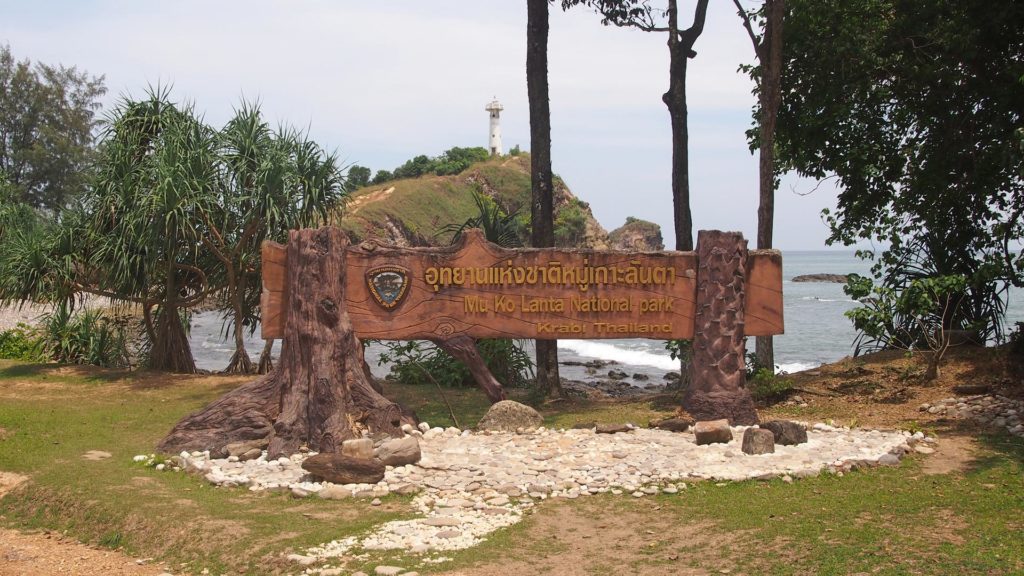 Also, the beach with its soft sand and some leafy bowers is very beautiful. But appearances are deceiving and so there is one big minus point: the water has almost only stones, which makes nice swimming impossible for me. Nevertheless, you can still have a really good time here and at least enjoy the views in the national park and the beach.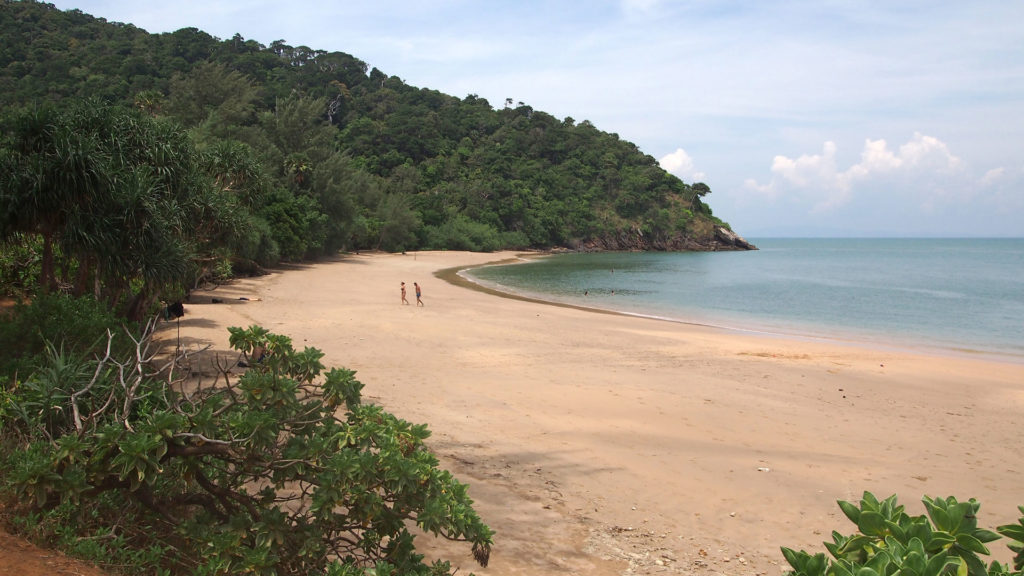 In my opinion you can have a few nice quiet days at the beaches of Koh Lanta – for the rest there isn't really much going on here. But I still would say that it's worth it to visit the island! Unfortunately, we didn't always have the bluest sky which was due to the rainy season that just has started. Well, the good thing about it was that in low season you have reduced prices almost everywhere.
Plan your trip to Koh Lanta now
More hotel recommendations for Koh Lanta:
Popular routes to Koh Lanta:
---
What is your favorite beach on Koh Lanta? What was your experience on this island?