Dieser Artikel ist auch verfügbar auf: Deutsch
Formentera is the second smallest island of the Balearic Islands and is just 19 kilometers long. Together with the larger neighboring island of Ibiza, Formentera belongs to the Pityusen Archipelago. The island, 9 kilometers south of Ibiza, is a very popular destination for a day trip, but also attracts many people looking for peace and tranquility as well as even some celebrities.
Day trip from Ibiza – one day in Formentera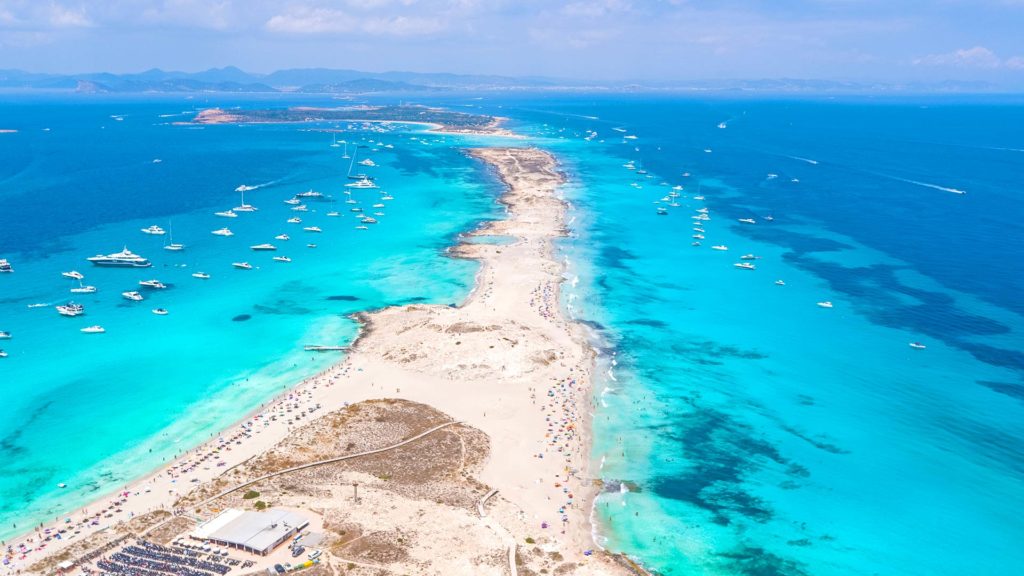 Since Formentera is a really small island, you can explore it perfectly by bike or scooter. Some of Formentera's beaches are amongst the most beautiful in the world and the island is sometimes referred to as the "Little Caribbean". Formerly only an insider tip for dropouts, the island is now becoming more and more popular. We'll show you what we explored on a day trip to Formentera.
---
How to get to Formentera
Getting to the small island of Formentera is a bit more complicated, as it can only be reached by ferry. So first of all you have to travel to Ibiza. You can do this e.g. by airplane directly from Germany and many other European countries. Compare tickets and prices on Skyscanner.
You can also take the ferry from the mainland to Ibiza e.g. from Valencia, Alicante, Barcelona or of course from the other Balearic Islands such as Mallorca. You can find more information about prices and times on Omio.
As soon as you have arrived on Ibiza, you then have to take another boat connection to Formentera. Ferries from Ibiza Town (Eivissa) depart every hour and bring you to the small island. The costs are between € 20-30 with a travel time of 35-60 minutes, depending on the ferry provider (e.g. Trasmapi or Balearia).
Accommodation on Formentera – our hotel tip
The Es Marès Hotel is located not far from the port of La Savina. It is a family-run hotel with modern rooms and views over the rooftops of Sant Francesc. A great stay (and starting point for exploring the island) is coming with a breakfast buffet and free bike rental. The rooms are all equipped with air conditioning, TV, minibar, balcony and other amenities.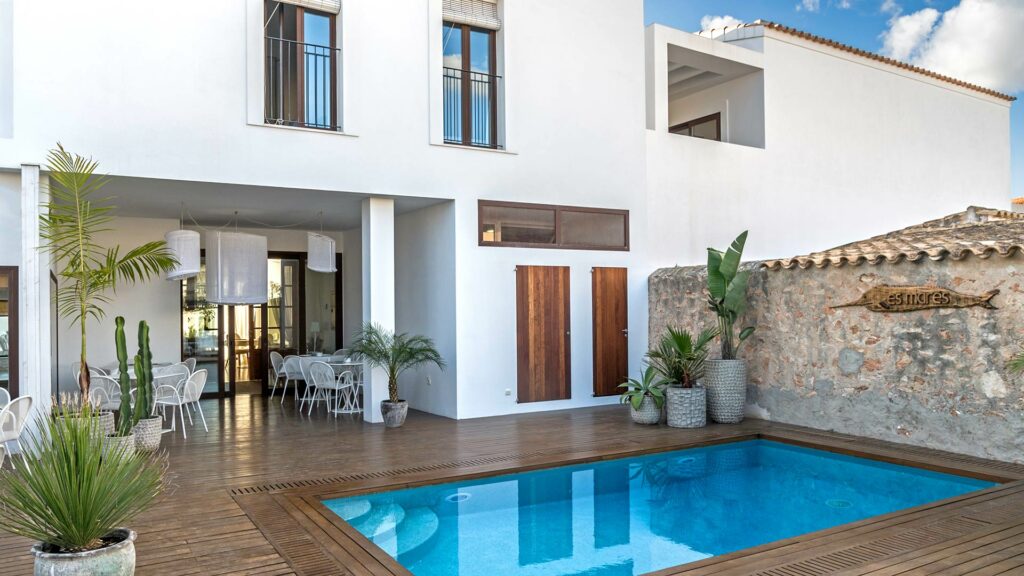 Here you can see more hotels on Formentera to find the right accommodation for you or take a look at the hotels in Ibiza. There you have an even bigger choice.
Formentera day trip: Tours and tickets
---
With the ferry from Ibiza to Formentera
In the morning we got us a ticket for the ferry to Formentera for about €25 and took it directly from Playa d'en Bossa beach on Ibiza, where our hotel was located. The crossing to La Savina, the largest port of Formentera, took about 45 minutes and passed very quickly.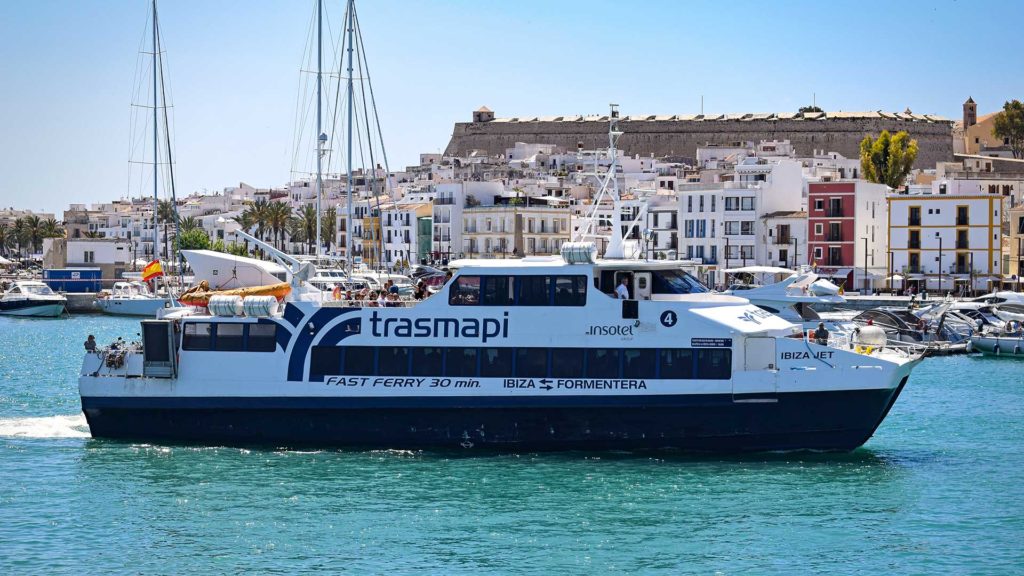 La Savina is the first place you see on a trip to Formentera. However, the small place is not much more than a harbor, where you can also see a lot of luxurious yachts, with a promenade and some restaurants and bars located on site.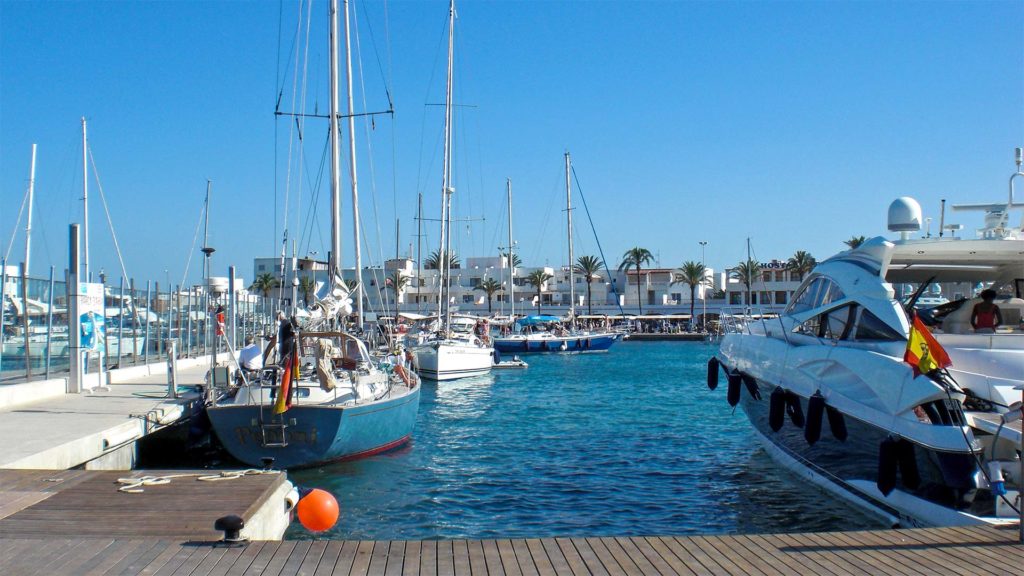 Renting a scooter on Formentera
The island of Formentera is a very small island, but without a vehicle you are a bit lost here, too. At least if you want to see something of the island. The bicycle was not an option due to the heat and we looked for one of the scooter rentals. Not far from the harbor there are some offers and the price was between € 20 and € 30 per scooter.
Make sure you have your driver's license with you. We only had one for several people, but the rental company was kind enough to rent us two scooters anyway. Quite lucky under the circumstances, so better think about your driver's license. After that the scooters were handed over to us, including helmets, and our scooter tour around Formentera started.
1. Cap de Barbaria
The trip started on the scooter in a southbound direction. After driving through the capital of Formentera Sant Francesc, we arrived on the south coast after about half an hour (including a break). By the way, the capital is sometimes also called San Francisco Javier, which comes from the fact that the famous church in the town is called that name.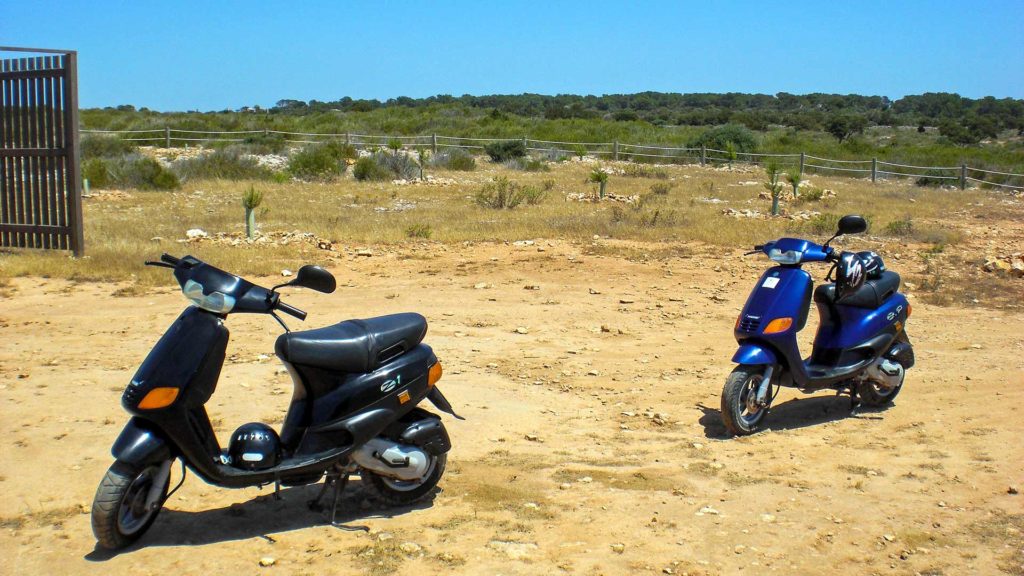 The Cap de Barbaria, or Far des Cap de Barbaria, is one of the most popular destinations on Formentera and visited by many tourists. Here you can watch the sea from the high cliffs, enjoy the tranquility or take a few nice photos of the lighthouse and the cliffs.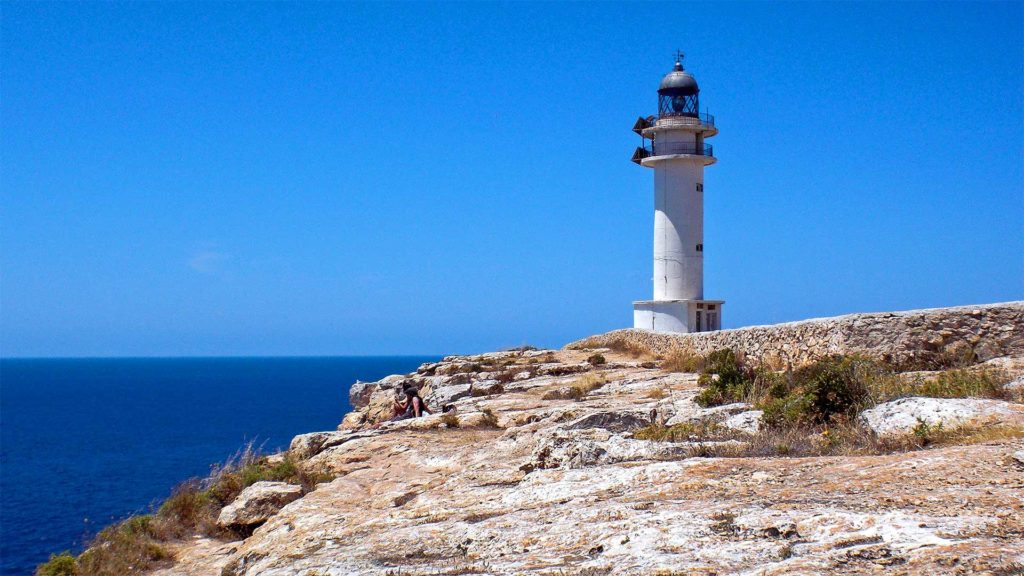 Tip: To the right of the lighthouse there is a small cave, at the end of it you also have a wonderful view of the Mediterranean Sea. Few visitors come here and you are certainly alone.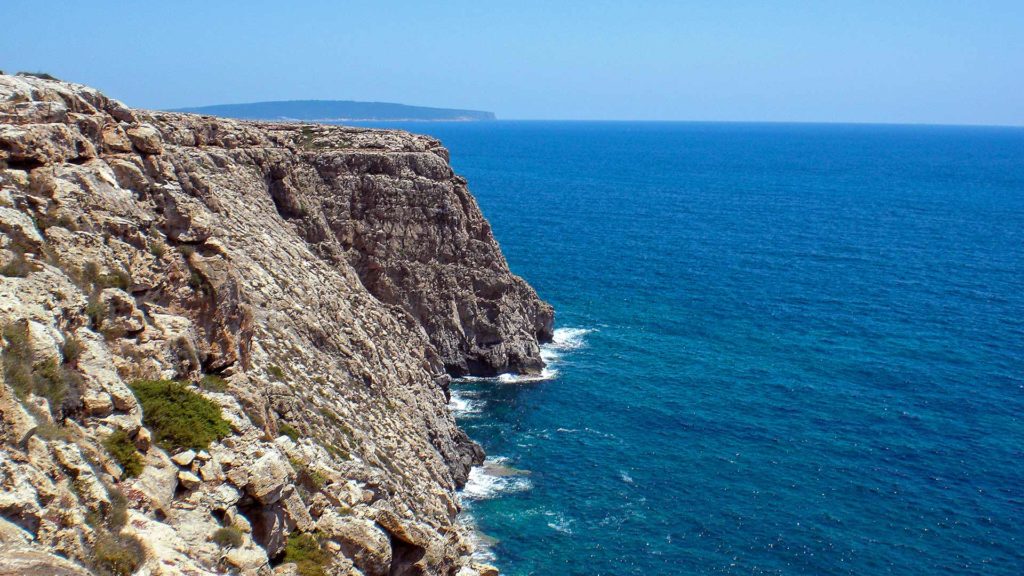 2. Cala Saona
Next we went to the west coast of Formentera, more precisely to the beach of Cala Saona. It is located in a small bay, framed by rocks, which are great for snorkeling. The otherwise small beach with a width of just 140 meters reminded us directly of the Caribbean with the clear, turquoise color of the water.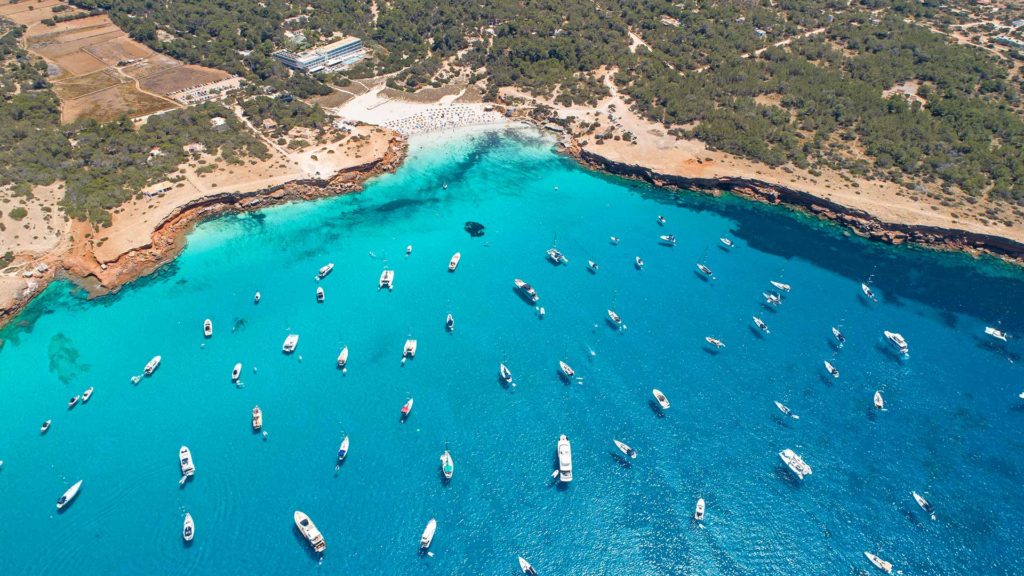 The water on the beach of Cala Saona is very calm and gently sloping, so it is also great for families. Since the bay is surrounded by rocks, there are no strong currents here, as these break the waves.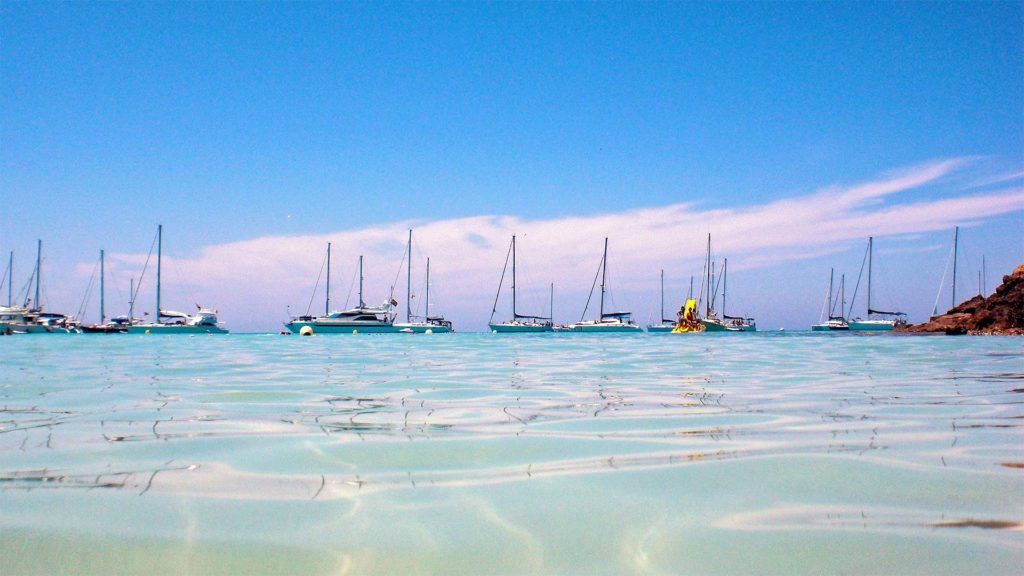 Furthermore, there are usually many boats and yachts in the bay of Cala Saona and you can also find a hotel with a restaurant here. While the beach is indeed beautiful, it can get very crowded. People seeking peace and a lonely time are probably wrong at Cala Saona. For us it was nice anyway.
3. Far de la Mola
From Cala Saona we went across the island to the east. Over the headland of Formentera, up the mountain through El Pilar de la Mola. By the way, this is a small, nice village where you can go to a hippie flea market.
El Pilar de la Mola with the Far de la Mola lighthouse is also the highest point on the island. The lighthouse, built between 1860 and 1861, like the Far des Cap de Barbaria (see point 1), is also on a cliff that offers a great view.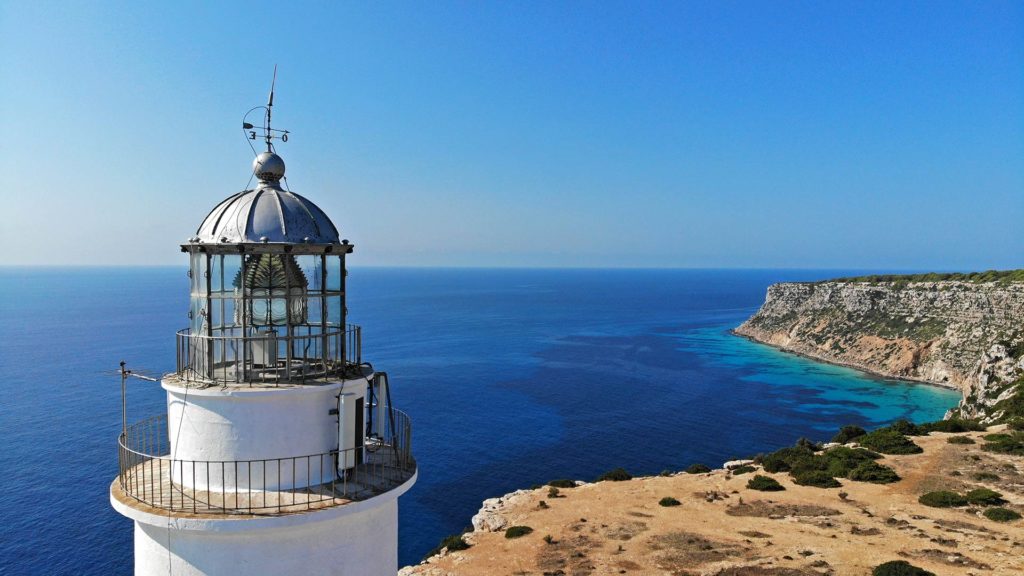 After a while we made our way back to La Savina. Since the ways on Formentera are not that far, you just have to be careful not to miss the boat back to Ibiza on a day trip.
Tip: If you drive back from El Pila de la Mola, you can stop one last time on the road that leads down the mountain. From here you have a beautiful view over Formentera and can take a last look at the island before going back.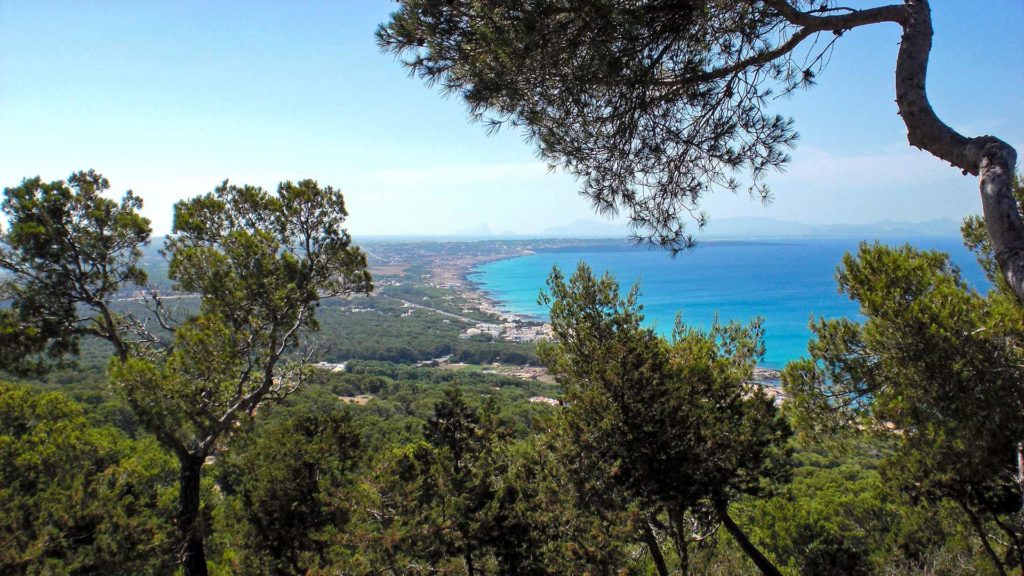 Conclusion on the day trip to Formentera
Even if Formentera is a very small island and you can see a lot in one day, we haven't seen everything yet. Since the beaches and cliffs are really beautiful and impressive, we will definitely come back one day. We really liked the entire atmosphere on Formentera and we can only recommend a day trip from Ibiza to everyone.
Plan your trip to Formentera now
More hotel recommendations for Formentera:
Popular routes to Formentera:
---
Have you already visited the small Balearic island of Formentera? Do you like it there? Do you have any more tips for Formentera? Give us feedback in the comment section.
Photos: Photo 1 (Formentera from the sky): Rocky Reborn/shutterstock.com – Photo 2 (hotel recommendation): Es Marès Hotel – Photo 3 (Ferry): Andi111/shutterstock.com – Photo 8 and header (Aerial view Cala Saona): Dobrick/shutterstock.com – Photo 10 (Far de la Mola) Eduardo Jarnac de Freitas/shutterstock.com